R&K Insider: Finding new love in Old Beijing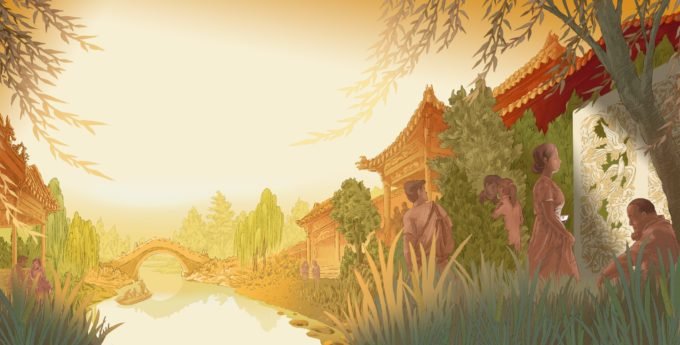 On R&K this week, a dispatch from the Beijing park where seniors look for dates, what you need to know before you go to Byron Bay, and talking art and revolution in New Orleans with L. Kasimu Harris.
Happy Thursday, friends and readers.
Finally, spring is in the air—and for older single people in Beijing's Changpu River Park, love just might be too. This park, a small strip of calm between the Forbidden City and Tiananmen Square, is a popular place for visitors to rest between seeing the sights, but on Tuesdays and Saturdays, it's a hub for middle-aged, seniors, and divorcees looking for dates and new life partners. Lavinia Liang profiled three of the park's seekers, who spoke to her about what brought them there, and how it all works: "Seekers directly ask each other, Are you here for dating? And if the answer is yes (because there are always those who claim they're just there for a stroll), they'll then run through a whole gamut of basics before any proper 'dating' can take place."
Our latest local-led travel guide is for Australia's ultimate beach town, Byron Bay, by resident Penny Carroll. In its short lifespan, Byron Bay, on the north coast of the state of New South Wales, has transformed from a center of sand-mining and abattoirs to an idyllic cradle of surfing and counterculture. It gets busy in paradise, but Carroll tells us how to arrive in joy-sparking style, avoid the crowds (and ticket-happy parking authorities), and shares essential food wisdom, such as local beer measurements and where to score free falafel and $1 oysters. Plus, some important background on the area's Aboriginal history.
Photographer Ozzie Hoppe captures the growing hip-hop community in Medellín, Colombia's second-largest city. Hip-hop in Medellín rose through grassroots initiatives, social activism, and hip-hop schools. Now, the small but growing community of hip-hop artists is also reaping the benefits of the city's sweeping investments in infrastructure and the arts, including improved transport connections and arts festivals.
Over on The Trip podcast, we kicked off three New Orleans sessions with L. Kasimu Harris, a visual artist and writer, who drinks Maker's Mark with Nathan Thornburgh in the Ninth Ward and talks about his art, revolution, and education in post-Katrina New Orleans. Listen to the episode on Apple Podcasts, or Spotify, or Radio Public, or Stitcher. Also: on April 22nd, The Trip is moving to Luminary, a new ad-free podcasting platform where we'll be joining a stable of incredible peers, including Trevor Noah, Hannibal Buress, and New York Magazine. Sign up early for perks and help The Trip get bigger, better, and weirder.
In other exciting news this week, work from R&K—along with that of our colleagues and partners at Explore Parts Unknown and special projects—received nominations in four categories of James Beard Foundation Awards. Thank you all for your continued support, readership, and friendship.
—Alexa