Photographer Ozzie Hoppe captures the Colombian city's growing hip-hop community.
On a rooftop of a hillside brick house overlooking downtown Medellín, Colombia, a group of young rappers perform in an independent hip-hop video production for an eager audience that has gathered during the filming. A cameraman pivots around the rappers to cover the scene. Behind the entourage, Medellín's downtown is lit up by a band of afternoon sun that bathes the city center in warmth, just before a thunderstorm moves in.
Nineteen-year-old Andrés Felipe Gallo Morales finishes a lyric before handing the stage over to his friend, who takes off on a new series of rhymes as the camera moves closer.
The group, Hip Hop Agrario, is based in Comuna 13, a sprawling neighborhood flanking the western hills of Medellín. They met in a community space called Casa Morada near San Javier metro stop, which houses AgroArte, founded by 32-year-old rapper and activist Luis Fernando Álvarez (stage name: El AKA).
Through AgroArte, Álvarez transforms derelict neighborhood yards, cemeteries, and sidewalks into community gardens for vegetables and herbs, to regenerate the spaces and promote food security. Out of this project grew Hip Hop Agrario—"agrarian hip hop," through which Álvarez teaches young people from the neighborhood to tend gardens and mentors aspiring rappers.
"We [Hip Hop Agrario] create a relationship between agriculture and hip hop, because when people sow, they tell you a story, and that eventually becomes a song," says Álvarez.
This initiative is how Morales became involved. "Luis invited me to plant in the neighborhood, and to nurture my interest in rap. Many people in the community felt that rappers were lazy, so we wanted to change that perception and show them that we shared the same dream of making the city a better place," says Morales.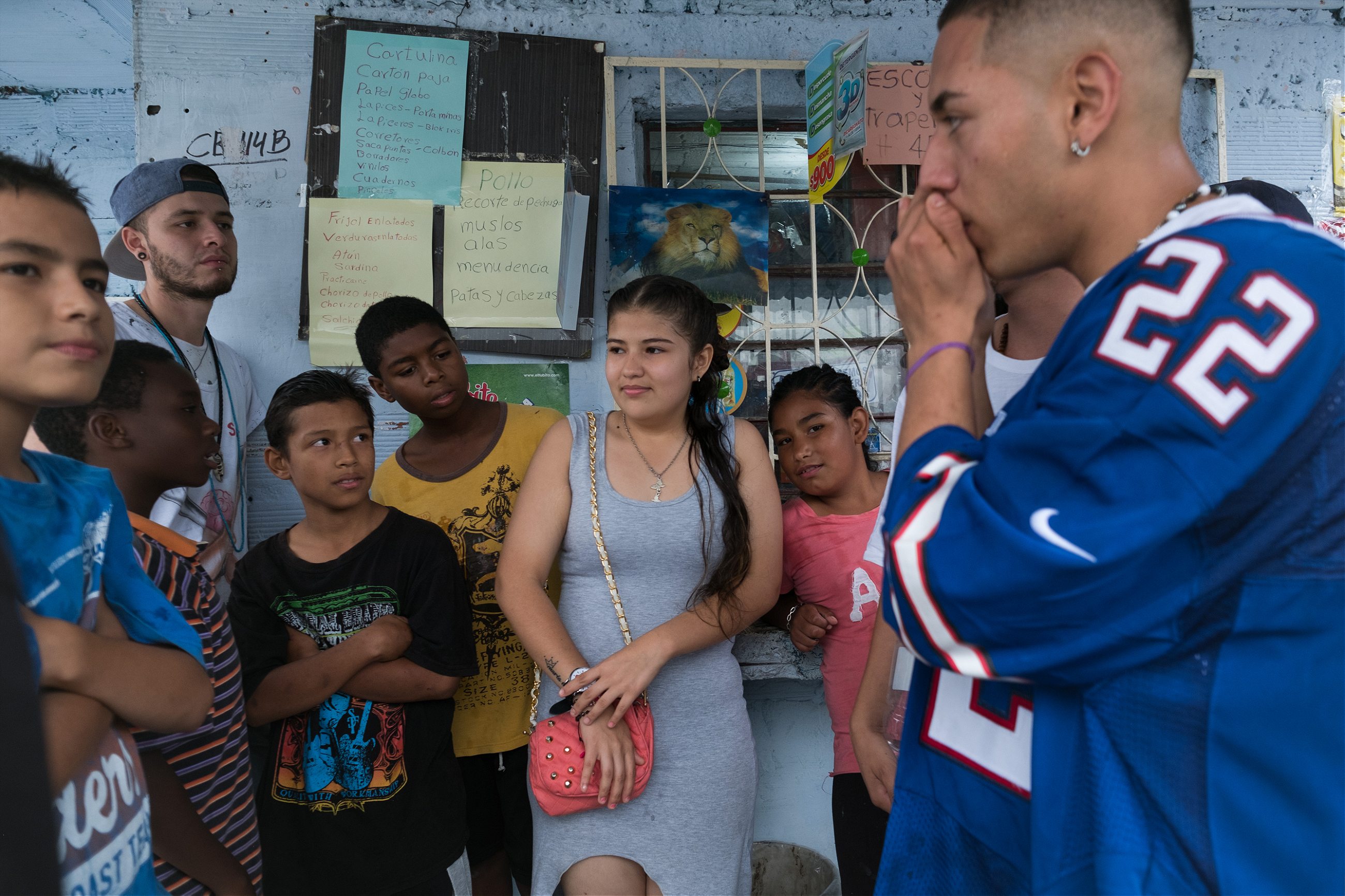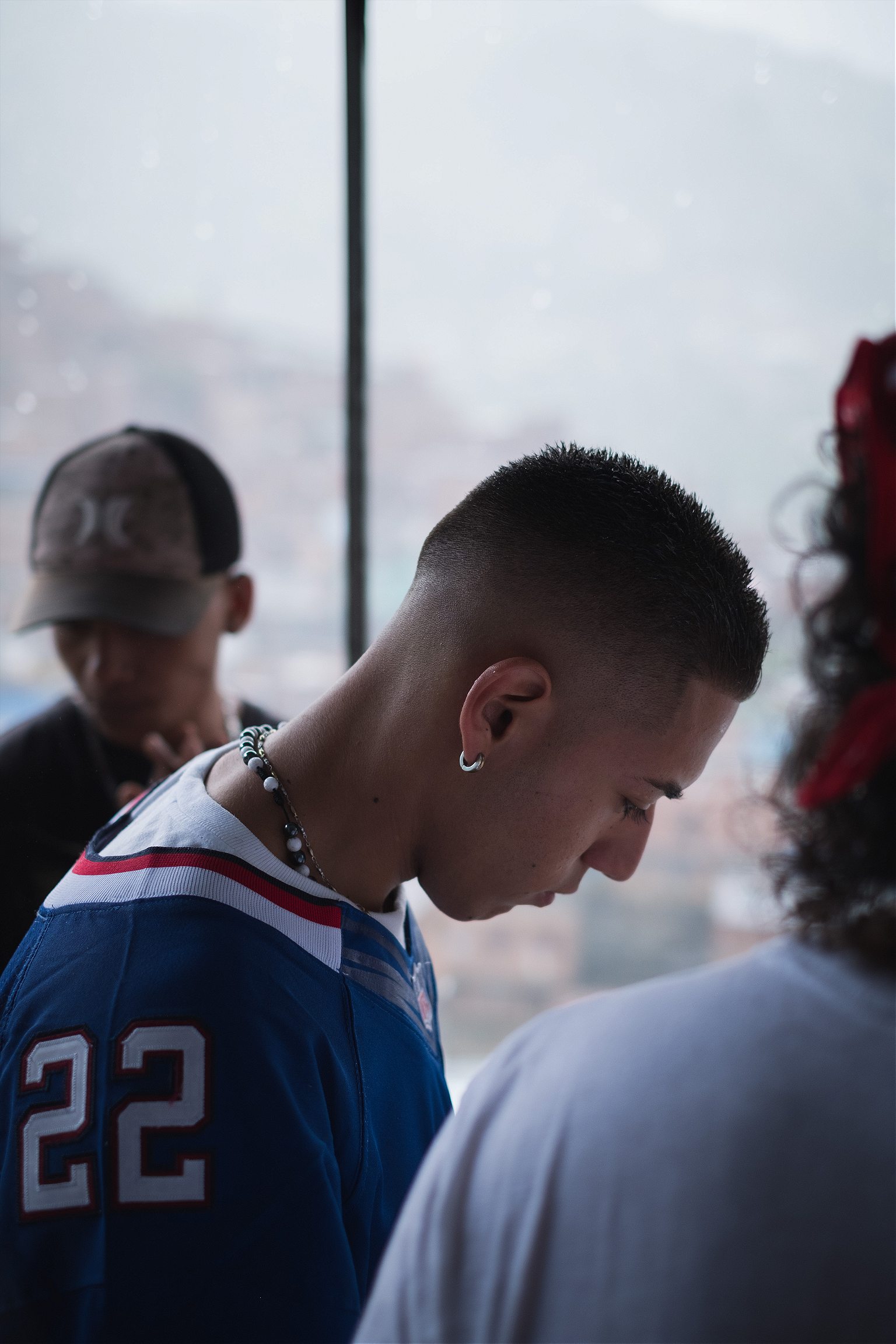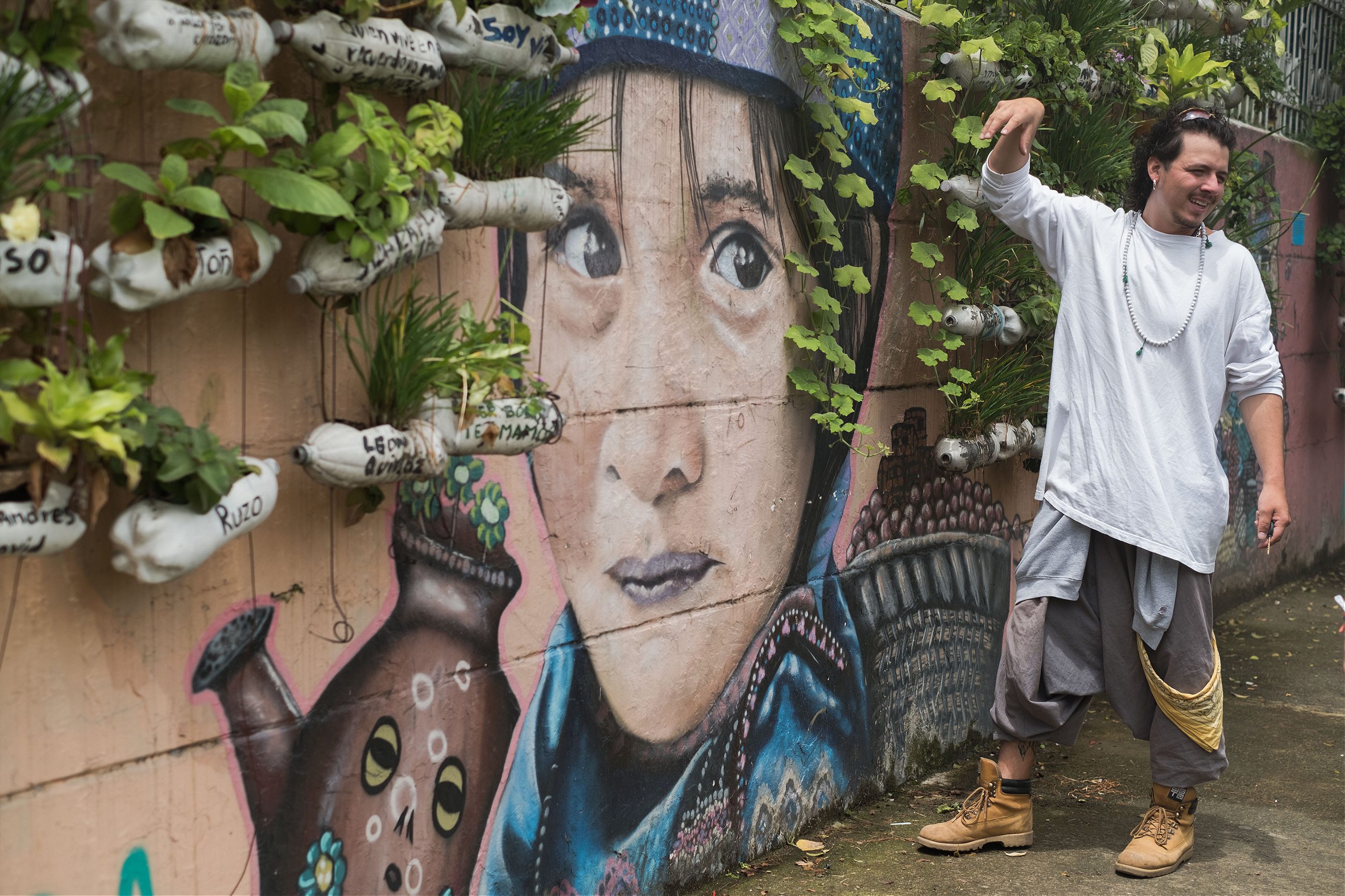 Over the last two decades, Medellín has taken sweeping measures to try to overcome its past. In the 1980s and 1990s, when it was a center for drug cartels and a frontline in Colombia's internal conflict with the guerrilla movement, the Revolutionary Armed Forces of Colombia (FARC), it was one of the world's most dangerous cities. The city government invested heavily in infrastructure, public transport, education, and the arts. By some measures, Medellín's turnaround has been a success story, although crime and gang-related violence remain a problem in many neighborhoods, including Comuna 13. Still, alongside the government-level efforts to regenerate the city, some residents took matters into their own hands and formed grassroots arts, activism, and charitable projects in their own neighborhoods—such as AgroArte.
The rise of hip hop in Medellín has been fueled by such grassroots efforts, and the establishment of hip-hop schools such as 4 Elementos Eskuela, Casa de Hip Hop Kolacho, and La Gran Colombia Eskuela Hip Hop, which provide after-school activities and a creative outlet for young people, teaching them how to dance, DJ, breakdance, and sing. In Medellín, hip-hop is linked with activism and has become a vehicle for social and educational development.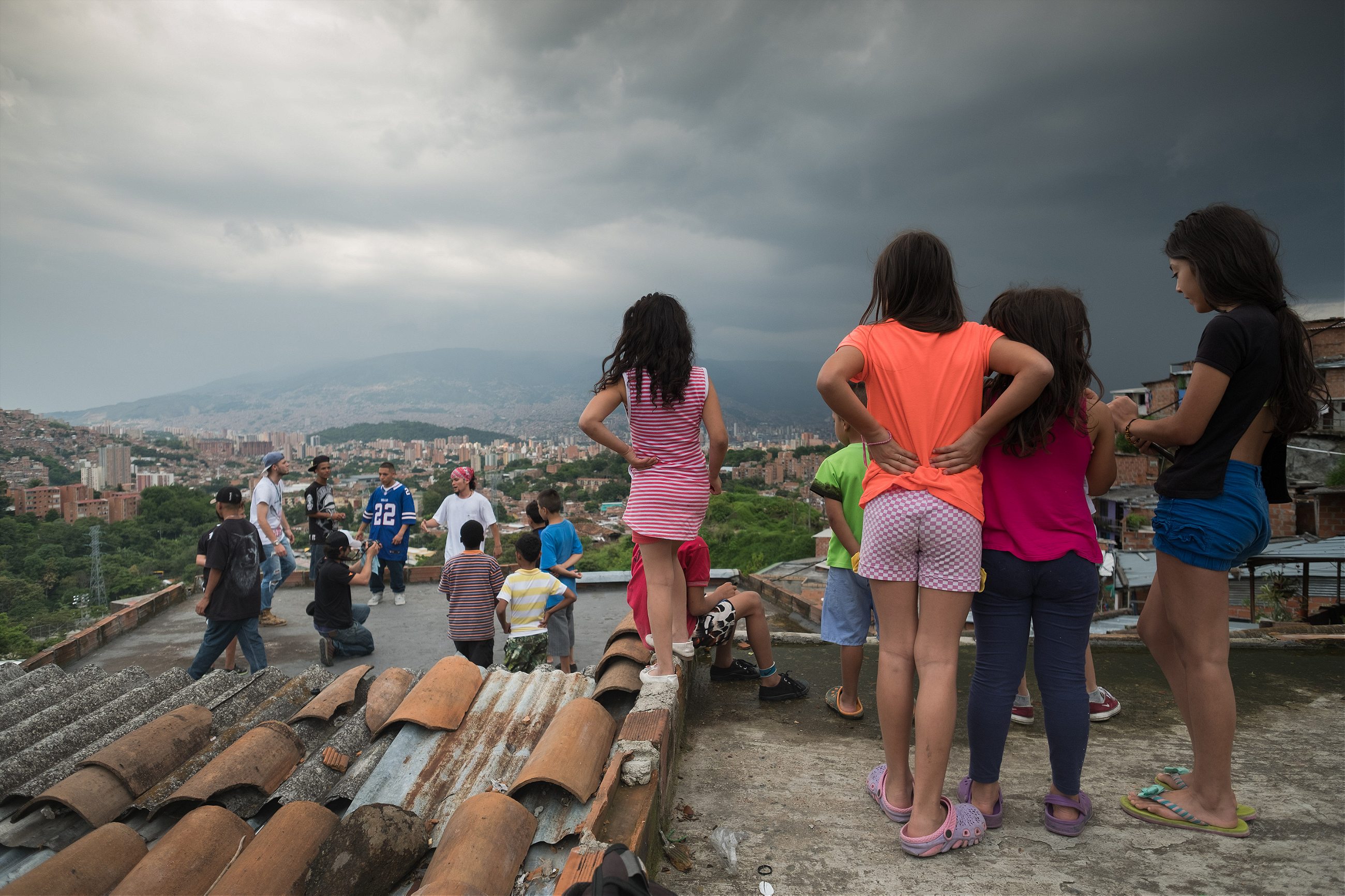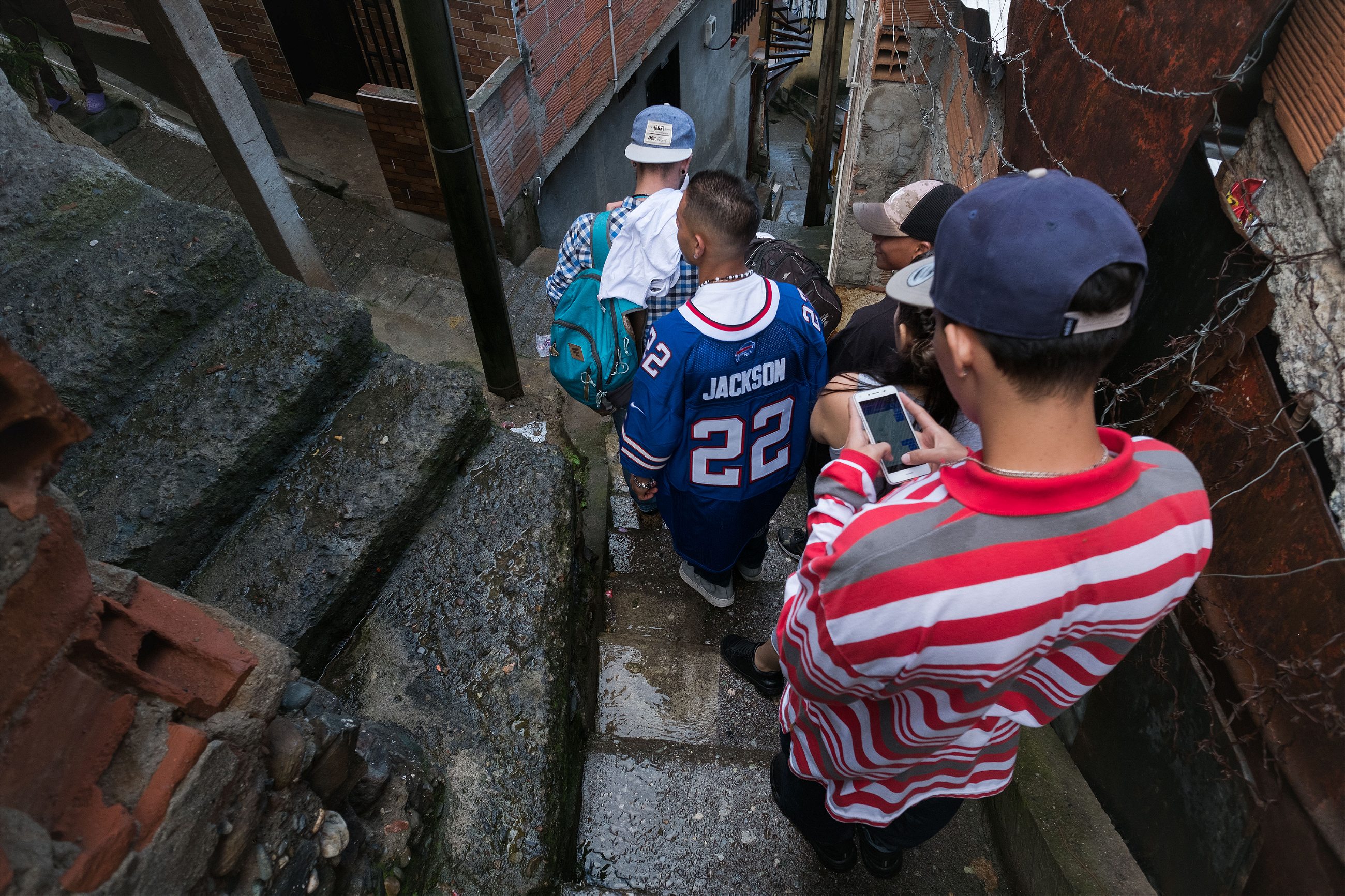 And according to Álvarez, Medellín hip-hop scene is getting bigger. "The city's hip-hop community is growing through grassroots organizations in many neighborhoods, which provide a venue for practicing and performing, as well as a base to launch projects."
The city's small but dynamic hip-hop scene has also benefited from Medellín's investment in cultural institutions and infrastructure. The annual multi-genre AltaVoz Festival—promoted by Medellín's Ministry of Culture—has placed the city's hip-hop artists in the same lineups as established acts such as Das EFX, ONYX, and M.O.P., all from New York City. Public transport initiatives such as the Metrocable, a gondola lift system, have formed links between the Metro, the city center, and informal settlements on the hills, helping to bring larger audiences to artists working at the city's fringes.
These are the lives of some of Medellín's emerging and established hip-hop artists.