Coffee, art, war games: a land-based slice of Russia's northern city.
Saint Petersburg, tucked into a bay in the Baltic Sea of the Gulf of Finland, is built on dozens of islands—fragments of flat land parted by hundreds of waterways, ranging from inky, narrow canals to the 4,000 foot-wide (in places) Neva River. It's all twinkling water, supersized European squares, and warrens of smaller streets. Compared to Moscow—that imposing showcase of modern Russia—it's perhaps a little threadbare in places, but that doesn't take away from its grandeur. It's a city of colorful buildings and in the summer, soft light, especially in the evenings. You should see the city from the water at some point during your stay, but here is our essential land-based crawl across the best small corner of the center, with a sampling of Russian breakfasts, history, art, and Soviet curiosities.
Start with Double B Coffee and Tea at Millionnaya 18, for coffee and sweet croissants. This place is part of a Russian, and now global, chain that takes their coffee beans and production very seriously. It's on the pricier side for Saint Petersburg, but has some of the best coffee in the city. Skip the flat white and order the Raf coffee, a Russian specialty: espresso whipped together with cream and sugar. Just don't ask for decaf.
Or, to start with a meal, try Cococo, near St. Isaac's Cathedral. The restaurant was founded by Sergey Shnurov, the frontman of the ska-punk band Leningrad, although it's now housed in the decidedly un-punk SO Sofitel hotel (Anthony Bourdain had visited its cozier prior location for Parts Unknown in 2014). Still, it serves indulgent but reasonably-priced Russian breakfasts using ingredients from local farmers. Get a round of blinis with red caviar—or black caviar if you're feeling more flush—some salted herring, or the Hangover Chicken Broth, which comes in an elegant, metal-handled Russian tea glass with a little bun for dipping. They serve breakfast until 11 a.m. weekdays and until noon on weekends—and there's an extensive a la carte menu for the rest of the day.
Next, make your way to Palace Square, the massive expanse between the greenish-blue-and-white Baroque behemoth that is the Winter Palace—once the winter home of the Tsars—and the curved, 2000-foot long General Staff building, the former headquarters of the Imperial Army staff.  This square is where the 1905 Bloody Sunday massacre took place, when Imperial Guards shot at unarmed demonstrators, killing 100 and sparking the Revolution of 1905. In 1917, the Winter Palace was the last building in the then-capital to fall to the Bolshevik Revolutionaries, who eventually stormed it with little resistance.
While you're wandering this storied spot, don't take selfies with human-sized Disney characters or anyone sporting a drawn-on mustache claiming to be Peter the Great, unless you want to part with a few hundred rubles for the privilege.
Walk under the triumphal arch and down Bol'shaya Morskaya Ulitsa, then take in a block or so of Nevsky Prospekt, the city's multi-laned main artery. Turn left onto the Moika river embankment and walk north, or up the pedestrianized Bolshaya Konyushennaya Street to see all the little stalls of clothing and souvenirs.
Turn into the courtyard at Konyushennaya Ploshchad 2b, and find the Museum of Soviet Arcade Machines.  It's not just a museum: you can also play most of these 40 working arcade games from the 1970s and 80s. They were modeled after those from Japan and the U.S., with one big difference: the games had to hew to Marxist ideology, so there are no high scores and they're focused on developing skills such as hand-eye coordination and strategy. There are old-school car-race consoles, bowling, table soccer, and war strategy games such as Battleship and something called Tankodrom. There are also functioning Soviet-era soda machines, or you can order a glass of the popular bread-based drink—kvass—at the bar. The 450-ruble ticket includes 15 vintage Soviet coins you use to play the games, and a book of instructions.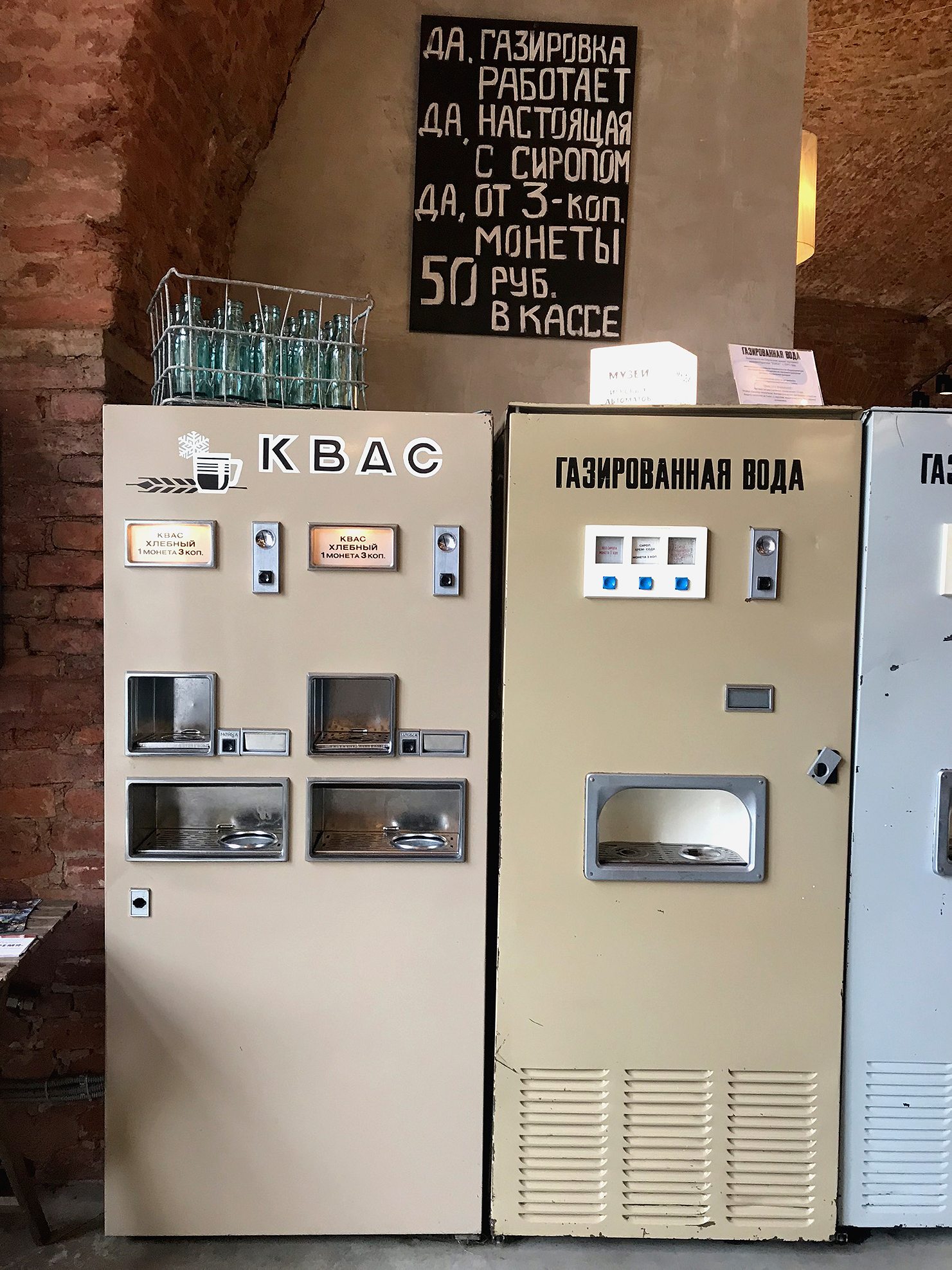 From the arcade's front doors, you can see the golden dome of the Church of the Savior on Spilled Blood. It's a 30-second walk around the corner, perched between the Mikailovky garden and the Griboyov canal. With a catchy name like that, you expect this medieval-inspired house of worship to have a good story, and it doesn't disappoint. In 1881, Tsar Alexander II was assassinated on this spot by revolutionaries who threw a grenade at his carriage, then detonated a bomb next to him for good measure. His son, Alexander III, insisted the church be built on the very spot his father was attacked. It's impressive, imposing, colorful, mosaic-rich, ornate with studs—a kind of reptilian-looking version of Moscow's famous St Basil's Cathedral.
Along the Moika river embankment across from Mikhailovsky Garden, you might notice some smaller boats moored at the banks. These are available for private boat tours, which is a better alternative to the big Neva river cruises because they can travel along the city's smaller canals. The prices hover around 500 rubles for a couple of hours (it's more expensive at night.)
Walk east along the Moika river embankment and across the Panteleymonoviskiy bridge, and take a right along the Fontanka river embankment to number 20, where the unassuming wooden door leads to Golitsyn Loft, a warren of creative businesses—stores, tattoo parlors, comic shops, coffee joints, restaurants, bars—occupying five buildings centered around a central courtyard. Stop in at Sakhinkle Kazbegi in the courtyard for Georgian food, or get lost inside at one of over one hundred spots. Civil is a coffee and wine bar occupying a couple of seriously beautiful high-ceilinged palatial rooms (the building is a former 18th-century mansion.) It's a great place to sit for hours under a wall of books, or at the window with a view of the Fontanka river and the Engineer's Castle. The prime spot at Civil is the table on the balcony.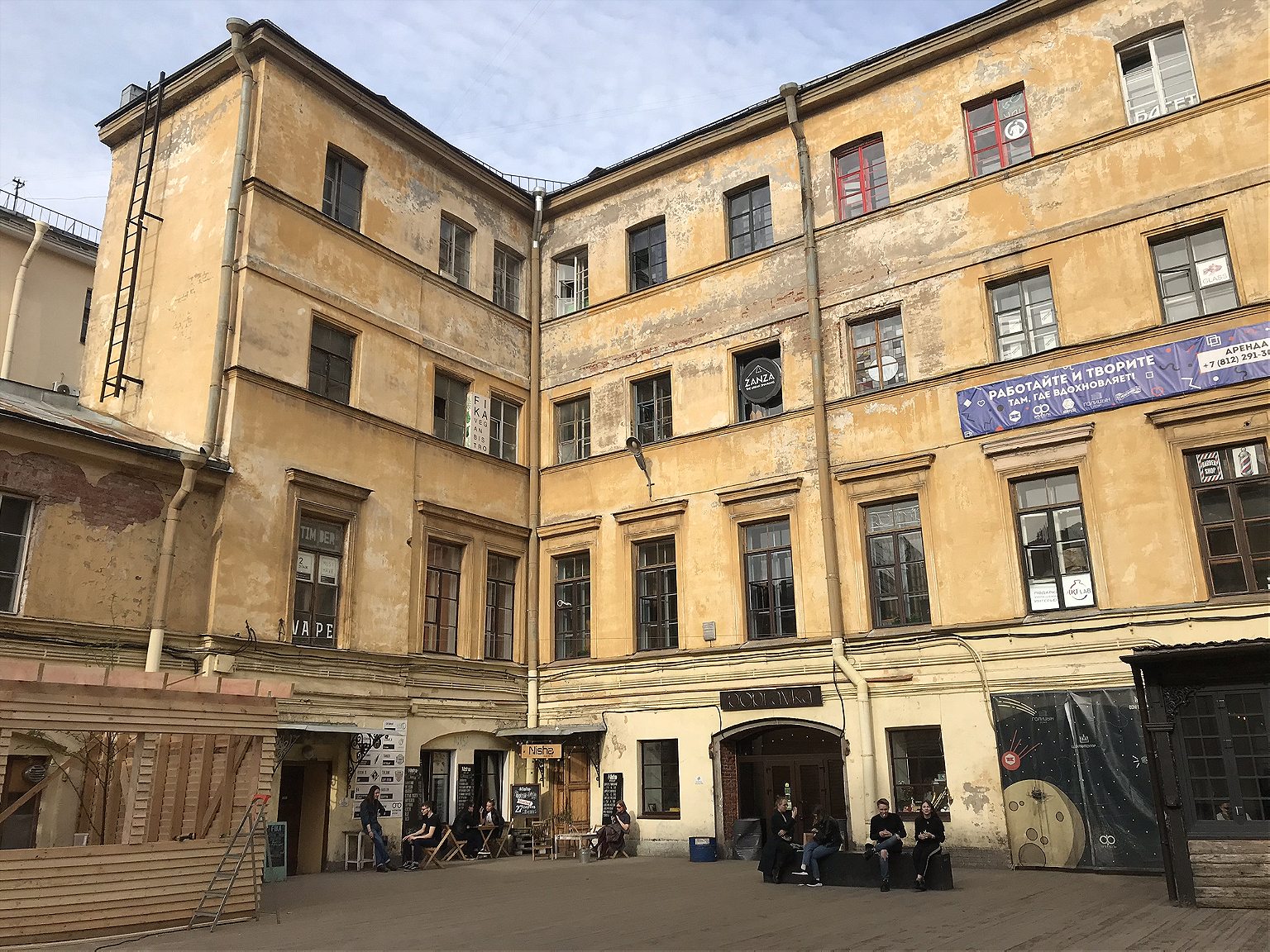 Don't miss Tsiferburg, is what is known as a time cafe or an anti-cafe, where you pay by the minute to hang out instead of buying a drink. (One minute is 3 rubles, one hour is 180 rubles, or about US$3). Enjoy the organized clutter in the spacious rooms of the former mansion: flop onto an old fainting couch or brass bed, work, draw, play the grand piano or the guitars provided. They provide tea, coffee, and snacks. Vegan, naturally.
There are dozens more ways to waste time at Golitsyn Loft, including a Siberian restaurant, a karaoke bar, a tea bar with vinyl records and board games, art galleries, a store selling only traditional Eastern candy.
Double back up Fontanka embankment and into Solyanoy Pereulok, into the calm of the Saint Petersburg Stieglitz State Academy of Art and Design. In 1878, the financier Baron Alexander von Stieglitz founded a design school and started furnishing it with world-class art for the benefit of the students, and it eventually became one of Europe's best private collections. Today it's both an art school, with students perched in quiet corners to sketch, and a museum. It's a palace of treasures, with scores of rooms of different themes and eras: ancient Far Eastern artifacts, 18th-century Russian tiled ovens (which are far impressive than they sound) medieval furniture, classical sculptures, and intricately painted interiors. For 300 rubles (US$5) you can meander through the museum and the halls and rooms of the art school, and the academy's palatial main hall, all marble and frescos, blessed with incredible lighting from the glass roof. The museum also sells art by local painters.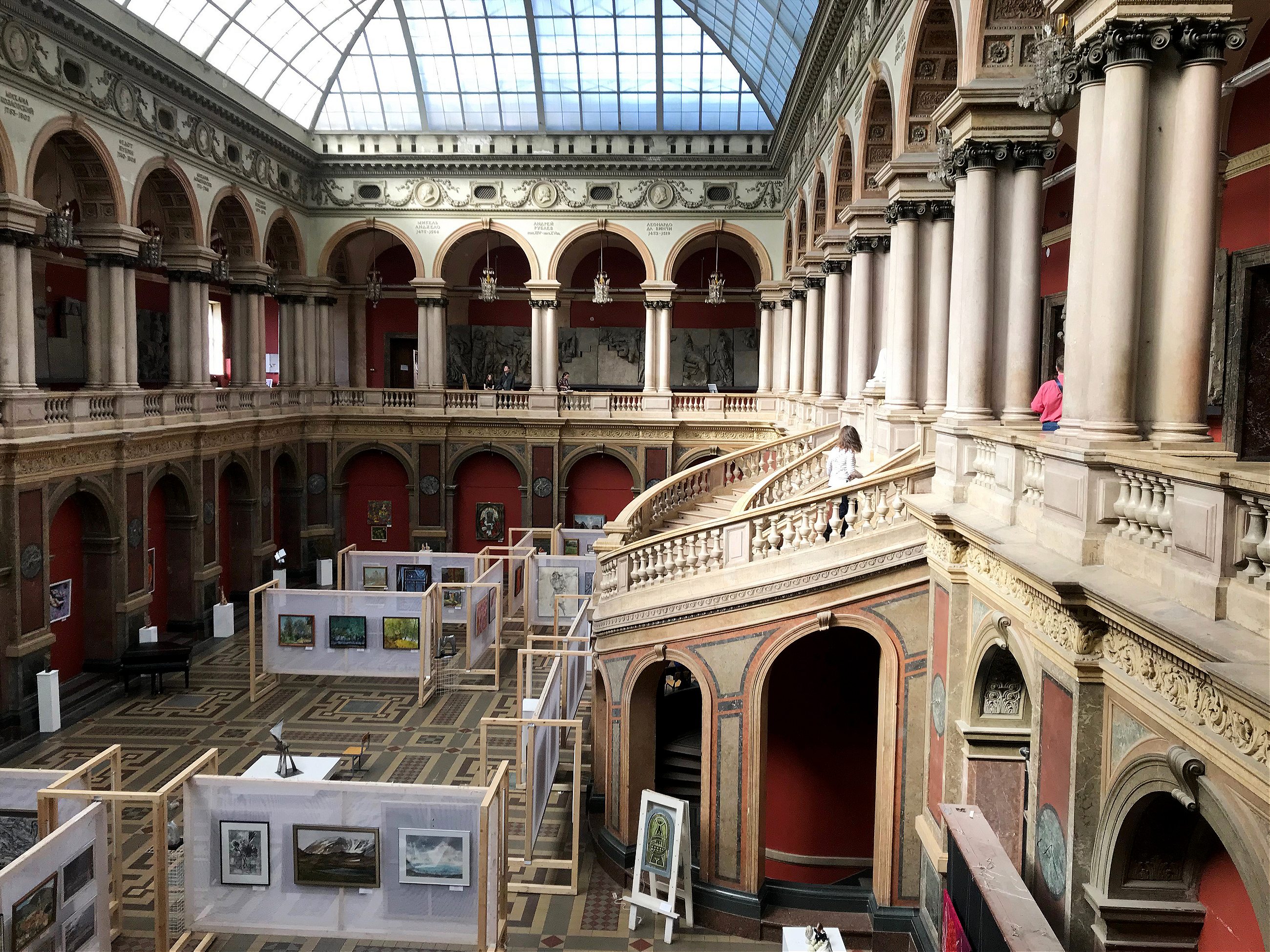 Next, head a few blocks along Ulitsa Pestelya and take a look at the ornate Muruzi House on the corner of Liteyny Prospect and Panteleymon Street. Built in the Moorish architectural style inspired by the Alhambra in Spain for wealthy scion Prince Alexander Muruzi, it later became a home and hangout for writers and the hub of the Vsemirnaya Literatura ("World Literature") publishing house. (The home that stood on the site before it was apparently the inspiration for General Yelanchin's house in Dostoyevsky's novel The Idiot.) In later years it was the home of Russian-American poet and Nobel laureate Joseph Brodsky until his exile to the U.S. in 1972. He lived with his parents in one large room in a communal apartment, which is now a museum.
Walk past the Transfiguration Cathedral (the one with heavy metal chains around the fence) and around the corner to Kirochnaya Ulitsa and end your walking tour with lunch. Duo Gastrobar does an intriguing blend of the Mediterranean and Russian-inspired dishes, such as a cheese-and-truffle-drunk-cabbage and comically large oyster mushrooms in cep mushroom sauce. It's a small place; if they're booked, try its sister-restaurant, Tartarbar nearby, which serves interesting variations on the theme of raw beef and seafood, plus bone marrow and carrot sorbet. When in Saint Petersburg.