Line up for Soviet-style donuts at Pyshechnaya.
On Bolshaya Konushenay 25, a side street off of Nevsky Prospekt, Pyshechnaya Cafe [Пышечная] has been serving their pyshki—traditional Saint Petersburg donuts—for over 50 years. It's both a Saint Petersburg institution and a Soviet-era throwback.
The street has since been renamed, but locals still refer to this Soviet-style cafe by its old address, Zhelyabova 25, and it still uses the same recipe from when it opened in 1958.
There are many similar cafes in Saint Petersburg, serving their own variations of baked or fried sweet goods and Soviet quick-food staples, but this is one of the oldest.
I use the term "shitty" advisedly. This place is hugely loved, and a perfect pit-stop for a day of walking Nevsky. It has the lovingly retained elements of a downmarket, austere Soviet cafe that many Piter residents now might now regard as shitty. But they still line up for this unadulterated taste of their childhoods.
The story goes that Anastas Mikoyan—the Soviet Union's food commissar and ice cream pioneer (who would later help defuse the Cuban missile crisis) made all this possible by bringing donut-making equipment back from the U.S. in the 1930s. Cafes then adopted their own versions. Doughnuts were in the early years a street snack sold from outdoor stands, and became so popular that brick-and-mortar shops started opening up and selling them too.
The fall of the Soviet Union (and the arrival of Krispy Kreme in Russia) has not diminished local appetites for pyshki; this place gets busy, with lines out the door at times, though it moves quickly thanks in part to its spartan menu. They only serve these donuts—a ring of fried, light dough the size of a large bangle, rather than the bagel-like lumps we're used to—plus tea, coffee, sodas, and Soviet-brand chocolate bars. The prices are also somewhat Soviet-era: one pyshki costs 70-90₽ (US$1-US$1.45). We recommend ordering at least two or three.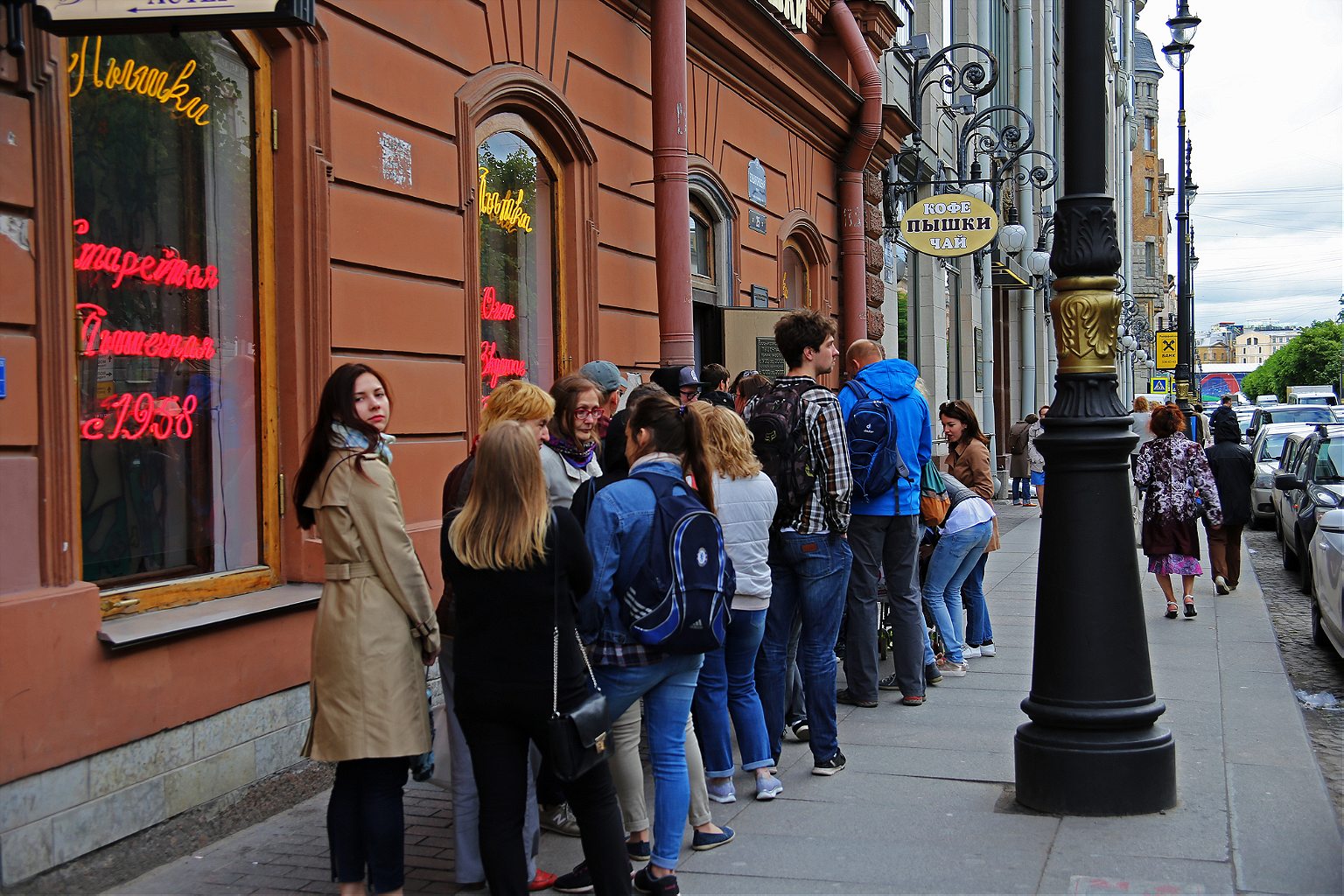 The dough is not sweet; the sweetness comes from the dusting of powdered sugar and the coffee that goes with it, and it's a perfect match, a churro of the north. Crucially, the pyshki never have time to shrivel and cool behind plastic sneeze-guards; they serve them warm, fresh from the fryer.
Someone whose palate demands nothing less than the hopped-up American-style sugar bombs with rainbow-colored toppings and bright-red jam fillings might find pyshki bland—or at least, kind of basic, taste-wise—but the combination of the light dough with the sweet coffee is a fine blend of sweet, crispy, and a just a touch of grease. Any more sugar or—god forbid, icing—would throw off this delicate balance. Coffee snobs might despair of the weak blend in the plastic cups, but this Soviet-style coffee, which is pre-mixed with sugar and milk in a monstrously large samovar, is part of the experience.
In the Soviet era, Saint Petersburgers would queue for up to an hour to get their fix. (It's still busy: the thinnest lines are  in the mornings, between 9 and 10 a.m.) The interior, with dark green, faux marble standing tables scattered throughout two boxy-feeling rooms, has been purposefully left as is, barring a few minor touch-ups—such as a large ginger cat. When I visited in May there was also passively nationalistic signage for orange juice from the newly-annexed Crimea at the counter. Once you hit the front of the line, you can see the pyshki being prepared, the rings of raw dough simmering in oil.
Soviet nostalgia isn't hard to find in Russia, from ice cream packaging, arcade games, war memorials and Soviet throwback menus, dishes, and cafes. But even in the latter, many of the dishes may have been updated or use modern ingredients. Here is a genuinely unchanged recipe from the Leningrad era.
Once customers their orders, they huddle at standing tables with strangers, stand against the wall, or walk out with their haul. The cafe also has little stacks of writing paper, not napkins, which were hard to find in Soviet times, that serve as a grease-guard for eating the pyshki.
Pyshechnaya may have retained its throwback details, but even this place is not immune to the advancing trends of recording meals through a choice of pleasing filters. Their "gonzo" Instagram account, which launched in June 2017 and features arty, edgy photography with pyshki somehow mixed in, found 65,000 followers in six weeks. Pyshki, gone viral.
Pyshechnaya Cafe [Пышечная]
Bolshaya Konushenay 25
Opening hours
Weekdays 9 a.m-8 p.m.
Weekends 10 a.m-8 p.m.