A day out in Saint Petersburg's sea fortress.
Russians may be the all-time leading experts at the art of GTFO: getting the fuck out of the city and heading to their dachas (summer cottages) to grill and garden and tinker was an Imperial tradition that became democratized for the masses during Soviet times. Even today, dacha culture is sacred—in May 2018, rare public brawls broke out between locals and police in Shchelkanovo, near Moscow, over what dacha-owners consider an illegal landfill near their summer cottages. "That's where I grow my fucking cucumbers," one usually apolitical dacha-dweller told my colleague Nathan Thornburgh in order to explain why he was squaring off with security services.
Saint Petersburg has its own famous dacha district, centered around Komarovo north of the city, but if you if you don't manage to snag an invite to a dacha, then we have another excellent GTFO option: the island city of  Kronstadt.
Closed to outsiders until 1996, Kronstadt is a pleasantly sleepy city and naval base on Kotlin Island, 19 miles into the Gulf of Finland from Saint Petersburg. This town and its naval fortresses—a UNESCO heritage site—have protected Saint Petersburg and the northwest flank of Russia for centuries. A small place with a population of 43,000, it resembles a Saint Petersburg in miniature, with similar architecture and layout. It's technically a suburb of Saint Petersburg, but Kronstadt has its own independent spirit, and has been crucial to the identity and survival of the city it guards. This small patch of land has played an outsize role in Saint Petersburg's and Russia's history, and there is a lot to see and do here. Here is a short list:
Explore a True Navy Town
Peter the Great founded Kronstadt after his Imperial Russian forces took Kotlin Island from Sweden during the Great Northern War in 1703, and just after he founded Saint Petersburg itself. He quickly bolstered its defenses against seaward attack (at that time, fearing the Swedes) by building 20 or so artificial islands in the Gulf with various fortresses.
Despite many attempts, Kronstadt has never been occupied. During the Petrograd (as Saint Petersburg was then called) Revolution in 1917, Kronstadt's sailors, who were deployed to crack down on demonstrators, ended up defecting and executing their officers—an event that was decisive for the Revolution's success. They fought on the Red side during the Civil War, but in 1921, in response to the heavy-handedness of the new Soviet regime, they rebelled against Kronstadt's Bolshevik government, demanding greater political freedom and the freedom of workers from party control. In response, Leon Trotsky (then Minister of War in the Soviet government) sent the army to Kronstadt to suppress the rebellion. Trotsky himself is said to have shot dozens of dissenters, letting their bodies fall into the ravine next to the Cathedral grounds. (You can see the the ravine from the Makarovsky Bridge.) The Kronstadt rebellion would lead to 11,000 casualties—but the dissent did lead to the Soviet regime implementing economic reforms.
During World War II, the fate of Saint Petersburg (then named Leningrad)—and the Soviet Union itself—also hinged on this watery fortress.  It was thanks to Kronstadt and its naval clout that the Germans' siege of Leningrad, which lasted two years and killed hundreds of thousands of civilians, many from starvation, eventually failed. The Germans, aware of the port's and Leningrad's strategic importance, bombed Kronstadt regularly but its naval and submarine fleet kept them from taking the city.
During World War II, the fate of Saint Petersburg (then named Leningrad)—and the Soviet Union itself—also hinged on this watery fortress.  It was thanks to Kronstadt and its naval clout that the Germans' siege of Leningrad, which lasted two years and killed hundreds of thousands of civilians, many from starvation, eventually failed. The Germans, aware of the port's and Leningrad's strategic importance, bombed Kronstadt regularly but its naval and submarine fleet kept them from taking the city.
Kronstadt is still a navy town and still home to the Russian Admiralty and Russian Baltic Fleet. Every week is Fleet Week around here: you're likely to see groups of sailors walking around town, or coming and going from the barracks next to the harbor and Petrovsky Park. Also, the blue-striped Navy shirts synonymous with Saint Petersburg and Kronstadt, and plenty of other maritime souvenirs, are on sale from kiosks all over the island.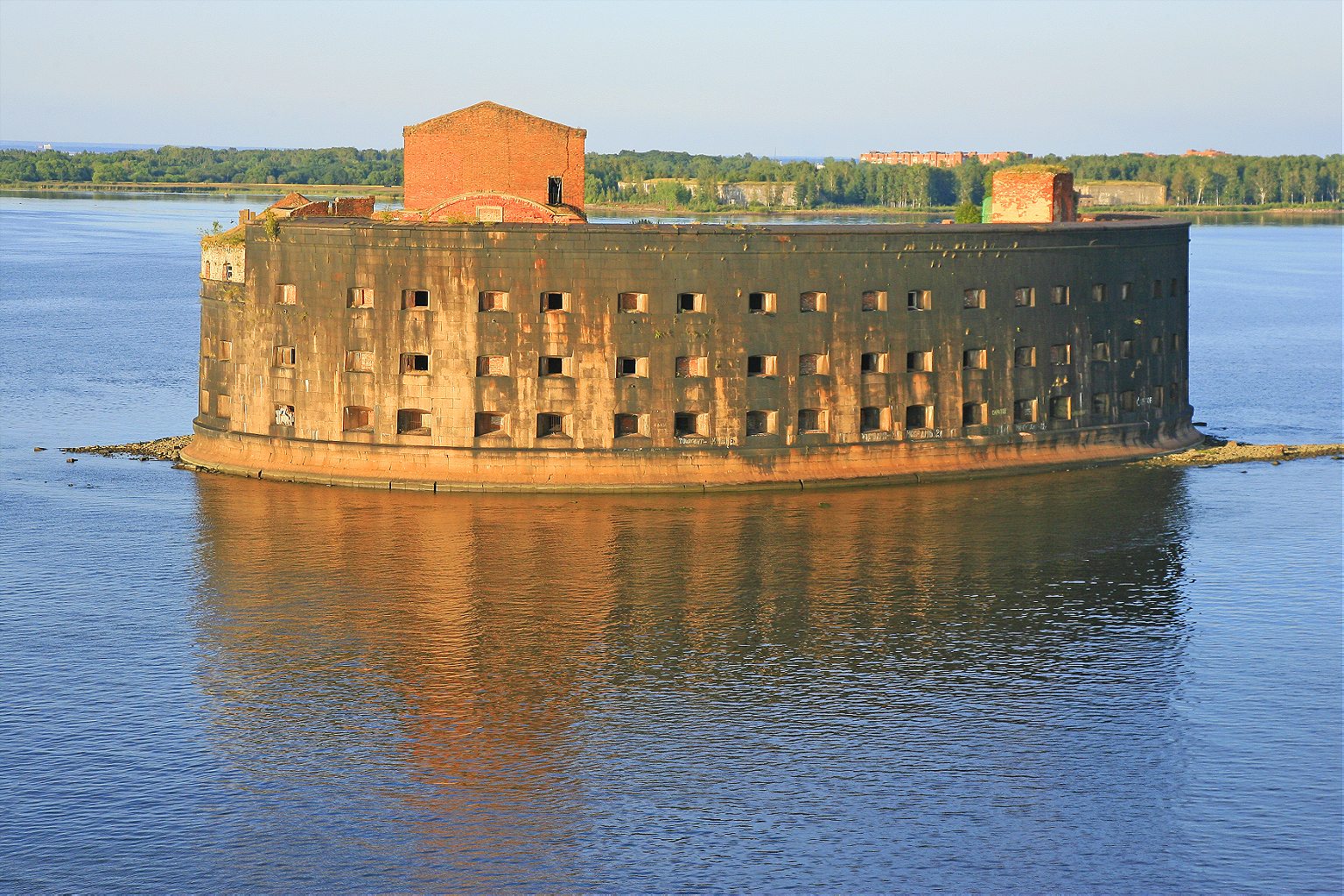 Take to the Water
Kronstadt was once the most fortified port in the world, thanks in part to its 21 naval forts. Once in Kronstadt, you can take a boat from the harbor at Petrovsky Pier to look around some of the fortress islands. It's approximately a one-hour trip, and costs 400 rubles. Some fortresses are well-preserved, others are in eerie states of ruin. Among the notable surviving forts are Fort Konstantin, the biggest in the Gulf of Finland, Fort Rif, a restored pillbox that is still used by the Russian military; and Fort Alexander I, or the Plague Fort, which at the turn of the 20th century was the site of a research lab for bacterial diseases. (In the 90s and early 2000s it was a vector for another European plague—techno—when it hosted a popular rave night called Fort Dance.)
Say Your Prayers at the Naval Cathedral
The imposing but beautiful neo-Byzantine Naval Cathedral of Saint Nicholas, modeled after Istanbul's Hagia Sophia, is dedicated to fallen seamen. Its massive golden dome—visible from miles away—is furnished with ropes and anchors.
The cathedral was built at the beginning of the 20th century on a site that had been identified 200 years earlier by Peter the Great, but it has spent most of its turbulent life serving as something else. The Communist regime closed the cathedral—and its dome—in 1929 and nationalized its treasures. Shortly after its great crosses and bells were sent to the foundries. In 1932 it became a cinema, and in 1939, a House of the Officers club—a kind of secular community club, a fate shared by many churches in the Soviet era.  Its dome was hit by artillery three times during the war, so it was closed entirely. After a long hiatus it has been slowly restored to its former glory: The Russian Orthodox Church reinstalled the cross on the main dome in 2002, and the cathedral was reconsecrated in May 2013. It's striking from the outside, but perhaps even more so on the inside: spacious, ornate, cavernous, touched with gold and works of art. (It's an Orthodox church, so note that women will have to covering their hair. Men shouldn't show too much leg either.)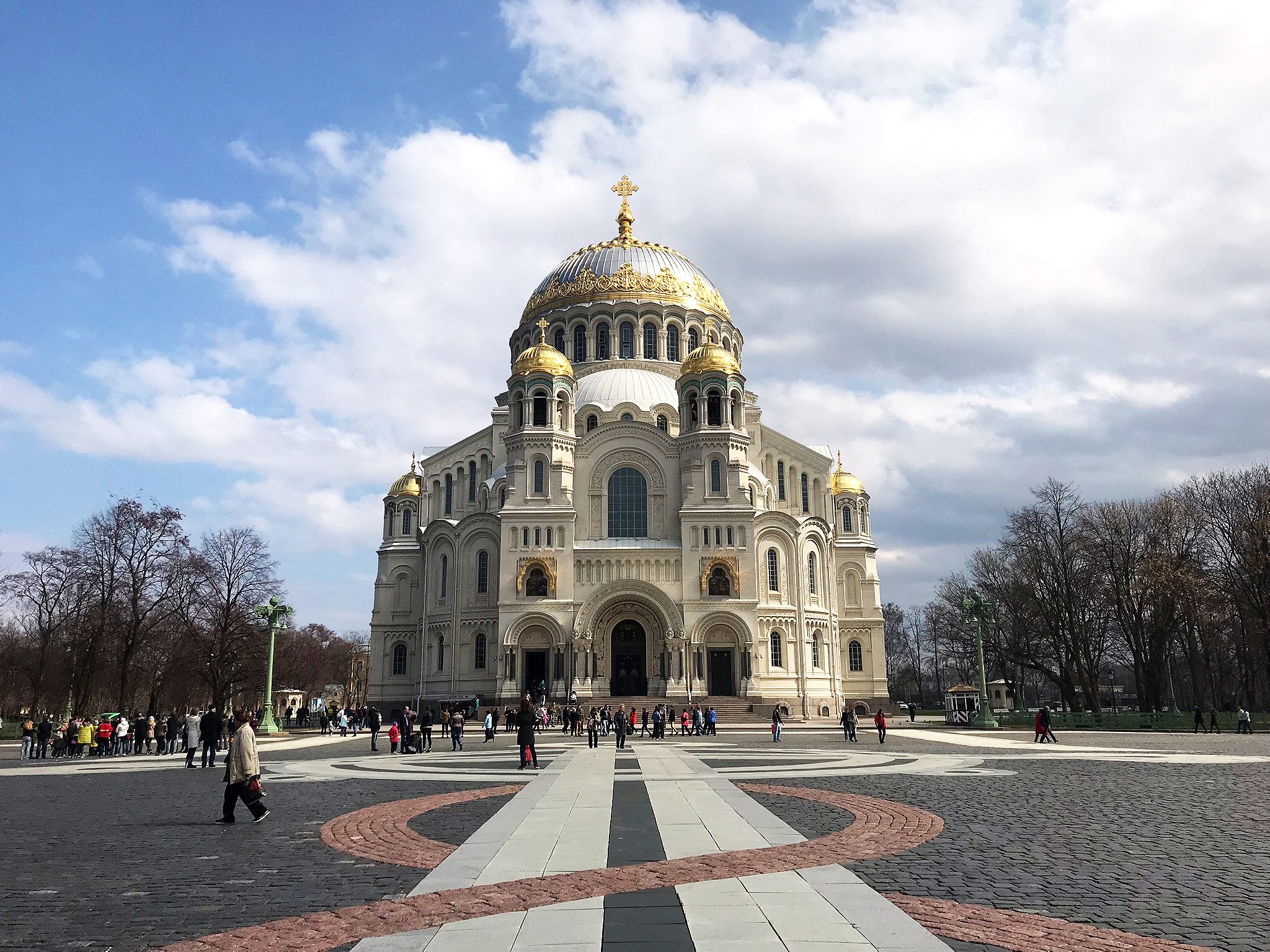 Head to the Radio Shack
A few minutes walk from the Cathedral, towards the harbor, there are a number of disused barracks slowly being reclaimed by forest, alongside an abandoned locks system that until recently was an excellent Urbex opportunity (now fenced off alas). Within this semi-wilderness is a nondescript hut of outsize importance to radio history. Alexander Popov was a physicist and teacher at the Russian Navy's Torpedo school in Kronstadt, and widely regarded in these parts to have invented radio right here. This little yellow shack is where he is said to have made the first radio broadcast—to St Petersburg state campus buildings, in morse code—in March 1896. (Apparently Guglielmo Marconi registered his radio patent two months after Popov's first radio transmission.) Because Marconi and Popov (and many others, building on previous research) were working on similar goals contemporaneously and Popov's 1896 transmission was not publicized, the "inventor" title is disputed, but Popov is credited with making the first transmission with antennae. The hut, and a small monument to Popov, are in the grassy square adjacent to the dock bridge and Makarovskaya Ulitsa.
Touch the Center of the Universe
Near the Italian palace, next to the bridge across Obvodny (Provodnoy) Canal, is a small, yellow pavilion with a long spike sticking out of it into the sky. This covers a deep well and a tide gauge that measures Baltic sea-water level. All depths (seas, rivers, etc) and altitudes, including the altitude of spacecraft, in Russia are measured from here. (They use modern data these days, but still take readings from this original tide gauge for tradition.) The story goes that superstar Soviet cosmonaut, Yuri Gagarin, visited Kronstadt in 1967 and referred to this spot as the center of the universe. (And he would know.)
What to Eat
There is a smattering of restaurants in the city center near the cathedral, everything from sushi to Georgian food, and a restaurant called "Fart" which, full disclosure, we did not sample. There is also the Big Turtle restaurant, which serves Russian and European dishes and seafood.
If you're driving, grab a bite on the way there or back at Riba Na Dache ("Fish at the Dacha") [Rыба на Даче] in Sestroretsk, a suburb of Saint Petersburg. It's a large, airy restaurant and grill spot decked out to look like a dacha, on the banks of the Sestra river. It has an outdoor smokehouse, ping-pong tables, a deck for lounging, and riverside benches. If it's spring or autumn, look out for Koryoshka—small fish, or smelt—on the menu: Saint Petersburg's beloved fish dish and mascot rolled into one. Get them fried simply in flour, served with just some lemon, and eat them with your hands like oversized whitebait. Primorskoye Hwy, 31A, Sestroretsk, St. Petersburg 197706 +7 812 918-69-70.
Getting there
There are tours from Saint Petersburg, by bus and boat. Buses go from Chernaya Rechka metro station (bus 405), from Prospekt Prosveshcheniya metro (bus 407) and from Staraya Derevnya (bus 101).
Under your own steam, there is car/Yandex Taxi/Uber. The one-way journey shouldn't cost more than 1500₽ (US$25).
From May to October, ferries go to Kronstadt from the docks behind the Hermitage Museum. It's about a one-hour trip, costing around 200₽ (US$3.)
There is also a high-speed hydrofoil tour that leaves from Saint Petersburg's Kunstkamera pier, at University embankment. It's a day-trip Kronstadt excursion that includes a tour of the town and the fortresses on the way back, which costs around 2000₽ (US$32).
Tours around the city can be arranged through Kronstadt's official website, or from the tourism information center in town: the Information Cultural Centre, Martynova Street, 1/33.