Four hours and six blinis on Russia's high-speed rail service.
The journey between Russia's two largest cities has always been arduous. In the 18th century, Alexander Radishchev took a trip from Saint Petersburg to Moscow that lasted an eternity, taught him everything about the Russian soul, and resulted in one of the great travelogues in the history of the country. A decade ago, the 400-mile journey between Saint Petersburg and Moscow was still laborious (R&K's co-founder did a video breakdown of the road trip for TIME Magazine in 2008). Traveling by road meant a rutted highway past an endless string of villages that often didn't have paved roads, a drive that still takes up to 12 hours today. Train journeys were drawn-out affairs too. Transit between Russia's two largest cities involved overnight sleepers for 8+hour trips (although it could be done—and still can—in luxury cabins.)
The Sapsan—the Russian word for peregrine falcon, the world's fastest bird—launched in 2009, and connects Saint Petersburg, Moscow, and Nizhny Novgorod. These sleek, sharp-nosed trains were built by Siemens and modeled after German ICE (Inter-City Express) trains. They reach speeds of 155 mph (for comparison, an Amtrak train averages out at about 80 mph) and cover the Moscow-Saint Petersburg leg in 3 hours and 45 minutes. The window scenery is all birch forests, overgrown country cemeteries, wide rivers, and clusters of colorful dachas (Russian country cottages). It beats flying, both as an experience and due to its relatively reasonable price, starting at US$80 or so.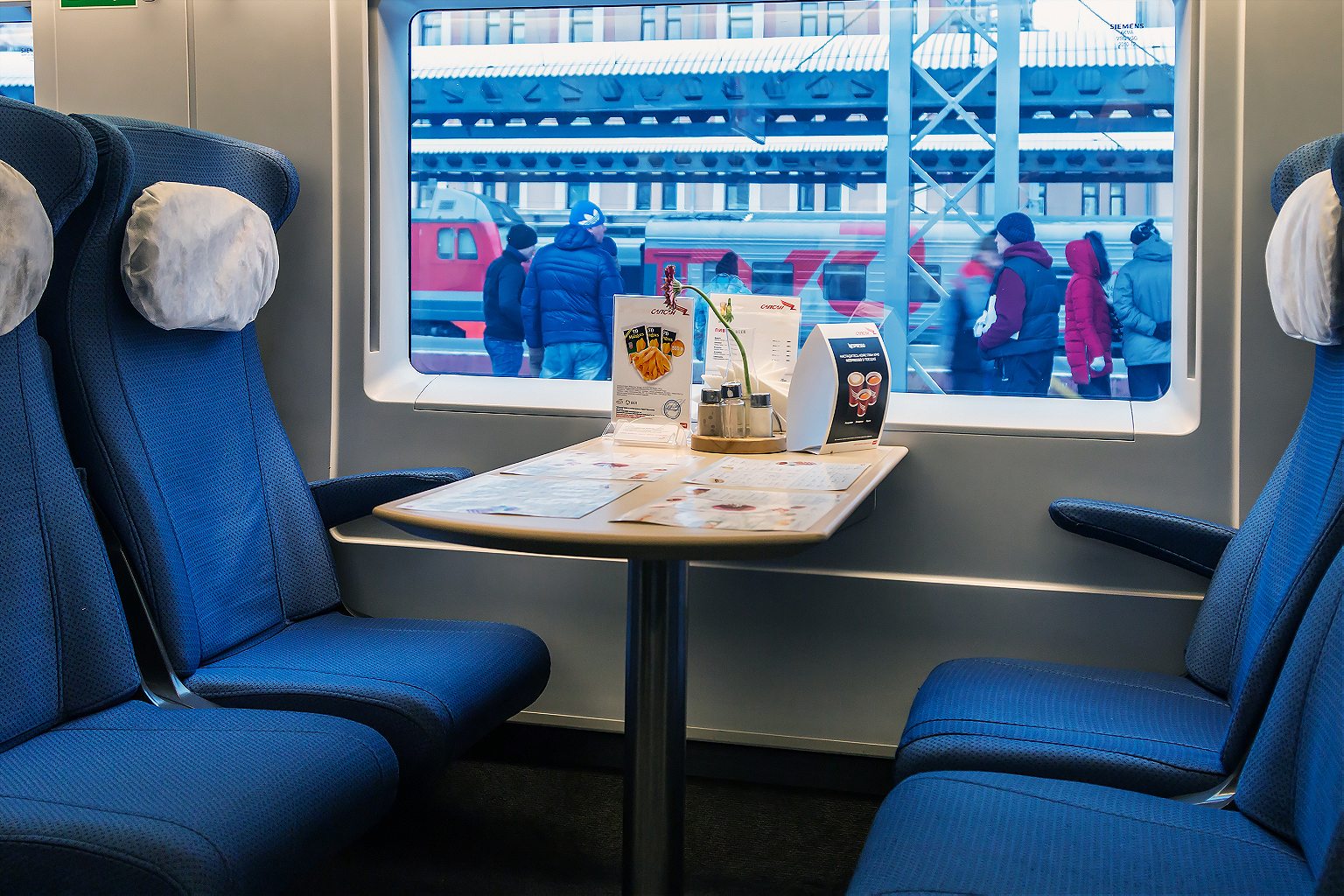 The Sapsan is Russian Railways' only profitable passenger service, and the pride and joy of its railway. Not everyone was thrilled about it: disgruntled locals in villages along the Sapsan route have pelted passing trains with ice and stones—and once, a tomato—to vent their anger about the abrupt cancellation of other commuter and long-distance routes since it launched. (Some even built snowmen on the tracks.) Also, because level crossings weren't modernized and the Sapsan tracks were exposed, there were some fatal accidents in its early years, when people walking across rail tracks or using shortcuts were caught off guard by the high-speed, low noise train. Safety measures have been put in place at some level crossings, which block off roads 15 minutes before the Sapsan passes through.
If you want to go for history over speediness (and save some money), there are still slower, cheaper trains running between Sapsan-connected cities, often as overnight services. The Soviet stalwart Krasnaya Strela (Red Arrow), the former star of the fleet, still runs the overnight service with a range of classes and cabins. There are also cheaper and less prestigious ones still running. There is also the Grand Express luxury overnight train, which has finer touches like TVs in its cabins.
Dining: The Sapsan has an extensive dining menu. You can book your trains seats in the restaurant dining car—as professional eaters, that is of course what we did on our recent trip—or head to the dining car to order, or, if you're in Business or First Class, you can simply order from your seat and have it brought to you.
Security: All luggage is screened on entering Saint Petersburg and Moscow railway stations, and then again at the Sapsan platform, so we recommend arriving at the station at least 40 minutes before departure.
Buying Tickets
You can order your Sapsan tickets from the official Russian Railways site (rzd.ru, not to be confused with the reseller russianrailways.com). You have to register first. They have an English site, but some carrier names are still in Cyrillic, so it's not always easy to navigate. The Sapsan option will come up in the list of train routes once you search for destination: look for "САПСАН". When booking your seat you can see a map of the train, which is useful. You'll need to enter your passport information, and once you book the ticket, you're set: all you need to board the train is your passport.
There are several tour and visa-support operators that will deal with train tickets for you and also provide the visa "invitation" document necessary to get into the country in the first place. Russiantrains.com, a Malta-based travel agency (with international helplines) has a dedicated Sapsan sister-site. There is also RussianRail.com, and Real Russia—a full-service Russia tourism and visa agency, a joint UK-Russian outfit—is a useful middle-man for all things traveling in Russia, for a fee. They also have an online booking system.
You can also buy tickets at the train station, but especially for this route, or any of the World Cup routes, we don't recommend this—the trains might be well booked up by then.
Classes and Prices
The Sapsan has six ticket options, from a plush, private "Conference cabin" with a couch to Economy, a no-frills but perfectly decent train seat, no meal included. Here's a diagram of the Sapsan.
Russian Railways has a special tariff system for the Sapsan which calculates ticket prices based on when the tickets are purchased and the train's occupancy. This means there is a lot of variation in pricing, and you could be paying both a lot less or more than the base rate, but you can check the prices during the booking process.
Prices: From ₽ 5000 (US$80) for Economy to  ₽ 44,000+ (US$710) for the Conference cabin.
Conference cabin: Four seats in a private room/booth with a lockable door, with presentation equipment for business meetings, 4 leather seats and a small couch. Wi-Fi, entertainment system, outlets,  adjustable seats.
Premium class: Spacious seats. Wi-Fi, personal electrical outlets. Tickets include a hot meal and drinks.
Business class (Slightly less spacious seats, Wi-Fi, electrical outlets, charging outlets for cell phones/devices. Includes a meal with wine and spirits.
Bistro car: You can book seats in the dining car, which includes a 2000-ruble (US$35) rebate on food and drink per ticket. (Choose anything from menu for up to 2000 r, the rest is extra is allocated.) We found this to be a pretty great deal—the hassle you get from being in the dining car is pretty minimal, and it means you can eat and booze pretty fully for no extra money. There us an electrical outlet at the end of the carriage.
Economy Class + Economy-class seat, meal included.
Economy class: No food service included in the ticket price.