Mountains, castles, goat cheese, and going offline in central Portugal's restored schist villages.
A two-hour drive northeast of Lisbon, in central Portugal's central region, are the Aldeias do Xisto—a network of 27 "schist villages" built on the forest-covered slopes of the Serra da Lousã and Açor mountain ranges, named for the rock used to construct them.
Beira is comprised, more or less, of the territory between the Douro and the Tagus rivers, home to Portugal's tallest mountains. This was a region of small-scale landowners accustomed to isolation and a hostile environment who built their houses on the mountain slopes for access to their important resource—fresh spring water. As far back as the 12th and 13th centuries, settlers built these villages wholly or in part out of schist, a thinly layered metamorphic rock abundant in the area. The schist lends these villages a distinctive profile of coarse, haphazardly stacked bricks of different hues, blending into the steep hillsides. For centuries, the mountains, and the castles and forts dotted around the region, were highly effective at protecting the villages—and the surrounding land—from would-be invaders.
From the early 20th century onwards, many of these villages were abandoned as a more comfortable and prosperous life in the cities beckoned. Mass emigration between the 1960s and 1980s all but emptied the most remote ones. Though their isolation helped preserve them in some ways, many of their buildings fell into ruin. But thanks to a joint Portuguese government and European Union-funded project set up in 2000 to conserve and rebuild the villages, they have been gradually repopulated: People from elsewhere have moved in and become involved with conservation efforts, and residents have set up food- or ecotourism businesses, preserving traditional crafts, farming, and schist construction methods.
These relics of a harsher chapter of Portuguese history era are now geared towards visitors in search of biking and hiking trails, who want to go offline, or who want to meander from village to village, sampling local wine, cheese, or goat meat sausages. The Aldeias do Xisto association has developed a network of hiking and bike routes between many of the villages, and connects visitors with guesthouses, restaurants, and sites of interest. The villages receive about 1,000 visitors per year.
I escaped Lisbon to visit two schist villages; Ferraria de São João and Cerdeira, and the nearby town of Penela. Each is an easy day-trip from Lisbon by car, but it's also worth staying overnight and village-hopping. Once you get there, be prepared to walk or cycle the paths around and between villages to get the most out of the trip.
Penela and Ferraria de São João
Penela, in the Coimbra district,  is a town of around 6,000 inhabitants built around Penela Castle, which protected Coimbra (once Portugal's capital) during the Reconquista—the period when Christian military forces wrested control of Iberia back from the Moors, who conquered the region in the 8th century.
I stop to eat at Dom Sesnando, a restaurant on the slope of Penela Castle. It specializes in local cuisine, particularly goat cheese and wine. Owner Carlos Zuzarte pours me a glass of Beira region Lapa dos Reis, handpicked from his vast collection. This red wine comes from vineyards in Rabaçal, a small parish where various forms of agriculture have thrived for centuries. The meal starts with a local staple: melted goat cheese with generous spoonfuls of honey on top, and continues with a serving of cabrito (the meat of a young goat, usually roasted) and Portuguese favorite bacalhau (cod). Both the service and meal are languid affairs. As Zuzarte says, "If you want quick, go to McDonalds."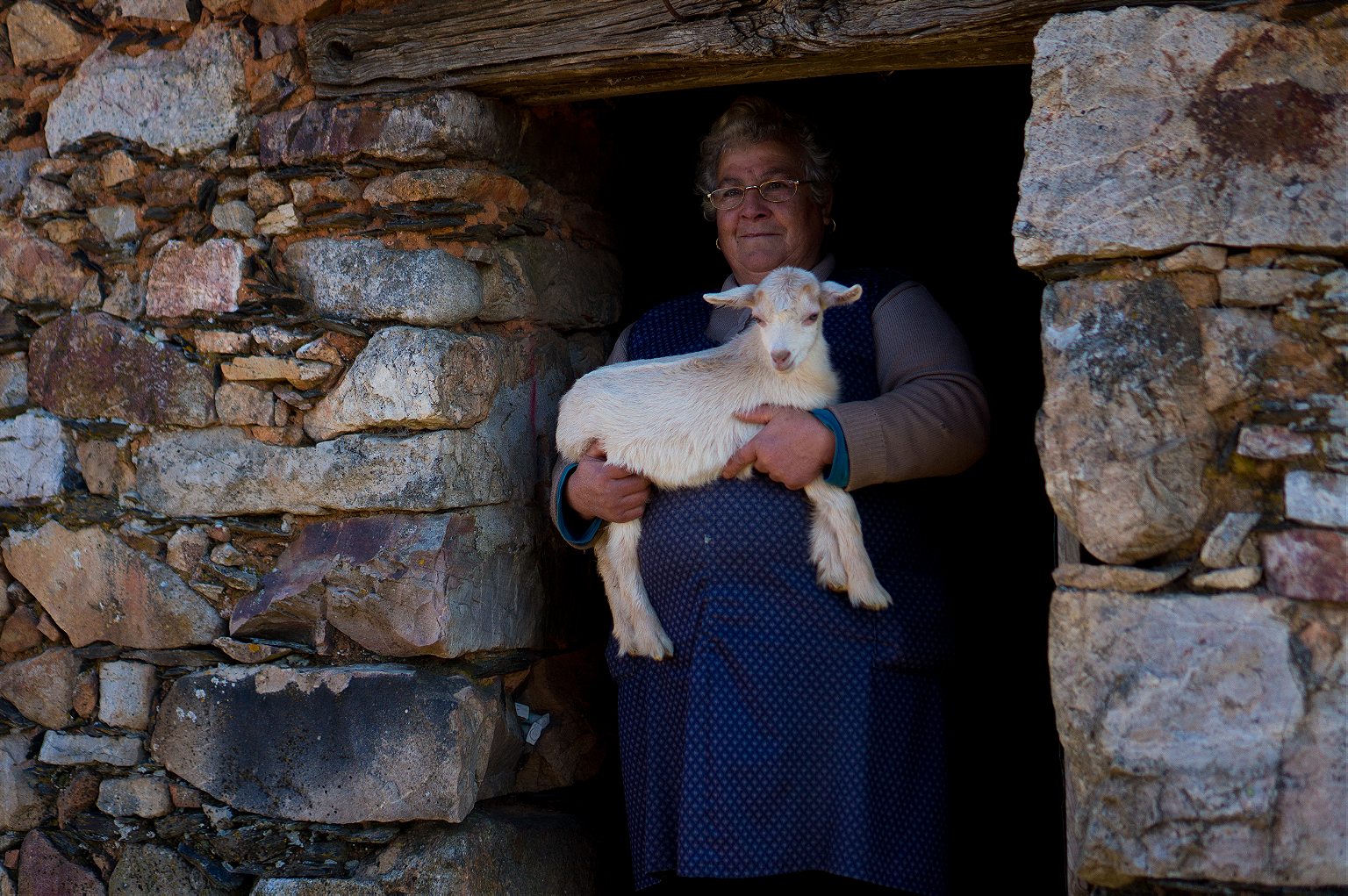 About 15 kilometers (9 miles) southeast of Penela is Ferraria de São João, a village of around 40 residents on the southern edge of the Serra de Lousã. Ferraria was built out of a combination of quartzite and schist, and many of the houses have been painted white. These days, the village is focused on farming and herding animals, and rural and bike tourism. The mountain-bike center (Centro do BTT), the first of its kind in Portugal, is a starting point for several bike routes and offers parking and repair services. There are also some bike-friendly guesthouses.
Ferraria was one of the many villages in Beira affected by a series of devastating forest fires in June 2017, caused by an extreme heatwave and drought in southern Europe. The fires spread quickly in Portugal's central region thanks to the prevalence of planted Eucalyptus globulus—a rapidly growing and highly flammable tree. Parts of Ferraria were spared from the fire thanks to the native cork-oak forest around the village, which formed a protective barrier. After the fire, residents and volunteers worked together to create a protection zone by uprooting the eucalyptus and pine trees and planting more fire-resistant trees within a 500-meter radius of the village.
In addition to mountain-bike enthusiasts, you are likely to encounter herds of goats in the area. Goat remains an essential local staple, a source of nourishment and of income through the sale of dairy products. Local specialities reflect this history. Try chanfana, a stew made with goat meat, usually left to soak in wine overnight, and maranho, a sausage made with pork and goat meat blended with rice and aromatic herbs.
If you're lucky, you also can witness pasteurized cottage cheese being made: the 45-minute wait for the goat milk to curdle, the draining of the whey, and the molding of the curd by hand. Once it's plated, on a bed of salt grains, it's a delight to slice into it. Dona Isilda—a lifelong Ferraria resident—was happy to show off the process. Ask around: quite often, cheese producers allow visitors to see how it's done. Most villages have a local cottage cheese producer who usually sells to local restaurants and shops. Ask at restaurant, and if you're lucky, they'll have some on the menu.
Going offline in Cerdeira
The car-free village of Cerdeira (135 miles from Lisbon) is one of the most remote schist villages. Clinging to a steep slope of the Lousã mountain range, it's a fortress-like warren of leaning houses, narrow paths, and terraces. (Cars can drive up and park at the village chapel, but since there are no roads wide enough for vehicles in the village, you have to walk into it on foot.)
It's unclear just when Cerdeira was built, but the earliest records of the village date back to the 17th century. It had a population of 75 in 1911, but by 1980 had been completely abandoned after its last residents emigrated to Lisbon, Brazil, or North America. Then, in 1988, Kerstin Thomas, a German art student at the University of Coimbra, stumbled upon the village while hiking with friends. It was in a state of ruin; she moved there and became, at the time, Cerdeira's sole inhabitant. There was no electricity, running water, or sewage system—and no telephone line. It was a challenging but rewarding effort, Thomas explains when we meet in Cerdeira's only café, Café da Videira: "When we grow up in an environment where everything is available, we know nothing about life." Thomas spearheaded efforts to rebuild and restore the village, using the traditional materials of shale and clay.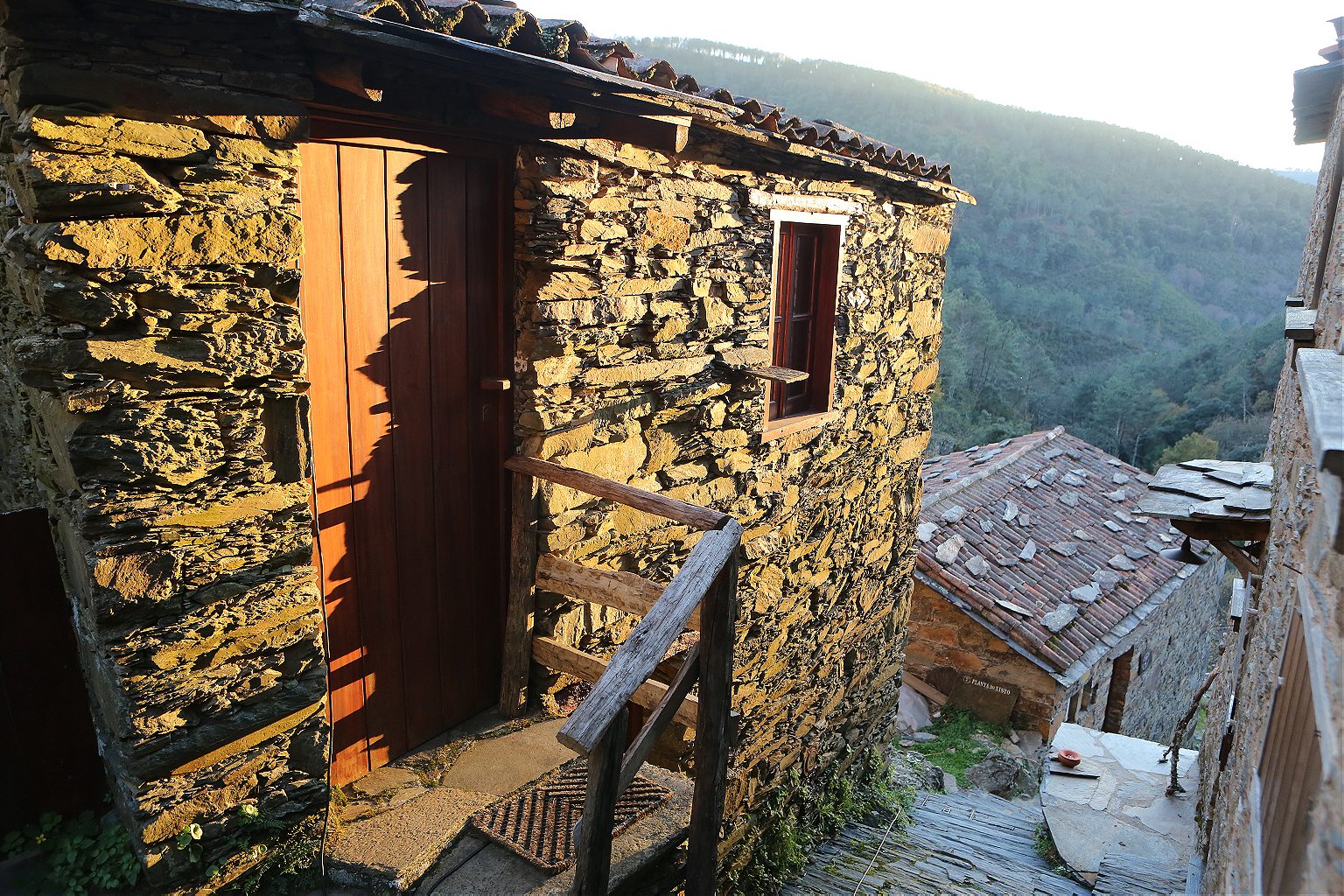 Thomas, with the help of the Aldeias de Xisto association, spearheaded efforts to rebuild and restore the village, using the traditional materials of shale and clay. Working with a local family, Thomas and her partner, Bernhard, helped set up Cerdeira's renovation project and accommodation center, Home for Creativity. Their pioneering efforts led to the creation, by local and international partners, of Casa das Artes, an arts and crafts center where artists can do residencies and visitors can try their hand at wood-carving or ceramics. After years of solitude, Cerdeira now has a small number of permanent inhabitants, and a small amount of guest rooms: nine private casas (restored and renovated schist houses, naturally) and a hostel. (Note: there is no internet access—except in Café da Videira—nor television, and cell phone service is scant.)  I stayed in Cerdeira for one night in one of the restored casas. What I recall most vividly, besides the sense of isolation that the mountains lent the village, was the taste of the water from the local fountain—the best water I have ever tasted.
Not too long ago, isolated dirt tracks were the norm in the region. These were used by children on their way to the nearest school, sometimes many miles from their homes; by bakers and shopkeepers carrying essential foods, such as bread, back and forth; and by betrothed men and women and their families to celebrate their weddings in the cities, their 'good' shoes on a sack so they were safe of dirt and grime. These days, the trails are simpler to traverse. The Aldeias do Xisto association has built a signposted network of dozens of hiking and cycling trails of varying levels of difficulty, connecting villages, viewpoints, and places of interest, that you can download and add to a personal map. The area is popular with professional cyclists; you may even meet national squads from around the world training in the rugged landscape.
Planning a trip
From Lisbon, it's about a two-hour drive northeast on the A1 motorway to the Aldeias de Xisto region. There is public transport between Lisbon and Lousã or Coimbra, but it's not practical for further exploring. The villages are reachable by car through modern (but narrow) roads, wide enough in many places for only one car at a time—but some are car-free. Visitors arriving by car park where they can near the entrance of a village and then continue to the center on foot or by bike. After leaving the motorway system for the region's local roads, four-way lanes give way to curving tracks, where wild boar and deer cross. Beware of sharp, hairpin bends: if you suffer from motion sickness, bring anti-nausea tablets. Also: sunscreen, hiking boots, and books.
There are a range of places to stay, from hotels to Turismo rural guesthouses to campsites: check the Aldeias do Xisto website for reservations and itinerary ideas.