Sardines, roast chicken, Cape Verdean stew, Nepali momos: the dishes to try in Lisbon.
Portugal was one of the most outward-looking countries in the world at the time of its global explorations in the 15th and 16th centuries, its cuisine drawing on ingredients obtained from colonies in Africa, the Far East, India, and South America. It was also influenced by its nearby trading partners the Moors, the Spanish, the French, the British, and the Flemish. During its 48-year dictatorship, which only ended in 1974, the country became more closed-off, with poverty, agricultural self-sufficiency, and regional identities shaping the way people ate. The capital city today feels wide open again: immigrants from all over the world live here, it's popular with sun-seeking remote workers, and the speaking of foreign languages and the embrace of neighboring nations' culture is marked. This, along with climate favorable for growing a great many fruits and vegetables, makes for a varied food culture: traditional regional recipes, fusions of different cuisines, and the national dishes of the former colonies are all part of Lisbon's diet.
Sardines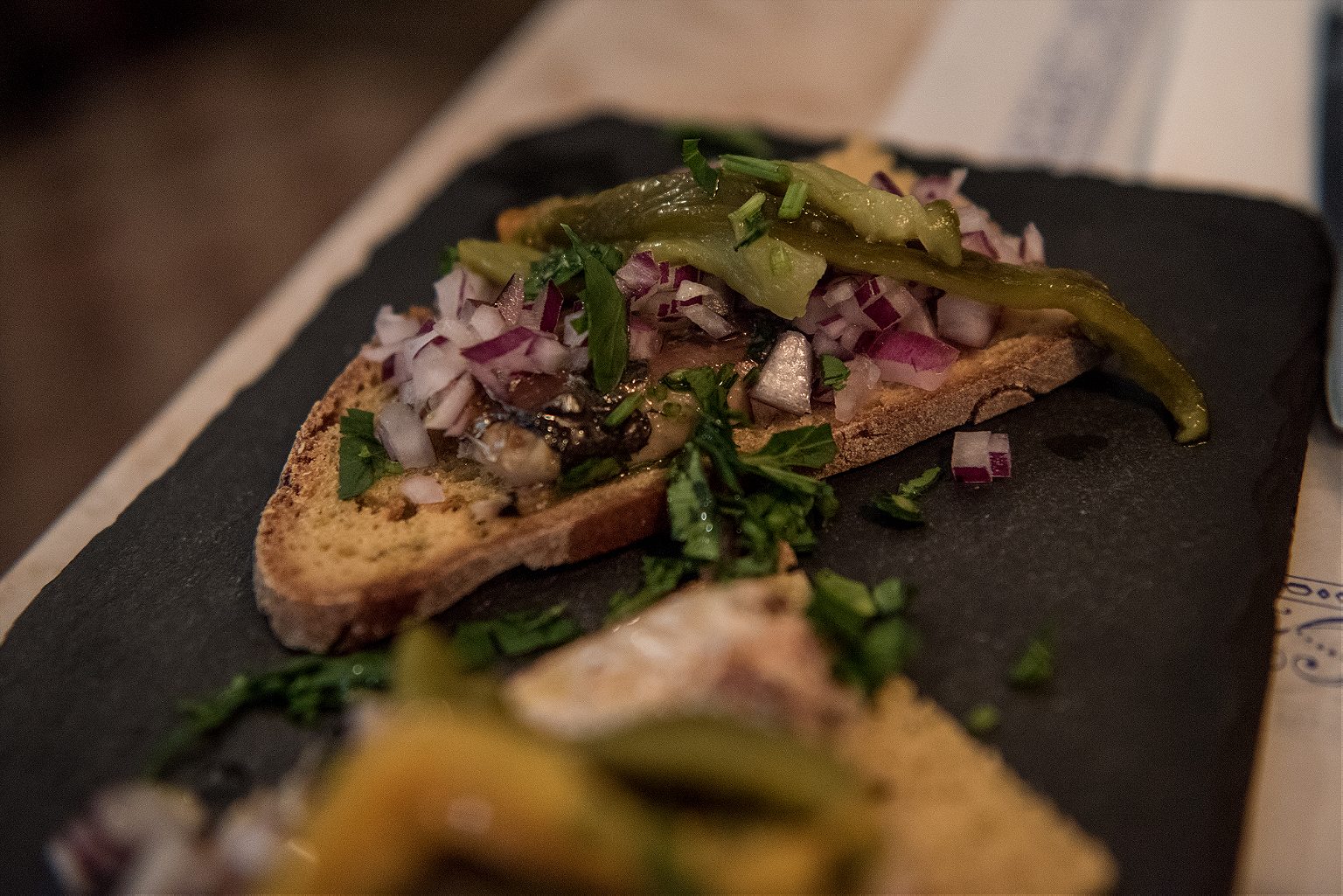 Lisbon is on an estuary only about 20 kilometers (12 miles) from the sea: fish and seafood are always on the table. The humble sardine has been part of the city's diet at the very least since the Moors—Muslim inhabitants of North Africa—conquered the city in the early 8th century, according to Alfredo Saramago's culinary history of Lisbon. The sardine is one of the city's symbols, stamped on advertising materials and tourist merchandise since those industries were taking their first steps.
The June festival of St Anthony, the patron saint of Lisbon, also marks the beginning of the sardine harvest. For the whole month, but culminating on June 13, many streets sets up outdoor grills and offer whole sardines on a slice of bread. If you're here in June, head for Alfama for the wildest sardine saint parties. In a restaurant, your sardines will more likely come the way all Portuguese fish dishes come—with boiled potatoes and a serving of vegetables. The tinned sardine is big business here too: you can buy beautifully-designed presentation tins, or eat a snack of tinned sardines (conservas) with different garnishes in cafes and bars. The former fishing-tackle shop turned bar in the Cais do Sodré area, Sol e Pesca, specializes in this.
Sardine stocks are declining, though: 2018 was the fourth consecutive year of restrictions on sardine fishing. In 2017 there was controversy about many of the June sardines being Spanish–where local sardines were found they were more expensive. This year, one of the outdoor festival bars made a statement about sustainability by offering carapau (horse mackerel) instead.
Bacalhau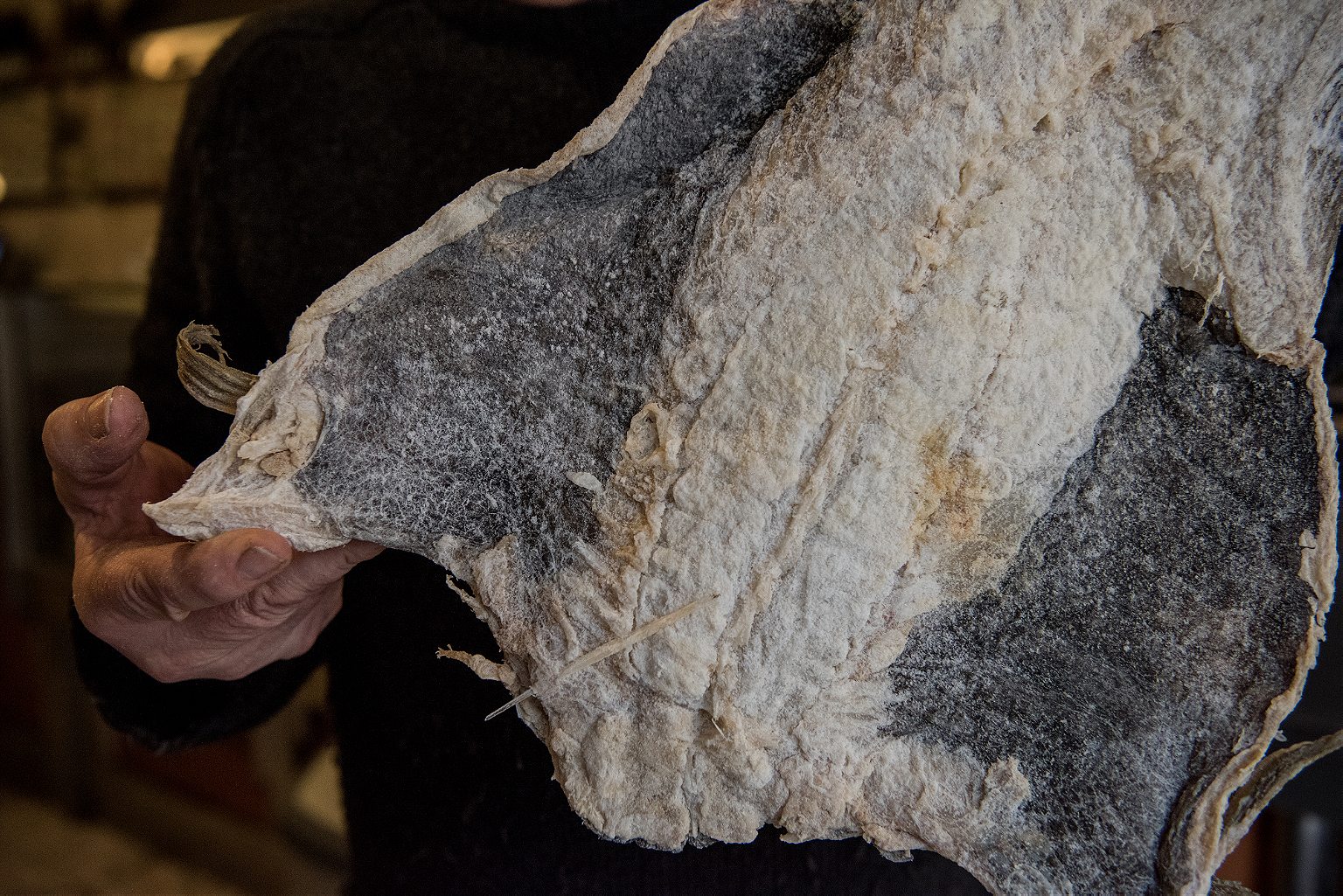 If the Portuguese are obsessed with fish, they're particularly obsessed with bacalhau (salt cod). This is strange, considering that another of their obsessions is eating their own local produce (see the Spanish sardine debacle above), and the fact that excellent fresh fish can be caught off their own coastline. This cod is imported from Norway, the UK, or Canada, and salted to preserve it.
Some ascribe the tradition to the time of the colonial voyages, when Portuguese sailors caught cod off the Newfoundland coast and salted it to make it last. Others say it might stem from a 19th-century accord with King Edward III of England that allowed Portugal to fish English waters for 50 years. Whatever the reason, bacalhau is the undisputed national dish. You can see the large hard chunks of fish hanging in shops and supermarkets, and a small saw is often used to cut them. The cod is desalted by being soaked in constantly-refreshed water for at least 24 hours before being cooked slowly and carefully. The joy is in the different preparations rather than the fish itself. Popular bacalhau recipes include bacalhau à brás–fish with egg and chips–bacalhau com natas (cod in cream) and meia-desfeita (cod, chickpeas, egg, and potato).
João do Grão, in the center of Lisbon, which has been in the same family since 1810, is a great place to try the latter. Pataniscas de Bacalhau (cod fritters served with a rice and bean stew) is a comfort food that really fills you up. Try it at the atmospheric Ponto Final restaurant, just across the water from Lisbon at Cacilhas.
Caldo Verde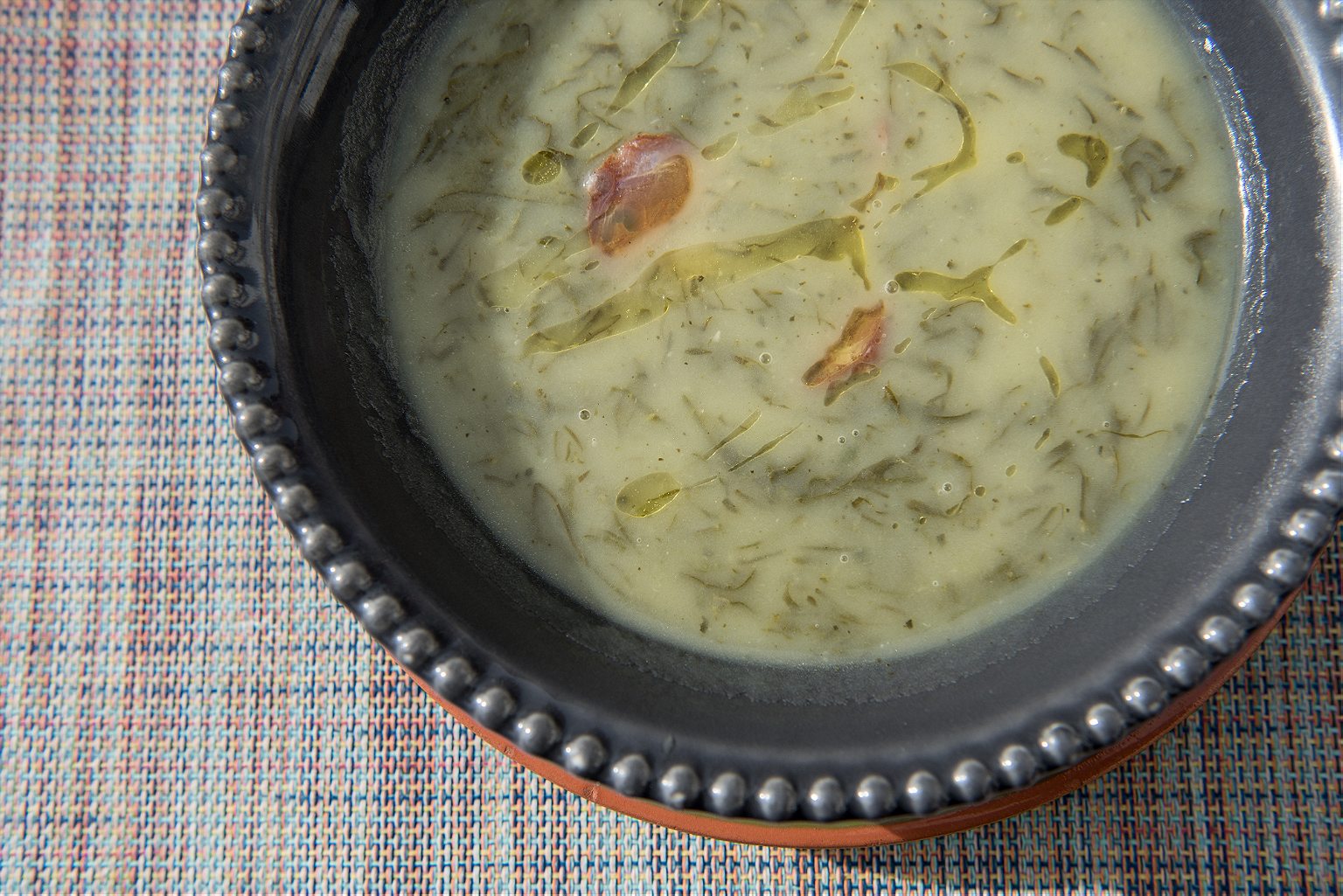 The only food the Portuguese are more crazy about than fish is soup, which they consume more than any other European country. (If you get the chance to go to a Portuguese soup festival, do!) Caldo Verde is the mainstay; cheap, hearty, and found everywhere. It is thought to originate in the north of the country in the fifteenth century, or even earlier, devised by field workers using the ingredients they had to hand. It's eaten at celebrations like birthdays and weddings, and all the rest of the time too; on its own, as the first course of a traditional long lunch or dinner, or as a late night snack. It's made with thinly-cut strips of Galician kale and potato, and always has a lump or two of chorizo floating it it (beware, veggies: the soup is made with chicken stock, but the 'veggie' version is usually just the same thing with the chorizo picked out). Try it at O Caldo Verde in Santos, just to the west of Lisbon's center.
Pastel de nata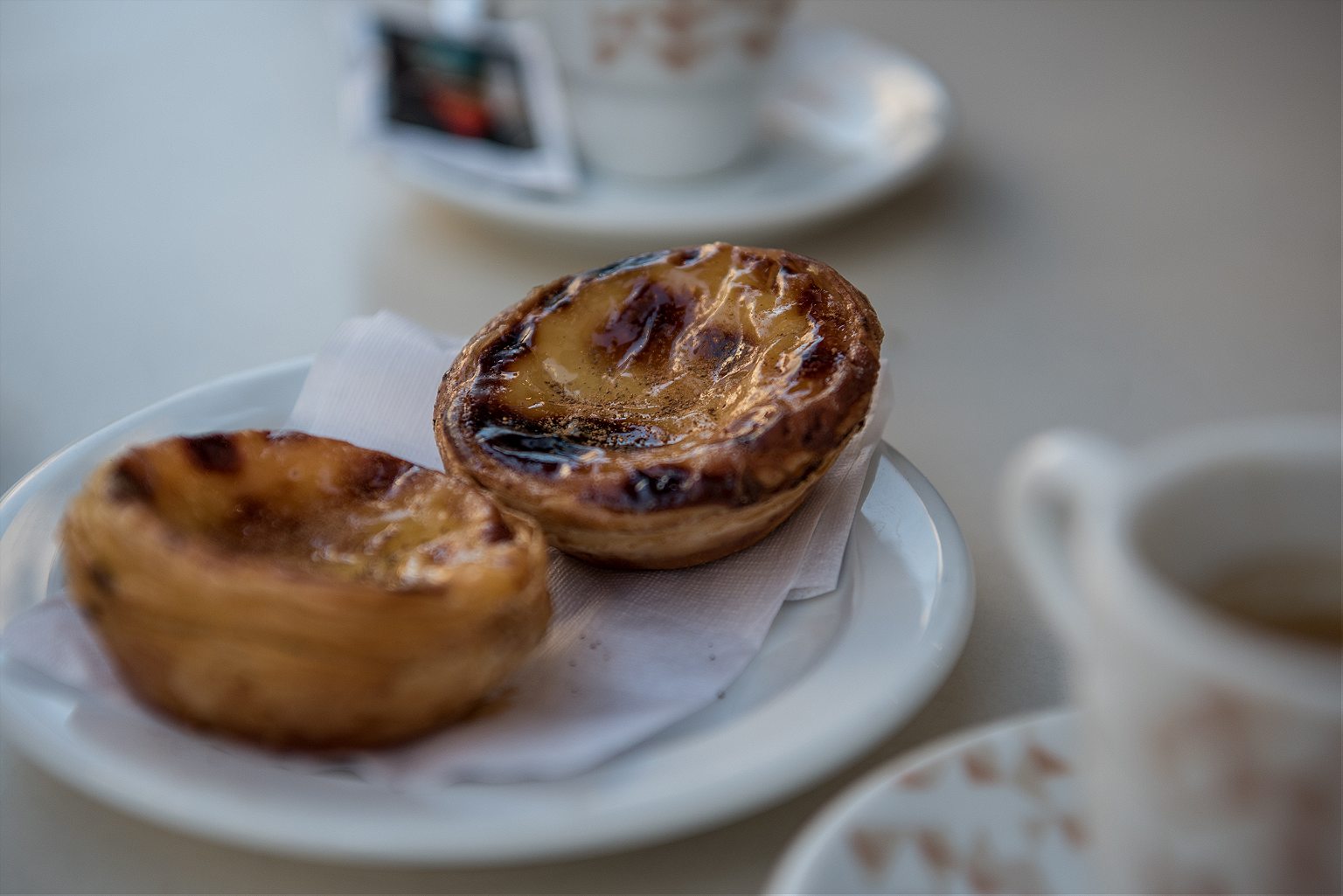 Every Portuguese street has a bewildering array of pastelarías (pastry shops), and every shop has a bewildering and sometimes bizarre-looking array of confections. These nearly all rely heavily on eggs.
The traditional pasteis were invented by monks and nuns, who were rich enough to buy quality ingredients, including spices like cinnamon from the colonies, and had time to experiment with them. The resulting sweets were given as gifts to noblemen and travellers. There are different theories to explain the predominance of eggs, particularly yolks, in the recipes, the most persuasive probably being that the yolks were the by-product of the egg whites used to starch nuns' habits. When the monasteries and convents were closed down by the Marques de Pombal in 1834, the monks and nuns passed the secret recipes to their families, who are still using them today.
The pastel de nata (custard tart) was supposedly invented in Lisbon's grand Monasterio de Jerónimos in Belém, which was next door to a sugar cane refinery. The owners of the shop Pasteis de Belém are said to have acquired the recipe they still use directly from the monks. They make such large quantities that their tarts are always fresh, but if you can't stomach the queues of tourists, there are plenty of other fine natas to be had in the city: just find somewhere with a high turnover that's baking them on-site. (Or, you can try to skip Belém's line and just take a seat inside—sometimes you might be lucky.)
Iscas com elas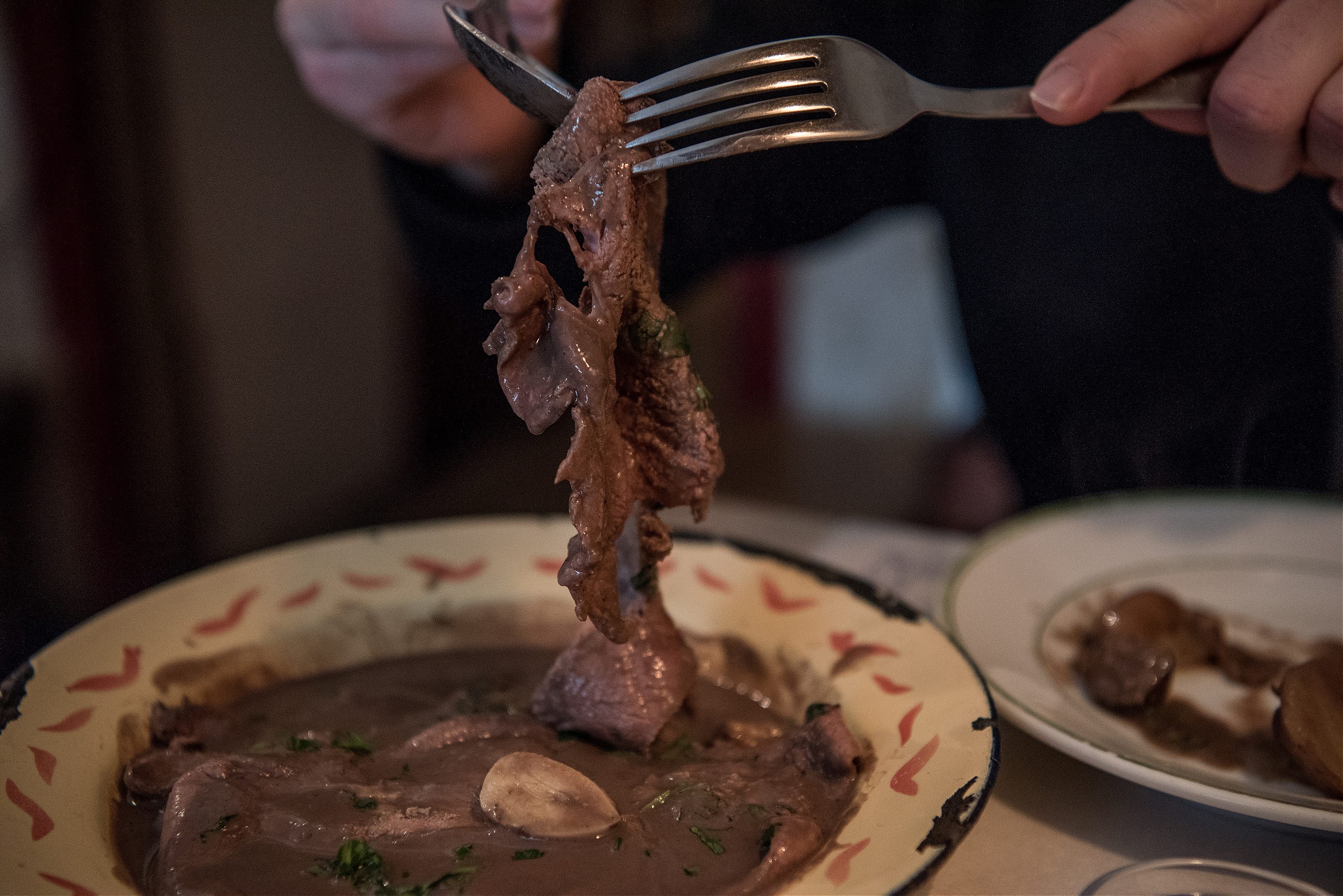 Iscas are thin strips of cow's liver, sautéed in white wine and garlic. They're served with boiled potatoes (referred to as elas—meaning simply 'them'). The dish was brought to the city by the Galicians who arrived in the 19th century to work in, and later own, restaurants and cafés (many other dishes considered Lisbon classics also owe their existence to the Galicians, including the bacalhau dishes meia-desfeita and pataniscas). Iscas com elas became so popular as a cheap, filling meal that a large number of restaurants at the time served only that. You can still find these simple, budget versions today, as well as a range of modern twists. Taberna da Rua das Flores, in Chaido, offers a widely-praised gourmet version as part of its affordable lunch menu, its waver-thin calf's liver iscas marinated beforehand using a traditional recipe.
Prego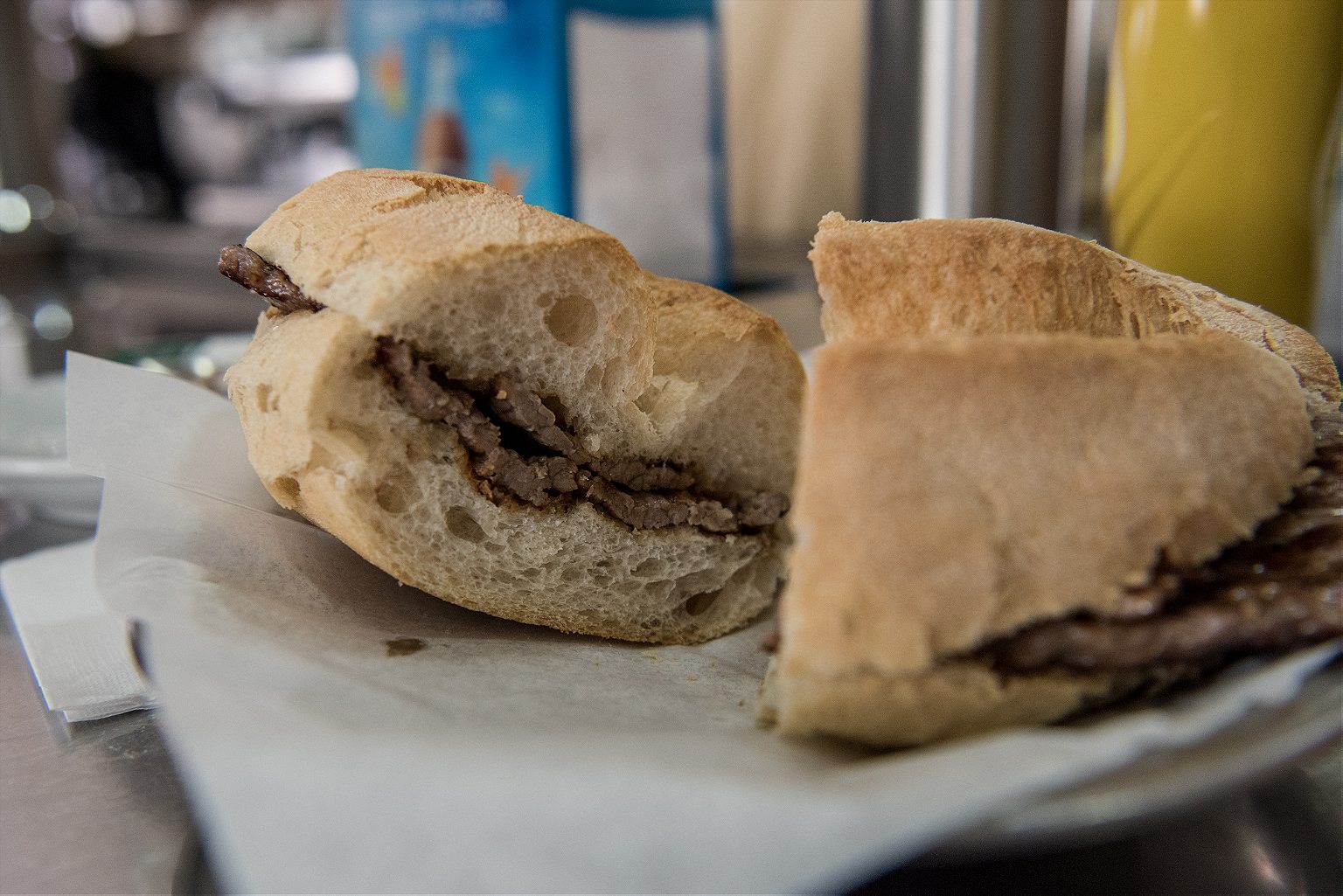 A snack much-loved by meat-eating Lisboetas is the prego, or steak sandwich. It began, like so many dishes, as a poor man's meal, the cheapest cuts of beef in a possibly slightly stale bun, the bread softened by the meat juices. It now exists in gourmet versions too, with tender strips of steak served on artisan bread. According to the history of Sintra, "Velharias de Sintra VI," it was invented by Manuel Dias Prego for his simple beach-side restaurant on the coast near Sintra, just outside Lisbon, in the late 19th century. Others say the name does not derive from Mr Prego at all, but from the custom of hammering the tough beef to tenderize it (prego also means nail). The Alentejo region's twist on the prego, equally popular in Lisbon, is the bifana, which uses pork meat. Both are such fast food classics that McDonald's produces a McPrego and a McBifana for the Portuguese market. The prego is often served in a bolo de caco, a soft, traditional Madeiran bread bun. The simple prego is best sampled with a beer at the food stands at soccer matches, or at Cervejaria O Trevo in Praça Luis de Camões. At the gourmet end of the scale, the 80-year-old luxury restaurant Gambrinus makes a fantastic tenderloin prego in homemade bread.
Roast chicken and potato chips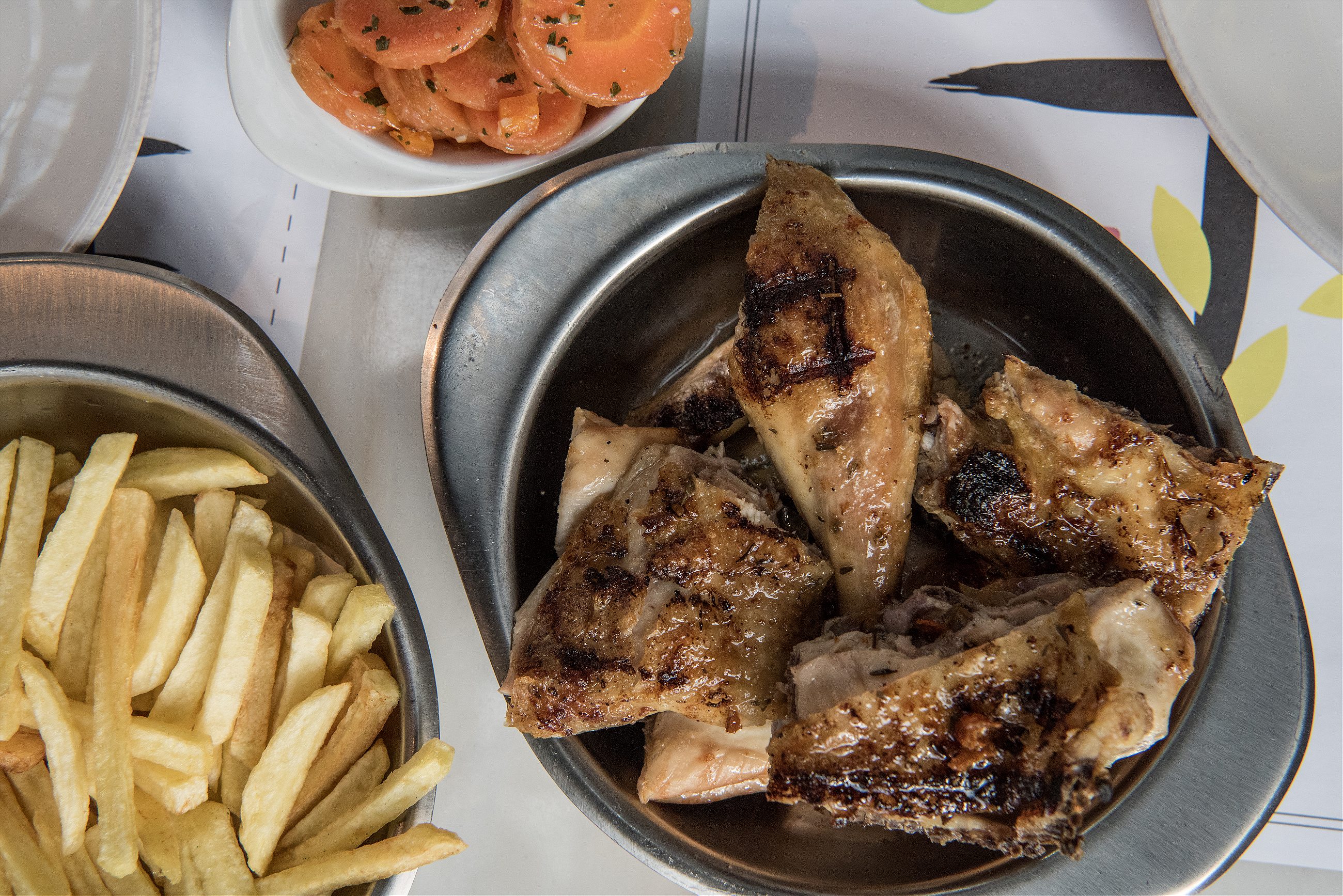 The cockerel is a symbol of Portugal. As a country that remained dominated by small-scale agriculture while its neighbours were industrializing,  it was until quite recently a place where nearly everyone kept their own chickens, even in the city. Chicken is the cheapest and easiest to rear form of animal protein. According to popular lore, João VI, King of Portugal from 1816 to 1826, ate two or three roast chickens every day for his lunch and to have carried a few drumsticks around in his pockets for when he got peckish. The national fast food is spit-roasted chicken served from a small kiosk to take home, often with potato chips. The chips are either fried in-house, in the chicken fat, and served hot, or are just a pre-packaged bag of simple, salted chips fried in sunflower oil. You can have a whole or a half chicken. For your sauce you can usually choose between butter, lemon, or piri piri (African chillies marinated in olive oil, another Portuguese staple with colonial roots, in Mozambique).  As with other traditional foods, it's best to seek this out on local high streets outside the center. The area around Praça do Chile has some well-established places.
Cachupa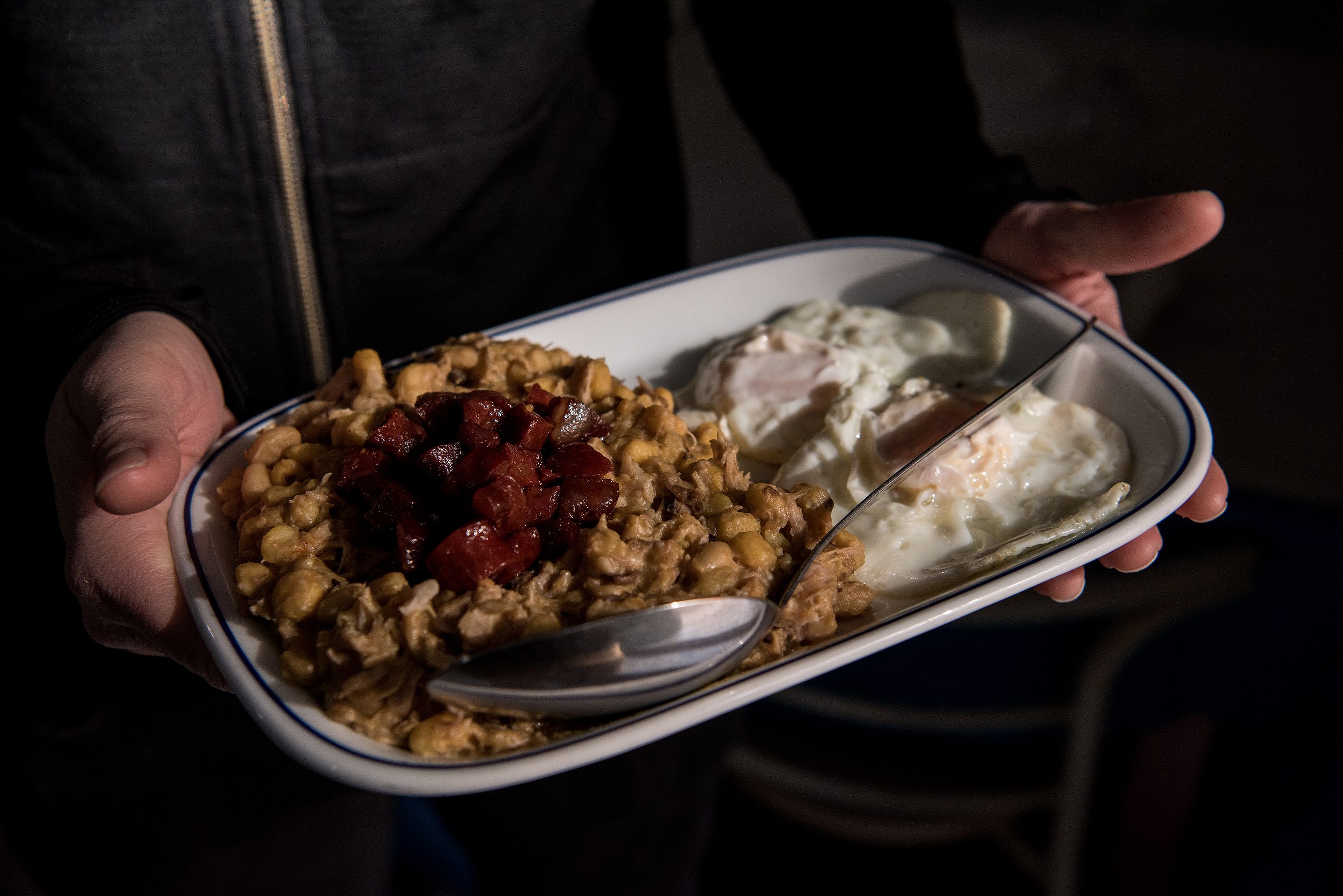 Thanks to the conservative and nationalist dictatorship of António de Oliveira Salazar—whose regime wanted Portugal to have an empire—and despite international censure, Portugal clung to its African colonies long after its fellow European empire-builders. The wars for independence from 1961 onwards were a large part of what toppled the fascist regime in 1974, and it was only then that Angola, Cape Verde, Guinea Bissau, So Tomé and Principé, and Mozambique were freed from Portuguese rule. The wars and independence resulted in a huge migration of people from those countries to Portugal, including Portuguese settlers and their families, known as 'retornados', returning to a 'homeland' they often knew little about. Immigration from the former colonies continues today, with people from the islands of Cape Verde forming the largest group of immigrants.
In Lisbon you can sample the cuisines of Portugal's former African colonies, usually in small, friendly, no-frills places. The Cape Verdean cachupa is one of the best-known imports. It's a nourishing stew of beans, corn, cassava, and sweet potato that comes in meat, fish, and less-traditional vegetable-only versions. It's common to have last night's cachupa fried up for breakfast too, along with an egg and sausage or mackerel. Try it at Tambarina in Rua Poço dos Negros: If you're lucky you'll get some music too.
Goan Prawn curry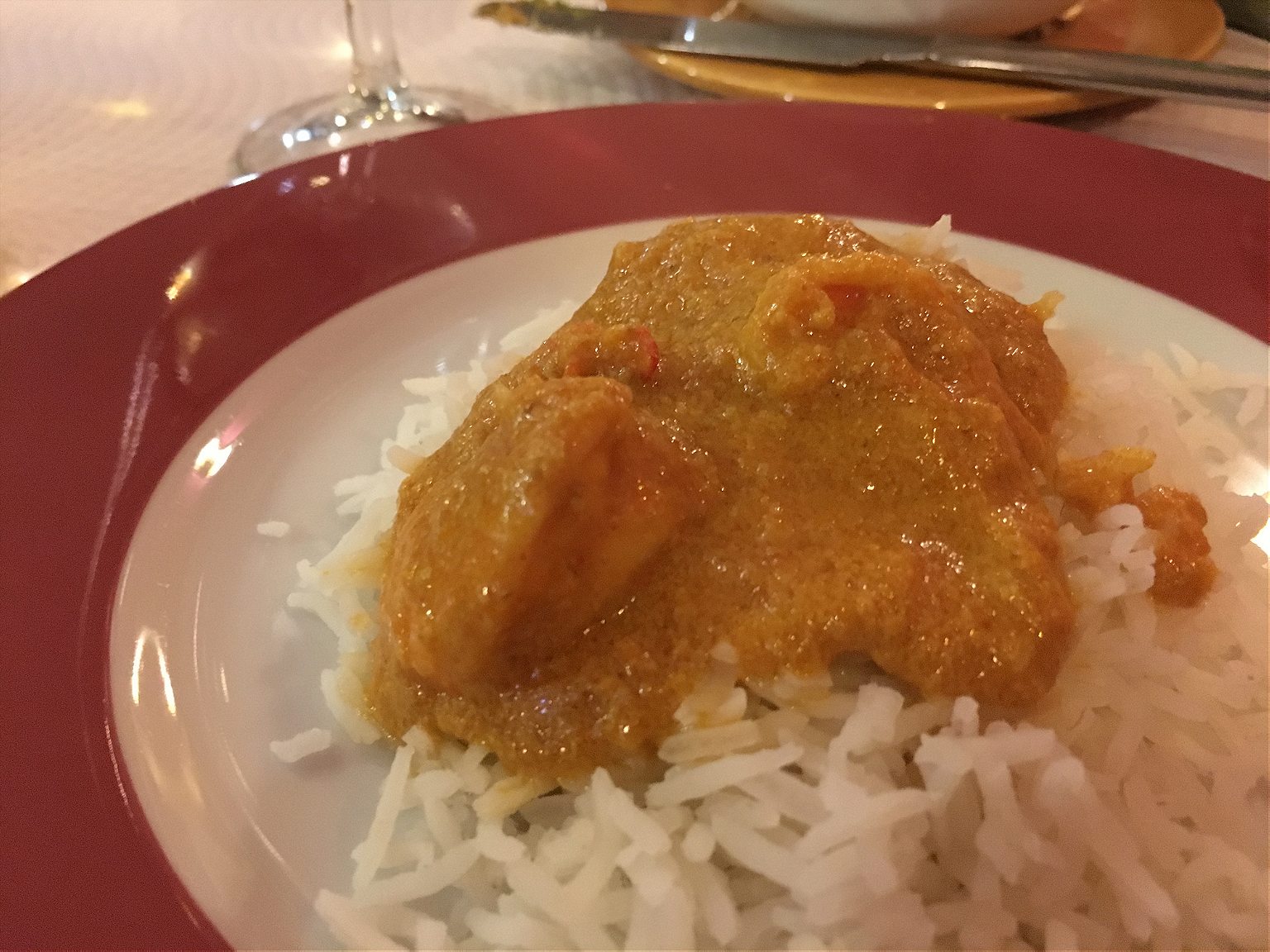 When India captured Goa from the Portuguese in 1961, Goans did not lose the Portuguese citizenship they had been granted back in 1957, and many Goans, particularly intellectuals and government and military workers, took up Portugal's offer of citizenship and began to emigrate here in search of opportunities. Portuguese nationality law was changed in 2006 to extend citizenship to the third generation, so those whose grandparents lived in Goa before 1961 can also emigrate. Some Goans also went to Mozambique, lending the cuisine its elements of African-Indian fusion. Such is its appeal that Lisbon has a handful high-end Mozambican restaurants.
The common Goan street food the chamuça (samosa) in particular has became firmly established as a Lisbon snack, found in many Portuguese cafes. The highlight of Goan cooking, though, is the fish and seafood curries. While many of the Indian restaurants here tone down the spiciness of their food for the European market, the Goan restaurants don't usually disappoint. Try the prawn curry (Caril de Camarão) at Tentações de Goa (Rua de São Pedro Mártir 23).
Nepalese Momo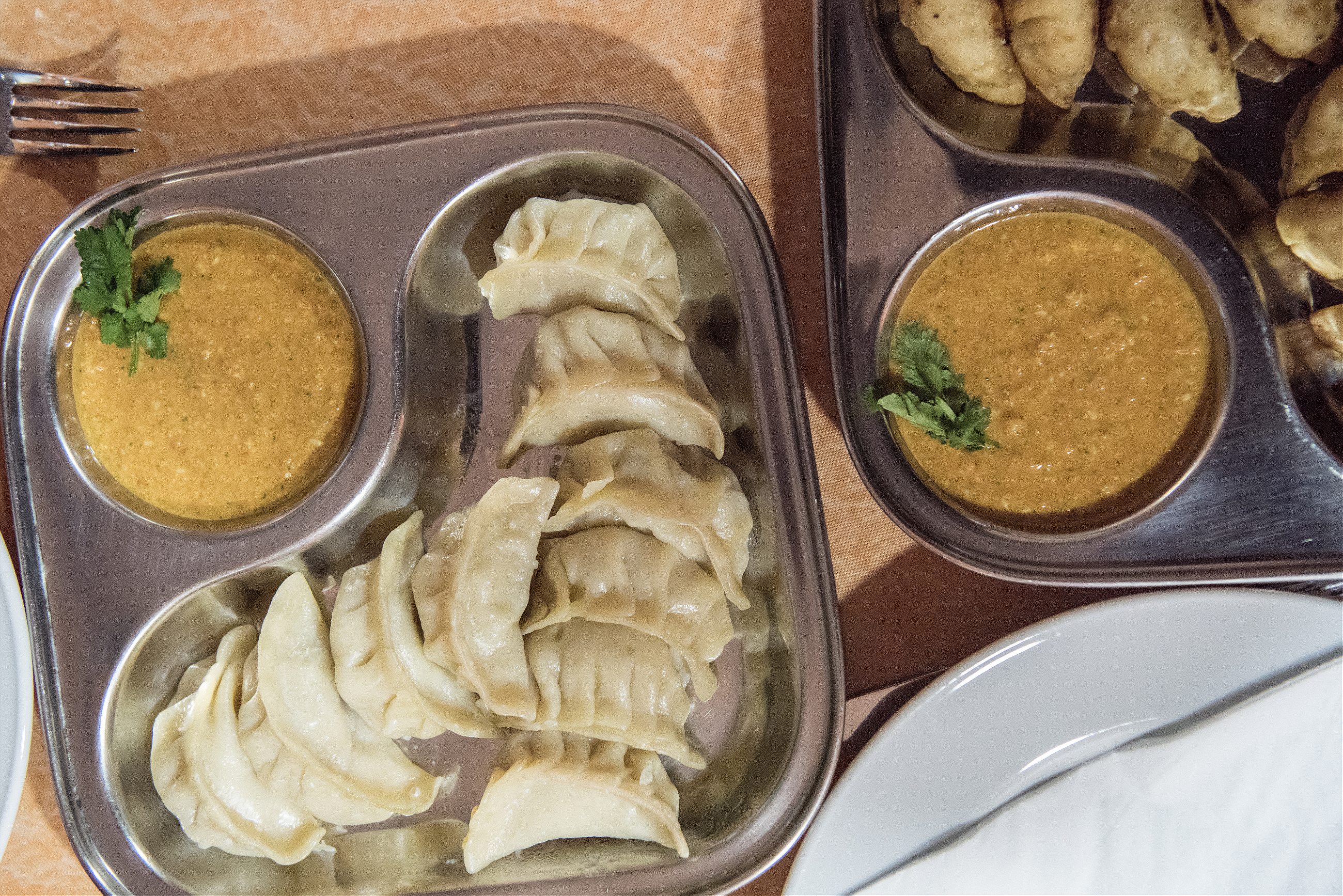 Nepalis are one of the more recent immigrant groups bringing their food to Lisbon, and they've had an impact disproportionate to the size of the community—estimated to be in the low tens of thousands, but rapidly growing. They began coming here in significant numbers around a decade ago, seeing Portugal initially as a stepping stone to wealthier European countries (Portugal's residence requirement of six years before applying for a passport is among the shortest in the European Union). Many ended up staying, the most often-cited reasons being the climate and the friendly welcome they received. Their community has expanded greatly in the last five years, with new arrivals supported by the existing inhabitants, who mostly own and work in shops and restaurants.
The Nepali momo is a dumpling that can be served steamed or fried, with a curried meat or vegetable filling, and a spicy tomato-based dip on the side. Nepali restaurant owners are keener than the Portuguese to extend their opening hours, so the momo has become popular with young lisboetas looking for an affordable late-night snack. In the studenty area of Anjos, Leo restaurant is the first to appeal directly to this customer base: a backpacker hostel-styled bar that also serves momos. In the center, try momos at Tasca do Marinheiro, Rua Conceição da Glória, or the Tibetan version at Os Tibetanos off the Avenida da Liberdade.