Only a robust breakfast will get you through a Scottish winter.
Only a robust breakfast will get you through a Scottish winter. During the dourest months—that's January and February, when bitter easterly winds freeze your chest and wet your eyes—the arrival of spring, with its promise of warmth, greenery, and light, is almost unimaginable.
A decent start to such dark days might be porridge, slowly stirred with a wooden spurtle until it is thick enough to stand a spoon in, jazzed up, perhaps, with a peaty dram of whisky. But, having lived through three consecutive Scottish winters, I feel something punchier is called for. And that thing is fish: salty, strong, and delicious.
When I first moved to Edinburgh from a remote and hilly sheep-farming community in the Yorkshire Dales, I saw fish everywhere.
In the Scottish Portrait Gallery one afternoon, as a gale whipped the streets outside, I stopped at an old black-and-white photograph taken in 1908. The photographer captured three tiny children, unsmiling and dressed in newsboy tweed caps and thick overcoats, dwarfed by giant hanging cod—each weighing as much as 77 lbs., according to the caption—on the chilly Aberdeen Albert Quay. The fish were destined for Porto, Portugal, and the photograph was likely intended for display at the Portuguese importer. Elsewhere, in Edinburgh's New Town, I peered into Dundas Street art galleries and saw dark, ethereal paintings of boats under mackerel-colored skies, watercolors of lighthouses, and depictions in oil of "herring lassies," their fingers bound with cloots (bandages) to prevent nicks from their sharp gutting knives. It wasn't that long ago that these lassies could be seen lugging their fish-filled baskets around Edinburgh.
[Read: A history of Edinburgh in 10 dishes]
Edinburgh is a fishy place, full of world-class seafood, and if I have it my way, I'll eat it for breakfast, lunch and dinner.
Kipper—fillets of salted and smoked herring—for breakfast sates all the senses, its pungent, warm smell lingering in the kitchen until well past lunchtime. During the herring boom in the early 20th century, tens of thousands of boats were put to work in the Scottish herring industry, and the numbers grew until the First World War, when fishermen became the core of the Royal Naval Reserve.
Better though, much better, than kippers, is haddock. Specifically, Arbroath smokies, a breakfast choice that is both woody and warming.
Traditionally, Arbroath smokies were made by fishwives in Auchmithie, a small fishing village three miles north of Arbroath (a two-hour drive north of Edinburgh). To smoke them, they'd place the fish in halved whisky barrels with damp burlap sacks trapping the smoke in the barrel pit. Today, like Cornish sardines and Whitstable oysters, they have been granted Protected Geographical Indication status. You can get an Arbroath smokie for breakfast in many a London restaurant, or traditional British hotel, but I much prefer to have mine in a gastropub down in Leith—the formerly run-down maritime center of Edinburgh.
[Read: Post-Brexit regret and seasickness aboard a prawn trawler in the North Sea]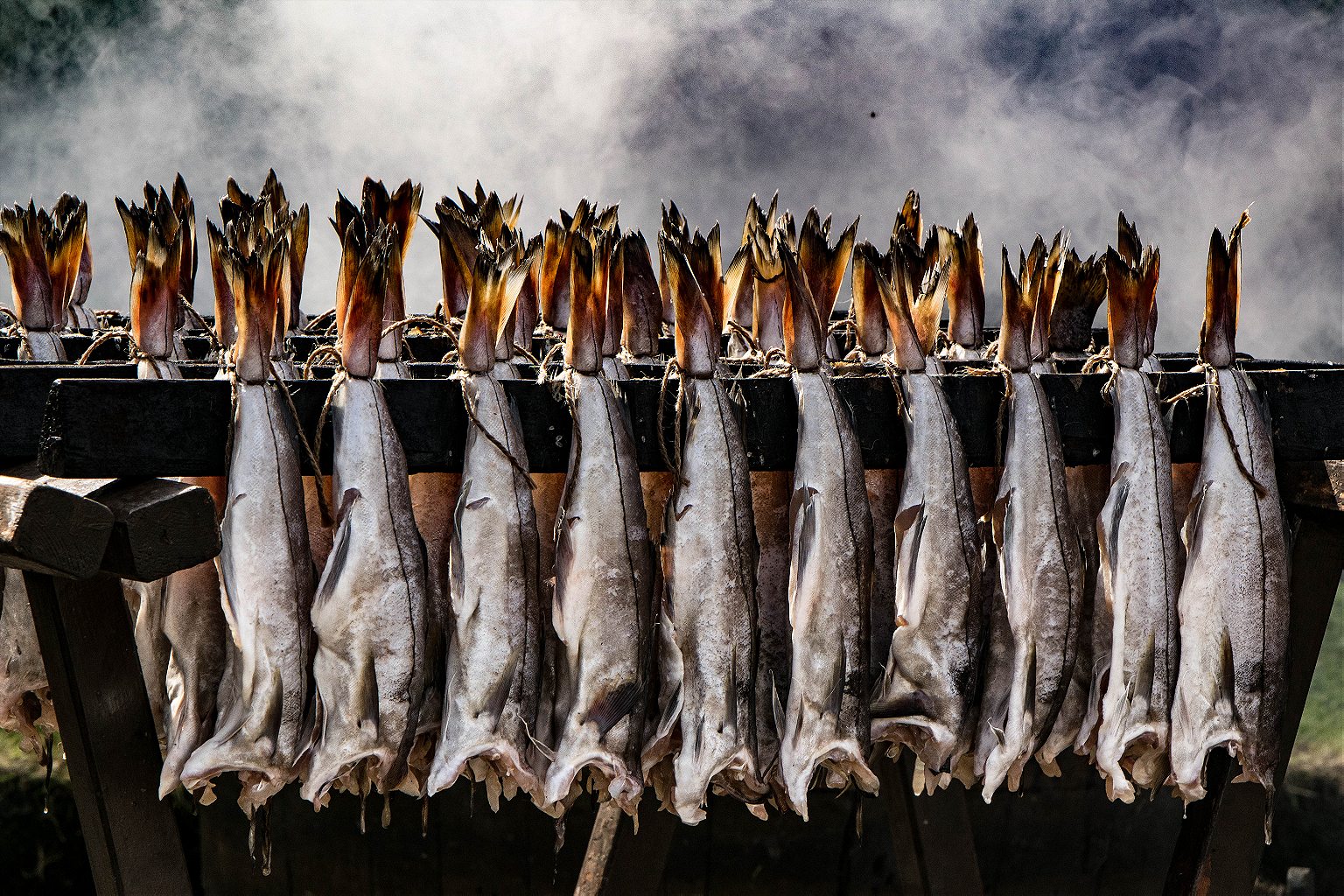 The Ship on the Shore, in Leith, is where I ate my first smokie. Billed as a "restaurant and champagne bar" but with a down-to-earth, inn-like atmosphere, The Ship on the Shore is a 30-minute stroll down Leith Walk from Edinburgh's city center. Leith Walk is one of the most diverse streets in Scotland; it's lined with Polish delis, Afro-Caribbean wig shops, and Chinese supermarkets selling woks, sacks of star anise, and dried shiitake mushrooms.
The restaurant is quayside, on the Water of Leith, and inside the kitchen there is typically crate upon crate of Isle of Skye langoustine, mussels from the Shetland Isles, king scallops from the Isle of Mull, and crab from Aberdeenshire. The dining room, all dark leather and wood, is as cozy and concealed as an old man's pub, comfy and enveloping, shutting off the outside world. In the background, the occasional cork fires off as someone treats themselves to a glass or two of Louis Roederer to go with their Loch Creran breakfast oysters. A mistake, because here, it's all about the smokies.
[Read: What to know before you go to Edinburgh]
The first time I ordered one, I feared it would be similar to kipper: oily, reeking, and pesky to eat. But it was a revelation. On the plate, the Arbroath smokie, less bony than kipper, suggests not only the sea, but also the hardwood of the oak or beech in which it has been smoked. Its plump-ish white flesh is creamy and pale, colored only by a little herb butter. The Ship serves it with a little mound of hedge-green spinach, and the whole thing is brightened with the essential yellow-orange yolk of a poached egg. Triangles of toast, buttered thickly, help finish off any scraps and good, strong tea is what's needed with it. This is not only total breakfast satisfaction, but it's in a room that encourages you to forget the weather, however foul—if only until breakfast is over.