Don't be a numpty: our guide to Scotland's capital from disco-playing chip shops to semi-secret shortcuts.
Edinburgh is the perfect city—almost. It looks like no other place: smoky, gothic buildings grafted onto the shoulder of an extinct volcano, an imposing castle on rocky ramparts in the center, and the rest spilling out over seven hills. As Scotland's capital, it's open-minded and dynamic, but small enough to walk almost anywhere you need to go. Its winding, often cobbled streets are loaded with excellent, non-pretentious restaurants, and cozy pubs you'll want to live in. But, the weather. Wet, grey, and windy (and that's just June). A taxi driver put it nicely once when he remarked on the downpour on a recent midsummer afternoon: "Just another miserable day in paradise!" But, when the sun does shine, and a late-summer sunset bathes the charcoal-colored buildings in orange and pink, it is perhaps the most glorious place on earth—and one I found difficult to leave after seven years of studying and working there. Just prepare for all weather every time you leave the house. And wear good shoes; cobblestones and hills are not kind to the unsupported ankle.

Expect crowds. Edinburgh is popular. It's the UK's second most-visited city (after London) and gets busier every year. It's also a small city, so there are bottleneck areas. From June-September, the city center, and especially the Royal Mile and Princes Street—the shopping avenue that forms a border between the castle gardens and the New Town—get busy with tartan-drunk visitors. The city is even considering the U.K's first "tourist tax"—like the one implemented in Berlin and Venice—to cope with the surge in demand.  The good news is that in Edinburgh, you're never more than a few minutes' walk away from quieter pockets—hidden gardens, squares, cemeteries, neighborhoods.  Still, try to book restaurants in advance on weekends to avoid disappointment and hunger. When it comes to nightlife, the Cowgate is ground zero for students, cheap vodka shots, and what locals politely term "meat-market" clubs. If you're looking for a quiet, atmospheric pub, look elsewhere.

The best time to visit is May. Hotels are cheaper, it's not quite as crowded with summer visitors and festival-goers, and the weather is mild for Scotland. Also, May is usually better weather (read: dryer) than the June-August period.

Walk. Edinburgh is winding and steep in places, but most areas of interest are within walking distance. Skip the car: thanks to Edinburgh's central layout—an awkward rectangle of busy streets laid around the castle and the gardens around it—traffic is a carousel of frustration, made even worse in the last few years with the new tram lines that locals love to complain about. Edinburgh is on the Uber map too, but check a map before ordering one: it might be much faster on foot.
[Read: Here's how to do a walking tour in Edinburgh]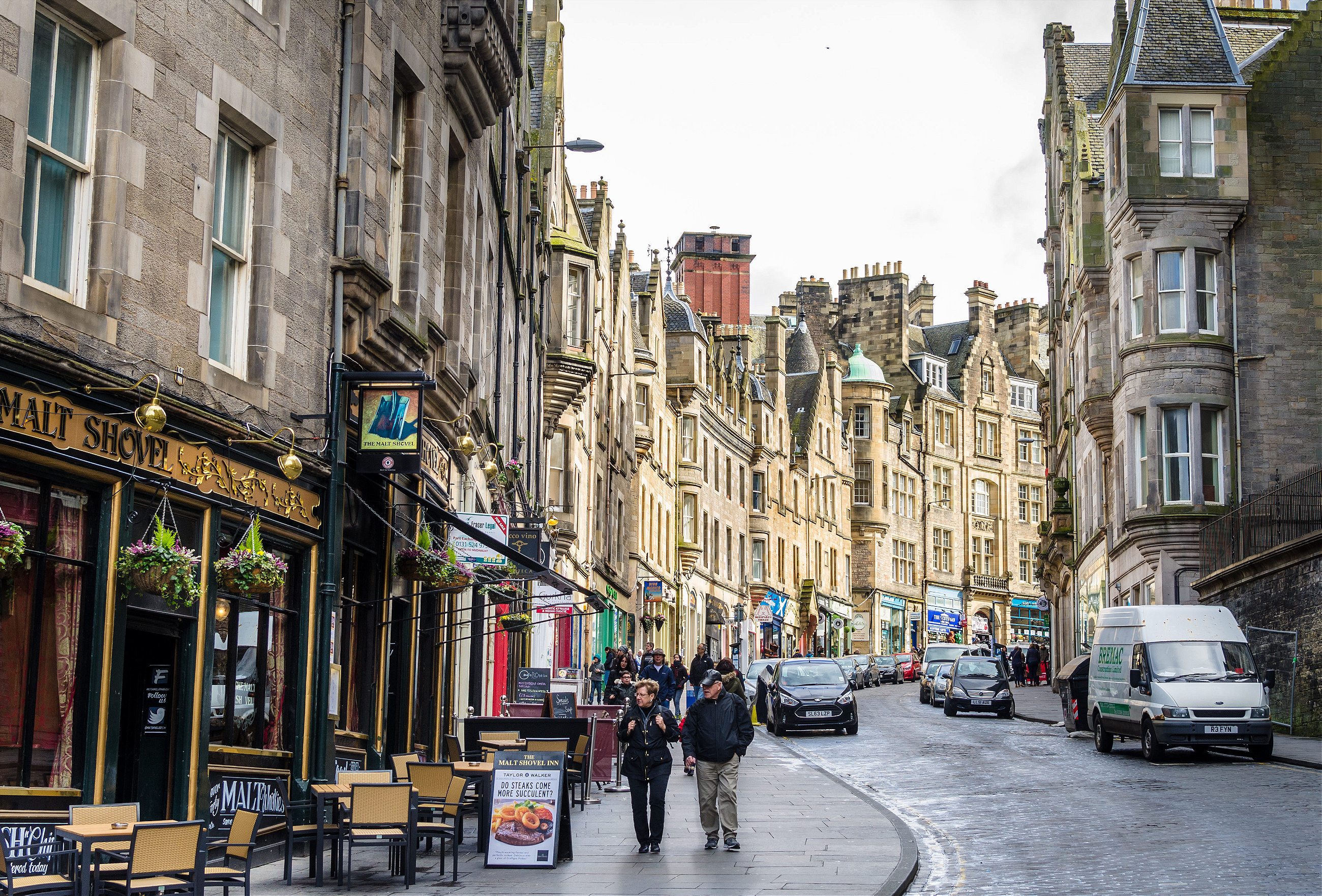 Pick a side. Edinburgh is really two cities, split down the middle by the castle and its ramparts. The Old Town is the network of medieval streets south of the castle; the New Town is everything on the other side, which begins at the Castle's former moat (and former city sewer), now the lush Princes Street Gardens. The Old Town's distinctive, stacked look is rooted in the time residents were forced to live crammed together behind the moat for protection. After a disastrous defeat at the hands of the English at the Battle of Flodden, Edinburgh's residents built walls around the city to keep out the English, and as its population grew, they had nowhere to build but down.  
The New Town started to be laid in 1765 with a modern grid design—considered a masterpiece of city planning in its time—that fit with ideas of the Enlightenment. The professional and businesses classes deserted the medieval Old Town and moved to the shiny, broad boulevards of the New Town, and the social character of the city was changed forever. Before, rich and poor lived next to each other, in the same tenements. Now, the New Town is still known as the 'posher' end of town. For visitors, New Town is quieter, calmer, but feels far from the action if you want to stumble around the steep, narrow streets of Old Town. On the other hand, there are tranquil, beautiful neighborhoods down the hill on the New Town side, such as Stockbridge and Dean Village, which make ideal city bases. Also, know that the South Side—particularly the areas of Marchmont, Newington, and parts of Bruntsfield—is where most of the city's tens of thousands of students live.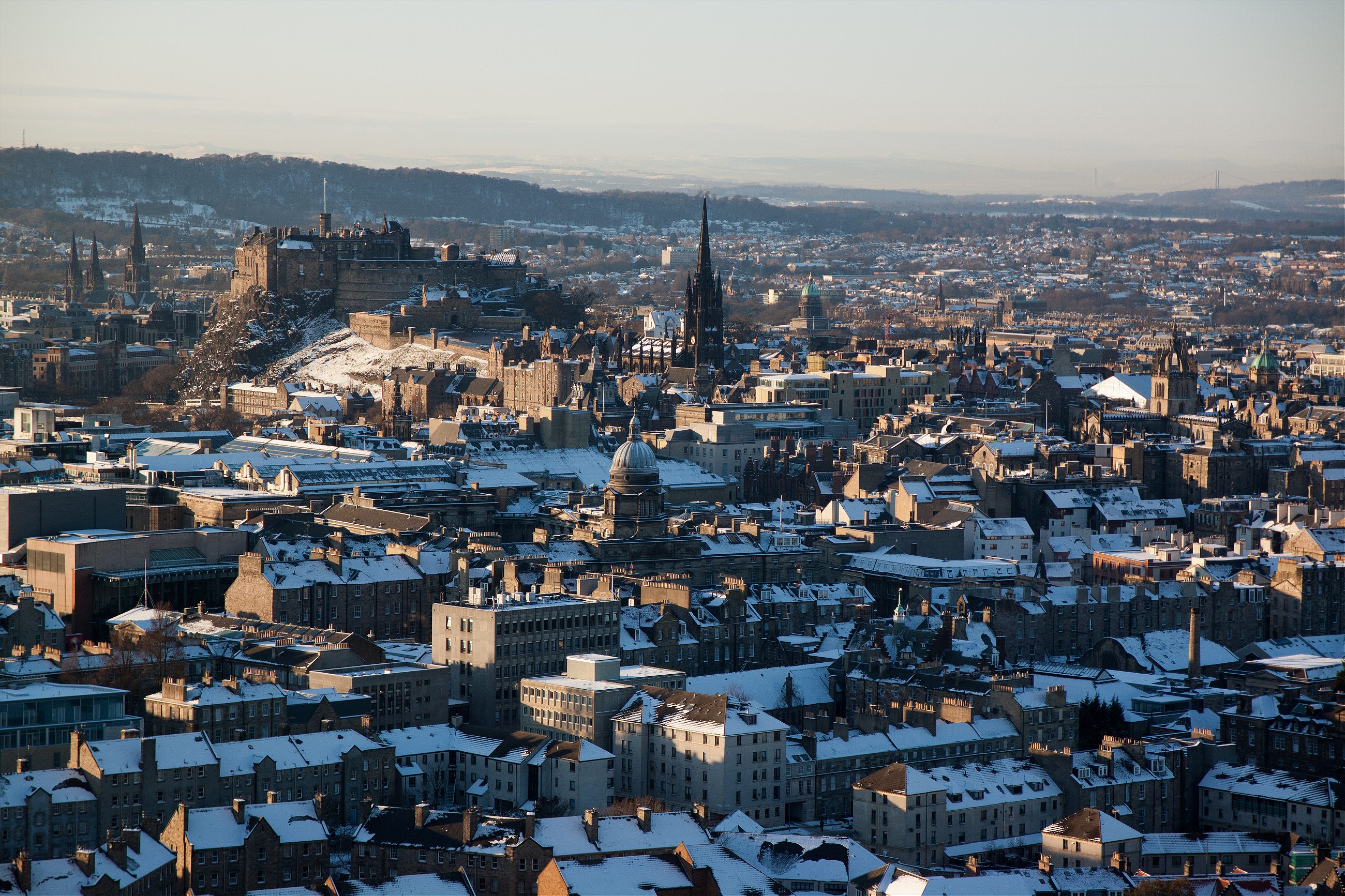 Plan ahead. The Edinburgh Festival, which is really several festivals running simultaneously, is one of the best experiences you can have in the U.K., if you've planned well: over six weeks in the summer, the city is an all-day and all-night bacchanal of authors, actors, comedians. But for non-festival travelers this is a mixed experience: there are 1,000 shows a day, but also the deluge of flyers and pamphlets that are pressed into your hand when you're taking a walk or getting coffee. Cabs and beds are equally hard to find in August. Unless you're up for that challenge, consider visiting some other time. If you're really looking for deep, loamy Scottishness, go on Burns Night on January 25, when the Scots celebrate the national poet (and author of Auld Lang Syne) Robert Burns the best way they know how—with poetry, whisky, and offal. At a Burns Night supper, a guest of honor reads his 1787 poem, Address to a Haggis, before ceremoniously slicing it open with a sword. A carving knife works too.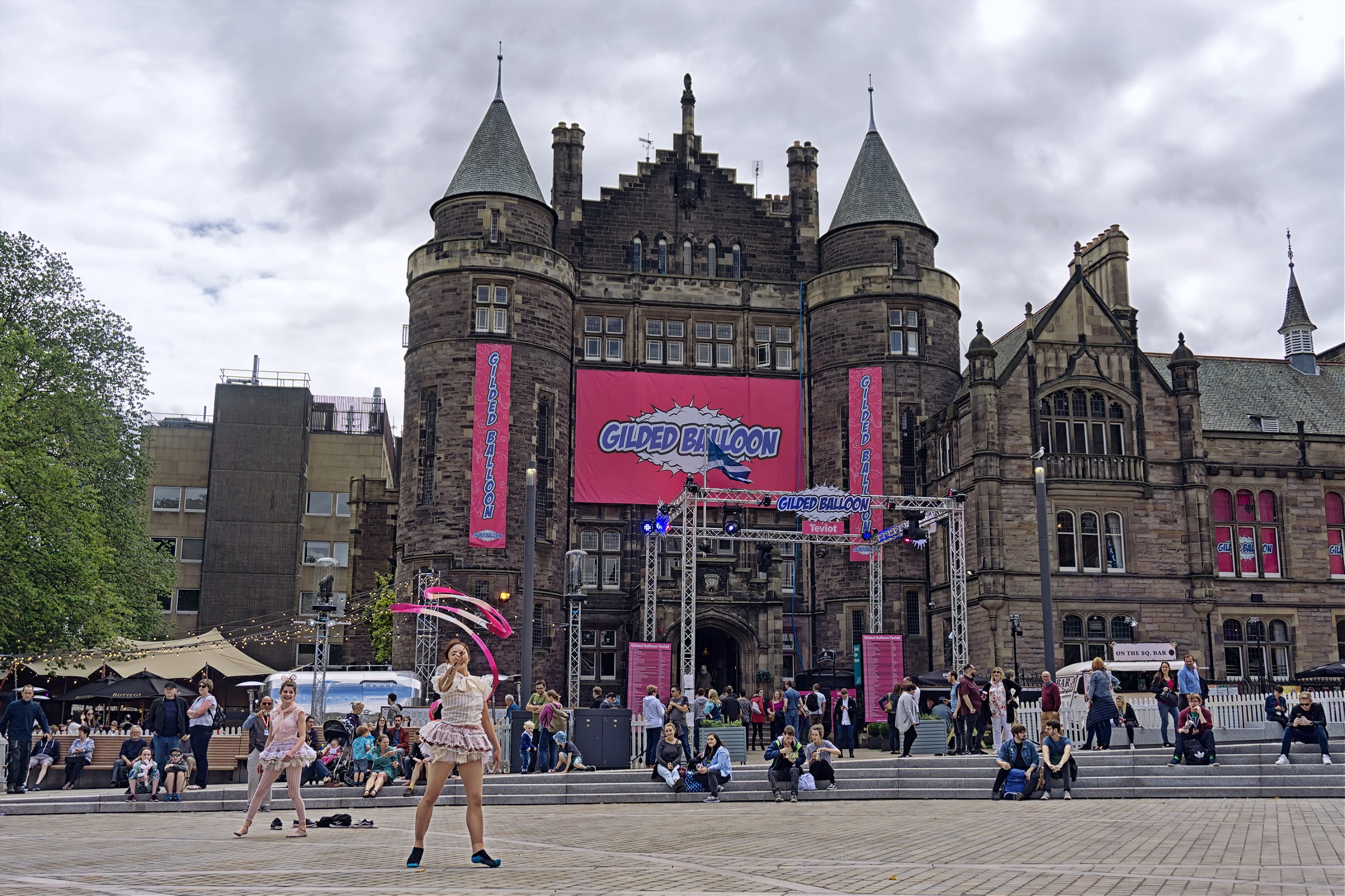 Embrace the smell. Edinburgh has a unique smell—depending on the wind, it can smell like the nearby sea, but it's just as likely to smell a little stronger. (Someone once described it to me as redolent of dog food.) It's booze, kind of—malted barley from the city's breweries, and roasted malt from the North British Grain Distillery, the last of the city's great distilleries. Founded in 1885, it still produces whisky destined for blends, but it's not open to the public. There have been efforts to suppress the odour, with mixed success, but people generally accept it as part of the city's charm. It tends to be strongest in the west side of the city, where the distillery is.
[Read: Everything you need to know about Scotland's other national drink]

Take the shortcuts. On the map, it seems that there are only two large roads connecting Edinburgh's Old Town and New Town, but the city's hills and closes (a small alleyway or even a courtyard) hide many alternative routes suitable only for pedestrians. Instead of joining the masses walking up the Mound from Princes Street Gardens up into the Old Town, try the Playfair Steps. Instead of negotiating winding streets and traffic, take the steep Scotsman Steps from Waverley train station straight up to South Bridge (next to the Scotsman Hotel) or the News Steps directly from Waverley Station to the Royal Mile. Use Jacob's Ladder to ascend Calton Hill from the Old Town. On the Royal Mile, take a shortcut via Advocate's Close or Fleshmarket Close down to Cockburn Street, and enjoy the view on the way. Investigate narrow alleys; there might be a shortcut or some hidden gardens. When in New Town, find the smaller, narrower alleys, such as Rose Street and Thistle Street.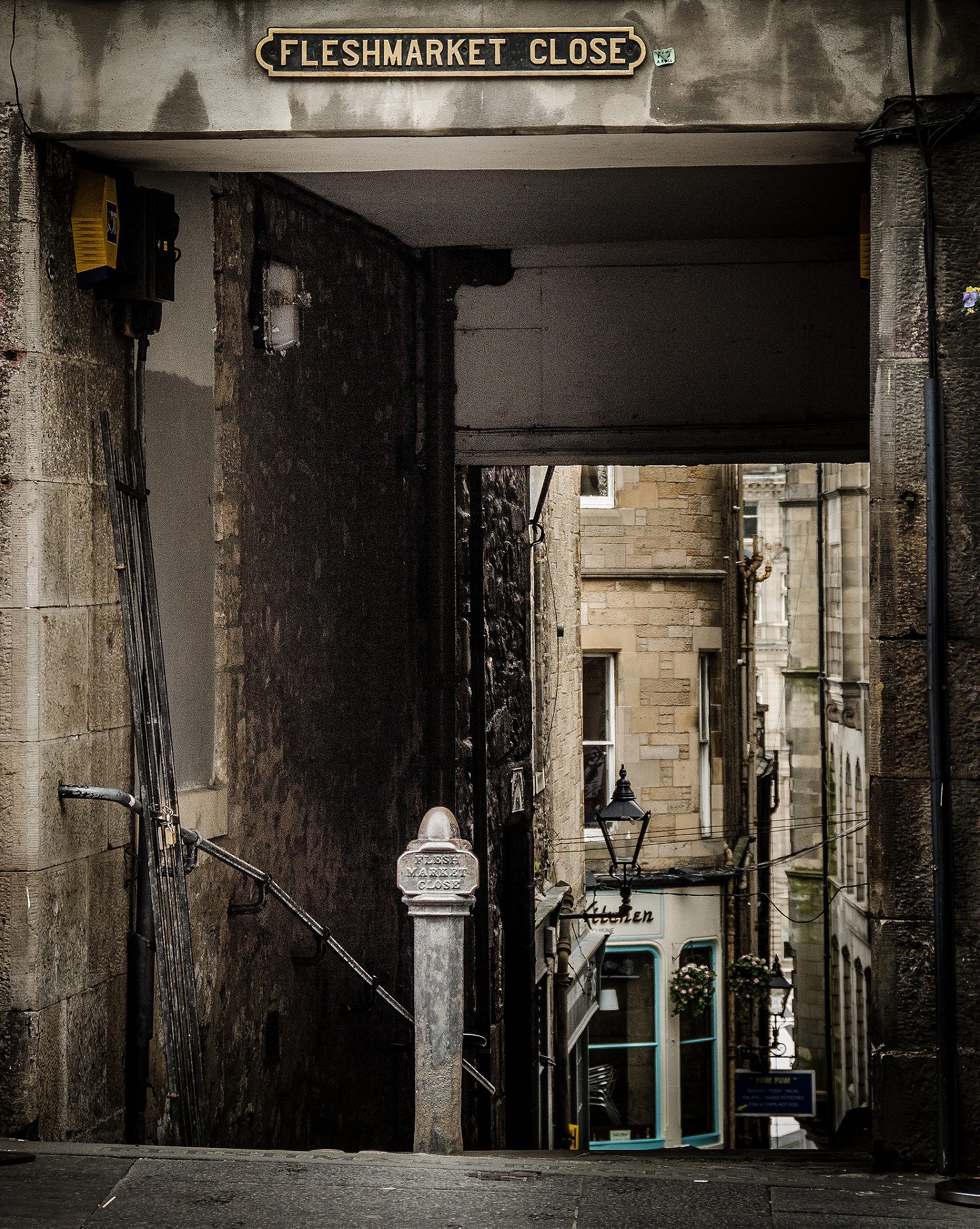 Cockburn Street is pronounced CO-burn Street. You're welcome.

Eat. Edinburgh has more bars and restaurants per capita than any other city in the U.K outside of London, and it's home to five of Scotland's 12 Michelin-starred restaurants, but it's not hard to find reasonably-priced, good food—and serious fine dining for a lot less than it would cost in London or New York.  Just make sure you venture off the Royal Mile, and steer clear of chains. Some old and new highlights: the newly-opened Fhior on Broughton Street is the place to go for a fine showing-off of Scottish ingredients, from beremeal bread and smoked butter to halibut—but you'll need to book. Seafood-lovers are spoiled in this city, but try Fisher's (which has branches in the center and in Leith),The Mussel Inn, and The Ship on the Shore. Chop Chop, a Chinese restaurant near Haymarket train station, has superlative dumplings and a generous happy hour (3-6 p.m.) in which to devour them. Don't miss the lamb and cumin dumplings. The casual Mother India's Cafe is consistently busy, thanks to its reasonable prices and excellent food.
[Read: Oatcakes to offal: Edinburgh explained in 10 dishes]

Visit the Mosque Kitchen. If you're on a tight budget you can't beat the Mosque Kitchen, next to Edinburgh Central Mosque right by the university, for the city's best value meal: a heaped plate of curry and rice. After 9/11, the mosque opened up the small kitchen that fed its congregation to the public as a way to raise awareness about Islam—at first only after Friday prayers, but soon they opened the kitchen daily to keep up with demand. When I was a student, we would line up for a big plate of only two dish options for 2 pounds (US$2.50). This humble operation has grown into a brick-and-mortar restaurant next door with a larger menu.  (Though the original mosque kitchen is still open.) It's still delicious, and fantastic value for money. Thousands of broke, hungry students can't be wrong.

Don't fear the haggis. Scotland's national dish is a softball-sized mass of sheep's pluck (heart, liver, lungs) minced with spices, onion, and oatmeal. It has a nutty texture and is savory, like sausage. It may have a fearsome reputation, but for those who are not fans of British offal-based specialities, haggis might be one of the easiest to stomach, so to speak. Most bars, cafes and restaurants will serve a basic one, but the Arcade Bar, a "haggis house" and whisky restaurant on Cockburn Street, specializes in it. Enjoy, but just don't mention that haggis has possible English or even Scandinavian origins. It's traditionally served with mashed potatoes and turnip puree, so on the plate, it's just three piles of mush: yellow, orange, and brown. (I've always enjoyed observing how restaurants solve the puzzle of presenting this uninspiring-looking tri-colore mess. Often, they opt for forcing the three components into a layered stack. If you see a particularly creative haggis presentation, please take a photo and send it to me.)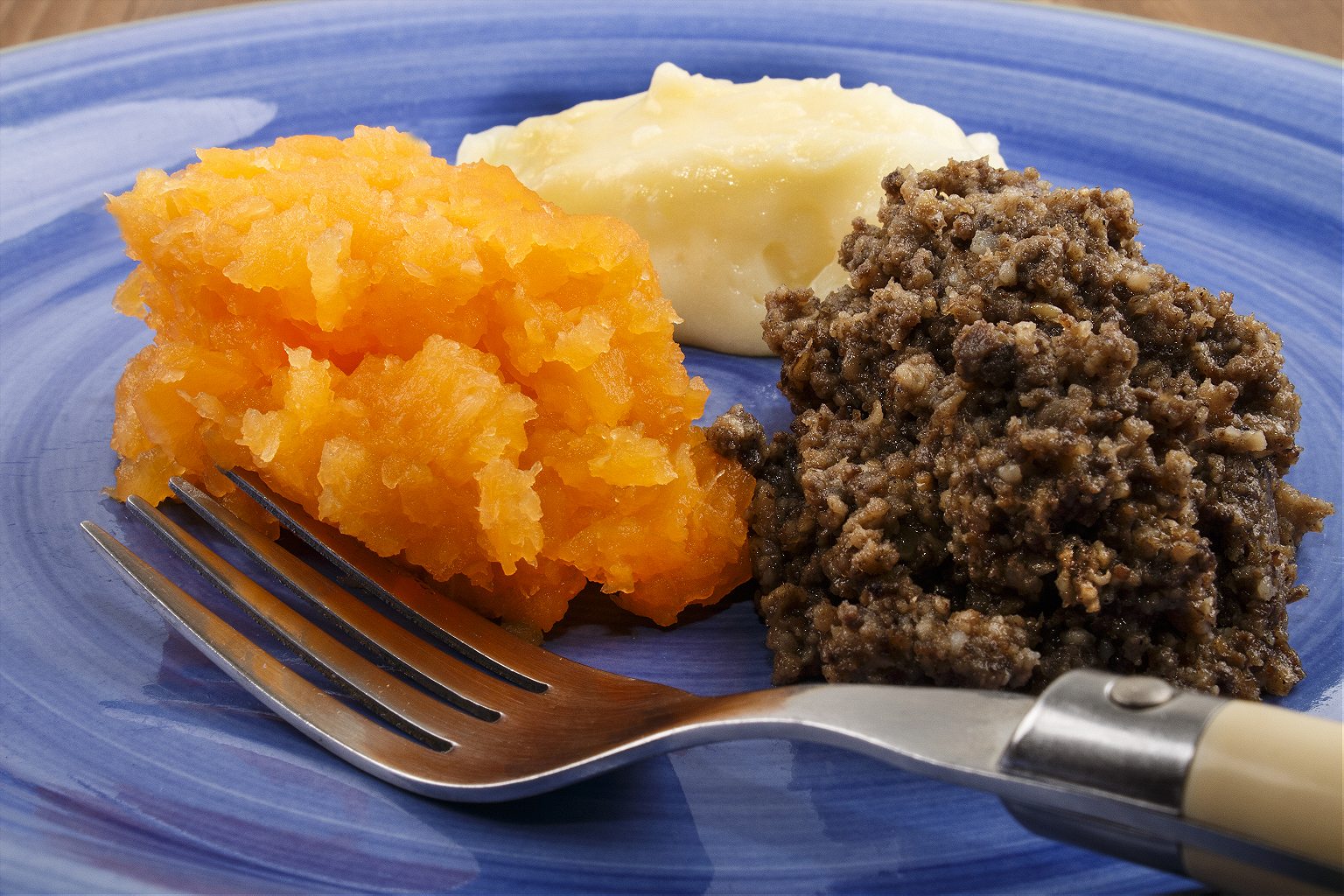 Look beyond whisky. Whisky bars in Edinburgh are like Starbucks in other cities, and most pubs and restaurants have a decent selection. There many great whisky joints around the center and Royal Mile, but I'd recommend the Kaleidoscope Bar at the Scotch Malt Whisky Society, the Usquabae in the West End for good tastings, and, a little further out (but this pub is worth it, trust me) the Canny Man's in Morningside, decorated with a museum's worth of treasure. But Edinburgh is also a gin town: Edinburgh drinks more gin than any other British city. The Edinburgh Gin Distillery in the West End has a bar where you can custom-make make your own version. Edinburgh is also a great beer (and ale) town. Beer-hunters in search of local Scottish brews should check out Lothian Road's The Hanging Bat, or visit Brewdog, Scotland's largest independent brewery, the scrappy Pilot brewery  in Leith, or Innis & Gunn's Beer Kitchen. Look out for Innis & Gunn beers in pubs: this company is headquartered in Edinburgh ( their brewery is in Perth) and their lager and Scottish ale—aged in bourbon barrels—have quickly become city favorites. And let's not forget Scotland's other national drink, Irn-Bru.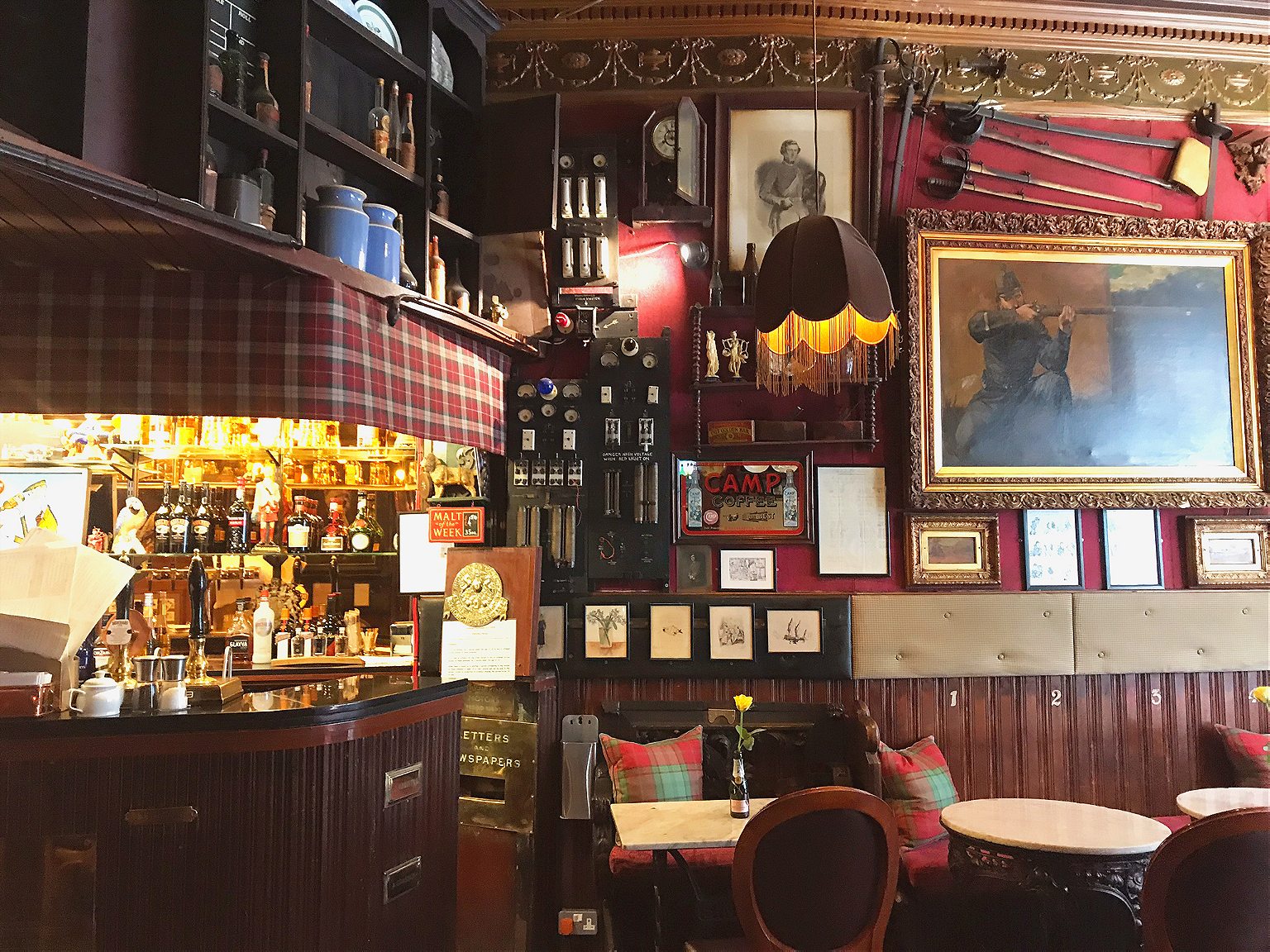 Take refuge indoors. Edinburgh's great solace in winter is its more than 700 pubs. It's an excellent beer and ale town.  It's tough—though not impossible—to go wrong in the city's boozers. But these are the ones I like to return to when I visit: The Brass Monkey on Drummond Street, an ale pub with a carpeted back room for daily movie screenings; the Royal Oak for some live Scottish folk music in a casual setting (feel free to join in if you brought your own harmonica); the beautiful, Victorian Cafe Royal for a very reasonably priced Guinness and oysters snack; Cloisters, in Tollcross, a tranquil place with a big beer menu that they change, and tweet, regularly. Escape the city center to Duddingston (on the far side of Arthur's Seat) and the Sheep Heid Inn—where there has been a public house/inn in some form since 1360. If you want to drink really cheaply, look out for "Scream" pubs (with a version of the Edvard Munch painting hanging outside.) This is a chain of student-oriented bars with limited charm, but with abundant cheap beer and food. The Tron off the Royal Mile is one of these. (Of course, many pubs near Edinburgh University's campus—a catchments area that includes a large chunk of the south of the city—will be geared towards the student population, and will be cheap but busy.)

Mind your drinking manners. Scottish people have a well-deserved reputation for being friendly and welcoming, and Edinburgh is certainly no stranger to visitors, but pub etiquette is never useless. Take your empty glasses back to the bar if possible. In groups, people generally take it in turns to pay for a round of drinks; it might not always work out fairly, but it's just how it's done. Don't have your whole group stand at the bar; you only need one person to order. If the bartender asks the people waiting at the bar who's next, you'd better be honest and not try to push ahead of the line. It will be very uncomfortable for everyone. There are all kinds of pubs—quiet, pint with a book places and boisterous sports screen places—behave according to the vibe. Bonus: pubs in Scotland stay open later than their English counterparts.

Say yes to salt and sauce. The post-pub ritual of a kebab, a curry, or fish and chips is deeply ingrained in U.K. culture. Scotland does a nice line in deep-frying things—such as the Mars Bars—for late-night revelers. (I have never seen a Scottish person eat a deep-fried Mars Bar. The deep-fried delicacy to try is the deep-fried pizza, at L'Alba D'Oro on Henderson Row.) When you order anything that comes with chips (thick-cut fries) they will ask if you want "salt and sauce": this sauce is Edinburgh's special version of vinegar-spiked brown sauce, and it's beloved. Give it a try. (To make the chip shop visit an experience, head to Edinburgh's "Disco Chippie". Broughton Street's Caffé Piccante is is open until the wee hours and even has its own DJ and its own range of t-shirts.)
[Read: A love letter to an Edinburgh chip chop]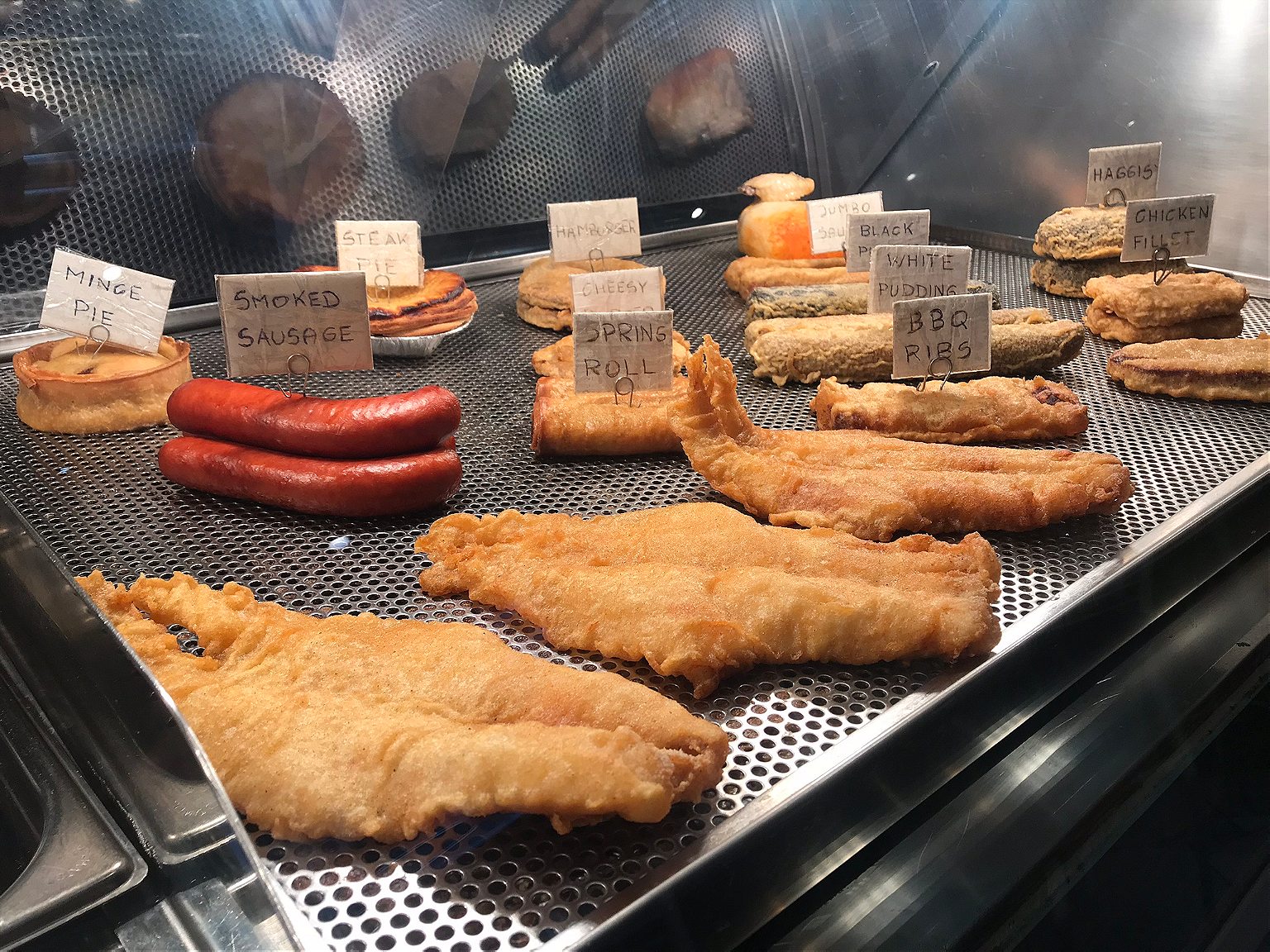 Know the football colors. Edinburgh's two professional soccer clubs, Hearts of Midlothian and Hibernian Football Club ("Hearts" and "Hibs") have one of the longest rivalries in world soccer, dating back to their founding in the 1870s. Hibs colors are green and white, while Hearts (also known as "Jam Tarts" by rhyming slang) wear maroon and light blue. Edinburgh's soccer allegiances aren't comparable to the scale of Glasgow's sectarianism, where Irish-Catholic Celtic and Protestant Rangers fight for soccer supremacy, but Hibernian (the Latin word for Ireland) was founded by Irish Catholic migrants, and initially the team met with some sectarian resistance in Scotland. Edinburgh's supporters tend to be more closely aligned with geography, such as the location of the stadiums. Hearts and Hibs play each other occasionally, but have only ever met twice in the Scottish Cup Finals, in 1896 and 2012; Hearts won both matches.

Don't call it fog. You might hear people talking about haar, which is a Scottish word for the cold mist—a kind of coastal fog—that drifts in from the North Sea, especially during spring and summer, and can blanket the city for days. Edinburgh tends to get more of it than many other places in Britain, because easterly winds from the sea push it over the east coast of Scotland.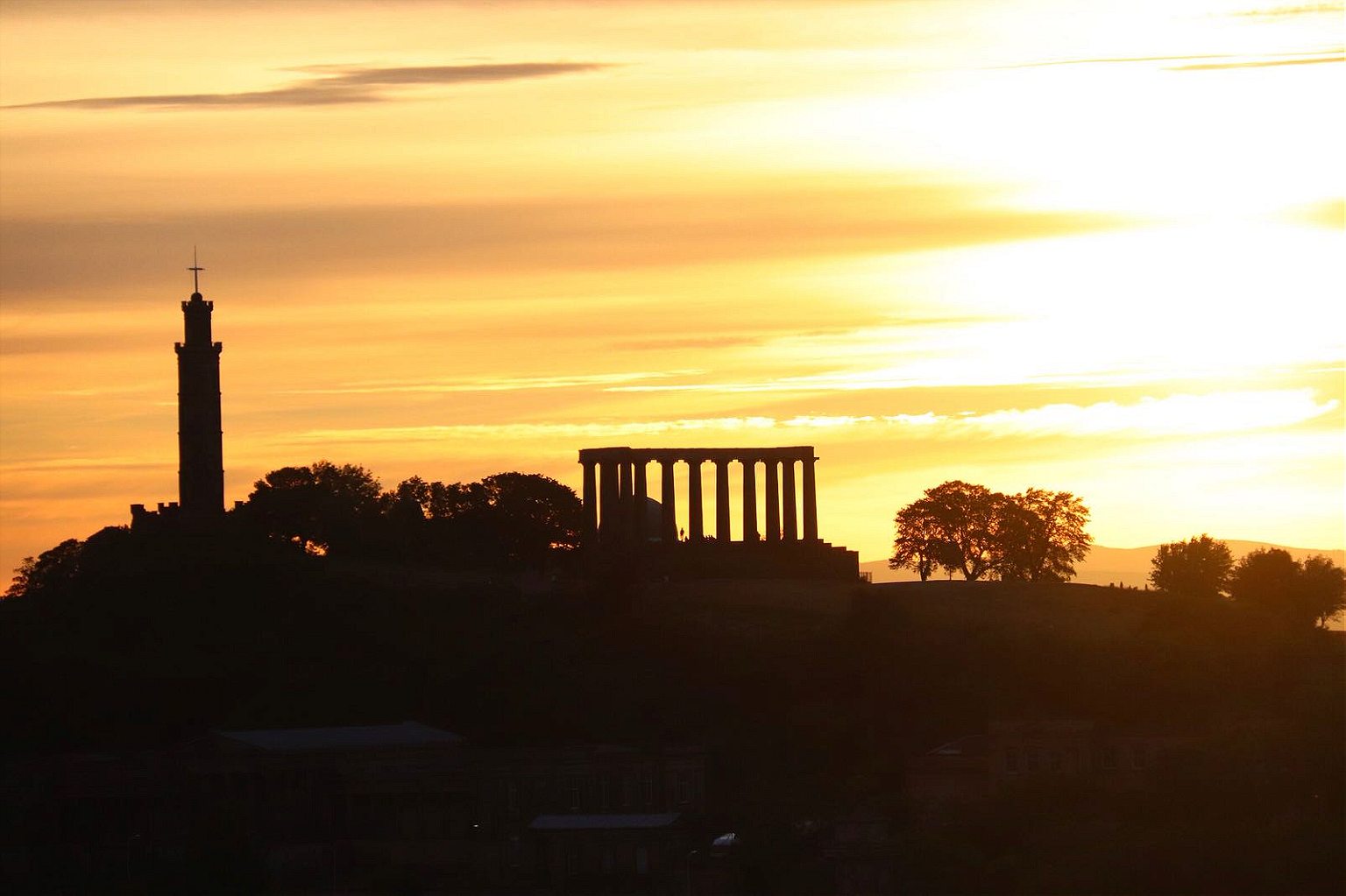 Get high in the right places. Most people head to the castle esplanade and the castle itself to look down on the city, but there is an equally good, if not better view, from the roof terrace of the Camera Obscura, just next to it—a science museum and temple to optical illusions and oddities. Arthurs' Seat, the dormant volcano overlooking the city, can be climbed from any direction, but the simplest ascent is from the east, heading up the slope that rises above Dunsapie Loch. Calton Hill is a ridiculously short walk from the East End of Princes Street, and you can see pretty much every corner of the city from up there. There are also great views from indoors: probably the best city view of the Castle is from back room of the Elephant House coffee shop (where J.K. Rowling wrote some early drafts of "Harry Potter"). The Tower restaurant on the roof of the National Museum of Scotland has an excellent view and and a little further out, there is a great, wide view of the Castle from Inverleith Park.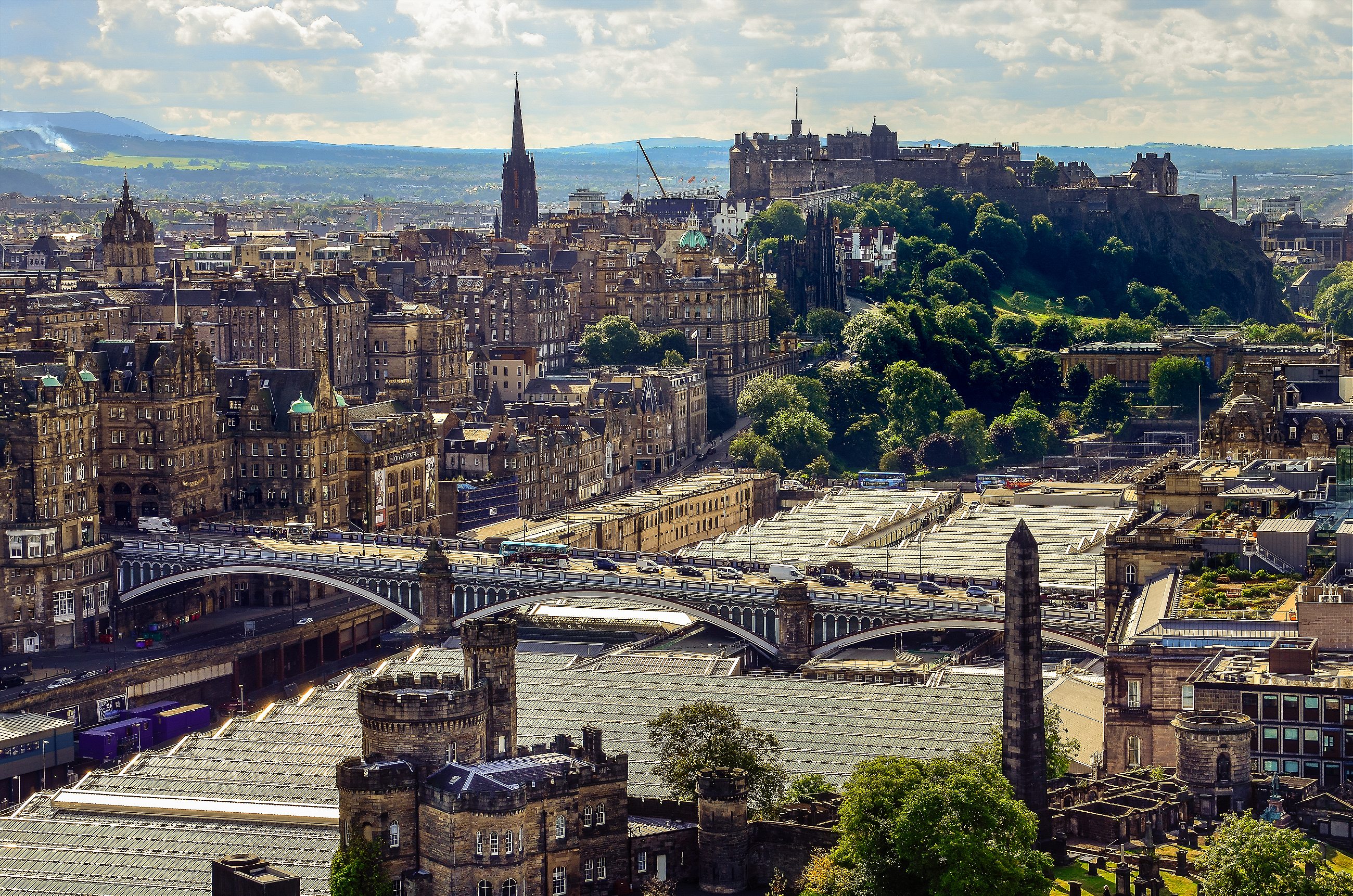 Don't miss Leith. If you want to get off the carousel of the Old and New Town, venture farther north downhill to Leith, Edinburgh's maritime center, made famous by Irvine Welsh's Trainspotting (and the music of The Proclaimers.) Leith has a separate identity and soul from the rest of the city, and not all were thrilled when Edinburgh and Leith merged in 1920 into the City of Edinburgh. Its long-awaited regeneration has been patchy, but spend some time on the pleasant Shore, wander around the historic docks, have a look at the Leith Theatre (recently restored) eat at some of the city's best restaurants,  and stop in at Teuchters Bar or the Port o'Leith for a pint.

Shop in Stockbridge. The Royal Mile and Princes Street have plenty of overpriced Scottish souvenirs, ranging from the tasteful to the not. (I  have to admit I have a soft spot for those kilt towels.) But there is plenty of treasure—books, records, antiques—in the scores of charity/second-hand stores in Stockbridge, a well-heeled but welcoming residential neighborhood a short walk down the hill from the New Town.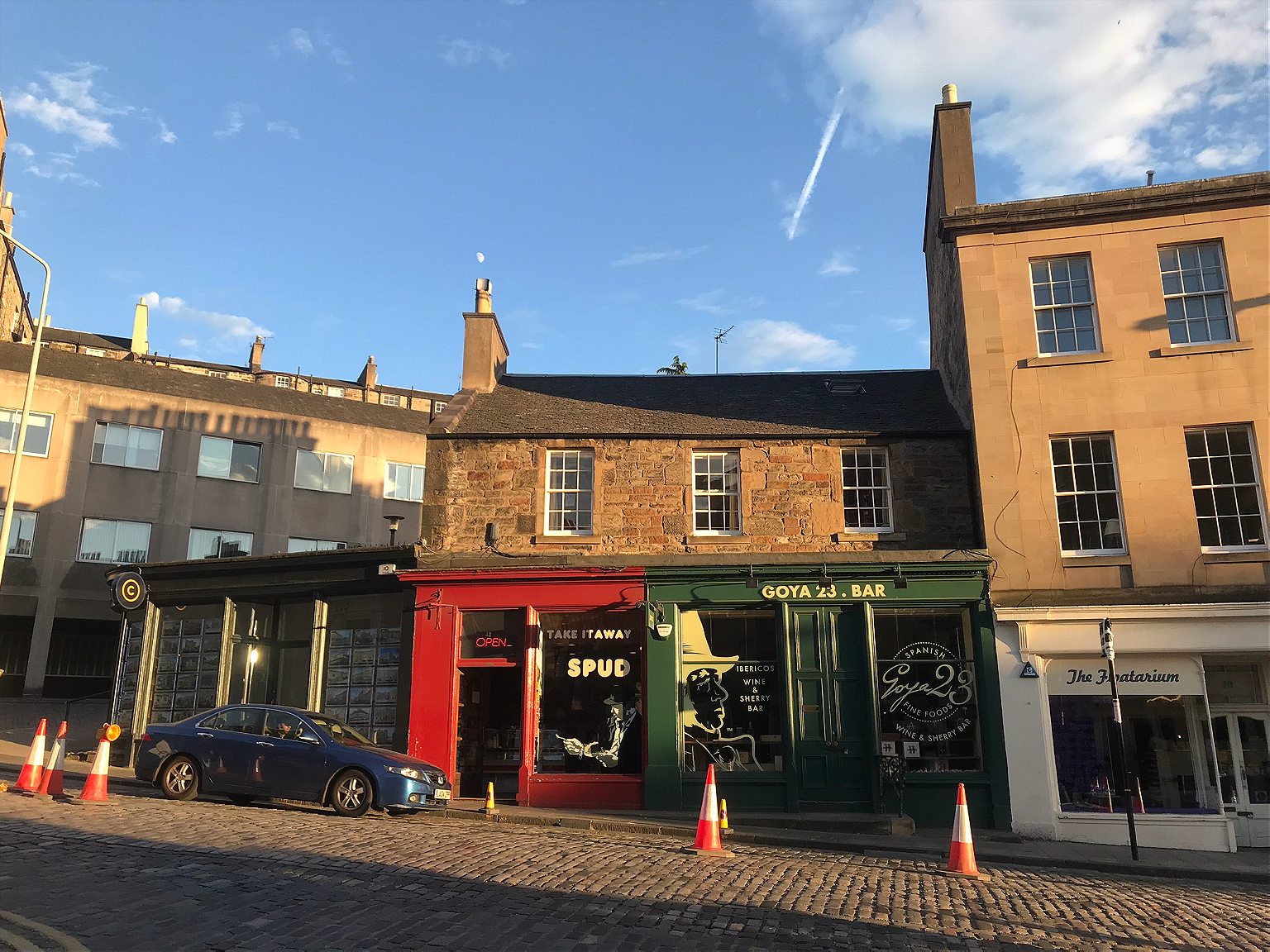 Master the urban dictionary. A survey once said that numpty is Scotland's favorite word, so learn that one: "the term implies general idiocy, often accompanied by windbaggery". Although the Edinburgh accent is one of the most forgiving to the uninitiated, Scots actually use different words for some things, so a cheat-sheet of terms relevant to city-exploring and imbibing will be useful: A dram or wee dram is a measure of whisky; scran is food; a close or wynd is a minor street, like an alley; loch is lake; a law is a hill; a burn is a stream, and a kirk is a church. To 'greet' is actually to cry, not to say hello; when you say you are 'on the peeve' you are getting your drink on. In Edinburgh, the area between Lothian Road and the Grassmarket—containing mostly strip bars, saunas, and antique bookstores—is known as the 'pubic triangle'. Also: if you see a business calling itself a sauna, it's not usually a sauna, but a brothel.

GTFO. Only 20 minutes outside the city is the striking Forth Rail Bridge, built over the Firth of Forth in 1890. The best view of this bridge, which is the height of St Paul's cathedral to let the Navy ships pass underneath, is from the shores of North Queensferry. And for a more pronounced change of pace, the largest city in Scotland, Glasgow, is only an hour away by train. Glasgow has a different feel, in soul and architecture. If Edinburgh can be twee, small, and staid, Glasgow is the antidote: no-nonsense, sprawling, and boisterous. (And here's what you should eat there.)
Ready to Explore Edinburgh? Let us help.
[Read: how to get around the city]
[Read: Edinburgh, explained in 10 dishes]
[Read: A guide to Edinburgh's best music and local musicians]
[Whisky, hog roast, gin, curry: A food and booze-heavy walking tour of Edinburgh]