From Vikings to the Italians, from humble oats to luxurious smoked salmon, the food that makes Scotland's capital.
Perhaps it's understandable that the most revered of Scottish exports—whisky, the spirit so perfectly crafted from grains and water, beloved and imitated from Austria to Japan to the American South—overshadows Scottish cuisine in the global imagination. But it's a little more baffling that people might think of the deep-fried Mars Bar and the fearsome bag of offal, haggis, before they think of Aberdeen-Angus beef and fresh smoked salmon.
Still, from boiled offal pouches and deep-fried chip shop standbys to the finest cow product, the story of Edinburgh—and Scotland's—beloved dishes is the history of Scotland's relationships with other peoples and nations: conquest, immigration, exchange, and adaptation, from Viking marauders to Italian refugees, to more recent arrivals bearing baked goods.
In the first century A.D, most of what is now Scotland was an untamed, isolated territory on the far side of the Roman Empire, populated by fierce tribes. But now its capital, Edinburgh, is a welcoming and outward-looking city, with all the benefits of the country's coastline and fresh cold waters, the Scottish larder (pantry), and centuries of cultural exchange showcased in its vast array of restaurants—more per capita than any other city in the U.K.
[Read: Everything you need to know before you go to Edinburgh]
Oatcakes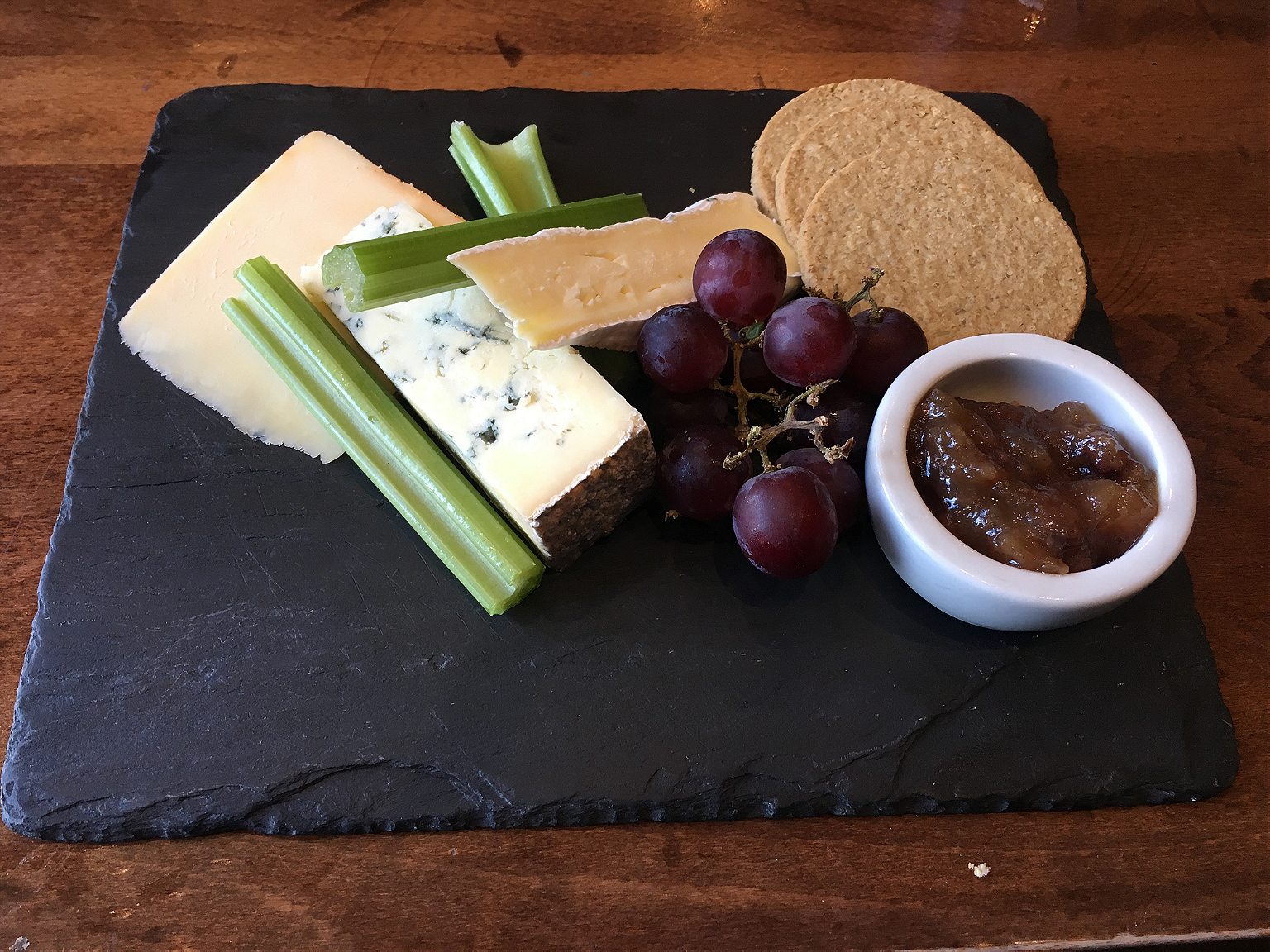 Oats, and in one of their most popular forms, oatcakes—flat, round, somewhat dry savory cookies made of oatmeal—have been an important ingredient as far back as the Roman conquest of Britain (43 A.D.), but probably long before that. (Scots will tell you proudly that the Roman Empire never fully conquered what was then known as Caledonia; the Romans even built a wall to mark their frontier in the north of England to protect themselves from the wild warrior tribes beyond.) Oats and barley were some of the only cereals that could thrive in the harsh Northern climate, although it was not until the 18th century and its agricultural improvements that this high-energy superfood became Scotland's staple cereal.
These days, oatcakes appear at all mealtimes; for breakfast, on your cheeseboard, as a side dish, in "puddings" (desserts). You can also make a pretty great picnic by stopping at a supermarket or deli and getting some smoked salmon or cheese to go on them.
Aberdeen-Angus steak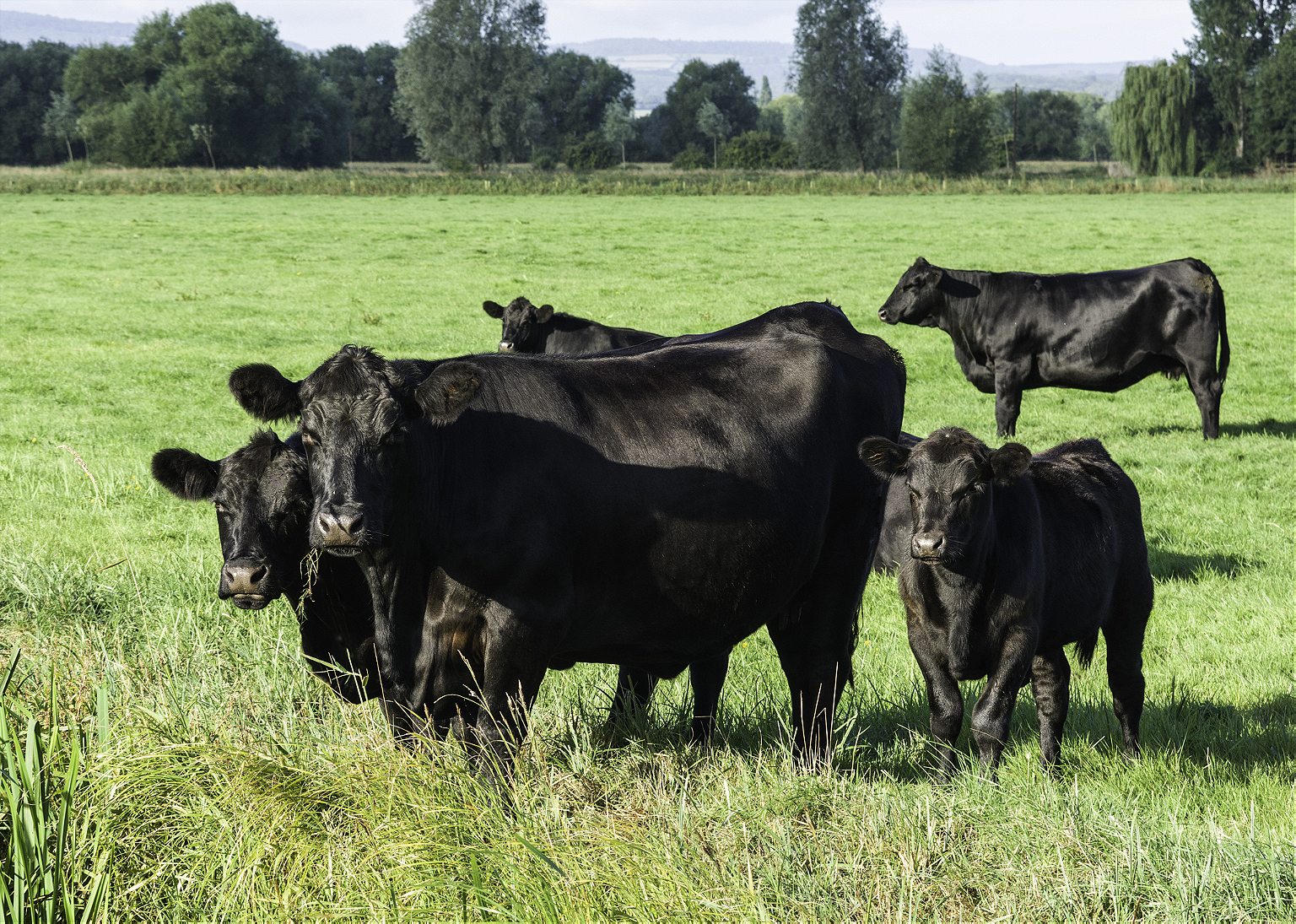 The Angus stamp of beef quality is proudly displayed on the world's menus, in plush steakhouses and greasy fast-food counters alike. The Aberdeen-Angus is a breed of cattle—black, hardy, docile, with finely marbled meat—native to Aberdeen and Angus counties in northeastern Scotland. But they may have had a DNA assist from their Viking counterparts. From about 783 A.D., Norse Vikings made a number of incursions into Scottish territory, peaking between the 9th and 12th centuries, when they settled the Scottish islands of Orkney and Shetland as well as Iceland and Greenland, and established colonies in Scotland, England, Ireland, France, North America, and Russia. (By the 13th century, the Vikings had their own travel guide for Scotland, which warned potential visitors that the country was inhospitable and dangerous, with awful weather.)
Warnings aside, they seemed to like Scotland, and vice versa: DNA evidence suggests many Scots and Norse intermarried and settled in both countries. It's thought that Vikings also brought over their brownish grey, small, hornless cattle, which bred with the native black hornless cattle to produce the ancestor of the Aberdeen-Angus cow, which Scottish farmers developed and improved in the 19th century.
Angus steak isn't hard to find. Try the Chop House, Wildfire, the Mussel & Steak Bar, or save some Scottish £££ with the BYOB options at Steak Restaurant or the Buffalo Grill.
Haggis bon-bons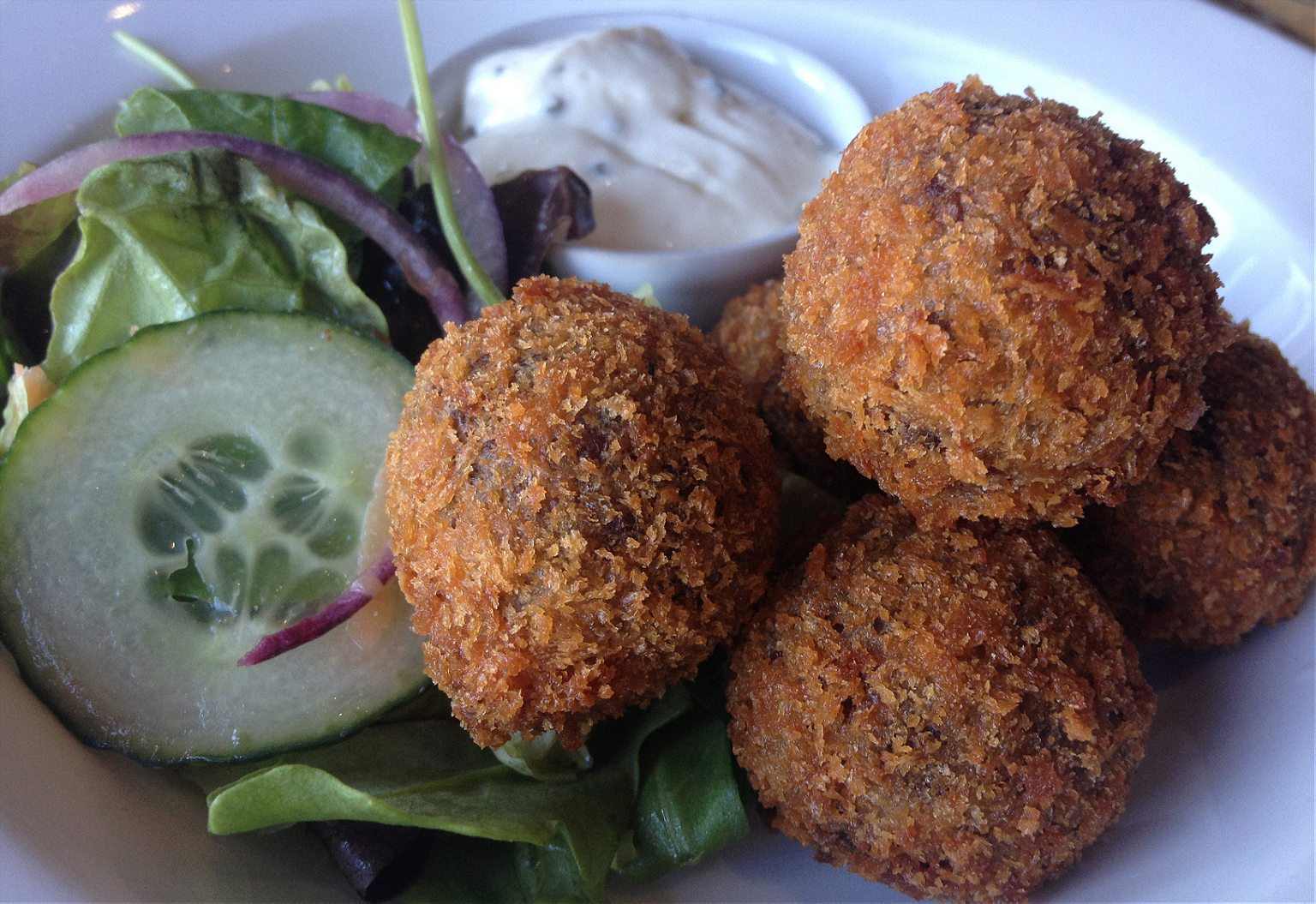 Scotland's national dish of sheep's pluck (liver, lungs, and heart), boiled in a sheep's stomach and mixed with spices and oats, is often a punchline for jokes about unappealing Scottish cuisine. But haggis is not just haggis. The poet Robert Burns' Address to a Haggis—ritually recited before slicing into the dish with a ceremonial sword on Burns Night, when Scots celebrate their national poet—is not just a love letter to the delicacy but a patriotic manifesto, a mock-epic celebration of Scottish character and hardiness.  When Burns wrote the poem in the late 1700s, the French Revolution and the American War of Independence had emboldened Scots to imagine their own independence from their long-time adversary turned partner-in-Union, England. (A debate that is very much still live.) Poets such as Burns celebrated Scots themes and heritage in this newfound patriotism.
Haggis-like dishes have a long history in many cultures, but early records of this version date to the late medieval period, most likely originating from the practice of carrying oatmeal and offal in a bag, or a sheep's stomach. (It may also be rooted in Scandinavia or England, but it might be best not to mention that.)  
Haggis comes in many forms—on pizza, deep-fried, inside burritos, on nachos, in breakfast fry-ups. Try the Black Haggis Bon Bons at Bon Vivant on Thistle Street.
Whisky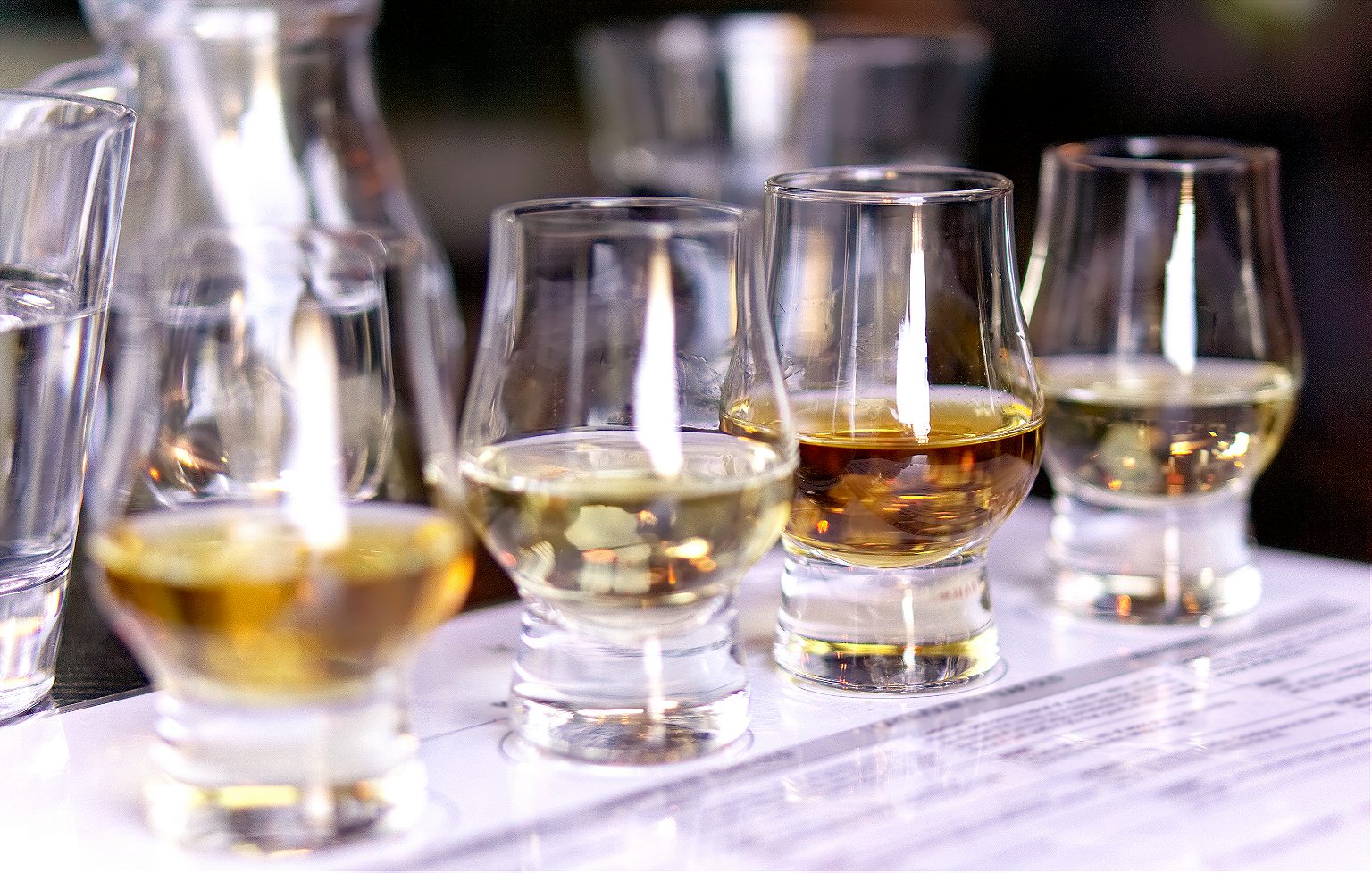 The spirit once known as Uisge beatha—Gaelic for "water of life'—can be traced to Scotland and Ireland hundreds of years ago. These days, it may be mostly produced in the rural Scotland depicted on bottle labels: fresh Speyside streams, misty Highland valleys, and rocky, windswept islands, but the city of Edinburgh once had several (and many more illicit) distilleries, and was an essential catalyst for the global success of the whisky industry.
Whisky production in Edinburgh dates back at least to 1505, when James IV of Scotland granted the Guild of Barbers and Surgeons a monopoly for distilling in the city. In the mid-19th century, the Coffey still (which increased the rate of distillation and strength of the spirit) and new laws allowing blends stepped up production and demand. Distillers Company Limited—the first iteration of the world's largest drinks producer today, Diageo—was founded in Edinburgh's west side in 1877, when six Lowland distilleries merged.
There are only a couple of whisky distilleries left in the city, and they're not open to the public. There are plans to open a new Edinburgh distillery by mid-2019, but until then, you can sample Scotland's whisky bounty all over Edinburgh. Check out the Malt Whisky Society, or have whisky matched with food at Amber restaurant. The Scotch Whisky Experience is not a working distillery, but it does house the largest collection of whisky in the world.
[Read: Everything you need to know about Scotland's other national drink]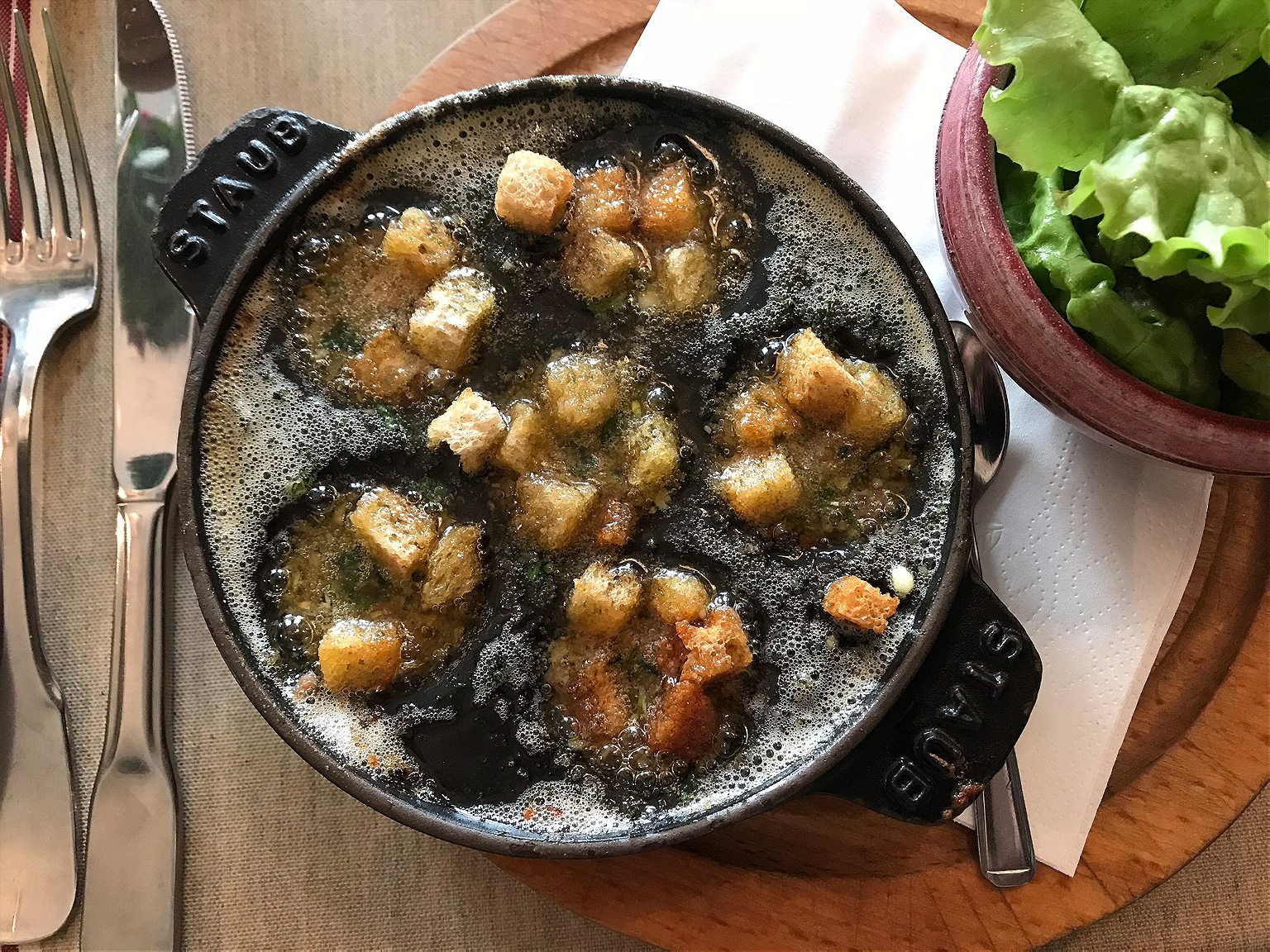 The Auld Alliance (auld = old) between the kingdoms of France and Scotland was formed in the 13th century to defend against England's habit of invading its neighbors, and it endured, on and off, for hundreds of years. The bond was reaffirmed in the 16th century when French Duchess of Guise, a.k.a. Marie de Lorraine, married the King of Scotland, James V, and brought French chefs and their cuisine to the Scottish Court. Lorraine's daughter, Mary, became Queen of Scots as an infant when James V died, spent most of her childhood in France and was married, briefly, to the Dauphin of France.
The Alliance faded in the second half of the 16th century, when Scotland's new king looked instead to England. But the Auld Alliance and the years after left French touches on many fronts: in Scottish law, the Scots language, Parisian architecture in the New Town, and of course, on cuisine. Edinburgh has a good handful of restaurants combining French techniques with the Scottish 'larder' (pantry). One example: the escargot at Fred Berkmiller's L'Escargot Bleu, sourced from the windswept sand dunes on the Isle of Barra, a remote island in the Outer Hebrides off Scotland's west coast. They are particular to Barra, and have replaced French-sourced snails, but here they're still cooked in French style: in snail-sized chambers of hot butter, with garlic, parsley, breadcrumbs, and the tiniest specks of bacon. Check out French bistros such as L'Escargot Bleu, sister L'Escargot Blanc, and Cafe St Honore.
Smoked Salmon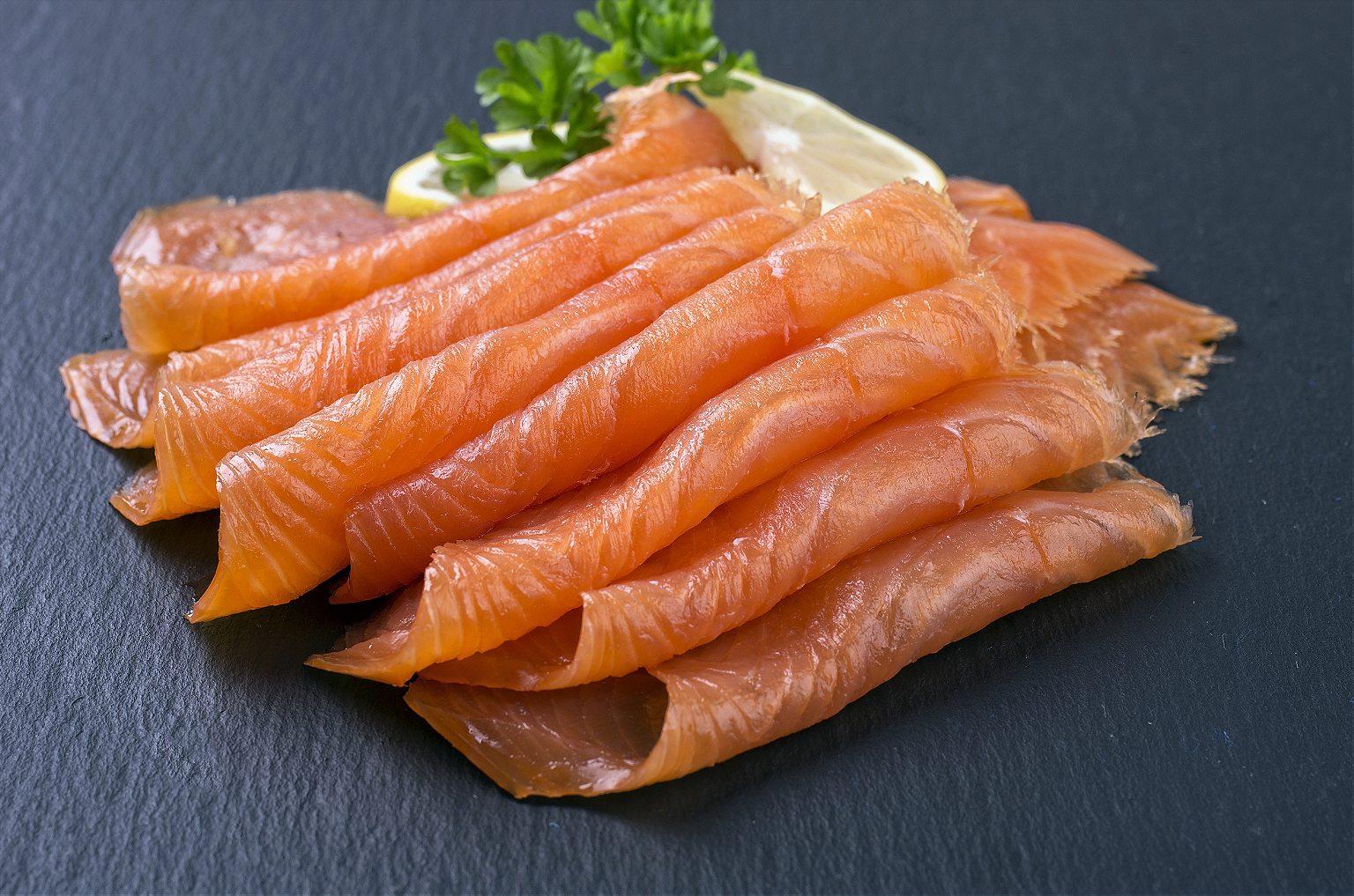 Though Scots had been catching and eating salmon for a long time—the country has 9 percent of the U.K. population but makes 60 percent of the catch—and they smoked fish such as kippers and Arbroath "smokies", they generally didn't smoke salmon. The delicacy's roots lie further south: In the late 1800s, Jewish immigrants in London's East End fleeing pogroms in Russia, Poland, and Ukraine smoked fish to preserve it without refrigeration. East London smokers would import Baltic Sea fish until they discovered the fresher and cheaper wild Scottish salmon at Billingsgate Fish Market. The fusion of Scottish salmon with London smoking techniques created a fine product with a delicate, non-smoky flavor, which soon became a luxury item in London delis. A lot of smoked salmon is now heavily mass-produced and farmed, not without controversy, to make it cheaper (an inferior product will rely on a stronger smoky flavor). Also, the U.K. imports a large amount of Norwegian salmon and smokes it in Scotland, which means it can still be called "Scottish smoked salmon,"—but that's not the real deal.
In Scotland, where Atlantic salmon runs through its fresh rivers (and has been granted protected status) it shouldn't be hard to find the good, wild stuff without paying too much. Buy some to enjoy at home at the legendary Eddie's Seafood Market or Something Fishy fishmongers on Broughton Street, or order it hot or cold at the Ship on the Shore in Edinburgh's port, Leith. (PS: Hold the lemon wedge. Purists say a squeeze of lemon juice ruins a quality salmon's delicate flavor.)
[Read: Why Arbroath smokies are Edinburgh's perfect dish]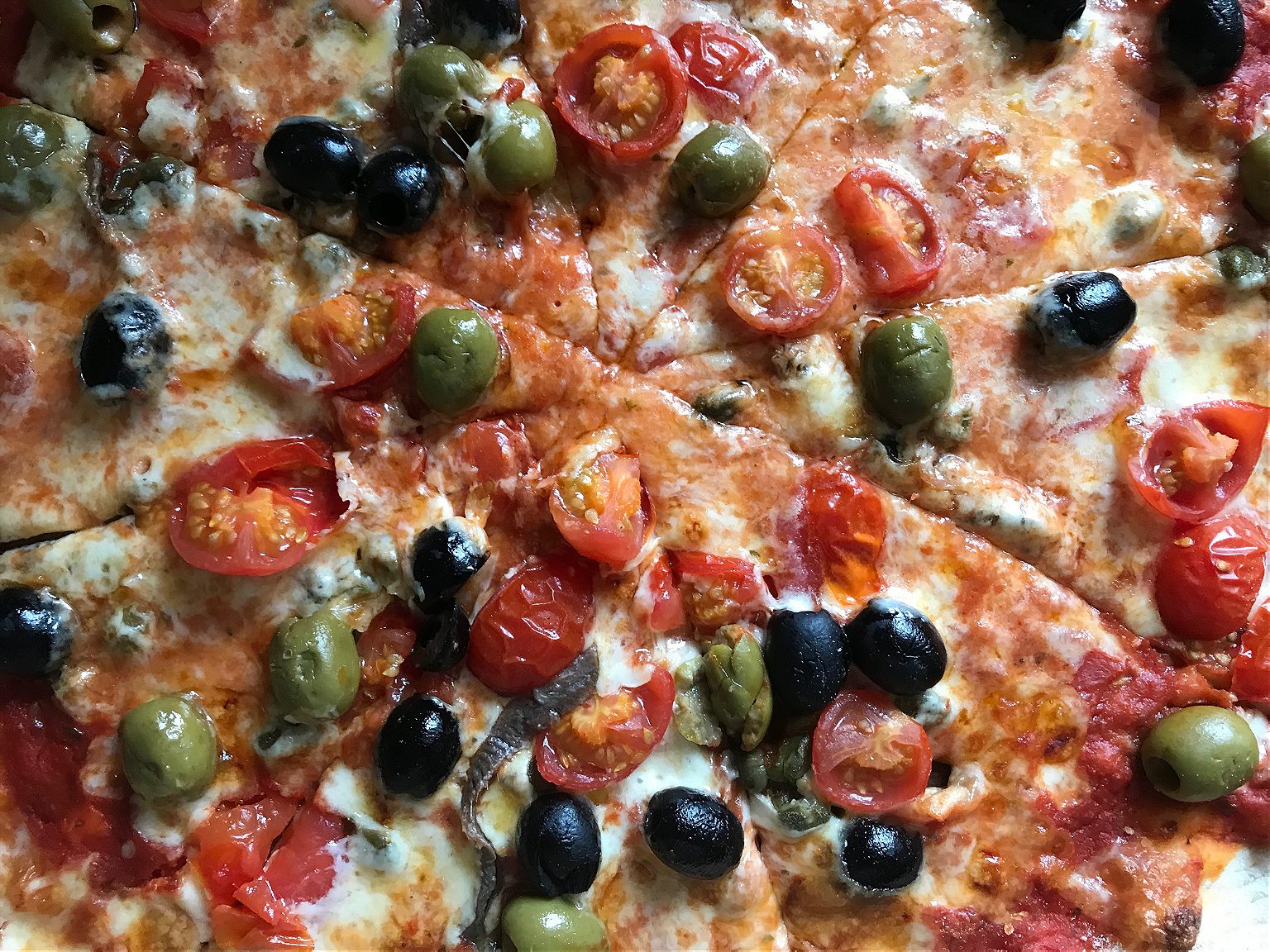 Scotland and Italy have a long, special relationship. The first significant numbers of Italian immigrants came over to Britain in the 1880s, fleeing drought and famine in Italy. More came after the U.S. tweaked its immigration policy to keep out poorer European migrants, but it was not until World War I and the interwar period that a large population settled in Scotland. Today, Italian-descended Scots make up about one percent of Scotland's population. (Notable Italian Scots include Armando Iannucci, the brains behind VEEP and The Death of Stalin and Sharleen Spiteri of the band Texas.)
Many of the Italian immigrants who settled in Scotland made a living serving food. First, they sold ice cream and fish-and-chips from wheelbarrows in working-class neighborhoods, but within a generation they opened restaurants, cafes, chip shops, and famous ice-cream joints such as Luca's in Musselburgh and Nardini's in the resort town of Largs. In the early 20th century, Italians dominated the cafe and chip shop trade on Scotland's west coast and helped popularize that British staple, fish and chips. By the end of the 1930s, Italian cafe culture had reached most regions of Scotland.
On the east coast, early Italian immigrants settled in Edinburgh's Grassmarket. Edinburgh's Italian food scene is one of its oldest, and perhaps its most popular. A go-to comfort food Edinburgh is pizza from La Favorita, one of the Vittoria Group collection of restaurants, run by Tony Crolla and his family, third-generation Scots-Italians. At La Favorita, the dough comes from Padova, and the pizza comes with a thin crust.
Chips and sauce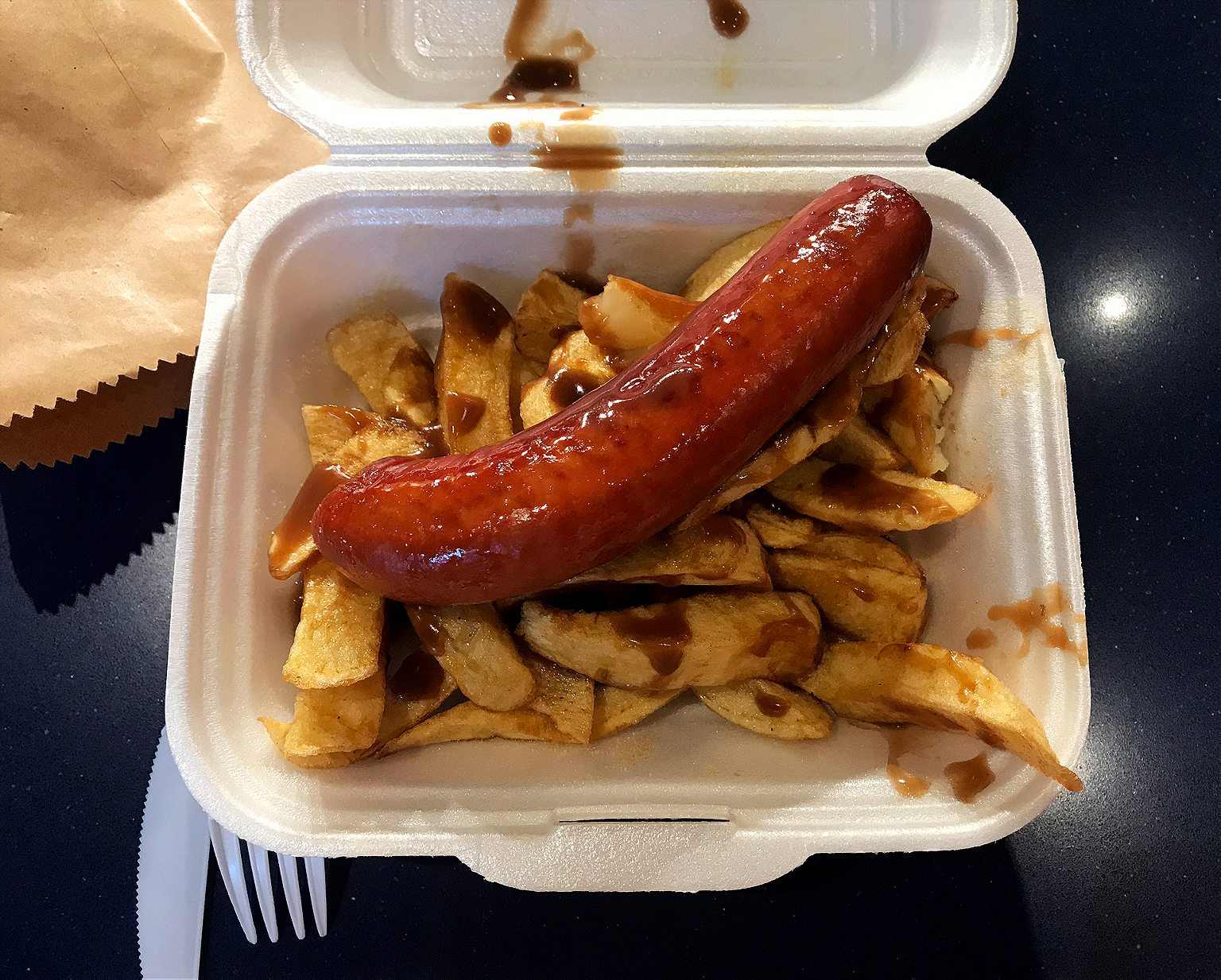 Post-pub fare in Britain is almost as famous as its feeder institution, the pub, and what people reach for in states of alcohol-induced munchies can be highly region- or city-specific. Some places in the U.K. put Chinese curry sauce on their chips; in Glasgow, just 60 miles west down the M8 motorway from Edinburgh, it's all about chips and cheese. In Edinburgh, fish suppers or even just chips alone come doused liberally with the city's watery but savory "chippie" sauce, a mysterious proportion of brown sauce and vinegar. (Brown sauce is somewhat similar to A1 steak sauce.) In Scotland, brown sauce is twice as popular an anywhere else in Britain, but it's not clear why. We do know that fish and chip shops became popular in the mid-19th century, probably first in England. But again, we have Scotland's Italians to thank for the prevalence of chip shops; Italian migrants set up shops in Scotland, Wales, and Ireland.
Try the famous sauce at Rapido Cafe or Caffe Picante on Broughton Street, or at L'Alba D'Oro, with some deep-fried pizza on the side. You can also look online: some enterprising individuals are bottling it and shipping the sauce to homesick Scots around the world.
[Read: A love letter to Rapido Cafe]
Chicken Tikka Masala at Khushi's Restaurant
Khushi's claims to be Edinburgh's first curry house, opened in 1947. (It has moved locations a few times, settling into its current spot on Leith Walk after a fire shut it down for three years.)
Immigrants from South Asia started coming to Scotland starting in the 18th century during British colonial rule in India, often as servants to colonial administrators or as seamen, deck hands, and cooks on British ships. As was the case in England, many of the new arrivals after India's independence in 1947 opened small stores ("corner shops"), businesses, and restaurants. It's important to remember that what's referred to as "Indian" food in Britain is an overly simplified umbrella term for any and all cuisine from South Asia (and sometimes beyond), or specifically Punjabi or Bengali dishes. Many British-Asian curry houses still have similar menus with some greatest hits, such as chicken tikka masala: tandoori-grilled chicken in a thick, orange-tinted, tomato-based sauce, of unclear origin but undisputed popularity, once named Britain's favorite dish.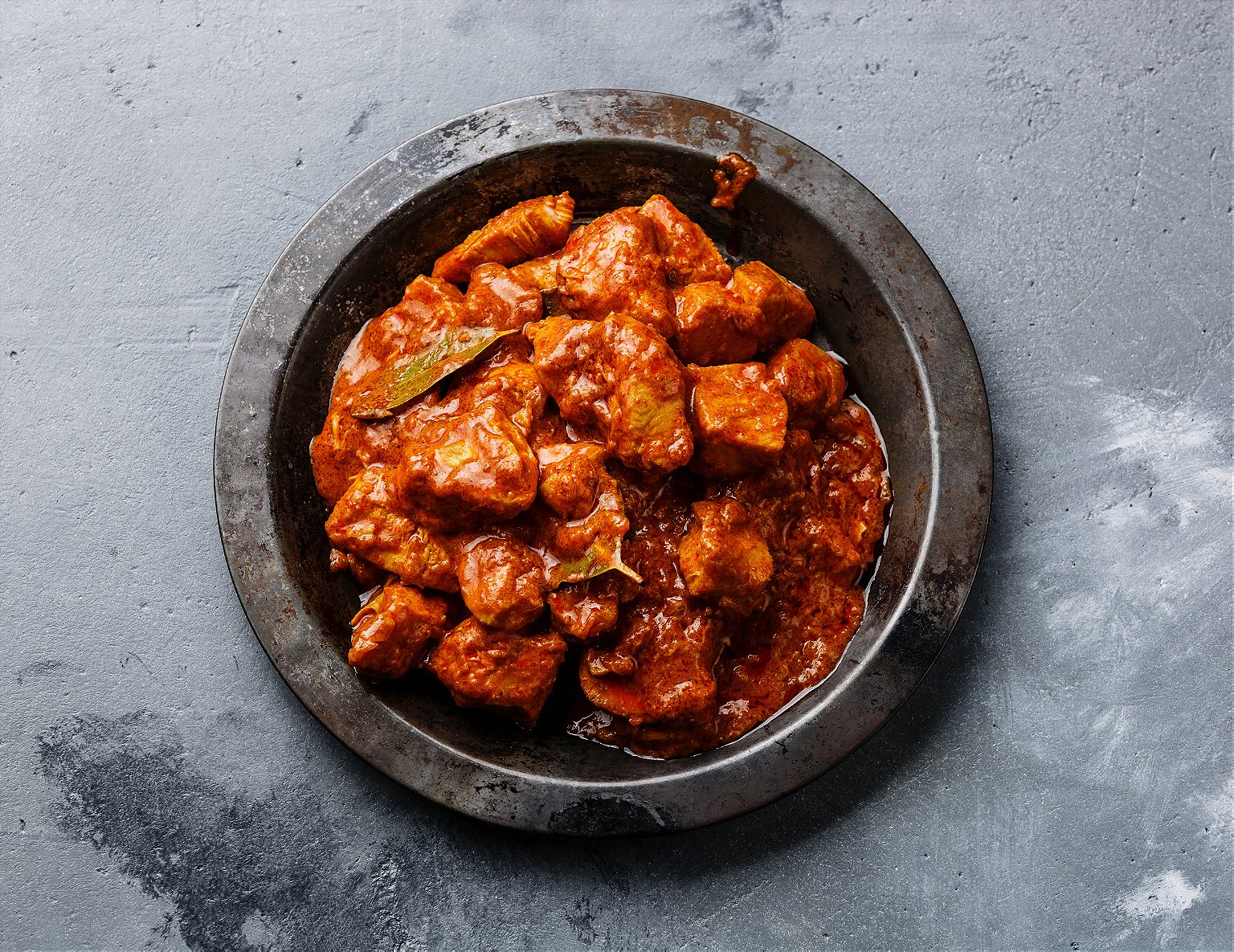 Khushi Mohammed came to Edinburgh in 1935 from Jalandhar, a city in the northwest Indian state of Punjab, with dreams of opening a restaurant—which he did, in 1947.
His first restaurant, next to Edinburgh University, took off with local students and with the city's growing population of South Asian immigrants. In the early days, when he couldn't find essential spices—chili, cumin, coriander—he would ask students going for visits back to India to bring them back.
Mohammed died in 1977 while on pilgrimage to Mecca, but his family has kept the restaurant going. They have some curry-house standards along with some of their own twists, such as tandoori stuffed mushrooms.
Cardamom bun at Söderberg bakery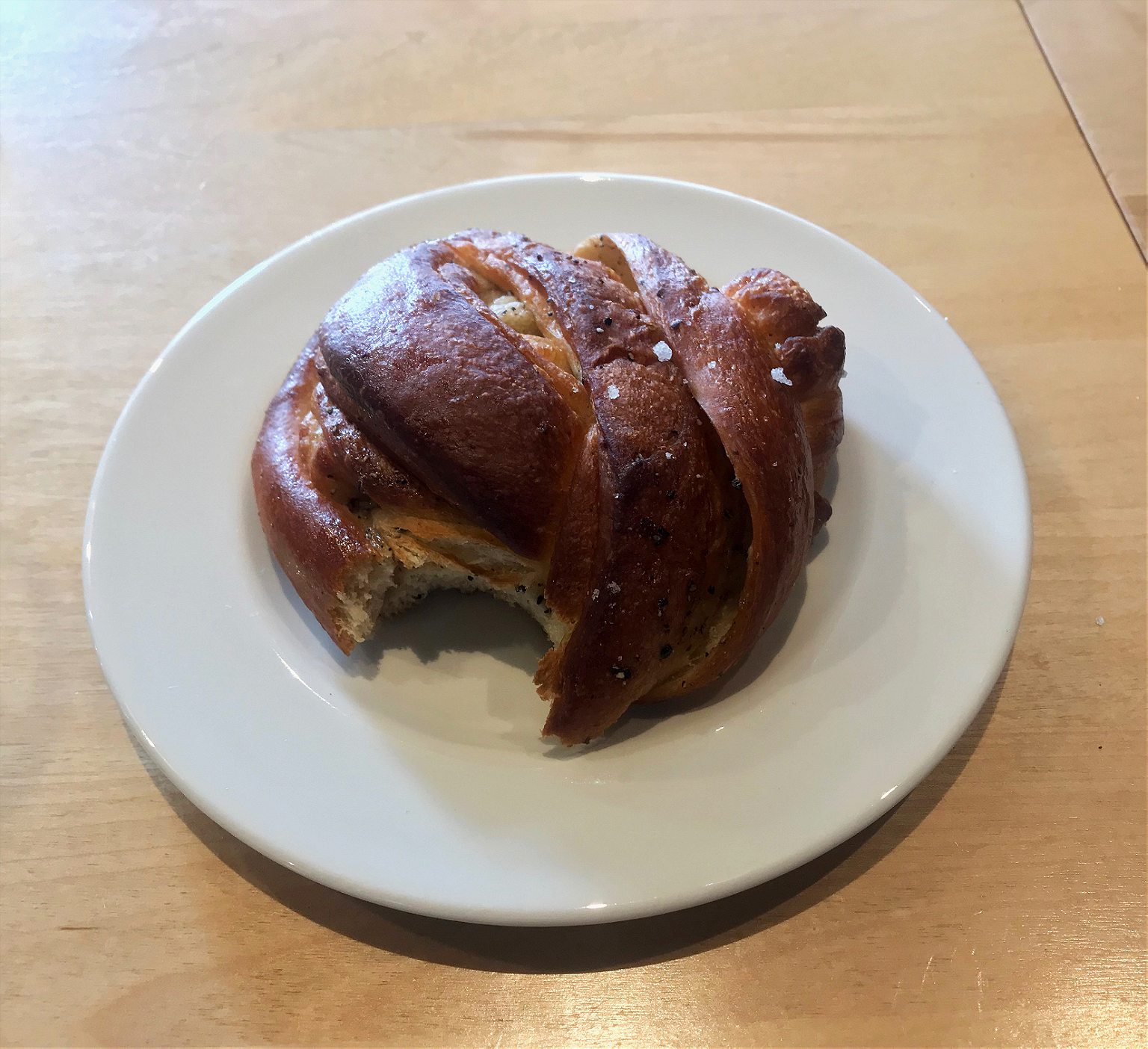 In the last few years, Edinburgh has experienced a gentler Viking invasion, with Swedes coming over and introducing the art of fika (a coffee break with a snack) and furnishing the city with Scandinavian-accented bakeries, bars, and restaurants. Anna and Mike Christopherson, a couple from Stockholm, opened Boda Bar in 2004 and now run a small bar empire in the city, including Joseph Pierce, a roomy, modern pub on Leith Walk serving beers, ales, and Aquavit with Swedish meatballs and Smörgåsbord.
Peter Ljungquist started up his small chain of Söderberg bakeries in 2007, serving wheels of Swedish crispbread for cheese and dips and moreish cinnamon and cardamom buns—welcome additions to the city's morning pastry game.
For now, the Swedish invasion seems to be confined to Edinburgh. Glasgow, a far larger city, doesn't share the same proliferation of Scandi spaces—although Glasgow did come up the best name for a Swedish joint: "For Fika Sake".