The Turkish parliament may be in Ankara, but Istanbul remains the country's spiritual, cultural, and historical capital.
Before Istanbul was Istanbul, it was Constantinople. Before that, Byzantium—and change has been a constant. First built over seven hills, it's since expanded over many more to become one of the world's largest cities by any metric. It has gone through the usual urban shift from cobblestones and wood to concrete and glass in the process, but Turkey's economic growth over the last decade has accelerated the process dramatically, with sometimes-reckless construction sprees with little regard for heritage. Even after a few years away, visitors will notice big differences. They may notice, too, the expanding influence of President Recep Tayyip Erdoğan's government and the corresponding intolerance of dissent. But much remains the same: Monumental Ottoman architecture still defines the skyline, there is great food on every corner, and the streets bustle with an endearing, if sometimes infuriating, sense of chaos. The Turkish parliament may be in Ankara, but Istanbul remains the country's spiritual, cultural, and historical capital.

Choose your season. A fug of heat and humidity settles on Istanbul for the summer months, with temperatures that can climb well into the 30s Centigrade (80-90s Fahrenheit). Locals often escape to the coast or islands and an influx of visitors take over the streets instead. In winter, it can be grey and wet for weeks, although at least you're more likely to have attractions to yourself, and the possibility of snow. If you can, visit in spring or autumn when the weather is mild, the rain rare, and the city full of color. If you can't, then go anyway, but pack sunscreen or a warm coat.

Find your bearings in Taksim Square, then move on. Taksim is the heart of modern Istanbul, home to numerous hotels, the central metro station and the Republic Monument, with its depiction of Mustafa Kemal Atatürk and other founders of modern Turkey. No need to hang around, though. From there you can follow the red heritage trams past the shops, cafes, cinemas, and bars of pedestrianized Istiklal Caddesi, or instead stroll towards Cihangir's coffee houses and boutiques.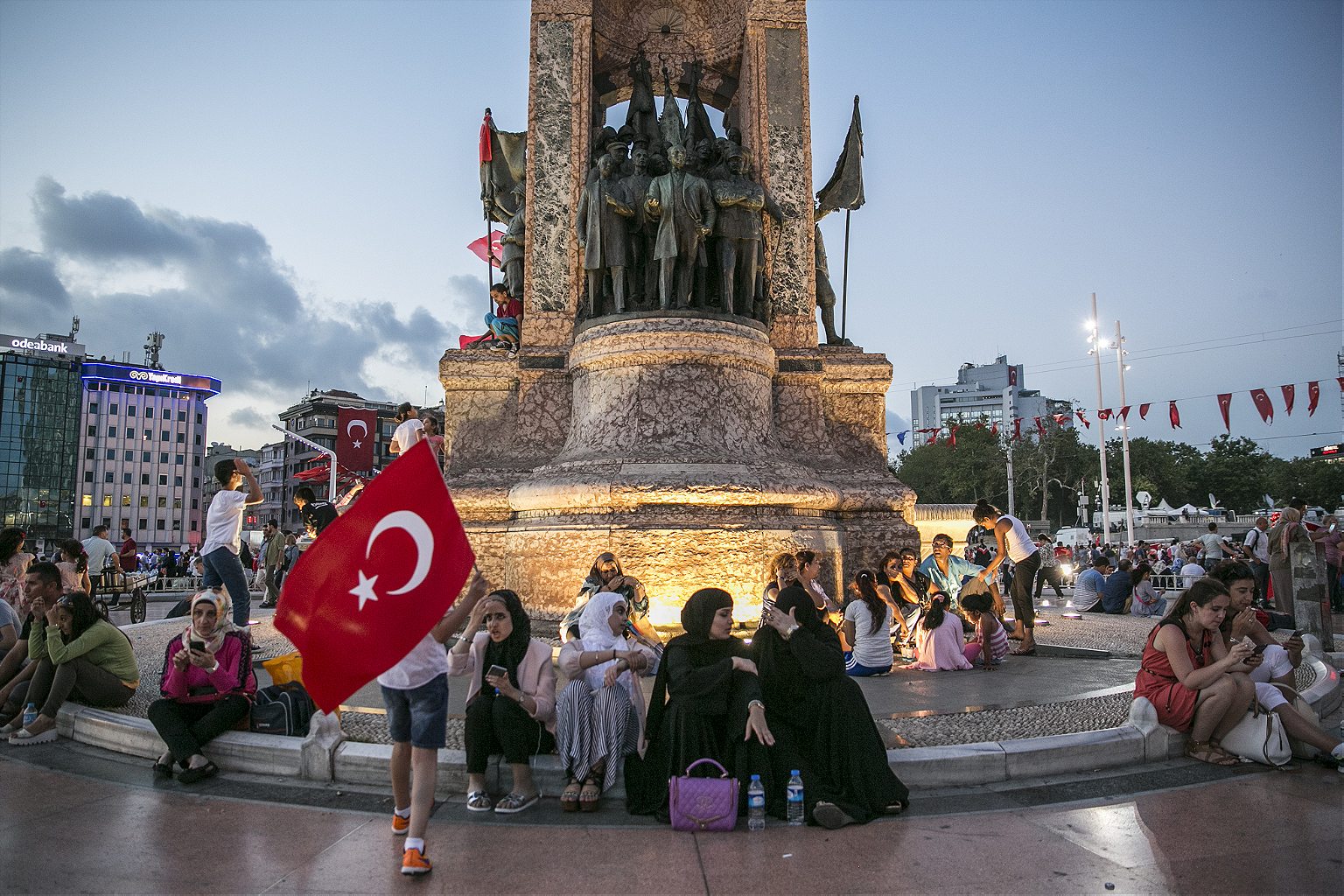 Pick a base. Istanbul is huge: 39 sprawling districts in all, with hotels in most. But not all are created equal for visitors. Beyoğlu, on the European side, which stretches from Galata to Taksim, is a good base, though if possible, avoid the mixed-quality tourist-focused hotels around Taksim. If you're feeling flush, Pera's upmarket hotels are stunning. Otherwise, there are Airbnbs and serviced apartments to suit nearly every budget.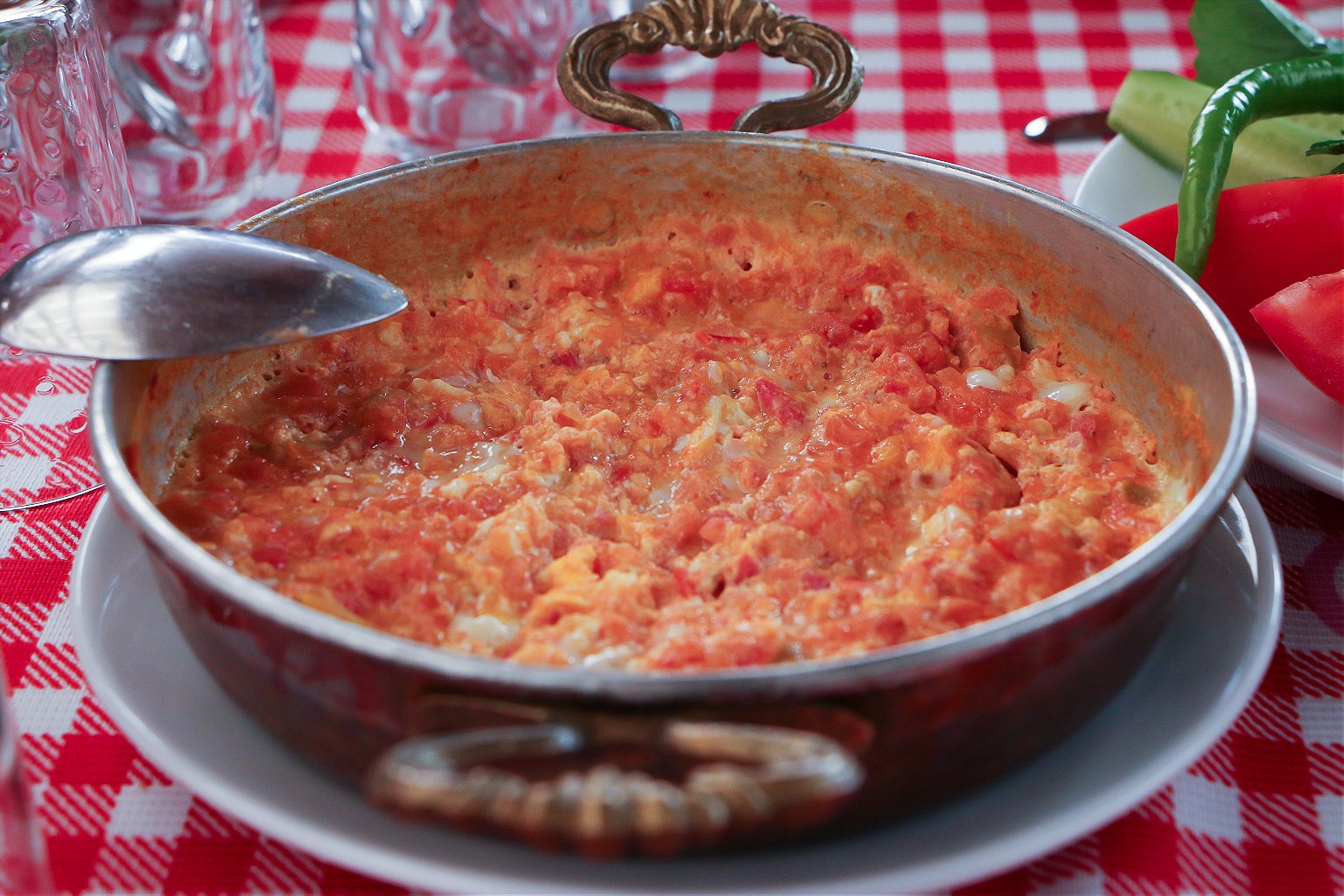 Start your day with a feast. Breakfast is serious business in Turkey, a cherished ritual. Its preparations range from utilitarian to the truly epic, but a typical spread involves a table crammed with small plates of jams, olives, local cheeses, honey, cream, and butter, as well as fresh bread to load it all on to. The more elaborate versions include egg dishes, too—order menemen (scrambled with onions, peppers, and tomatoes) or try them fried with sucuk, a spicy dried beef sausage. Van Kahvaltı Evi in Cihangir is (rightfully) popular, although at the weekend you'll probably have to queue for a table. Çakmak Kahvaltı Salonu in Besiktas is something of an institution too, and Rumeli Kale Cafe along the coast in Sariyer offers a Bosphorus view too. Order a full set menu, then enjoy at a leisurely pace with glass after glass of black tea, and you'll be set for even the longest day of exploring.

Say "merhaba." You can get by in Istanbul's more visitor-heavy areas without speaking any Turkish, but a few basic words and phrases will go a long way, especially if you're planning on venturing further afield, because English isn't widely spoken. Hello (merhaba), thank you (teşekkür ederim, teşekkürler, or more simply, sağol), yes (evet), no (hayir) will certainly come in useful. And when someone says welcome (hoşgeldiniz) make sure to reply hoşbulduk by way of polite thanks. Turkish is mostly spelled phonetically too, so you might pick up more as you go.

Walk the historical peninsula. There's much, much more to Istanbul than its most famous attractions, but that doesn't mean you should overlook them. Fortunately, most can be seen in a single day—if you don't mind it being a long one. Start early on Galata Bridge to avoid the inevitable crowds, wander around the Spice Bazaar, then on towards The Blue Mosque (which is free to enter), the Hagia Sophia (which isn't) and then on to Topkapi Palace, Gulhane Park, and perhaps the Basilica Cistern. For souvenirs and presents, there is, of course, the Grand Bazaar, where you should be sure to bargain. It's not easy to find, but if you can clamber your way to Büyük Valide Han come afternoon, and you'll be rewarded by an incredible view. Find the building off of Çakmakçılar Yokuşu, climb the stairs to workshops where craftspeople still make and repair traditional goods, and for a few lira, the caretaker might agree to unlock a hidden staircase to the roof. Watch your footing while you're up there.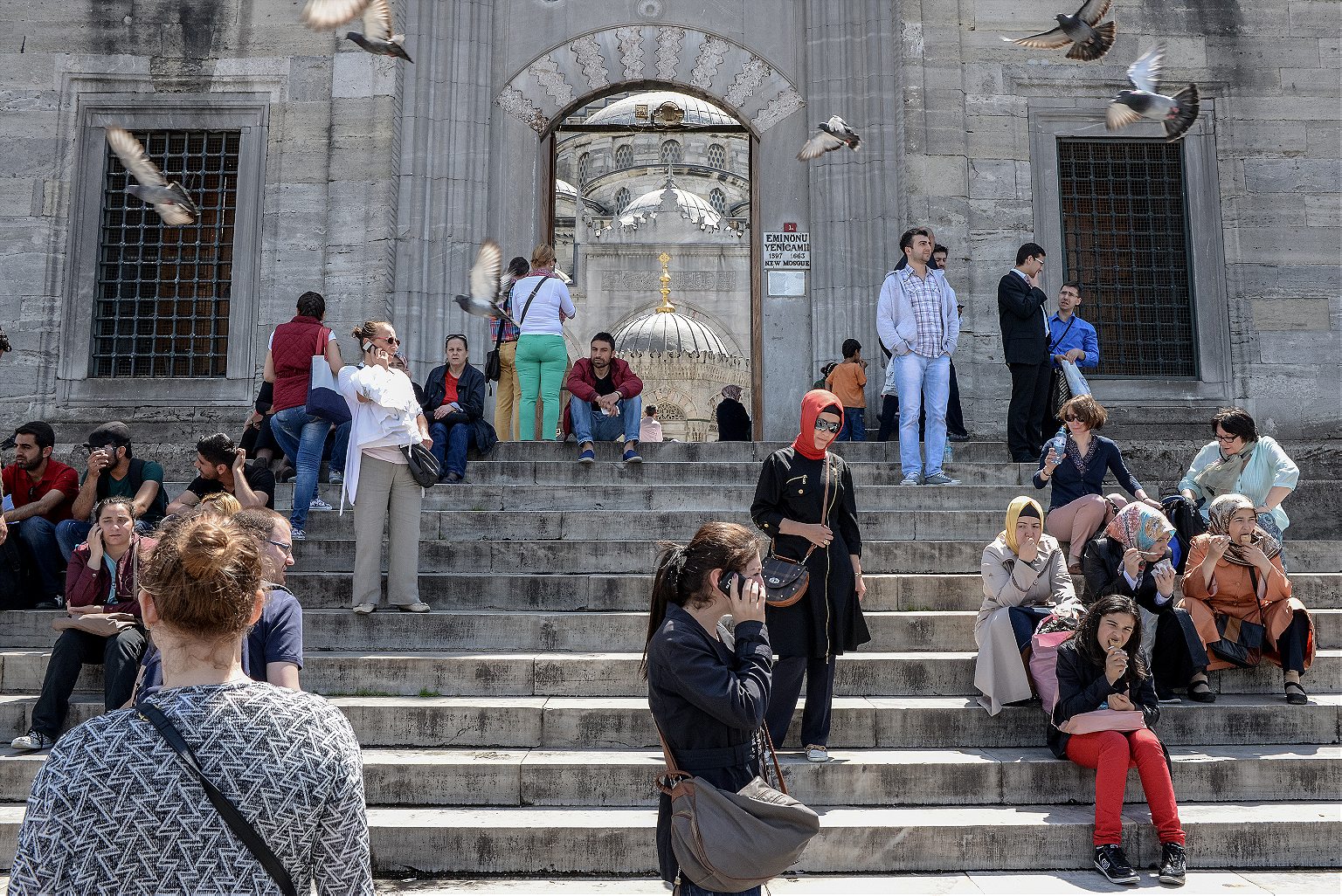 Bring good shoes—or get an Istanbulkart. If you have comfortable shoes or sturdy boots and don't mind a bit of a hike, much of Istanbul can be seen on foot. But a clean and efficient network of trains, buses, trams, and ferries links most parts of the city. If you're planning on taking public transport, pick up a contactless Istanbulkart, which can be refilled at kiosks and stations and is cheaper than using tokens. Avoid rush hour and check routes first—while reliable and fast, the metro doesn't serve all of the city, for example.

Be wise about taxis. Taxis are convenient and affordable, but seat belts are rare, speed limits often disregarded, and there are regular stories of drivers charging tourists wildly inflated sums, so make sure the meter is running. Uber is technically illegal, but can still be used, and also offers the (recommended) option of calling a more accountable cab—and you pay in cash. Local app BiTaksi allows you to do the same, and pay by credit card.

Make time for çay. Tea—strong, black, served in a small glass with sugar on the side—is perhaps the most ubiquitous of Turkish experiences. In Istanbul, you'll find a tea garden (çay bahçesi) in just about every part of the city you visit. The menu, and even the tables, chairs and other decor likely won't change much, but in some, you'll be able to enjoy incredible views of the city, or prime waterfront seas at minimal cost (a cup is often little more than 20 cents). Sit down, rest your legs, and watch the world go by. Some of our favourites are Firuzağa Kahvesi behind the mosque of the same name, the waterfront Dolmabahçe Çay Bahçesi, Pierre Loti above Eyüp cemetery, and Moda Çay Bahçesi on the Asian side.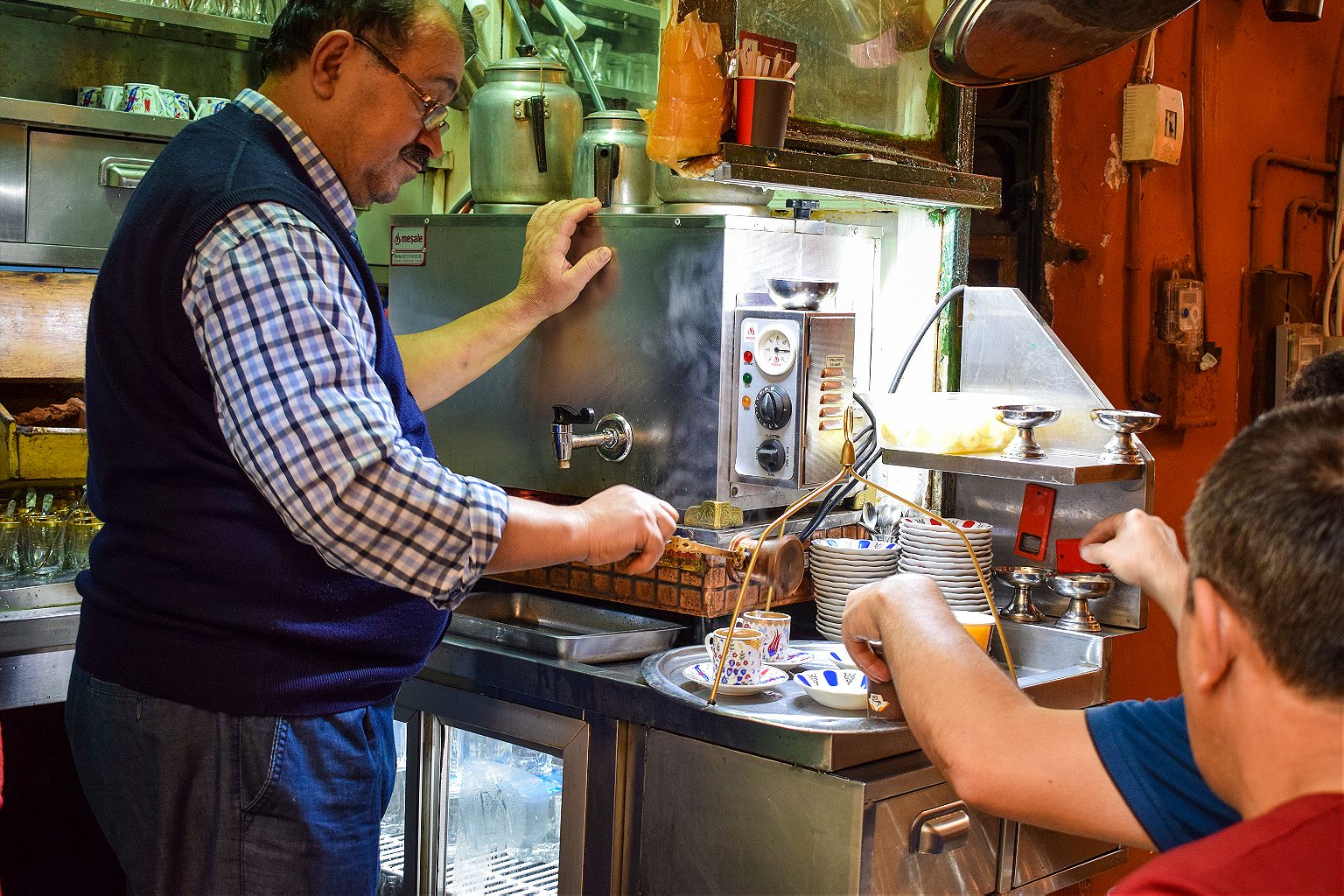 Take a ferry, not a cruise. It can be hard to appreciate Istanbul's sprawl and splendor from land. It's best seen from the water, from the Bosphorus or the Golden Horn. There are tour boats to suit every budget, but the ideal option is to travel by one of the many passenger ferries that criss-cross the city's waterways every day. The Karakoy to Kadikoy route is especially scenic, and departs every 30 minutes or so from the new two-story terminal on Karakoy pier. Order a tea, find a spot on the top deck, and enjoy some of the finest views of the historical districts. If that gets boring, join locals in throwing chunks of stale simit to the seagulls flocking behind.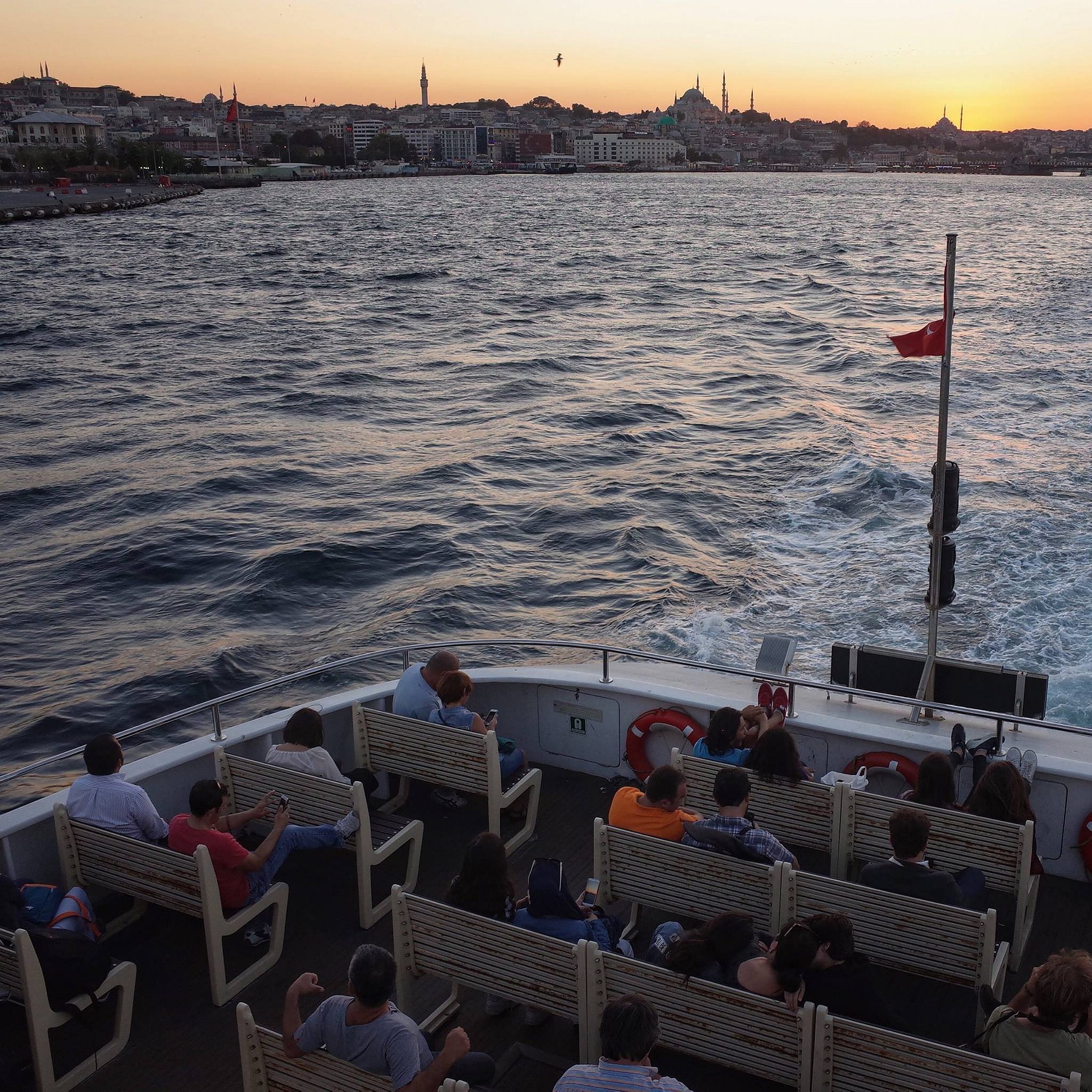 Eat all the street food… Istanbul's restaurants are famous, but in the bustle of more than 15 million people going about their business, not everyone has time to sit down. Street food is a way of life for the frugal and rushed alike, and vendors are one of the city's most common sights. On Istiklal and its side streets (and many other places too), carts and stalls sell simit (sesame seed-encrusted dough rings), tavuk pilav (chicken and rice) and midye dolma (mussels with rice and lemon). Get balik ekmek (fish sandwiches) from one of the dozens of small stalls on the shores of Karaköy or Eminönü and enjoy as you stroll the seafront. Snack spots all over the city grill kebap, döner, and köfte, along with dürüm and their smaller relative, tantuni. Try Çiya, Dürümzade, or Kasap Osman.

..and the night food. When bars close, revellers turn to most of the above foods, as well as kokoreç, a dish of grilled lamb intestines, best bought at a stall that grills it over hot coals—find one in the Balik Pazari market, off of Istiklal. On the corner of Taksim Square, late-night food spots also sell islak (wet) burgers—a uniquely Istanbul invention that has yet to find international favor: Patties in buns soaked with garlicky tomato sauce then heaped into glass cases, where they gather flavor and steam away their structural integrity.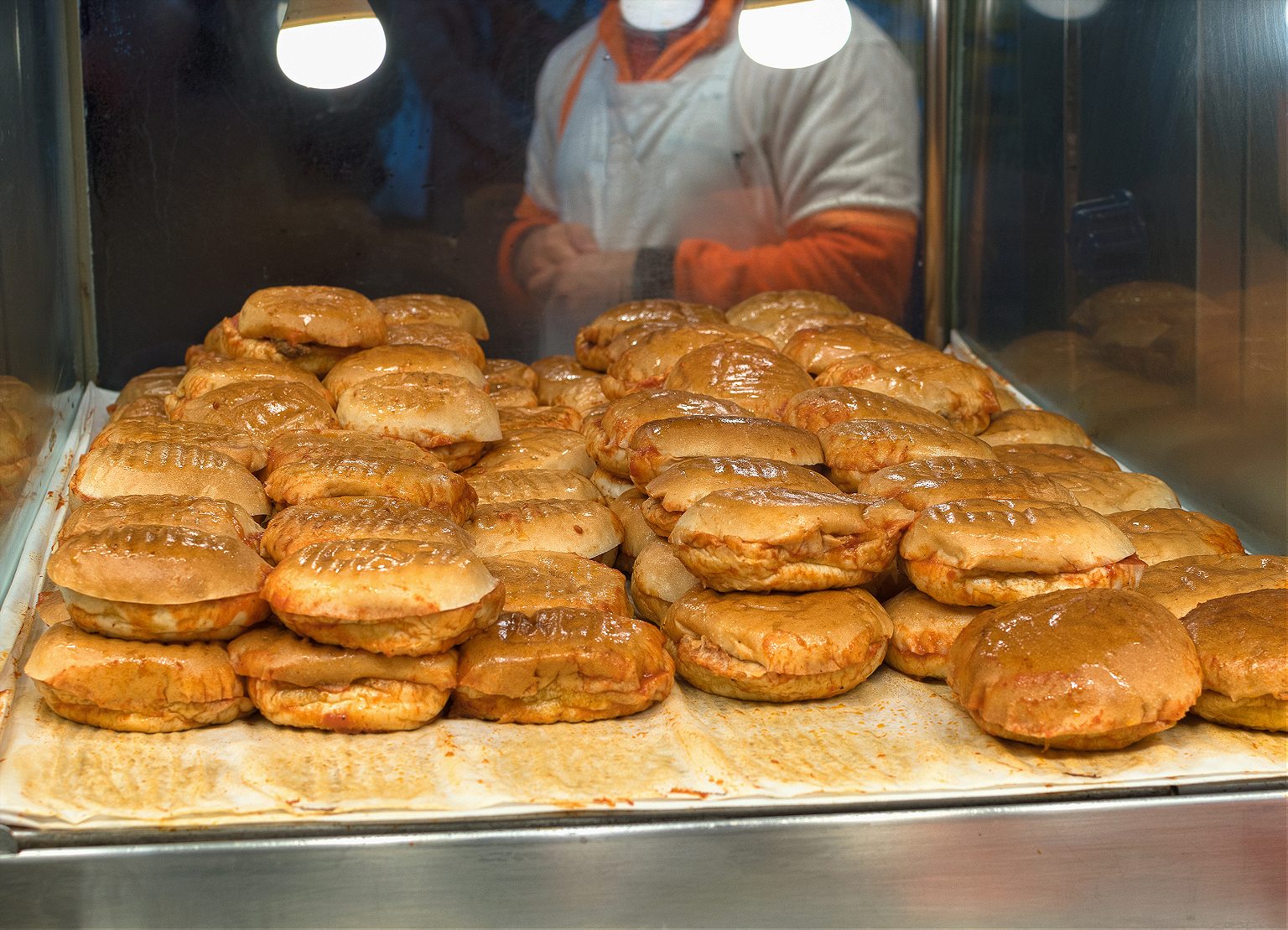 Sit to down to a meyhane dinner. Dining in one of Istanbul's meyhanes, or taverns, should be as much a social experience as a culinary one—an often-raucous gathering best enjoyed with a group of friends. But that doesn't mean the food is neglected. Start with white cheese (beyaz peynir) with slices of fresh melon, then take your pick from a vast selection of meze dishes including yoghurt, beans, fish, and pickles. Leave space for a seasonal fish course and accompany it with glasses of raki—Turkey's anise-flavored national drink—served diluted with water and ice to taste. Sip, don't chug both for etiquette and because raki is deceptively strong (around 45 percent ABV), by the end of the night you might join fellow patrons dancing to traditional music on tables and chairs. You can find meyhanes across the city, but the greatest concentration is on Nevizade Sokak.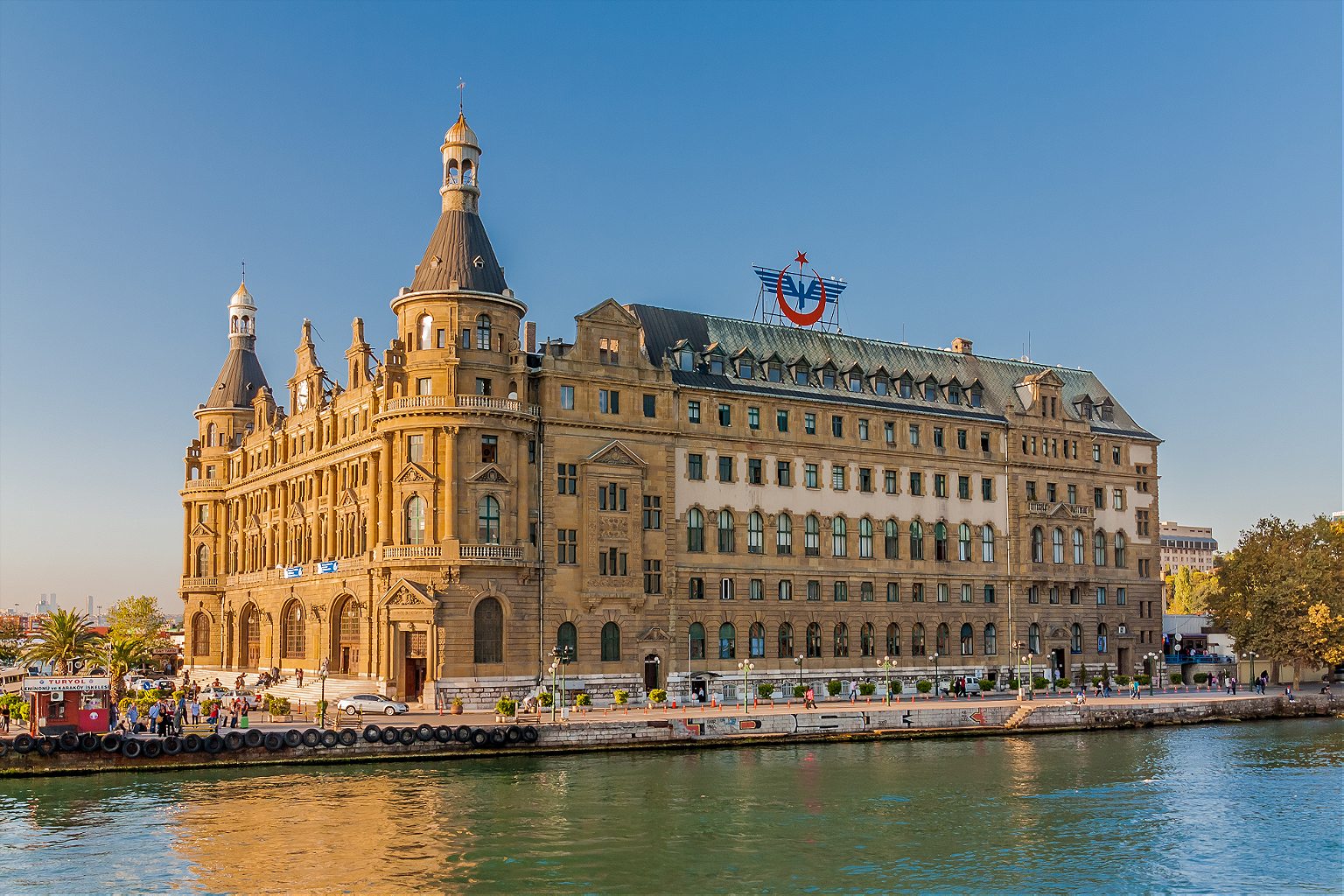 Cross continents. Many of Istanbul's better known historical sights and districts are on the European side, but the Asian shores of the Bosphorus have much to offer too. Take a ferry to Kadikoy, where you'll see the historic Haydarpaşa Port and railway station, then start walking. Browse the shops and markets, then stroll through Moda for a coffee, and head out past Fenerbahçe and Kalamış marinas to the pier for a glimpse of faded glamor and the Sea of Marmara.

Head up high for nightfall. Istanbul's sunsets are often glorious, and on a clear evening, they're best enjoyed with a cocktail or cold beer at one of the city's many rooftop bars. Venues can be found to suit all budgets, but it's worth splashing out for a spot with a prime Bosphorus view at 5.Kat, Leb-e Derya, Mikla, or 360, where you can watch the day end and the lights come on across the city.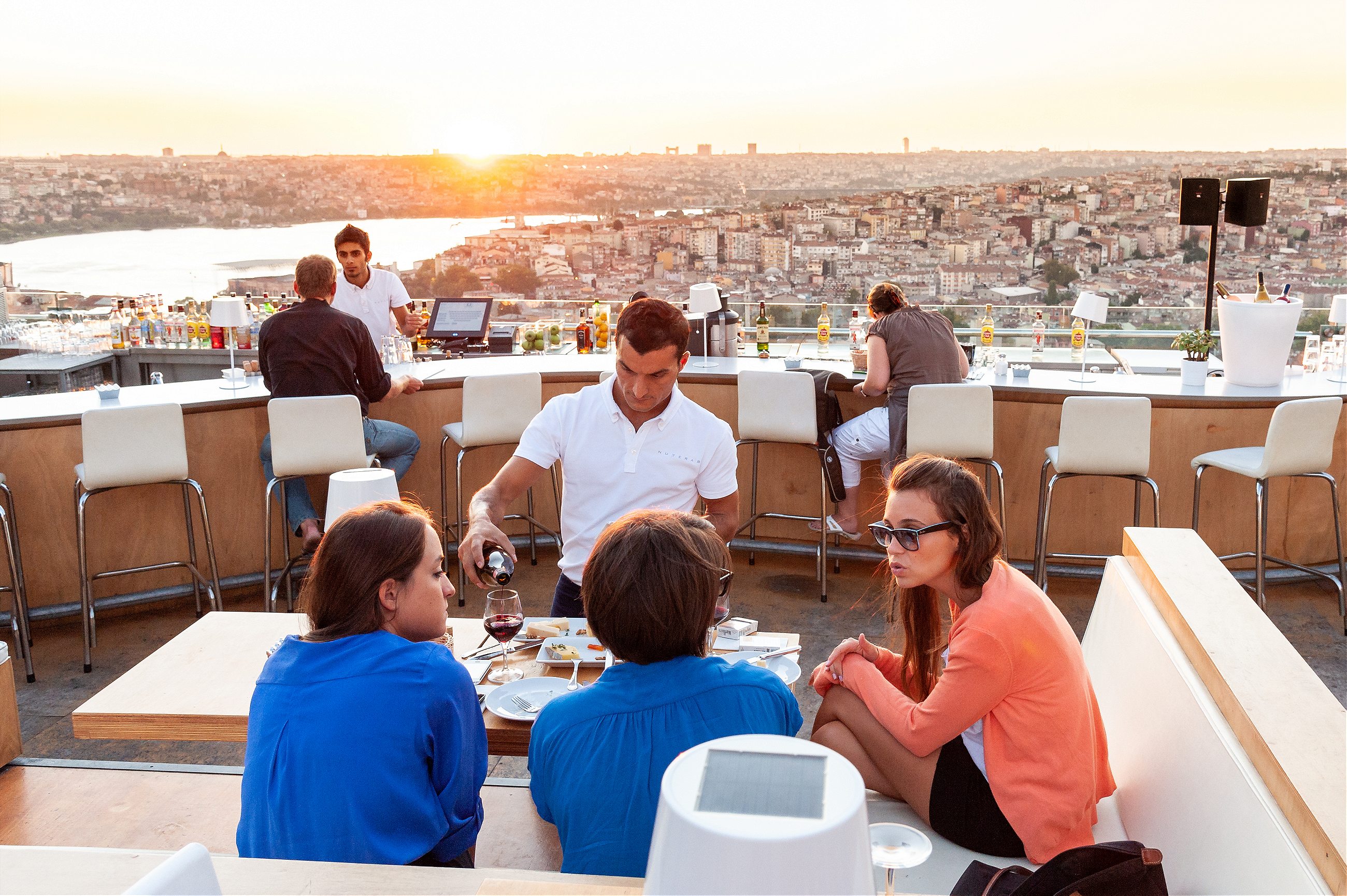 Hit the town—but stay off Istiklal. Beyoğlu, on the European side, is the traditional heart of Istanbul's nightlife scene and while things are changing, it's still the best place to start. Steer well clear of the overpriced night clubs on Istiklal that touts attempt to herd tourists into and instead find a bar more to your taste in the side streets, which hold everything from hipster dives to rock clubs and LGBTQ-friendly spaces. Cocktails and a more relaxed atmosphere can be found in nearby Cihangir, and there are more options down by the water in Karaköy too.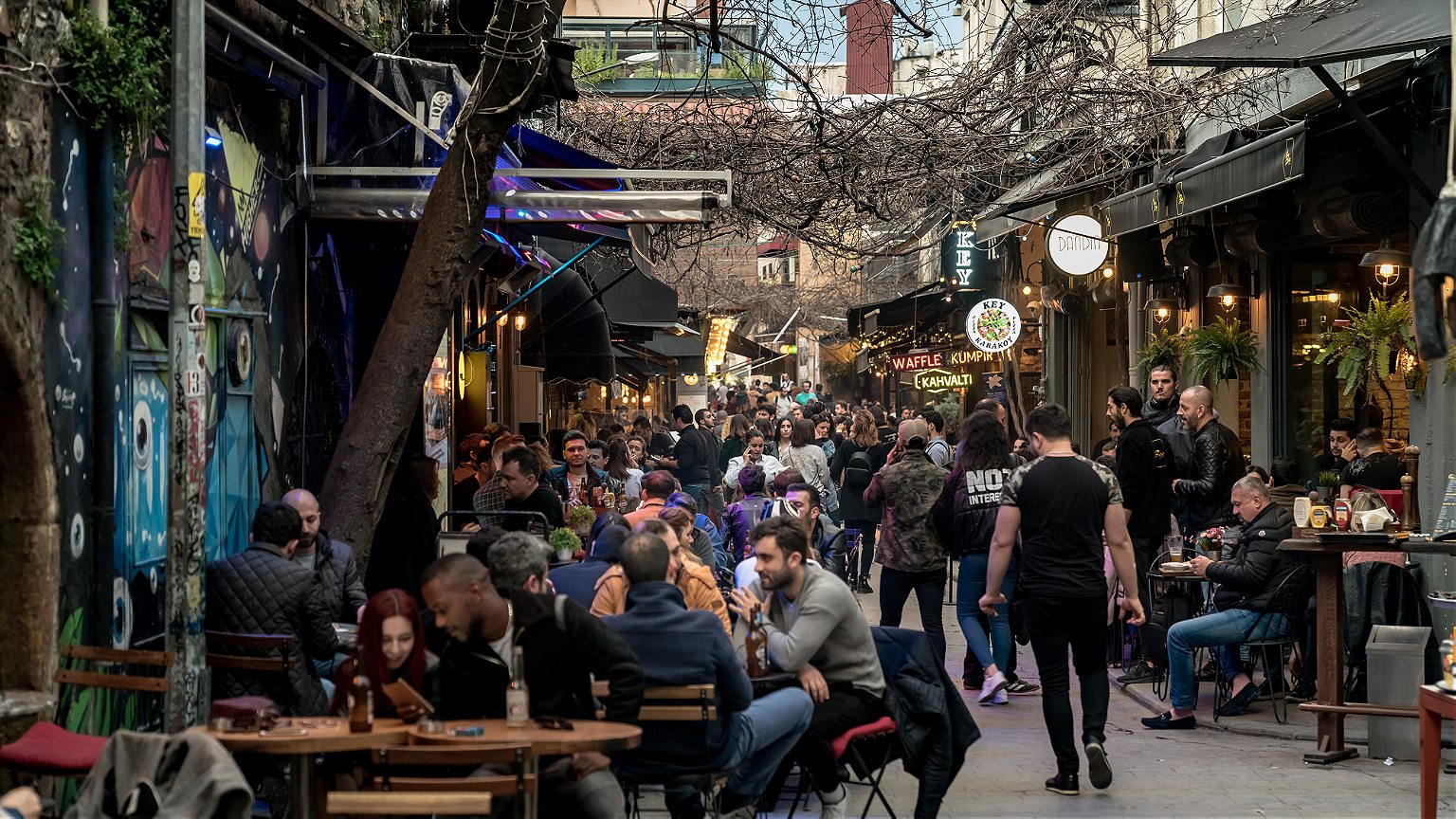 Look beyond the Grand Bazaar. The Grand Bazaar is a must-visit, but sometimes it's better to go local. Most districts will have a weekly market selling everything from fresh fruit and vegetables to clothes, gadgets and fabrics. The sprawling, unruly chaos of Çarşamba (Wednesday) market in Fatih is the city's biggest, taking up numerous streets of the historic neighborhood. Yeşilköy market offers a more upmarket alternative on the same day, while Inebolu's Sunday market offers a vast variety of organic Anatolian produce. Tarlabaşi's, just a few streets from Taksim, is a world away from the tourist bustle and well worth a visit.

Read. Istanbul has inspired many an author. Nobel laureate Orhan Pamuk's semi-autobiographical "Istanbul: Memories and the City," gives a glimpse of the city's past and a sense of how deeply it's changed, with photographs from the incomparable Ara Güler (who has chronicled the city for decades). Pamuk's "The Museum of Innocence" is also set there, and a museum inspired by the novel has now been built in Cihangir. Elif Şafak's more recent "The Bastard of Istanbul" stirred up controversy; a Turkish court charged Şafak with denigrating Turkishness. For history buffs, "Strolling Through Istanbul: the Classic Guide to the City," has a wealth of insights.

Relax with a hammam. Istanbul is full of bath houses, from the self-service utilitarian variety, to centuries-old arched and domed palaces once favoured by Ottoman sultans. Go as upmarket as you can. Kılıç Ali Paşa Hamamı is one of the best, Çinili Hamam is more affordable, and Süleymaniye Hamamı is one of the few that allows couples. Gender segregation is usually strictly observed, and almost all will have separate sections or times of day for men and women. Opt for an attendant and you'll be massaged, firmly scrubbed, soaped for 15 minutes, then sluiced off and left to your own devices. Enjoy the alternating heat and cool until you're truly relaxed and head out renewed—but tip your attendant before you leave.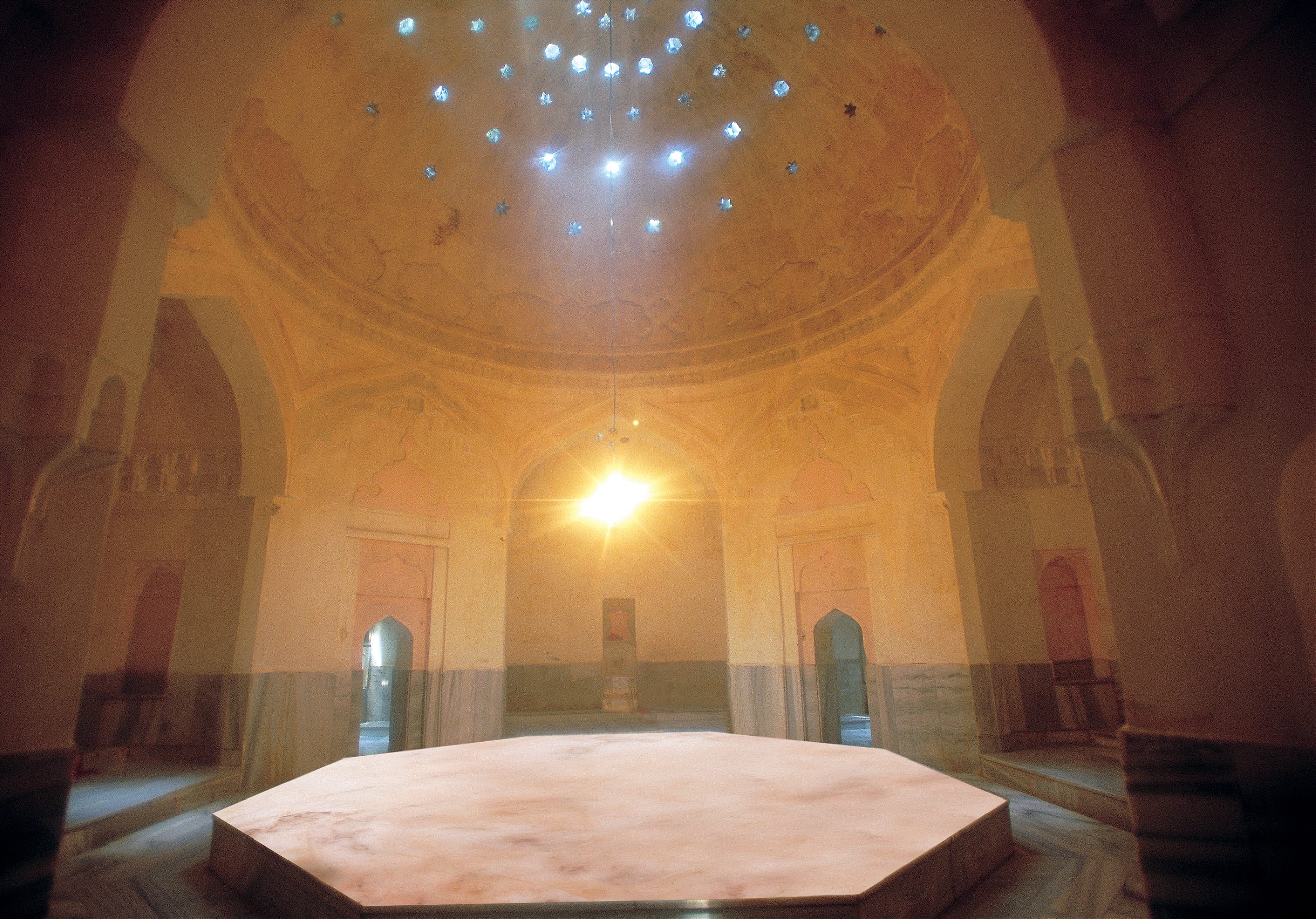 Make time for church. Istanbul is, like the rest of Turkey, overwhelmingly Muslim, and you'll see many a spectacular mosque. But there are Greek Orthodox churches in many districts too. Seek out the most beautiful, or stick your head inside as you come across them for a glimpse of a different side of the city's history.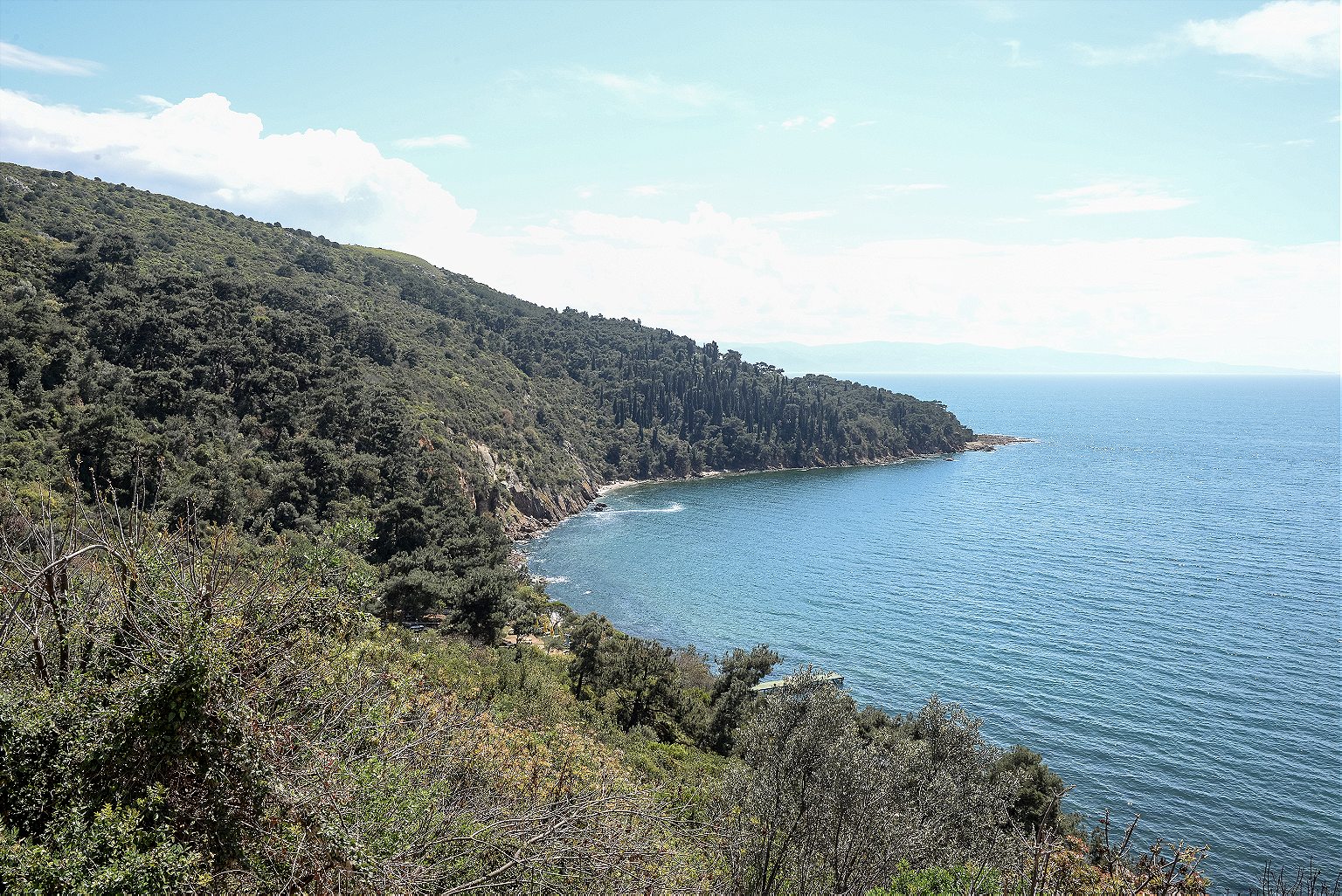 Escape to the islands. The Princes' Islands are a nine island archipelago out in the Sea of Marmara, the four largest of which are accessible by regular ferries from both the European and Asian sides of Istanbul. The journey is around an hour, but they're a haven of tranquility after the bustle of the city. Motor traffic is banned, so the only ways to get around are on foot, by bike (widely available to hire), or horse, and cart (phaeton), which can taxi you from point to point or give you a tour. The islands have a long and storied history, from a place of exile for Byzantine royals, to a summer destination for the wealthy. They offer a glimpse too of the city's multicultural history, and remnants remain of Greek, Armenian, and Jewish populations. Famous former residents include many writers and poets, as well as Leon Trotsky. Disembark at Büyükada, and wander through the the Ottoman era mansions, historic churches and monasteries.

Walk the walls. When Constantine the Great founded Constantinople as the new capital of the Roman Empire in the fourth century AD, he surrounded it with a series of stone defensive walls. Later rulers modified and added to them, creating vast fortifications that kept the city safe for centuries. They stood largely intact until the 1800s, when the city began to swell beyond its old limits. Parts were demolished and neglected, but many sections still stand, and walking alongside or, where possible, on top of them provides a fascinating insight into Istanbul's ancient roots. The section beginning around Chora Church (now a well-worth visiting museum) in Edirnekapı has particularly striking views.

See more of Turkey. Istanbul is a great base from which to explore more of the country. Domestic flights are numerous and, with the exception of peak holiday times, cheap, and there are two airports. In a little more than an hour, you could be touching down near Cappadocia's otherworldly rock formations, the beaches and mountains of the Mediterranean coast, or preparing to explore Ancient Greek ruins.