From hunting for pizza to ordering pastis, a smart guide to France's second-largest city.
Since its founding in 600 B.C.—when, according to legend, a Phocéen sailor married a local Gallic girl, whose father gave them Marseille as a wedding gift—the city's port has shaped its demographics. Corsican sailors in the 1500s, Italian builders from the mid-18th century, Armenians fleeing the genocide from 1915 onwards, Algerians arriving post-1962 independence, and many more, have settled here.
Marseille combines big-city swagger and fishing-village sociability. It's a city that locals love, or love to hate—and that outsiders often avoided for its reputation for crime. But over the last few years, France's second-largest city (by population) has lured Parisians seeking more sun and less bustle and travelers seeking southern France beyond the sparkling Côte d'Azur. Yes, gentrification has arrived here too, but thankfully it has not scrubbed away the spirit that makes this port city so intriguing. Marseille isn't made up of monumental sights, but simple things: outdoor terraces, street art, makeshift apéro at one of its many tiny ports with your feet dangling in the water. 
Once you arrive, climb the grand staircase at the Gare St. Charles, flanked by statues that tell Marseille's history of migration. You'll see why local director Robert Guédiguian once said, "Marseille isn't France. Marseille isn't Provence. Marseille is the world."

Check the weather. Here, the wind symbol on your weather app is more than a breeze. It's a warning about the legendary mistral wind that gusts in hard from the north. With speeds of up to 65 mph, it chills to the bones in winter and whips up dust in summer. On the plus side, the mistral is Mother Nature's vacuum cleaner—crystal clear skies appear in its wake. Notwithstanding the wind, Marseille hit the weather jackpot—300 days of sun a year and temperate winters that hover in the 50s and 60s. It rarely snows, though rain showers come in November and February-March. Unless you insist on only sunbathing, you can enjoy the city throughout the year. Bear in mind some restaurants and shops close during the winter holidays—or in January if they stayed open—and in August, when locals escape the sweaty, 90-plus degree days in the mountains.

Venture beyond the Vieux Port. Though it's the second most populous city in France, Marseille stretches over twice the surface area of Paris—93 square miles to Paris' 41 square miles. This urban sprawl is divided into by quartiers, each with its own personality, that make the 860,000-person city feel like the 111 villages locals describe it as. So don't get stuck in the city center of Vieux Port. Spend time in the hillside bobo ("bourgeois bohemian") enclave of Vauban, the Hausmannian calm of Longchamp, the up-and-coming Chave, and the vibrant bar scene in Cours Julien. Get your bearings at the Vieux Port, then start exploring.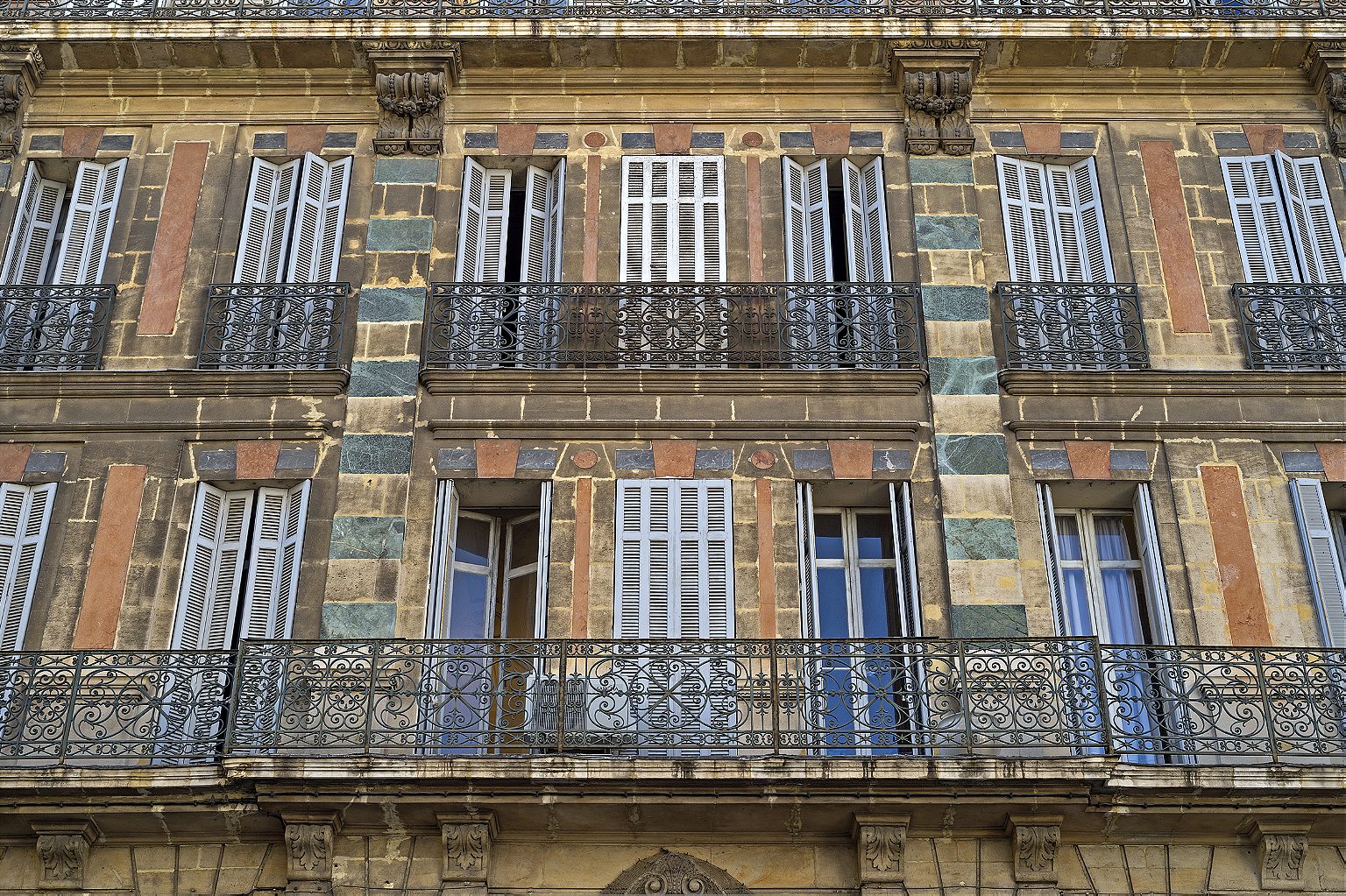 Pack good walking shoes. You'll need them to navigate the wobbly sidewalks, scattered hills, and thigh-burning staircases throughout the city. The best way to experience  Marseille is as a flâneur—wandering its winding streets, people-watching, and being bombarded by the incessant buzz of scooters.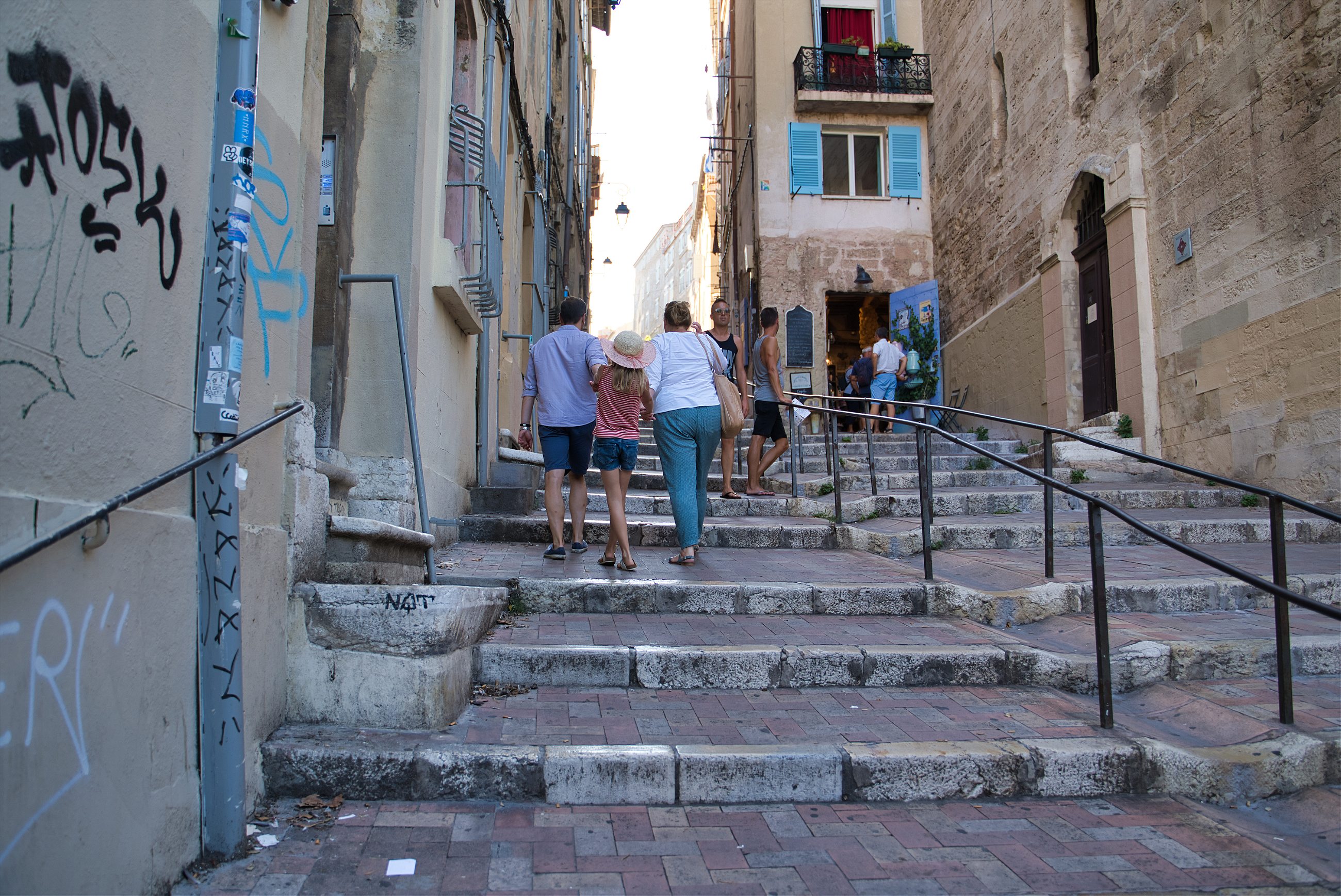 Pick your transportation. There's a decent public transportation system: An extensive bus network, plus metro- and tram lines that zip around the city center and run until 12:30. a.m. Bear in mind the buses tend to run late—you can get real-time updates on the RTM app—and they don't venture far into the outer 12th-16th arrondissements. To get to the beach, take the 83 bus, try the leVélo bike-share system, test the new Lime trottinettes (electric scooters), or—the preferred local set of wheels—a scooter. If you need a taxi, opt for Uber or France's Heetch over the cabs, which are often more expensive and require cash, since their credit card machines tend to be broken.

Give thanks to the Good Mother. Marseille's most-visited monument and highest point, the Roman-Byzantine Notre-Dame de la Garde basilica, is topped with a 36-foot-high beacon visible from all over town: a golden Madonna and Child statue. She's known as "la Bonne Mère," ("the Good Mother") for her unofficial role as the city's guardian. Locals bring offerings, ex-votos, to thank her for her protection. La Bonne Mère offers 360-degree views, so visit early in your trip to get the lay of the land, but try to avoid the weekend tourist swell.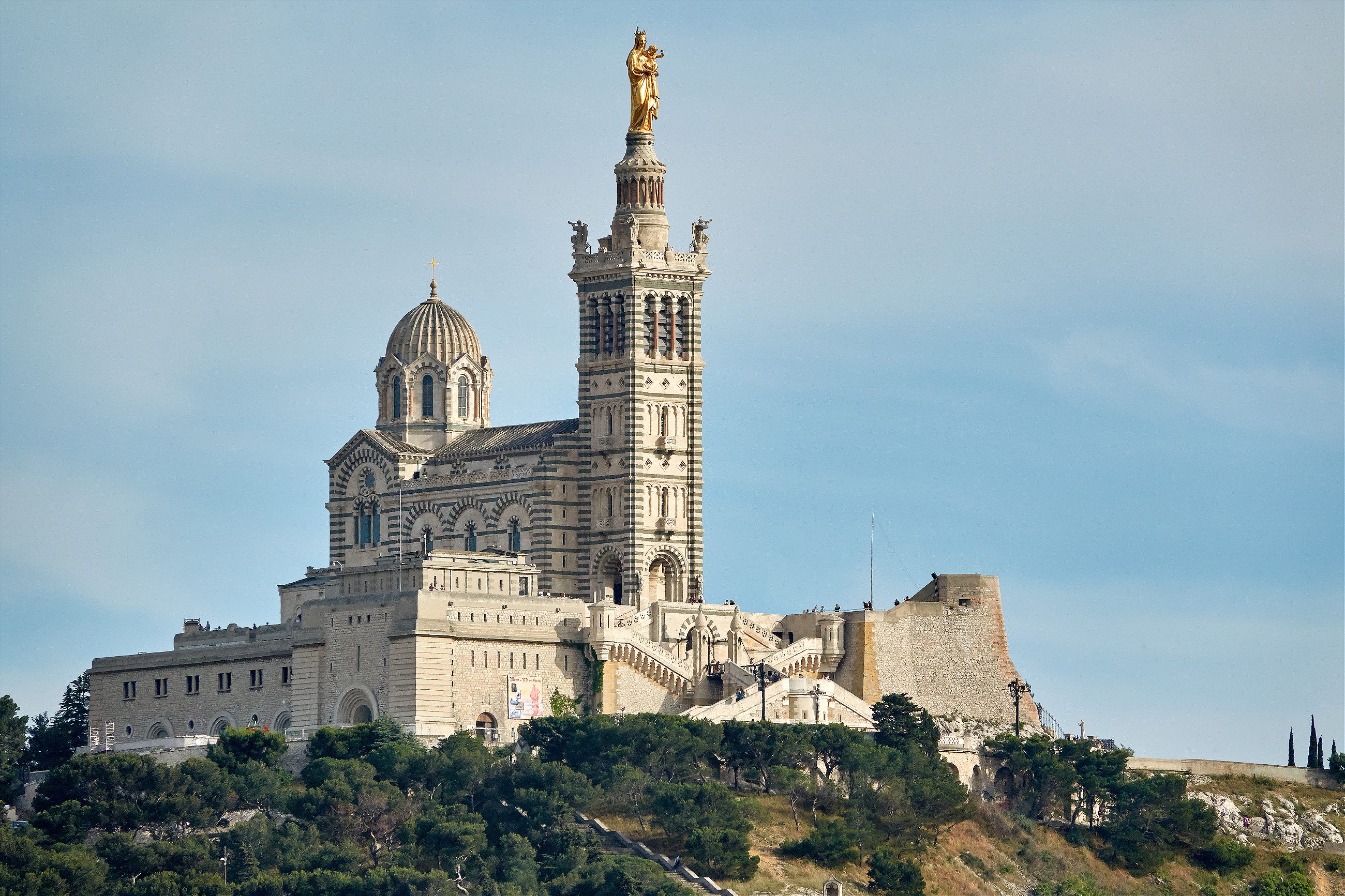 Order a pastis the right way. The first rule when ordering a pastis: always ask for it by name. Asking for just a pastaga (the local slang for pastis) is like grunting "beer" to the bartender. The two most common brands of the beloved anise-flavored spirit are Ricard, named for Marseille's first pastis company (1932) and the slightly more anise-y 51. This is slightly confusing, because 51 is the same brand as Ricard, since they merged with Pernod, 51's creator, in 1975. Your bar might also pour Casa (aka Casanis) or locally distilled Cristal Limañana. Your petit jaune will arrive with a pitcher of cold water and sometimes ice. Add water until the dark golden liquid becomes a cloudy pale yellow; the usual dosage is five parts water to one part pastis. Pastis has about 45 percent ABV, so be careful not to sip too quickly. Do feel free, however, to indulge in a second glass.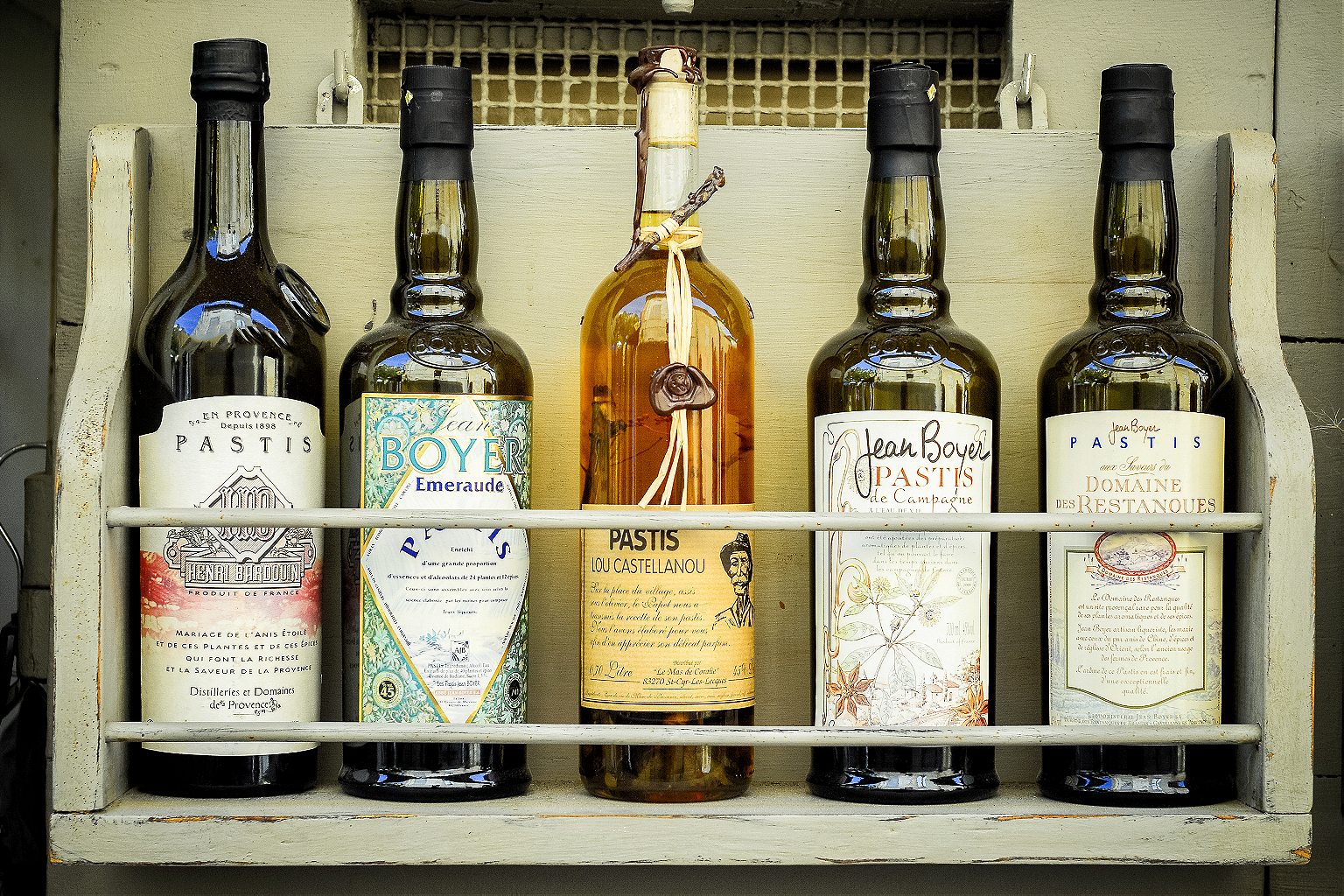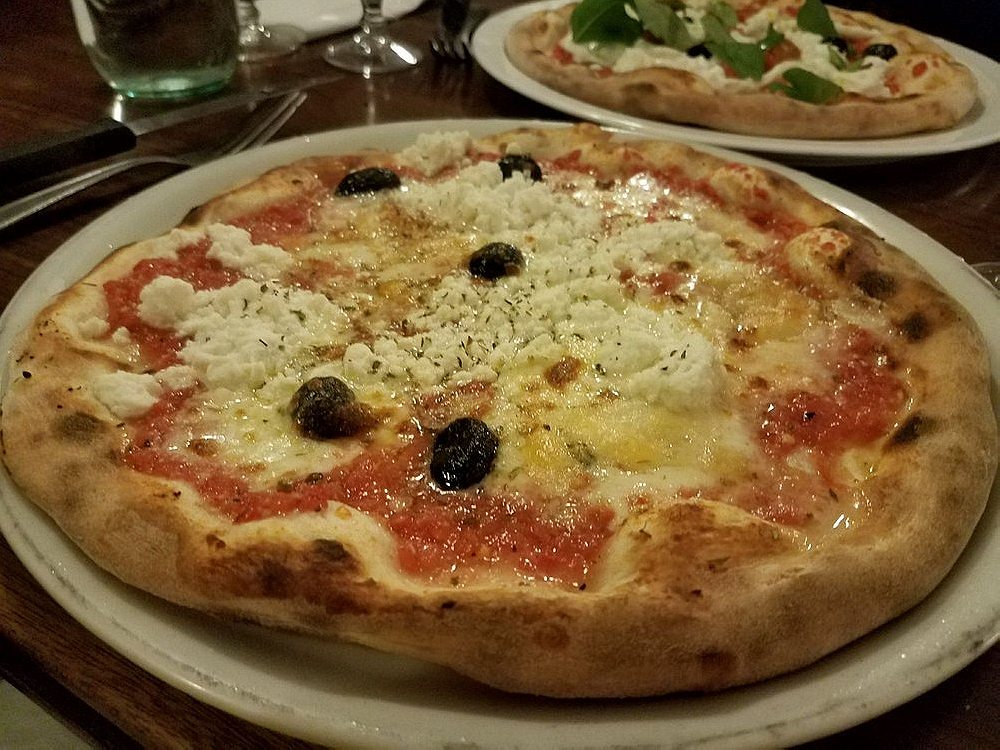 Hunt for pizza. The true Marseille dish isn't fished, but wood-fired. Pizza has been integral to the local diet since Neapolitan immigrants came to the city at the turn of the 20th century, and the city was the site of France's first pizza truck (circa 1962). In this seafaring city, the classic pizza comes with anchovies. Or ask for a moit-moit: half anchovy, half cheese—usually Emmental—or a ground beef and onion arménienne, a sign of the city's sizeable Armenian community. Order yours at 65-year-old classic Chez Sauveur, or La Bonne Mère, famous for their crust, which they proof (allow to rise) for 48 hours. For street food, let popular Charly Pizza cut you a part (slice) or hit up one of the food trucks around the stadium or outside metro stops.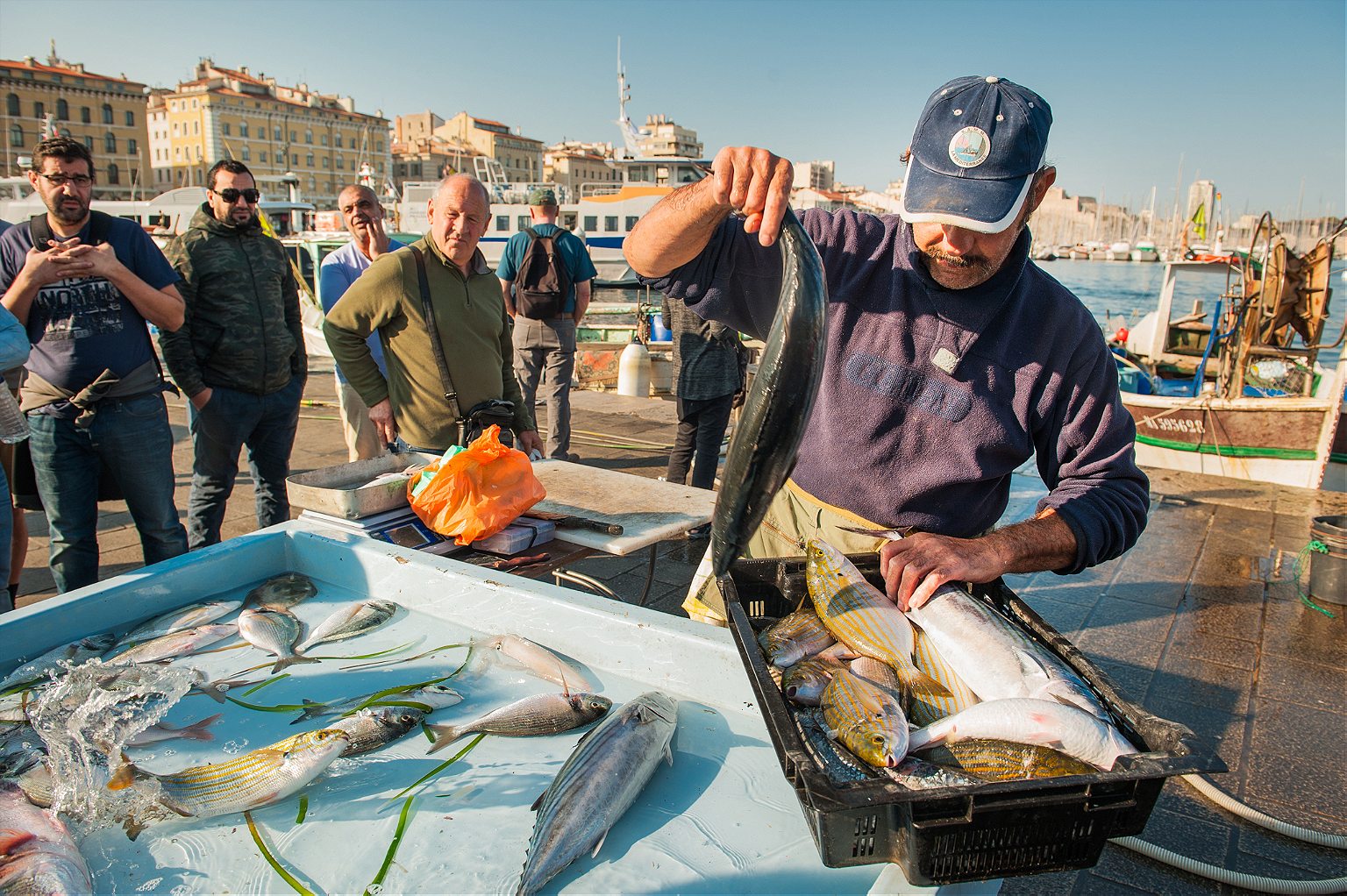 Pass on the bouillabaisse. Marseille's famous fish soup has jumped the shark. Aggressive marketing has caused its cost to soar to 60-100 euros (US$68-113). The hefty price tag contradicts its roots as a humble stew of leftover fish, and is antithetical to the populaire (working-class) ethos of the city. Locals rarely eat or cook bouillabaisse—the traditional version takes over a day to make—save for special occasions. What they do eat from the sea is pungent grilled sardines, raw rust-red urchins, and briny oysters, and the many kinds of squid served a la provençale—sautéed with garlic, parsley, and generous glugs of olive oil. The freshest catch is found at La Boîte à Sardine, which sources from small fishermen each morning.  And if you insist on ordering the bouillabaisse, I suggest doing so at Chez Michel, which uses fresh fish (presented to you beforehand) and where it costs an average-ish 75 euros.

Dine in Noailles. Tunisian leblebi at Chez Yassine, Lebanese pita sandwiches at Le Cèdre, burlap sacks of spices at Saladin, and Algerian date-stuffed bradj at the street-food stand across from Saladin. Rotisserie chickens and steaming paella perfume the streets, particularly along rue d'Aubagne and the rue du Longue des Capucins. Get provisions for a picnic or to eat as you wander through the crowds.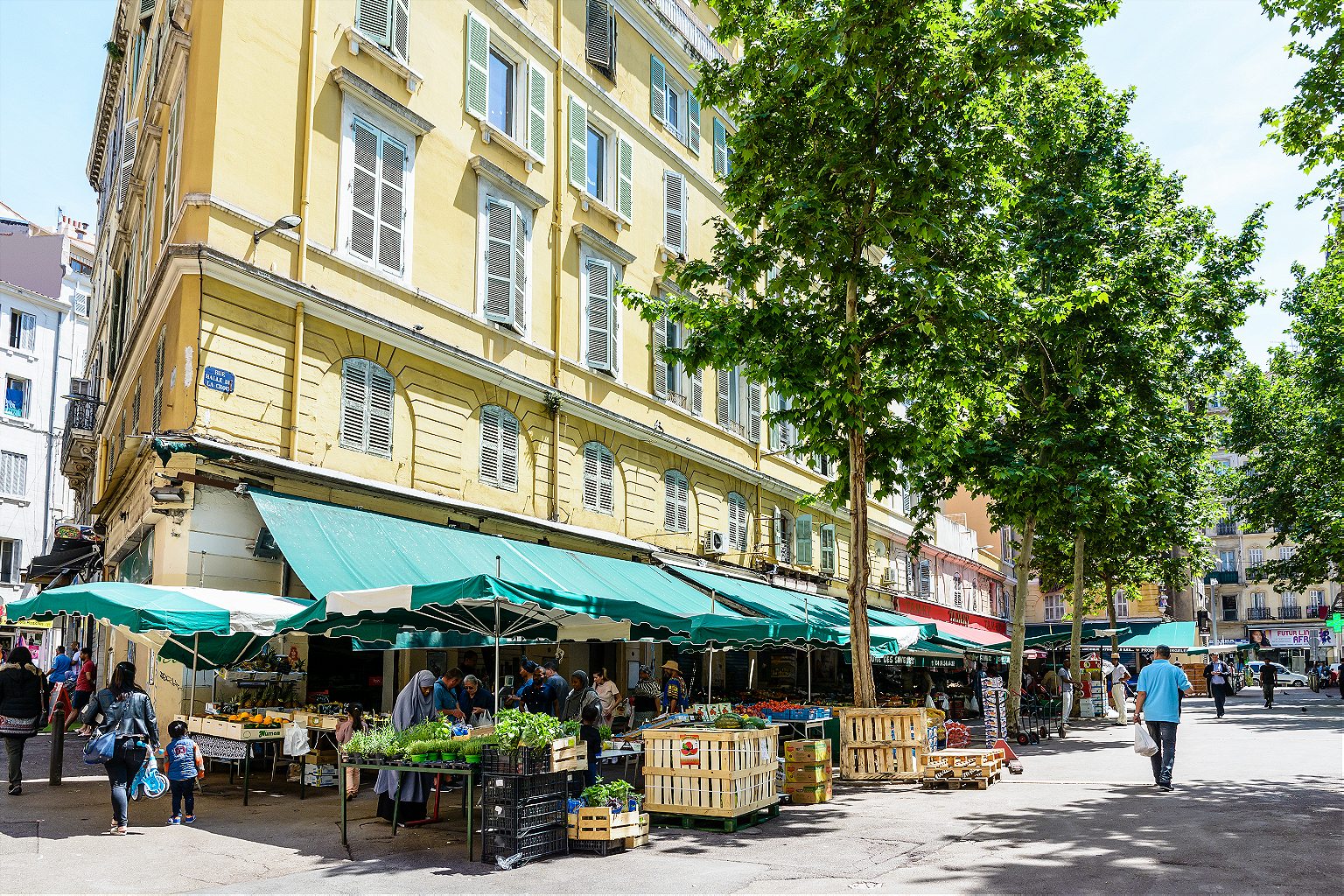 Shop like its 1827. France's oldest hardware store, Maison Empereur, has two centuries of heritage goods spilling from its shelves. Think Opinel knives, Laboureur blue cotton jackets, and La Boule Bleu pétanque balls. The caverne d'Ali Baba has been filling up with customers since 7th-generation owner Laurence Renaux expanded to a staggering 50,000 items. But you'll still see workwear-clad carpenters picking up door hinges in the quincaillerie—hardware store. Continue your shopping spree around the corner at Père Blaize, the herbalist that's been healing marseillais with teas and tinctures since 1815. 

Stroll through Fort Saint-Jean… At first glance, this 17th-century fortress seems to be protecting Marseille, flanking the edge of the Vieux Port alongside Fort Saint-Nicolas. Look closer. The canons are pointing at, not away, from the city, so that Louis XIV could protect his regime from local uprisings—one of the many notches on Marseille's timeline (see: World War II Resistance) that embodies the city's rebellious spirit. The fort was once the final stop for French Foreign Legion recruits on their way to basic training in Algeria. Now, Fort Saint-Jean invites visitors to ramble through its arched walkways, climb a giant turreted tower, and stroll the Jardin des Migrations. In this 100,000 square-foot allegorical garden, each plant represents Marseille's agricultural, industrial, and religious history, like the cannabis sativa hemp plants used for making nautical ropes, and from which the city's main street, la Canebière, got its name.  

…then bone up on Arab architecture. Compared to the fort's ancient stone walls, the intricately webbed concrete cube, the Mucem (Museum of European and Mediterranean Civilizations) appears futuristic. Yet Algerian-born, Provence-based architect Rudy Ricciotti was strongly influenced by ancient Arabic design. The terraced walkways are reminiscent of a Mesopotamian ziggurat. The exterior lattice work evokes a mashrabiya, its ornamental design acting as both a screen and a filter to let light in. For the best view, approach Mucem from Fort Saint-Jean's skinny pedestrian bridge. You'll arrive at the rooftop terrace that has lounge chairs for a short break. Time your visit in the afternoon or at golden hour, when the dappled sunlight is at its most dazzling. Note: it's free to visit Mucem's exterior—the entrance fee is for the exhibits.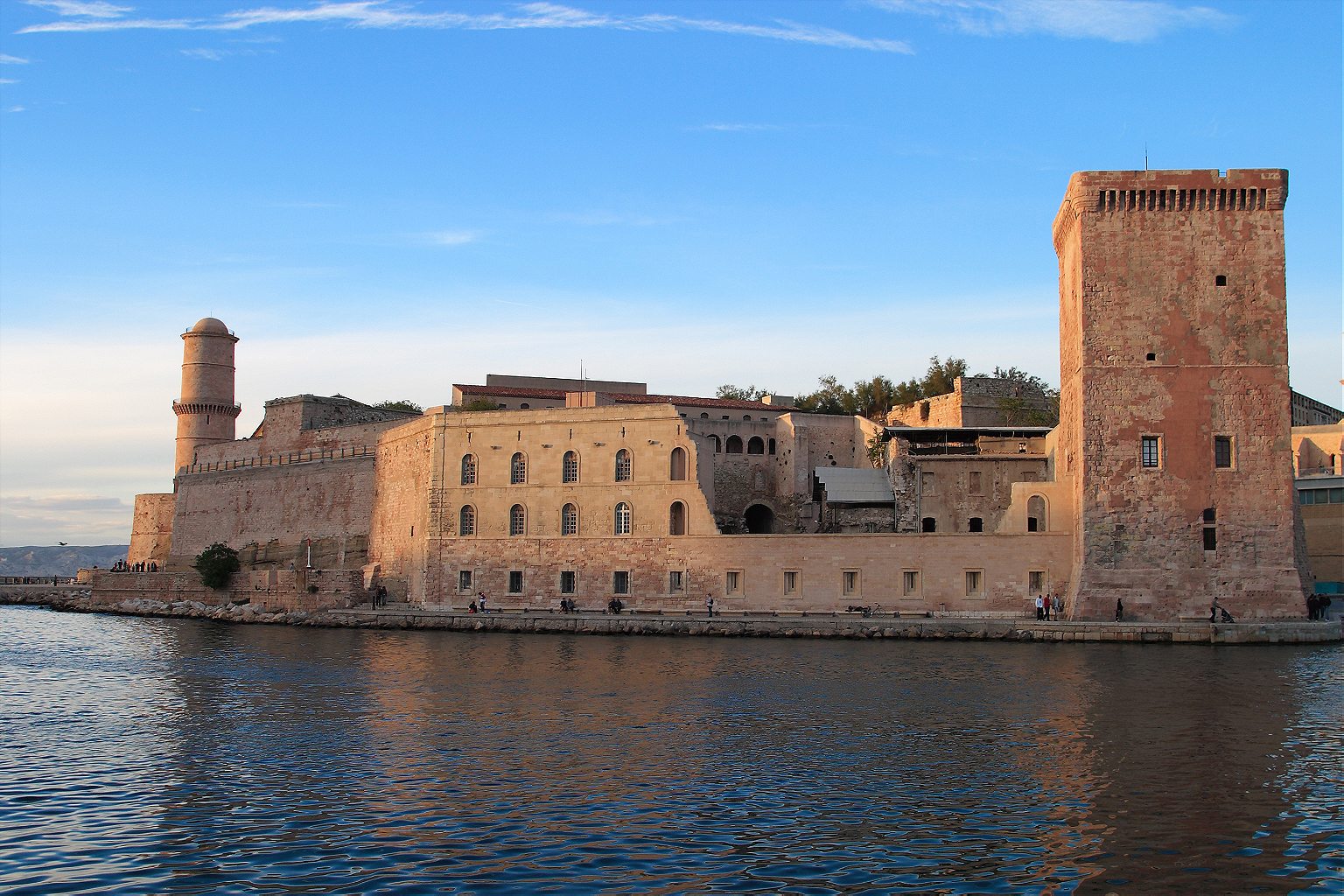 Hit the beach. The beaches along Marseille's 26 miles of coastline are diverse, from rocky coves to sandy expanses. Just below the chic Petit Nice hotel, the flat boulders at the Anse de la Fausse Monnaie are ideal to faire la crêpe (fry in the sun) and watching cliff-divers catapult from the Corniche Kennedy. Just north, find the curved cove of Anse de Maldormé, a pebbled beach perfect for a quick dip. Just 15 minutes walk from the Vieux Port, the Plage des Catalans is the closest to town, which means you'll be packed like sardines on the sandy beach. Pack a picnic of rosé, chips, olives, and charcuterie to watch the Mediterranean sunsets. Avoid swimming the day after heavy rains, when overflowing sewers funnel pollution into the sea.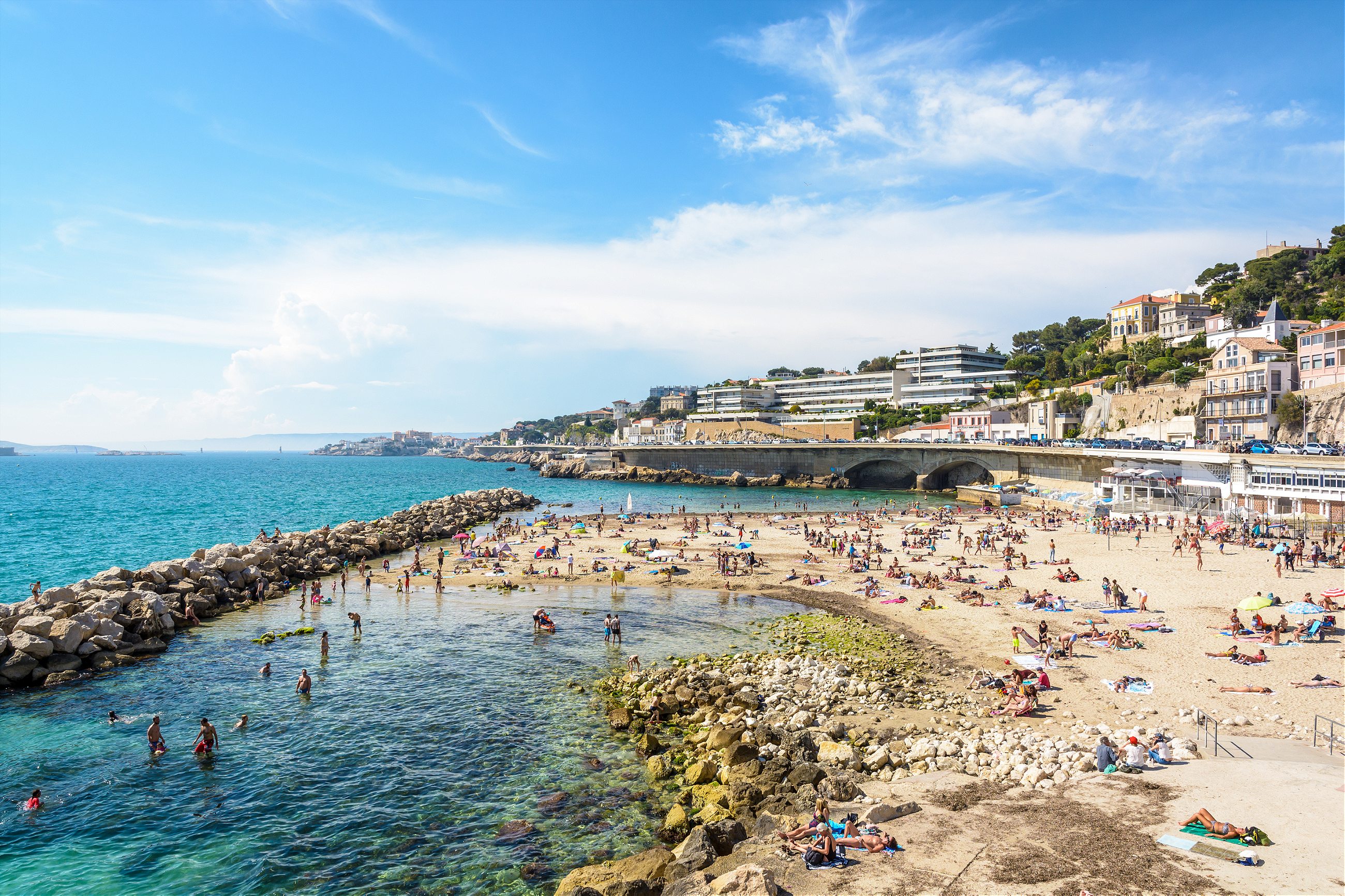 Get scrubbed. Visit a traditional hammam—steam rooms that are both soothing and social. I like Hammam Rafik and Hammam Djerba in Noailles. First-timers should book an exfoliating gommage. It's a forceful affair—think sandpaper smoothing out rough wood—but as my scrubber says, "maintaining your beauty can hurt." You can also do it yourself, picking up supplies—oily black soap and a scrubbing mitt—at Jiji de Palme d'Or. Note that men and women's hours at hammams are separate, with ladies often going during the day.

Enjoy apéro hour(s). Apéro is integral to daily Marseille life. Like happy hour, apéro happens post-work or pre-sunset, yet it often spills into the night. To sip, naturally there's rosé. It's, surprisingly, totally acceptable to add an ice cube or two to chill or dilute a bottle of plonk. There is always food involved—you're in France, after all—whether a simple plate of olives or a full spread of panisses (local chickpea fritters), charcuterie, and crostinis slathered in tapenade. Perch seaside at Le Bistro Plage, admire the sunset views Café de l'Abbaye, score gratis snacks at nautically kitsch La Caravelle, or bring your own apéro to Vallon des Auffes for a feet-in-the-water-version. Apéro is not just for the summer: Marseille's outdoor cafés are packed in winter, too.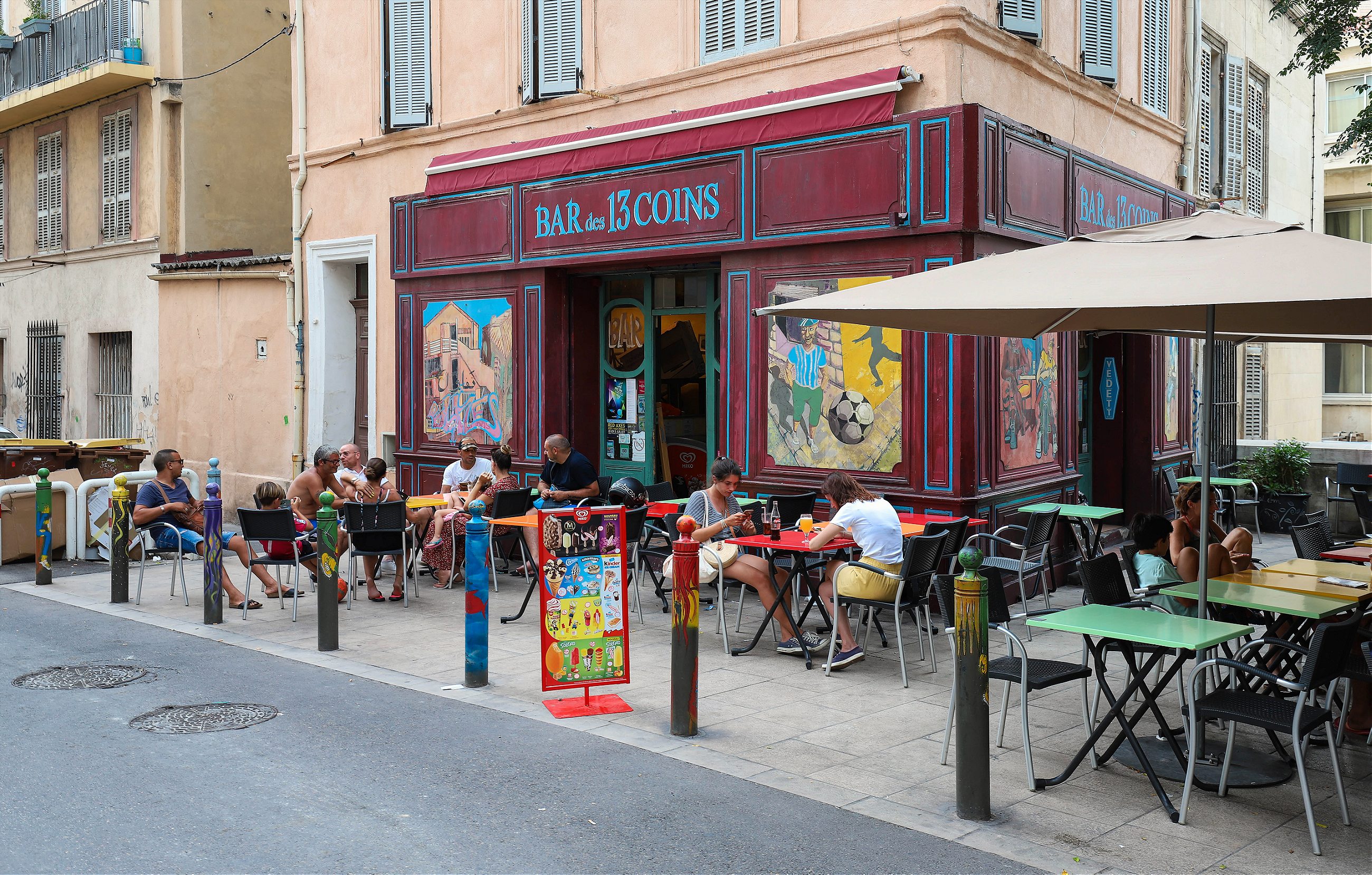 Root for the home team. In Marseille, "om" is not a meditative hum but a boisterous shout, screamed during games and tagged on walls around town. L'OM stands for l'Olympique de Marseille, the football club that's revered here. Even President Emmanuel Macron is a fan. Worship l'OM alongside 66,000 fans in the spaceship-like Orange Vélodrome from August to May. Try to score a seat behind the goals and besides the ultras, the fanatical supporters' clubs, who spend the entire match standing on their seats chanting for (qui ne saut pas n'est pas marseillais—if you don't jump you aren't Marseillais) and against the players (mouille le maillot ou casse-toi—soak your jersey or fuck off). Can't make it to a match? Pop into fan bars Le Fair Play or Bar de la Plaine. Score extra points with locals for wearing sky blue.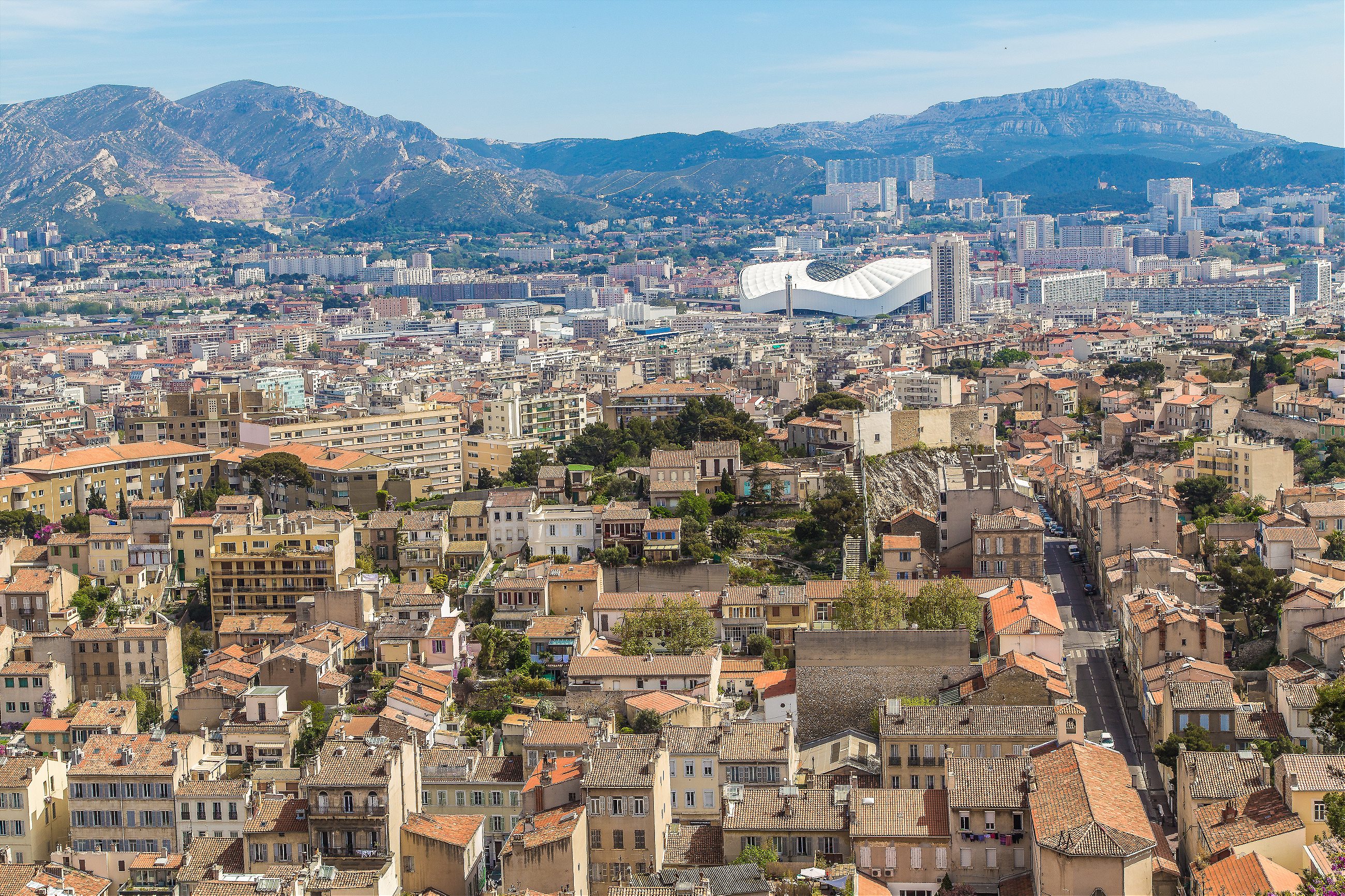 Head for the rooftops. Rooftop parties are big here. Find the biggest at Friche Belle de Mai's 86,000-square foot panoramic roof terrace. This former tobacco factory has an open-air cinema and DJ-led dance parties. If you're in the mood for something more low-key, the Hotel Hermes bar has views of the Vieux Port in a more intimate setting. Thursday is the most popular night for parties, but summer's late (10 p.m.) sunsets make every summer evening a good time to party.

Explore the Quartiers Nord. The Quartiers Nord is where most people will tell you not to go because of its reputation for crime, but don't let that deter you from venturing into Marseille's northern neighborhoods. Be aware of your surroundings like you would in any other city. With more than a third of the city's population, plus a rich industrial and agricultural history—its home to the 19th-century engineering marvel, the Marseille canal—the northern neighborhoods are worth exploring. Navigating the Quartiers Nord can be challenging, because they are so vast and underserved by public transport. Your best bet is to contact Hôtel du Nord or Marseille Provence Greeters, cooperatives of local guides eager to share their knowledge. Or, visit the soap manufacturer, Serail, during one of their Friday afternoon factory visits. The street-arts center Cité des Arts de la Rue has a farmer's market, and organizes visits to the Cascade d'Aygalades waterfalls the first Sunday of each month.

Cruise or climb the Calanques. Southern France's version of Norwegian fjords, the Calanques are staggering limestone cliffs that spill into the sea. Most of this newly minted national park is only accessible by boat or by foot, with many hikes closed in July–September during prime forest-fire season. Choose your own Calanques adventure: pack a picnic and grab the 21 bus to Luminy for a 45-minute hike to the Calanque de Sugiton; book a local skipper to take you to their favorite turquoise coves with the AirBnb of boats, Click & Boat; or ramble an hour to the Calanque de Marseilleveyre's family-friendly restaurant, Chez les Belges—but note that at this traditional cabanon ("cabin") there is no electricity, so bring cash.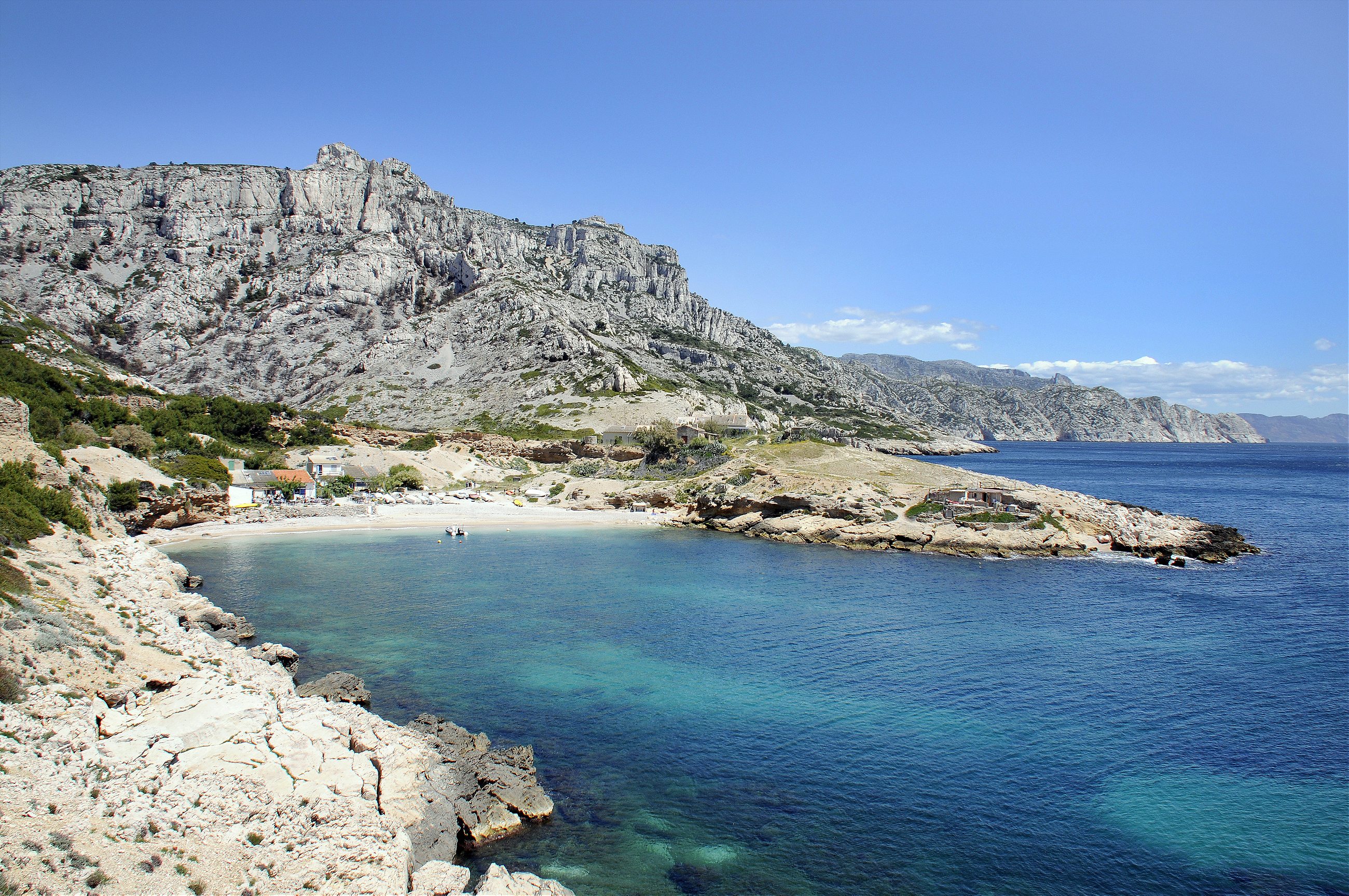 Take your time. In Marseille, the le quart d'heure marseillais means that "on time" is 15-30 minutes behind. Strikes and public transport delays may happen. Just enjoy a leisurely pace. Also, keep in mind that many shops and restaurants are closed on Sundays.