From sidra etiquette to a pintxo plan, the finer points of exploring the Northern Spanish region.

Get to know the local lore. Basque history is rich and proud; the region was never conquered by the Moors or the Romans, which was partially due to the region's geography and partly due to the Basques' ability to make a deal. Instead of fighting the Romans, they made trade and transportation deals with them. The Basques were experts in shipbuilding, fishing, and navigation. Cod and whaling were the main industries until the industrial revolution when manufacturing took off; to this day, Basques have a reputation in Spain as being very industrious.

Appreciate the calm. In the not so distant past, the Basque region was a dangerous place due to an armed separatist movement in the region. It wasn't a total war zone, but there were certainly unsafe areas, especially if you were a prominent figure in business or politics. It's hard to imagine the streets of San Sebastian's Parte Vieja, now bustling with buzzed locals and drunk tourists, heaving with police in riot gear and an energized insurgency just a few decades ago.

Make friends. The Basque community today is very tight-knit, one of the main reasons I moved here in 2011. Walk into almost any pintxos bar and you'll encounter people from all walks of life—a butcher, the mayor, a doctor, and a construction worker—buying each other drinks and gesticulating wildly with a lot of close talking. You can often break the ice with just a loud kaixo (hello) and a handshake. What happens next usually involves a few glasses of sidra. Despite being a deeply traditional society, they are very open to outsiders, whether they are transplants to the Basque Country or just passing through.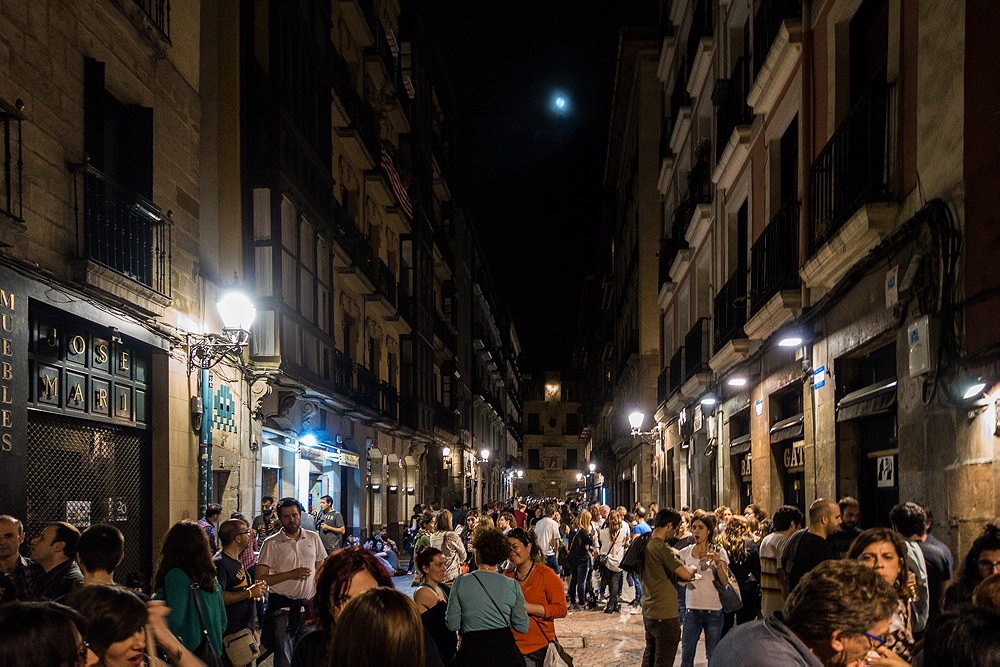 Listen for the local language. It's called euskera, and it's as hard to learn as any language on earth. It's its own root language with no clear connection to any other language. Here are a couple key phrases to get by. Kaixo: Hello. Bai: Yes. Ez: No. Barkatu: Excuse me. Garagardoa bat mesedez: One beer, please. Eskerrik asko: Thank you. Beste bat: Another one. Agur: Bye.

Know your pintxos. No visit to the Basque Country is complete without a pintxos tour, going from bar to bar snacking on small culinary creations. But not all pintxos are created equal. Some guides make it seem as though there's genius on every corner. There are as many mediocre pintxos bars as there are great ones. Look out for places that rely too heavily on mayonnaise or resort to microwaving your food. Instead, opt for freshly made rations, like the fare offered at Bar Ganbara in San Sebastian, a favorite of locals and tourists alike. Grab a gilda to start (anchovy, pickled guindilla peppers, and olives), a warm croissant with jamón iberico, and ask for a crab tartlet. For hot raciones, order a plate of hongos (porcinis) with an egg yolk. The fried anchovies, bonito neck, and txipirones—squid—are also especially good.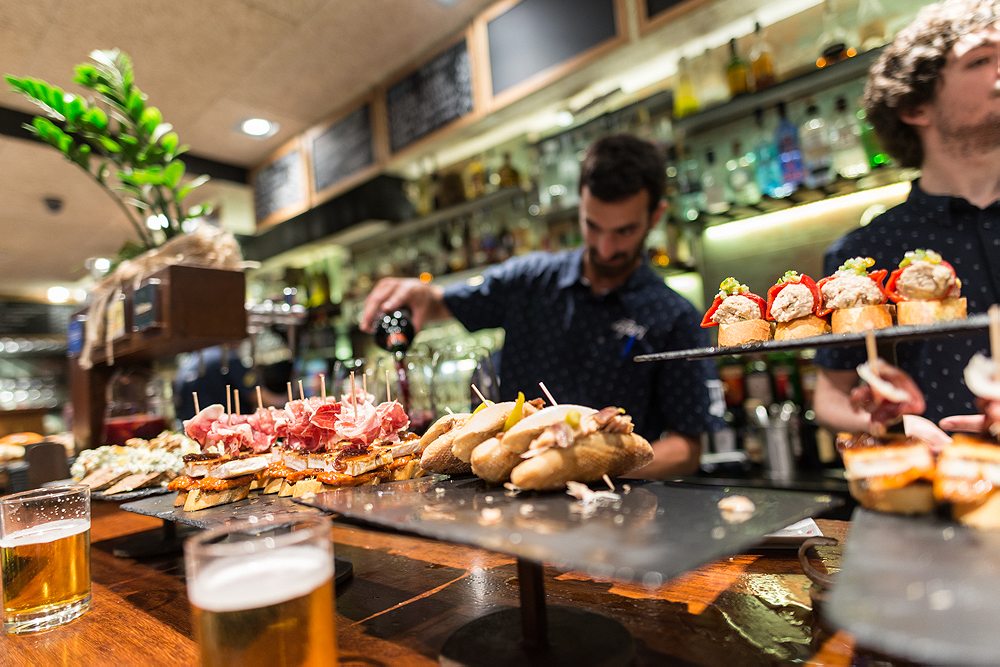 Try the cider. You can't get more Basque than going to the sidrería. Some stay open year-round, but the best are only open from late January to the end of April, the sidrería season. About ten minutes from San Sebastian are the towns of Astigarraga and Hernani, where you'll find the real deal: sidrerías that press their apples in October and release their 5-6 percent ABV sidra in January for drinking straight from the kupelas, or huge barriques. What they don't serve during the season they bottle for consumption throughout the rest of the year. The best time for sidra is in April, when the sidra has been aged just long enough. Two places to try are Zapiain, for the great cider and familial ambiance, or Zelaia, for their excellent txuleta, or dry-aged steak. The cider house experience goes like this: eat a pintxo of chorizo cooked in cider. Then follow the crowd to a big barrel where the txotx—pronounced choach—master pulls a pin and cider comes flying at you. You catch what you want to drink, one gulp or two. Get back in line. Eat. Txotx. Eat. Repeat.

Embrace the anchovy. The king of fish here isn't a big, beautiful fish like turbot or sea bream. The king around these parts is the tiny, meaty, umami-rich anchovy. During late spring and early summer, the anchovies run (as they are being chased by bonito). It's the perfect moment to have fresh anchovies from the market or served fried in olive oil with a shit-ton of garlic and a dried spicy pepper. Anchovies cured in vinegar, called boquerones, pack an acidic punch. The anchoas en salazon (salt-cured and then packed in olive oil) are what make the Basque Country's pintxos and salads so damn good. It is this little and often underappreciated fish that gives a much needed umami kick to the Basque larder.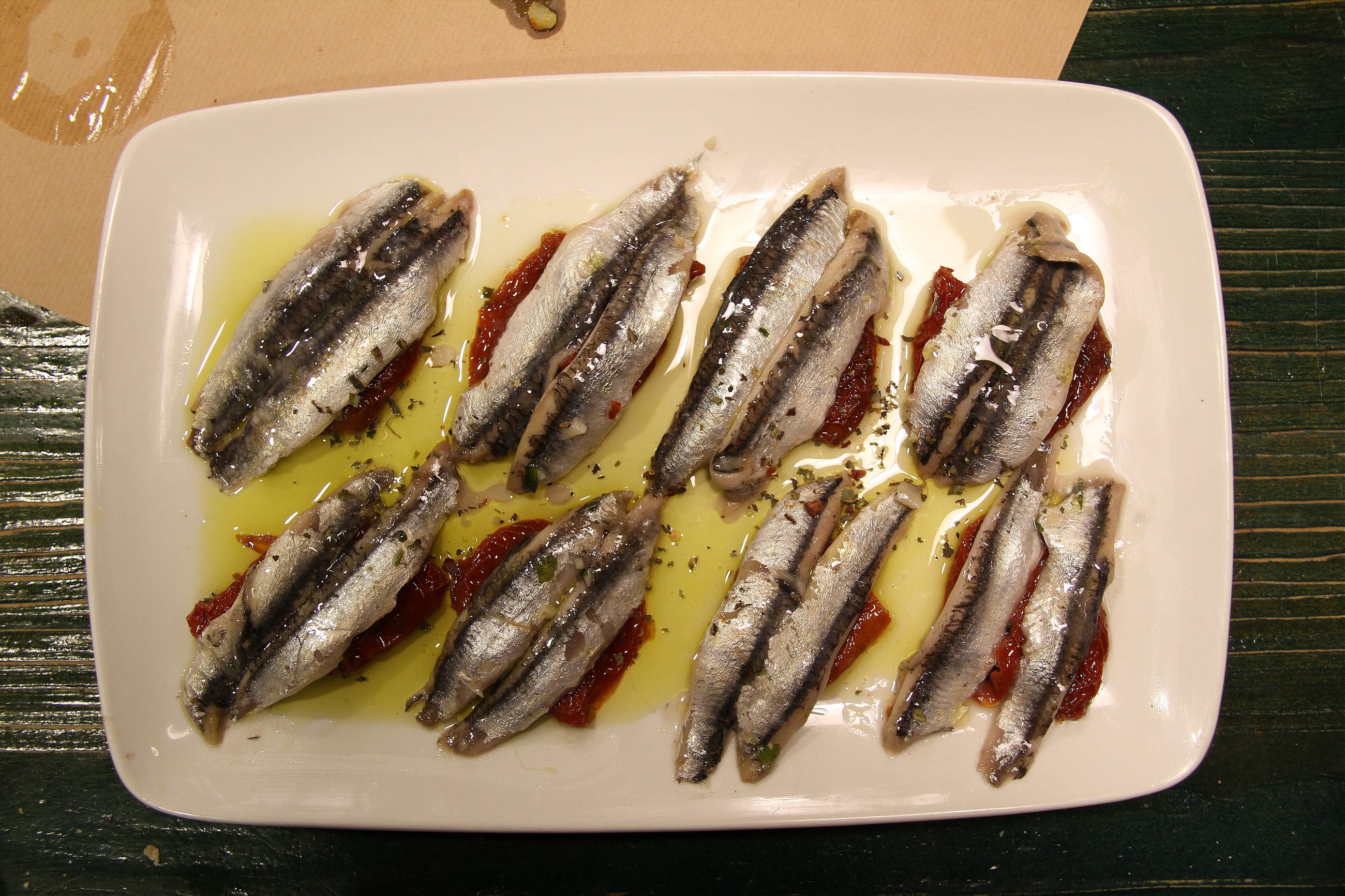 Get to a grill. Grilling is the preferred mode of cooking in Basque Country, and grilling restaurants, called asadors. The most famous place in the Basque Country at the moment is Asador Etxebarri, which sits an an hour drive from San Sebastian and 45 minutes from Bilbao. It is worth every minute spent on the phone trying to get a reservation, but should you fail to do so, don't despair. In Getaria, there are a number of asadors, the best one being Elkano. It is known in chef's circles as the best fish restaurant in the world. The second-generation owner, Aitor Arregui, will tell you everything you ever wanted to know about fish. Go with whatever he recommends, from the kokotxas (three ways: salsa verde, parilla, and rebozada), to the txipirones (with onion or en su tinta in their own ink). Or the necora, a slightly fuzzy, sweet blue crab cooked on the plancha. What can't be missed is their turbot. Grilled with authority and then bathed in their own secret sauce, its an unforgettable mix of char, salt, perfectly cooked fish, and gelatin.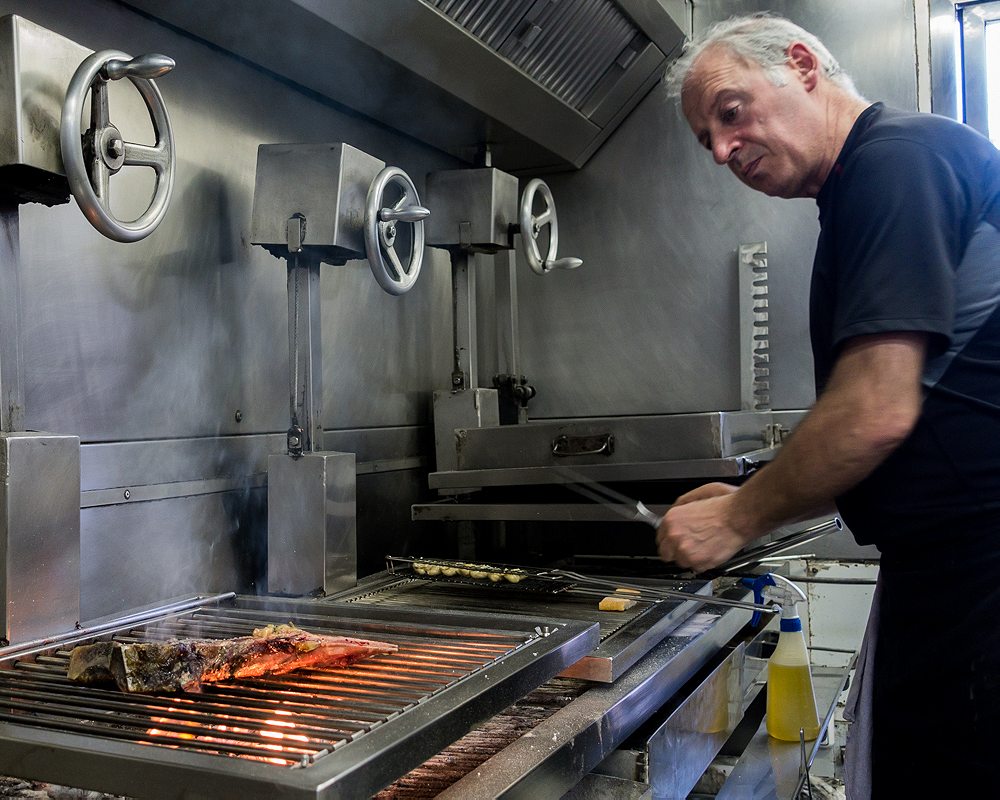 Go to market. If you want to know an area, get to know the farmer's markets. In Spanish Basque country, you'll find the best fish, great dry-aged steak, cured meats and a limited supply of local vegetables. In contrast, the farmer's markets of the Pays Basque, or French Basque region, always have a huge variety of fresh vegetables, miraculous cheese counters, patés, duck, chicken, and foie gras. The best of both worlds! On the French side, head to the market at St. Jean de Luz on Tuesday and Friday and on the Spanish side, there's Mercado de La Ribera in Bilbao or San Martin or La Bretxa in San Sebastian, all open daily.

Work off your lunch. The Basque social life revolves around food; these people can eat. But they also like to run, bike, row, hike, and chop wood. The Basques have a reputation for being very active and healthy. If you can take in an aizkolaritza (wood-chopping) or harrijasotzaile (Basque stone lifting) competition, you'll see Basque-ness in its most primal incarnations.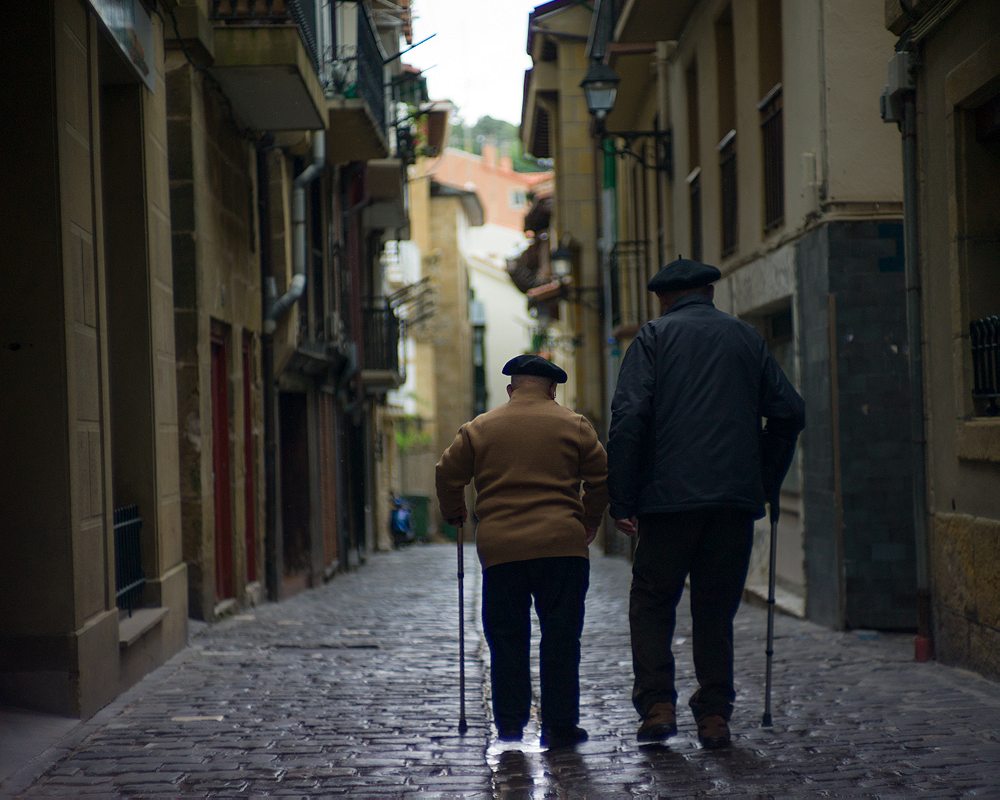 Take the scenic route. You can drive the entire coast, from France to Bilbao, down a winding road through towns that time forgot. You'll see everything from an abandoned nuclear power plant at Lemoniz to tiny villages that rely entirely on the sea for their livelihood, such as Ondarroa. You can find big wave breaks in Mundaka, and only minutes away is San Juan de Gaztelugatxe, a 10th century church set atop a jagged, rocky island jutting 500 feet out of the blue-gray sea. Other notable stops include Leketio and Zumaia, soon to be famous as the shooting location in season seven of Game of Thrones.

Don't be a slave to tradition. The Basques cling to their language, traditions and food. Little has changed over hundreds of years although some outside influences like mini-malls, mega stores and fast food chains are a growing grease stain on the Basque cultural fabric. But not all new influences are bad. For instance, good coffee finally came to the city. There two good spots to choose from: Sakona Coffee Roasters on the river in Gros, and Old Town, located in the market at San Martin.

Grab a beer. One of the fastest-growing industries in the Basque Country is craft beer. Catalonia has been the leader in craft beer, but the Basque breweries are coming on strong. I should know; I founded the Basqueland Brewing Project, with two other Americans, and our friends at Mala Gissona, Bidassoa, Laugar, and Gross are also making some great beers. Drop by the breweries' taprooms for a pint, or order one Gerald's Bar in San Sebastian, which also has great food.

Be sure to consider your timing. Weather is the variable. Climate change has reduced rainfall in the area, although that's hard to believe considering how much it rains from November 1 to May 30. The best weather is in September and early October. When it's sunny, it may be some of the most beautiful country on Earth.