A Night of Rice and Fire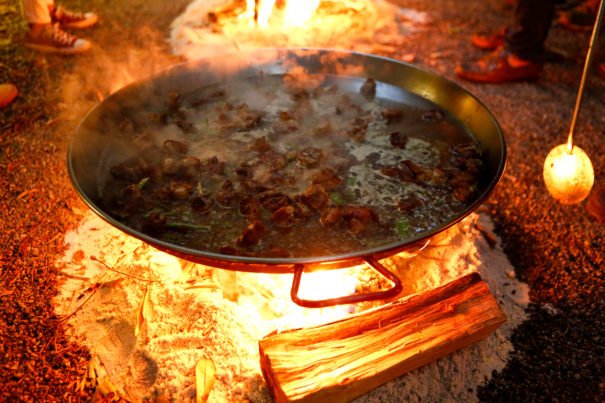 A recap of the most audacious flame-based cooking competition Manhattan has seen in a long time.
What happened last week? Why do we all still smell like smoke five days later? Roads & Kingdoms, with the help of José Andrés and Anthony Bourdain, lit seven mini-bonfires in the garden of a landmark historic building in midtown Manhattan in a mad, magical attempt to create a vision of Valencia in the big city. The goal: paella. The real kind, forged over an open flame of firewood and dried grape vine, cooked with precision and daring, fueled by deep red wines and crisp lagers. This was the #PaellaProAm.
We've been on a Spain kick; for years, really. We just signed a lease on a larger office in the Born District in Barcelona. Our founder Matt Goulding lives just across Via Laietana from our new digs, owns a different pair of espadrilles for every day of the week, and recently published a deeply gorgeous book about Spanish cuisine and culture with Bourdain's imprint at HarperCollins.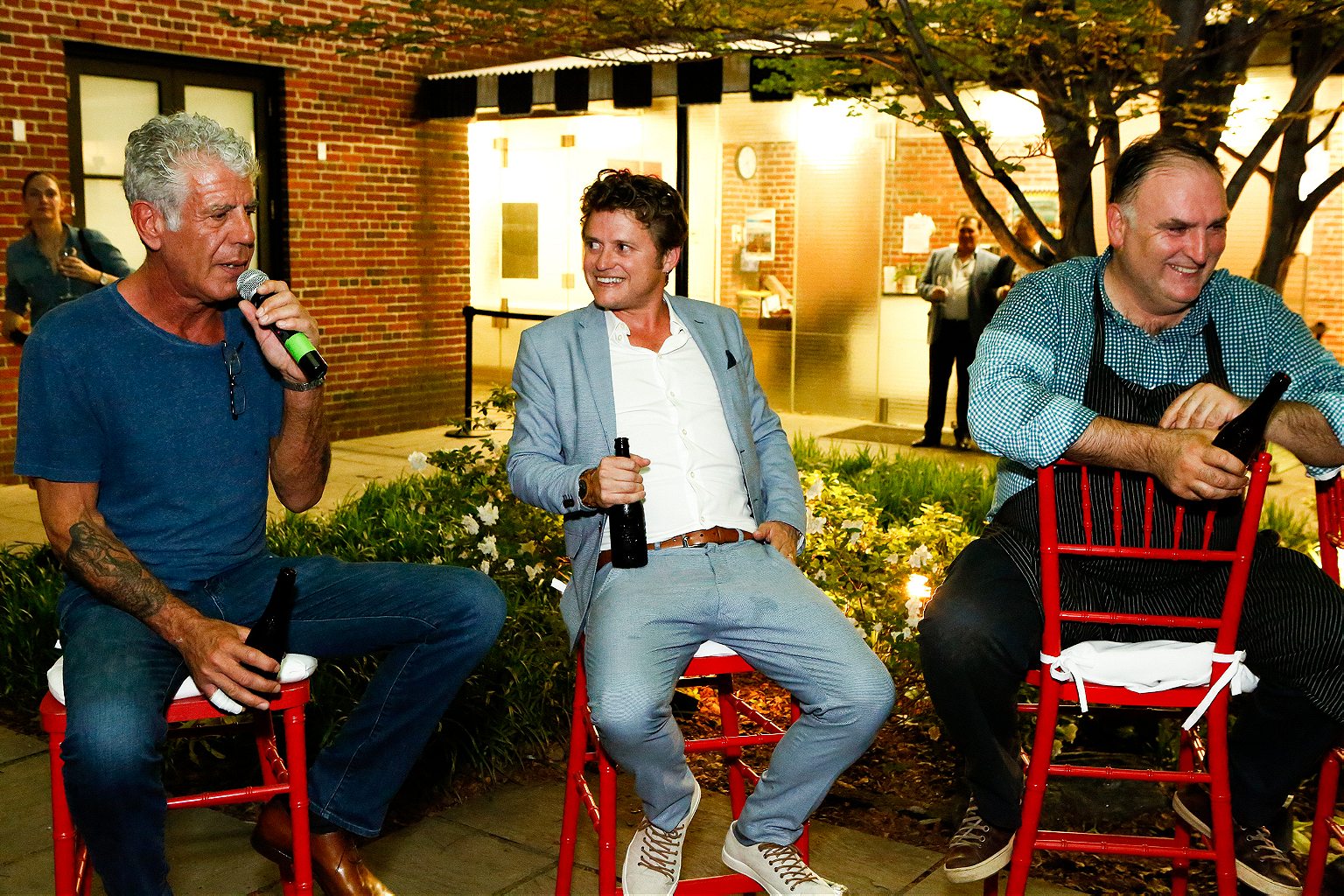 So when José Andrés, our occasional squad partner and former Trump agonist, whispered something about a competition pitting amateur cooks against each other under the watchful eye of some of the planet's greatest paella masters, we and our partners at Spain Tourism were ready to make it happen. That's how, on the hottest night of the year so far, seven teams drawn from the food media world burned wood and scorched socarrat in the pursuit of glory: Sonia Chopra from Eater, Ed Levine from Serious Eats, Kat Kinsman from Extra Crispy and Talia Baiocchi from Punch, Adam Sachs from Saveur, Amanda Hesser from Food52, Francis Lam from The Splendid Table, and our own Cara Parks. The judges were Matt, José, Bourdain, Alex Raij (a New York restaurateur who made incredible small bites for the crowd as well), and our two imported paella ringers: Rafael Vidal of Restaurante Levante (whose father served rice to the Spanish royal family) and Valencian fire god Rafa Margós. The brutally hard-working paella masters from José's Think Food Group, Ramon Martinez and Sean Wheaton, made sure the teams avoided catastrophe.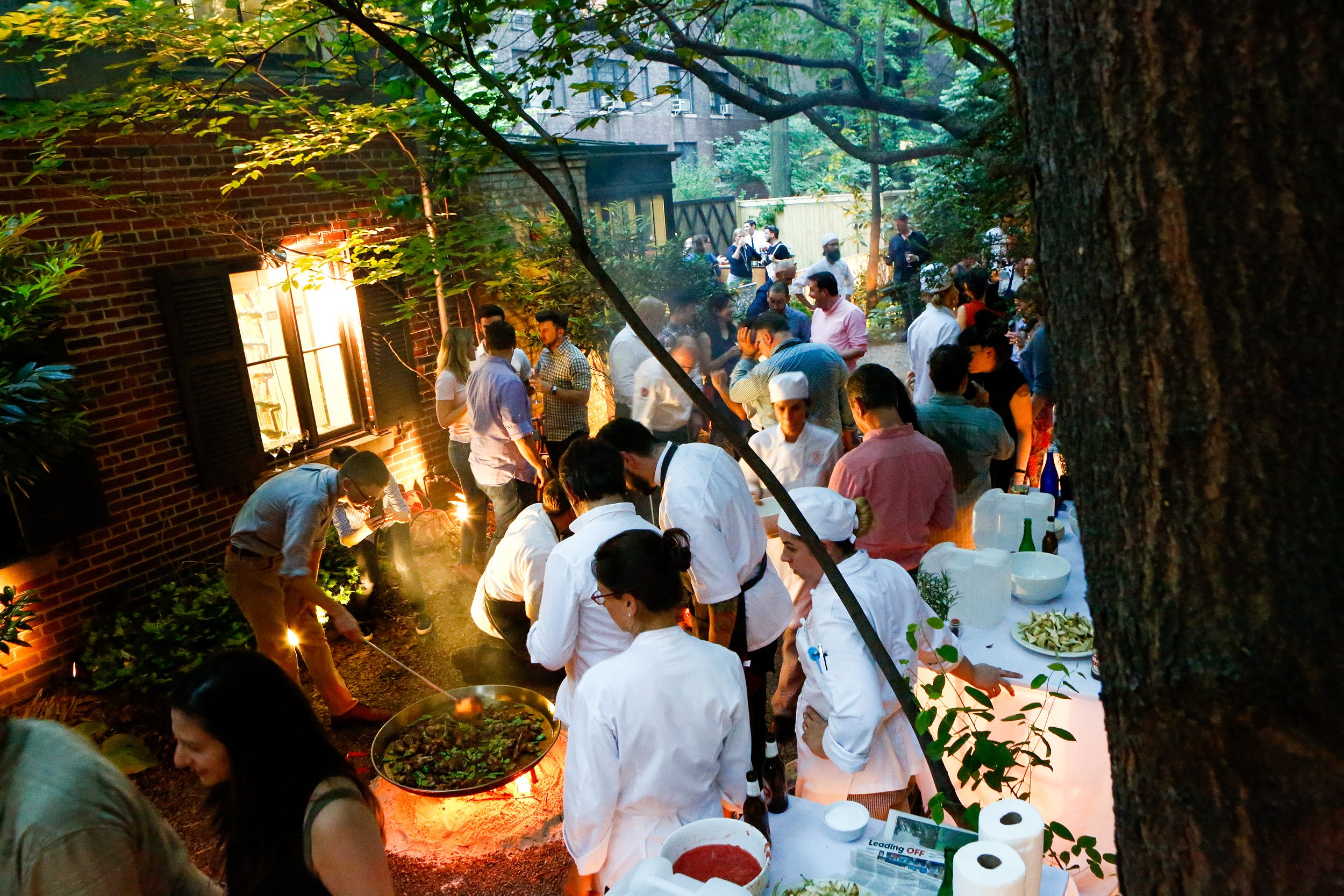 The teams labored off a single recipe from Rafa Vidal, which we will repost below (history will note that there was a vegetarian pan as well). At risk of repeating the beery odyssey that was my winners announcement on the night of the event, I will cut straight to the results. Team Amanda Hesser of Food52 and Team Ed Levine of Serious Eats tied for second place with their savory, smoky rice dishes. But it was Adam Sachs, the Saveur savant, whose team took home gold (actually, they won silver paella pans). Their rice was perfectly plump, rich with broth, with just the slightest bite at its center. A masterpiece. Bravo to all who battled the fire with us. Now take the recipe below and do the same at home. —Nathan Thornburgh

Recipe: Paella Valenciana
Rafael Vidal has distilled years of research and travel through the villages of Valencia into this one recipe, the blueprints for the true paella valenciana. Paella takes time to master, especially learning the right ratio of water to rice, which will vary depending on many elements, including the heat source and the pan you use. To make this dish the right way, you'll need a real paella pan, or, failing that, the widest, shallowest pan you can get your hands on. Cook it on a grill outside (preferably over a wood fire) to capture the smoky essence of a real paella.
4 lbs chicken (a mix of bone-in, skin-on thighs and drumsticks)
1 lb rabbit pieces
¼ lb chicken or rabbit liver, chopped (optional)
¼ cup olive oil
1 lb ripe chopped tomatoes
1 lb green beans, ends trimmed
1 lb large white lima or fava beans, shelled
2 ¼ lbs bomba rice (about 6 cups)
15 cups water
Large pinch saffron
Salt to taste
1 branch fresh rosemary
*Also optional are live snails, a common ingredient in paella valenciana, that should be added just as you add the water to the pan
How to Make It:
Place the pan ("paella") over a live fire or a very large burner and add the oil. When the oil is hot, add the meat. Now the fire should be at medium/high temperature. Fry the meat until it is lightly browned. Add the liver and vegetables, about 2 minutes later, the chopped tomatoes, keeping the fire at a medium-high level. Once the meat and vegetables are nicely browned, add water, fresh rosemary, and increase the fire to high. Add the saffron and salt to taste. As soon as it starts boiling, add the rice and take the rosemary out. For a few minutes, distribute the ingredients throughout the pan, using delicate but firm movements with the spoon.
Keep the fire at maximum heat for 8 to 10 minutes. After this time, reduce the fire level gradually until most of the moisture has evaporated. Finally, keep the pan for an extra minute or two over a hot part of the fire to obtain the esteemed "socarrat". (If cooking on a gas stove, increase the heat to medium-high for one minute before removing the pan.)
Take the paella off the fire and let stand for a few minutes. Serve on plates, or place it in the center of the table and dig in. Makes 10 servings
Paella Wisdom
Courtesy of Jeff Koehler, author of La Paella, photographer, and all-around excellent journalist living in Barcelona. You can follow his work here. This wisdom is lifted from Spain's Paella Problem, which you can read here.
—Do not make a paella for the first time for a large group of people. Do a practice run first to be comfortable with the pan, heat source, rice, and amount of liquid. Take notes. And then repeat using the same pan, same heat source, and same type of rice—and your notes.
—Paella is a lunch dish. It is considered too heavy for dinner. My mother-in-law has been preparing paellas almost weekly for decades, and I am certain that in that time, not once has it been for dinner.
—If using a really large pan on a kitchen stovetop, try straddling three burners, rotating the pan slightly every minute or two to ensure even cooking.
—Do not crowd the pan. The pan gets wider; the rice does not get deeper.
—Do not add onions to the paella. Paella is a "dry" rice. Onions are a wet vegetable. Add onions to other types of rice dishes, but never to a paella.
—Do not cover the pan as the rice cooks. Ever.
—If the liquid has evaporated and the rice is not yet done, sprinkle drops of water over the rice.
—Arrós passat, per el gat. (Overcooked rice is for the cat.)