From nameless croquettes to Albert Adrià nature-defying olives, Matt Goulding's milestones of a culinary courtship.
Bacalao al Pil Pil
Escuela de Cocina Luis Irizar, San Sebastían
I came to Barcelona to study abroad in the winter of 2002, and when my classes ended in the early summer, I needed an excuse to stay in Spain. I enrolled in a summer course at the Escuela de Cocina Luis Irizar, a small, renowned cooking school overlooking San Sebastian's famous half-moon beach.
Up until that point, I had largely survived in Spain on whisky cola and Whoppers. I loved to cook, but I didn't know a damn thing about Spanish food—about the respect for ingredients, the importance of impeccable technique, about the fact that when done right, it could compete with any cuisine in the world. Over the course of the summer, I learned those lessons one by one at the hands of one Spain's most important (and overlooked) chefs.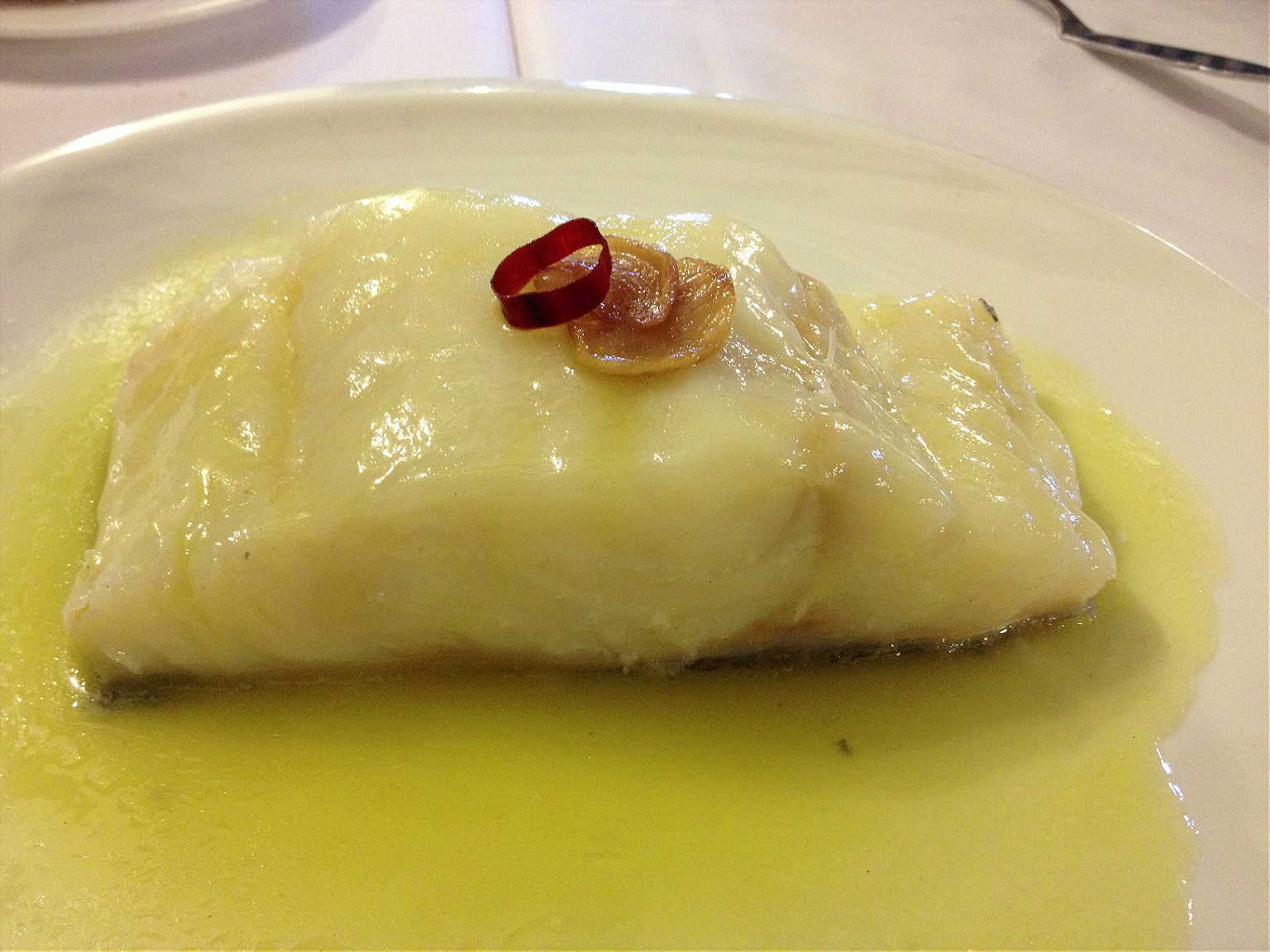 Luis Irizar is one of the founders of the modern Basque cuisine. He opened the Basque Country's first culinary school in 1967, and his students would go on to reshape the country's culinary DNA. He had turned over the reigns of the cooking school years before to his daughters—my professor Visi, a gifted cook and teacher, continues the Irizar legacy to this day—but he loved to be around the kitchen, telling stories, demonstrating technique, feeding off the energy of the hungry student body. This dish, made by slowly emulsifying olive oil with the natural gelatin released by the salt cod, is perhaps the most resolutely Basque of all. Luis loves to hammer home the proper technique—the gentle, steady stream of olive oil with one hand, the constant swirling of the pan with the other, both actions working in unison until a thick, pale, two-ingredient sauce magically forms. Alchemy of the highest order.
Luis' students—Karlos Arguiñano, Pedro Subijana, and others—would go on to be more rich and famous than he. Such is the fate of the teacher. But you can draw a straight line between Luis and the galaxy of Michelin-starred restaurants around the country. Just as I can draw a straight line between Luis and my life in Spain.
Gol de Messi
El Celler de Can Roca, Girona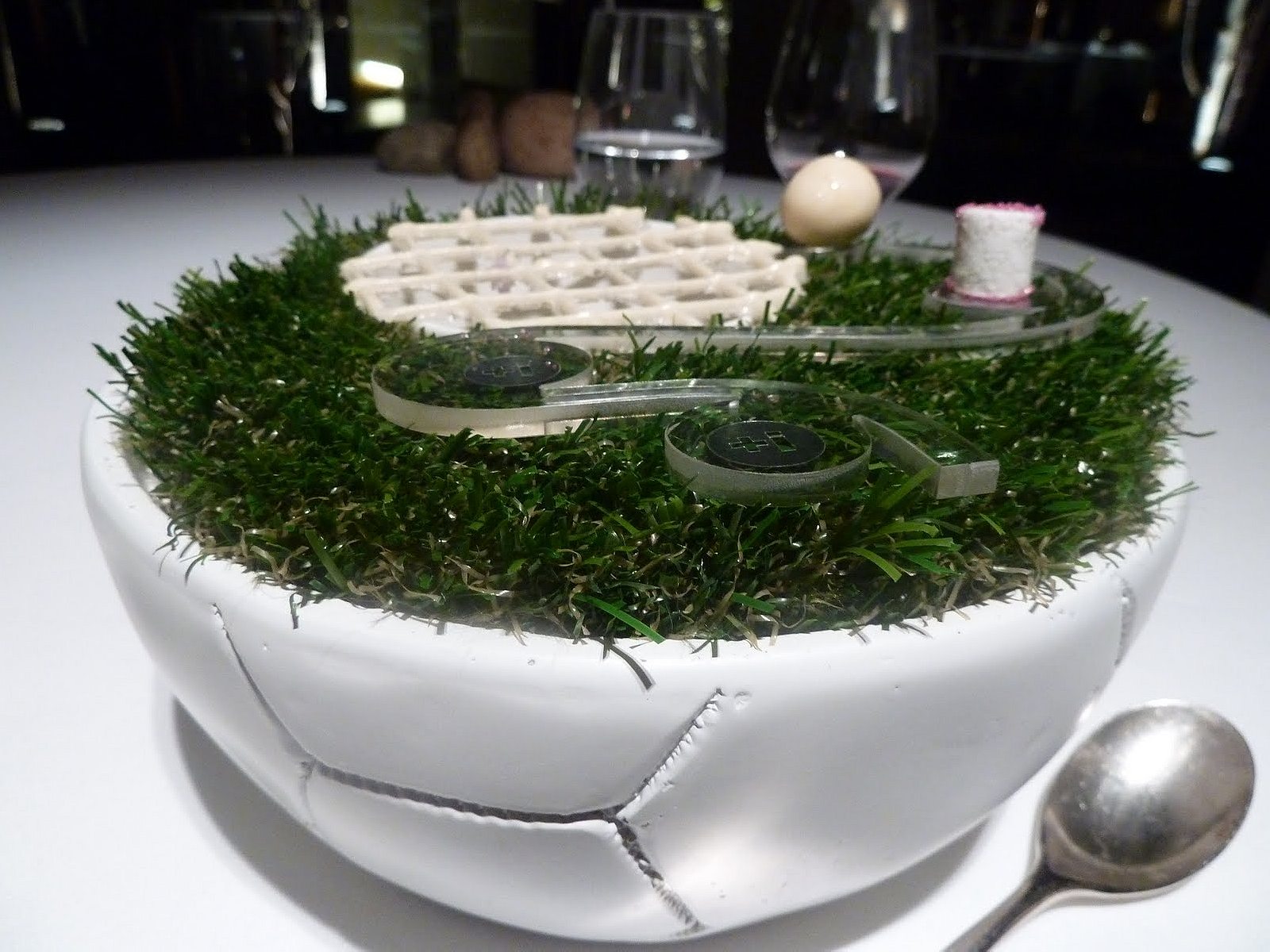 Dinner had just ended. Or so I thought. Twenty-seven courses, five hours, all of it mind-bending, all of it eaten alone. I landed in Spain a few days earlier, a stopover on my way to Italy, where I hoped to find a quiet town where I could start life over.
This was my first confrontation with the avant-garde Spanish cooking, and the results floored me: an oyster covered in a clear distillation of earth ("everyone has eaten dirt before" Joan Roca told me when he brought it to the table); a futuristic steak tartare goosed with sherry-soaked raisins and mustard Dipping Dots; a warm puree of foie gras and figs that gives me goosebumps to this day when I think about it. I found myself fighting back tears more than a few times—whether from the generous beauty of the food and service or the fact that I was having the best meal of my life all alone, I'll never know.
Just when I thought dinner was done, Jordi Roca, the youngest of the three Roca brothers, emerged from the kitchen and told me he had a dessert still in its experimental stages. Would I mind tasting it?
And so it was that a half soccer ball was placed before me, hollowed out and filled with real soccer turf. A zig-zagging metal track wove its way through the grass, punctuated by white meringues (representing players from Real Madrid, colloquially known as merengues). An edible soccer ball filled with dulce de leche was placed on one end, a sugar-spun goal on the other. Jordi told me his newest piece was called "Un Gol de Messi". To bring it all together, a futuristic radio played with a famous Catalan announcer works himself into a furious state of ecstasy describing one of Messi's most spectacular goals. I couldn't stop laughing; it took me 15 minutes to eat.
Everything about the meal was a lesson for the life in front of me—the soul-soothing touches of Catalan home cooking, the breathtaking precision, the relentless generosity and good nature of the chefs and the staff. Above all, the belief that food—even food at the restaurant that three years later would be named the best in the world—is meant to be fun. "We try not to take ourselves too seriously," Joan told me that night.
Many years later I was shocked to find that some eaters and critics thought the Rocas' homage to Messi was ridiculous, and maybe it was ridiculous. But when you are as good as these three brothers, you've earned the right to be ridiculous.
Pan con Tomate
Barcelona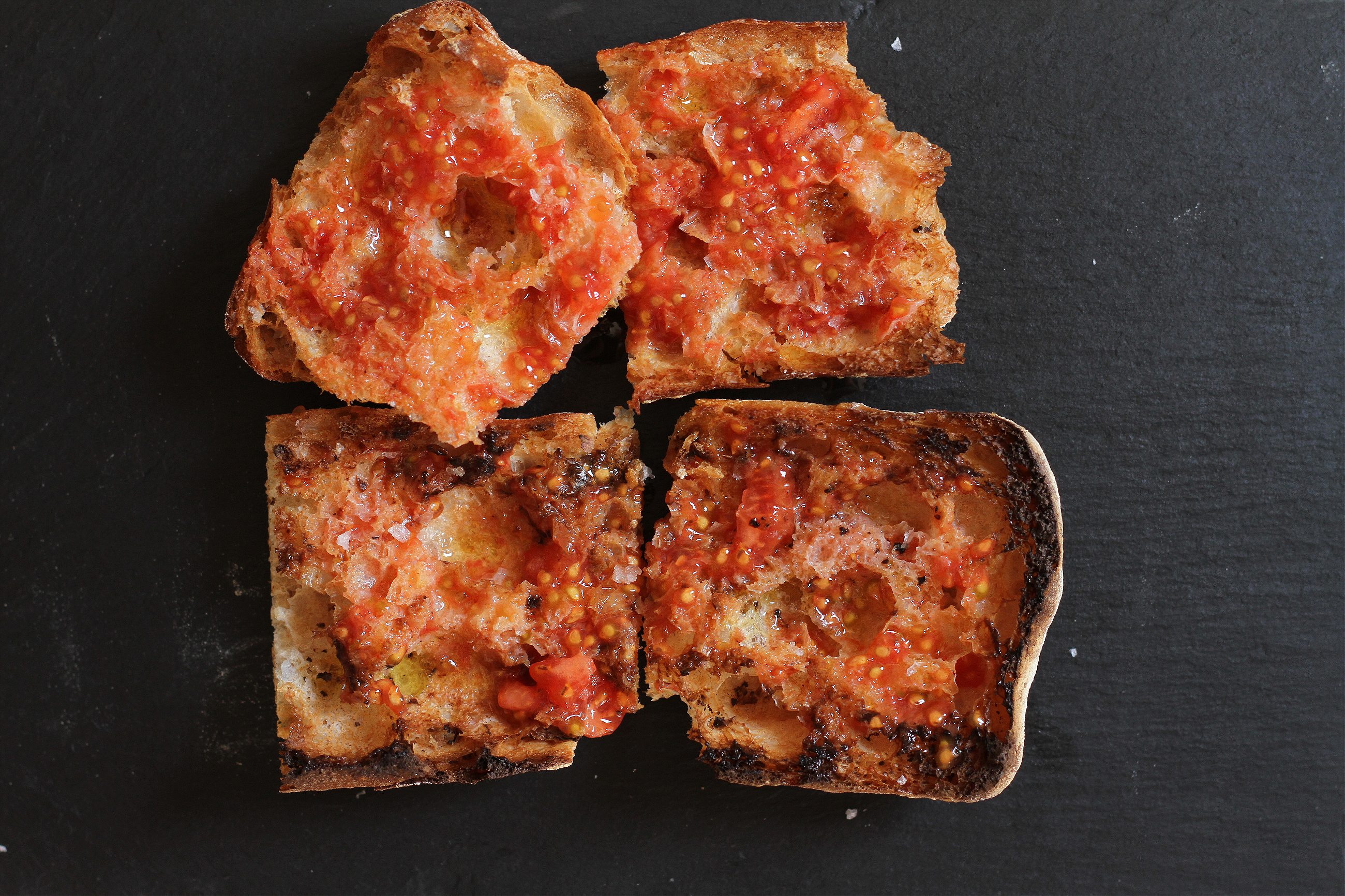 The day after the Can Roca dinner, on my second-to-last night in Barcelona, I met Laura Pérez. I took her to a bodega in the Raval, the kind of under-the-radar local spot that I thought would give me a bit of street cred with this lovely Catalan. As we sipped our cheap bodega wine and probed the borders of our sudden acquaintance, I asked her the question I ask new friends all the time: What would be your last meal on earth? She didn't hesitate. "A plate of jamón, a slice of my dad's tortilla, and some great pan con tomate." It was as if she'd been waiting years to tell someone that, as if I had been waiting years to hear it. When I married Laura three years later, every table at the wedding had a loaf of country bread, a pile of tomatoes, and a bottle of olive oil.
I am the cook in the family, but there are a few key exceptions: Laura makes smoothies for breakfast, turkey sandwiches and BLTs for lunch. Above all, she makes pan con tomate, pa amb tomàquet in Catalan: tomato bread. A fundamental dish of Catalunya, some say created by Andalusian migrants who went north to help build the railroads. Like most of the world's great dishes, it was an answer to a problem: What to do with stale bread and overripe tomatoes and a poor and hungry population? Simple: Slice the bread, smash the tomato against its contours, revitalize the grain with the pulp, plus a good stream of olive oil and a pinch of salt.
The necessity is gone but the brilliance remains. When done with a bit of care and proper provisioning—light, craggy bread called pan de cristal and plenty of tomàquet de penjar, taut, juicy tomatoes grown specifically for the task—the dish approaches something spiritual. When my wife makes it, serves it alongside a few slices of acorn-fed jamón and a leftover wedge of my father-in-law's heroic tortilla, I would be perfectly happy if it were my last meal as well.
Fabada
Casa Gerardo, Prendes, Asturias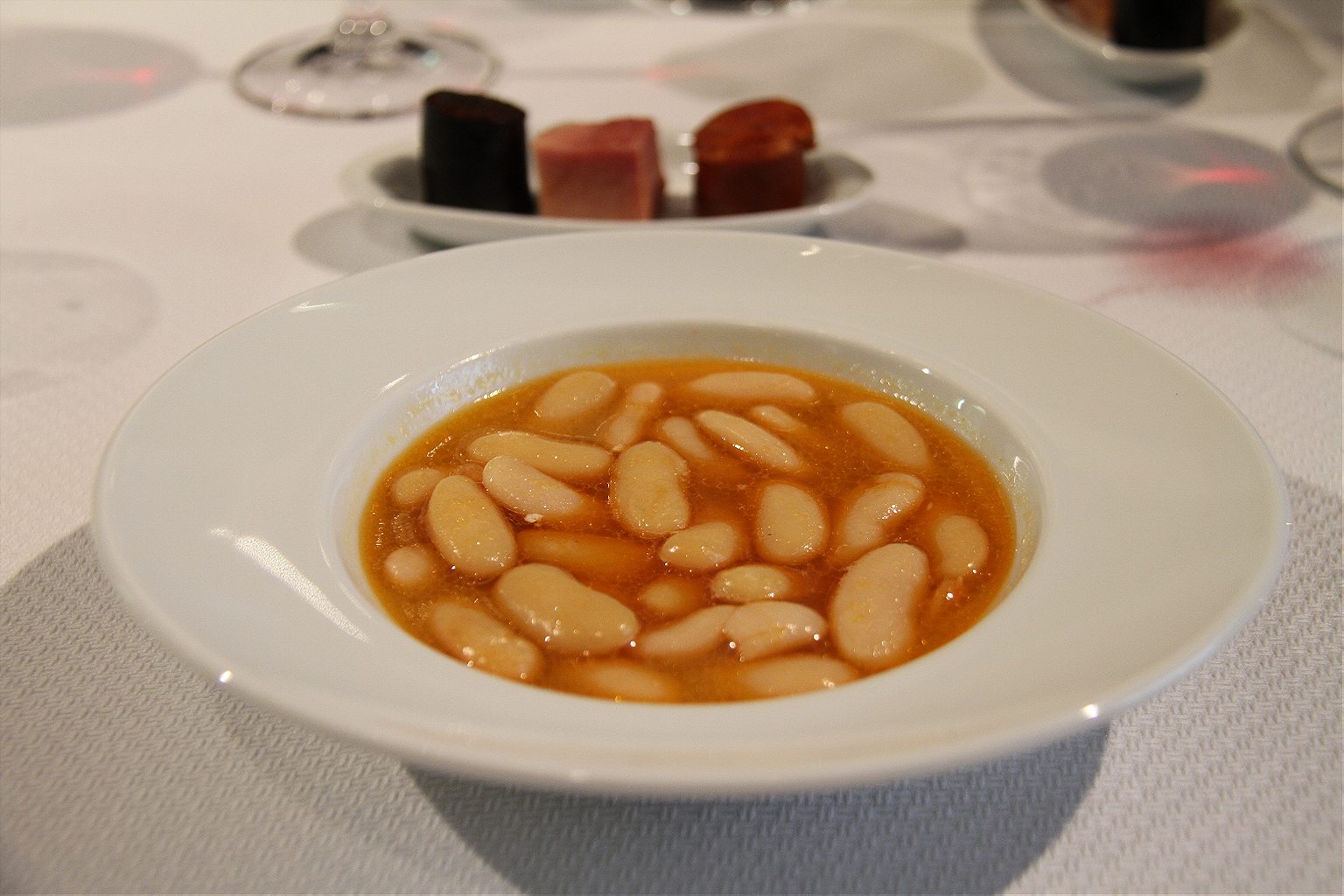 My first trip to Asturias was with José Andrés, Spain's unofficial ambassador to the U.S., who was born in the coal-mining town of Mieres in the mountains of Asturias. I owe so much of what I know and love about Spain to José Andrés—from the art of a proper gin and tonic to the beauty of Spanish seafood—and it all started with this trip.
We had already been on a three-day binge of hard cider and spider crabs and cave-aged cheese when we arrived at Casa Gerardo, on a country road in a quiet corner of the region. Before we walked in, he paused to make a point. "This is one of Spain's most important restaurants," he said. And then, for good measure: "Don't make me look bad in here, okay?"
Three hours and a dozen courses later, the star of the restaurant arrived to the applause of the table: fat white beans (called fabes in Asturian dialect) slow-cooked with a trio of pork—blood sausage, chorizo, pork belly—known as compango. As they ladled the fabada out from a chafing dish and placed the porcine trinity on small plates, José could hardly contain himself. "Look at the beans!" he said, scooping them up one by one, raising his spoon of fabes up to the light until the fat shimmered under its glare. He ate one or two beans at a time, rolled them around in his mouth like caviar, closed his eyes to block out any external stimuli.
Father-and-son duo Pedro and Marcos Morán represent the full spectrum of Spanish greatness in their food—from technical masterpieces to dead-simple dishes. The fabada is classic comfort food, part of a class of legume-based stews that vary from region to region across Spain. The bean is the star; they must arrive to the plate unbroken, tender but toothsome, perfect. Pedro and Marcos' version is classic in all ways except one: they use fresh beans instead of the traditional dried ones, a small but ingenious innovation that improved the texture and taste of the beans immeasurably. People like to talk about foams and spheres and other pyrotechnics of the cocina española, but it's these more subtle innovations that make modern Spanish food so damn special. No matter how great and ancient and sacred the dish, nobody ever stops thinking about how it might be made better.
Gambas de Palamos
Extebarri, Basque Country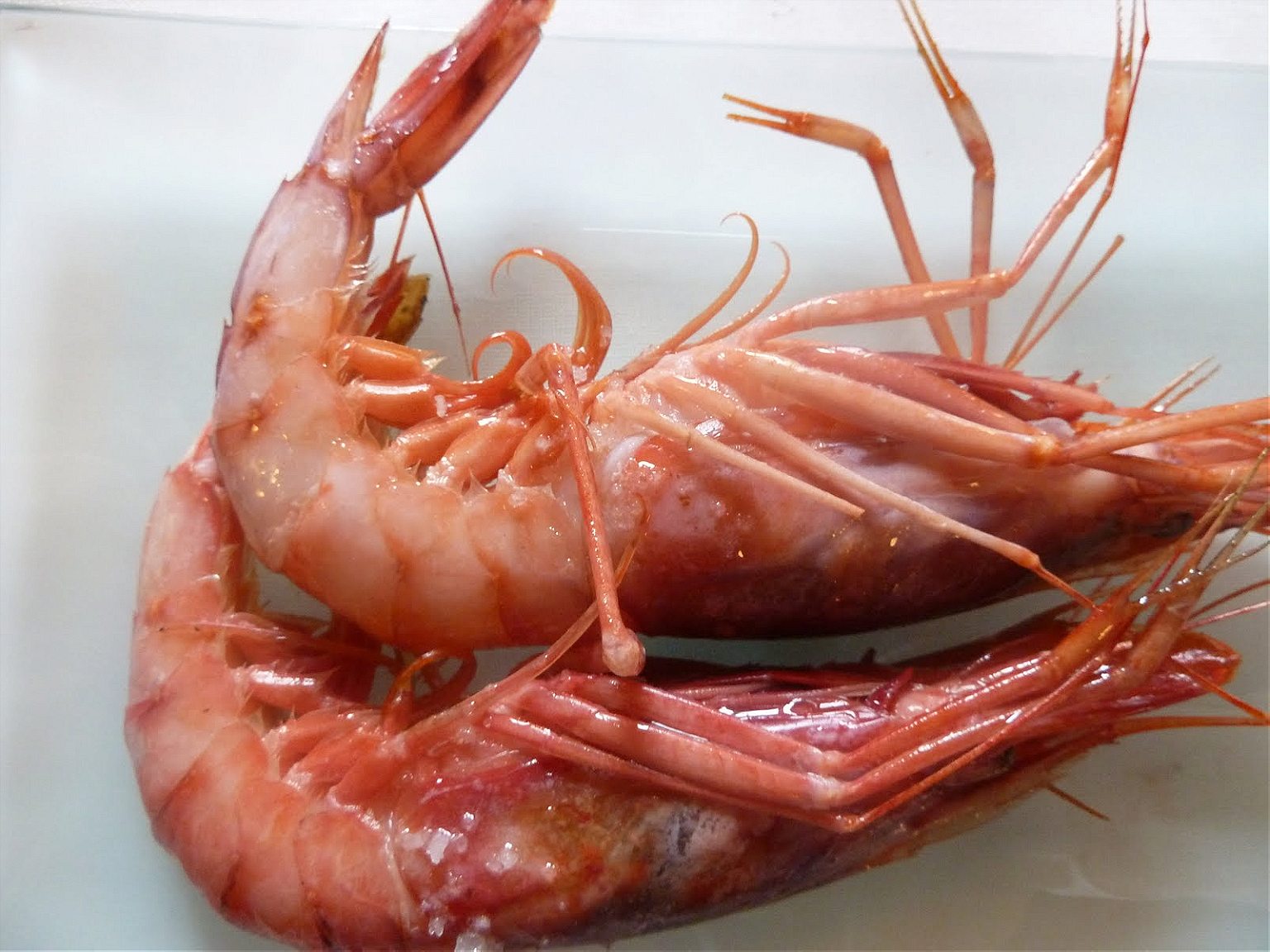 I could tell you about the smoked goat butter, about the teardrop peas that explode with the intensity of a thousand gardens, about the melting tufts of soft scrambled egg covered in razor-thin scales of foraged mushrooms, about the wood-fired apple tartine that will ruin you for all apples and all pies going forward. All form a vital part of the almost mystical power of Extebarri, Bittor Arguinzoniz's high-mountain shrine to smoke and fire.
But really, these two gorgeous crustaceans are what move me most.
Gambas de Palamos are sacred shrimp. They deserve a place in the Ingredients Hall of Fame, sandwiched between Hokkaido uni and Piedmont truffles. Taken from the deep waters off the Costa Brava in northern Catalonia, they are larger and sweeter and more expensive than any shrimp you've eaten before. Bittor cooks them gently on his custom hand-cranked grill, over firewood he chops and burns down every morning, watching them in intense, motionless silence, waiting for the gambas to tell him when they're ready.
You carefully peel off the shell, still hot from the grill, releasing little clouds of sea steam trapped beneath. You twist the heads and suck out the warm, umami-tide of shrimp brains—"the sauce that God made," as Anthony Bourdain likes to say. Do it right—a bite of the sweet flesh, a sip of the God sauce—and a flood of endorphins will detonate in your brain and thrust you towards delirium. It is the closest thing to a perfect plate of food I've experienced everywhere.
Spherified Olives
Tickets, Barcelona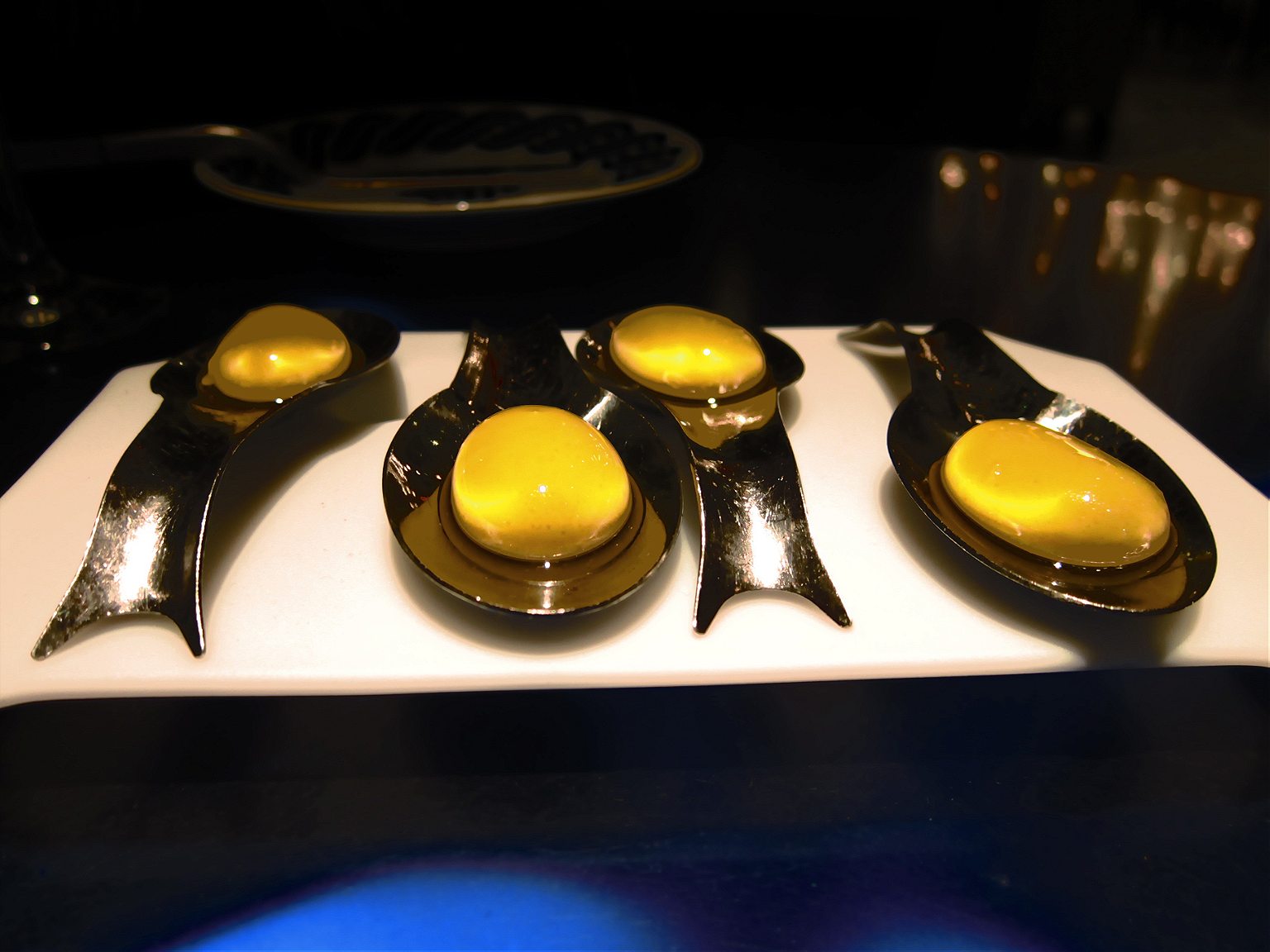 Albert Adrià doesn't know how to make a bad dish. It's not in his DNA. He has a way of spotting problems and rooting them out of a dish before it sees the light of day. In dozens of meals and thousands of plates at his restaurants over the years, I struggle to remember a single undelicious bite.
Albert had always fascinated me. He is the younger brother of the world's most famous chef. He is the one that you didn't read about, even though every great chef I knew—his brother Ferran above all—eagerly proclaimed him one of the world's most talented cooks. In 2012, I spent a few weeks inside his emerging empire along Avenida del Paralelo, trying to understand what type of world Albert was building in Barcelona. I learned a lot about modernist Spanish cuisine that week, much of which I dumped into this 6,000-word profile on the man.
Really, I could put a dozen different dishes in this slot—the shattering air baguette sheathed in slices of 5-year Joselito jamón; the Willy Wonka variety of sweets that rolls out of the kitchens of his five restaurants (Albert's first love will always be desserts); the grilled lobe of foie stuffed with smoked eel I ate just a few days ago, a reminder that the story always continues for Albert and his team.
The olives—made by concentrated olive juice into a bath of sodium alginate—have been around for many, many years now, and have been imitated in a million different ways, but they still represent the very best of Albert and Ferran's vision, complete with all the hallmarks of their cooking: whimsy, nature-defying texture, flavor so concentrated it tastes like the distillation of an entire culture. It's not just an olive, but a gateway into the weird and wonderful world of one of Spain's most remarkable institutions.
Paella Valenciana
Alzira, Valencia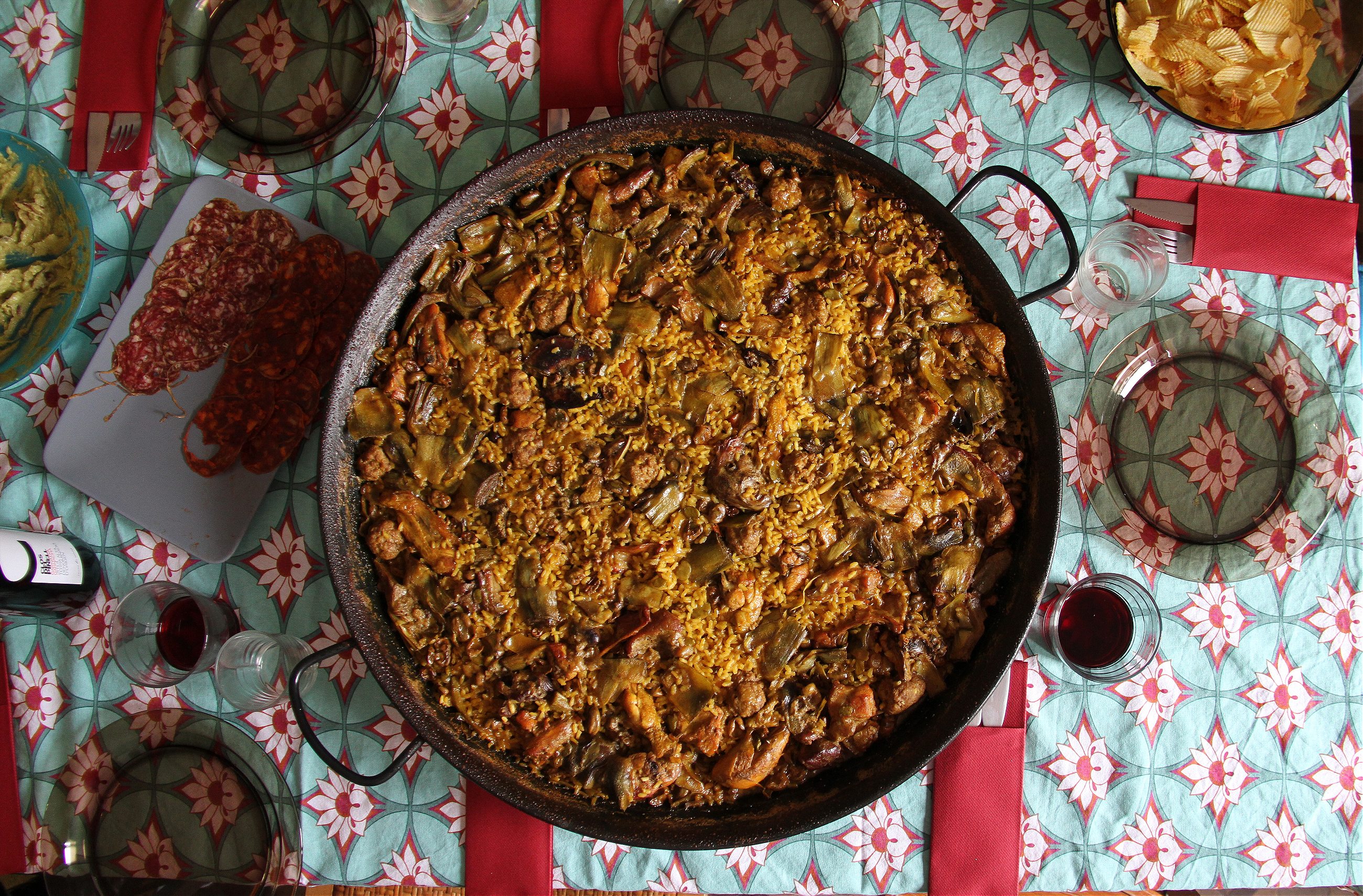 Salvador Serrano grew up in the cradle of paella—in a mid-sized town called Alzira in the heart of the Valencia region. Like so many Valencian parents, his mom would make paella once a week, usually on Sundays, plus a variety of other regional specialties that form a part of Spain's remarkable rice culture.
After learning about some of my early rice disappointments in Spain, Salva began to conduct an informal paella class on the terrace of his Barcelona apartment. More than following a recipe, Salva reenacted the rhythms he absorbed over decades of watching his mom cook rice. I learned that the key to a great paella lies in the thorough browning of the chicken and rabbit pieces, which infuse the stock—and therefore the entire dish—with the intense savory flavor of roasted meat. I learned that not all homecooks use expensive saffron in their paellas, but they definitely use a few shakes of colorante amarillo, yellow food coloring, which gives the rice a red-gold hue. I learned to listen for the crackling sound of the socarrat—the dark, crispy layer of rice—forming in the base of the pan. Above all, I learned that a well-made paella is a like a well-made fire—meant to be gathered around for hours at a time.
I make my paella on my own terrace these days, based very much on Salva's recipe. I do a decent job, but it's not quite like his. Just as Salva would tell me that his isn't quite as good as his mom's. And his mom would tell us both that hers can't compare to her mother's.
Pistachio 2016
Disfrutar, Barcelona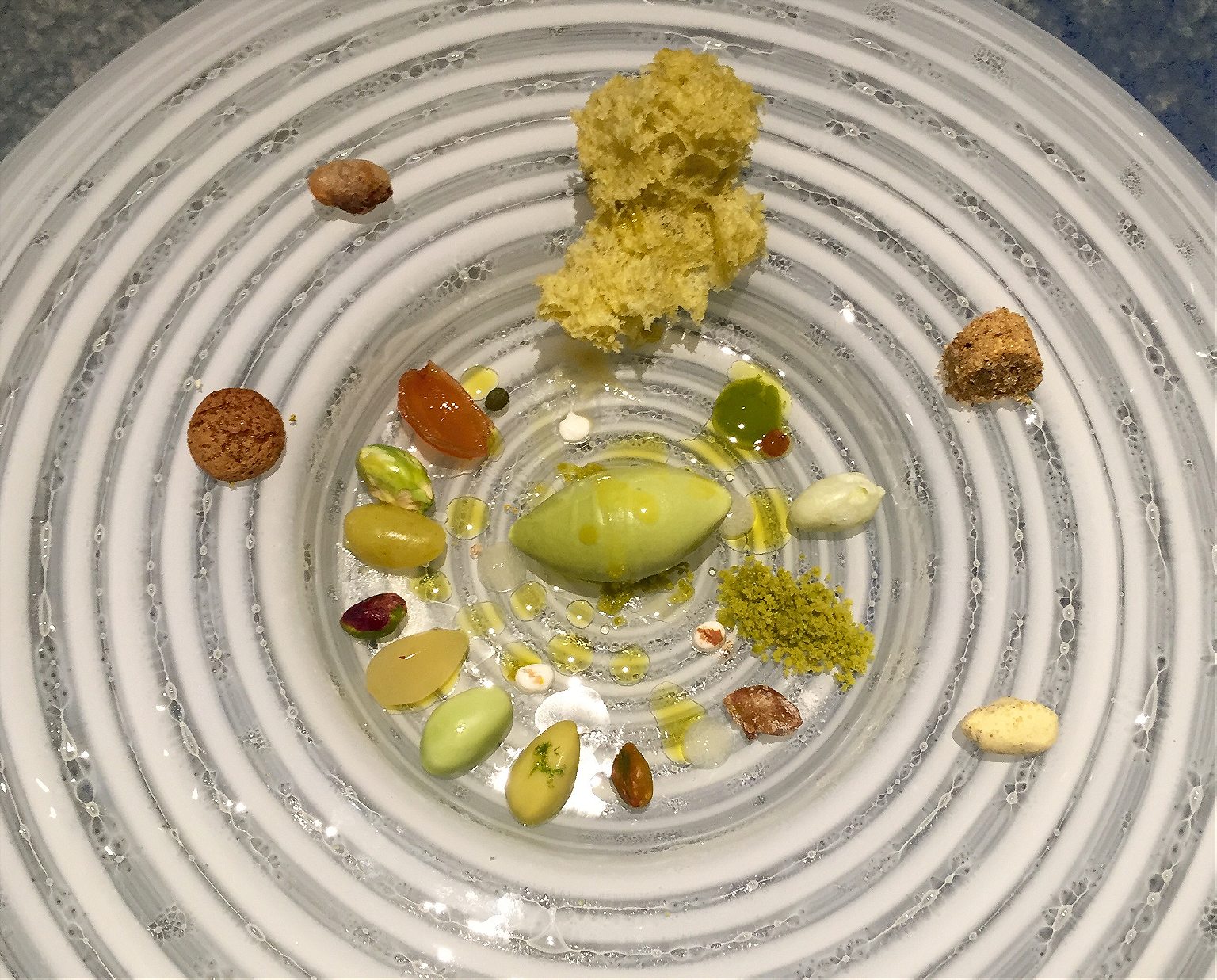 I'd like to tell you a long, complex history that ties this whole story up nicely, but truth is, I just ate this dessert yesterday, one of the last of two-dozen extraordinary courses at a restaurant quickly becoming one of the finest in Spain. The plate is an exploration of the full potential of a single ingredient, and you could trace the entire history of modernist Spanish cuisine through its 22 different expressions of pistachio: the featherweight pistachio sponge bread (popularized by Albert Adria at El Bulli, where he cooked it in a cup in the microwave); the explosive "mimetic" pistachio; the wobbly spheres of pistachio cream; the maltodextrin crumbles and pistachio powders. The end result is a forceful reminder that the end goal of all great cuisine, regardless of technique, is the same: how to make an ingredient taste more like itself.
In recent years, critics and chefs have taken to dismissing this type of deeply technical cuisine—especially as most of the food world tacks back towards a simpler, less manipulated style of cooking. But if you think these guys don't have the fundamentals down, consider chef Eduard Xatruch's take. "If I make a spherification of salsa verde and the salsa verde isn't the best damn salsa verde you can make, then the dish fails," he told me. "This might be avant-garde cooking, but the same rules apply." It's true: everything from the leche de tigre in a deconstructed ceviche to the two drops of mole poblano on a 10-component corn construction could stand up against the best-in-class of these classic recipes.
Eduard, Oriol Castro, and Mateu Casañas, the three-part team behind Disfrutar and their sister restaurant Compartir in the seaside town of Cadaques, seem perfectly happy not to worry about the shifting trends in the world of high cuisine. They invented this style of cooking, along with the brothers Adria, and they will continue to push it to infinity and beyond. After eating this portrait of pistachio (and every deliriously delicious plate that came before it), I'm convinced the future of Spanish cuisine will be written by the same ones who have been writing it for decades.
Migas de harina
Fuente Nueva, Andalusia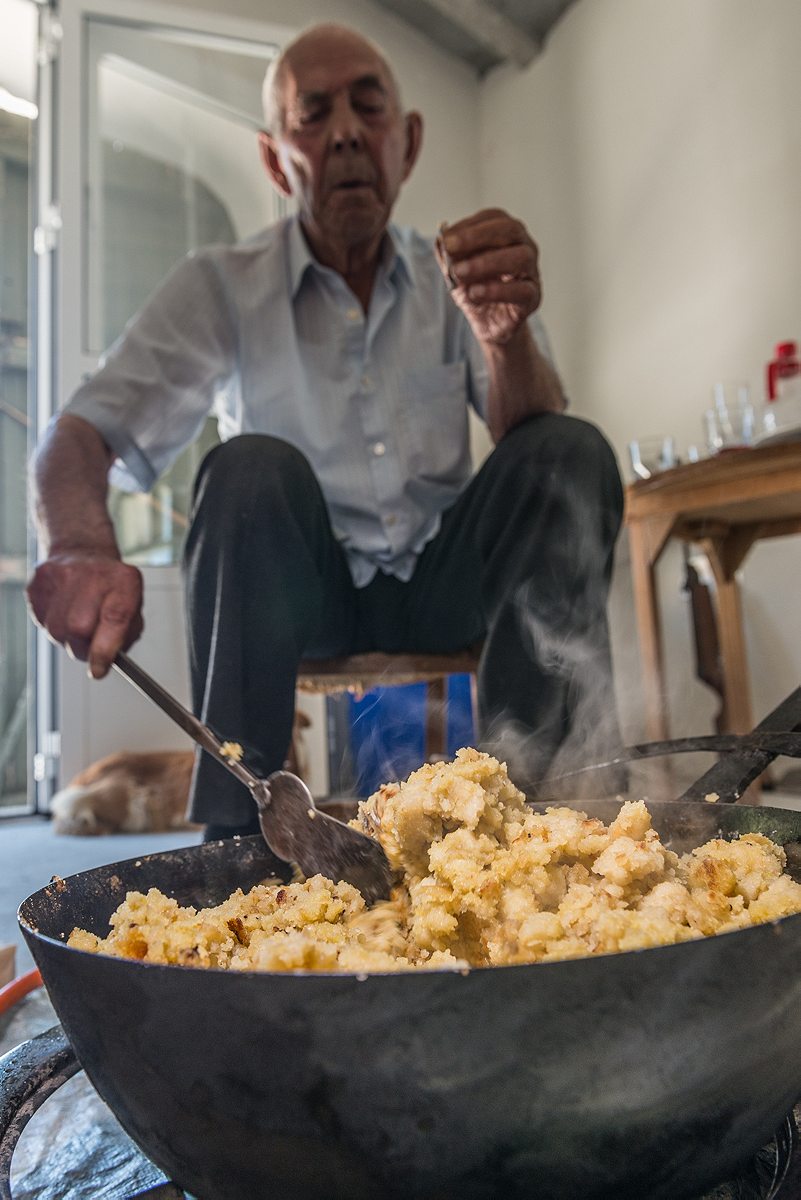 The first time I ate migas was the afternoon of my first matanza, the annual pig slaughter that takes place in the winter in small towns across Spain. I traveled down to Andalusia with the father of the woman I wanted to make my wife, a Hail Mary attempt to win over his affection in the hopes it might improve my chances with his daughter.
Men are in charge of three main tasks surrounding the matanza: killing the pig, butchering it, and making the migas to feed the masses. Migas are survival food, popular with shepherds and the inhabitants of some of Spain's poorest communities; my father-in-law's hometown, a cave community in eastern Andalusia, has plenty of both. To make them, you combine flour, water, olive oil, and salt and stir and scrape for the better part of an hour, until little small pieces of toasted dough take shape. Migas are then served with everything from fried peppers and crispy coins of chorizo to fresh fruit and chocolate.
That first afternoon, with a full weekend of work of butchering and sausage-making still in front of us, we sat in a circle around the pan and spooned ourselves round after round of migas. The men passed around a porron of red wine, and later, a bottle of JB. I struggled to follow the conversation through the traffic jam of Andalusian accents, but I kept eating and drinking and hoping that the moment wouldn't pass.
We travel south a few times a year to spend time with the family. Whenever we do, migas serve as the centerpiece of a long afternoon of together. Laura's 86-year-old great uncle Chacho Federo makes them most of the time, but slowly over the years, he's ceded the metal spatula to the unlikely American eager to learn the art of one of Spain's most vital staples.
Croquetas
Unnamed, Barcelona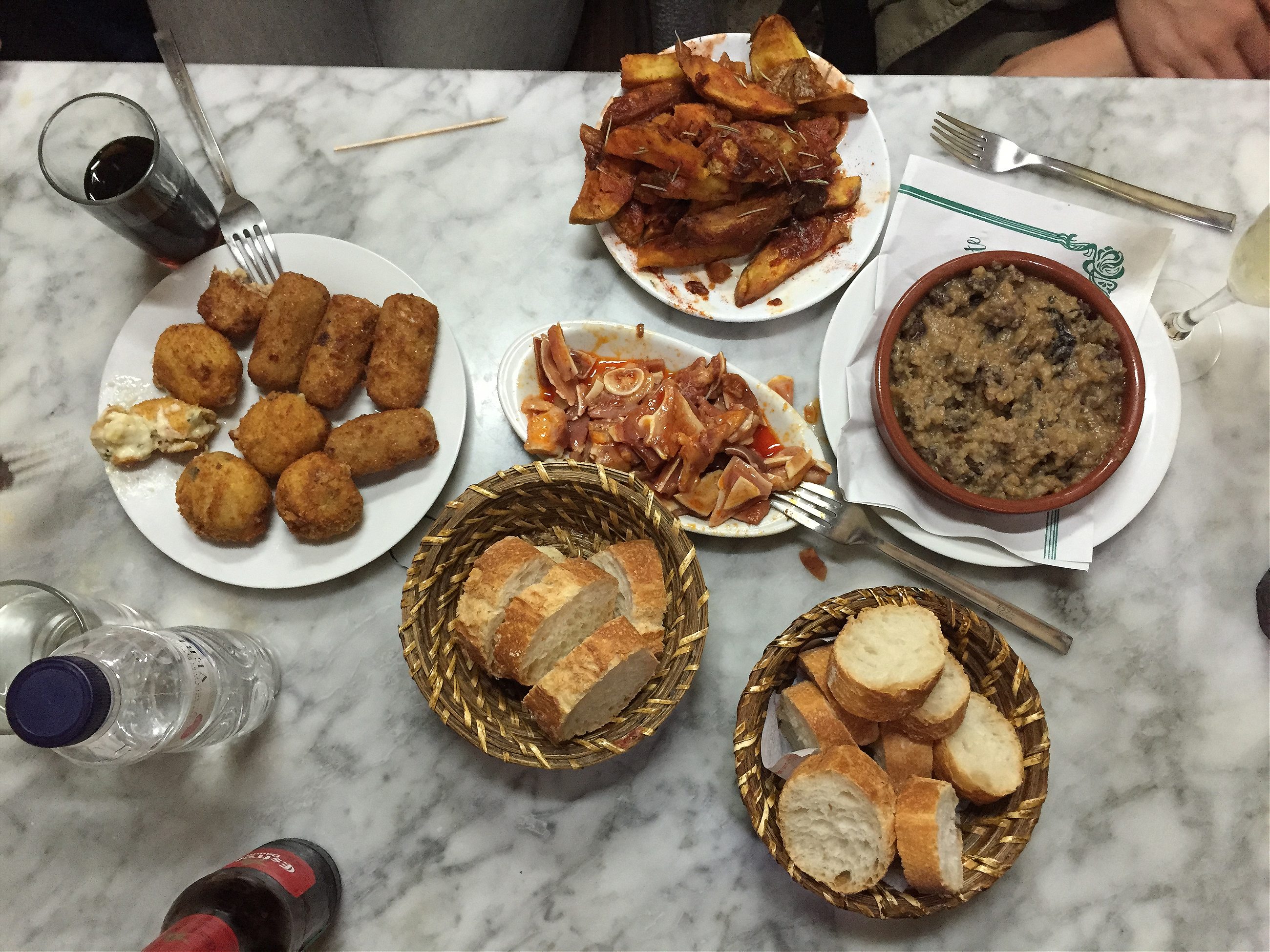 Barcelona is one of the world's great cities. If you live here, you are confronted constantly with the impact of its popularity—at the Boqueria, where one of the world's greatest collections of produce, fish, and meat purveyors has been usurped by juice stalls and crepe peddlers catering to the cruise-ship masses; in the neighborhood restaurants that ended up on Tripadvisor and gave up on catering to local clientele; at the specialty shops, where you need to fight through a forest of selfie sticks just to buy a few hundred grams of jamón.
Amidst the relentless crush of tourism, it's normal that people who live here want to keep a few places to themselves. I call mine The Nameless Places, sacred spots I promised myself and others a long time ago that I'd never write about. This place is one of them, an unassuming neighborhood bar serving food of astounding quality. The vermouth is made in house and poured generously for €1.50 a glass. The croquetas, made with slow-braised beef, are a textbook example of shattering crust and wobbly, savory center. Everything from the meatballs to the braised pigs' ears taste of a kitchen working much harder than it needs to. I've taken a few out-of-town friends and journalists here over the years, but I force them to sign NDAs before doing so. Places like these are getting harder and harder to find in Barcelona, and my family and friends would disown me if I let the secret out of the bag.