Water, water everywhere, and lots to eat and drink.

Know your Saints and Peters. The city is not named for Tsar Peter the Great, aka Peter the I, but Saint Peter, one of the 12 apostles of Jesus Christ. Still, Peter the Tsar, who ruled Russia from 1682 until his death in 1725, is the city's true father. Blessed with such qualities as being nearly seven feet tall and being very good at winning wars, Russia became a European powerhouse under his reign. After his victory against the Swedish Empire in the Great Northern War opened up the Baltic region, he founded Saint Petersburg in 1703 as a new, modern, westward-looking capital of the Russian Empire, a frontier town designed in the image of European cities, to integrate Russia into Europe. It is also the home city of President Vladimir Putin, who worked first for the Leningrad branch of the KGB and later in the mayor's office, but Peter will always be number one here.
[Going to Moscow? Check out R&K's guide to the Russian capital.]

It's a little different. Saint Petersburg—known as Piter to locals—has a personality influenced by its geography;  it's a proud port city nearer to Estonia and Finland than to most of Russia. It was conceived from the beginning as an alternative to Moscow, both architecturally and culturally, but it's also somewhat of an outlier in other ways. The city is slower-paced than Moscow. Saint Petersburg natives use different Russian words for common objects (if you're a Russian-speaker, check out this Moscow-Piter dictionary). Shaped by Peter the Great's embrace of Enlightenment ideas, science, art, and openness to the world, it proudly wears its status as Russia's cultural capital. It also has a history of political resistance. It was the birthplace of the 1917 Bolshevik Revolution. When Russians demonstrated in January 2018, calling for a boycott of the presidential election, the largest protests were in Saint Petersburg.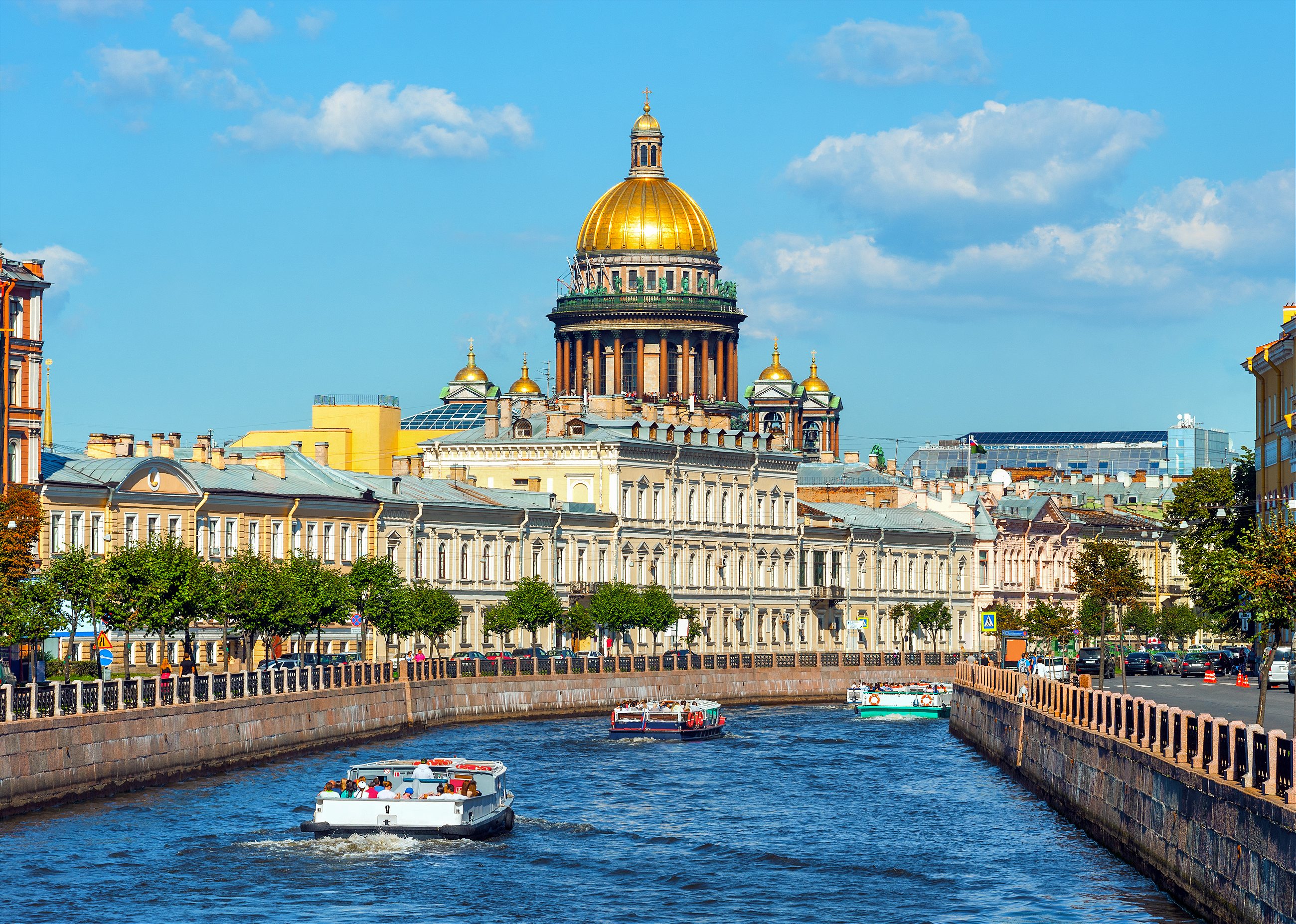 Get on the water. Built on the marshlands of the Neva river, with dozens of tributaries and canals cutting through the city, water is a huge part of the city, and it's not just visitors who take trips on the rivers. (Really.) Saint Petersburg's low, classical skyline makes it ideal for viewing from its many waterways. There are dozens of river cruises on large ferries or hydrofoils from launch spots along the city's river banks, but we'd recommend skipping the barge tours in favor of the smaller vessels—sailboats, motorboats, canal barges—moored along the Moika river embankment at the 2 Y Sadovy bridge for a more private tour. These boats can reach smaller canals that the big cruises can't. There is also a water taxi—the Aquabus—designed for commuters, but open to all.

Stock up on small bills. When changing money into Russian rubles, make sure to ask for some smaller bills: 500- or 100-ruble notes. A lot of stores and restaurants won't have change for anything larger, and few will want to break the 5,000-ruble notes that banks and exchangers often try to give you. At the very least they'll make you feel like an ass for handing one of those over to buy a water and a couple of postcards.

Download your Yandex apps. Yandex is Russia's Google: a search engine and internet portal with email services and its own map software. Uber operates in Saint Petersburg, but it was recently bought out by Yandex, which operates its own rideshare called Yandex Taxi. They have similarly good user experiences, but we give the slight nod to the Yandex Taxi app because it uses Yandex Maps, which tend to work better than Google Maps here (plus, it calculates traffic on your route). We had a cab driver perform some impressive Yandex-assisted shortcut heroics by snaking through several tiny residential courtyards to escape a stop-start traffic jam. Get Yandex Metro if you'll be using public transport.
Yandex Maps: Apple // Android
Yandex Taxi: Apple // Android
Yandex Metro: Apple // Android

Or get on two wheels. Saint Petersburg is sprawling, but flat, so it's perfect for cycling. There is a city bike-share scheme, for which you can either download the Velogorod app or sign up via their website. (Here is map of the bike stations.) If you want to rent a bike for longer and want more choice of bicycles, check out the Rentbike.org store.

Think twice before jaywalking. It's not frowned upon, exactly—you'll see some people jaywalk and others tsk—but once you're off the sidewalk, it's every man, woman, and vehicle for himself.

Eat Georgian. Russian cities have a lot of Georgian restaurants. Russia's southern neighbor on the Black Sea has a rich food culture, shaped by its Silk Road connections and borrowing from Turkish, Central Asian, Middle Eastern, and European cuisine, which made it a strongly-seasoned alternative to Russian fare in leaner times. During the Soviet Union, when much of the food was standardized and spiked with mayonnaise, Georgian cuisine offered some of the best meals around. Try the fist-sized juicy meat-and-soup dumplings (khinkali), glistening egg-and-cheese bread, (katchapuri), simmered stews, adjika—the red, spicy sauce that goes with everything, wine, and of course, chacha. Sakhinkle Kazbegi, in the courtyard of the Golitsyn Loft, draws a younger, hipper crowd, and Khinkal'naya Khachapurnaya is a more traditional place. (Here's a helpful khinkali-eating tutorial, courtesy of Nikoloz Saakashvili, the former Georgian president's son.)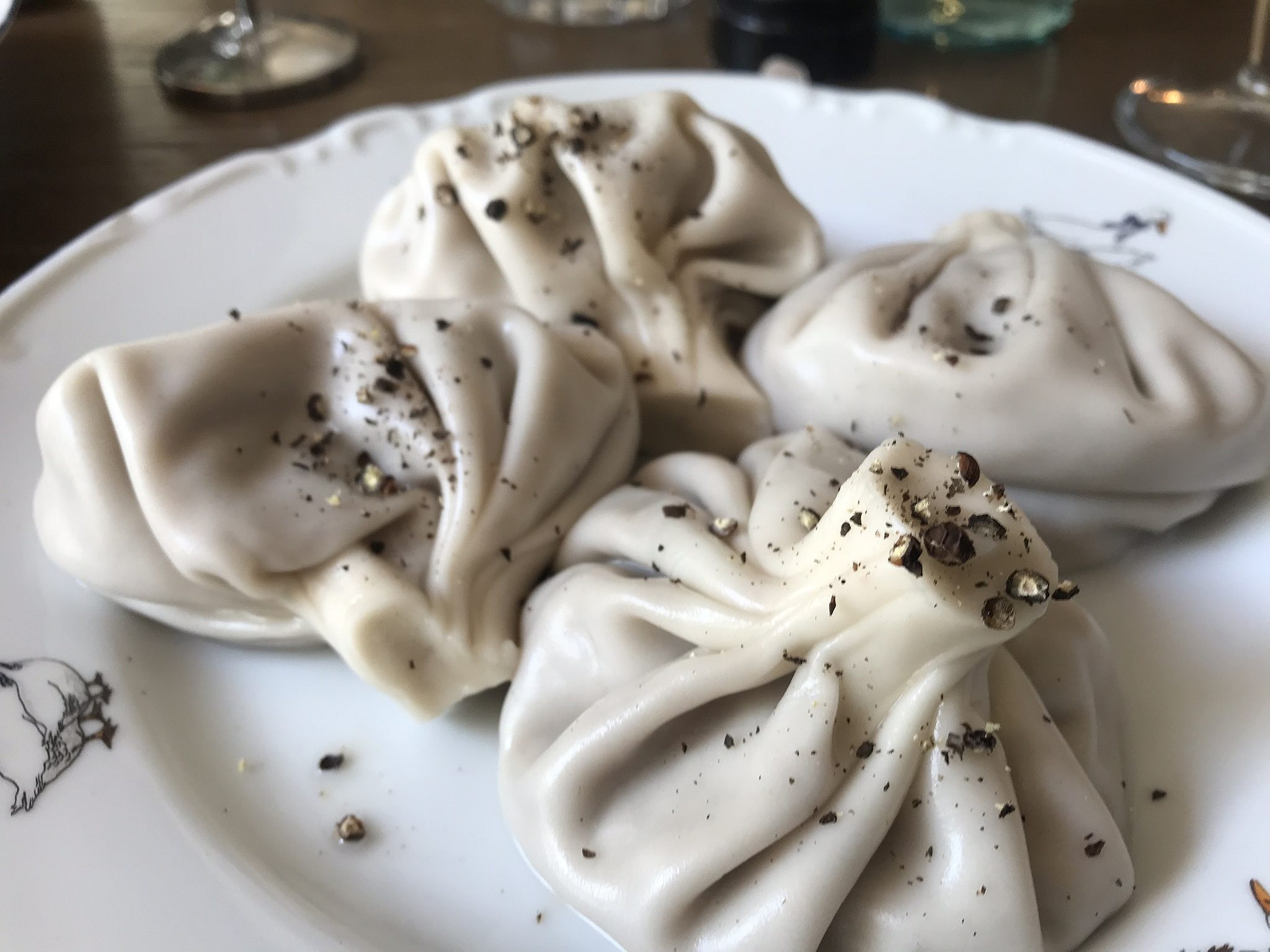 Pick an island. Central Saint Petersburg is large and spread over several islands, with no shortage of hotels and Airbnbs, but we are partial to the blocks between the State Hermitage Museum and the Field of Mars. It's quiet, but only seconds from the Palace embankment of the Neva river, and only a few minutes' walk to the State Hermitage Museum and Nevsky Prospekt. The Trinity Bridge can quickly take you out to the hexagonal Peter and Paul Fortress across the river.

Avoid museum fatigue at the Hermitage. Don't approach the world's largest collection of paintings without some kind of game plan, or you'll be swept along on the cattle march through a maze of opulent rooms, like being at a really awkward ball. (Or you could do what everyone else does and just point your cell phone in the general direction of any artefact drawing a crowd.) The General Staff building tends to be less busy than the Winter Palace building, and you can buy tickets for both there and skip the longer lines. In the Winter Palace, grab a map and find a handful of things you want to see; you will be defeated if you try to see everything. And even if you have a more targeted plan, you'll still absorb plenty of the palace interiors on your way, which are treasures in themselves. Protip: the gallery of Napoleonic warriors is fascinating and also has a rare place to sit. Early mornings are best for skipping the crowds. On Wednesdays and Saturdays, the museum is open until 9 p.m. On the first Thursday of every month, entry is free, but the price of saving that US$6.30 is truly massive crowds. We'd recommend going another day.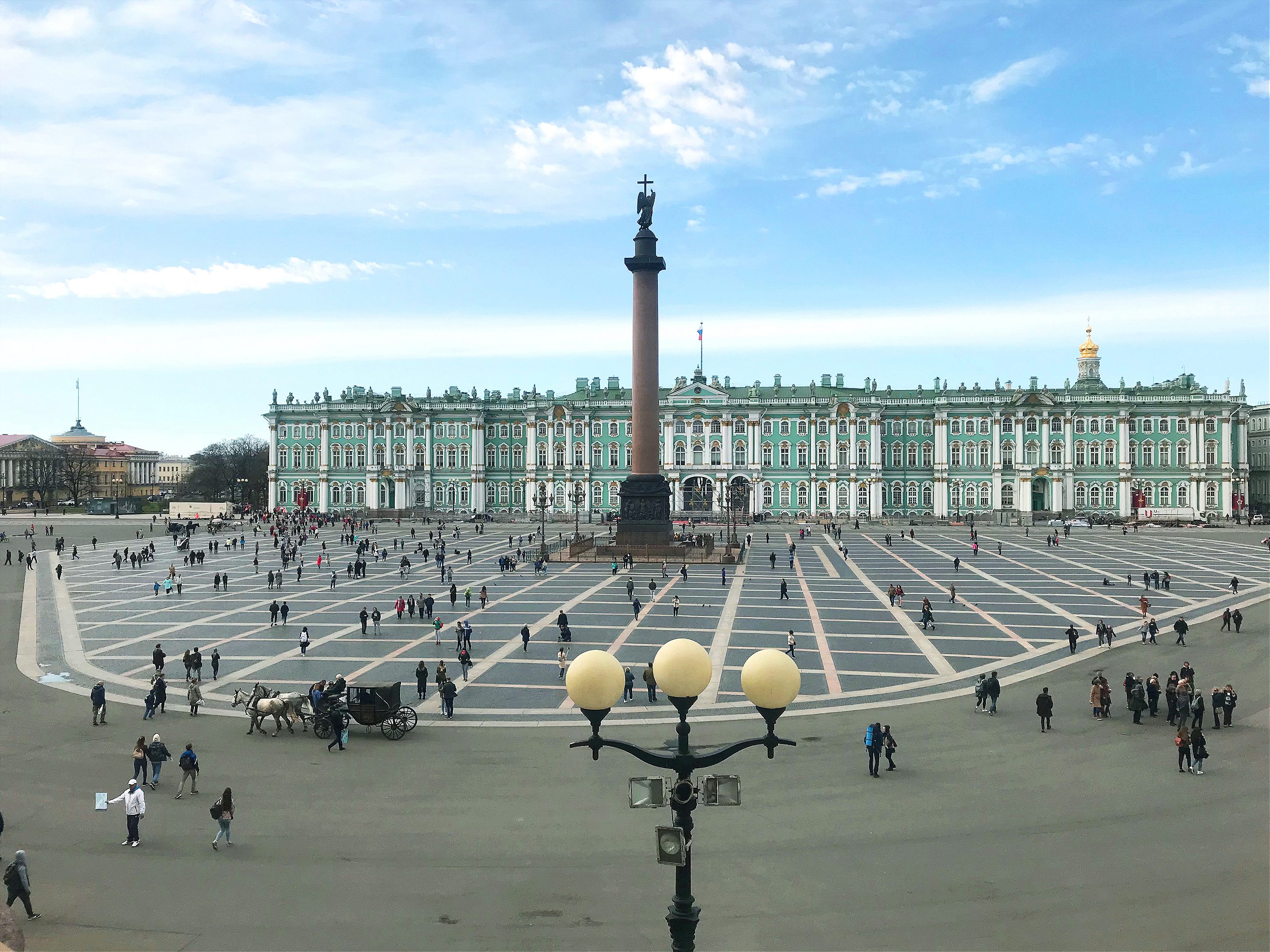 Feast on Rubinstein Street. This street off of Saint Petersburg's main artery, Nevsky Prospekt, is lined with restaurants (and theaters). There are institutions such as Cafe Rubinstein, serving its famous brunch on Sundays. The street is also a destination for evening and beyond, with tons of bars and clubs. Jet-lagged? Hungover? Both? Social Club, at the far end of the street, doesn't even start serving breakfast until noon, and keeps serving it until 4 p.m. It also serves 10 different kinds of champagne by the glass for that first kick of the day.

Rethink cabbage. Restaurants using local ingredients are doing wonderful things with long-time staples such as mushrooms, cabbage, and beetroot. Try Duo Gastrobar, or go for dinner at EM, an intimate restaurant in an open-plan former artist's studio. The entire menu is prepared and/or finished in an Aga cooker, the heat storage ovens beloved of upmarket British country houses. EM serves dinner only, with a tasting menu. It's near the Moika Palace, where the protracted business of killing Rasputin started off with his poisoning in the cellar.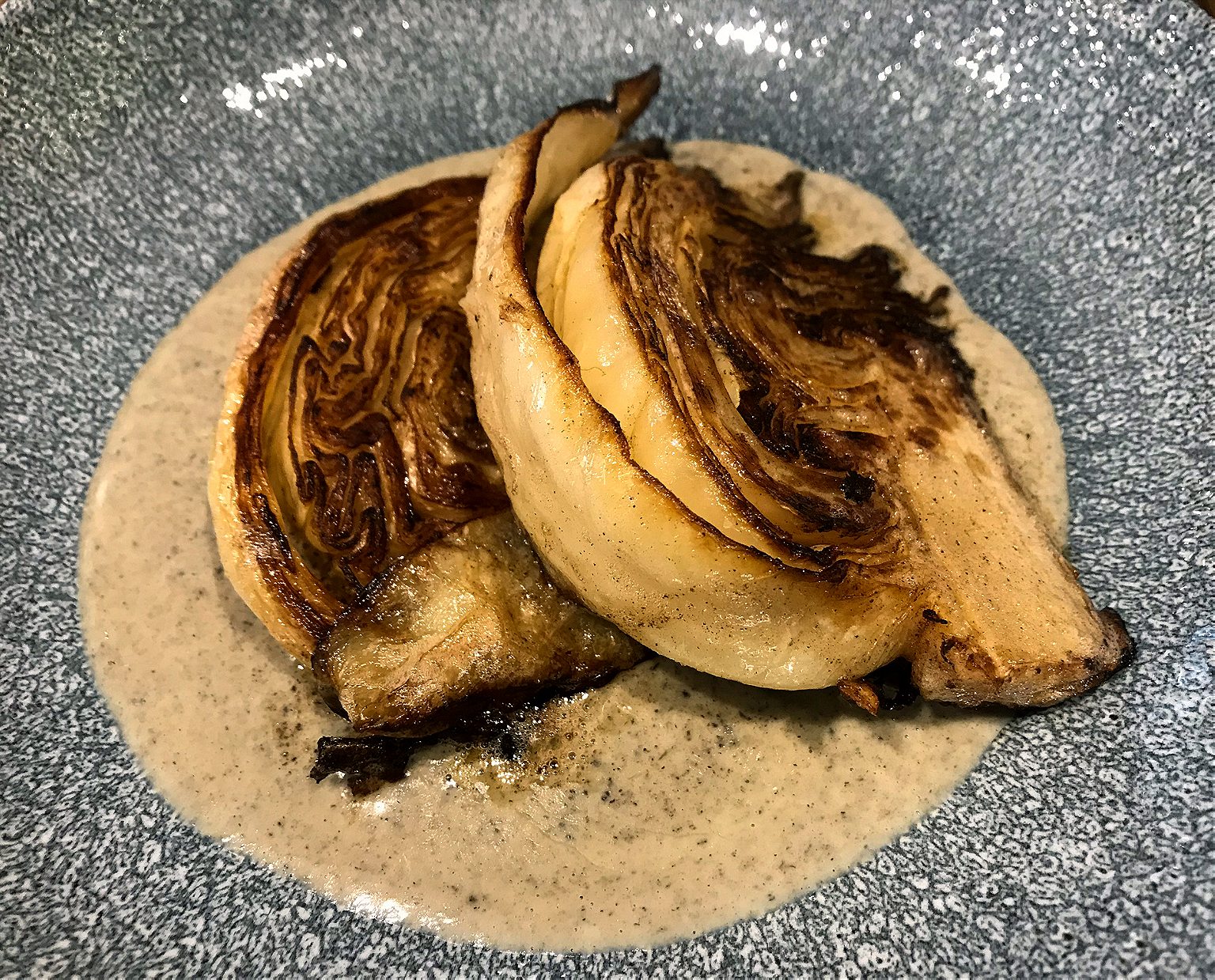 Look beyond vodka. Since grapes don't grow well this far north, there was always a strong culture of fermenting hops, barley, or fruits and berries in this region. Dutch beer-drinking culture gained a foothold here in the 18th century, and German and English merchants set up breweries, but none of these survived in their original form. Now, there are a few breweries in the city, such as Vasileostrovskaya Pivovarnya, or Knightberg, across from the Aurora battleship. The beer-inclined should also check out RedRum, which somehow combines Scandi minimalism with Stanley Kubrick's The Shining, and serves 24 different beers and smørrebrøds as snacks. Or try Bar Xroniki next door for Lithuanian lager, smoked cider (made with smoked apples), or Kizlyarka "grape vodka" from Dagestan.

Live 24 hours. Saint Petersburg has some impressive all-hours commerce, fitting for a city that sometimes stays light all night. Find your local 24-hour mini-mart, often called simply ПРОДУКТЫ ("products"). They're all over the city and are helpfully signposted with the number 24. They sell essentials such as shampoo, water, groceries, and vodka. Branches of the "Land" [Лэнд] supermarket chain have a bigger selection, including foreign products, and are also open 24/7. There's one in Vladimirsky Passage. There is also a 24-hour bookstore, Bukvoyed, which has a small section of foreign-language books.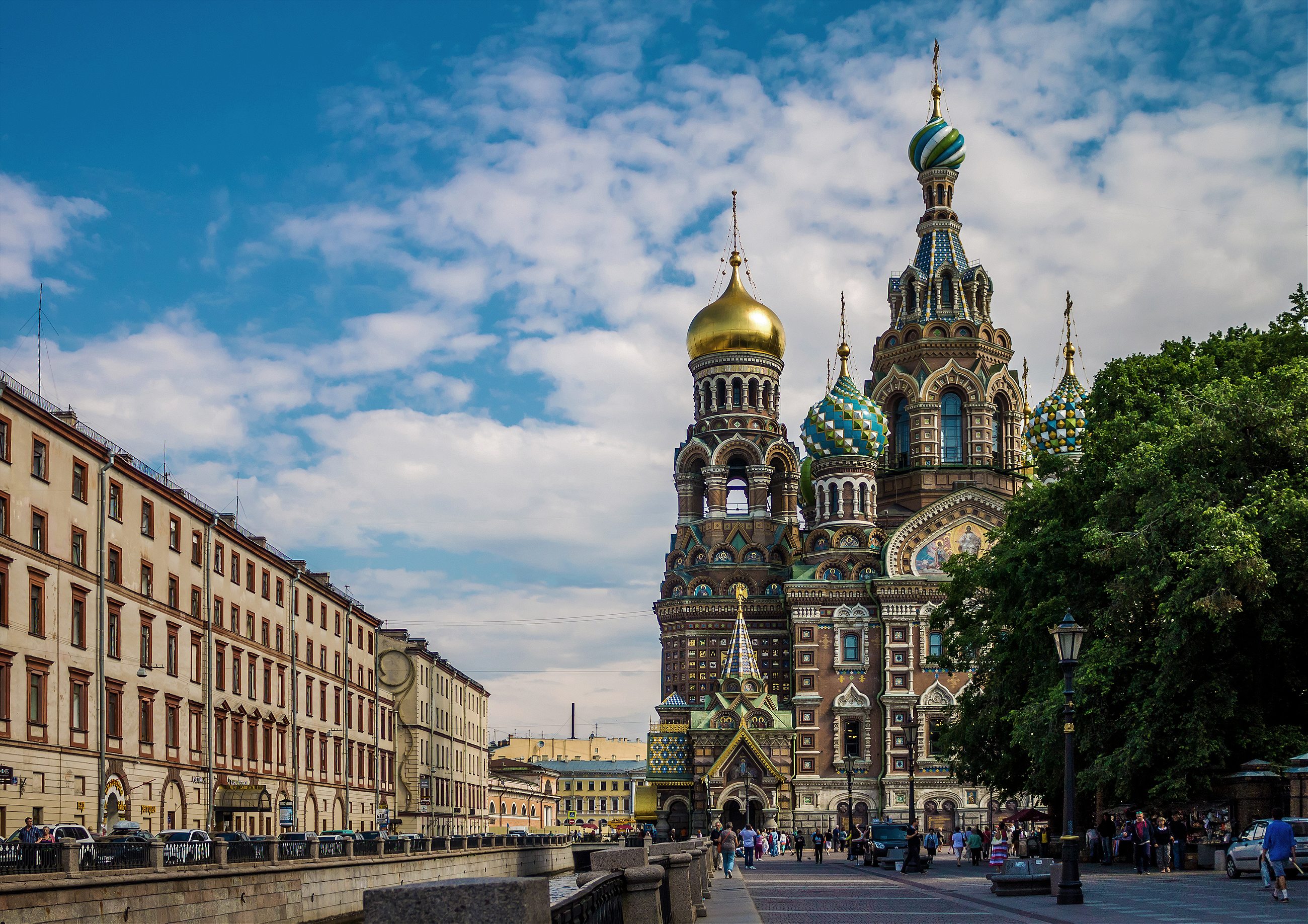 Learn the boozing hours. Federal law allows alcohol sales from stores only between 8 a.m. and 11 p.m., but there are regional variations, and Saint Petersburg's 'dry hours' are between 10 p.m. and 11 a.m. Bars, however, stay open to the wee hours with no serving limit, barring age. Note that for the World Cup 2018, the Russian government has imposed additional booze restrictions in an attempt to avoid the sometimes lethal combination of soccer and hard liquored-up fans. The rules vary among host cities, but Saint Petersburg is banning stores from selling alcohol in glass bottles near the Saint Petersburg stadium and the FIFA fan zone on match days and the day before. Plastic cups of sponsor beer (in this case, Sun InBev, which distributes Budweiser, Stella Artois, and Corona in Russia) will be available at the fan zones.

All aboard the public restrooms. No need to buy a token bottle of water at Starbucks to use the facilities; there are well-maintained public toilets all around the city that charge a small fee. Some old city buses have been repurposed as curbside public restrooms. Look for blue suses with "WC" or "TYAЛЕT" signs. Just double check that it is a toilet and not, in fact, a working bus. Note, there are free public toilets in the Gostiny Dvor shopping mall on Nevsky Prospekt and the Galeria shopping mall.

Don't get stranded. In the months from April to November, Saint Petersburg's 13 bridges are raised at night to allow ships to pass to the Baltic Sea. (Here is the timetable: it generally happens between 1 and 5 a.m.) There are night cruises for this, or the Dvortsovaya (Palace) embankment is a good spot, with a view of the Palace and Trinity bridges. Just make sure you're on the right side of where you need to be. If you're staying on one of the city's smaller islands, such as Petrogradska or Vasilyevsky, those raised bridges might be your only way in or out.

And finally, don't wait until it actually rains before buying an umbrella. Getting one out of necessity from a stall making brisk, marked-up trade of kitschy umbrellas at the first signs of a summer downpour was one of the most expensive purchases we made in Saint Petersburg. The people of Piter are kind, clever, and hospitable, and also know when they can get away with a big markup.