Life on the road with the Zoppé Family Circus.
In 1948, Alberto Zoppé agreed to come to America and perform with the Ringling Bros.—under one condition. In his absence, his circus in Italy needed a headliner, so he asked Ringling to send an elephant to replace him. The Americans agreed, the elephant was sent, and Alberto came to the U.S. to perform as a bareback horse rider. He eventually appeared in Cecil B. DeMille's ode to the pageantry and drama of life under the big top, The Greatest Show on Earth. In the circus' heyday, Alberto's stunts and pranks, including his signature backflip from one horse to another, won over audiences lining up for three rings brimming with spectacle.
Alberto remains perhaps the most famous of the Zoppés. Today, Giovanni Zoppé, one of Alberto's five children, is the seventh generation of Zoppé to run this show since it began in 1842. "The way you're going to see the show tonight is the same way our ancestors did the show for your ancestors—inside our home," Zoppé says to a crowd in Redwood City, California, before they enter the tent.
Dressed in baggy olive pants, a white shirt, a false nose and mustache, and an iconic red hat (thrown as a Frisbee, available for purchase at the small concession stand) Zoppé has thin, light brown hair that falls to his chin and narrow eyes. His hands are thick and calloused, and he has a tight, almost nasal voice that still projects loudly across the ring: perfect for a clown.
"This is about family and tradition and history and heartache and happiness and joys and concerns and having money and not having money and not having more money," he goes on. "It's about the same struggles that your families are going through."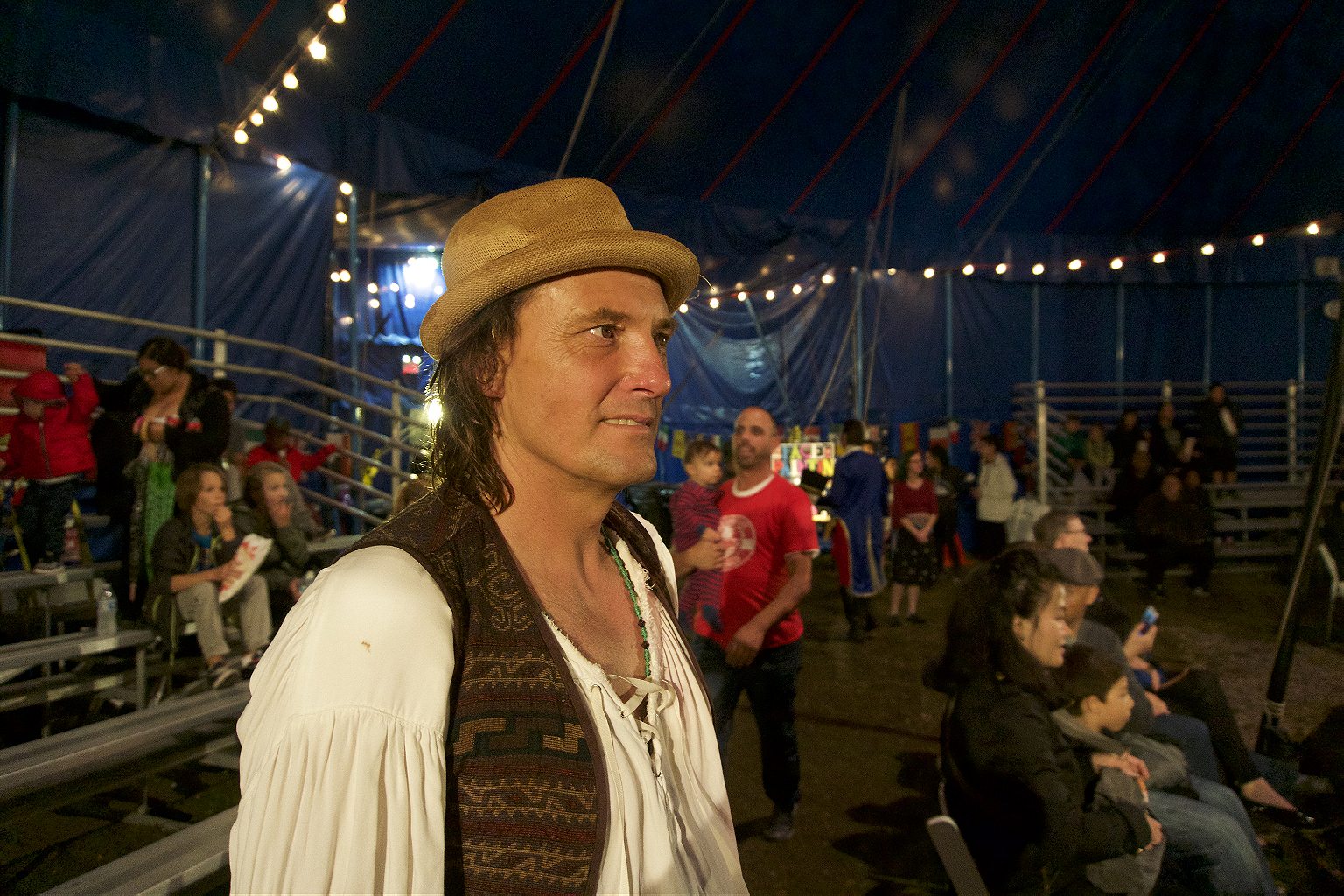 Zoppé's not-so-subtle allusion to financial realities belies a harsh truth of the industry: it's not an easy time to be a circus. But tonight, a cool evening in October, the circus is raucously alive. Inside, a family act performs on trampoline. A horse trainer rides bareback, standing on a massive horse and doing stunts including, if he's feeling it, a back flip. A young woman performs as a contortionist, using her feet to shoot a balloon with a bow and arrow while balanced upside down; later, she will perform on the trapeze with her mother, father, and sister. Throughout, Zoppé—in character as a clown named Nino—tries to insert himself into acts, while the ringmaster, Raoul Gomiero, chases him off.
It's all the things you think a circus will be—horses, acrobats, clowns, a big top, a sawdust ring—but it's also something more, a magical experience, a joy, a personal thrill. "Things are happening inside our tent that are impossible," says Zoppé. "It broadens the imagination, it broadens the joy of life."
If I have one or two weeks bad, I'm done, I'm bankrupt
As much as circuses have pervaded the national consciousness in the United States, from pop culture to horror films to the hipster renaissance and even conflict over creepy clowns, few attendees actually find their way into the iconic tents. The live experience has faded into tropes and clichés. New York-based Big Apple Circus declared bankruptcy last year after a crowdfunding drive failed to make up a $2 million budget shortfall. (It has since been purchased, and will re-open this fall.) Ringling Bros. ceased performances featuring elephants and then, in May of this year, shuttered the circus altogether. A small operation like Zoppé faces an uncertain future. "If I have one or two weeks bad, I'm done, I'm bankrupt," says Zoppé.
Something is lost as the live experience of visiting the circus fades into the past. The most remarkable stunts are available at a click on YouTube, but in the tent you can smell the sawdust, bask in the heat from a flaming hoop the bareback rider jumps through, and feel your stomach drop as the trapeze artist floats in the air above you, only to be caught by her partner.
"It's such a reality-based thing, as opposed to a virtual or screen-based thing — live performance, and working with your body," says Jack Marsh, artistic director of St. Louis-based Circus Flora. Years, lifetimes, even generations of work go into the performances, he says. "It's something tangible that people don't necessarily get day to day."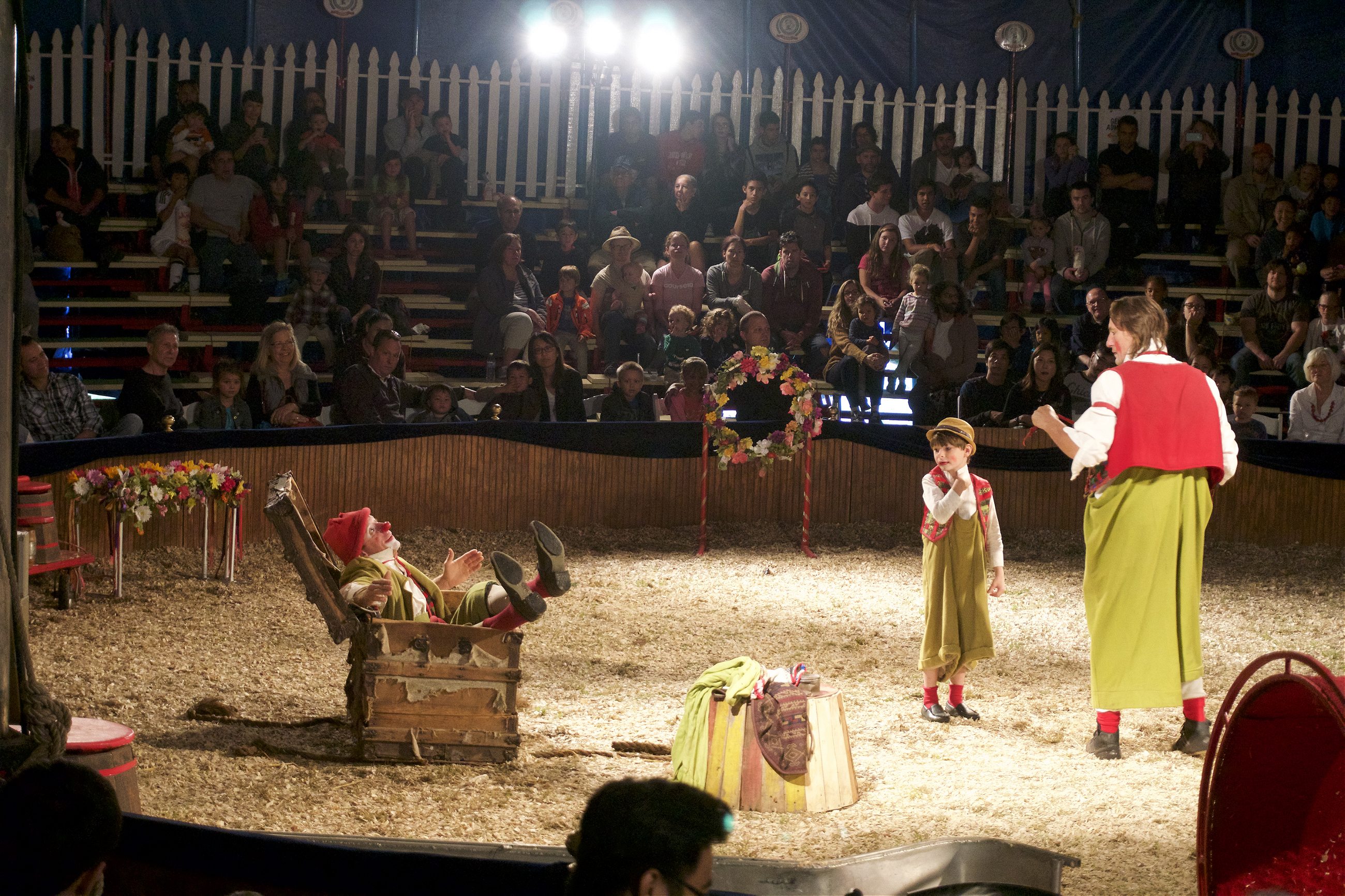 The crowd in Redwood City appreciates this. It's mostly families, but with a smattering of young couples and groups of hipsters, and it swells beyond 500 on a Friday night. They laugh, they boo Gomiero when he plays the villain, they stand for an ovation at the end.
As the show concludes, a now somber Zoppé begins to remove his costume—the ratty red vest, the nose and red hat and bow tie—and stash it in a trunk as sad trumpet music plays. It's part of the show, a happy clown who's sad to say goodbye. But it's also a transition back to real life, where Zoppé must manage all the challenges of a small business owner and twice-divorced father, with the added hassles of a life on the road. He can be a difficult person to work for, and often seems alone, even surrounded by the circus that bears his name. He is a long-distance father to Julian, 7, and Chiara, 14, as well as a sort of patriarch to all the members of the circus. He makes sure guests, performers, and crew are all taken care of first.
"You become part of the family. They make you feel like everyone is welcome. There's no such thing as expensive seats. They just make you feel that everyone is there to see the same show," says Gris Massana, a superfan and friend of Zoppé who visits the circus every year with her daughter, Nicole. "It's a time capsule," she says. "This tent has a soul."
The tent is blue and white and yellow. Its one ring is 40 feet across, surrounded by white folding chairs and, farther back, red and white wooden bleachers. The design came from the minds of Zoppé and his father, Alberto, who wanted a tent that would fit in compact sites, but feel big and open within. The sidewalls are six feet taller than a normal tent, and the cupola is a towering (for a tent this size) 63 feet.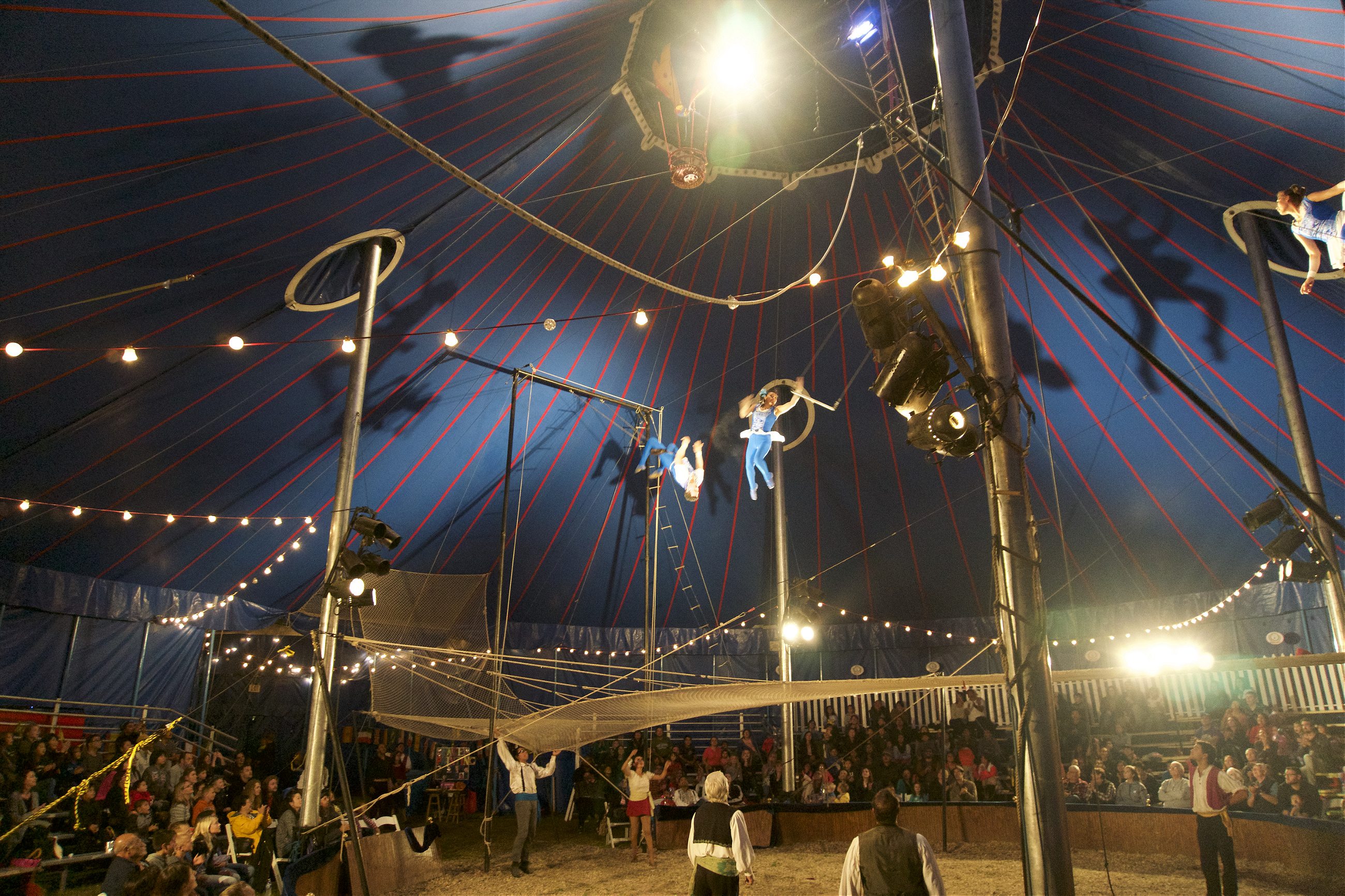 Tucked behind the tent, in a stand of young redwood trees, 10 to 14 trailers house the performers, crew, and various family members, a lovely, friendly, trusting, generous, misfit family. Here, they practice the acts, fix props and work on new ones, and host barbecues and parties. It's a place of camaraderie during a grueling schedule: they do 27 shows in just over two weeks in Redwood City, in a park full of soccer fields, grills and picnic tables, a skate park, and a playground.
On a clear, sunny, 70-degree day last October, Giovanni Julian Veneto Zoppé, known as Julian, is celebrating his seventh birthday. His father, the elder Giovanni, hands his son a stick to smash a piñata. Julian is visiting from Chicago, where he lives with his mother, Zoppé's ex-wife, most of the year. Chiara also lives with her mother, also in Chicago, though she and Zoppé never married.
During the week he spends with the circus, Julian performs in the ring with his father, mimicking Nino's routine, playing a tiny cornet, and crying big streams of fake tears onto the audience. He becomes increasingly comfortable interacting with the crowd, especially the children in the audience.
"Is it my dream for my son take over? Of course," says Zoppé. "If it's in his heart, his joy, his pleasure to do this, then that's what I want him to do."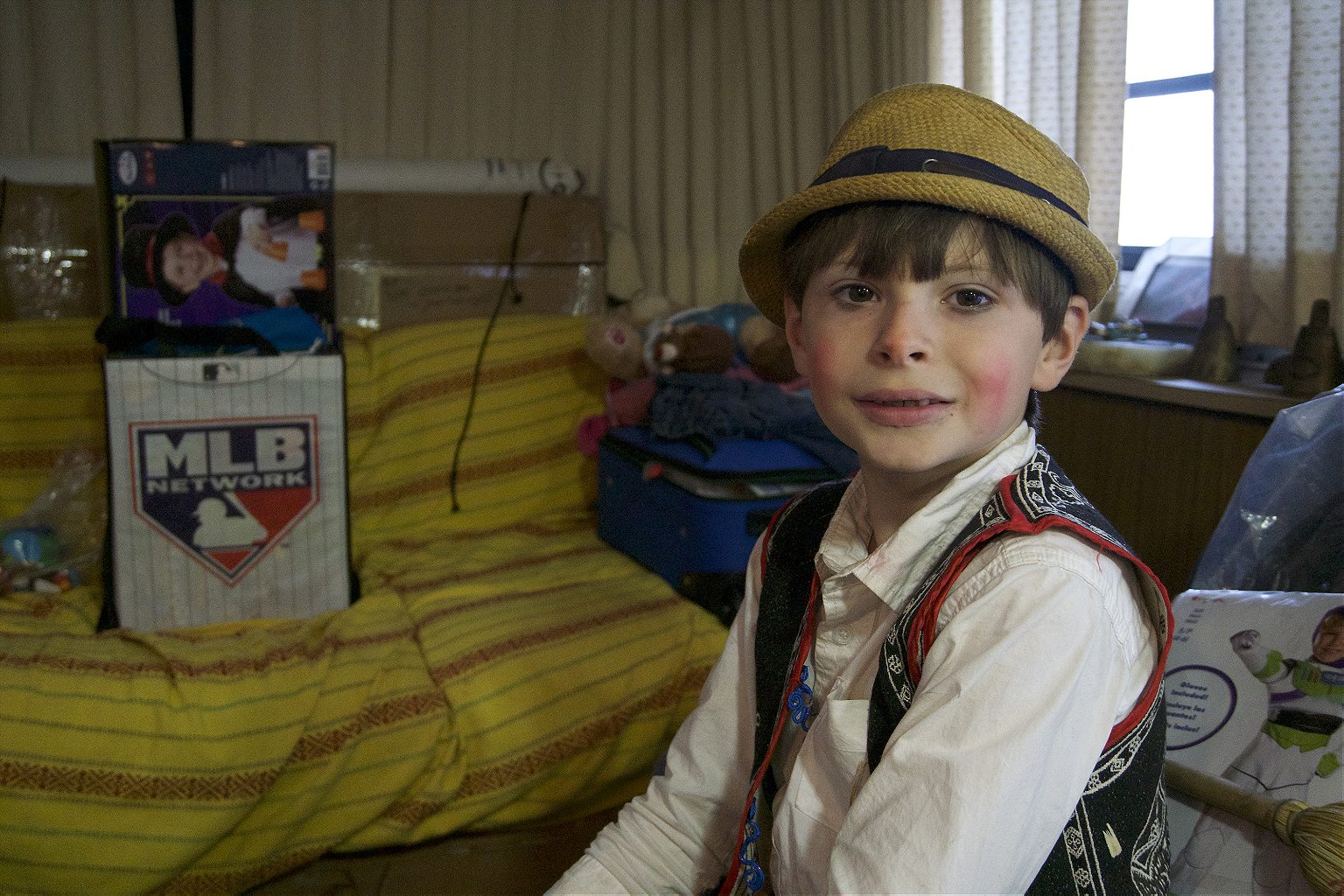 The Zoppé Family Circus was founded in 1842 by a pair of young lovers, Napoline and Ermenegilda. Though she was a performer, dancing on the backs of horses, his role as a clown displeased her dad, and they ran off to Venice together to start the circus.
Giovanni's romances were not as happy. Both Julian's and Chiara's mothers joined him on the road, but after a few years, both had had enough of the travel, the long hours, and the transience, and left for more settled lives.
"It's not really a lifestyle I would want to do on a regular basis," says Natalie Meyer, Chiara's mother. "It's not something I grew up with or knew, the way that it's every breath and every word out of his mouth and veins. It's not something that brings me that much joy."
She echoes Zoppé, about wanting her daughter to do what makes her happy, but that doesn't mean she agrees with him. She sees her daughter pressured into a place in the circus she didn't choose, not just because of Zoppé's desires, but by the fact of his way of life.
"That type of lifestyle, what he does and him as a performer, just goes into his normal life. I don't think there's a time where he's not performing, even if it's not doing an act," says Meyer. "She really doesn't have a choice when she's there. They're engrossed in it."
For Zoppé his children's identity is tied up with his or her relationship the circus. There's a concept among people who work in circuses of the gaujo. An old Romani word meaning "non-traveler," today it is used among many circus people, Roma or not, to describe, in an ambiguously demeaning way, anyone not of the circus, a bit like the muggles in Harry Potter. Even among performers, there's a distinction between those who were born into the circus, like the Zoppé clan, and those who broke in. (Running away to join the circus is still a thing people do.)
Justin Therrien, aka Justincredible, joined Zoppé this way. He had been performing events, parties, and even operas in Bellingham, Washington, before joining in 2015 as a crew member. "It's so much nicer to be with a show like this, it's a contract," says Therrien, comparing the Zoppé Family Circus to the constant hustle of his freelance performances in Bellingham. "This is more artistically satisfying anyway."
Like his employees, Zoppé works on contract. Sometimes he performs with other circuses, including Circus Flora and the Shrine Circus, during the Zoppé Family Circus' off-season. More shows are better; fewer shows means you're struggling. Both the acts and the locations are scheduled on contract. In 2016, they performed in 14 different cities; this year it's 13, though more may be scheduled, and some cities feature longer stops and more shows than others. While some contracts include guaranteed revenue, others offer just a portion of ticket sales, and the 46 (or so) contractors Zoppé supports don't cost less just because there's a smaller crowd.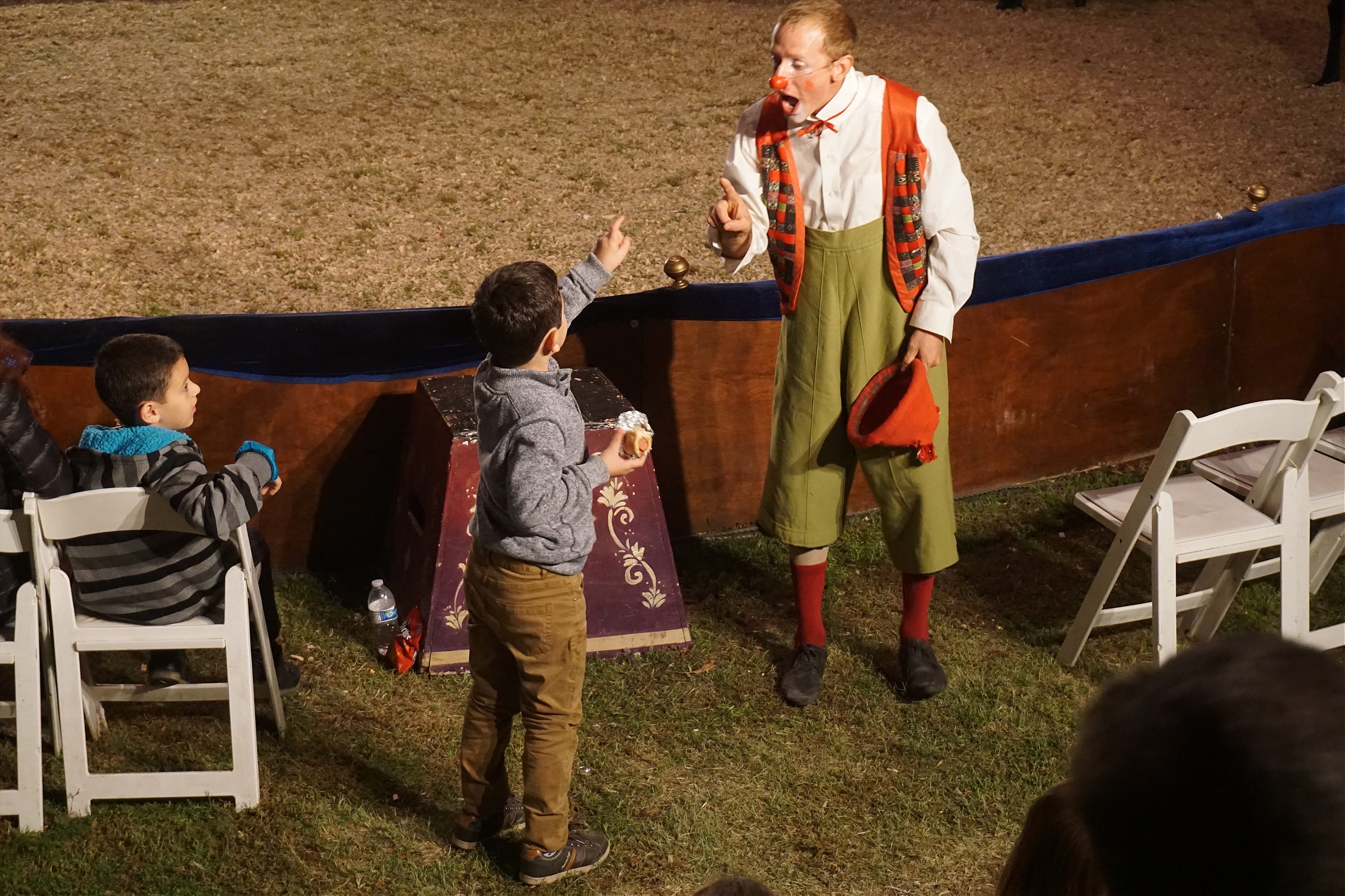 To overcome these financial difficulties, many shows and performers have inhabited a particular niche apart from the traditional traveling lifestyle. Cirque du Soleil runs consistent shows in Las Vegas, and offers longer contracts with benefits. Circus Flora doesn't travel, hosting shows for just four weeks each year. At the end of a season—or sometimes during it—the performers will scatter, off to do other shows and make a few bucks on the side, or to return home for a few weeks. They never know if they'll be together again. In 2016, Zoppé brought back just two of the acts from the previous year. Ask him about the acts, and he'll rattle off options, themes, and the benefits and drawbacks to each. Zoppé, who never graduated from grade school, let alone business school, has to maintain a fresh feeling for repeat visitors without losing familiarity, all while balancing the cost of each act, the personnel involved (and their goals and ambitions) and the effect of all of it on bookings and bookkeeping.
"There's no retirement, there's no 401Ks or any of that stuff," he says. "But the joy that we have, the joy we get to give other people somehow makes it all worth it."
Even as traditional circuses (both Zoppé's and others) have struggled, new business models have begun to redefine what it means to be a circus. Alternative fitness classes, like silks and aerials, have boomed over the last decade, as have other forms of circus education, according to Barry Kendall, executive director of The Circus Center in San Francisco. Housed in an old high school The Circus Center, offers live community shows, classes in trapeze, trampoline, contortion, and many other disciplines, as well as a six-month professional clowning program.
"Circus schools are actually really thriving," says Amy Cohen, executive director of the American Circus Educators Association. The ACE, a network of teachers and schools like the Circus Center, grew from 40 members to 400 from 2010 to 2015, about 200 of which are schools. "It's a lot more difficult for a traditional circus family to do what they've been doing for generations in the U.S. right now than it is for an entrepreneurial business owner opening up a circus school in a community," Cohen says. A kid who cares about the circus, who has a family history with it, could do worse than attending business school with a mind toward the future of the industry.
But without the family, it can only last so long
About two weeks after Julian's birthday, the circus is packing up. Everybody helps—performers, crew, family members, local event staff, and sometimes even volunteers from the community. Bleachers are deconstructed. Spikes pulled from the ground. The sloping roof of the tent dangles from four tall, silver poles. Zoppé backs a semi-trailer under the towering cupola, and the whole crew gathers to roll up the vinyl. About 15 guys work together to fold each of four sections, side to side, until they can be dumped into four blue, wooden boxes, which are housed on the back of the truck. Ratchets on each of the four poles slowly lower the cupola, dropping still more of the vinyl into the boxes, until the top of the tent rests on the flatbed, and it too is deconstructed. Finally, the four big poles come down, to lay along the rest of the tent on the flatbed. To get it all apart relies on a precisely-designed procedure, and the institutional memory of how it fits together. IKEA's got nothing on the Zoppé family circus. They are at it well past midnight, and when they are done, the trampled ground is the only indicator of the departed circus.
In a few weeks, the Zoppé Family Circus will perform in Fort Bragg, California, and then head to Tucson, for the final date of their 2016 tour. In 2017, they'll see many of the same cities, but through new eyes —again, only two acts have returned. Even Gomiero is gone, back to Italy, where he's performing solo at street festivals. For now, the circus is fine. Good even; they have three more weeks booked, compared to last year, says Zoppé. But without the family, it can only last so long.
They're the last two, him and his sister," he says. "If they don't choose it, it'll be done."