Today, we're going to a very special kind of kingdom: the Magic Kingdom. Before you roll your eyes, let's get this out of the way: I recognize that out of all the wonderful places to visit, Disney World would probably be ranked dead last by most of you, dear readers.
Believe me, I understand. I have a complicated relationship with Disney. Having formerly worked as a cast member—as the park's employees are known—I view the beloved company with a healthy dose of cynicism.
However, it is probable that, due to familial obligations, the frequent presence of industry conferences in central Florida, or the successful persistence of your children, you will find yourself in the midst of the house of mouse. The most kid-centric and popular park, the Magic Kingdom, is the most-visited theme park in the world. Over 56,000 guests storm the gates daily at the property's smallest park. Factoring in all four theme parks and resorts, you have 40 square miles—an area the size of San Francisco—to navigate.
The last thing you want should this situation arise is to be ill-prepared for what lies ahead. Screaming kids, annoying parents, and the worst offenders of all: overzealous, self-proclaimed Disney freaks await. This reign of terror can only be endured with the help of some strong hooch. Unfortunately, horribly saccharine and overpriced drinks dominate most of the menus across the property, which includes the Magic Kingdom, Hollywood Studios, the Animal Kingdom, and Epcot.
For this reason, I will do my best to share inspired drinks in all four parks beyond the standard sugar-water-with-a-shot. Think of me as your intoxicant informant.
Magic Kingdom
Let's begin our journey at the Magic Kingdom, which is usually what comes to mind when people say "Disney." For decades, it was also widely known as a horrifying alcohol desert. Until 2012, alcohol was outright banned from the Magic Kingdom. But leave your "water" bottle at home, because there is hope for finding libations here, although it is the most difficult in which to imbibe of all the parks. Sadly, if you are a fan of liquor, you are simply out of luck, but for the beer and wine enthusiasts, you'll have a few decent picks.
You should assume, from this point on, that every Disney restaurant is in high demand, and that it will be difficult to secure a reservation. Even by those standards, the Be Our Guest restaurant—which quietly added a beer and wine list to the menu after the 2010 to 2014 Fantasyland refurbishment—is incredibly popular. However, it's not impossible to get a table. If you are able to dine here in the evening (alcohol isn't served during the day), skip the ubiquitous Cliquot and go for a non-sparkling option like the Helfrich Pinot Gris, or stick with a more budget-friendly yet highly rated Saison Dupont beer.
If dining in a room dedicated to a Stockholm syndrome-suffering princess isn't for you, you'll be happy to know that as 2016 spiraled deeper into the depths of hell, Disney decided to bestow a gift: four more restaurants began serving booze.
Tony's Town Square on Main Street U.S.A., Cinderella's Royal Table in Fantasyland, Skipper Canteen in Adventureland, and Liberty Tree Tavern in Liberty Square are your marks. I can tell you right now that a seat at Cinderella's Royal Table is near impossible, even 180 days in advance, the furthest in advance that reservations are open to the public. Also, no beer is served here, with the menu favoring sweet, overpriced, sparkling options. Splurge on the $110 bottle of Moët & Chandon Brut Impérial Rosé to drown your sorrows after forking over $75 for a notoriously awful prix-fixe menu.
Disappointedly, Skipper Canteen, a campy companion to the Jungle Cruise, catering to world travelers, has only Stella and Blue Moon on its beer list intended for explorers, and sadly, doesn't get too adventurous with its wine list, either. Your best bet is the King Estate Pinot Noir from Oregon, or the Franciscan Chardonnay from Napa Valley.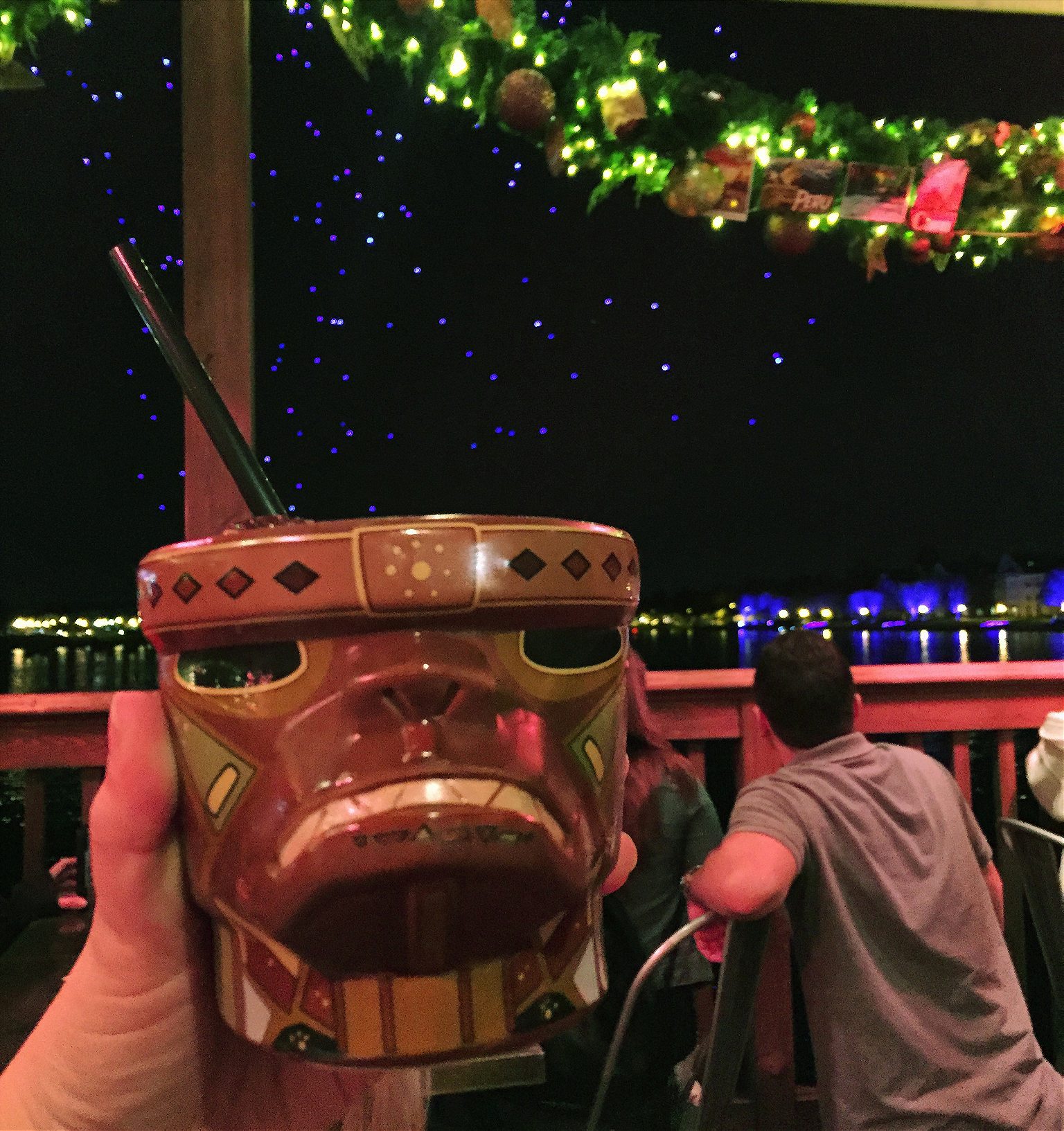 Tony's paltry beer offering is just the uninspired Birra Moretti Lager, but their wine list is packed with Italian favorites, like the refreshing Benvolio Pinot Grigio Grave or Luce delle Vite 'Lucente' Super Tuscan. Unsurprisingly, the colonial themed Liberty Tree Tavern offers Sam Adams and Angry Orchard hard cider along with a few forgettable California wines.
If you just can't bear the day without hard liquor, hop on the monorail for a short ride to the Polynesian Resort. Tucked away in the back of the hotel is Disney's best themed bar, Trader Sam's Grog Grotto. Californians have enjoyed this kitschy tiki bar for years at Disneyland, and Disney World has finally caught up. Dark and intimate, the drinks are strong and favor rum. You can even enjoy an adult version of the incredibly delicious Dole Whip called the Spikey Pineapple for about ten bucks. Need I say more?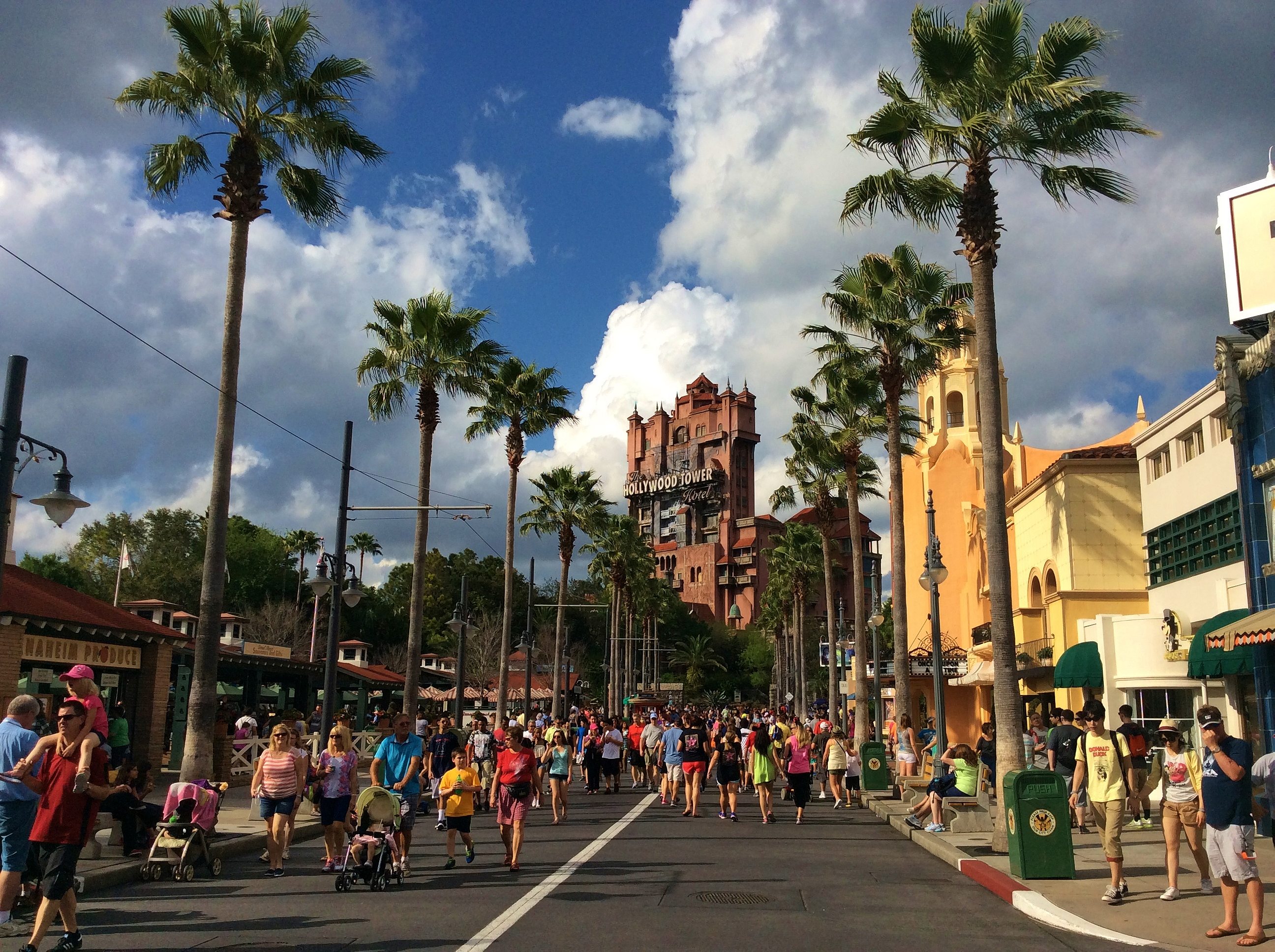 Hollywood Studios
As more and more closures are announced to make way for the upcoming Star Wars Land, Hollywood Studios is becoming increasingly depressing. Aside from the park's two most popular rides, Rockin' Rollercoaster and the Tower of Terror, the only way to remain entertained at this point is via food and drink.
Once through the gates, head straight to the Tune In Lounge, a waiting area for the 50's-themed Prime Time Café that also functions as a full-service bar. Order craft beers on tap like SweetWater 420 Extra Pale Ale, one of many red, white, or rosé wine selections, or have the bartender concoct your favorite cocktail of choice with premium liquor (price varies).
If you do decide to brave the lines for the rides (the wait sometimes being well over 90 minutes), make a pit stop at the Tower of Terror Coffee Cart and enjoy a Kahlua-spiked coffee while you're in the queue.
After the attractions, enjoy a welcome respite from the crowds at The Hollywood Brown Derby Lounge. Inspired by the famous L.A. haunt, there is a substantial cocktail and wine list inspired by the Old Hollywood stars. Order classics like a Sidecar, and a Manhattan, or, for a twist on a Moscow mule, try the Chloe Carnard made with Nolet's Silver Dry Gin. Specialty flights are also available and include a martini, margarita, and wine tasting.
When you've had your fill of not Hollywood Studios, near the entrance of the park is the Boardwalk Inn. There are several bars and restaurants packed within a small area. You'll have to wait until 7 p.m. (or preferably later) to visit the dueling piano bar, Jellyrolls (which happens to be this writer's favorite bar), but during the early evening, the newly opened AbracadaBar is an excellent pick. Try the well-balanced Pepper's Ghost, made with Ciroc Pineapple Vodka, lime juice, and habaneros, a glass or bottle of the Italian elixir Bisol Jeio Prosecco, or the Petrus Aged Pale Sour. I can't believe there's a sour beer on the menu at Disney. It will make you forget you're in Walt's territory.
One of the most surprising places to procure a drink on the boardwalk is at Ample Hills Creamery. I tasted the Hard Black Cherry float made with cherry cider and dark chocolate ice cream, and though it doesn't look pretty, it's downright delicious. If you'd prefer a lighter option, try the Lemon Sky Prosecco, and, for the nostalgic amongst us, an adult root-beer float.
Animal Kingdom
Let's give credit where credit is due: the staff at Animal Kingdom diligently sourced hard-to-find African beers. Unfortunately, most of them are mundane, flavorless lagers, but since you'll likely not find these brews at home, they serve their purpose.
Your choices at the Dawa Bar, located in the heart of Harambe Village near Kilimajaro Safari, are quite varied. There's not much on tap, but the bottled beer selections are quite cheap and include standouts like the Hakim Stout and Bedele Pilsner, both procured from Ethiopia. Two solid American craft beers round out the menu, SweetWater IPA and Victory Golden Monkey Tripel Ale, and while I'm uncertain why they are present at an ostensibly African bar, they are tasty nonetheless. If you're ambitious enough to visit in the morning, order an African Bloody Mary made with a spiced Ethiopian-style berbere sauce.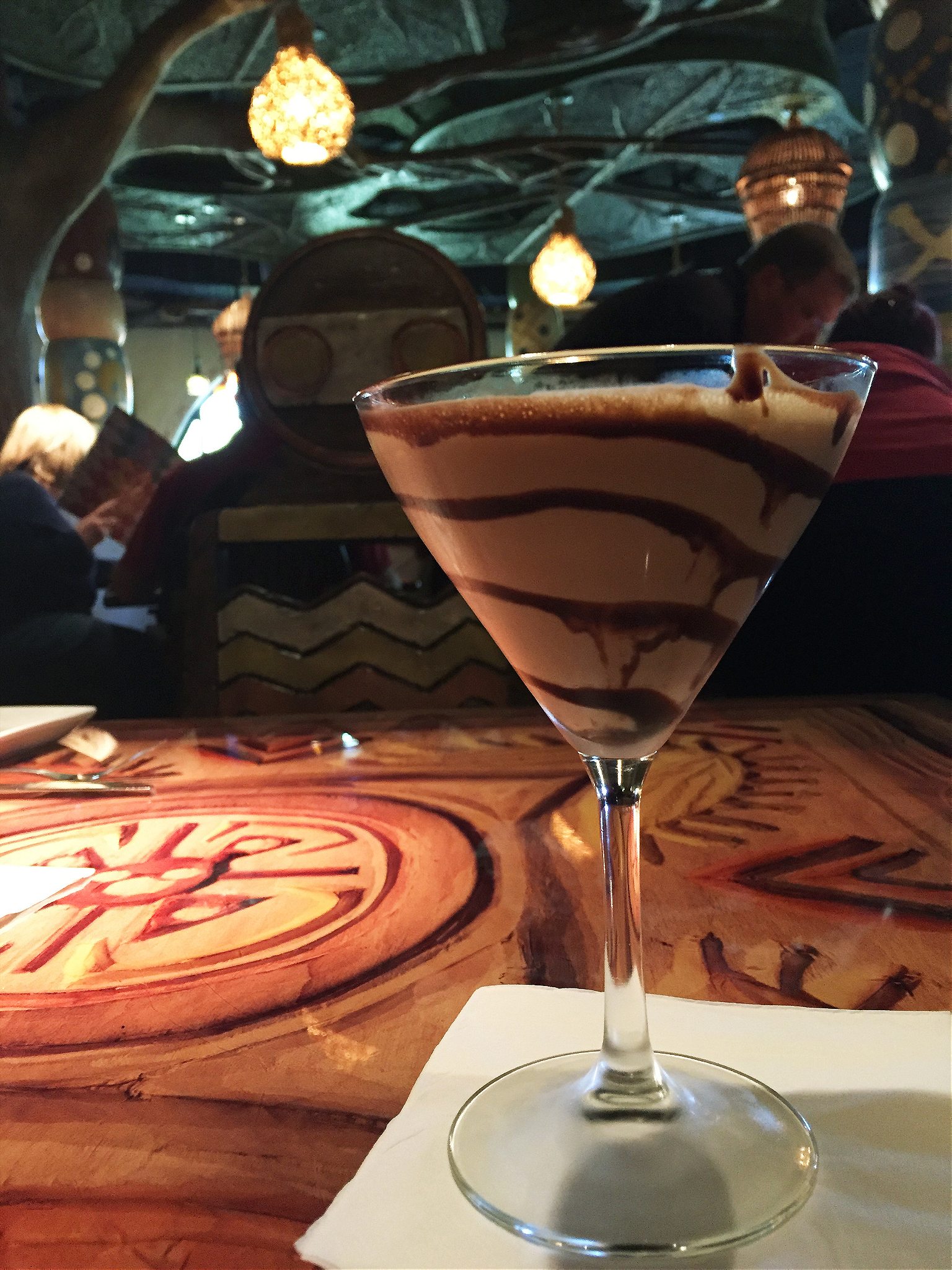 Over in the Asia section of the park is the Yak & Yeti Restaurant & Bar. Skip the cocktails and order a 22-ounce pour of Kirin Ichiban or a glass of Sho Chiku Bai sake served warm or chilled. If you bring along a friend, or plan on staying for a while, go with a bottle of Zipang Sparkling Sake for a unique treat at less than fifteen dollars.
You can't walk to the Animal Kingdom Lodge, but it's worth the drive/bus ride just for the atmosphere alone. If you happen to be visiting on a Wednesday, purchase a $30 ticket (they sell out fast) to the weekly, adults-only wine tasting at the Jiko: The Cooking Place, which won AAA's Four Diamond Award. You'll receive three generous pours of African wines, along with cheese, crackers, and other snacks, explained by Jiko's sommelier in a very intimate setting. This is a true bargain, given a typical glass of wine averages between $17 and $21. Due to the small size of the group, it's informal, and a great opportunity to ask any wine-related questions you have may have.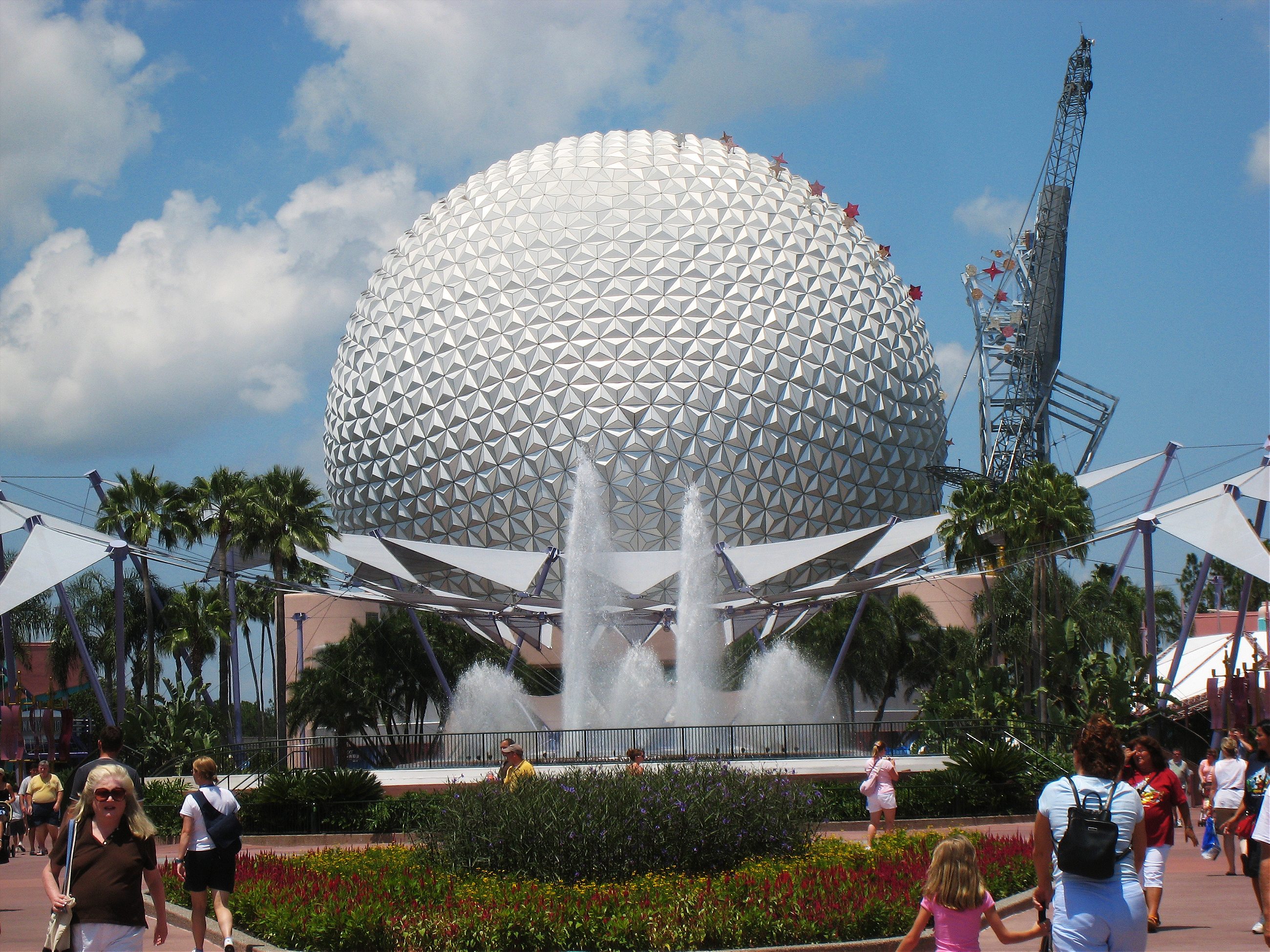 Epcot
If the Magic Kingdom is a booze desert, Epcot is the ocean. You may have grand visions of drinking around the world at Disney's tipsiest park, and it can be done (and it has been, by yours truly), but your head and wallet will be hurting by the next morning. If that does not deter you, at least do not attempt this during the Epcot Food & Wine Festival, as the number of countries represented swells to an almost impossible number, and make sure to have a proper, sit-down meal halfway through the trek.
Instead of death marching yourself around the globe, pace yourself and purchase a wine walk ticket for $20 where you'll stop at the Germany, Italy, and France pavilions to receive two tastings at each location. This is a great deal given the heavy pours.
Breeze past the winding line that now monopolizes the Norway pavilion (you can thank Frozen for that) and make a beeline for La Cava del Tequila in Mexico, which boasts more than 200 tequilas, from blanco to añejo to infused, which can be purchased as flights. If straight-up liquor isn't your thing, order a delightfully fresh classic margarita (on the rocks, of course) or try one prepared with fresh beet and lime juice or smashed tamarind.
A lesser known bar of sorts is located in the back of Japan's gift shop. More of a tasting table than a sake bar, there are 10 different varieties to choose from. Stick with the recommended list and pretend you're in a quiet Japanese garden.
So, now you know how to achieve a level of inebriation fit for the Most Magical Place on Earth. Cheers!
All prices were reported at the time of writing and are subject to change.