What To Order After Your Brioche and Caffè Marocchino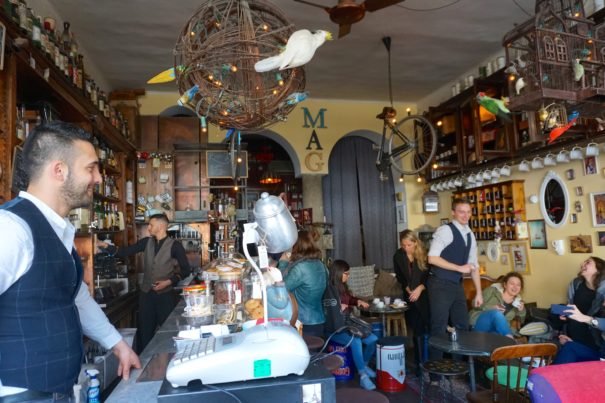 What To Order After Your Brioche and Caffè Marocchino
Peach juice in Milan
It's a spring morning in Milan, and I'm sitting on a bar stool playing with the straw in my peach juice. I've had my caffè marocchino in its elegant little glass. I've had my brioche, too, still warm and filled with raspberry jam. And now I'm having a peach juice so I can stay a little longer. It's one of those thick juices, halfway between a juice and a purée, satisfying, as I navigate the straw in circles around the bottom of the glass.
The windows frame the world outside. The dirty white canopies of the market stalls line the canals. Market traders are ready for a brand new day, only this time they're selling the relics of the past. There are 1960s telephones, wooden tortoises, fur coats of dubious ethical provenance, all the usual vintage clothing and bijoux, and stalls specializing in vintage evening bags. Milan is chic and it knows it, only this version is ever so slightly shabbier and more well-loved, like the velvet armchairs grouped around low tables in this a café, which evokes a golden age of poets and intellectuals despite the fact it's only been around for five years. The bars and cafés are a relatively new phenomenon along the Naviglio.
Naviglio literally means navigable canal. Nowadays, you can ride a tourist boat on it, but towards the end of the 13th century, the Naviglio Grande was a direct link with the Alp and Prealp settlements in Lombardy, Piedmont, and Switzerland. This was the canal that brought the marble from the caves of Candoglia northwest of Milan to build the famous Duomo. The whole waterways system was extended by Milan's most powerful families, the Visconti and the Sforza, during the Italian Middle Ages and Renaissance.
Wander along the Naviglio Grande nowadays and you'll find a series of art galleries, bars, restaurants and trattorias, the famous Libraccio second-hand bookshop, a communal washing trough, and lots more tucked into little side alleys that all give the impression of a country town rather than a city.
Yet that can come later. I'll just sit a while longer in the café with the old birdcages complete with fake parrots and the bicycle wheels that hang from the ceiling and function as lights. It's a temple of bric-a-brac with its old wooden bar that came straight from a chemist's, and I love it.
A group of tourists chat in Dutch. An older guy is reading his way through the Corriere della Sera newspaper. And I am here, with my glass of peach juice. Lucio Battisti is singing La Canzone del Sole, song of the sun, in the background.
The clouds are clearing; the light has changed. Of course it has. We're in Italy, where romance is not dead.