There's No Better Food for Sad Times Than a Carb Made Out of Another Carb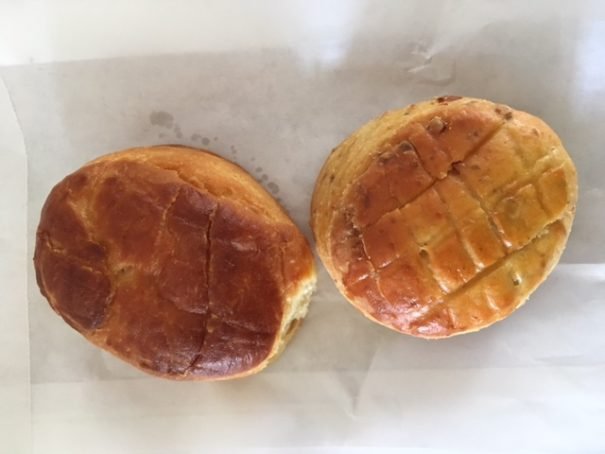 There's No Better Food for Sad Times Than a Carb Made Out of Another Carb
Pogacsa in Budapest
They come for the cakes, the tiers of poppy seed-vanilla cream crowned with lustrous seals of redcurrant, the booze-laced sponge hidden inside frozen white parfait domes that appear delicately sculpted from plaster. In summer, they come for the cones stuffed with orange-chocolate truffle ice cream.
These are the folks who swarm Daubner Cukrászda, one of Budapest's most famous confectioneries. I love splurging on these specialties, too, but I revel in mornings here, long before the afternoon sugar cravings creep in, when I only have eyes for the humble potato pogacsa.
I've always preferred the carb-fueled, European-style breakfast to the hefty bacon-and-egg combos beloved by Americans. I'm thrilled to douse a diner omelet with hot sauce at any given time, but a croissant that leaves a path of flakes on my lap washed down by an Americano is typically what I crave.
Two years ago, when I had just moved to Budapest, I was at a cafe called Espresso Embassy, where among the banana bread and brownies on display I was drawn to (but didn't order) a misshapen scone that, upon closer inspection, seemed to resemble the buttermilk biscuits I fell for while attending university in South Carolina. Like Brazil's petite pão de queijo, its top was emblazoned with a patchwork of blistered cheese. They were pogacsa, I learned, and a few acquaintances told me they were delicious and I must try them.
Shortly after transplanting to Europe, I was sad without reason, a frequent occurrence when you're a newly minted expat who gives up a glamorous life of New York nights dominated by Scotch tastings and five-course dinners to impulsively live in a country where you have zero friends and don't speak a lick of the perplexing language. During those early days of transitioning to Budapest, my social calendar was centered not on conversation but the new-to-me restaurants, bars, bakeries, and cafes I sought out to ameliorate my loneliness. On such a day, post crying jag, I decided to visit the out-of-the-way Daubner, determined to fill an inexplicable void with custard and shimmering strawberries.
This unassuming patisserie in the pretty Buda neighborhood of Óbuda has been firing its ovens since 1901. It doesn't ooze the grandeur of other Budapest sweets palaces, but its spirit is warm, a well-worn hangout spruced up with greenery and natural light where regulars find fleeting bliss by sipping espresso and thrusting forks into almond-shellacked cake slices at one of the tall tables.
That day, I passed by rows of these slices—and the stash of marzipan wedding cakes seemingly plucked from a fairy tale—as I walked along the long row of glass cases. Then I noticed Daubner's rendition of pogacsa. In sizes small and large, they were all there, studded with pumpkin seeds or covered in a layer of Gouda. Yet it was the plainest of the bunch, the plain potato version, that attracted me. Whether in creamy mashed form or cubed and lacquered in parsley, potatoes always bring me comfort.
So I ordered it, just one, much to the clerk's surprise, along with my usual cup of milk-free coffee. I headed to one of the tall tables where the loyalists peered at me curiously between bites of their own pogacsa. I devoured it quickly. It was greasy, soft, yeasty, something that would taste especially good slathered in butter. The pogacsa's unpretentious simplicity satisfies me in a way that nothing else I've so far encountered in Budapest has.