Fleeing ethnic cleansing in Myanmar, the Rohingya find no warm welcome in India.


JAMMU, India—
It is a Friday morning, quiet before the afternoon prayer. A few boys linger at one of the tea shops at Jammu's Rohingya bazaar, engrossed in the infallible seduction tricks of a Bollywood hero. Next door, sweet and bitter gourds are heaped alongside rows of fresh cucumbers and radishes, mounds of onions and dried garlic. A mannequin wearing a burqa decorated with flowers looks on. If there is any sign of animation at all, it is at the fish shop across the street—ice boxes are opened one after another, the freshest-looking catches held up for inspection, and still some more dug out of the melting cubes to entice even the most hesitant customer. Some, easily won over by the fishmonger's routine, also stop for dried fish cured with salt—silver slivers that will come to life in watery curries for the weekly holiday.
There is a semblance of stability here despite the fragility of all the tin-and-wood structures of the market and the patchwork settlements that surround it. There are fried dough balls and tea and plywood-lined tables and benches on which to share them. Yet, all it takes are strangers, whose intentions are not immediately evident, to trigger a withdrawal. We are seen as unknown threats at the Rohingya bazaar, unexpected guests at a market run for and by members of the refugee community. As we approach, one of the shopkeepers interrupts his conversation to demand in Urdu, "Are you here to prove that we are terrorists?"
Despite the lack of evidence, local and national media in India are presenting the Rohingya as potential terror recruits, while the Supreme Court decides whether the central government can deport the asylum-seekers back to Myanmar in the interest of "national security." On Oct. 13, the day of the last hearing, we go to the Rohingya bazaar. There, all we can offer instead of assurances of a positive outcome is a familiar greeting, "As-salam-alaikum," which I later recall means "peace be upon you." Now, far from it.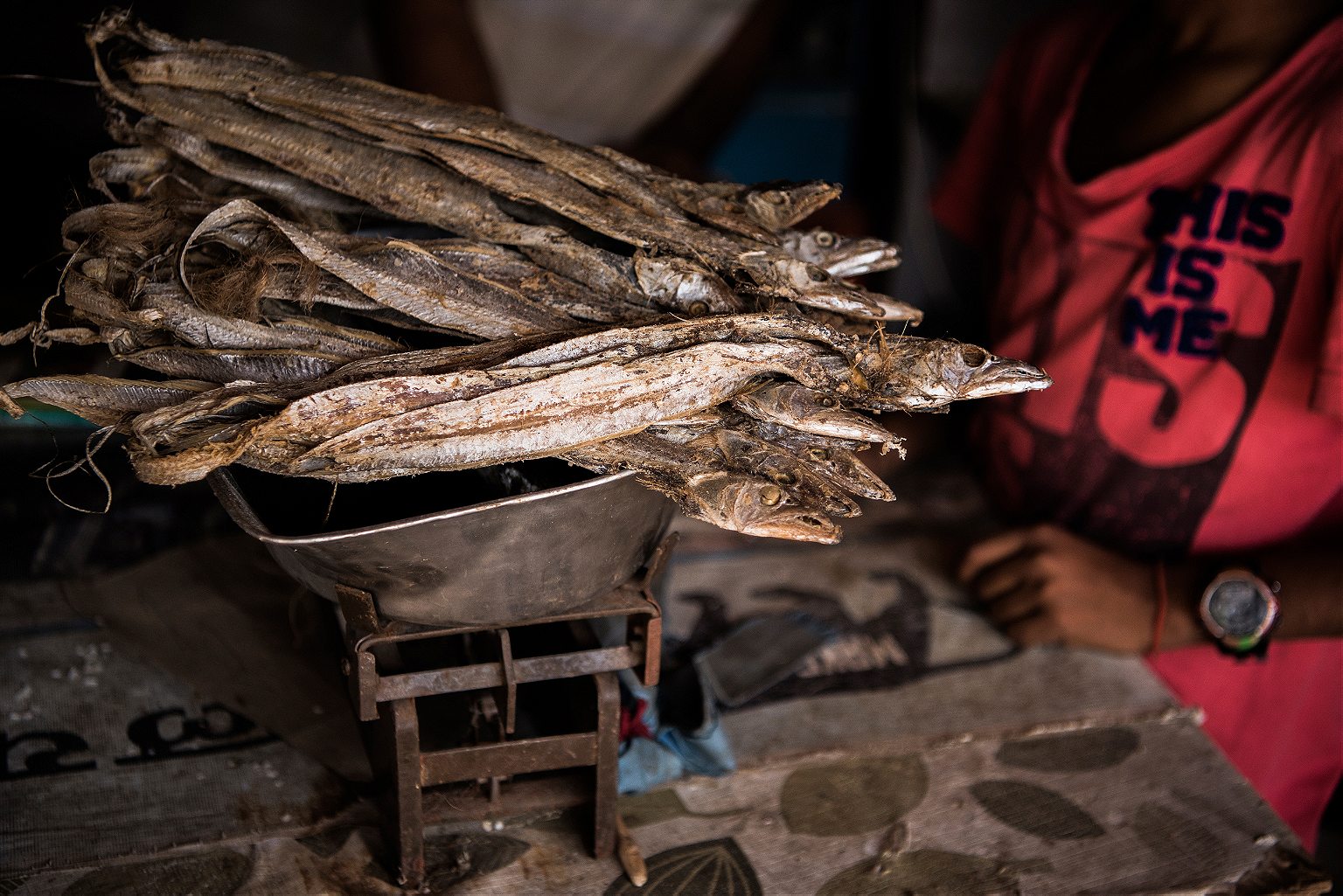 In Myanmar, the majority Muslim group has faced relentless persecution, particularly since military crackdowns began in 1978. Subsequently, the Rohingya were denied citizenship under the 1982 nationality law. A recent exodus, the largest thus far that garnered rare international attention for the issue, began after Rohingya militants attacked a police post on Aug. 25 of this year, which led to a widespread security operation causing more than 600,000 members of the community to seek refuge in Bangladesh. The United Nations High Commissioner for Human Rights describes the Myanmar army's campaign against the Rohingya as ethnic cleansing.
A small number of Rohingya families have lived in India for two decades, but most of the current population were part of the wave of migration that followed riots in 2012. The journey involved crossing the riparian border with Bangladesh, taking Jeeps and buses to the frontier with India, and finally trains inside the country. UNHCR's official count of the Rohingya in India is at 16,000, a fraction of the total refugee population. Roughly 6,000 of this group are registered in Jammu, a city in the north of India close to the border with Pakistan and more than 2,000 kilometers (1,242 miles) away from the Rohingya's contested home, the Rakhine state of Myanmar. Jammu, a particularly sensitive region owing to India's military occupation of the Kashmir Valley to its north, is a Hindu-majority city in a Muslim-majority state in an increasingly ethnic nationalist Hindu-majority country. However, in various encounters, the Rohingya we meet describe Jammu quite differently—as a city with plenty of work and higher rates of pay than other places in India.
Nevertheless, religious tensions have made Jammu an inhospitable place of refuge. In February this year, a regional political party put up billboards stating "ROHINGYAS, BANGLADESHIS QUIT JAMMU," ostensibly targeting refugees and paperless migrants practicing Islam. A few months later, in April, the city's chamber of commerce threatened to "identify and kill" the Rohingya if they were not deported. Since India is not a signatory to the 1951 Refugee Convention, which guarantees the rights of the displaced, the possibility of expulsion awaits legal judgment. Human rights activists say that the principle of non-refoulement can still act as a safeguard against the deportation of refugees to places where they face persecution. While a petition has been filed on behalf of two Rohingya individuals in the Supreme Court arguing for the granting of asylum on this custom of international law, most refugees we meet in Jammu seem alarmed by the impending threat of violent deportation announced in sensationalist reports circulating on WhatsApp and other social media networks, their primary sources of news and information.
the Rohingya have brought life here
"They say they will chase us away. We are feeding ourselves through our own labor. What have we done?" Zaheda Begum asks me a question for which I have no answer, while moving in and out of the light cast by the bulb illuminating the interior of her wood-and-tin house, her gray eyes dark with anger. It is Friday evening, and Begum has just finished praying. The cycle of a daily routine offers comfort in times of fear and uncertainty. Dinner is being prepared—chilies are being ground to a pulp with a mortar and pestle, and dried fish is being boiled to leech away the salt. "We add so much spice to our food in Myanmar that you won't even be able to take a morsel," her husband, Syed Hussain, finishes his sentence with laughter.
Now in her early 40s, Begum first arrived in India 20 years ago with her husband and two young children. For nearly a decade, she settled in Jaipur, 800 kilometers (nearly 500 miles) south of Jammu. She remembers hers being just one of 14 Rohingya families in the country, and she measures the time spent here by the price of a kilo of rice, which cost 3 rupees then and 25 now. For her, abandoning their fields and cattle in Myanmar to come to India provided the freedom to leave home without the fear of being kidnapped, raped, and killed. Here, they had the right to educate their five children as much as they wanted. Eventually, they moved to Jammu, where better wages could support this dream. Over the years, Hussain has worked as a daily wage laborer, a rickshaw driver, and a supervisor of railway cleaners, and he now owns a grocery shop.
Begum's house is part of a cluster of 80 Rohingya families on a plot located in Narwal, a largely Muslim neighborhood in the southeast of the city. Contrasting patterns of settlement are evident here: There are Gujjar Muslim cattle-herders living in modest houses on small pastures with their buffaloes and goats, there are freshly painted bungalows with recent middle-class arrivals, and there are small and large plots surrounded by boundary walls rented out to Rohingya families. If there is any spare land, it is green, used as pasture or to plant chilies, radish, bitter gourd, or banana and papaya trees. Where there is no space at all, the roofs support gourd vines, which also help to temper the heat and the cold. The Rohingya in Jammu may have left behind their fields, but they are still farmers.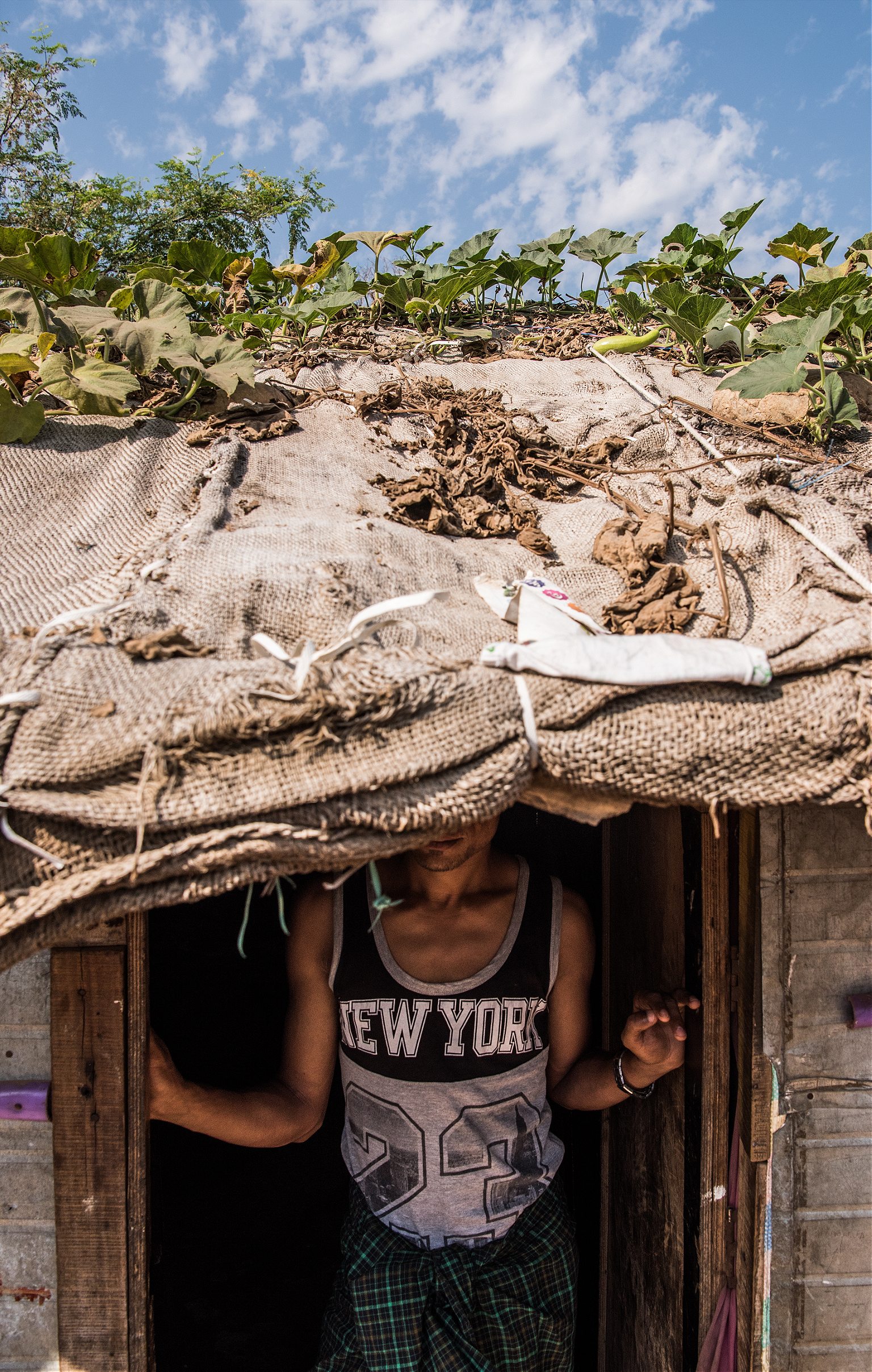 While the impending hearing preoccupies many individuals at the time of its announcement, a Friday afternoon, there is otherwise no time to take off the daily cycle of work and rest. It is this rhythm that contributes to a sense of normalcy and hope in the settlements. Contractors continue to visit various plots to recruit cleaners for railway stations, shops, and hotels and to find young and healthy men to lay mobile internet cables across the entire state. As for the women, only the most economically vulnerable look for work: Some are hired to clean houses in the area and, in autumn, to shell walnuts. Children alternate between going to the government school and religious madrassas in Narwal and gathering scrap for dealers.
To us, refugees talk about the daily indignities of survival, the shortage of water and electricity, the cramped living conditions, and the lack of proper toilets. The hardships of the present are more viscerally felt than past repression or the precariousness of the future. There is so much to lose here. A few Rohingya have managed to invest in shops within the settlements or at the bazaar, selling tea, snacks, vegetables, and meat. Fresh fish, a staple in Myanmar rarely eaten by Jammu locals, is the easiest to sell. Kefayatullah, a fishmonger at the Rohingya bazaar with the widest smile of them all, takes a night train to Delhi four times a month to replenish the stock. Business is good, but he laments not being able to reunite with his mother and father. Two months ago, Kefayatullah heard that his parents had fled to Bangladesh after the recent attacks in Rakhine. He adds, "The government is asking us to leave, so how can I bring them here?" The Indian government has sealed the border to prevent any new arrivals.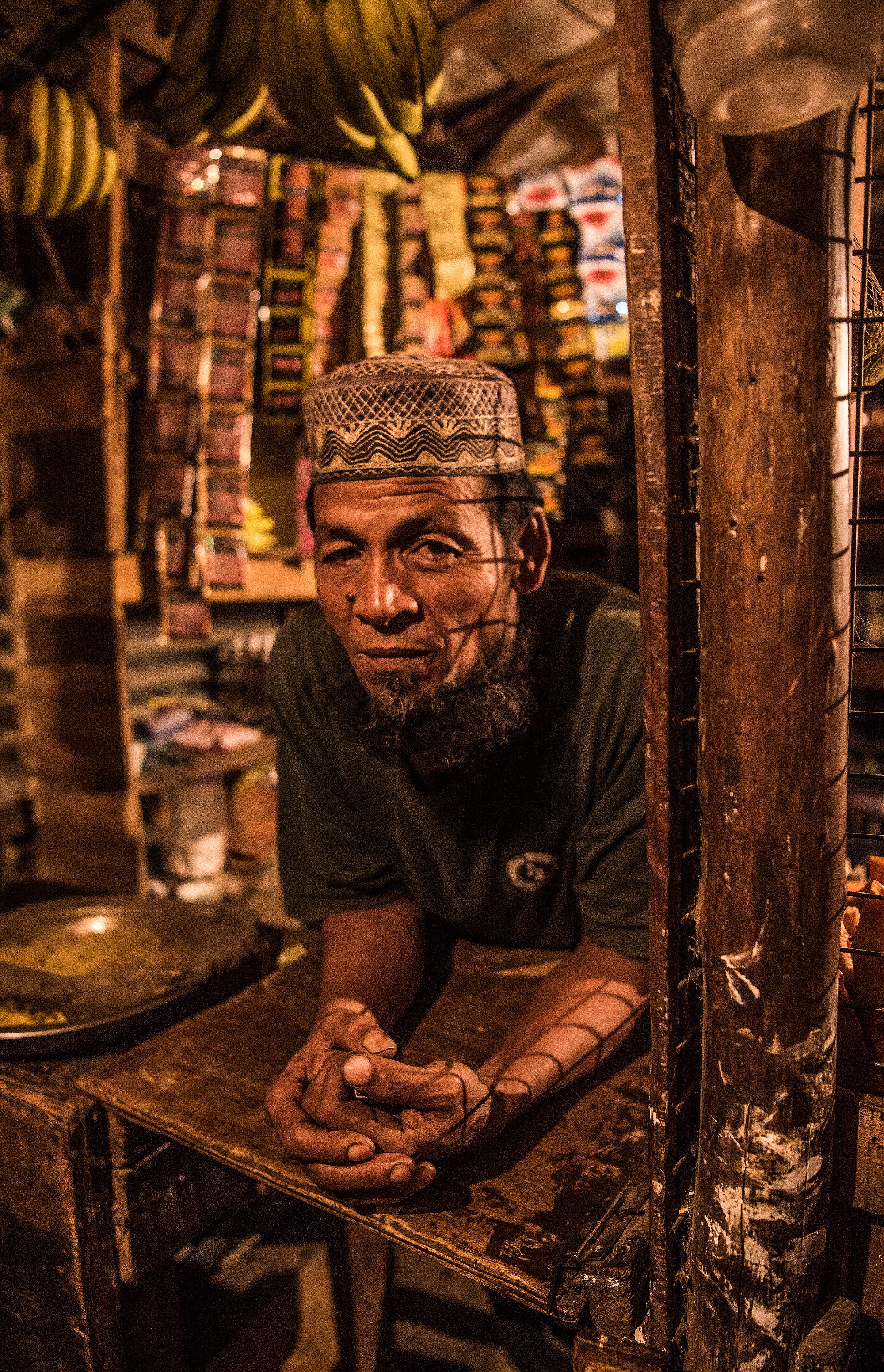 Food, then, is the only surviving trace of home—fried fish, samosas stuffed with chickpeas and noodles, sweet tea with condensed milk, salted sunflower seeds, fresh green beetle leaves, and Red Ruby cigarettes. For Mohammed Alam, who came to Jammu eight years ago and is now in his 50s, the influx of refugees in Jammu over the past five years has allowed him to give up construction work and successfully run a shop. "I used to have an areca nut field in Myanmar," he tells us. "The government flattened it into a ground. So I had to leave." Alam's tea shop and others at the Rohingya bazaar in Narwal are the only community spaces to exchange information, although they are largely occupied by men.
Narwal's narrow and circuitous lanes have thus far shielded the refugees from public view. Some are leaving other settlements in Jammu to move here because of its demographic security and relative hospitality. Among the new residents is 18-year-old Sabequnnahar, who was held in police custody for two days with her 20-day-old daughter on the suspicion of being involved in cow slaughter, a criminal offence in the state. The incident led to several arrests and brought a throng of protesters to a highway near the Narwal settlements. Cases like Sabequnnahar's are rare, but they demonstrate the delicate nature of the relationship between a guest and a host and the arrival of others who can disrupt this relationship.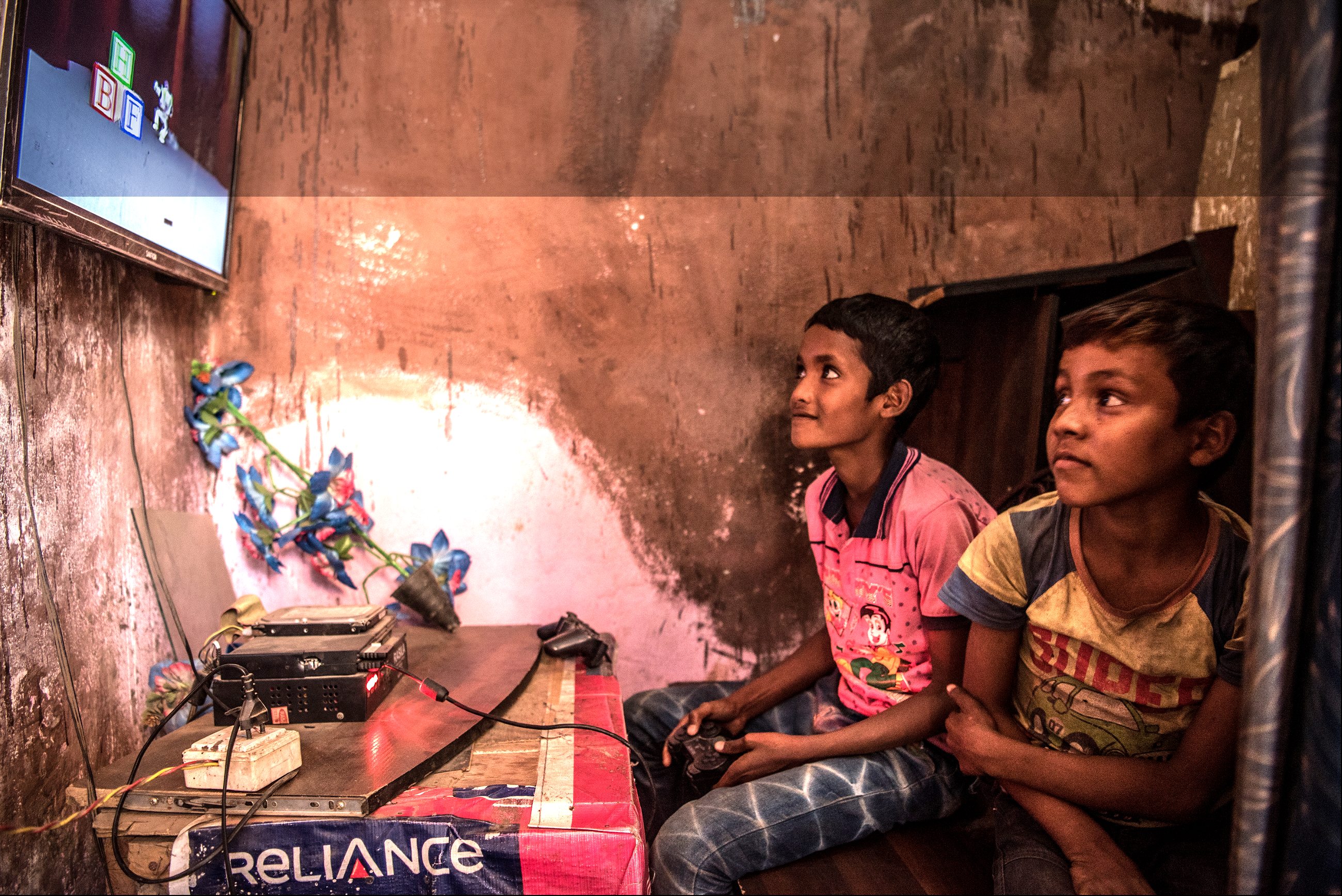 Yet, most of the Rohingya's neighbors we meet in Narwal feel sympathetic toward the group and seem to have also realized that co-existence presents economic opportunities. Rohit Sharma sells mobile recharge vouchers from his shop near a Rohingya settlement and has now set up a video game station for the community's kids. Certainly, those who have profited the most are owners of the land where the Rohingya have built their settlements. But the Rohingya are still considered different. Tahera Chowdhury, a 29-year-old housewife who lives across from the Rohingya bazaar, moved to Narwal in 2012 after marriage and has seen the neighborhood change drastically. "There was no paved road, and it was a dark jungle, the Rohingya have brought life here," she says. But she would never buy food at the market, she admits, and hates the smell of fish, having never tasted it in her life. Sharma, too, mentions the Rohingya's food habits while discussing the changes in Narwal that bother him.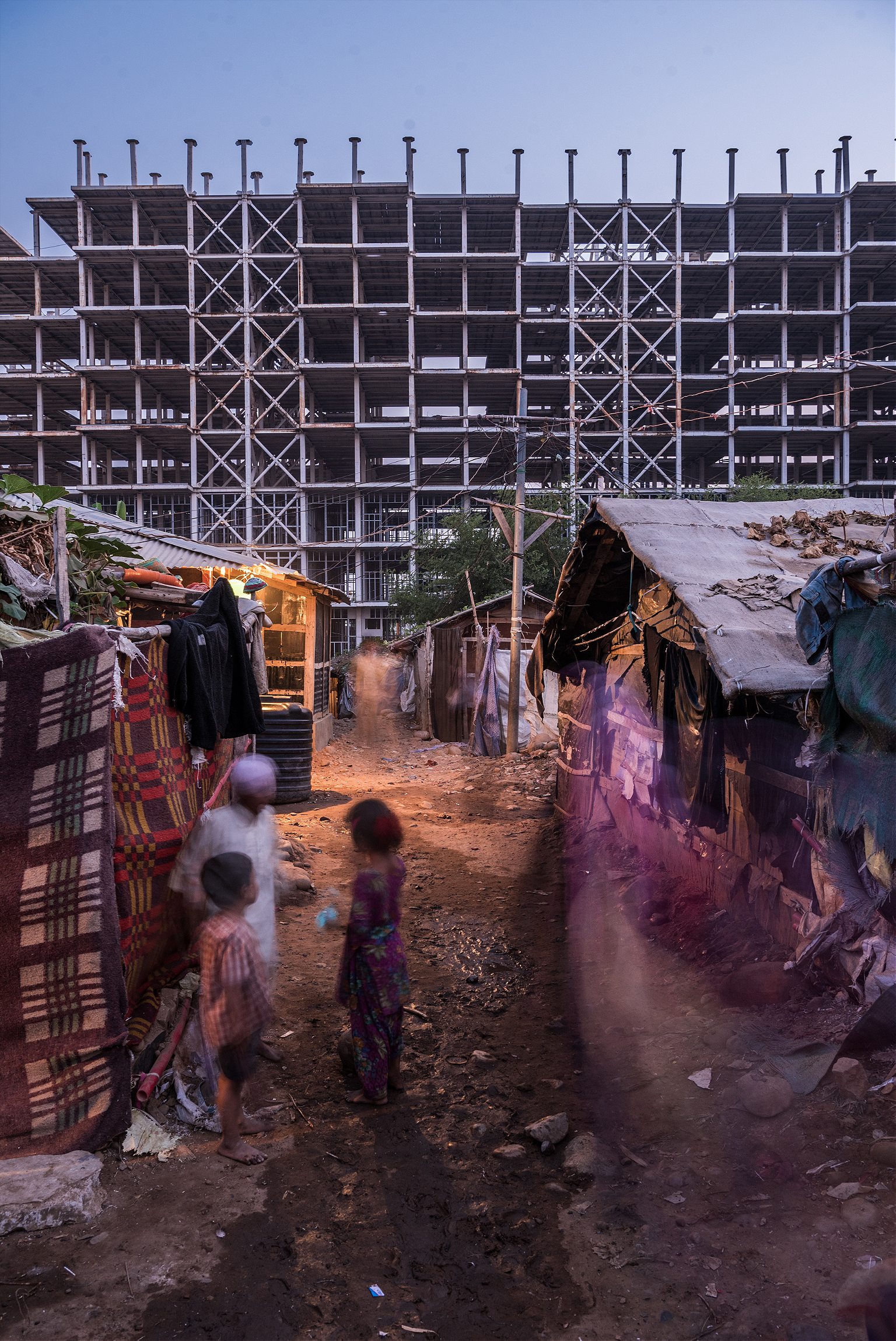 Looming in the distance, however, is the skeleton of a 348-apartment complex being built by a Dubai-based construction firm to be ready next year. How comfortable these new, upwardly mobile neighbors will be with looking at refugee tenements from their high-rise apartments is yet another uncertainty in the life of the refugees. Unless, of course, the central government of India convinces the Supreme Court that the Rohingya are a potential terrorist threat. The next hearing is scheduled for Tuesday.