R&K Insider: Congrats to us edition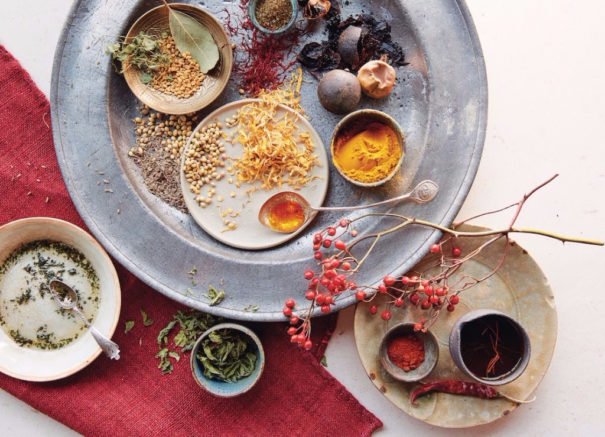 If you like profanity-laden, self-congratulatory backslapping, BOY have I got a newsletter for you today.
Sign up for R&K Insider, our collection of the most compelling happenings in food, politics, and travel from across the web.
Happy Thursday, friends and readers! If you like profanity-laden, self-congratulatory backslapping, BOY have I got a newsletter for you today. And if you're allergic to navel-gazing, cash me outside because this is happening.
As you may have heard, since we won't shut up about it, we're hosting a series of dinners based around the food cultures of the countries on the immigration ban list. First up is Iran as we celebrate with a Nowruz feast in Brooklyn on Tuesday. Our friend Naomi Duguid, author of Taste of Persia, will be helping us host, and musician Kaveh Haghtalab will be providing the tunes. AND, in honor of the traditional haft-seen table, I think I might get to buy myself a goldfish. Our lovely collaborator across the pond is Yasmin Khan, author of The Saffron Tales. She inspired our menu and has graciously shared her wisdom on all things Persian New Year, and has a few words to share:
I'm proud to be working with Roads & Kingdoms on their first Banned Countries Dinner in honor of the Iranian New Year. This verdant celebration of spring offers a unique opportunity to come together at this critical time to celebrate what we have in common. It's clear to me that Trump's arbitrary travel ban comes on the back of decades of anti-Iranian rhetoric by politicians and in the press. It was this chasm between the Iran I have always known and loved, and how it is routinely depicted, that prompted me to set off on a 2,000-mile journey though the country for my book, The Saffron Tales. I traversed the country interviewing a cross-section of Iranians in their home kitchens to share stories of everyday Iran. Food has a unique power to build connections and in these troubled times, and this could not be more important.
Thanks, Yasmin! She's also posting photos of the holiday on our Instagram account, so follow along all weekend. The event is sold out, but we'll be holding more in the future (next up: Syria). So keep an eye out! We open up ticket sales to our beloved newsletter subscribers first, so … stay signed up? Guess I'm sort of preaching to the converted here.
In other news, the James Beard awards for media were announced and guess who's a finalist in a bunch of categories? Saveur. BUT ALSO: Roads & Kingdoms! In the food culture category, we have two pieces nominated: Shane Mitchell's hauntingly beautiful account of dinner in Calais's infamous, now-defunct refugee camp, and R&K's own Matt Goulding with the Barnacle Queens of the Spanish Seaside, adapted from Grape, Olive, Pig. We're also up for food coverage in general, so just go read the whole damn site, or at least the food bits. In that category, we're competing with the New Yorker's food issue, and while I know I should be cool and say, "No big, we definitely see the New Yorker as our direct competition," let's be real. Do you think David Remnick writes weird, rambling newsletters in his pajamas on Wednesday nights? He does not. He has a glass of claret and calls Obama.
So let's look at some of our food pieces: Have you seen our comprehensive guide to getting drunk at Disney World? Read this profile of Chongqing's number-one noodle obsessive? Checked out our dinner with fellow James Beard nominee Fuchsia Dunlop? Do it! You know you want to. Perhaps peruse our drinking stories or take a deep dive on Pakistan's Zinger burger, a perennial favorite by one of my all-time favorite R&K contributors, Saba Imtiaz.
And finally, the fine folks at the Columbia Journalism Review took a look at our series on fixers, Unbylined. The brainchild of editor extraordinaire Courtney Brooks, the series looks at the largely unrecognized role of fixers in shaping international news. It's a beloved feature over at R&K, and we're thrilled to see it get some attention.
Because I suppose one or two things happened this week that didn't revolve around us: Did you read this story about the sitting U.S. president's business dealings in Azerbaijan in direct R&K competitor the New Yorker? Vale, Lucky Peach. How Anthony Bourdain unfucked his finances (HINT: it was by giving us all his money! Try it! It works!) Is this the world's saddest Guinness? Thing everyone likes declared good. This is a little more than a week old but it's about Irish pubs so I'm re-upping it here. Netherlands: not falling to the fascists! Wow! We won one, guys! The travel ban is blocked once again. Another potential win? I could get used to this. This story about the secret plan for the days following Queen Elizabeth's death is nuts. And this entirely vital story rounds up what Irish politicians think of Beyoncé.
That's it for this week! Join me next week for more of the best in politics, travel, and food from around the web. And for a different shameless plug this week, follow me on Instagram @caraparks.