Never Get Between a Canadian and His Bacon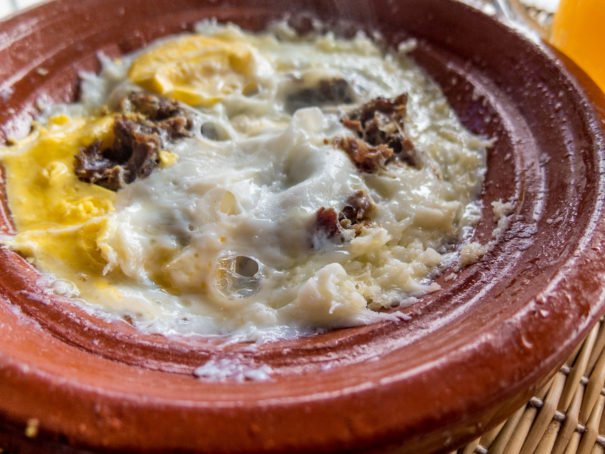 Never Get Between a Canadian and His Bacon
Khlii in Marrakech
Traveling in Morocco, I find I'm getting weary.
Maybe it's the dust. Maybe it's the lack of women anywhere after sundown: I'm married and traveling with my wife, but it's hard to adjust to this world of scowling, soccer-watching men. Maybe it's because I've been on the road for six months.
Then it's hard to get liquor, a severe drawback when you travel the Islamic world. I had a friend who once spent six months in Saudi Arabia. When he arrived at Heathrow at the end of his contract, and Immigration asked him why he was visiting England, he declared, "To drink beer and eat bacon!"
But hey, at least there's the food. Today we left our hostel unfed and starving, ready to comb la nouvelle ville for whatever Moroccans eat for breakfast. At a café by the bus station, we found it.
We sat outside. They had a menu in four languages, and I ordered khlii, a mix of eggs and a sort of beef jerky, along with orange juice, bacon, and a bowl of harira, Moroccan soup.
Never get between a Canadian and his bacon–yummy, maple-cured, fried in its own fat, sizzling, cut fresh from the hog, fill-me-up-with-rashers-of-that-shit bacon. But if you're going to substitute it for anything, then by all means, let it be beef jerky.
Western cuisine has criminally neglected the possibilities for beef jerky. It can be so much more than just a gas station snack for truck drivers and baked teens. It can be fried, sautéed in lemon, braised, fried, chopped up in salad, fried, pureed into tomato sauce, used as a cocktail garnish, or fried. Or, as the Moroccans do, put in eggs.
I was delighted with my khlii. The eggs were baked to a perfect firmness, and with every bite there were little beefy explosions of jerky. Washed down with a double espresso and a glass of fresh-squeezed orange juice, that's the way to begin your Moroccan day.
Until we asked for our harira, the soup which came with the breakfast special. The waiter seemed incredulous, like we were asking him to sacrifice a fresh lamb for our dinner. "Harira is soup," he said.
"Yes," I said, pointing at the menu, "and according to the menu, breakfast comes with soup. It says so right here."
"That is not for breakfast! You got coffee and juice with your eggs. That's already a very good deal."
I find I'm getting weary once more.