Holy rivers, unholy bhang lassi, goats in sweaters: navigating India's surreal city on the Ganges.


This town is surreal. If you are rational, logical, and have little patience with things complex, sublime, and chaotic, Varanasi will not appeal. It's crumbling, poetic, and eccentric. Goats wearing sweaters, old men taking dips, boys flying kites, and burning bodies are everyday sights. As the holiest of seven sacred cities for Hindus and Jains, it's a pilgrim-drawing spiritual capital of India. (It's also an important stop for Buddhists, because the Buddha is said to have given his first sermon in nearby Sarnath.) It's one of the world's oldest continually inhabited cities. It has lived more than a hundred cultures, many of which it hasn't fully let go. It's absorbed its various conquests, myths, religions and philosophies into one urban space. I have family in Varanasi and have spent time there since I was a child, but the city still surprises me. Sometimes you will feel like you are in a storybook. Just go with it.

Go for life lessons, not for leisure. There isn't really a place in Varanasi to wind down and relax. The last time I was there, my friends and I met travelers who complained about hygiene, space, and noise. If you are looking to kick back and drink Caprioscas, go to Koh Tao. Varanasi is a bustling city with more than 3.5 million occupants (known locally as Banarasis). It's poor; it lacks services and infrastructure, and has been exploited by the state government for decades. It will not fix you fruity drinks. It might, however, teach you a few things about the cycle of life and death. And did I mention that there are goats that wear sweaters?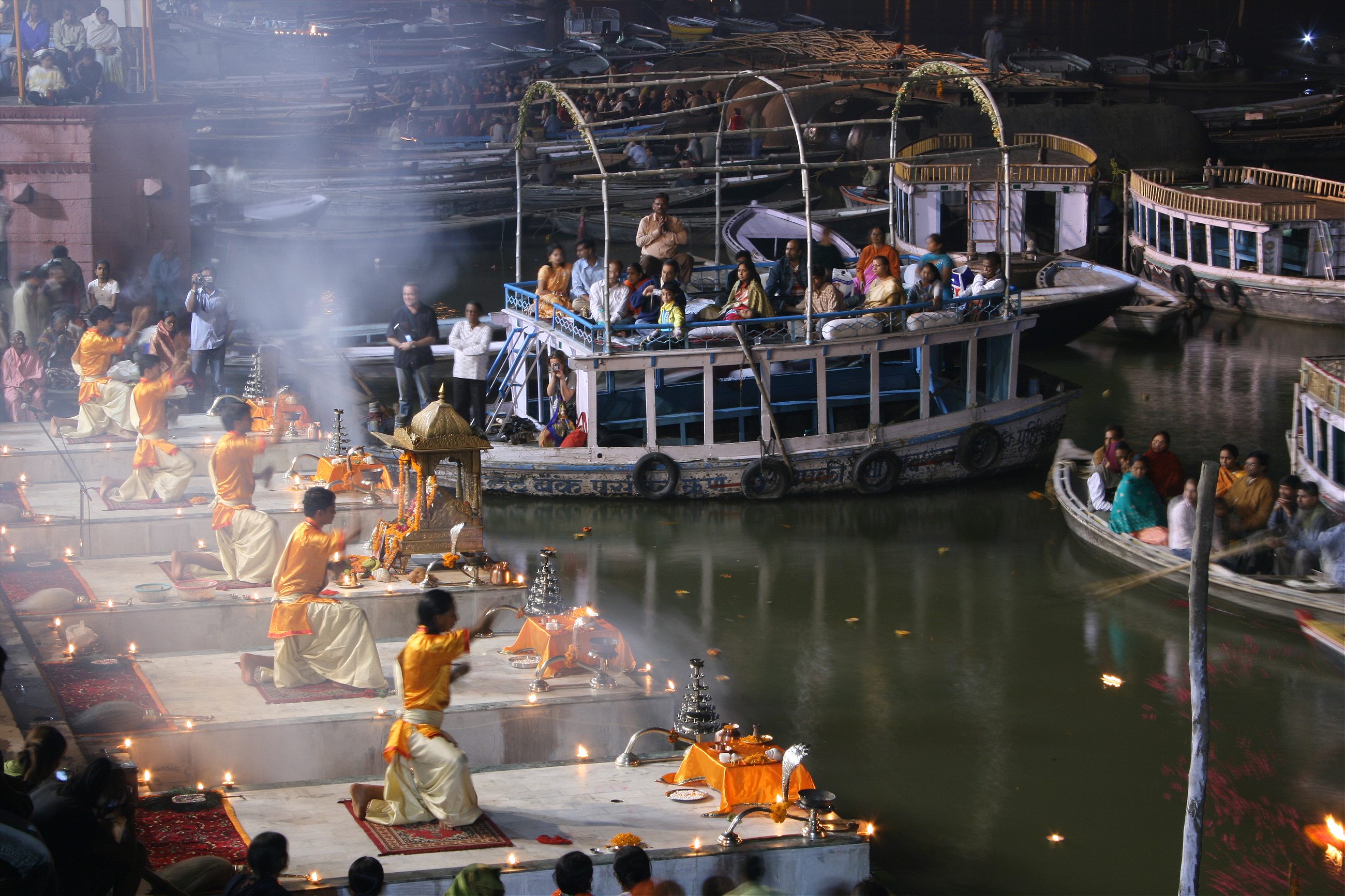 Hinduism originated here, but it's not just Hindu. Varanasi takes its identity from the great Hindu epics, but like every other city in India, it hosts many religions. Muslims, Hindus, a handful of Jews, and Japanese Buddhists all cohabit. There is occasional strife, but the city is symbolic of the country's diversity, cramped into one space. Most Hindus are employed by the temples or associated firms, and the Islamic population includes some of the oldest weavers in the country. The Banarasi sari, known for its intricate weaves and borders made with zari—woven threadwork done with threads made of gold—is a coveted specialty.

Varanasi eats dessert for breakfast. And lunch. And dinner. And cream with everything. If you've ever dreamed about fried rice balls dipped in saturated, spiced cream (what they call malaiyo), this is the city for you. Lassi, a yoghurt drink popular the world over, is served sweet, with even sweeter accompaniments called rabdi (flour and sugar) fried in a pan. Banarasi (the term for a trend, person or thing belonging to Varanasi) sweet shops are famous all over India. Little shops line little streets with sweets of all shapes and sizes. And there are free samples.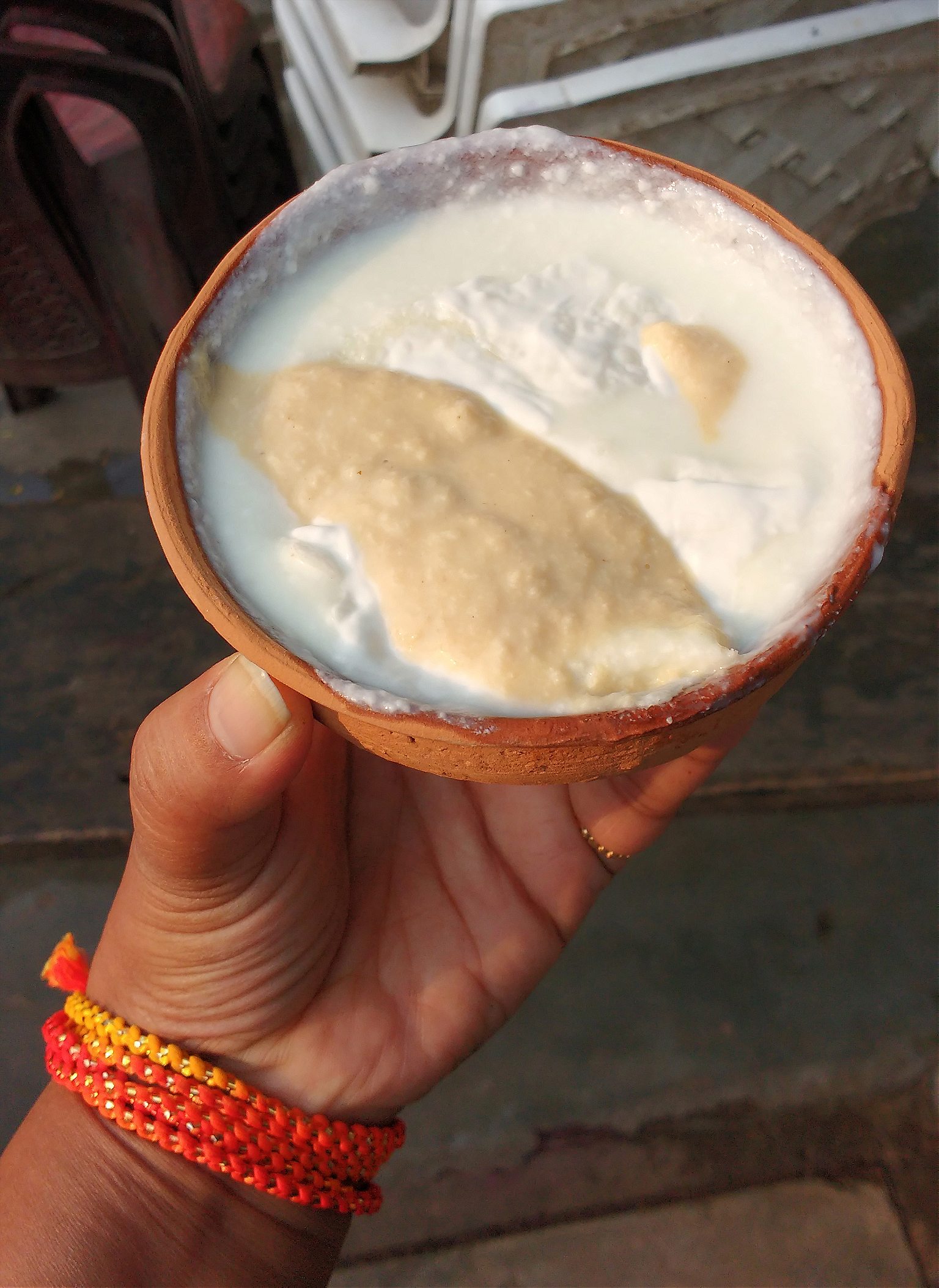 Ditch the tuk-tuks and walk. The heart of Varanasi lies along the river, on ghats—a series of steps leading to the river's edge—each staircase divided by history, religion, livelihood, and myth. A linear walk through the ghats is the only way to see the city's many cultures. How did an entire community of South Koreans come to live on one? No one knows. Why did the king of Nepal build an entire ghat in the heart of Uttar Pradesh? This is a mystery too. But be sure to stop at Assi Ghat (the first ghat) for morning aartis: impromptu concerts by local musicians and really great pizza at Vatika Pizzeria. For more finality, there is Manikarnika Ghat, the renowned burning ghat, where bodies are brought for Hindu cremation–about 40,000 each year. One of the stories about Manikarnika is that Parvati, Lord Shiva's wife, dropped an earring in a well on the ghat while bathing. She demanded that Shiva look for it, and not leave until he found it. Shiva never did, and myth says that whenever a body burns, Shiva will ask the spirits if they have seen his wife's earring.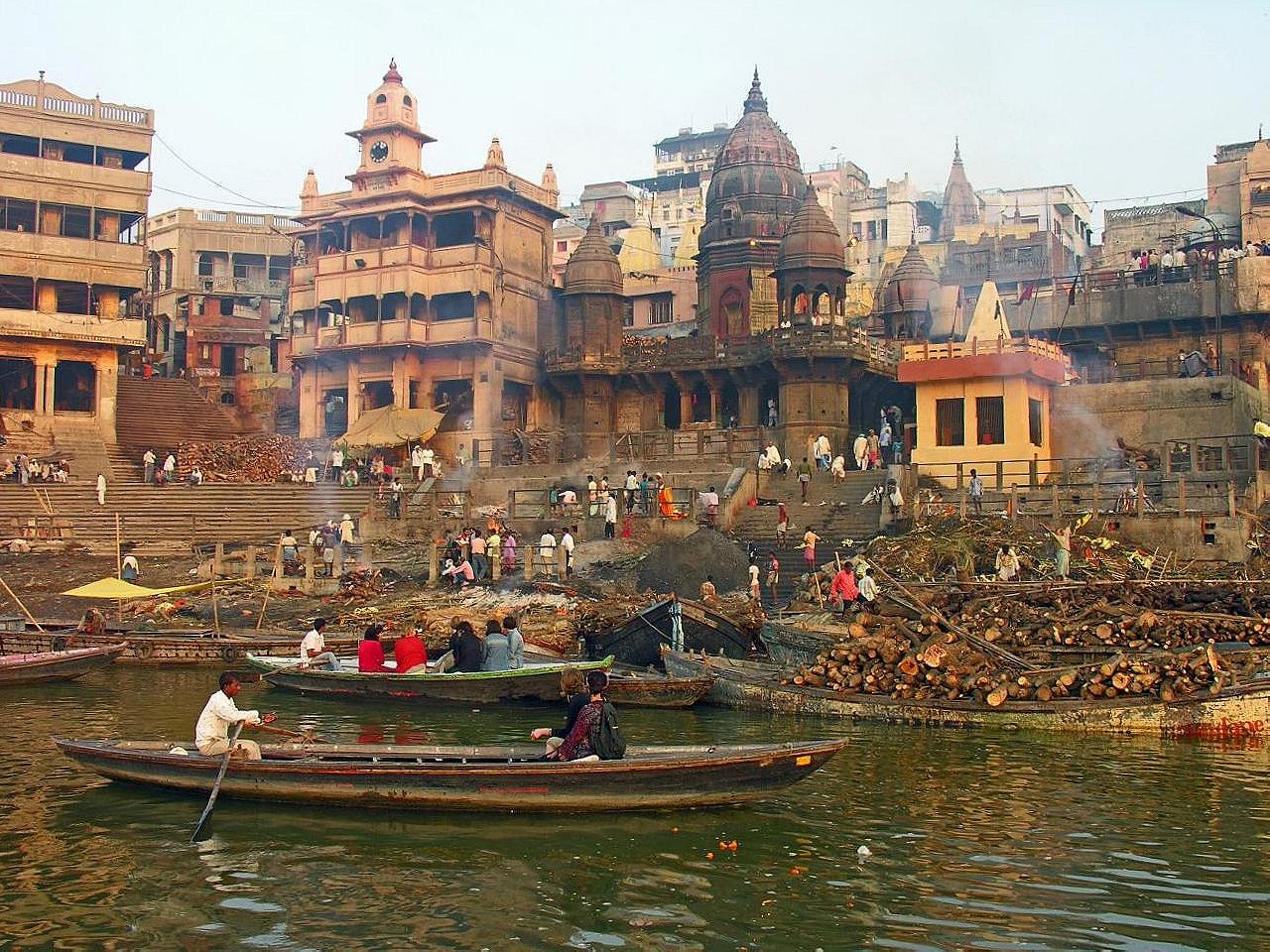 Don't ask if you can skinny dip in the Ganges. The Ganges is one of the oldest rivers in the world, and is India's most sacred. According to myth, the Ganges comes from the goddess Ganga, who fell to earth and liberated the souls of many caught in sin. Indians believe that it's a tirtha—a crossing point between heaven and earth—and that washing in the holy water cleanses them of sin. Hordes of tourists and pilgrims come from across the country for a small dip in the river. In most cases, people will come with small containers to take gangajal, water from the Ganges, back to their homes. But, because the Indian subcontinent is nothing if not ironic, the Ganges is also one of the most polluted rivers in the world. More than half of Varanasi's waste flows into the river, along with the bones and ashes of the dead, and in some desperate cases, simply the dead. The best time to take a dip is in the morning when it's less busy, but out of respect (and caution), refrain from skinny dipping, and swimming too far out. For that too, there's always Koh Tao.

The summer is hellish. Varanasi, like the rest of the North Indian plains, is not pleasant in the summer. Temperatures can soar up to 50 degrees Celsius (122 Fahrenheit) in the day. Moods will dampen, food will decay, and the whole city will take an extreme turn into chaos. In summer, stick to the mountains. Fifty degrees is not a peaceful temperature.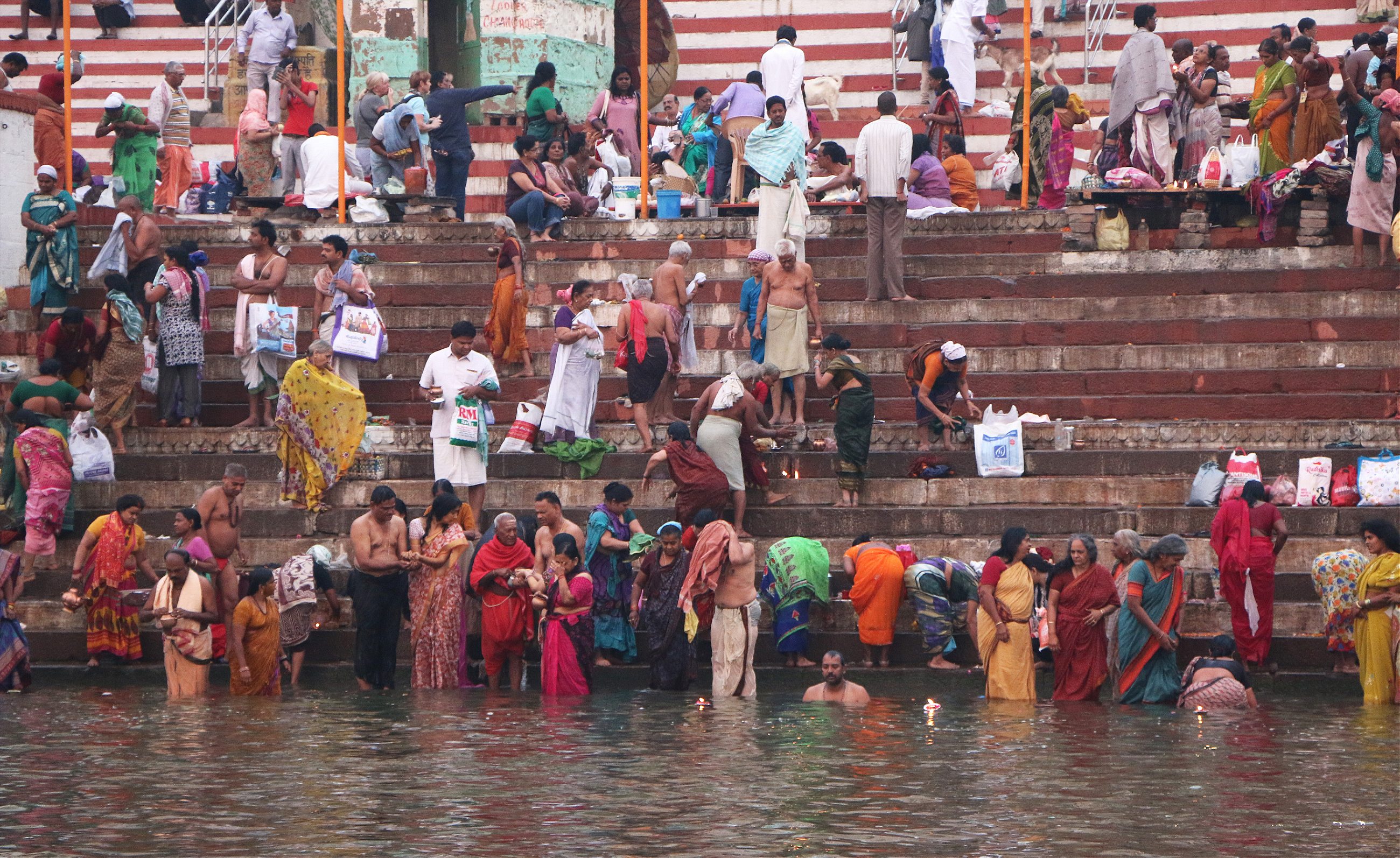 Be wary of the monkeys. Banarasis are known (infamously) to have trained monkeys do some of their work. They call these monkeys by human names. The monkeys do anything from picking up trash to delivering breakfast. Skip the photos: they have been known to throw tantrums and snatch cameras.

Get your lunch, fried, on the streets. Varanasi—indulgent, deep, and epicurean—is unaware of the nutritional ills of fried food. Walk the streets for a meal and you will find tikki ke chaat—fried potato cutlets with chutneys and yoghurt, kachori sabzi—fried, flaky bread with steamy curries, and other kinds of chaat: quick street food, usually sweet and sour concoctions of various deep fried snacks topped with onions and tomatoes. Varanasi is not big on sit-down meals. You will find those, but they are dull and ordinary in comparison. Stick to the streets to eat like a local.

10. English is fine, but can you talk in rhyme? Banarasis like to talk in rhyme, perhaps because the city has a strong tradition of lyrical songs. If you ask them a question, they will often try to rhyme the answer. No matter if it isn't the correct answer to your question; the rhyme takes precedence. So be sure to take everything with a grain of salt, and a hint of doubt. Precision is your worst enemy in Varanasi. If you ask the time, you may get a poem in return. If you really need something, ask again. Otherwise, go with it.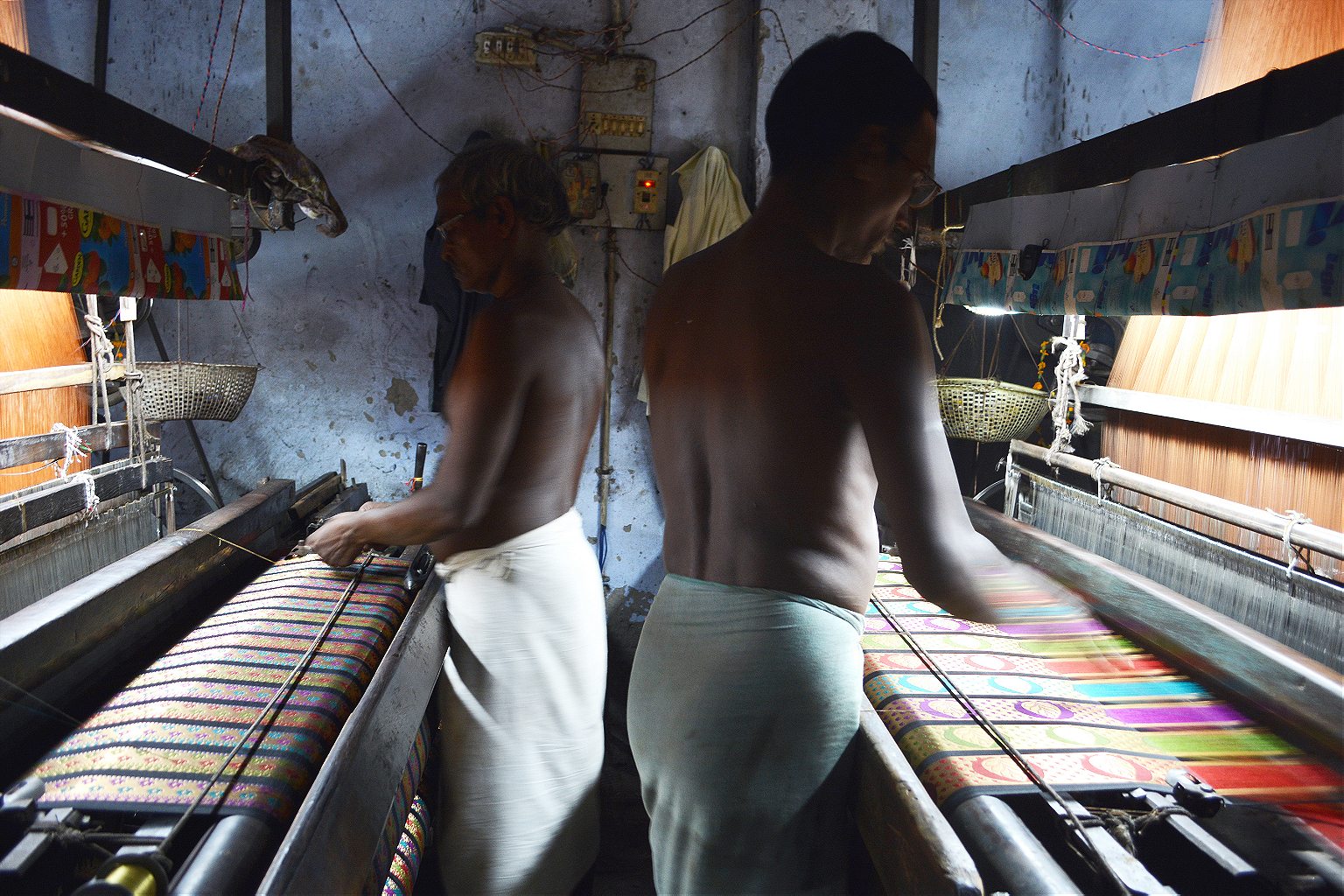 Banarasis are songbirds. If you hear a powerful voice springing from the river sometime during dawn, it might just be boatman throwing his voice around the Ganges. Varanasi is home to one of the oldest schools of music in the country. The Banaras gharana, known for it's smooth melodies and traditional alaaps—long, extended monosyllabic rhythms—is a true delight to anyone from the country or not. If you tend towards musical abilities, take a class. Look around the ghats. There will be posters advertising classes for sitar—a traditional Indian string instrument—or tabla—a kind of drum—in case you've got a few days. If not, there's plenty to watch. Impromptu sunset jam sessions are common. Or just ask any of the boatmen if they sing. A lot of them do, and they'll be happy to sing for you.

Don't be surprised if a street dweller wrapped in a shawl is reading Nietzsche. In French. Banarasis speak many languages. The city gets around 200,000 tourists each year, and though English is the most widely spoken foreign language, locals have quickly adapted to the influx of European tourists and will mimic various expressions they have picked up. You might hear someone shout "Que pasa! Que Tomato!" but you might also find the odd 12-year-old who can hold an entire conversation in French.
Paan is an acquired taste. At your own risk, sample Varanasi's gift to the nations' debauched. Made popular by a Bollywood song in the 60s, Banarasi paan—betel leaf stuffed with areca nut, dried coconut, tobacco and cloves—will make you feel like a local. It's an explosion of weird in the mouth, is a slight stimulant (and if you're lucky, a hallucinogen.) If you walk around, mouth red and unapologetic, it will win you points from the locals.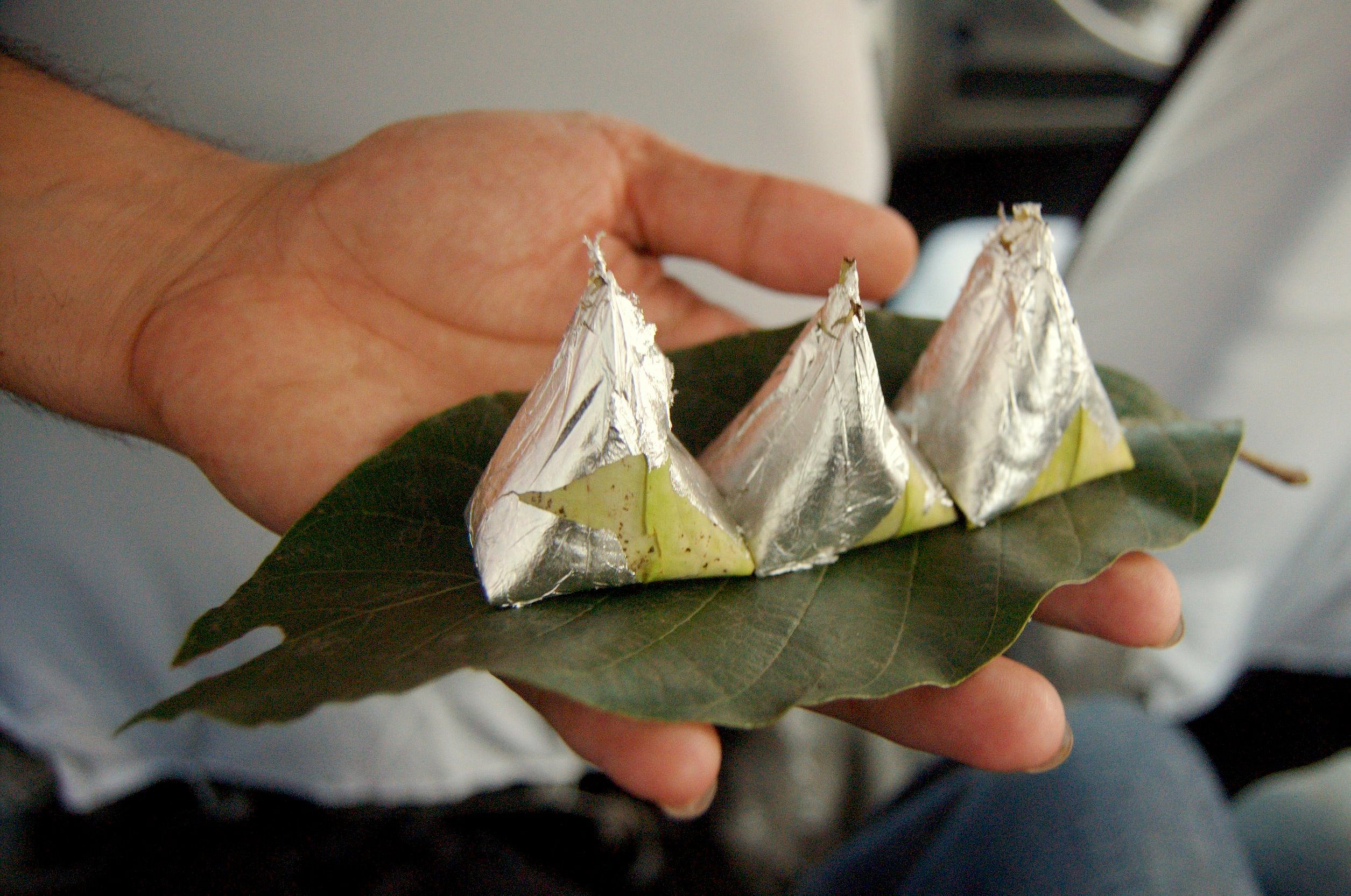 Get in a few bhang rips. Lassi is often spiked with bhang, a liquid form of marijuana made by grinding buds and leaves into a paste. (Bhang has a centuries-long tradition on the subcontinent, both as an intoxicant and for medicinal purposes, but it's big in Varanasi because it's linked to worshipping Lord Shiva.) Opium dens are a Friday night staple in little corners of the street. But it's not all recreational, or even spiritual: drug addiction among the homeless and in slums is one of many challenges Varanasi struggles to address.

.jpg"
Varanasi's architecture is surreal too. Some ghats consist of buildings from the Rajput era, large havelis with big domes. Some are tall buildings from the Vijayanagara Empire, like those found in South India, which are older. Sometimes new-age glass structures can be found next to ancient monoliths. There are no rules in Varanasi. It is not preserved or UNESCO-guarded, so buildings are built on top of others, and sometimes inside other buildings. It's clear the city has lost a lot of heritage thanks to weak preservation efforts, but there are some gradual but obvious changes in Varanasi's progress.
Cutting heads off corpses is an actual occupation here

Be ready to philosophize. One of the oldest universities in the country is in Varanasi. Banaras Hindu University, or B.H.U, is one of the forerunners of philosophy and art studies in the country. Banaras, as a city, takes the air of contemplation. Many people come here to write. Tulsidas, the author of one of the great Indian epics, the Ramayana, lived in Varanasi for a time. You will hear people on the ghats discuss the trivialities of the material world. Sometimes they will rope you in and ask you what you think. Don't be afraid to contribute. There is no right or wrong in Varanasi.

Varanasi is poor, but doesn't like to talk about it. More than 40 percent of Banarasis live below the poverty line—50 rupees (70 cents) a day. The city, part of Uttar Pradesh, has a weak and indifferent government. There are no resources for developing infrastructure, education, or basic livelihood. There is little education, the city's middle class is small, and most people have to try their luck on the streets. Disease and constant bathing in the Ganges keep the death rate high. Most Banarasis make their living through divided labor, and many work at cremation ceremonies as woodcutters, layout out bodies, or disposing of unwanted ones. (Cutting heads off corpses is an actual occupation here: it pays 10 rupees—13 cents—per day.) A popular saying goes: Banaras is a dark well filled with light. You cannot see outside it.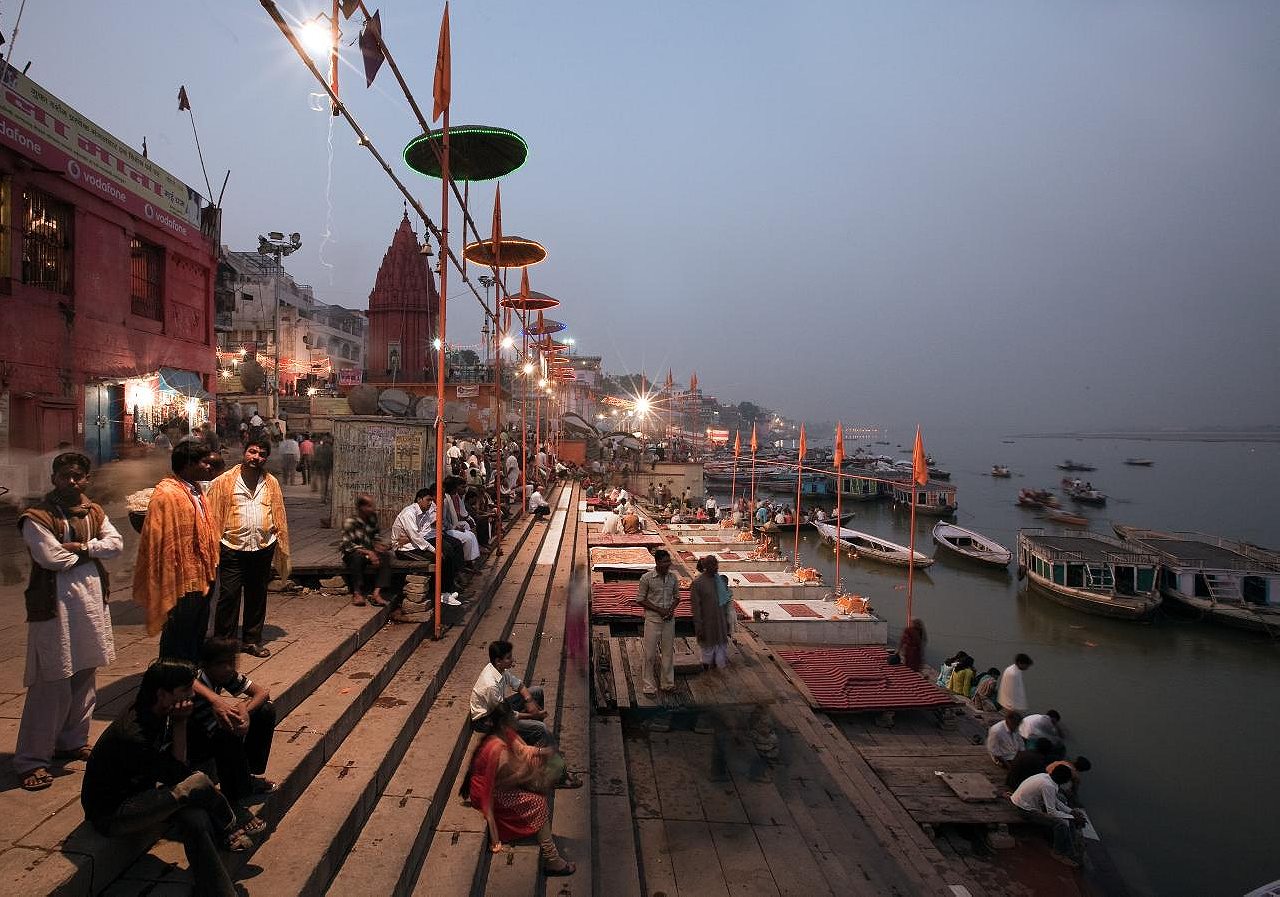 Competitive sport is big. This small, crowded, crumbling city is not all survival and no play. Banarasis love badminton. (The saying goes that beating an Indian at badminton is like beating a Russian at drinking.) Banarasis also love solo football, and diving in the Ganges to collect coins. You can place bets on this activity: Sunday afternoon means brunch on the riverside and betting on 10-year-olds diving into the river.


Ain't no party like Shivratri. Shivratri, the birthday of Banaras's patron saint and the world's favorite psychedelic god Shiva, is a big party in Varanasi. Every year in March (the date depends on the lunar cycle), locals come together to offer their city to their god. Thousands of people take an early morning dip in the Ganges, visit the Kashi Visvanath temple to offer their devotion and join a street parade at night. There will be men draped in leopard skin (like the one worn by Lord Shiva) and women in their best saris. Mahashivratri, in Banaras, makes it large.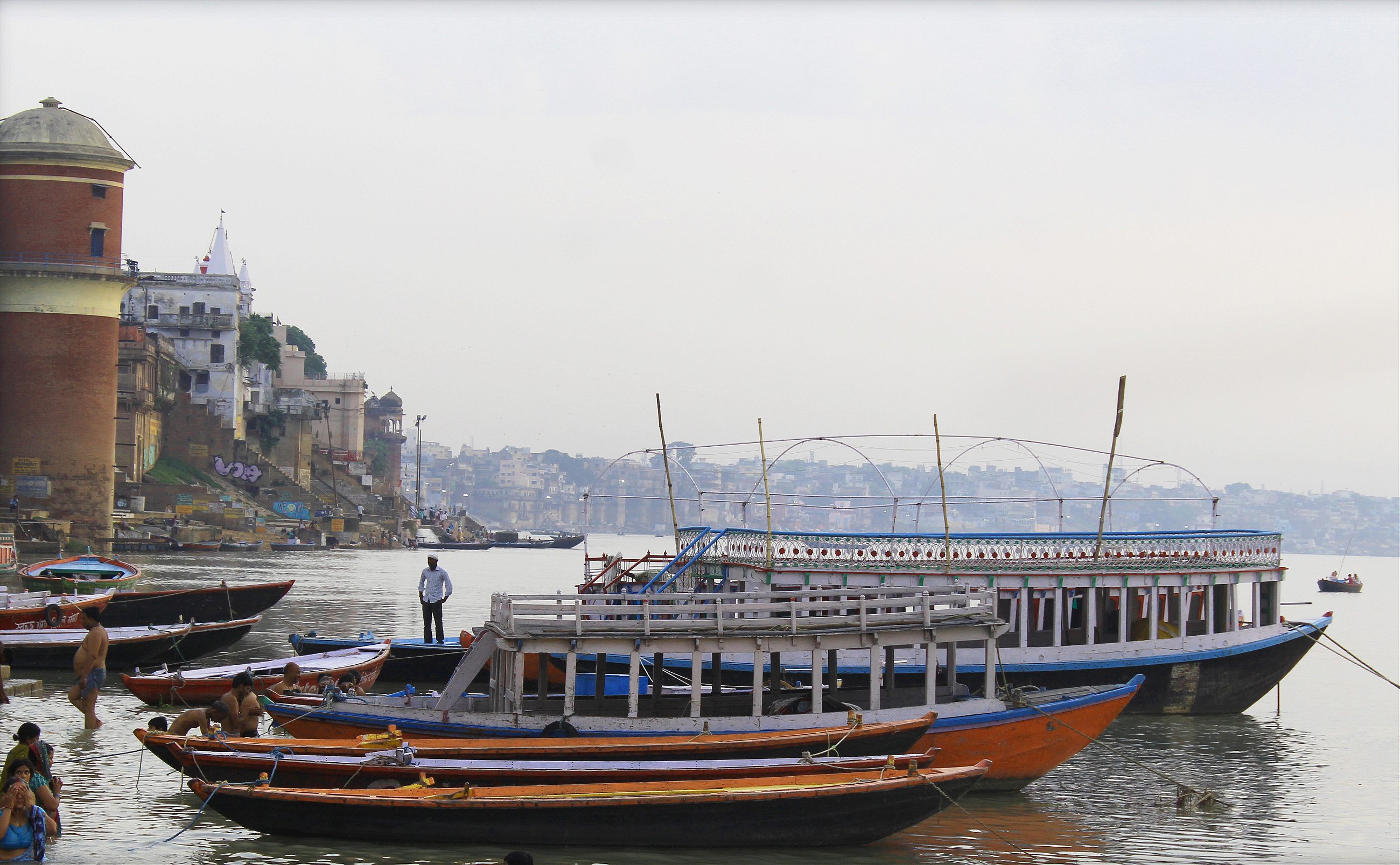 Take many boat rides. Walking through the walled city is a languid, perfect pastime, but don't forget to spend time on the river, the city's uproarious soul. Picnicking couples, young boys, flocks of Japanese tourists: the Ganges is a canvas to all kinds of moods. Make it in time for sunrise, or stay for sunset. You can also buy snacks on the river from men and boys in polystyrene boats.


Bring cash, time, and an open mind. This is the middle of the north of India. Time moves slowly here. If you need money, train tickets, a bus booking, don't expect it to be prompt. Here in Varanasi, jobs are split five ways: when a boat needs to be booked, you will talk to a man who will talk to a man who will talk to another man who will finally send an 11-year-old your way. This is the oldest city in the world: it may feel like a strange way of life, but there's nothing to do but embrace it. Fixed discourses and unshakeable opinions miss the point of Varanasi.