The northern Indian city of Amritsar boasts street food delicacies, enormous communal kitchens, and plenty of glorious ghee goodness for all.
Amritsar was the end of the line. For years I travelled—and dreaded—the same route from Delhi to my father's northern hometown. It was the last stop by train along the plains of the Indian section of the Punjab region, and a gateway to the Himalayas.
The train would start from Delhi filled with locals. One after another, people would get off; the cabin would empty until we were the last people on board. As a child, I feared the rural jangli logh (jungle people) I could see from the train, with their large, colorful turbans and long Punjabi beards. They seemed especially strange to a child coming from South East Asia, where facial hair was fairly non-existent. Amritsar is the center of Sikhism, a monotheistic religion that originated in South Asia during the 15th century. The Sikhs—meaning disciples—are devoted to equality, social justice, and selfless service towards others; they do not cut their hair, resulting in the long beards.
Amid the haze and fog we'd shuffle out onto the platform, confused and bewildered. A lot has changed since those childhood trips, and today, travelling the six hours by train is one of the slower options. Amritsar is also one of the bigger cities situated along the Grand Trunk Road, one of Asia's longest and oldest routes, built during the Maurya Empire. The GT Road, as it is known, connects South and Central Asia, as well as the western and eastern regions of India. From Bangladesh, the road crosses to northern India, into Pakistan, and then moves north to Kabul. However, today, when traveling from the Indian capital, most people opt for the one-hour flight.
By whatever means you get there—train, plane, or automobile—Amritsar is a city of pilgrimages. Some pilgrims are traveling to the Golden Temple—the Sikh's holiest site—while others are passing through in the name of commerce. From this whirlwind of activity and swirl of cultures, a unique cuisine has developed. Amritsar revolves around food; it is mentioned as often as the weather. The daily question of what should be prepared or brought home from the street to eat was the center of my family's activity when we visited my grandmother.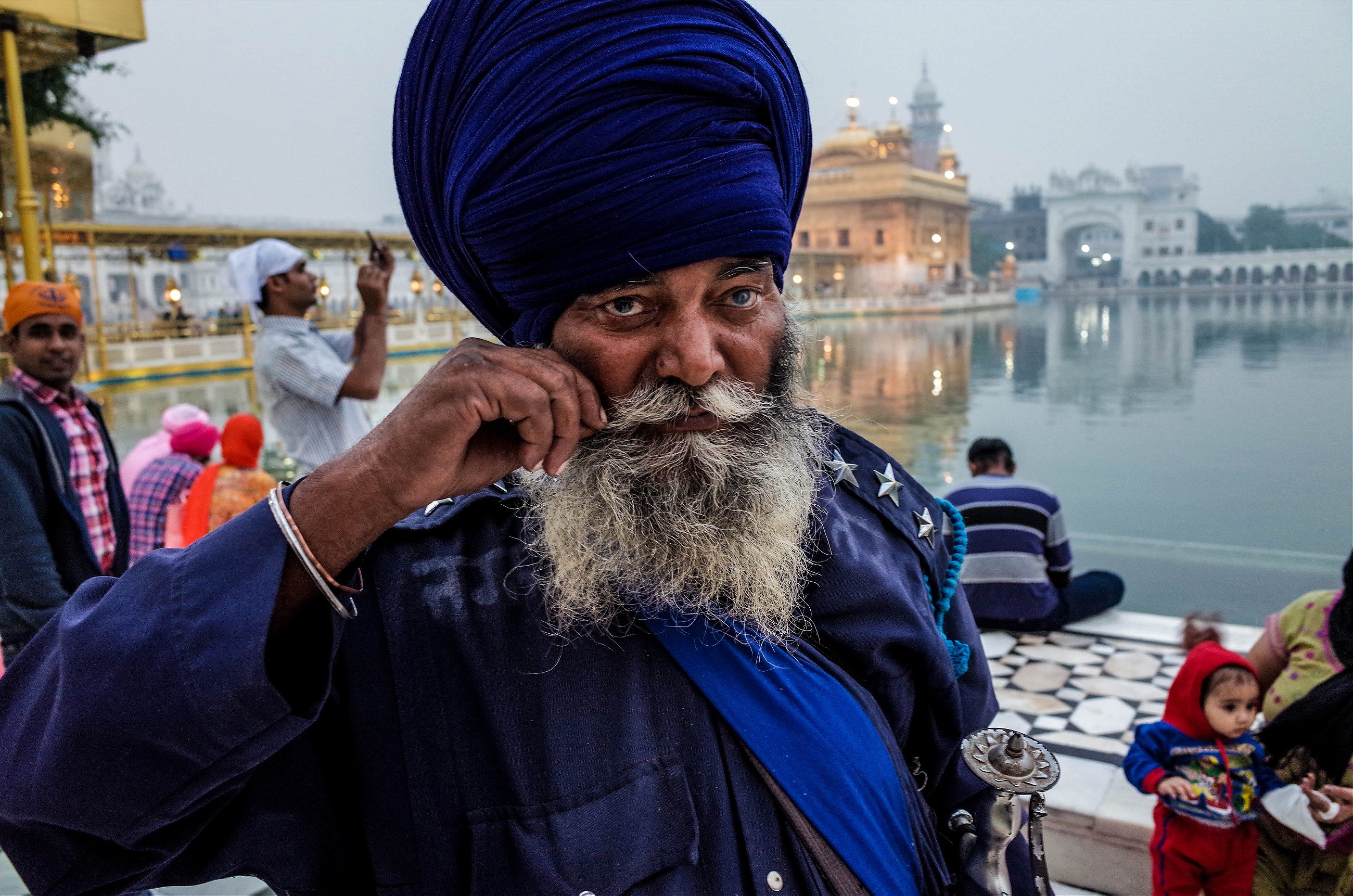 I was born in Manila to a Filipino mother and Indian father. Our 1920s Art Deco house in Amritsar was a stark contrast to the tiny apartment in Manila in which I lived. In the 1950s, my grandmother converted our ancestral home into a guesthouse to help maintain the property and the gardens. She planted enough fruit and vegetables that the house could literally feed itself; however, that never stopped us from frequenting the many dhabas in the city.
A dhaba is an Indian roadside restaurant, and Punjab and Pakistan are a haven for them. They generally serve local cuisine and are situated along the Grand Trunk Road and other highways that also function as truck stops. Everything is inexpensive and served fast, fresh, and piping hot: saag, kulchas, biryanis, chole. These establishments eventually started moving from the roadside to the cities. Many in Amritsar today were founded in the early 20th century, and have been run by the same families for generations.
Mumbai boasts of its street food, claiming culinary superiority. However, Punjab's land is fertile with wheat, basmati rice fields, and rivers that grow a wider variety of vegetables due to its geographical location and climate; it is also known all over India for its dairy products such as ghee (clarified butter) and paneer (cheese). What has become known to most parts of the world as Indian food hails mostly from the Punjab. Tandoori cooking and its buttery curries is proof of it.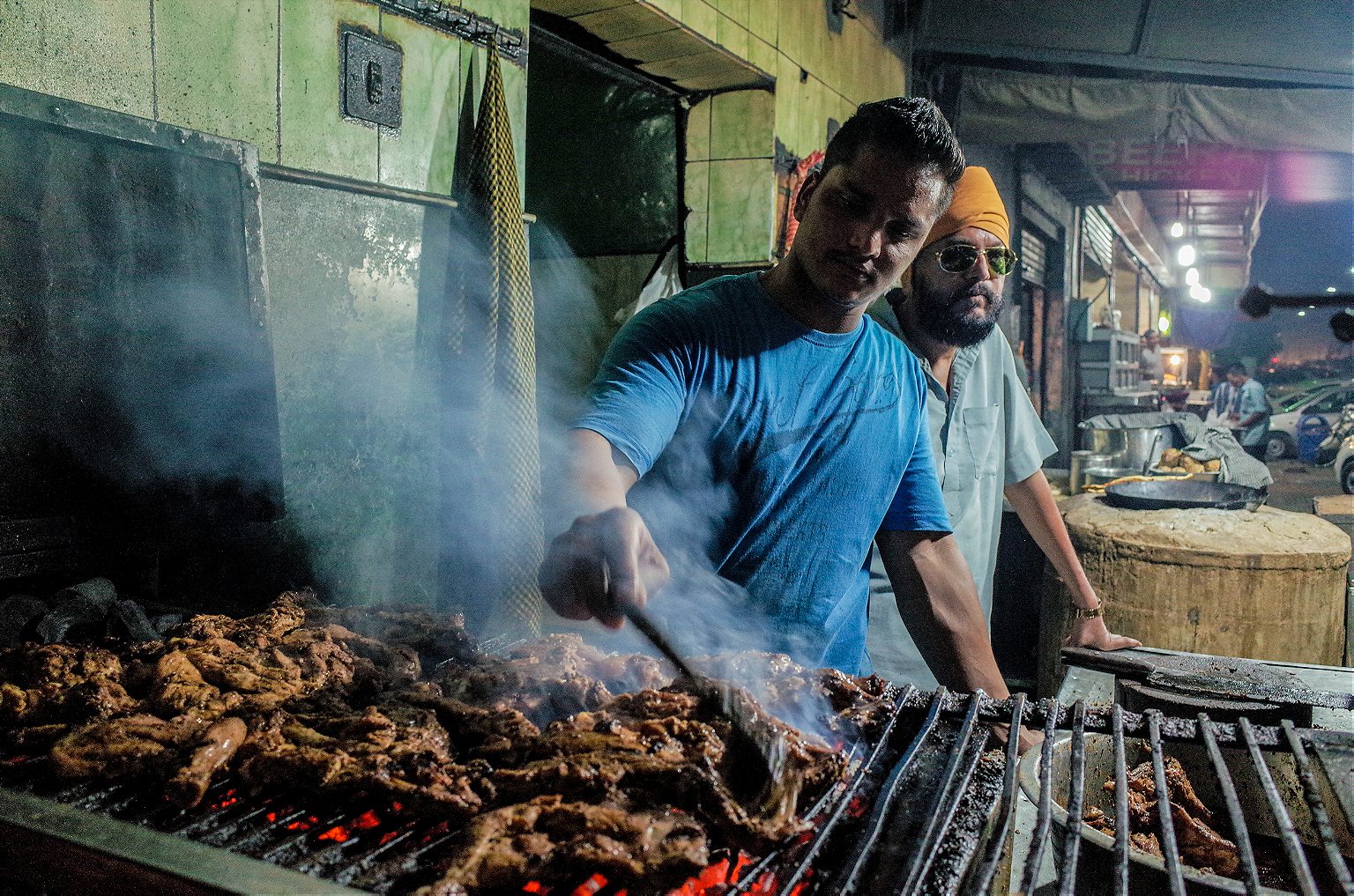 On our first night back in Amritsar, my father would grab the keys and the largest dabba, or tiffin, from the kitchen. We'd drive to Majeetha Road and head straight to Beera's, our own sort of pilgrimage. A surly looking sardar (Sikh man) in a one-size fits-all shirt would take our order, quickly mumbling the entire menu without pauses or commas: Chickenkaraimalaitikkatandoorirotinaan.
The elite remained in their cars, honking for service American drive-in style. Half eaten chicken and mutton bones were thrown from their windows; the mangy desi dogs fed like kings. The rest of us stood by to savor the masala whiffs and wait for the glorious grilled chicken and succulent kebabs and tikkas. It was wrapped in foil and stuffed into our metal tiffin in all of its glorious ghee goodness. The car was engulfed with intoxicating spices as we headed home to eat.
The bustling city of Amritsar—with its maddening noise and psychotic driving—pushes you from one food stall to another. It is a constant search for the next heart-clogging, chilli-infused fix, addictive as a drug. The locals take their food seriously: no single restaurant can do it all.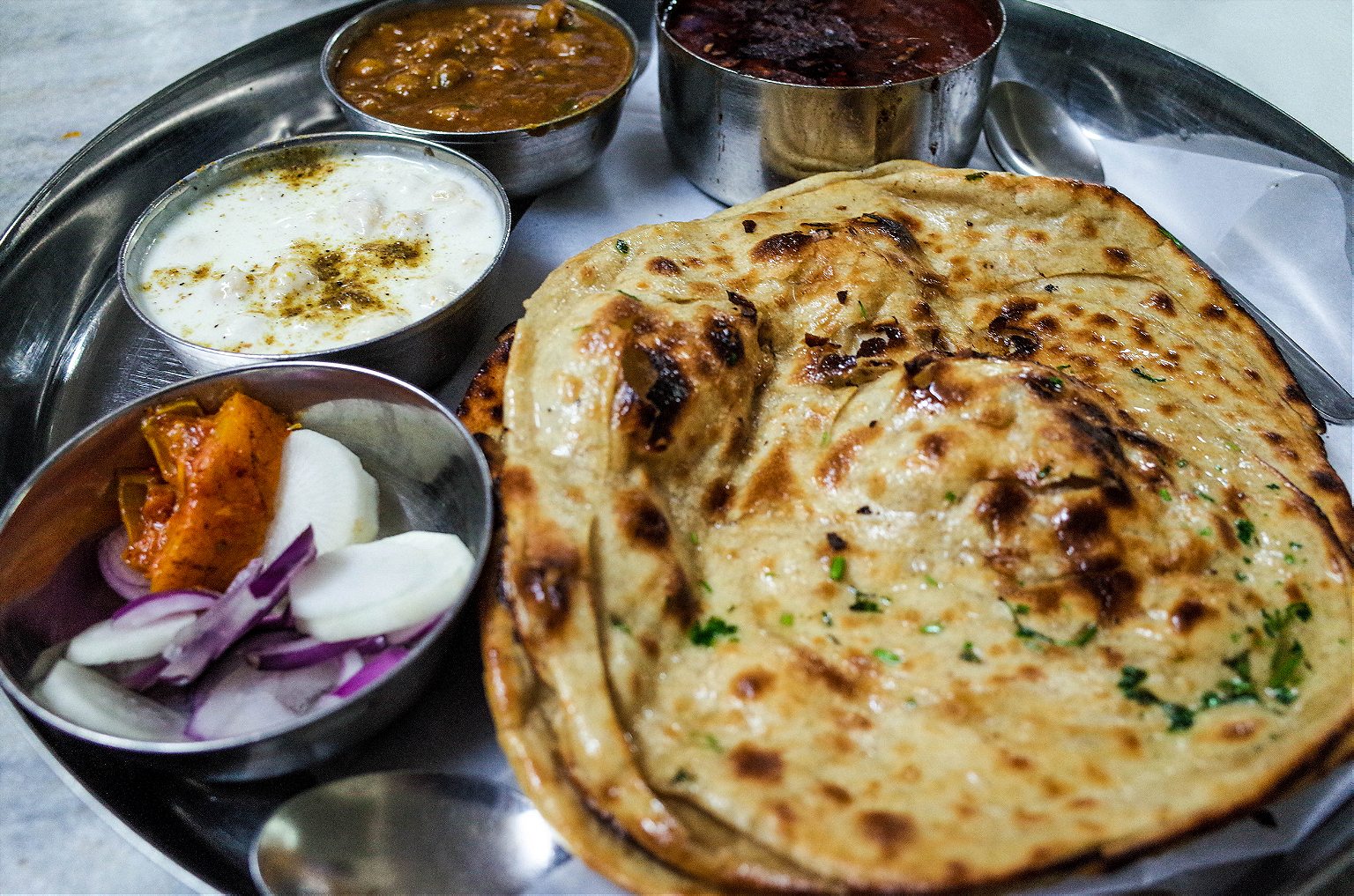 We would feast on the popular Amritsari kulchas, or naan: wheat dough rolled into a flat round shape and baked in a tandoor until brown. It is mostly rubbed with butter and paired with a fiery chole—chickpea curry—or eaten with tandoori chicken. There was also saag (spinach, or sometimes mustard leaves) paired with the makki ki roti—unleavened bread made of corn flour—a Punjabi winter staple. Farmers consume it in the fields to keep themselves warm and full. The best in Amritsar is by the town hall where my grandmother would have it specially ordered for Sunday lunch from Bharawan Da Dhaba, founded in 1912.
South Indians have their morning masala dosas, rice-flour crepes served with potato curry and chutneys, but Punjabis are proud of their aloo parathas: unleavened dough stuffed with a spicy potato mash, rolled and cooked with ghee. Or there's the chole puri breakfast: a deep-fried puffy bread served with curried chickpeas and pickles, downed with a tall glass of lassi (buttermilk). This is food meant to keep you full long into the afternoon. My family always preferred the breakfasts at a shack near the railway station called Kundan. Perhaps it is the dusty road and fumes that add to the rich flavor.
Kesar Da Dhaba, established in 1916, is another personal family favorite. It was initially established in Sheikupura, Pakistan, but after partition the dhaba shifted to Amritsar. (The city became a border town during British India's partition in 1947; Lahore, Pakistan is about 20 miles away.) Located in a busy part of the main bazaar, accessible only by foot or rickshaw, one must brave the dirty, narrow alleys filled with stalls of various wares to reach the restaurant. However, its daal makhani—lentils in butter—alone is well worth the trip. The Punjabi thali, a selection of various dishes, is a best seller. It consists of two parathas, two types of daal, a raita, and salad. As the round metal serving plate touches the table, the waiter grabs hold of the two pieces of bread, crumpling them in front of you to prove that it has been smothered in butter, leaving his hands glistening with oil.
In the winter months, the streets are filled with the famous Amritsar maachi (fish). "Listen to your elders! Never eat fish in the months with no r in them," my grandmother would say. She was a diminutive Parsi lady who could run circles around us. She lived to be 101 years old, and for close to a century, demanded that her sole be purchased at the same stall inside the main city center of Hall Bazaar. The firm, white fillet of fish was dipped into a well-seasoned chickpea batter, then deep-fried in mustard oil. My grandmother would demand the excess fish heads and bones from the butcher. She would slowly cook the scraps in a special coconut- or yogurt-based curry. "The best flavor comes from the head!" she insisted. The image of an elderly woman hunched over a bowl of fish bones, nibbling patiently on the remaining flesh, is still clear in my mind. The cats despaired.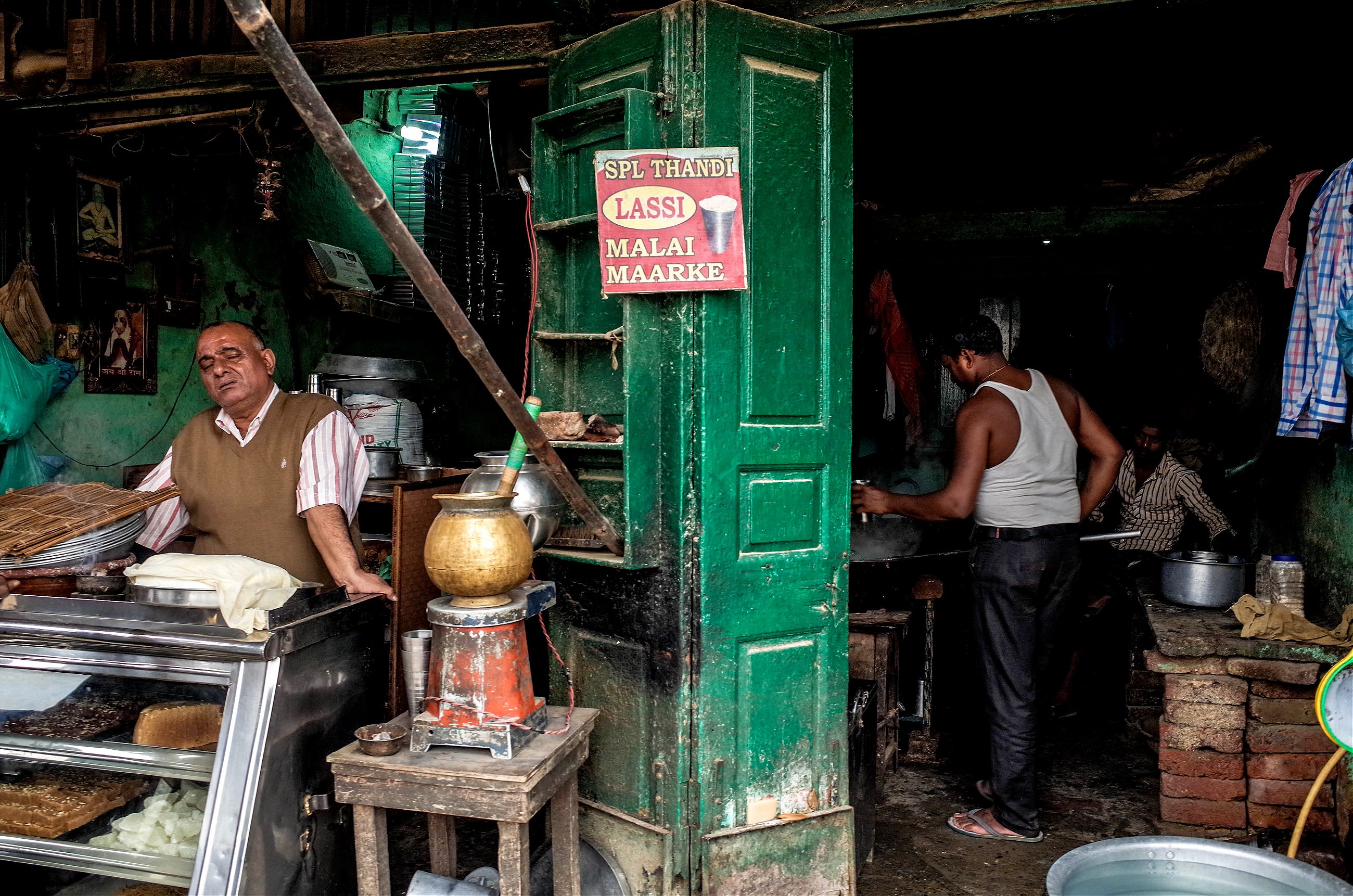 There is one kitchen in this teeming city, however, that is distinct from the rest. The Golden Temple— the Sikh's holiest site—is Amritsar's main attraction; the city's name is derived from the holy pool of nectar that surrounds the temple. Although it may not be as grand as the Taj Mahal, but there is a sense of peace, intimacy, and ease as you enter its premises. Well over 100,000 devotees and tourists visit the holy temple and partake in the world's largest community kitchen every day.
The langar—the Sikh term for a communal kitchen—was started by Guru Nanak, the founder of Sikhism, in the 16th century to reinforce the idea of sharing and treating people equally through food. The Sikh's are known for their seva—service—and it has become the hallmark of their religion. Volunteers prepare approximately 75,000 free meals for devotees and tourists daily. Simple and nourishing vegetable curries, daals, rice and rotis are served; there is no discrimination between caste, religion, or race. You are handed a plate and welcomed to sit and eat with people from all walks of life.
Whatever the reason for your pilgrimage, Amritsar will strive to nourish you, whether it be a free meal with the community or through the delicacies dished up along its streets. There is no city like it. Sure, you may return a couple of pounds heavier, but the ultimate Punjabi compliment goes, "Tusi aaj bade mote taze likhte ho!" or, "You're looking very fat and fresh today!" Every inch is well worth it.