In Dhaka, a wave of new groups are setting the crowded madness of their city to music with tech-death, thrashcore and other forms of extreme metal
Dhaka's rickshaws are covered with bars—small, rumbling prisons on three wheels. The reason is simple: when stuck in the capital's brutal traffic, the automobiles are sitting ducks for thieves.
"With these bars, no one can rob you," says my Bengali friend Asif Adnan, as the rickshaw's cabin fills with exhaust fumes from the buses and cars that surround us. This is the Dhaka I know—an unnatural orgy of glass and steel, mazes of roads, profound chaos. All of this is the perfect prelude for a look into the world of Bengali extreme metal. Adnan, a guitarist for the metal band Jahiliyyah, will be my guide.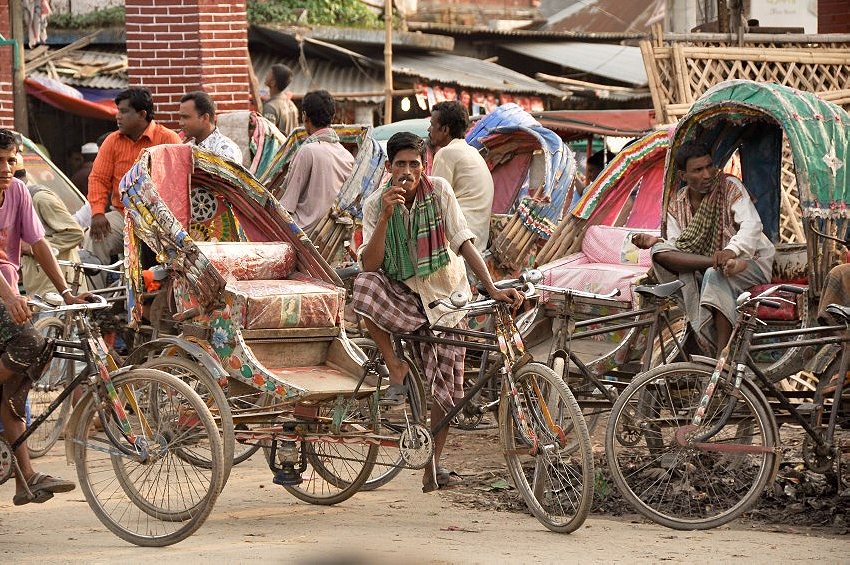 Metal is something I know well. I was once a guitarist for the European metalpunk band The Nerds, and I'm currently a member of a Malaysian thrashcore band called WEOT SKAM. While traveling in late 2012, I wanted to be a little more systematic in exploring the extreme metal scene in South Asia. That's how I found Adnan. With tight-fitting clothes and small glasses that give him an intellectual appearance, he looks like a shorter, South Asian version of Joey Ramone. He agreed to guide me into the maelstrom of Dhaka's most abrasive sounds.
For many people, Bangladesh means poverty and floods, tigers and microcredit. Flat as a sole and split by the waters of the Ganges and the Brahmaputra, its delta is the largest in the world. The waters of these giant rivers have regularly brought terror and tragedy to Bangladesh's plains. There are also, for added measure, earthquakes and deadly cyclones.
How does the devil's music emerge in an Islamic nation like Bangladesh?
But that's only part of the picture. Bangladesh is, for me, an incredible human experiment. With a population equal to the United States squeezed into an area smaller than the state of Georgia, it's difficult to find a space that is not occupied by legs, arms, eyes or wheels. The capital alone is home to 15 million souls. Amid this melee of humanity, and perhaps because of it, some of the most educated and progressive Bengalis have embraced the path of extreme metal.
How does the devil's music emerge in an Islamic nation like Bangladesh? Whereas metal in Iraq, as portrayed in the 2007 film, "Heavy Metal in Baghdad", arose from the chaos of war, with bands rehearsing inside bomb shelters, Bangla extreme metal is the result of Dhaka's relative liberalism. Here, unlike elsewhere in the country, Western ideas flourish, resulting in a small but fierce youth underground.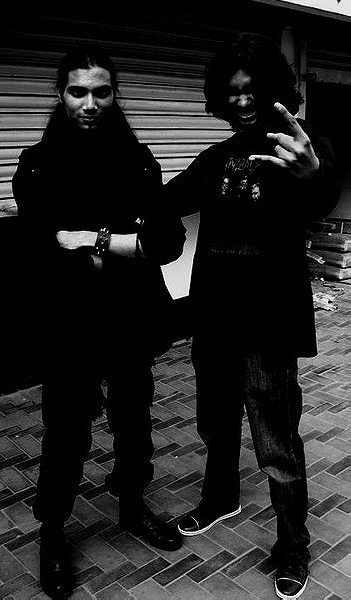 The rickshaw drops us off at the faculty of arts at the University of Liberal Arts Bangladesh. This is where many of Bengali metal's dark souls spend their days painting tempera on canvas, capturing models' poses and smoking cigarettes. For many, their metal identity is an alter ego. "I'm a fucking lawyer," Adnan says as he adjusts his glasses. Here, he calls himself Loki Nihilluminatus and tortures eardrums with the cacophonous, deranged band known as Jahiliyyah, which, roughly translated, means "the state of religious ignorance before the Qur'anic revelation in the Arab world."
Adnan started the project in 2010 and the band has recently experienced some modest success. "We've just been on tour to Khulna," a city southeast of Dhaka. "The people there literally worshipped us. But you have no idea of the heat we had to endure on stage. Trust me: it's been tough to keep my legs straight until the end."
The fact that Adnan plays this music brought me to the inevitable question of his faith. Heavy metal has long been at odds with religious orthodoxies around the world. It's not quite a religion itself (though more people listed Heavy Metal than Scientology or Baha'ism as their faith in a 2011 UK survey), but the religious conflict has been real, whether through trumped-up prosecutions in the US or the string of church arsons in the '90s in Norway. The Muslim concept of Satan (Shaytan in the Koran) is a little different than in Christianity, but playing the devil's music in a Muslim country is still complicated.
Adnan, however, says his music and his faith are compatible. "I'm a Muslim and I follow the rules of my religion," Adnan says. "But that doesn't stop me from living with a passion for metal, and keep an open mind. Don't you think that metal is universal by now?" Adnan says Bengali black metallers do not reject the Koran. Rather they use it as a basis upon which to develop their passion for extreme metal, giving it a unique sonic dimension powerfully rooted in Islam.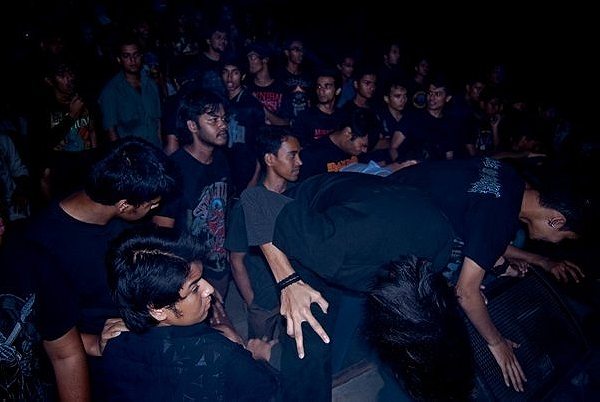 "The fact that I'm a Muslim doesn't affect the quality of my music. Think of the Indians, for example: do you believe that their metal is less interesting because they are Hindus? And what about you Europeans? Christianity doesn't make your music better or worse. Metal is a global language, and we Bengalis are proud to add our style to the genre's plate."
Perhaps the best example of a local touch to Bengali metal comes from Severe Dementia and their curious concept album Epitaph of Plassey, which retraces the 1757 defeat of the last independent Nawab of Bengal at the hands of the British East India Company. Hasan Shahriar of Abominable Carnivore, another death/black metal band, also doesn't see a conflict between Islam and metal. "I grew up listening to my brother's records, and my mother pushed me even further by buying me a guitar. She asked me to commit, and to do well in what I believed in, according to the will of Allah. I was lucky to receive support from my family. It's not that easy for everybody here in Bangladesh."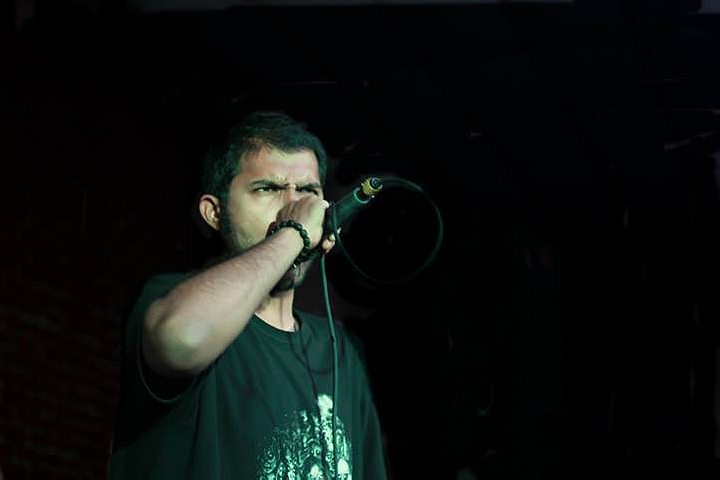 This small but fierce group of extreme musicians records and produces their own records independently, playing sporadically out of Dhaka's city limits, and dreams to connect more with the rest of the world. But spaces where metal bands can perform freely are few. In Dhaka, metal music is still, above all, considered foreign, and hasn't gained much traction outside of university students.
Metal bands can be found playing at the Russian Culture Center in Dhanmondi, close to ULAB's campus, or at the Auditorium of the National Library. The bands need to rent the venues themselves (about $350 per gig, no small sum), and pay for PA and lighting systems. Tickets are sold for student-friendly price of $2. The students come in droves: concerts in Bangladesh are often full of kids possessed by the dark metal demons. They have few other options—the nearest metal scenes are in India's Kolkata or Darjeeling, both grueling drives from the Bangladeshi capital.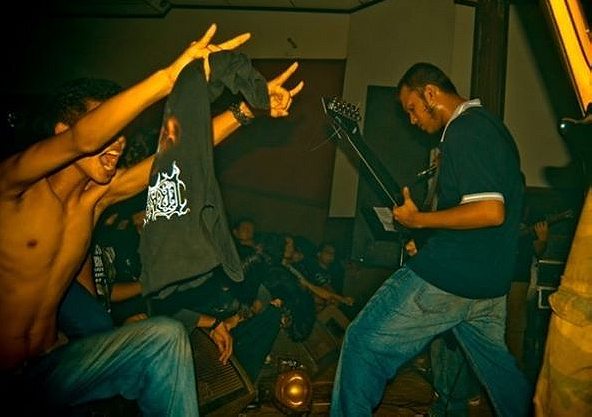 "The real problem is that it's difficult to get out of the country's borders," says Emran Shifa Ul of Sent Men Revolt, a more orthodox band inspired by the sounds of Pantera and Sepultura. "You have no idea how little our passport is worth. Of course, we can always go and play India, but their scene is much more established, with so many good bands and greater competition… It's not so easy to get to play out of Darjeeling and West Bengal."
We're cut off from the metal world map
Foreign bands generally skip Dhaka when they visit South Asia, preferring the larger audiences in Indian metropolises such as Delhi and Bangalore. "In India, metalheads are more fortunate—they saw Metallica, Lamb of God, Incantation," Adnan says. "Nobody comes up here. Even in Nepal the scene is better than ours. Napalm Death played recently in Kathmandu." Adnan grows forlorn. "And forget about going abroad. It almost seems like being a Bengali was a deadly sin."
Things have become more difficult also for those who want to travel to Bangladesh: visas recently tripled in cost. For citizens of the United States, Australia and England, a single entry visa costs $150 for just two weeks.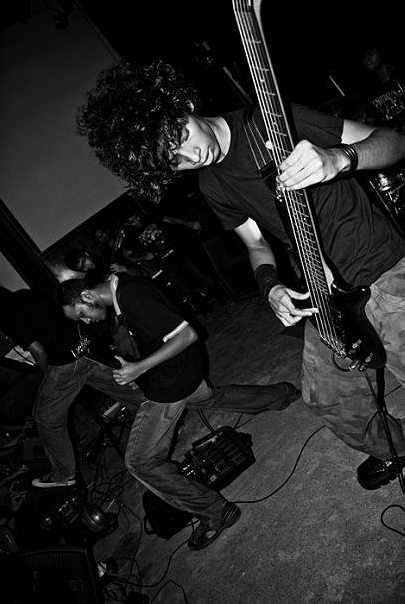 "We're cut off from the metal world map," says Khan Farabi Baezid of Chromatic Massacre, a promisingly brutal tech-death metal band. "The government thinks it's protecting the integrity of the country, but instead is putting us in a cage. There's no chance left to emerge in any field, both cultural and economic."
Despite the challenges facing the fledgeling metal scene, Dhaka's metalheads take refuge at ULAB's faculty of arts or in other practice studios. As paying customers, they can lock themselves up in tiny air-conditioned rooms and rage against the system with heavy chords, pounding drums and cathartic, guttural Bengali wails. Dhaka's dark heart beats.
A Bengalcore Listening Guide:
JAHILIYYAH Desecration of Zion
SEVERE DEMENTIA Entombment of the Traitor
CHROMATIC MASSACRE Internal Vomitory
ABOMINABLE CARNIVORE Infuse the Demon Seed
TRAINWRECK 909
DISSECTOR Samsu the Slaughterer