Leave the crass commercialism of Canal Street behind for a walk in the swamp and Vietnamese fare.
Confusingly, New Orleans' West Bank lies south, and not west, of New Orleans. In some places, due to the twists and turns of the Mississippi, the West Bank actually lies east of the city. The big, slow river, taking a few last pivots before heading down the bayou and emptying into the Gulf of Mexico, separates New Orleans from towns such as Gretna, Marrero, and Westwego.
While the West Bank is, by most measures, something of a suburban wasteland, it is my favorite expanse of highways, subdivisions, and chain stores. As you drive away from the historic city center, New Orleans' architecture becomes increasingly plain while the cultural landscape becomes increasingly complex. You are crossing French-named waterways through the neighborhoods of Vietnamese Louisianans, diverse Latino communities, and bayou natives who are increasingly moving inland as waters rise. While Canal Street is an elaborate backdrop of commercial scenery, staged to appeal to cliches of Louisiana, just miles away is a quiet town busy getting on with the business of living.
Get up early if it's hot. Secure yourself a car, rented or borrowed, and breakfast: skip the beignets and try the superior buttermilk drops or grab some breakfast tacos to go. Head across the river on the massive Crescent City Connection Bridge. Take in the "kneel for Jesus, stand for the anthem" billboard. You're in a complicated place.
Take exit 4B on to LA-45 and drive south on Barataria Boulevard. Check out Hope Haven on your right. Its Spanish colonial-revival style buildings from the 1930s are weird and dreamy. Follow signs (or that tiny computer you carry with you) to the Barataria Preserve.
Part of the Jean Lafitte National Historical Park and Preserve, the Barataria Preserve is a space relatively close to the city of New Orleans where you can walk through the swamp, unsullied by concrete. Barataria's key attraction is unquestionably the sleepy alligators that swim and rest throughout the preserve, but the expanse of wetland is also home to more than two hundred species of birds, nutria (large swamp rodents common but not native to Louisiana), raccoons, wild pigs, and a variety of other swamp creatures.
In the visitor center, visitors are warned that feeding the alligators can result in a $5,000 fine and/or six months in jail. Honestly, I am a bit more deterred by the accompanying notice that "alligators assess their prey by height. If confronted with an aggressive alligator, stand as tall as possible," as if reaching 5'5" by standing on my tiptoes would save me. Needless to say, you really shouldn't feed the alligators.
The preserve lies on a natural levee, relatively higher and drier land formed by sediment deposits from two waterways: Bayou Coquille and Bayou Des Familles. A boardwalk snakes through wetland, among bald cypress with hanging moss in its branches and red-tinged roots that stick up out of the water like skinned knees. Saw palmetto grow close to the boardwalk, their sharp fans bending back toward the water. Moss and lichen paint everything green. Duckweed and hyacinth each vie for a turn to crowd slices of open water, while bunches of mistletoe gather in the trees in a move that seems almost too bayou-romantic.
When you're ready to walk among humans again, drive to lunch at Tan Dinh. A relatively large Vietnamese community settled in the New Orleans area beginning in the mid-1970s; recent estimates put the community at around 14,000 people. Some of the most effective community organizing after Hurricane Katrina has been from within this population, including rebuilding their storm-devastated communities and fighting against a landfill proposed to be placed in New Orleans East. Cyndi Nguyen was recently elected as the first Vietnamese city council member in New Orleans. Tan Dinh and the many other incredible Vietnamese restaurants are, without question, quintessential New Orleans food. I recommend the charred pork spring rolls, chicken pho, and the spicy lemongrass tofu with sweet rice cake.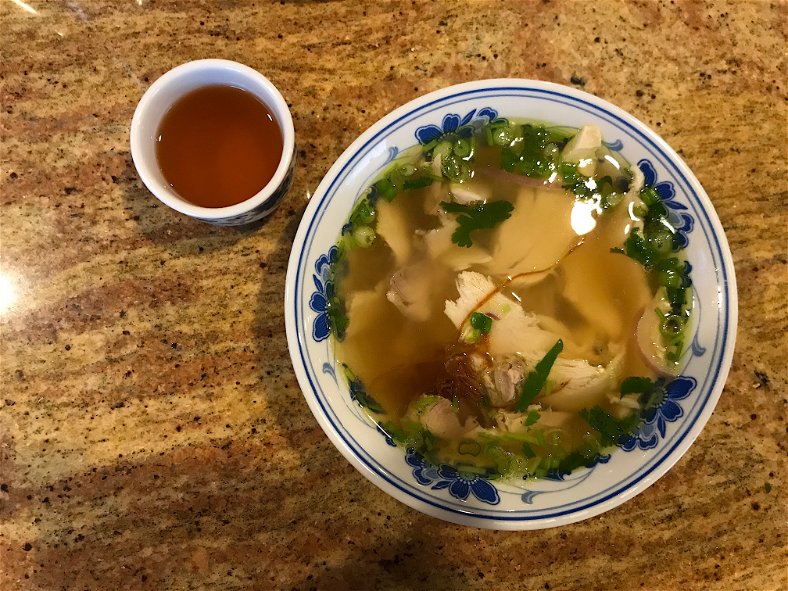 I've always found it fitting that this part of South Louisiana is so inhabited by cypress trees. If culture is what happens when people put down roots, the cypress trees' knees rising above the water, visible roots knocking against and winding through each other, feels oddly appropriate.
The communities who settled on the perimeter of this city, pushed out of New Orleans by rising prices, have put roots down in this swampy, strangely beautiful, mosquito-filled land. Home to both the children of Vietnamese refugees and some of the last remaining speakers of Cajun French, this area is as typically New Orleans as any.