African or Spanish? Creole or Cajun? A guide to the cultures that built America's best cooking.
New Orleans has been a lynchpin global port town for almost 300 years, meaning that with each influx of new immigrants and transplants—Italian, French, African, Caribbean—the dishes bubbling up in pots around the city also take on a brand-new form. The way dining and cultural shifts intertwine throughout New Orleans' history is a sprawling family tree, and below are eight dishes crucial to its growth.
Andouille Sausage, 1755-1764
Sure, it's a key ingredient in a host of classic Creole dishes (Red beans and rice! Gumbo!), but Andouille sausage is the kind of encased meat that's special enough to stand on its own, too.

An early import from France via Acadia, Andouille is a thick, double-smoked sausage combining pork, garlic, onion and a just-spicy-enough pepper blend. Andouille sits alongside a host of other sausage-making traditions in the city—many of which retain German influence—and despite its early arriver-status, was undoubtedly shaped by the push and pull of fellow meat-link styles.
"It has been said by visitors to New Orleans that the Creoles excel all other cooks in preparing appetizing Sausages. From the old Creole women who go about the streets crying out Belle Saucisses! Belle Chaurice! to the Boudins and Saucissons so temptingly prepared by the Creole butchers in the French Market, the Creole Sausage enters largely into domestic cookery and forms a delightful flavoring of many dainty dishes," writes 1904's Picayune Creole Cookbook.

And while a good Chaurice or Saucisson can definitely scratch that carnivorous itch, for many, andouille is synonymous with Southeast Louisiana cuisine.


Gumbo, 1760s-1800s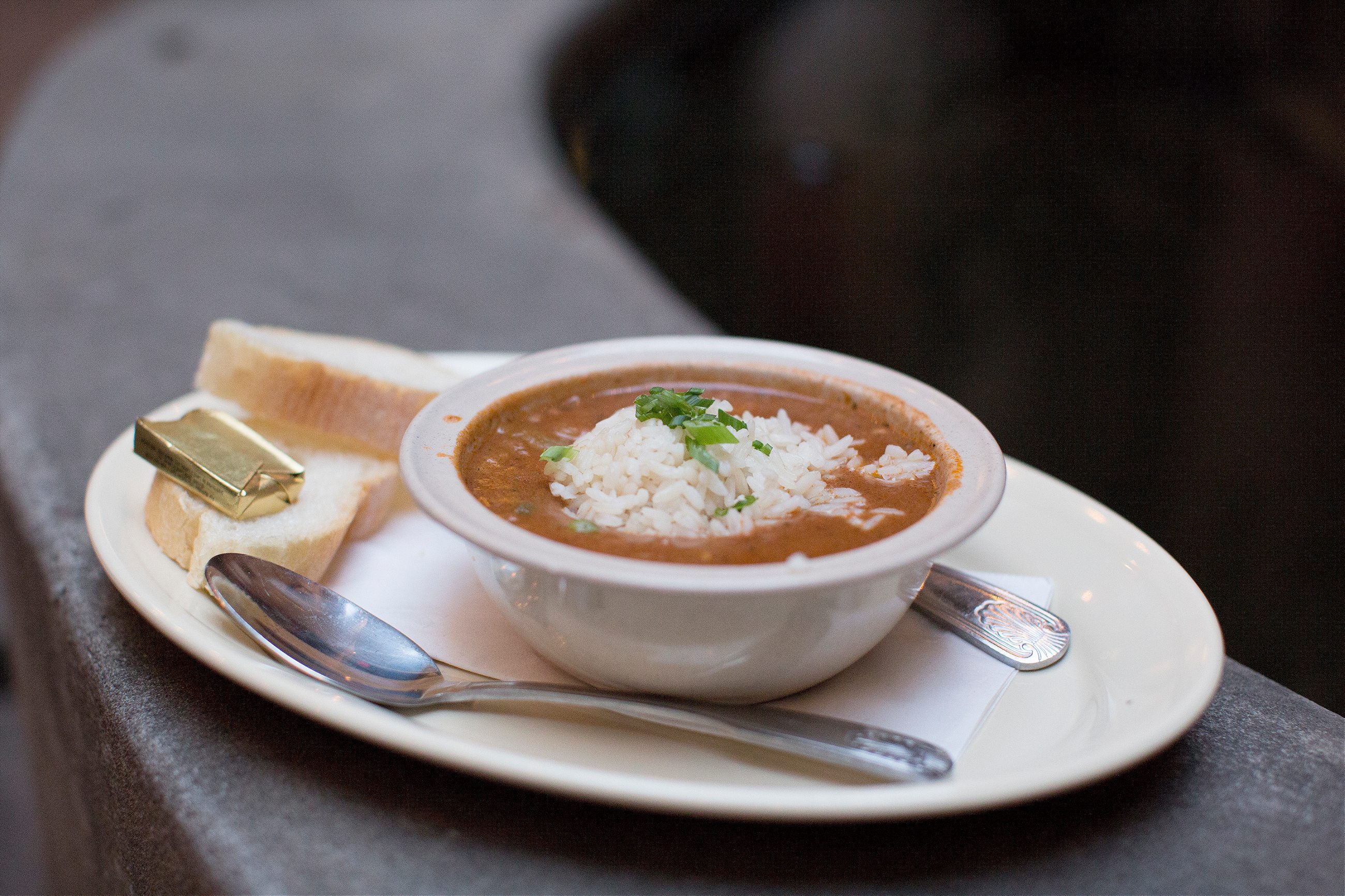 Ask any born-and-bred New Orleanian the most important kitchen skill a person can learn, and they'll likely not miss a beat in telling you that it's how to make a good (but not as good as their mama's, of course) roux.
What seems like a fairly straightforward combination of thickened flour and butter is nothing short of an art form in the city, and provides the foundation for one of the most critical New Orleans dishes: gumbo.
Like most good things, gumbo is complicated: not a dish transplanted from another place all in one piece, but a swirl of several soup-and-stew influences from across the globe. There's the French fish stew bouillabaisse, which bears a striking resemblance to seafood gumbo (and New Orleans was, after all, settled as a French colony in 1718). There's the clear—likely predominant—African influence, particularly the versions of gumbo that use okra as a thickener. (Fun etymology fact: It's generally agreed upon that gumbo takes its name from the Central Bantu word for okra, ki ngombo.) Then there's the alternate, non-okra means of thickening gumbo, file, or ground sassafras, which is said to have been introduced to French and Spanish colonists by the Choctaw.
There are almost as many types of gumbo as folks who love to cook it, from the traditional chicken-and-sausage preparation, to turkey neck, to oyster gumbo and gumbo z'herbe on Maundy Thursday. It's a community gathering point and a crowd pleaser: the kind of dish that becomes a source of family pride and eagerly anticipated as the quasi-cold weather creeps into the city.
But no matter how you end up making it, there's always step number one: "First, you make a roux…"
Jambalaya, 1849
Jambalaya's beauty is in its mish-mashed menagerie: The kind of dish with enough cultural influences sculpting its versatile form that the result is unmistakably New Orleans: a glorious, delicious mess.

A rice-based dish peppered with sausage, chicken, shrimp and vegetables seasoned with the New Orleans "holy trinity" (bell pepper, onion, celery), citywide legend holds that the first instance of the dish appeared on the streets of the French Quarter in the early 1800s as Spaniards attempted to recreate paella. Their plans for socarrat-greatness all but dried up when there was a serious lack of saffron to be found, so they looked to tomatoes—and a heaping bunch of spices from the Caribbean—to serve as a stand-in. Lo and behold, jambalaya was born.

The dish is also one that actively exhibits the distinct difference between Creole (associated primarily with New Orleans) and Cajun (a specific culinary tradition unto itself from Acadiana) cuisine. Creole jambalaya is also known as "red" jambalaya and uses a tomato base, while Cajun jambalaya omits tomatoes in the tradition of most Cajun dishes, instead relying on a much darker, robust roux as a foundation.

And just like there are a card-catalogue's worth of ways to prepare jambalaya, there are also as many tales about the etymology of the word itself. Some say it's a portmanteau of Spanish and African origin, others point specifically to the fact that "jambalaia" appeared in French cookbooks as a reference to a rabble of ingredients decades before the word first appeared in U.S. print.

Sazerac, 1850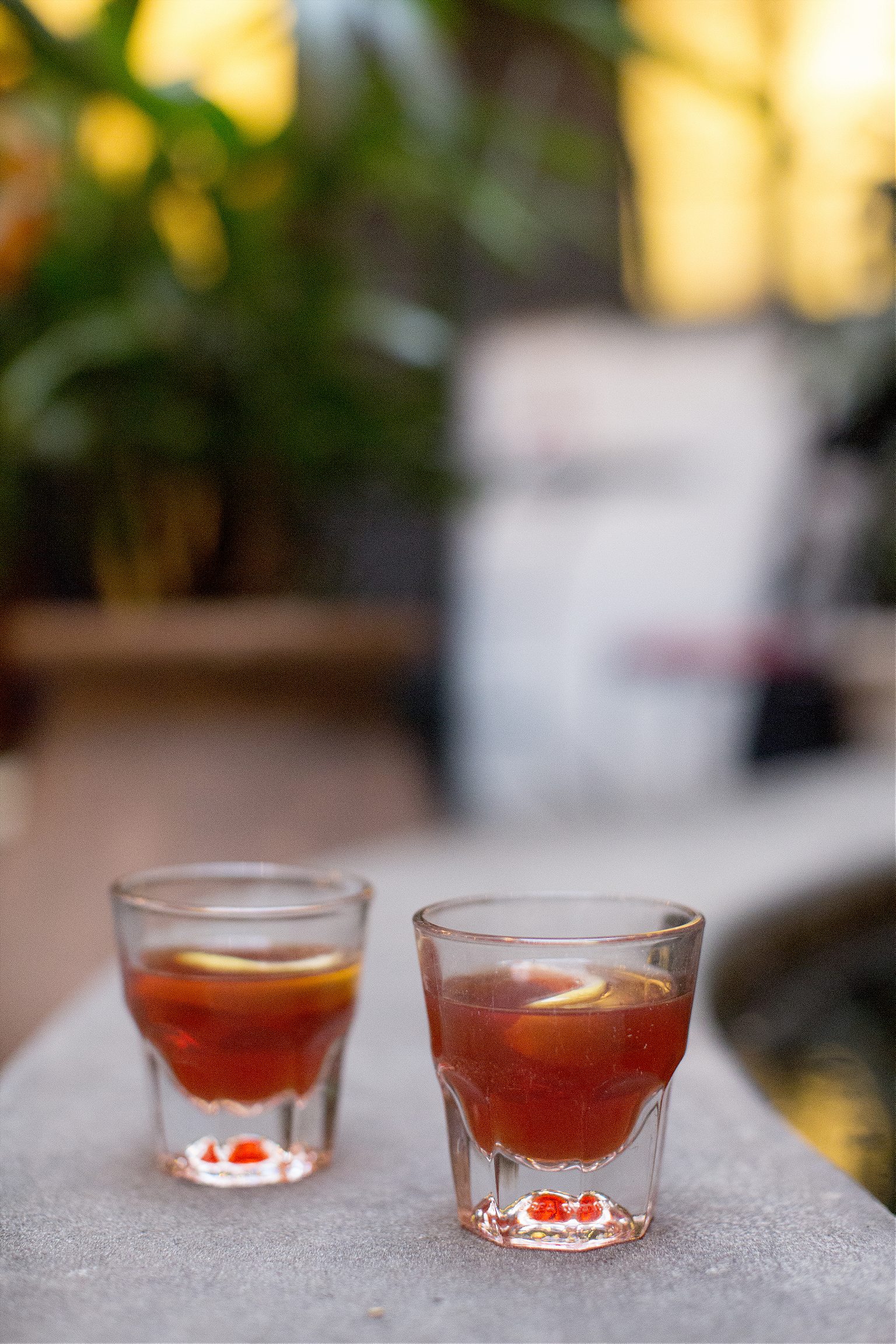 In most places, cocktails aren't considered food. In New Orleans, they're a meal unto themselves, and perhaps the most exalted of all is the Sazerac.

Around 1850, New Orleanian Sewell T. Taylor began to import a Cognac by the name of Sazerac de Forge et Fils, inspiring entrepreneur Aaron Bird to rebrand his newly acquired bar as—wait for it—The Sazerac House. Its main specialty was the Sazerac, made with a little from Column A (Cognac) and a little from Column B (bitters made by local druggist Antoine Peychaud). It was an instant hit. By hook or by crook, rye eventually replaced Cognac as the spirit of choice, but little else has changed about the drink since its birth, save the addition of a little Herbsaint and a sugar cube or two. At heart, it's still the liquor-forward slow-sipper it was during the days of ladies flashing ankles instead of, well, other things.

Ya-Ka-Mein, 1870s-1910s
Ah, Old Sober. Call it whatever you want—Ya-Ka-Mein, Ya-Ka-Mee, Yaka-Meat—it's undoubtedly the best hangover cure New Orleans has to offer.

There are no hard-and-fast rules about what constitutes ya-ka-mein. It's a soupy merger of African-American and Asian-American flavors, with a spool of noodles (sometimes spaghetti, sometimes whatever's around), beef, and a sprinkle of green onions in salty, soy sauce-rich broth. Most of the time, there's half a hard-boiled egg floating on top like a buoy. And, despite chef-y attempting to gussy it up these days, it's typically an inexpensive food made for slurping, grabbing on the go, or spooning into your mouth out of a Styrofoam cup while talking through a lunch break.

The origin story behind the beloved corner store favorite, though, is murky. Long-held rumor contends that the dish made its debut after the Korean War, when African-American soldiers returned home itching to recreate soup-and-noodle dishes from their time overseas with local ingredients. Alas, this tale is probably wrong: New Orleanians have been making batches of ya-ka-mein since long before the middle-half of the twentieth century.

Most likely, the dish originated in New Orleans' (now vanished) Chinatown, which grew rapidly throughout the late 1800s as Chinese immigrants were brought to town as railroad construction workers.

So, eat it on the way to a Second Line. Eat it to try and stave off the headache you know is headed your way. Eat it because you know that food is, sometimes, the best medicine.  

Po-Boy, 1920s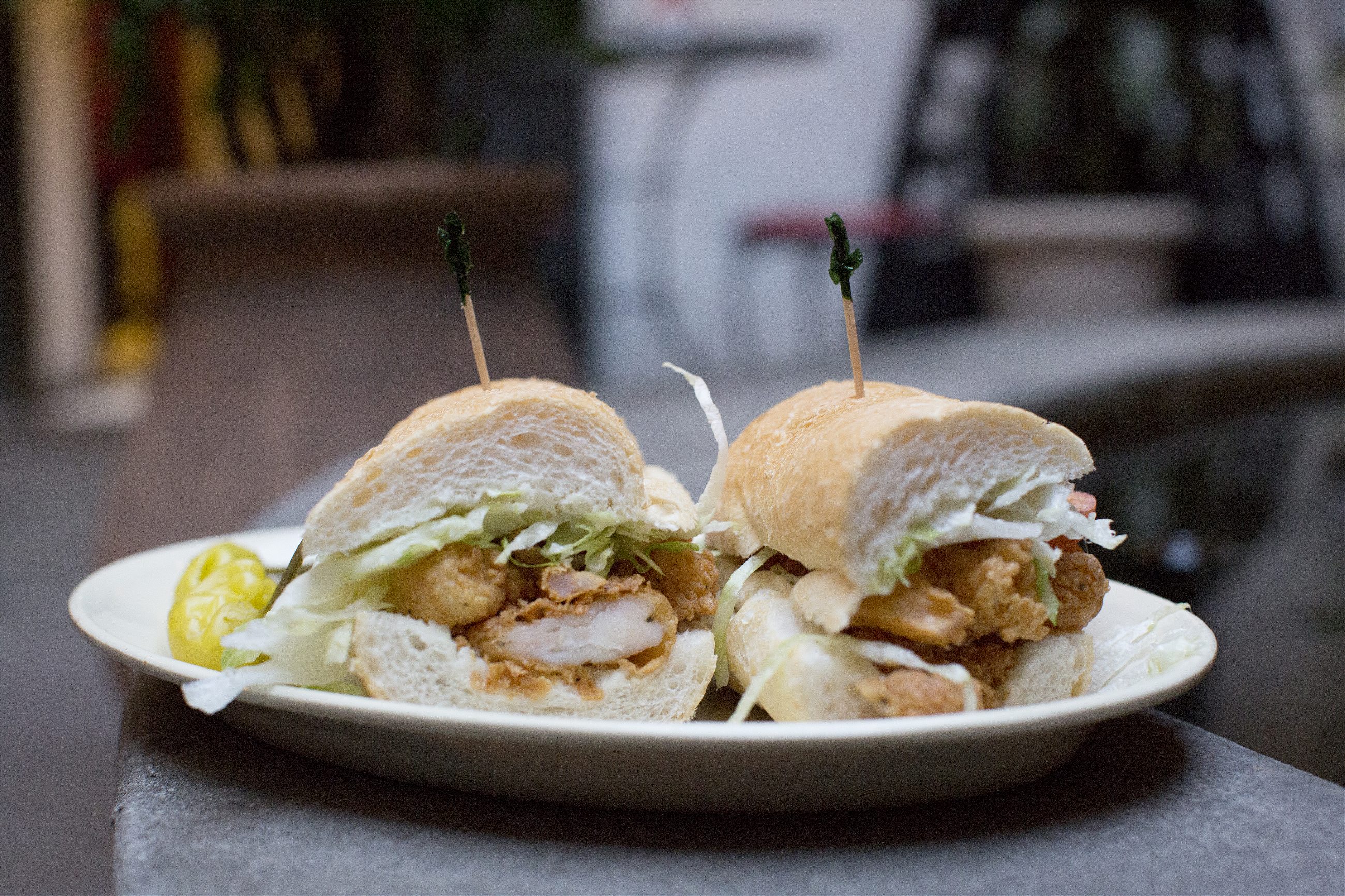 Hollowed out loaves of French bread stuffed with everything from fried shrimp to roast beef have been served on the cheap in New Orleans since at least the mid-1800s, quickly becoming a working-class staple that both satisfied and, typically, rang in under 10 cents a pop.

It wasn't until 1929, though, that the Martin Brothers perfected the sandwich, megaphoned its glory, and lent it a piece of lore that became a name: the po-boy.

The most widely repeated tale says that, during the streetcar worker strike of 1929, Benny and Clovis Martin pledged to feed the striking workers—the "poor boys"—these heaping sandwiches for free. Another (less sensational) account claims that while the Martins did, in fact, feed hundreds of hungry workers over the years, the "poor boy" name wasn't tied specifically to such a benevolent narrative. Instead, it was just a nickname—coined by newspapers—for their most frequent clientele.   


Snoball, 1933
There's really no comparing a New Orleans snoball to any sticky-sweet, syrup-riddled snow cone you might've eaten on a Tilt-a-Whirl as a kid. Snow cone ice? It's pebbles. It's the kind of gravely stuff that stings your face when it's hailing—pure amateur hour. Snowball ice, on the other hand, is fluffy as cotton, yet somehow magically dense, and makes the perfect receptacle for a ROYGBIV of colorful flavors unique to the Crescent City (nectar, anyone?).

The first snoball machine was created by Ernest Hansen in the early 1930s, and by 1936, Hansen and family had shared his game-changing creation with the public. It was an instant smash, and Hansen's Sno-Blitz quickly became the quintessential snoball stand in New Orleans, where lines have been wrapping around the block for more than sixty years.

These days, there are plenty of places to get a sweet, icy fix around the city if you're in the market during the "season" from March through October. Interested in really doing it up? Get a "stuffed" snowball—one that's filled with soft-serve ice cream—or get your favor flavor made into a "cream" by letting your faithful snoball maker pour evaporated milk over the top. You won't regret it, especially in the mid-August doldrums.


Banh Mi: "Vietnamese Po-Boy," mid-1970s
New Orleans is home to the second-largest Vietnamese population per capita in the United States, the majority of whom immigrated to the United States in the wake of the Vietnam War and were drawn to the city through the work of Catholic missionaries—and by a similar subtropical climate. Today, there are more than 15,000 Vietnamese immigrants living in and around Orleans Parish, mostly clustered in communities along the bayous of New Orleans East and across the Mississippi River on the West Bank of Orleans Parish.

Naturally, Vietnamese cuisine quickly took root in the Crescent City. And while a steaming hot bowl of pho is lauded by any New Orleanians who's ever had a cold, it's the banh mi—also known to some around town as the "Vietnamese po-boy"—that's become a deeply embedded cross-cultural touchstone and canvas for both Vietnamese and traditional Gulf Coast chefs.

Since Hurricane Katrina, the increased demand for Vietnamese cuisine has mushroomed, and restaurants slinging banh mi can be found in every corner of the city: their pillowy pads of French bread stacked high with meats, pate, cilantro, jalapeno, daikon, cucumber, and more. The bakery Dong Phuong's perfectly spongy, crusty loaves (used for both po-boys and banh mi citywide) has played a particularly large role in helping merge the two sandwich cultures, and it's not difficult to see how ingredients between the two sandwiches share a similar DNA.