A Drink Fit for Royalty but Poured for a Crowd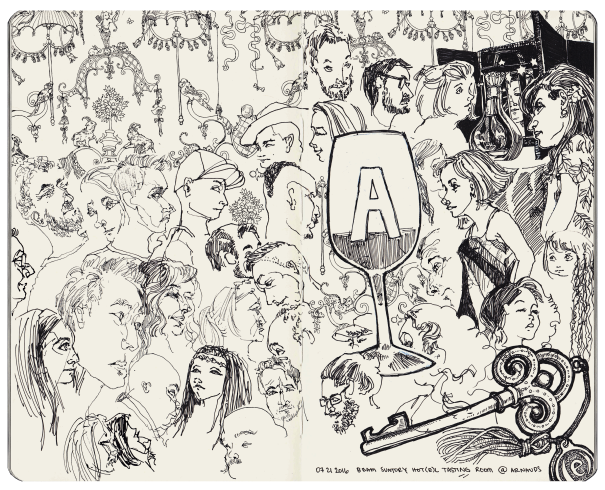 A Drink Fit for Royalty but Poured for a Crowd
This week, illustrator Daisy Dee is sharing dispatches from a week spent drinking in New Orleans during Tales of the Cocktail.
L'essence at Arnaud's, 3 pm
I do things for silly reasons. The reason I became a bartender in the first place was because I wanted to taste spirits that were older than me. I was poor and young and didn't know that it wouldn't be that difficult to do. I figured working in a bar would provide me with a spirits education, and eventually I would get to drink something twice my age. Even though I've accomplished that tiny dream many times over at this point, I still operate on that prerogative. I suppose it's just in my nature to seek out and taste history. This is one of those opportunities.
Beam Suntory, a spirits manufacturer, has rented out Arnaud's, one of my favorite restaurants in all of New Orleans, for a hotel-themed party. I am ecstatic.
I check in with the "concierge" and he hands me a substantial, copper-colored bottle opener masquerading as a beautiful room key. The main dining area has been transformed into a breathtaking hotel lobby, with a large bar serviced by five bartenders pumping out classics quickly and efficiently: cognac-based French 75s, Penicillin Punches, Boulevardiers, and Hibiki Highballs are all on offer. I help myself to a highball and hunt down some snacks; the food is being provided by the restaurant and it is delicious.
There is a line forming to go upstairs, where there is an exclusive tasting room in which guests can sample the rarer spirits in the company's catalogue. Upon entry I receive a small stemmed glass, etched with the iconic "A" of the Auchentoshan single malt whisky distillery. I love this room, especially the wallpaper, a blend of playful circus imagery and animals that look like they belong on family crests. People are milling about from one corner to another, discussing the nuances of the products that the brand ambassadors are serving up. El Tesoro's Paradiso is being poured in one corner, while others are gathered around the Hakkushu and Yamazaki bottles. I've come upstairs for one thing, a tiny taste of by far the rarest and most delicate spirit in the room: Courvoisier's L'essence.
The marketing department of the cognac industry as a whole has done very well in making cognac a luxury item in the U.S., thanks in no small part to the hip-hop community and the frequent mention of cognac alongside expensive jewelry, designer fashion, and high-end sports cars. L'essence is Courvoisier's special-edition cognac, and is the essence, not only of all of their grand and petit champagne eau de vies (dating back to 1910) but of luxury as well.
I've found a seat close by, realizing that the line forming for such precious liquid will be the perfect opportunity to practice some face sketches. Word is spreading that the L'essence is being poured and everyone wants a taste. Of course they do, as the bottle retails for up to $3,200. These events are the most likely place to taste something so rare, unless you have a friend who also happens to be royalty.
The Courvoisier representative checks the glasses for cleanliness before pouring. The cognac is so delicate that if any other spirit still lingers in the glass, it will overpower the L'essence. It is indeed delicate and nuanced and very much appeals to my taste. It has a very smooth, nutty body with surprisingly floral notes for a spirit containing mostly century-old eau de vie. Its flavor lingers for a long time, and I savor the half-ounce of liquid in my glass slowly while watching everyone vie for a taste. I watch a man sneakily attempt to get seconds, but he's turned away to give a fresh face the opportunity to taste.
Half an hour passes, and the decanter is empty. A few minutes later and my glass, which I've managed to stretch for this long, is finally empty, too. I take a deep breath of the remaining perfume and dream longingly of the next time I will taste something so exquisite.