The unapologetically meaty cuisine of Mumbai's Bohra Muslim community has found a growing, appreciative audience.
Bohra Muslims have been an important presence in Mumbai for nearly two centuries, and yet most Mumbaikars know about them in only the most general terms. They're an educated, close-knit mercantile community and have an ecstatic reverence for the Syedna, their religious leader. Originally from Yemen by way of Gujarat (the state to Mumbai's north), they're known as the city's most progressive Muslim community. Bohra women are easily recognizable in the streets by the rida, a colorful two-piece outfit embellished with lacy flowers and sequins, a whimsical answer to the more conservative black hijab. Beyond that, the Bohras are, for most people in this city of 25 million, a mystery.
Since roughly 2014, the Bohras have found themselves suddenly in the public eye, for mundane reasons and serious societal conflicts.
In December of that year, Nafisa Kapadia and her son Munaf used Facebook to announce a series of pop-up lunches, which they called The Bohri Kitchen and held in their home in the historic South Mumbai neighborhood of Colaba. They served (and still serve) an unapologetically meaty feast typical of their community. A slow-cooked leg of goat, called a raan, is served alongside flaky samosas stuffed with minced goat, or kheema. There is roast chicken and mutton biryani and a Bohra version of khichda, India's ubiquitous rice-and-lentil porridge enriched with split wheat and stewed goat. There are glutinous goat trotters and deep-fried patties of goat brain, all served, as is typical in Bohra ceremonial events, on an immense steel platter called a thaal, a tradition Munaf Kapadia traces to the community's roots in Yemen.
The Kapadias' pop-up was not the first Bohri culinary event. Earlier in 2014, Gresham Fernandes, a well-known Mumbai chef, and architect Ayaz Basrai held a one-off pop-up of Bohri food cooked by Basrai's mother, Zia. In October of the same year, Fatema Kutianawala held a series of pop-up Bohra meals in her home.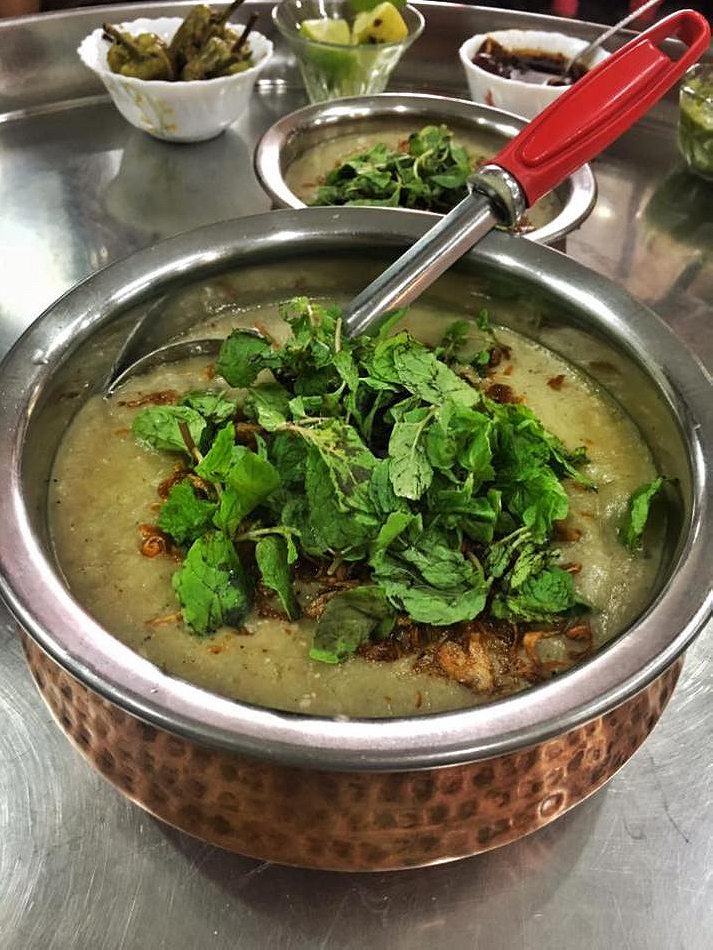 Until Kutianawala and the Kapadias opened their homes to the general public, there had been only one place in all of Mumbai to sample Gujarati Muslim cooking with any regularity, a no-frills open kitchen called Surti Bara Handi—roughly, Twelve Mixed Pots—set down a dark, narrow lane in the Central Mumbai neighbourhood of Bohri Mohalla. Beloved among the city's carnivores, Surti Bara Handi consists of 12 vats bubbling over a wood fire next to a handful of formica picnic tables in an ill-ventilated room. Each pot contains a stew made from a different part of the goat, to be mixed at will and served up with huge, crisp rounds of tandoori rotis from the baker across the lane.
The Bohri Kitchen pop-up was an immediate success, proof that there was, and probably long had been, a larger audience for this style of cooking.
Kapadia, 28, left a job at Google to work full-time on The Bohri Kitchen, which has since expanded into a catering business. It didn't take long for others to catch on. Pop-ups appeared in other parts of town and, in September of this year, a Hindu executive of a construction and hospitality company, Avinash Bhatia, opened a restaurant called The Tha'l Co. in the posh suburb of Bandra. "All my closest friends are Bohras. I've been eating this kind of food since I was a kid," Bhatia says. His idea was to recreate the sense of intimacy of eating around a thaal with his friends when they were growing up. "I miss those old days," he says.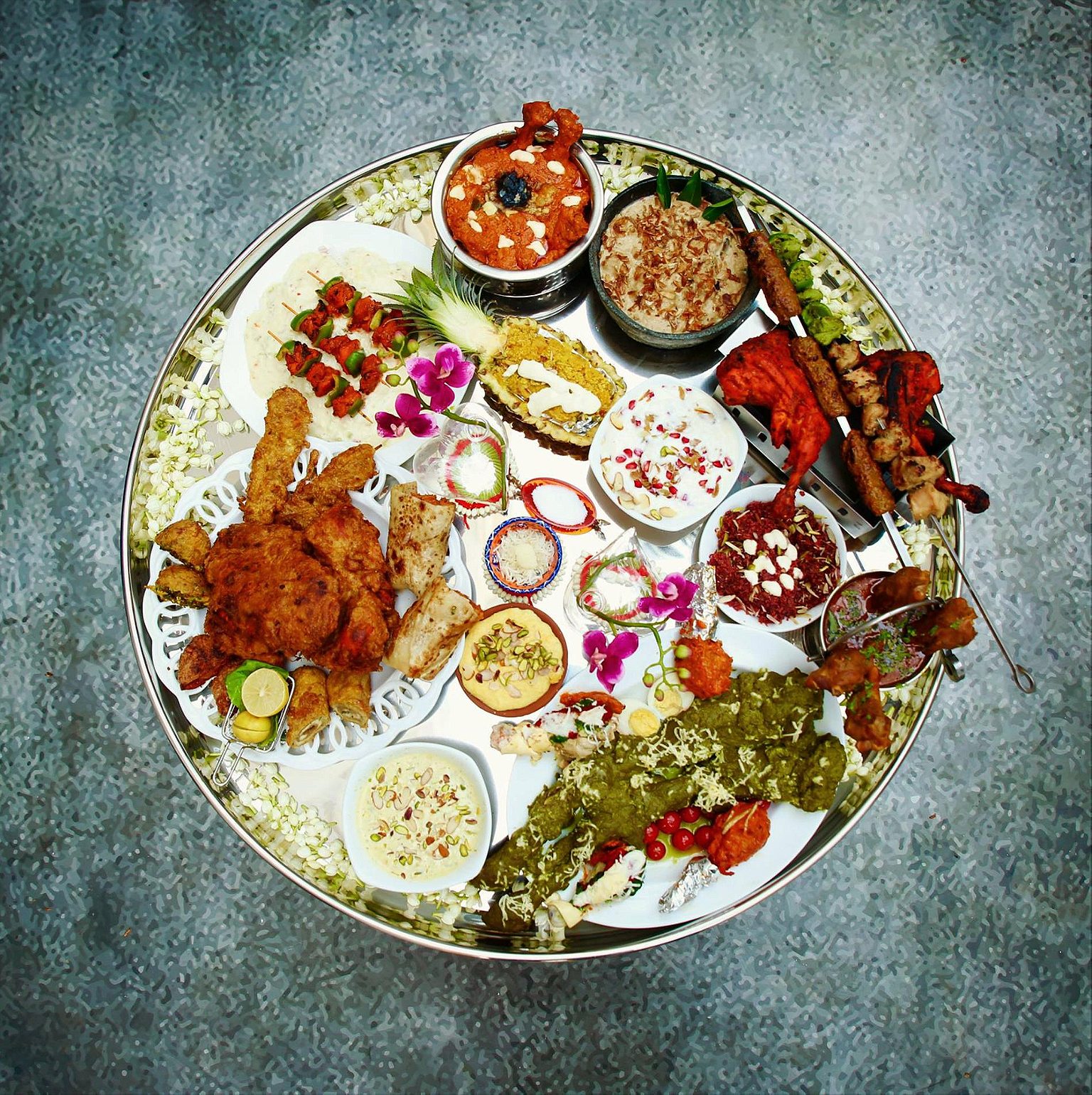 The emergence of this rich culinary tradition into public view came in the wake of other, less savory incidents that put the community in the spotlight for the first time.
The privacy and secrecy surrounding the Bohri community has historically been reinforced by a deep fear of social reprisal that makes internal criticism of the community or its leadership rare. Irfan Engineer, a Bohra reformist who runs the non-profit Centre for the Study of Society and Secularism, has had first-hand experience of violence and social boycott more times than he cares to remember. A kindly 55-year-old who is dressed traditionally in the thigh-length tunic known as a kurta, Engineer says that, "so far as religious rituals are concerned, we have never challenged the Syedna." For the seemingly minor infraction of questioning the religious leader's control over people's lives, he has been made an outcast, unwelcome at mosques and religious gatherings allied to the Syedna.
Engineer's father—Asghar Ali Engineer, perhaps the most vocal Bohra dissident—frequently criticised the Syedna and his family over issues such as the lack of accountability when it came to collecting taxes from the community. His break from tradition was met with multiple public assaults, most notably in the early 1970s in a mosque in Egypt run by Bohras and in 2000 at the airport in the central Indian city of Indore. Family members had to choose between associating with him and their relationships within the Bohra community. "In our childhood, we would stay with my grandmother," Engineer recalls. "When the doorbell rang, we were made to hide under the bed or in the toilet." If the caller was a conservative Bohra, they remained in hiding until he or she had left.
Even today, Bohras rarely criticize their community in public. But the emergence of social networks—the same ones that made it possible for Kapadia to develop The Bohra Kitchen—has opened a space for animated debate within the community. Closed social networks like Whatsapp have given Bohras privacy to rant about internal issues, particularly those involving the community's draconian spiritual leaders. "A lot of Bohris think that as long as we're not being affected, we're ok," one young Bohra told me on condition of anonymity. "Why take the headache [of being critical] especially because of the perception that the religious leadership is scary. But there are definitely things the younger generations are questioning."
One major talking point in recent years on both Bohra Whatsapp groups and, much to the conservative leadership's chagrin, in local and regional news, has been the succession battle that broke out following the death of the long-serving and much-revered Syedna Burhanuddin in January of 2014. Both his second son, Mufaddal Saifuddin, and his brother, Khuzaima Qutbuddin, declared themselves his spiritual heirs, creating a deep schism in the community.
The fight got ugly fast. Qutbuddin's daughters, married to Mufaddal Saifuddin and his cousin, left their husbands and spirited their children off to the U.S. out of loyalty to their father. An American court later gave custody to the fathers. In 2014, Qutbuddin filed a suit in the Bombay High Court pleading for it to intervene in the succession battle. Three years later, the case remains unresolved. Upon Qutbuddin's death last year, his son, Taher Fakhruddin, has taken up his mantle, positioning himself as a more progressive figure compared to Saiffudin, his far more popular rival, who, Fakhruddin claims, uses fear to control his flock.
For the time being, Mufaddal Saifuddin holds the position of Syedna for the majority faction of Bohras, and is, according to Engineer, more conservative than his father. One of his diktats, reportedly unpopular even among loyal community members, was to command Bohras to take leave from offices and schools for the ten days of mourning during Moharram, the holiest month in the Islamic calendar, in order to attend prayers. Attendance is monitored by way of smart cards, issued to all practicing Bohras by the Anjuman-e-Shiate-Ali, an organization run by the spiritual leadership that manages community affairs in Mumbai. "There's no visible resistance, but there's a lot of resentment in private," Engineer says.
To be sure, there's plenty of criticism against the ruling clergy outside Mumbai. The reformist movement, started in the 1970s by a group known as the Bohra Youth Association, is robust in smaller cities with sizeable Bohra populations, particularly in the tourist-friendly city of Udaipur in the northwestern state of Rajasthan. In Mumbai, the Syedna's writ is still effectively law, and in the last few years, the extent of his power has become increasingly visible not just within the community, but also in the city at large.
The most visible example has been the redevelopment project currently underway in Bhendi Bazaar, one of the most congested areas in one of the world's most populous cities. Currently, the neighborhood is a tightly packed matrix of streets, beginning just after the UNESCO-protected Chhatrapati Shivaji Maharaj Terminus, the busiest train station in Asia. The buildings stand cheek by jowl, many of them over a century old and dangerously dilapidated. Many residents in the predominantly Muslim neighborhood live in apartments as small as 200 square feet without private toilets.
To revamp the area, the Saifee Burhani Upliftment Trust (SBUT), an organization established by the former Syedna, will redevelop a swathe of 16.5 acres. Around 250 buildings will be razed to make way for 17 new towers. Chor Bazaar, an iconic, street-level market for antique furniture, movie posters, lamps, and all kinds of vintage tchotchkes, will be lost in the overhaul. The project is the first initiative within a larger scheme proposed by the state government that encourages private agencies to 'redevelop' pockets of the city in need of better infrastructure. The Trust has declared that it doesn't intend to profit from the project since it's for the community. In contrast, other public-private infrastructure partnerships, like the notorious Slum Rehabilitation Scheme, have been highly profitable for builders and the government at the public's expense.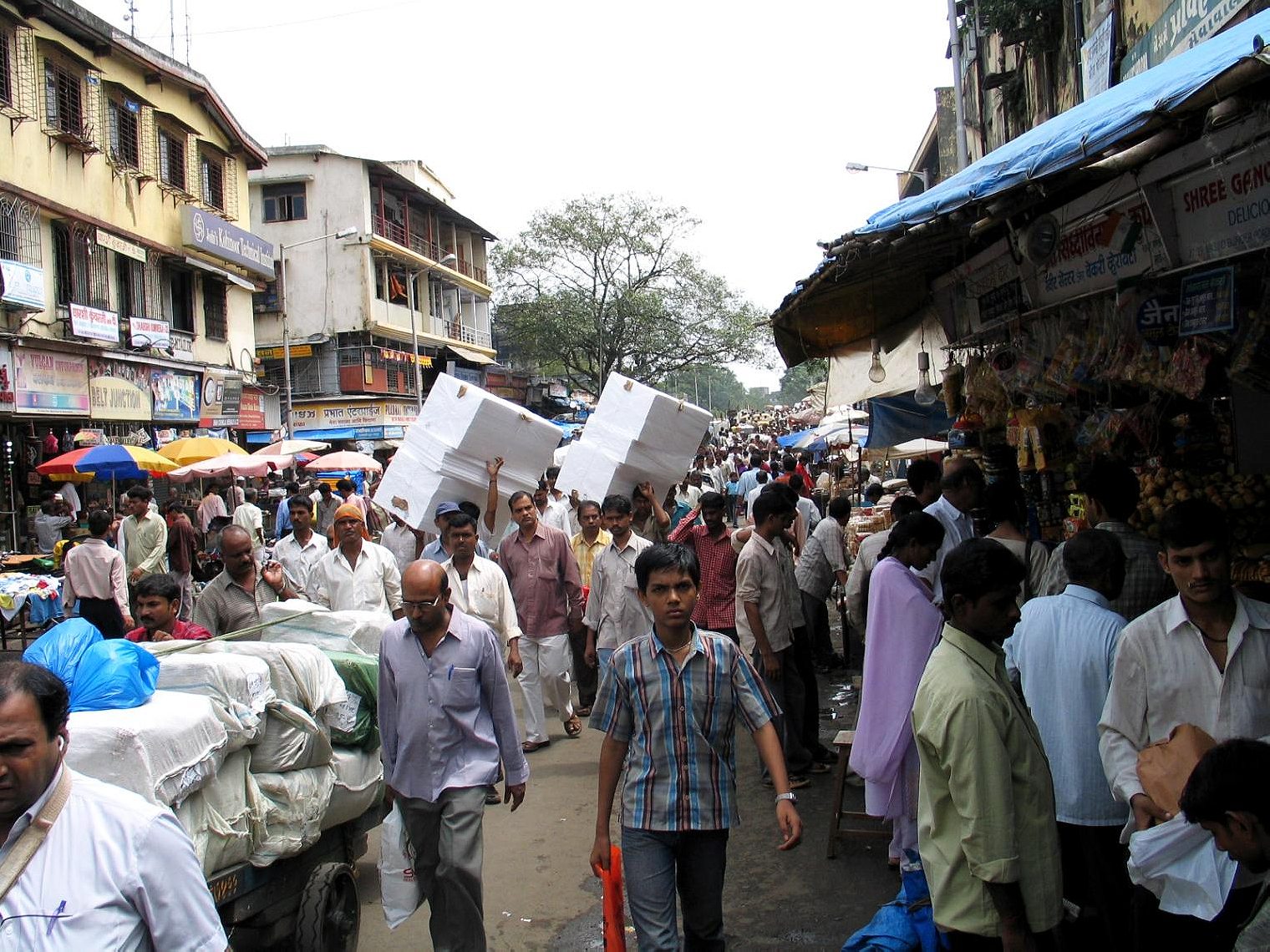 The SBUT has proposed widening the area's narrow roads, housing traders in a shopping complex, and providing every resident with an apartment of at least 350 square feet with an attached bathroom. According to city law, this type of project typically requires that construction agencies acquire the consent of 70 percent of the people affected, a cumbersome process often resolved through corruption and bribery. In Bhendi Bazaar, a neighborhood with a large Bohra population and home to some of the community's most important landmarks and institutions, the clergy's influence is strong enough that people fell in line without much resistance. Only the traders protested for fear of losing business when their street-facing shops move indoors.
Though the project has received general praise for improving living conditions for over 3,000 families, it ran into trouble in August when Hussaini Manzil, a run-down, 117-year-old building collapsed, leaving 33 dead. This happens frequently in old parts of the city, but, in this case, SBUT came under fire for failing to repair the building despite being aware of its precarious condition. Residents said they had refused to leave without a sturdier agreement that would have specifically mentioned where and when they would be allotted new flats. The scandal became a rare instance of Bohras airing their private grievances in public.
A Bohra businessman, who spoke to me on the condition of anonymity, said that he sees social media as a channel for Bohras to express themselves, be it on food or political issues. "There's definitely a Bohri voice," he said. "Now that voice has an outlet outside the community."
All this agitation in the last few years has finally allowed a more complex portrait of the Bohra community to emerge. And while plenty of controversies have been aired, pretty much everyone can agree on the deliciousness of the food. It's only now that Mumbaikars are discovering the pleasures of lightly spiced kheema samosas, mutton undhiyu (winter vegetables with mutton), ghee-laden fig halva and the various chutneys and condiments specific to the community. And the fun of eating a course-based meal in a thaal, one which begins with dessert and has sweet palate cleansers between each major item, should not be underrated.
Kutianawala said that young Bohra chefs and caterers have realized that appealing to people beyond the community makes sense for business. It's also a good way for a private, poorly understood population to make itself seen. "This is a great form of business," Kutianwala says, "of showing what your community is about."
Top image: Courtesy of The Bohri Kitchen