Expensive, inventive and very far from the original: Moscow has made the burrata its own
Moscow is a fast city. This applies doubly to restaurant culture in which the cycle—find new foods, fall in love with them, and fall out of love again—seems to only be accelerating.
The aughts were the time of the rolls. Not raw fish sushi or sashimi, of course—it's expensive and you're not likely to run into truly good fish. Namely rolls that spoke Russian: rice filled with cream cheese, caviar, bacon and even sausage. For a decade, the rolls began colonizing the menus of even the humblest restaurants across the country. Outside the rich regions, outside of the city centers, there are not many restaurants, and the vast majority of those are cafes with cheap rolls or big banquets with tablecloths, khinkali, kebabs, and karaoke.
In 2010, the gourmet burger arrived in Moscow and the restaurants began serving meticulously prepared burgers. Cafe Yunost', for example, serves a gourmet burger made with beef bacon, bacon jam, homemade Japanese-style mayo, and passata. By 2015, you could find proper burgers in almost any restaurant, from Georgian to  Italian. In 2016, we started eating pastrami and then slurping Vietnamese pho just about everywhere, from any one of dozens of new ethnic and pseudo-ethnic outlets that flooded the market in just a few months. 2017 was the year of poke bowls, here as elsewhere in the world, and the bowls of marinated raw fish began aggressively popping up on menus where they probably didn't belong. Can you feel the acceleration?
After the food embargoes of 2014, entrepreneurs in Russia began actively learning to produce cheese.
To define the Perfect Dish in Moscow, then, is not an act of picking a trophy from the shelf. It's catching a firefly, finding the dish of the moment, not the dish of forever. At this moment, summer 2018, that dish is burrata.
Yes, you read that correctly. Burrata, that rounded Italian indulgence of mozzarella stuffed with stracciatella and cream. After the food embargoes of 2014, entrepreneurs in Russia began actively learning to produce cheese. It hasn't been easy: mass production of cheese in an economy where milk production is falling is difficult. There's a lot of adulteration, so inexpensive Russian cheese is a little bit dangerous, not least for your taste buds. But at the same time, some small producers, including restaurants, have started producing their own high-end cheese. It's not quite up to Italian standards and is expensive, but it is a start.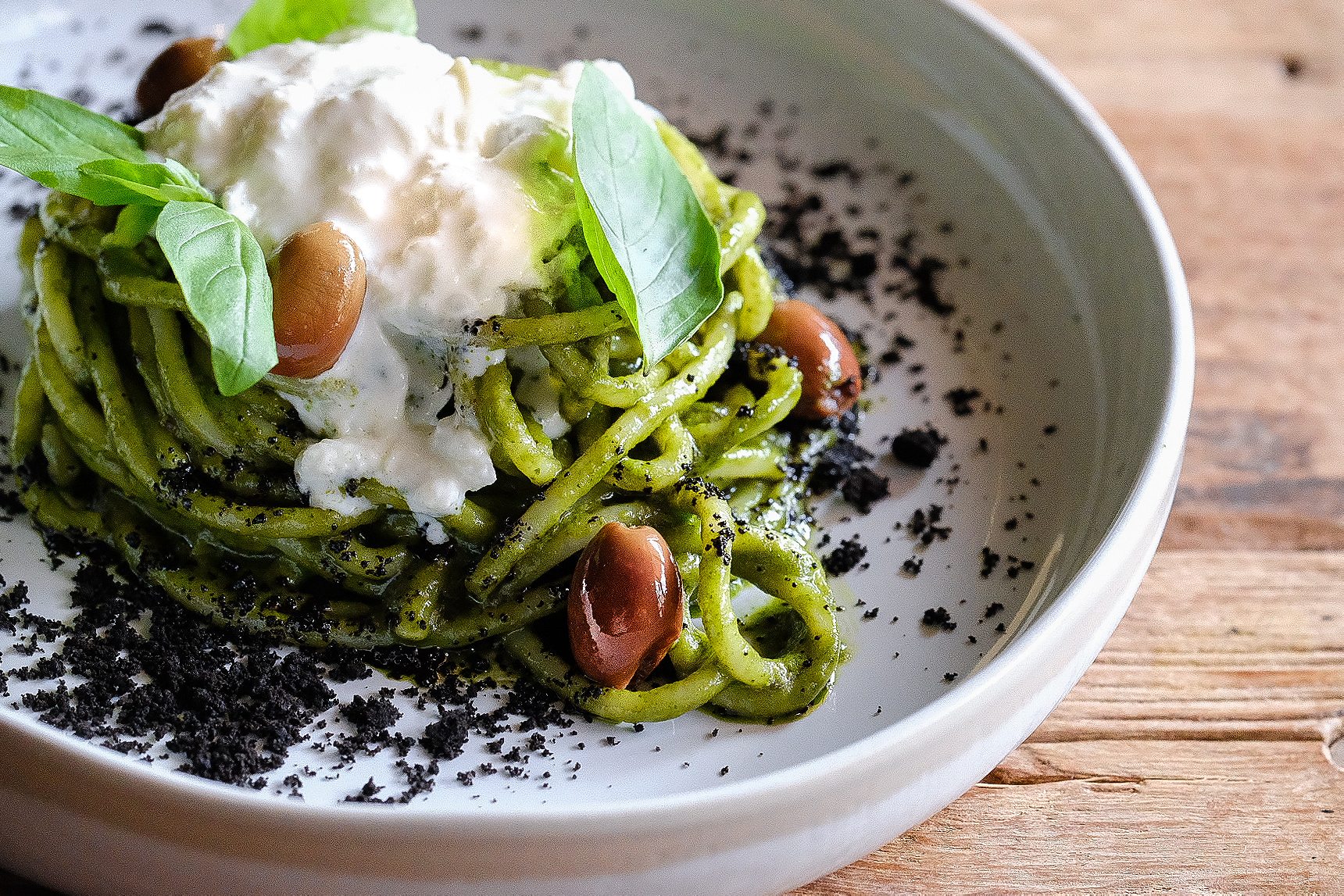 So why burrata? My theory is simple: in Moscow, it's all about the cream. It's not just the sushi rolls with cream cheese. It's also the mayonnaise and cream cheese salads for New Years, the endless creamy desserts served from Red Square to the suburbs—tiramisu, cheesecake, creme brulee and panna cotta. Then there are the casseroles, syrniki, porridge. The list runs like a river. And burrata—with its stracciatella, those sweet threads of cheese in thick, brackish cream inside—is an ideal embodiment of cream.
But it is also about improvisation. Muscovites don't just assimilate new cuisines, they redefine them, on the fly, according to their own tastes. Burrata is a perfect creamy canvas for any variations.
So Moscow gave rise to the Moscow burrata. The first step, the simplest one, was burrata with tomatoes. It is a required dish for Arkady Novikov, who owns fifty restaurants in the city and is one of Moscow's main restaurateurs. He uses this dish to demonstrate for his diners the beauty of the Baku tomato—three times more delicious than any other, and ten times more expensive.
In 2015, Novikov opened the first "Syrovarnya"—a restaurant that makes and sells its own cheese. A year later, he opened one more in Moscow and one in St. Petersburg. He makes eight types of soft cheeses, among them, of course, the building blocks for burrata. The recipe for "burrata + something" is regularly changing, at the moment it is served with roasted pepper. The homemade stracciatella itself comes in seven variants—alone, with tomatoes, with pepper, with a crab, with arugula, with linguine, with omelet.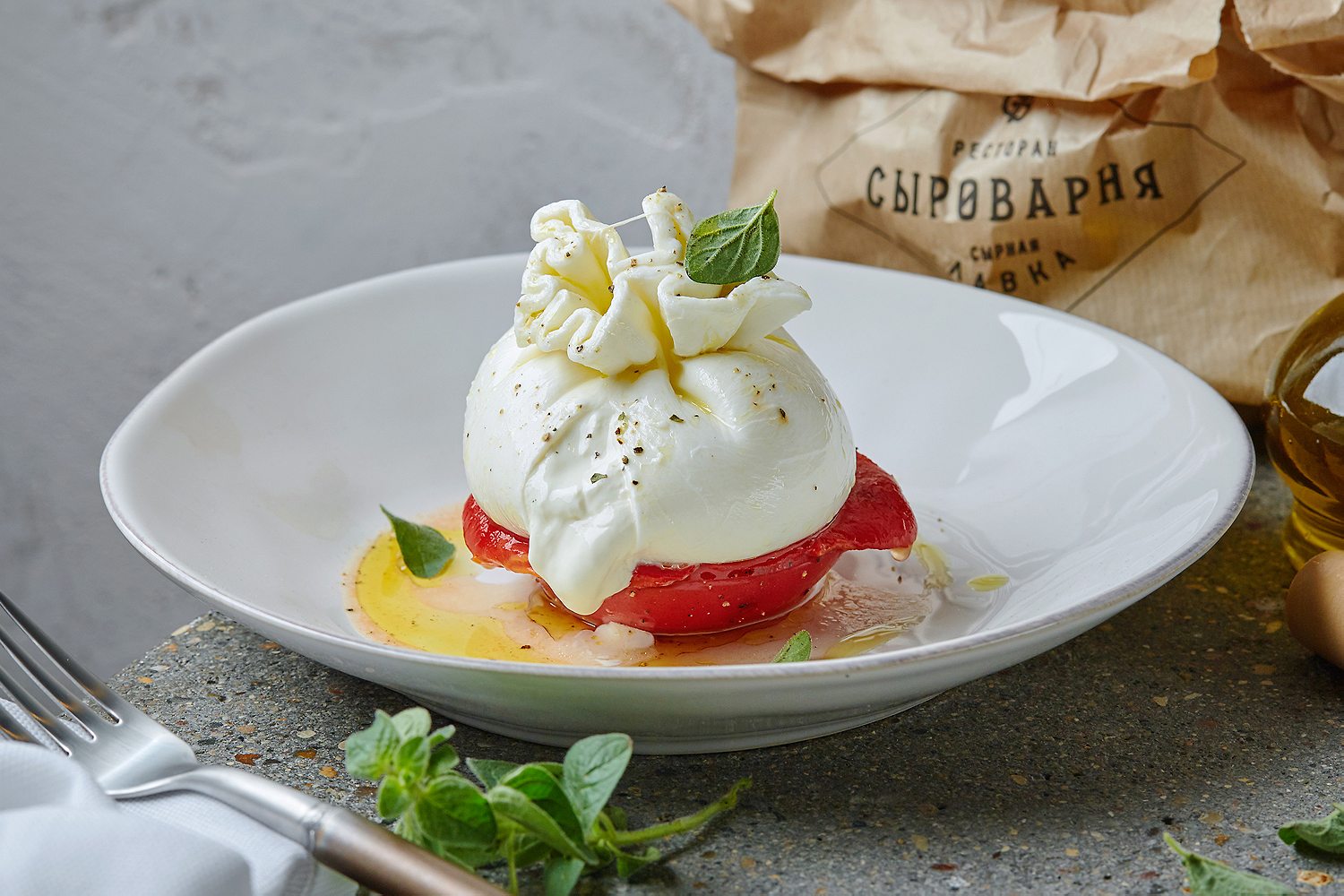 Another Moscow specialty cheese restaurant is Cheese Connection. They produce up to 500 kg of cheese a month, including burrata. They specialize in the improvised fillings, served in a deep plate. You cut the burrata open like a bag and sift through the cream for some of the jewels of Moscow ingredients: stracciatella mixed with red caviar, or with truffle, or crab, or figs with pine nuts. Everything short of real gold.
My tastes take me to the burrata in Eataly, which opened in Moscow in 2017. They are laboring harder than most under sanctions, but they've hit their stride with domestic cheese. They produce four types of young cheese there under the supervision of an Italian chef. You can take everything back home or try it in the restaurant. It is still the best combination of price and quality in the city. I buy the fresh-made burrata, bread and pickled anchovies, and presto—as they definitely do not say in Moscow—breakfast is ready.
But for the truest reflection of Moscow, you'd have to seek out the most expensive and elaborate options. Moscow is a city that wants all it can afford, on one plate, at one dish, and they make burrata with the same ethic. Patriarshiye Prudy (Patriarch's Ponds) is an expensive area in the heart of Moscow, home to expats and German luxury sedans and expensive little restaurants and designer handbags. While you're there, go for the burrata at Pinch. This small gem belongs to Ilya Tyutenkov, a restaurateur known to everyone in Moscow as the King of the Patriarch's Ponds.
Tyutenkov's restaurants are defined by interiors that are ahead of their time, intriguing food, and excellent music playlists, all presided over by a restaurateur with the kind of hypnotic eyes you'd see on snake charmers or shamans. His burrata at Pinch comes in two very different versions: with ravioli, crab, and caviar (almost 1000 calories of joy) or with carrot and pistachio hummus. Both are excellent.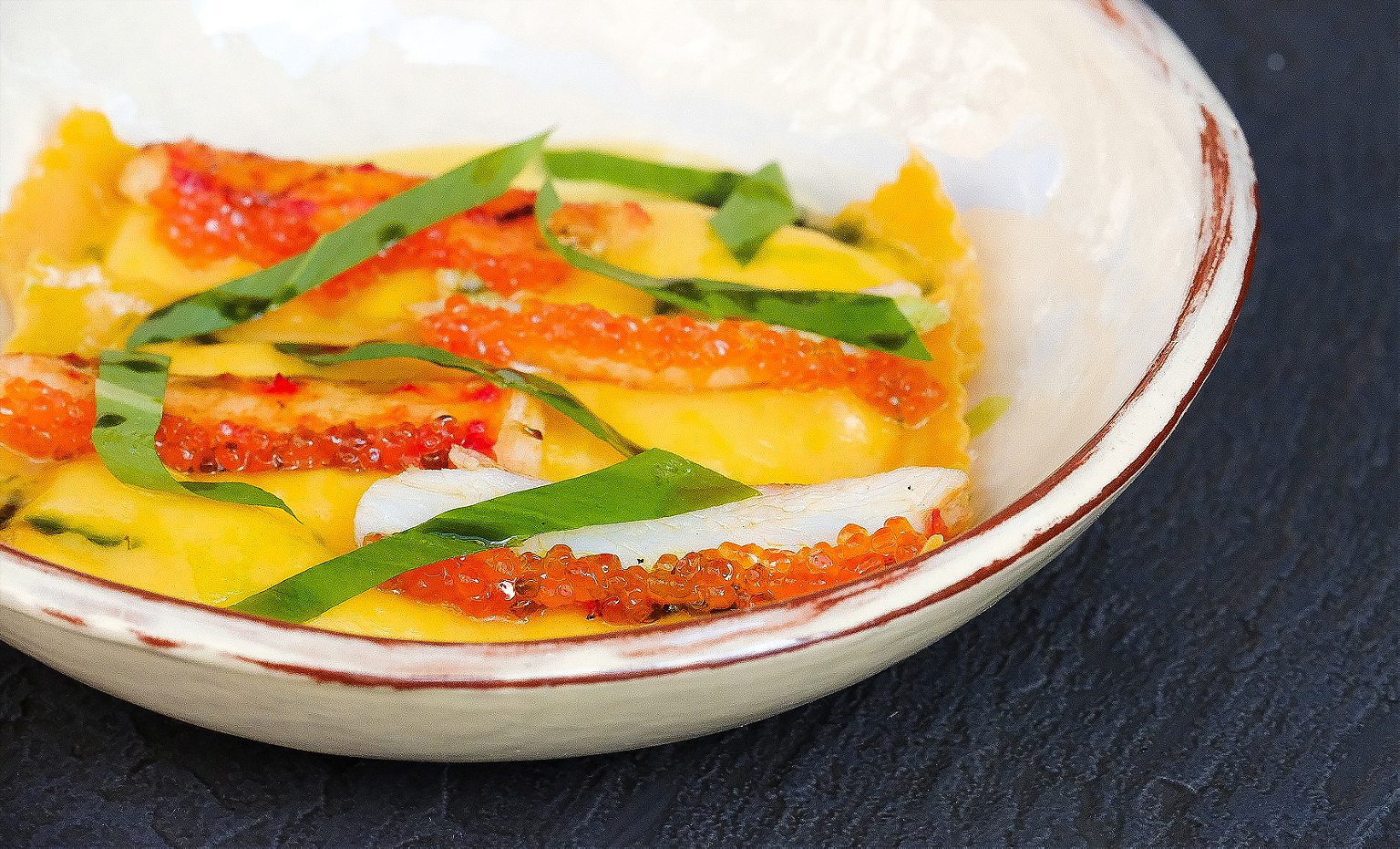 Burrata has also made its way into the most vital high-end restaurant group in Moscow—the White Rabbit Family owned by Boris Zarkov. The set menu at the flagship restaurant White Rabbit, with its ranking high in the World's Best list and its imperious views of Moscow, does not include Burrata (head chef Vladimir Mukhin aspires for more purely Russian dishes). But the main menu does have burrata, because this is Moscow 2018, and his well-heeled clientele demand it. They do three excellent variations, actually: the simpler stracciatella with strawberries, tomatoes and basil; the more challenging burrata with strawberries and onions and; and the chic ravioli with burrata and black truffle.
In the Peruvian restaurant Chicha, also part of the White Rabbit Family, stracciatella is served with salted tomatoes and fermented chili. In Selfie, with strawberries and lavender honey sauce. Gorynych, co-owned by Boris Zarkov and Ilya Tyutenkov (that same king of the Patriarch's Ponds) has stracciatella with strawberries and lavender sauce; Burrata with pear, barbecued beets and black currant; stracciatella with eggplant, pecan and unagi sauce; ravioli with burrata and black truffle, and, more humbly, a simple burrata with truffle. Sample the sheer number of variations on this theme, and you shall know then of burrata's victory over Moscow.
Top image: Burrata ​​with red caviar at Ugolek restaurant. Photo courtesy of Ugolek.