Spend some time in one of Moscow's finest museums.
Subterranean commuting might not be anyone's idea of a good time, but even in a city packing the war-games treasures and priceless bejeweled eggs of the Kremlin Armoury and the colossal Soviet pavilions of the VDNKh, the Metro holds up as one of Moscow's finest museums. Just avoid rush hour.
The Metro is stunning and provides an unrivaled insight into the city's psyche, past and present, but it also happens to be the best way to get around. Moscow has Uber, and the Russian version called Yandex Taxi, but also some nasty traffic. Metro trains come around every 90 seconds or so, at a more than 99 percent on-time rate. It's also reasonably priced, with a single ride at 55 cents (and cheaper in bulk). From history to tickets to rules—official and not—here's what you need to know to get started.
A Brief Introduction
Buying Tickets
Know Before You Go (Down)
Rules
An Easy Tour
A Brief Introduction
Moscow's Metro was a long time coming. Plans for rapid transit to relieve the city's beleaguered tram system date back to the Imperial era, but a couple of wars and a revolution held up its development. Stalin revived it as part of his grand plan to modernize the Soviet Union in the 1920s and 30s. The first lines and tunnels were constructed with help from engineers from the London Underground, although Stalin's secret police decided that they had learned too much about Moscow's layout and had them arrested on espionage charges and deported.
The beauty of its stations (if not its trains) is well-documented, and certainly no accident. In its illustrious first phases and particularly after the Second World War, the greatest architects of Soviet era were recruited to create gleaming temples celebrating the Revolution, the USSR, and the war triumph. No two stations are exactly alike, and each of the classic showpieces has a theme. There are world-famous shrines to Futurist architecture, a celebration of electricity, tributes to individuals and regions of the former Soviet Union. Each marble slab, mosaic tile, or light fixture was placed with intent, all in service to a station's aesthetic; each element, from the smallest brass ear of corn to a large blood-spattered sword on a World War II mural, is an essential part of the whole.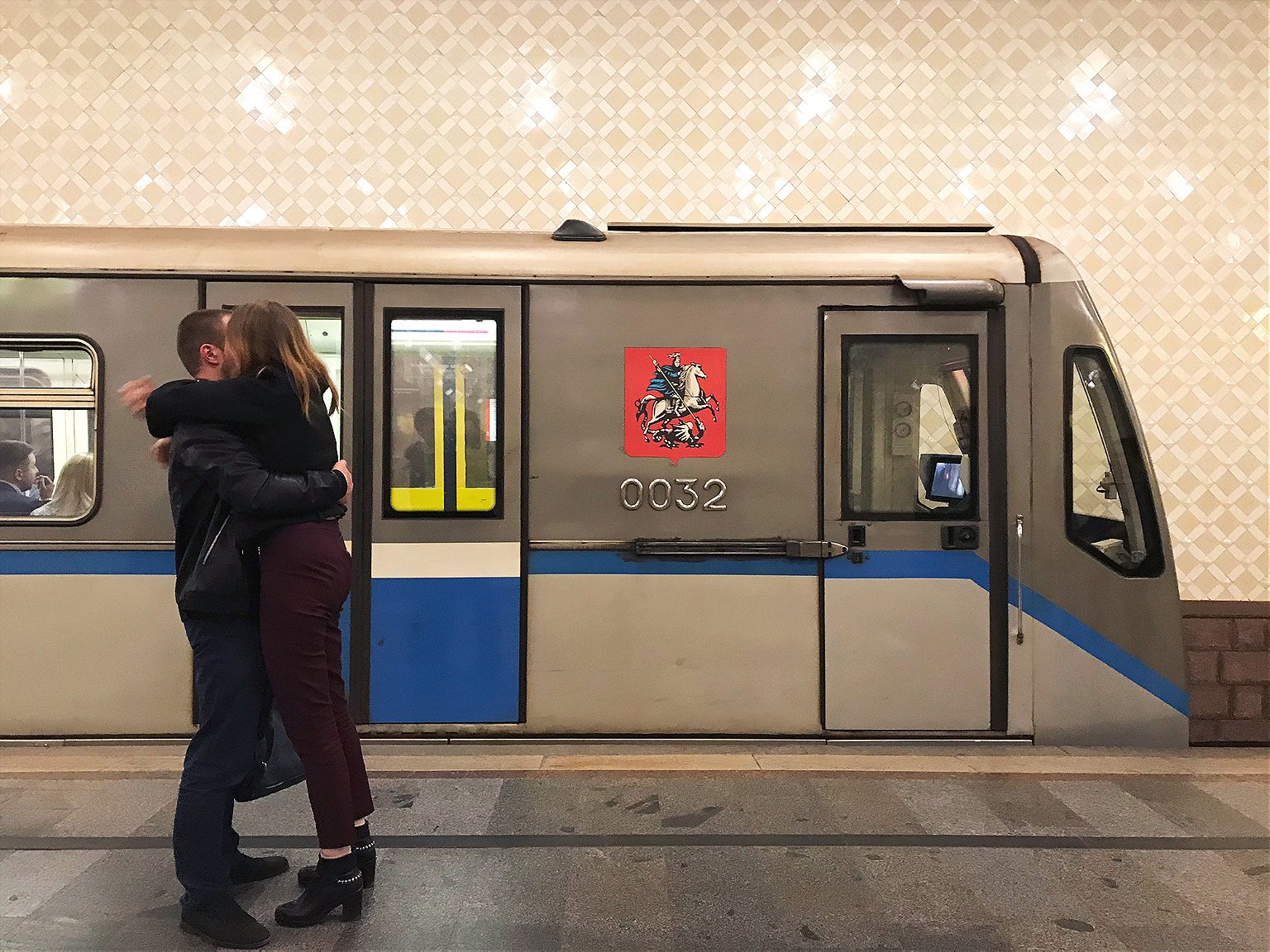 The Metro is a monument to the Soviet propaganda project it was intended to be when it opened in 1935 with the slogan "Building a Palace for the People". It brought the grand interiors of Imperial Russia to ordinary Muscovites, celebrated the Soviet Union's past achievements while promising its citizens a bright Soviet future, and of course, it was a show-piece for the world to witness the might and sophistication of life in the Soviet Union.
It may be a museum, but it's no relic. Up to nine million people use it daily, more than the London Underground and New York Subway combined. (Along with, at one time, about 20 stray dogs that learned to commute on the Metro.)
In its 80+ year history, the Metro has expanded in phases and fits and starts, in step with the fortunes of Moscow and Russia. Now, partly in preparation for the World Cup 2018, it's also modernizing. New trains allow passengers to walk the entire length of the train without having to change carriages. The system is becoming more visitor-friendly. (There are helpful stickers on the floor marking out the best selfie spots.) But there's a price to modernity: it's phasing out one of its beloved institutions, the escalator attendants. Often they are middle-aged or elderly women—"escalator grandmas" in news accounts—who have held the post for decades, sitting in their tiny kiosks, scolding commuters for bad escalator etiquette or even bad posture, or telling jokes. They are slated to be replaced, when at all, by members of the escalator maintenance staff.
For all its achievements, the Metro lags behind Moscow's above-ground growth, as Russia's capital sprawls ever outwards, generating some of the world's worst traffic jams. But since 2011, the Metro has been in the middle of an ambitious and long-overdue enlargement; 60 new stations are opening by 2020. If all goes to plan, the 2011-2020 period will have brought 125 miles of new tracks and over 100 new stations—a 40 percent increase—the fastest and largest expansion phase in any period in the Metro's history.
Facts:
14 lines
Opening hours: 5 a.m-1 a.m.
Rush hour(s): 8-10 a.m, 4-8 p.m.
Single ride: 55₽ (about 85 cents)
Wi-Fi network-wide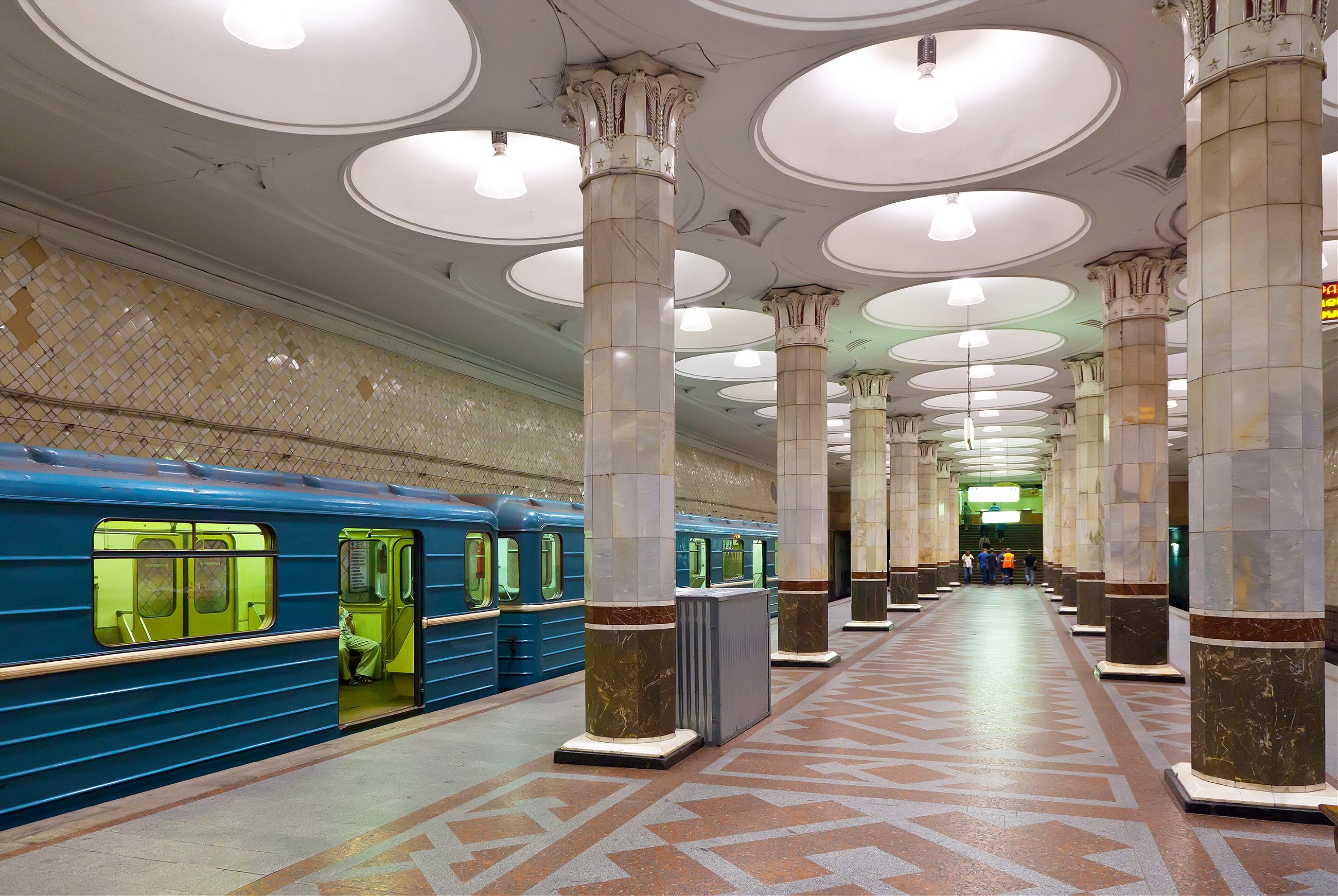 Buying Tickets
Ticket machines have a button to switch to English.
You can buy specific numbers of rides:

1, 2, 5, 11, 20, or 60. Hold up fingers to show how many rides you want to buy.
There is also a

90-minute ticket

, which gets you 1 trip on the metro plus an unlimited number of transfers on other transport (bus, tram, etc) within 90 minutes.
Or, you can buy day tickets with unlimited rides: one day

(218₽/ US$4), three days (415₽/US$7) or seven days (830₽/US$15). Check the rates

here

to stay up-to-date.
If you're going to be using the Metro regularly over a few days, it's worth getting a

Troika card

, a contactless, refillable card you can use on all public transport. Using the Metro is cheaper with one of these: a single ride is 36₽, not 55₽. Buy them and refill them in the Metro stations, and they're valid for 5 years, so you can keep it for next time. Or, if you have a lot of cash left on it when you leave, you can get it refunded at the Metro Service Centers at Ulitsa 1905 Goda,

25 or at Staraya Basmannaya 20, Building 1.
You can also buy silicone bracelets and keychains with

built-in transport chips

that you can use as a Troika card. (A Moscow Metro Fitbit!) So far, you can only get these at the Pushkinskaya metro station

Live Helpdesk

and souvenir shops in the Mayakovskaya and Trubnaya metro stations. The fare is the same as for the Troika card.
You can also use Apple Pay and Samsung Pay.
Know Before You Go (Down)
Get a map. You will be checking it. A lot. Print out a "bilingual" Metro map, in color, with both the Cyrillic and Latin: there are few English signs in the Metro system, so it's helpful to learn the Cyrillic station names too. They do announce stations in English once you're on the train, so listen hard, or count your stops. The map should be in color, because train lines are organized by color and you'll need to know which color line you need when you transfer.
Or, get an app. Download Yandex Metro. This app has bilingual maps and a route planner that works offline. The Moscow Metro app has a route planner, and you can use it to top up a Troika card and get updates on delays and maintenance work. Disabled passengers can also use it to request an escort or assistance.
There are metal detectors everywhere. They're at all stations. Try to travel light.
Live Help desks are your friend. Many of the central stations now have dedicated help desks with English-speaking staff to help out with Metro questions, guidance for other forms of transport, and information about nearby sights. Look for the grey-and-red kiosks at these stations. Also: The Live Help desk at Pushkinskaya station has a book-swapping library. Leave one, take one, or just take one and pass it on later. It's a pilot project from the Department of Transport to get people reading more real books on the Metro. The first batch was donated by Moscow Metro staffers.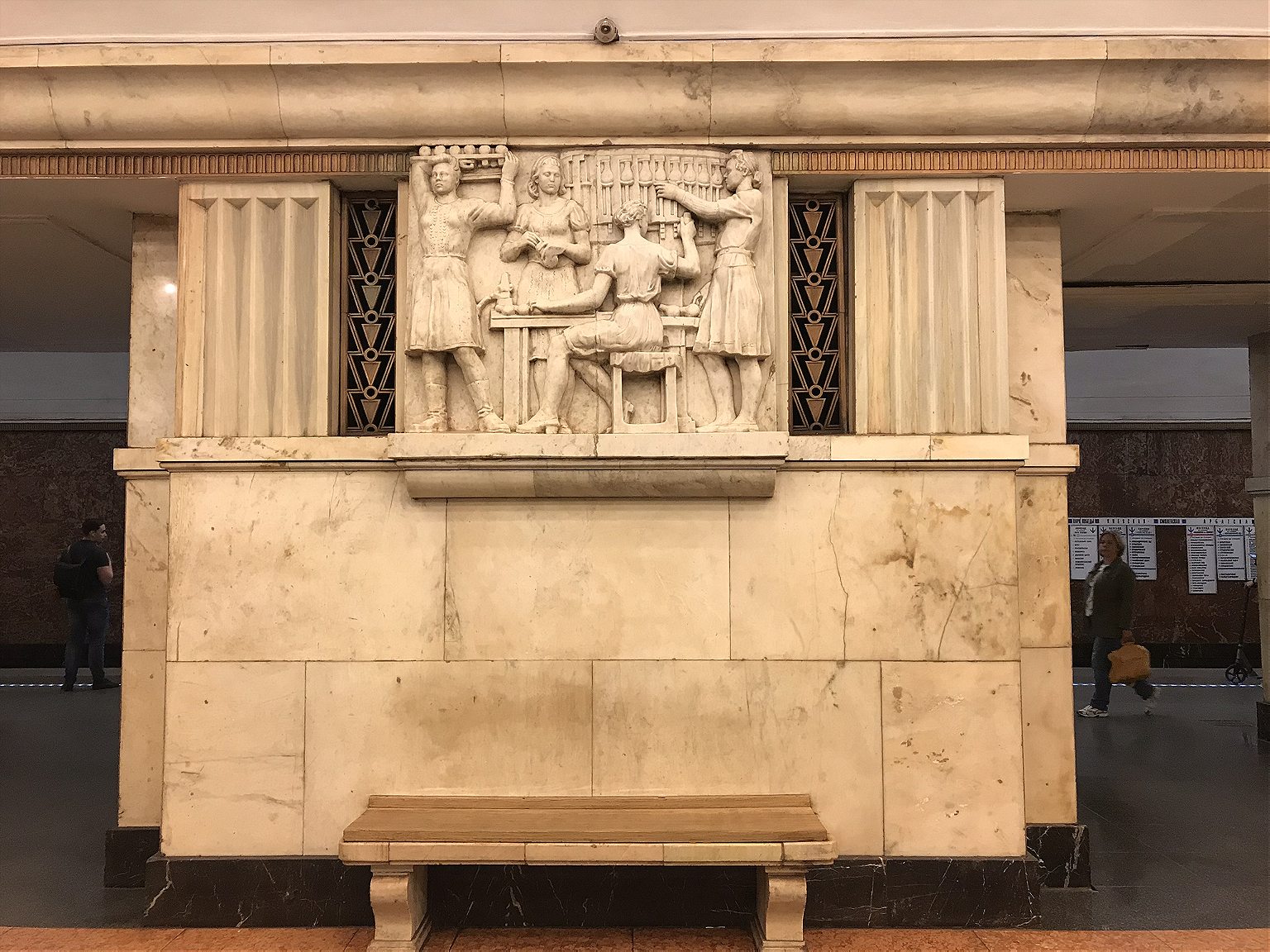 Don't run for trains. The next one is between 90 seconds to 3 minutes away.
Get in the Ring. The Metro is very centralized. The brown-colored 1 Koltsevaya ('circular') line forms a ring around the central zone and central stations. (It follows Moscow's above-ground's circular highway, the Garden Ring, which was built over the old city ramparts.) The Metro's radial layout means people coming from outer stations have to travel into the center or onto the Circle line to transfer, making this line particularly busy. The Circle line also has many of the most elaborate stations, because they were built mostly after Second World War when the Soviet Union was in the mood to showcase its military and cultural might.
Rush hour is no joke. The sweet spot for Moscow Metro travel—especially if you're there to see the stations and not just carried on a sea of people through them—is between 11 a.m. and 3. p.m. An emptier Metro is not just more pleasant, but gives you a better view of the stations, not to mention better photos. During rush hour, push or be pushed.
There is Wi-Fi once you're down there—apparently Europe's largest seamless public transport Wi-Fi network space—but first-time users must register and confirm a local phone number through the state services portal, so this might not be possible or practical for some visitors.
Some stations have phone-charging stands. 
Learn the word for EXIT: выход
Rules, spoken and unspoken
No smoking, no drinking, no filming, no littering. Photography is allowed, although it used to be banned.
Stand to the right on the escalator. Break this rule and you risk the wrath of the legendary escalator attendants. (No shenanigans on the escalators in general.)
Get out of the way. Find an empty corner to hide in when you get off a train and need to stare at your phone. Watch out getting out of the train in general; when your train doors open, people tend to appear from nowhere or from behind ornate marble columns, walking full-speed.
Always offer your seat to elderly ladies (what are you, a monster?).
An Easy Tour
This is no Metro Marathon (199 stations in 20 hours). It's an easy tour, taking in most—though not all—of the notable stations, the bulk of it going clockwise along the Circle line, with a couple of short detours. These stations are within minutes of one another, and the whole tour should take about 1-2 hours.
Start at Mayakovskaya Metro station, at the corner of Tverskaya and Garden Ring,  Triumfalnaya Square, Moskva, Russia, 125047.
1. Mayakovskaya. Named for Russian Futurist Movement poet Vladimir Mayakovsky and an attempt to bring to life the future he imagined in his poems. (The Futurist Movement, natch, was all about a rejecting the past and celebrating all things speed, industry, modern machines, youth, modernity.) The result: an Art Deco masterpiece that won the National Grand Prix for architecture at the New York World's Fair in 1939. It's all smooth, rounded shine and light, and gentle arches supported by columns of dark pink marble and stainless aircraft steel. Each of its 34 ceiling niches has a mosaic. During World War II, the station was used as an air-raid shelter and, at one point, a bunker for Stalin. He gave a subdued but rousing speech here in Nov. 6, 1941 as the Nazis bombed the city above.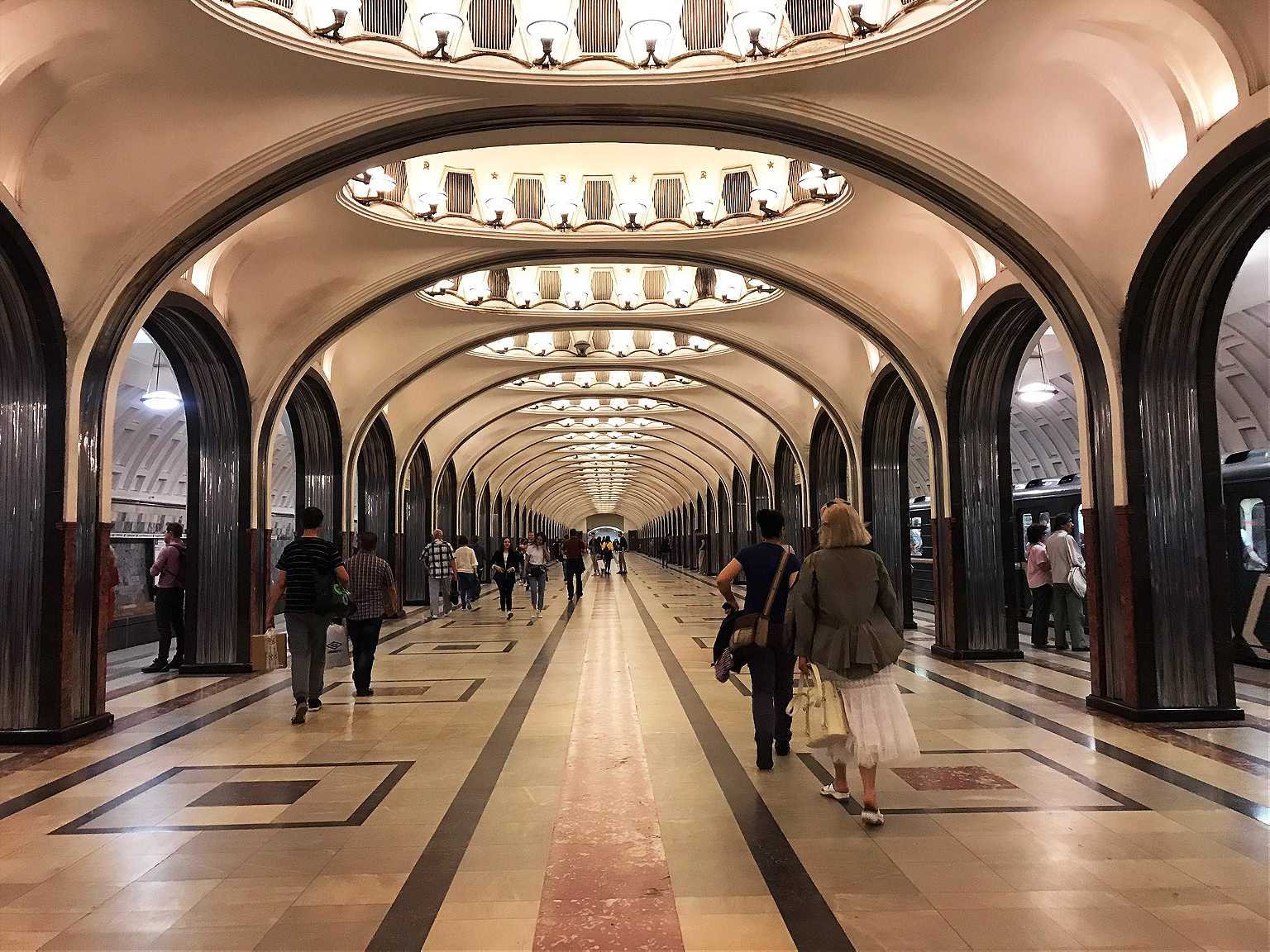 Take the 3/Green line one station to:
2. Belorusskaya. Opened in 1952, named after the connected Belarussky Rail Terminal, which runs trains between Moscow and Belarus. This is a light marble affair with a white, cake-like ceiling, lined with Belorussian patterns and 12 Florentine ceiling mosaics depicting life in Belarussia when it was built.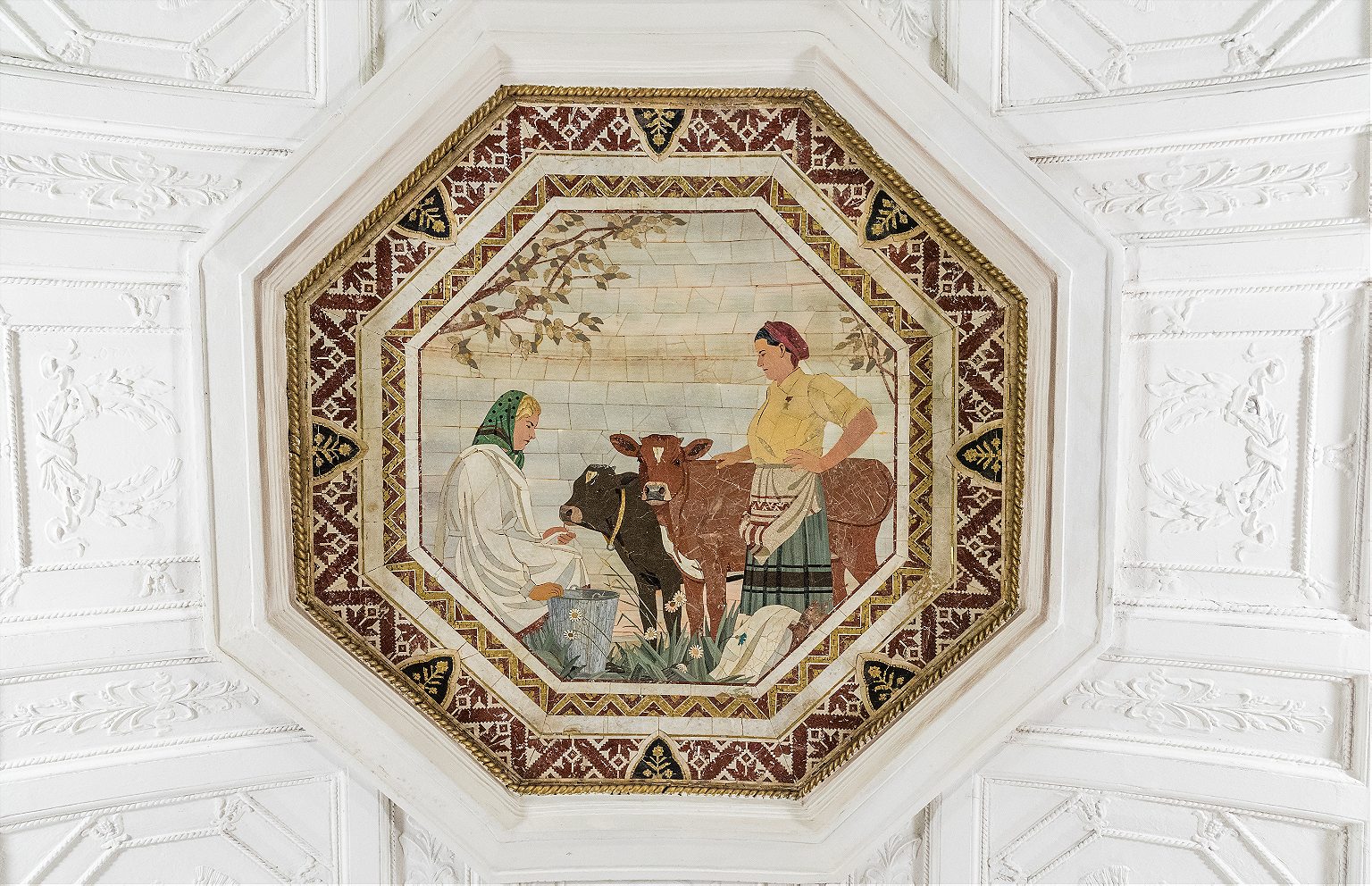 Transfer onto the 1/Brown line. Then, one stop (clockwise) to:
3. Novoslobodskaya. This station was designed around the stained-glass panels, which were made in Latvia, because Alexey Dushkin, the Soviet starchitect who dreamed it up (and also designed Mayakovskaya station) couldn't find the glass and craft locally. The stained glass is the same used for Riga's Cathedral, and the panels feature plants, flowers, members of the Soviet intelligentsia (musician, artist, architect) and geometric shapes.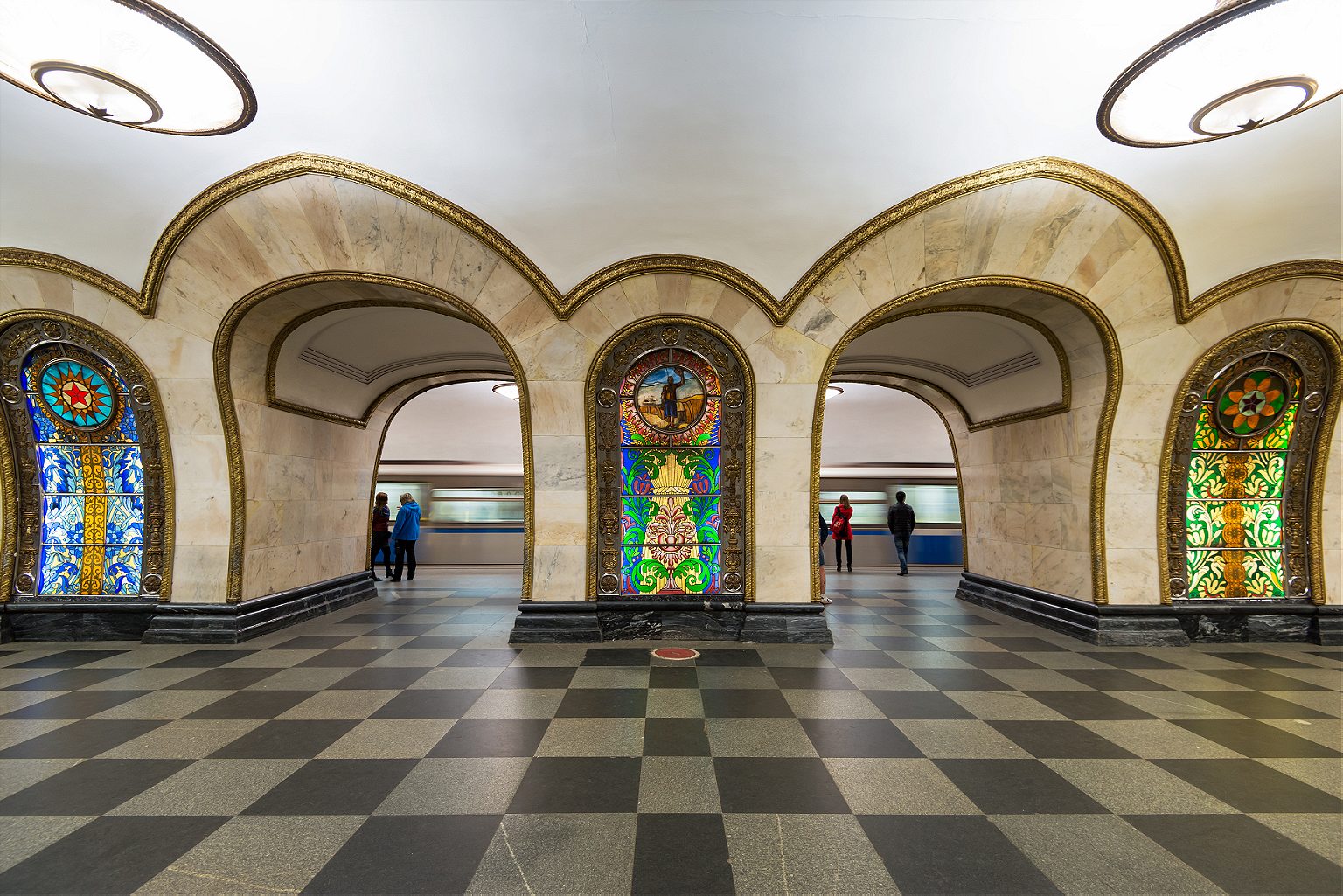 Go two stops east on the 1/Circle line to:
4. Komsomolskaya. Named after the Komsomol, or the Young Communist League, this might just be peak Stalin Metro style. Underneath the hub for three regional railways, it was intended to be a grand gateway to Moscow and is today its busiest station. It has chandeliers; a yellow ceiling with Baroque embellishments; and in the main hall, a colossal red star overlaid on golden, shimmering tiles. Designer Alexey Shchusev designed it as an homage to the speech Stalin gave at Red Square on Nov. 7, 1941, in which he invoked Russia's illustrious military leaders as a pep talk to Soviet soldiers through the first catastrophic year of the war.  The station's eight large mosaics are of the leaders referenced in the speech, such as Alexander Nevsky, a 13th-century prince and military commander who bested German and Swedish invading armies.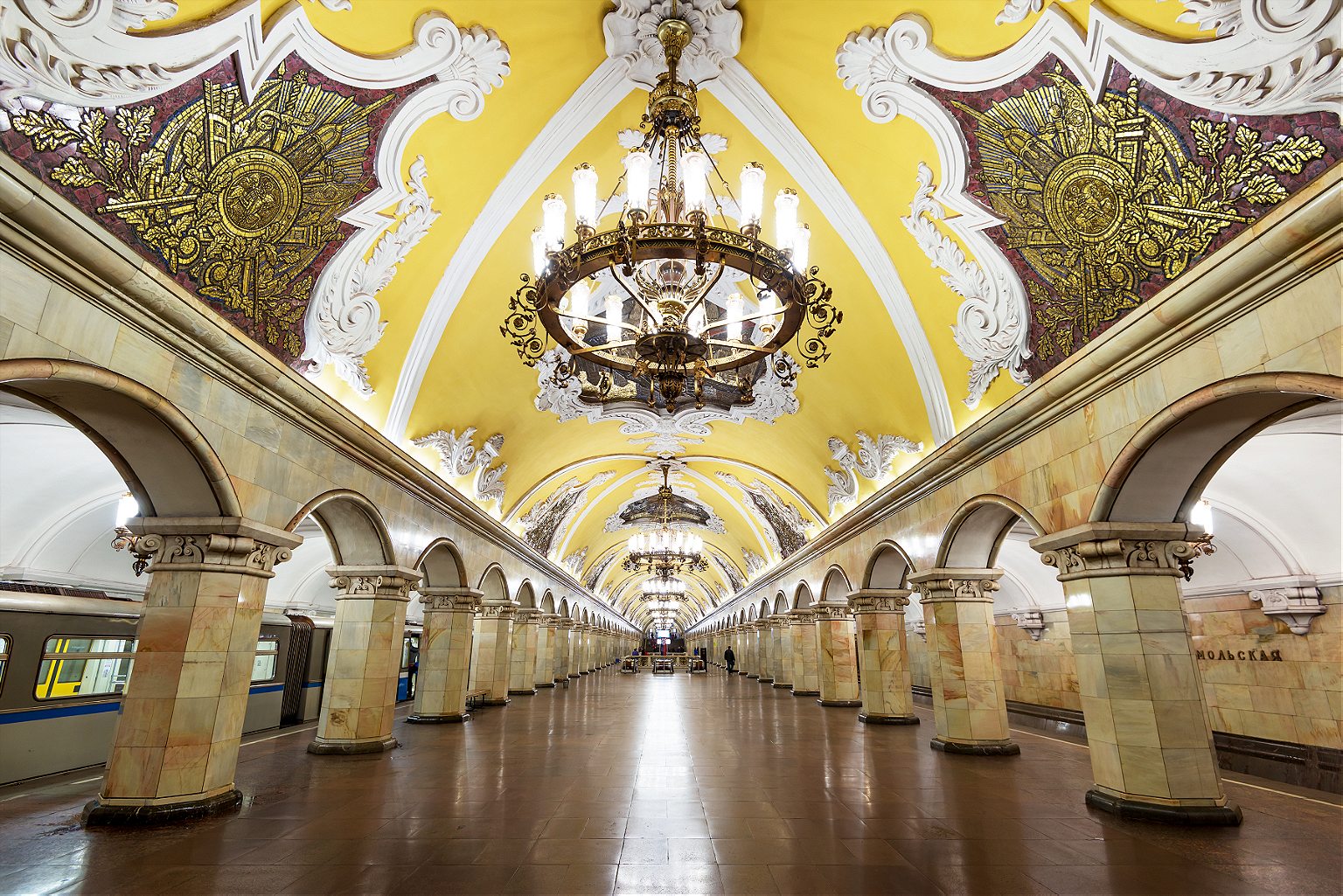 One more stop clockwise to Kurskaya station, and change onto the 3/Blue line, and go one stop to:
5. Baumanskaya.  Opened in 1944. Named for the Bolshevik Revolutionary Nikolai Bauman, whose monument and namesake district are aboveground here. Though he seemed like a nasty piece of work (he apparently once publicly mocked a woman he had impregnated, who later hung herself), he became a Revolutionary martyr when he was killed in 1905 in a skirmish with a monarchist, who hit him on the head with part of a steel pipe. The station is in Art Deco style with atmospherically dim lighting, and a series of bronze sculptures of soldiers and homefront heroes during the War. At one end, there is a large mosaic portrait of Lenin.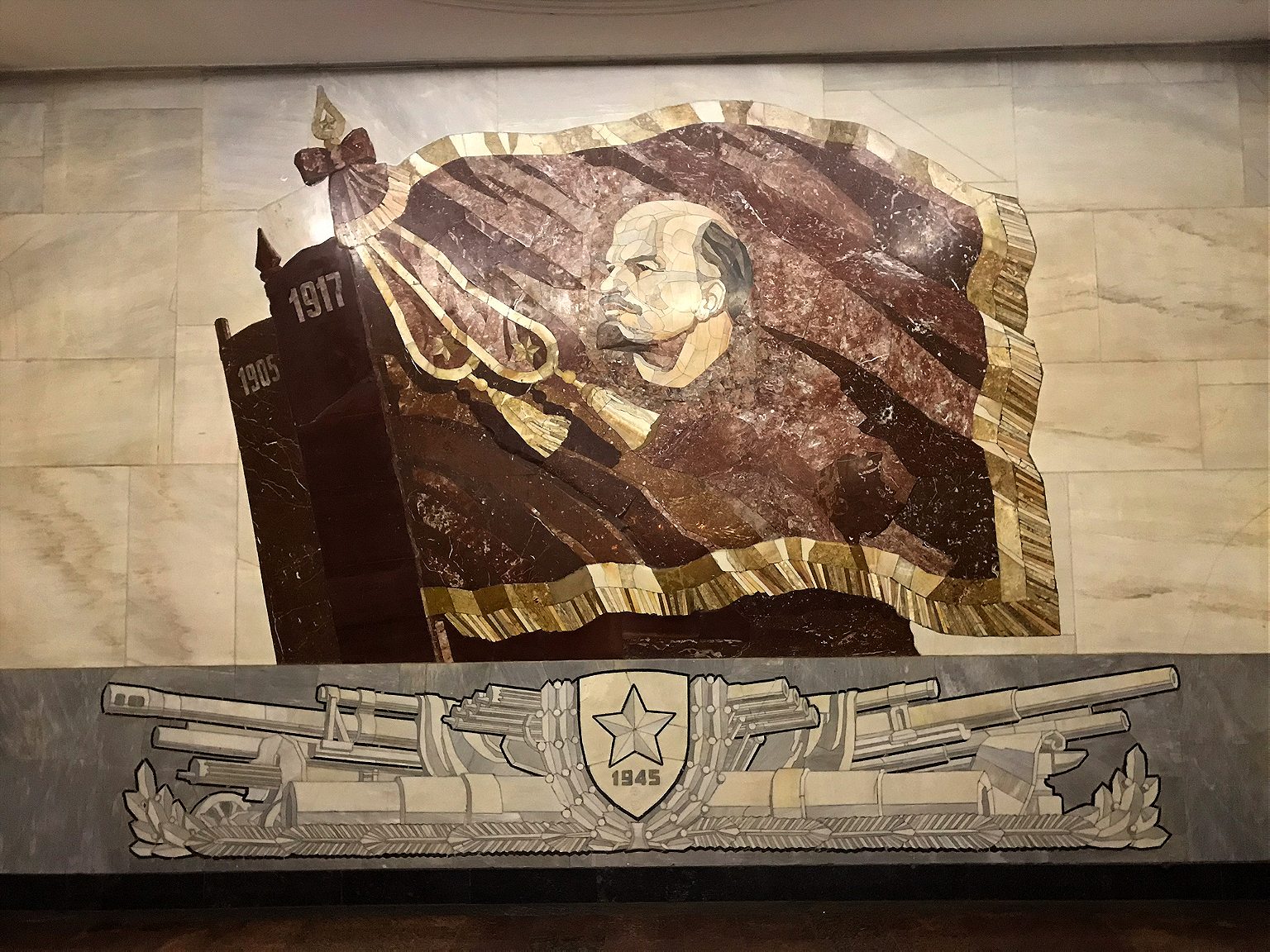 Stay on that train direction one more east to:
6. Elektrozavodskaya. As you may have guessed from the name, this station is the Metro's tribute to all thing electrical, built in 1944 and named after a nearby lightbulb factory. It has marble bas-relief sculptures of important figures in electrical engineering, and others illustrating the Soviet Union's war-time struggles at home. The ceiling's recurring rows of circular lamps give the station's main tunnel a comforting glow, and a pleasing visual effect.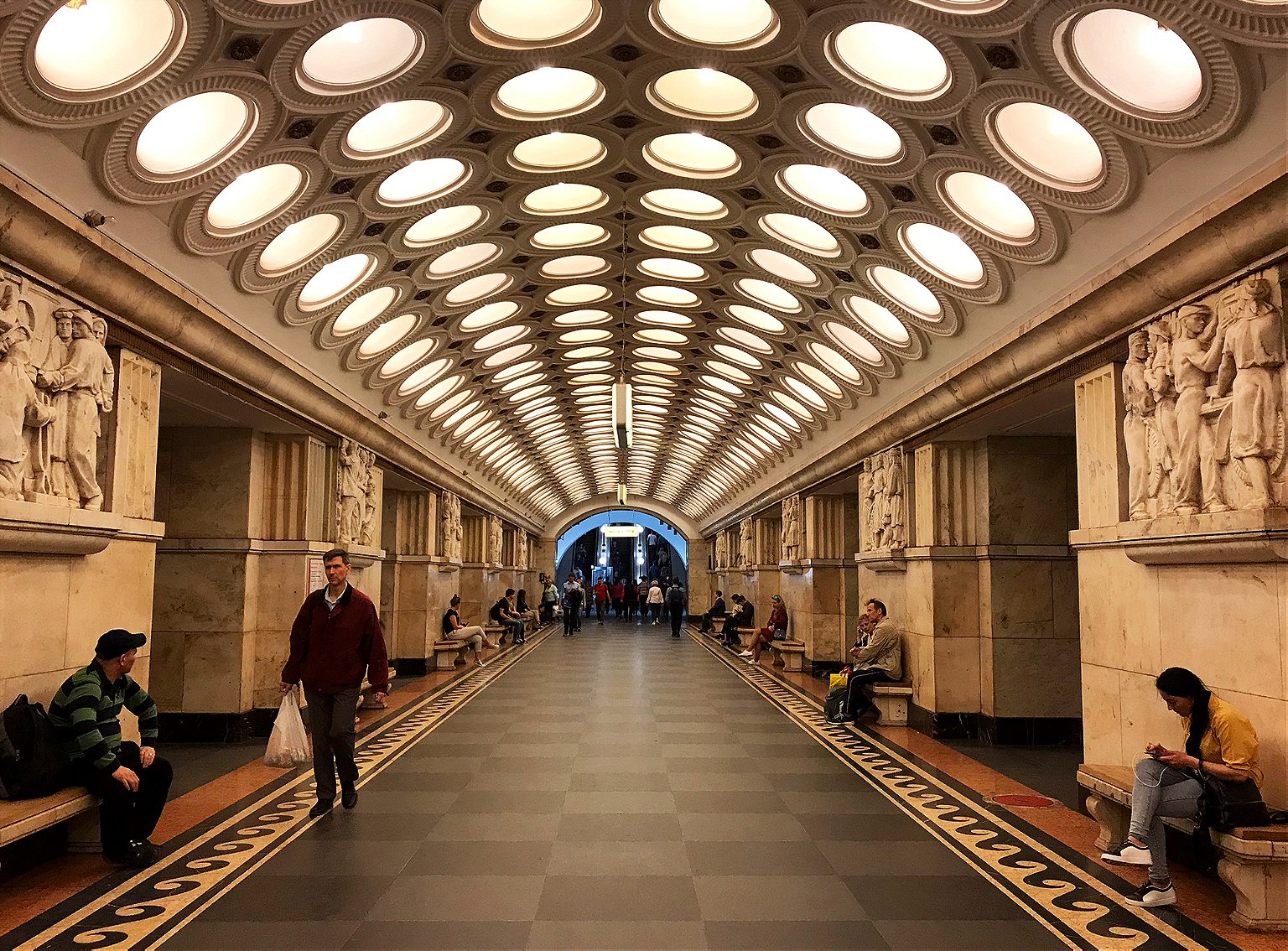 Double back two stops to Kurskaya station, and change back to the 1/Circle line. Sit tight for six stations to:
7. Kiyevskaya. This was the last station on the Circle line to be built, in 1954, completed under Nikita Khrushchev's guidance, as a tribute to his homeland, Ukraine. Its three large station halls feature images celebrating Ukraine's contributions to the Soviet Union and Russo-Ukrainian unity, depicting musicians, textile-working, soldiers, farmers. (One hall has frescoes, one mosaics, and the third murals.) Shortly after it was completed, Khrushchev condemned the architectural excesses and unnecessary luxury of the Stalin era, which ushered in an epoch of more austere Metro stations. According to the legend at least, he timed the policy in part to ensure no Metro station built after could outshine Kiyevskaya.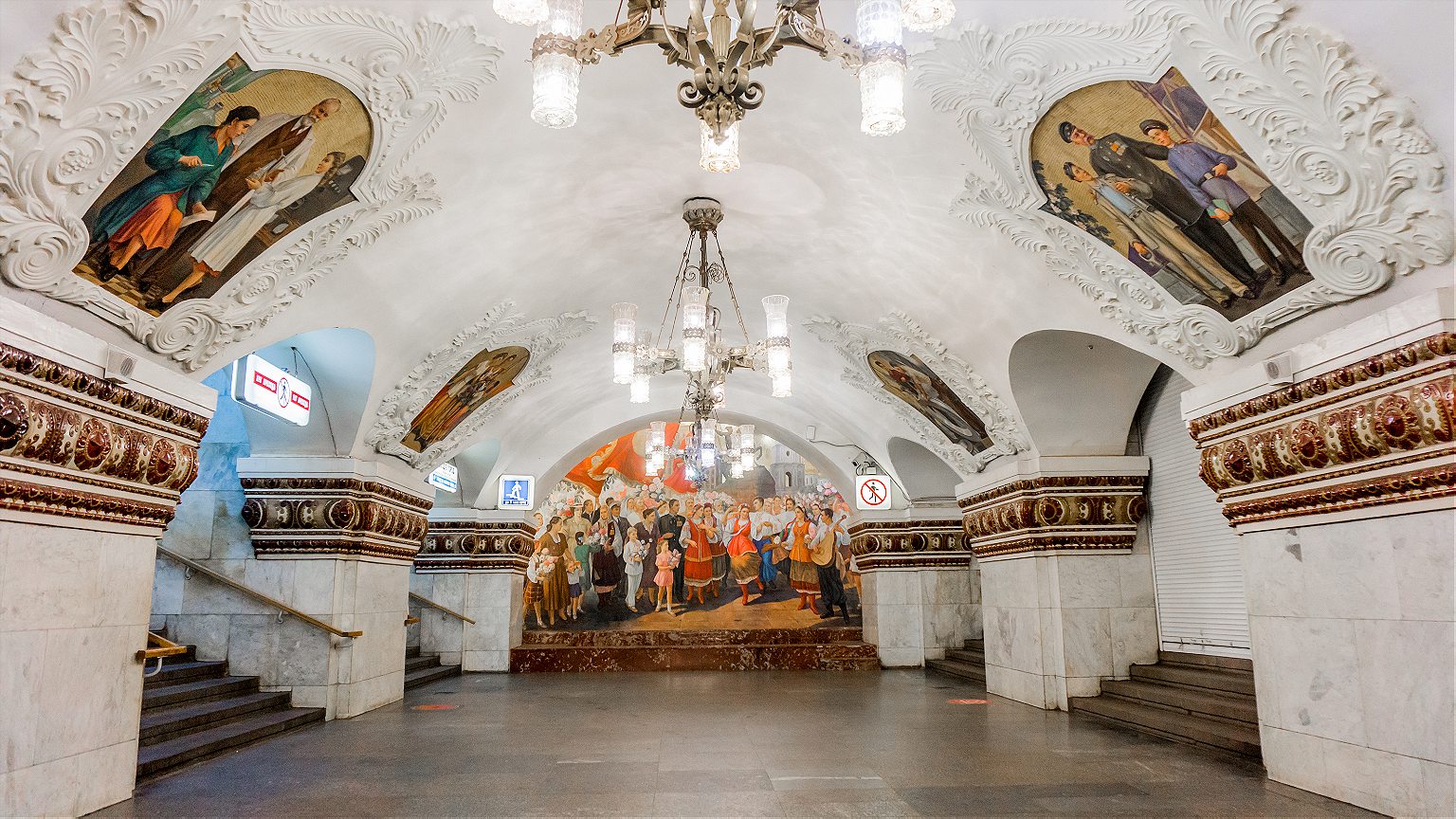 Change to the 3/Blue line and go one stop west.
8. Park Pobedy. This is the deepest station on the Metro, with one of the world's longest escalators, at 413 feet. If you stand still, the escalator ride to the surface takes about three minutes.) Opened in 2003 at Victory Park, the station celebrates two of Russia's great military victories. Each end has a mural by Georgian artist Zurab Tsereteli, who also designed the "Good Defeats Evil" statue at the UN headquarters in New York. One mural depicts the Russian generals' victory over the French in 1812 and the other, the German surrender of 1945. The latter is particularly striking; equal parts dramatic, triumphant, and gruesome. To the side, Red Army soldiers trample Nazi flags, and if you look closely there's some blood spatter among the detail. Still, the biggest impressions here are the marble shine of the chessboard floor pattern and the pleasingly geometric effect if you view from one end to the other.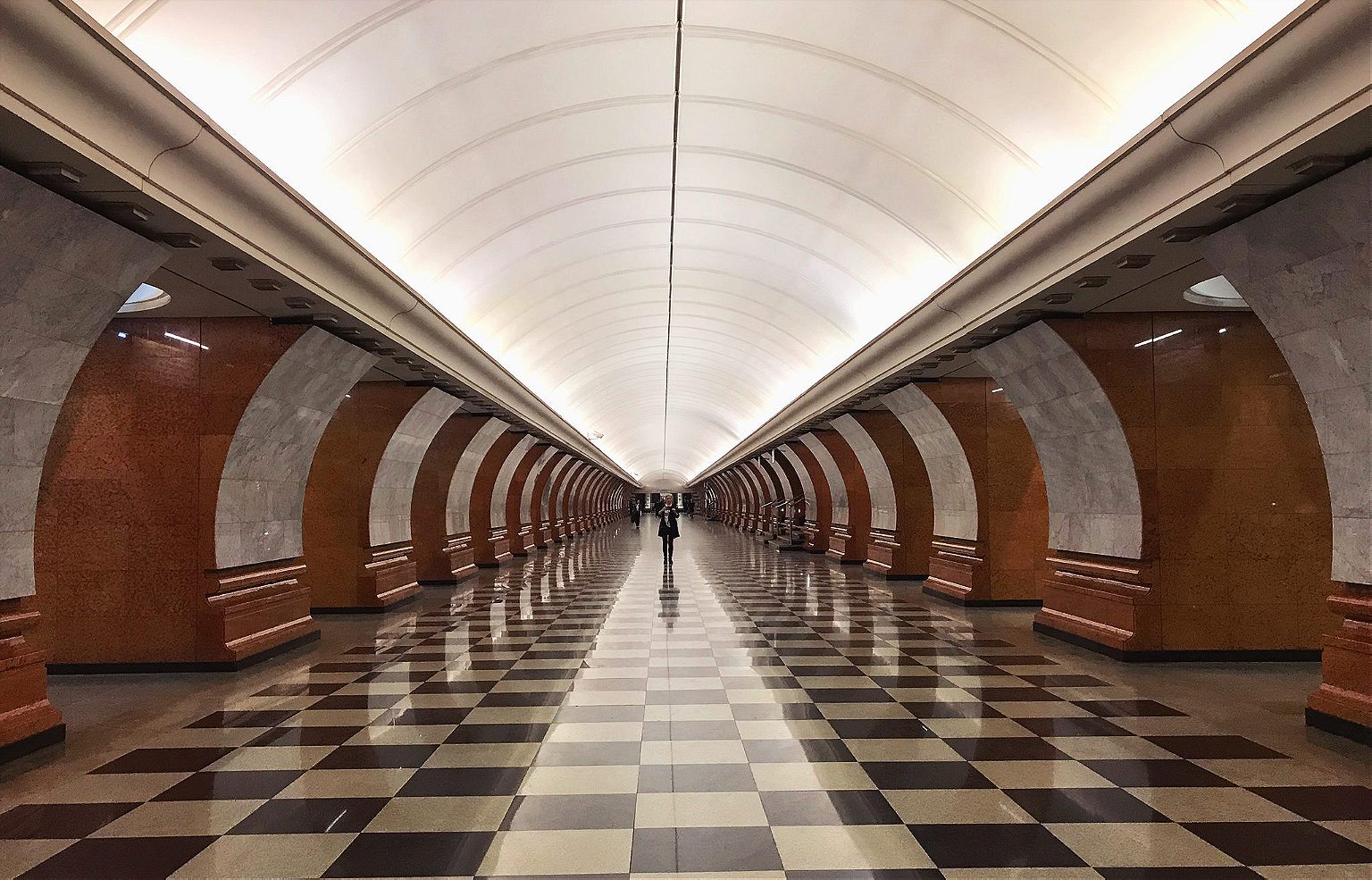 Keep going one more stop west to:
9. Slavyansky Bulvar. One of the Metro's youngest stations, it opened in 2008. With far higher ceilings than many other stations—which tend to have covered central tunnels on the platforms—it has an "open-air" feel (or as close to it as you can get, one hundred feet under). It's an homage to French architect Hector Guimard, he of the Art Nouveau entrances for the Paris Métro, and that's precisely what this looks like: A Moscow homage to the Paris Métro, with an additional forest theme. A Cyrillic twist on Guimard's Metro-style lettering over the benches, furnished with trees and branch motifs, including creeping vines as towering lamp-posts.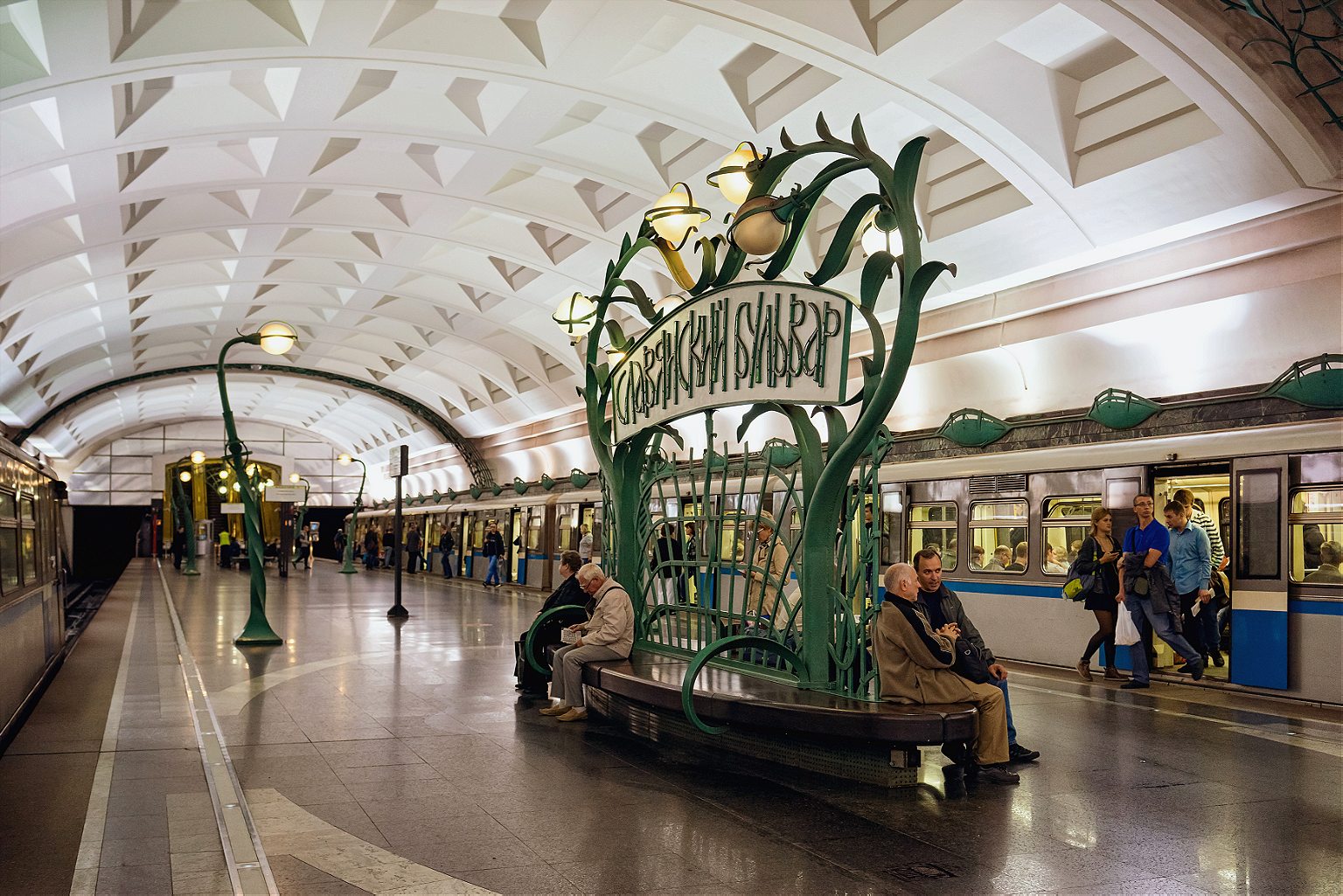 Stay on the 3/Blue line and double back four stations to:
10. Arbatskaya. Its first iteration, Arbatskaya-Smolenskaya station, was damaged by German bombs in 1941. It was rebuilt in 1953, and designed to double as a bomb shelter in the event of nuclear war, although unusually for stations built in the post-war phase, this one doesn't have a war theme. It may also be one of the system's most elegant: Baroque, but toned down a little, with red marble floors and white ceilings with gilded bronze chandeliers.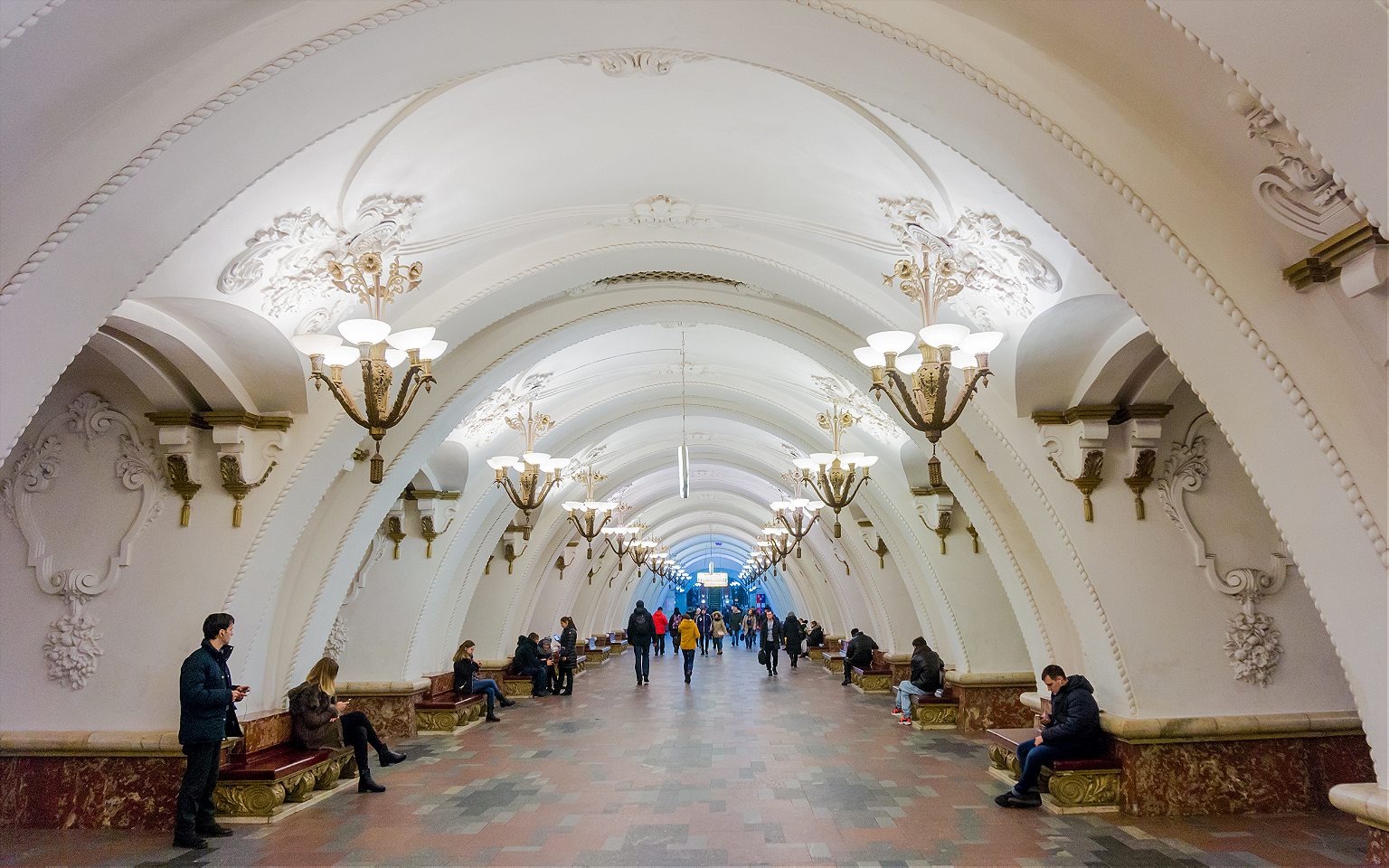 Jump back on the 3/Blue line in the same direction and take it one more stop:
11. Ploshchad Revolyutsii (Revolution Square). Opened in 1938, and serving Red Square and the Kremlin. Its renowned central hall has marble columns flanked by 76 bronze statues of Soviet heroes: soldiers, students, farmers, athletes, writers, parents. Some of these statues' appendages have a yellow sheen from decades of Moscow's commuters rubbing them for good luck. Among the most popular for a superstitious walk-by rub: the snout of a frontier guard's dog, a soldier's gun (where the touch of millions of human hands have tapered the gun barrel into a fine, pointy blade), a baby's foot, and a woman's knee. (A brass rooster also sports the telltale gold sheen, though I am told that rubbing the rooster is thought to bring bad luck.)
Now take the escalator up, and get some fresh air.