This tour takes you from one of Moscow's oldest streets to its newest park, hitting the Kremlin, some illustrious shopping centers, architectural curiosities, and some of the city's finest snacks.
Moscow, as befits the European continent's largest city, can intimidate. It is sprawling and swaggering, with streets resembling multi-lane highways, comically oversized squares and monuments, and the Stalin-era Seven Sisters skyscrapers that stand like sentries over the horizon. But it's actually a good city for humans, particularly its handsome, if increasingly clean and sterile, center. There are green spaces and public parks, leafy neighborhoods, pedestrian zones, and calm bodies of water. And, of course, more history in one street corner than in many entire towns. This tour of Moscow's center takes you from one of Moscow's oldest streets to its newest park through both real and fictional history, hitting the Kremlin, some illustrious shopping centers, architectural curiosities, and some of the city's finest snacks.
Start on the Arbat, Moscow's mile-long pedestrianized shopping and eating artery and one of the city's oldest surviving streets. In its turbulent history, it has been an important trade route, a theater for attacking and defending the city, and burned down and rebuilt more than once. (In 1493, the culprit was a candle burning in the wooden Church of Saint Nicholas.) It has been at different times a home to craftsmen, Ivan the Terrible's notorious bodyguards, dozens of artists and writers—including perhaps the most beloved Russian poet, Alexander Pushkin—and today, a Coyote Ugly, a bar spun off from the 2000 movie.
There are many places to eat along the Arbat, including local and international chains. You could try the "Russian McDonald's", Teremok, which slings passable blinis with caviar instead of cheeseburgers with fries. The Arbat can get busy with visitors and souvenir vendors; walk it in the morning, before peak bustle, when its cake-like, colorful 18th–century buildings are bathed in morning sunshine.
From the Arbat, duck down the side street Krivoarbatsky Lane, and take a look at the cylindrical, beehive-like Melnikov House, one of the finest examples of Moscow avant-garde, built in the late 1920s by architect Konstantin Melnikov to be the family house of his dreams. He was a celebrated architect, but this was his last building: in 1937 he was banned from practicing in the atmosphere of criticism against formalist architecture and spent the rest of his life in this house, in professional and political disgrace. Recently, after much legal wrangling and bitter family feud over the fate of the house, which has escaped demolition several times, it's now a museum. You need to book a tour in advance—by phone—if you want to see the inside, but the courtyard is always open and free if you want a look at the exterior.
From the end of Arbat, turn left and onto Nikitsky Boulevard for a few mins, taking another and left onto Malaya Nikitskaya Ulitsa (Small Nikitskaya Street) and to Gorky's House, also known as the Ryabushinsky Mansion. It's a spectacular example of Moscow Art Nouveau, a garish homage to nature, with mosaics of the Garden of Eden; windows sculpted into trees; and the masterpiece staircase that is, carved into a stone wave cascading down to the ground, with a jellyfish lamp at the bottom. The mansion's first inhabitant was S.P. Ryabushinsky, a wealthy businessman who fled the country after the Revolution. His abandoned digs were gifted to Maksim Gorky, the Soviet writer nominated five times for the Nobel prize for literature after he returned from exile in 1932. (Gorky was forever falling in and out of favor with the authorities.) Even if you don't know his work, the museum is eerily fascinating in the way that preserved private homes often are: it's the little domestic details that haunt. (Closed Mondays, Tuesdays, and the last Friday of each month.) Be prepared to wear the plastic booties they provide, because this concept is not easily communicated through the language barrier, or in gestures.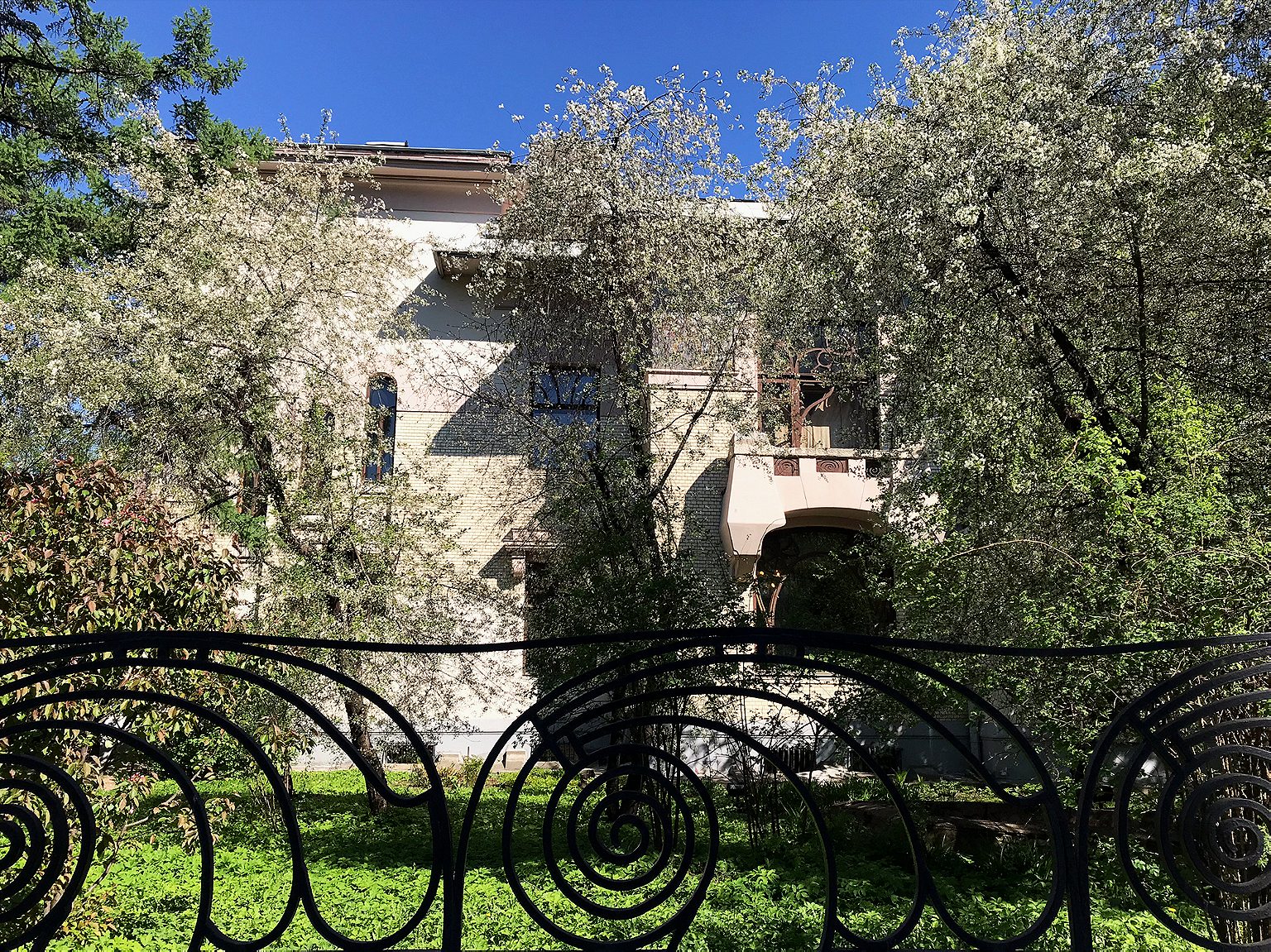 Wander down Ulitsa Spiridonovka to the Patriarch's Ponds, a glassine, placid lake lined with linden trees. The Ponds (which is now just one pond) may now be better known for being the setting for the opening scene of Mikhail Bulgakov's novel, The Master and Margarita, considered one of the 20th century's finest pieces of Russian literature and many Russians' favorite book. The story about the devil and his menagerie visiting Moscow and wreaking havoc in a city of atheists that don't believe he exists is also a sharp satire of Stalinist Moscow, drawing on religious scripture and themes. It was only published decades after Bulgakov's death.
Bulgakov's old apartment building at Bolshaya Sadovaya Ulitsa 10, where many scenes in the book are set, is nearby. The ground floor is a privately-run museum, and there is also a state-run museum at apartment 50, which opened later but claims to be the "first and only" Bulgakov museum. These rival tributes keep the building a thriving and well-tended memorial to the writer. It is also, dear reader, a popular pilgrimage site for Satanists.
After a walk around the pond, stop for a snack at one of the many nearby spots—cafes, restaurants, bistros—in this neighborhood. Cafe Margarita serves great pelmeni and pavlova (though not together). Salumeria, William's, and Grand Cru wine bar are also good choices, or try Pinch for pistachio and carrot hummus and syrniki—traditional cheese fritters—made with creme fraiche.
Walk up the green Tverskoy Boulevard towards Tverskaya Ulitsa, the wide, busy avenue that leads to the Kremlin and Red Square. You'll need to go through the retail-lined underground passage at the corner of the Tverskoy Boulevard and Tverskaya to get onto the eastern side of Tverskaya.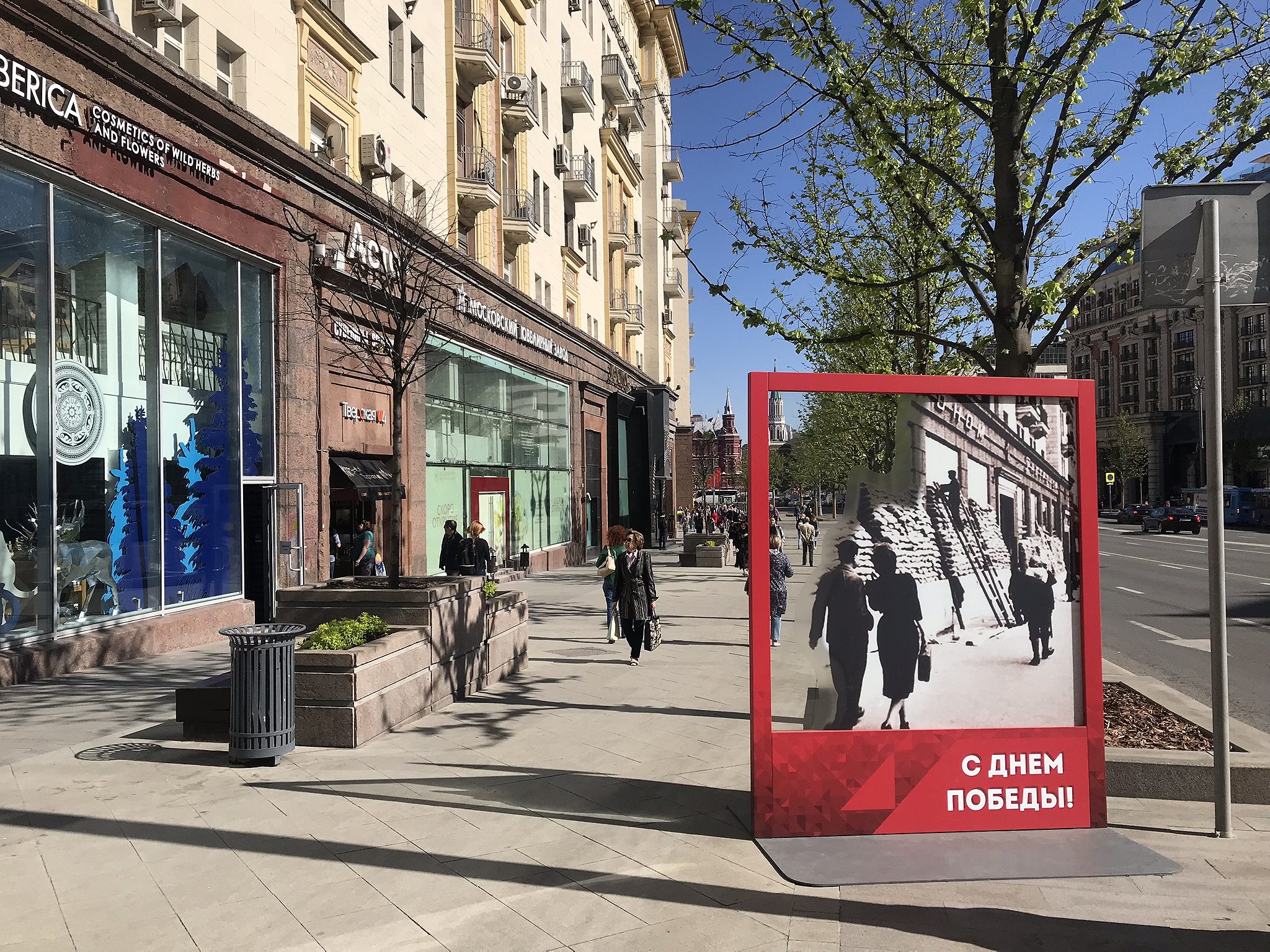 On Tverskaya, walk downhill a few hundred yards down to number 6, Chaynaya Vysota "Tea Heights"  [Чайная высота] House of Tea and Ice Cream that also calls itself Kung Fu ice cream. The door is tucked into the archway. Owner and tea savant Victor Yenin, who goes to China and Taiwan to hunt for the leaves himself and ships them back to Russia, pairs his deep brews with eccentric ice cream flavors (about 129 of them) such as tarragon and nettle and wild elk milk. Grab a table upstairs and order a pot of porcini mushroom tea and enjoy the den of calm, right above—but gloriously removed from—the noise of Tverskaya, or just stop in at the street-level stand, Pueroport [Пуэропорт].
A little further down Tverskaya, stop in at the Ritz-Carlton Hotel. Wander the luxurious lobby, or have a coffee on the roof terrace restaurant, which has indifferent service but a fantastic view of the Kremlin fortress and Moscow's skyline. If you're wondering where Trump's (alleged!) wild night went down, it was room 1101, the Presidential Suite.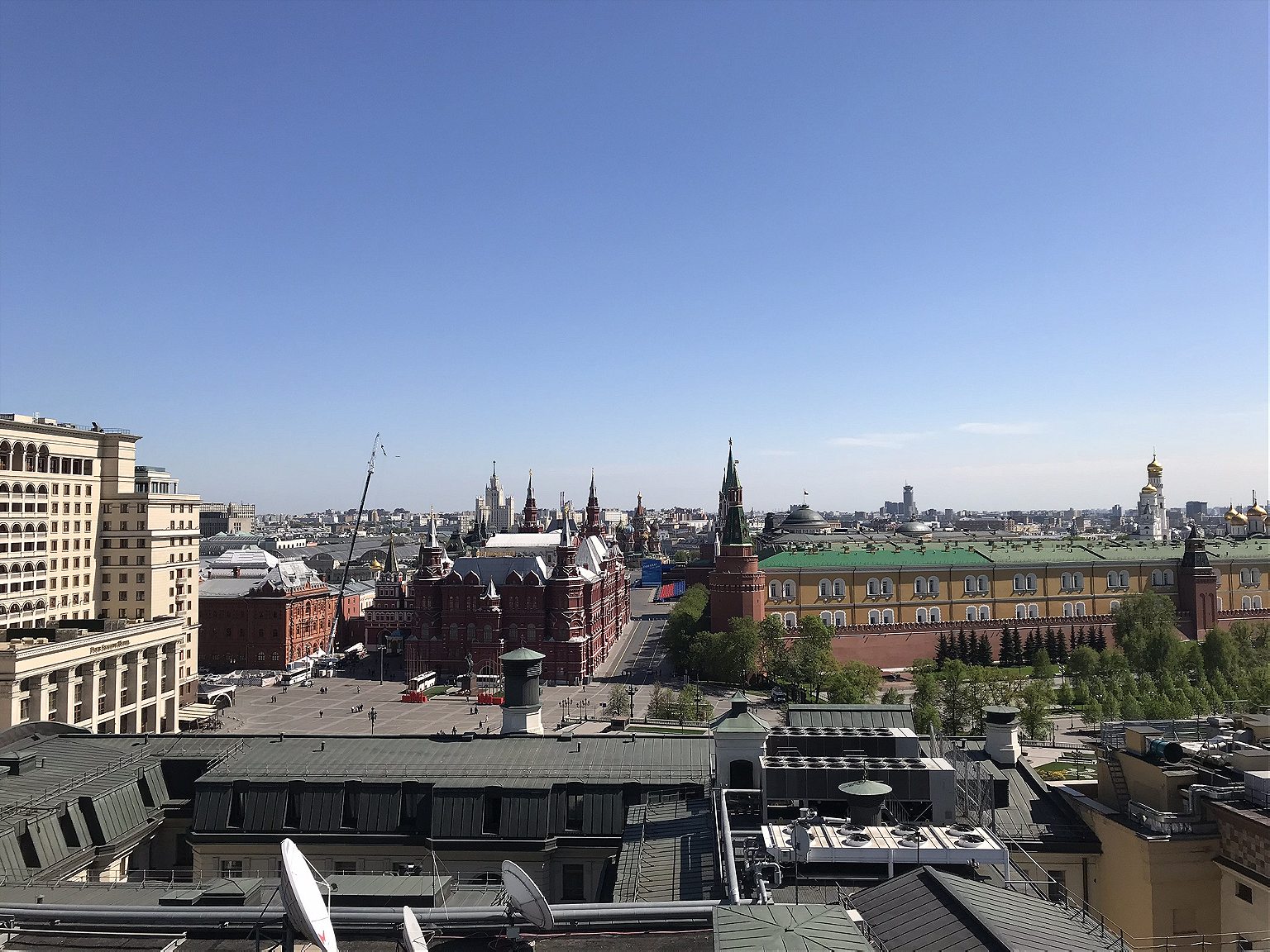 Or at the bottom of Tverskaya right opposite Kremlin entrance, stop in at Grand Cafe Dr Zhivago for a taste of Imperial Russian food and decor.
Take a walk around the Kremlin and Red Square, perhaps visit Lenin's Tomb. Then, duck into GUM, Moscow's department store from the 1800s. Wander through the legendary food hall, Gastronome No. 1. These days, it may stock fine food imports from all over the world and fresh Kamchatka crab and sturgeon caviar on ice, but the store is laid out to look just like its Soviet predecessor, GUM Gastronome. There is also a section for Soviet-era candy.
Don't miss the "Historic Toilets" at either end of the mall, which date back to the Tsar Alexander III era. (Late 19th century, for you Tsar-buffs.) For 150₽ (US$2.50) you get Imperial-level luxury, gold taps, an attendant, and even a shower.
Walk out of this busy quarter towards the Moscow River embankment, and into Park Zaryadye. This massive, hilly green park has concert hall, rides, lush lawns to nap on, and a food court. (Try the pelmeni.) The park was a gift to Moscow on the city's 870th birthday in 2017—the first public park to be built in 50 years—and has already won scores of architectural awards. Take a walk on the 'floating bridge' which towers in a V-shape over the water and take some photos of the curving river skyline and the Kremlin from the south. Just don't drop your phone in the Moscow River.