A deep, deep dive through Charleston history. Plus: coffee, she-crab soup, and gourmet cheese.
Cranes dominate Charleston's upper peninsula skyline, assembling hotels and apartments at a lightning clip, but one section of Charleston remains more or less the same. The historic residential neighborhood we call "South of Broad," and the commercial blocks above it, keep a slower rhythm, with a harmonious hodgepodge of Colonial remnants, Antebellum ostentation, private gardens, and gas lanterns that flicker even by day.
This walking tour begins and ends at the southernmost tip of the peninsula at White Point Garden, flanked by ornate homes above and the confluence of two rivers below. The garden doubles as a rookery for black-crowned night herons, so don't be surprised to encounter a baby heron on the path trying to take its first steps.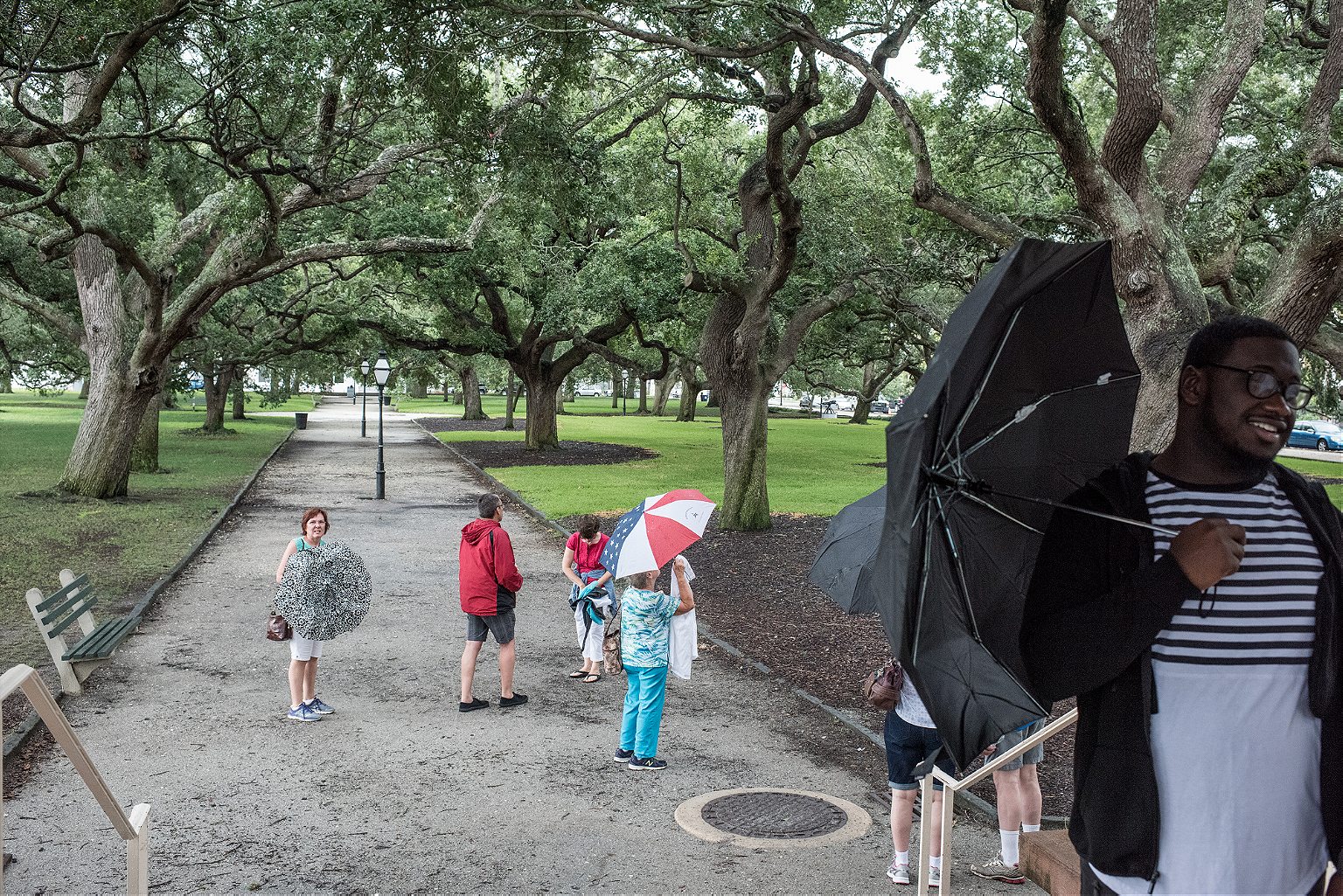 At the northwest corner of the park, follow King Street up to the Miles Brewton House, a Palladio-inspired Georgian home that has remained in the same family since 1769. Note the menacing spikes atop its iron fence. These were added following the city's 1822 discovery of a plot for widespread slave rebellion, a thwarted conspiracy whose mastermind, an ex-slave named Denmark Vesey, was convicted and hung. Similar ironwork cropped up around town to give slave owners a false sense of security.
Backtrack the half-block south and turn west onto Lamboll Street, but first, pause at the Thomas Lamboll House, built in 1739. The third floor doubles as a two-bedroom bed & breakfast with its own piazza, to help pay for the home's upkeep.
Turn right on Legare (pronounced Luh-GREE), walking south to north to admire the balconies of Italianate and Neoclassical villas positioned to catch sea breezes. Pause at 14 Legare Street, wrongly nicknamed the "Pineapple Gates House" by the general public despite its Italian pinecone pinnacles, where just beyond the gate, the garden speaks to secrets trapped in Charleston's soil. When current owners purchased this circa-1800 property, they invited local archaeologists to sift beneath their lawn, an investigation that yielded an unexpected find: the shell-path outline of an ornate parterre boxwood garden dating to 1818, now fully restored. The dig also unearthed an 1803 brass slave tag, as well as Revolutionary War cannonballs, Antebellum hair combs, and 18th century delft tableware, all now in the collection of the Charleston Museum.
Pass by the impressive iron gates of the Sword Gate House at 32 Legare Street, named so for obvious reasons, a Federal-style stunner constructed in 1803 by the man for whom Legare Street is named. From here, take a right on Tradd Street and your first left on Orange Street, which slices through a long-gone orange grove and spills onto Charleston's original business artery, Broad Street, a palmetto-lined zipper of law firms, art galleries, and a resurgent food scene.
The John Rutledge House commands with its lacy two-story wrought iron balconies and checkerboard sidewalk. Built in 1763 by a signer of the Constitution, the building is now a luxury bed & breakfast where you can sip afternoon tea and nibble on savory canapés while ogling Revolutionary musket balls. The house is also famous for its turn-of-the-century butler, William Deas, who gussied up crab bisque with the addition of bright orange crab roe in anticipation of President Taft's 1909 visit, thus the origin of one of Charleston's delicacies, "she-crab soup."
By now, you're probably hungry. Head east on Broad and left on King to enter Millers All Day, co-founded by local miller Greg Johnsman. By "miller," I mean that Johnsman restores vintage grist mills on his family farm on Edisto Island, where he grows and stone-grinds heirloom corns and grains into grits and cornmeal. Drop in for coffee and super-salty country ham with fig jam on a biscuit, or opt for more substantial Lowcountry dishes like Hoppin' John, a slow-cooked sea island combo of red peas and Carolina Gold rice folded with veggies and broth. Shrimp and grits is another must.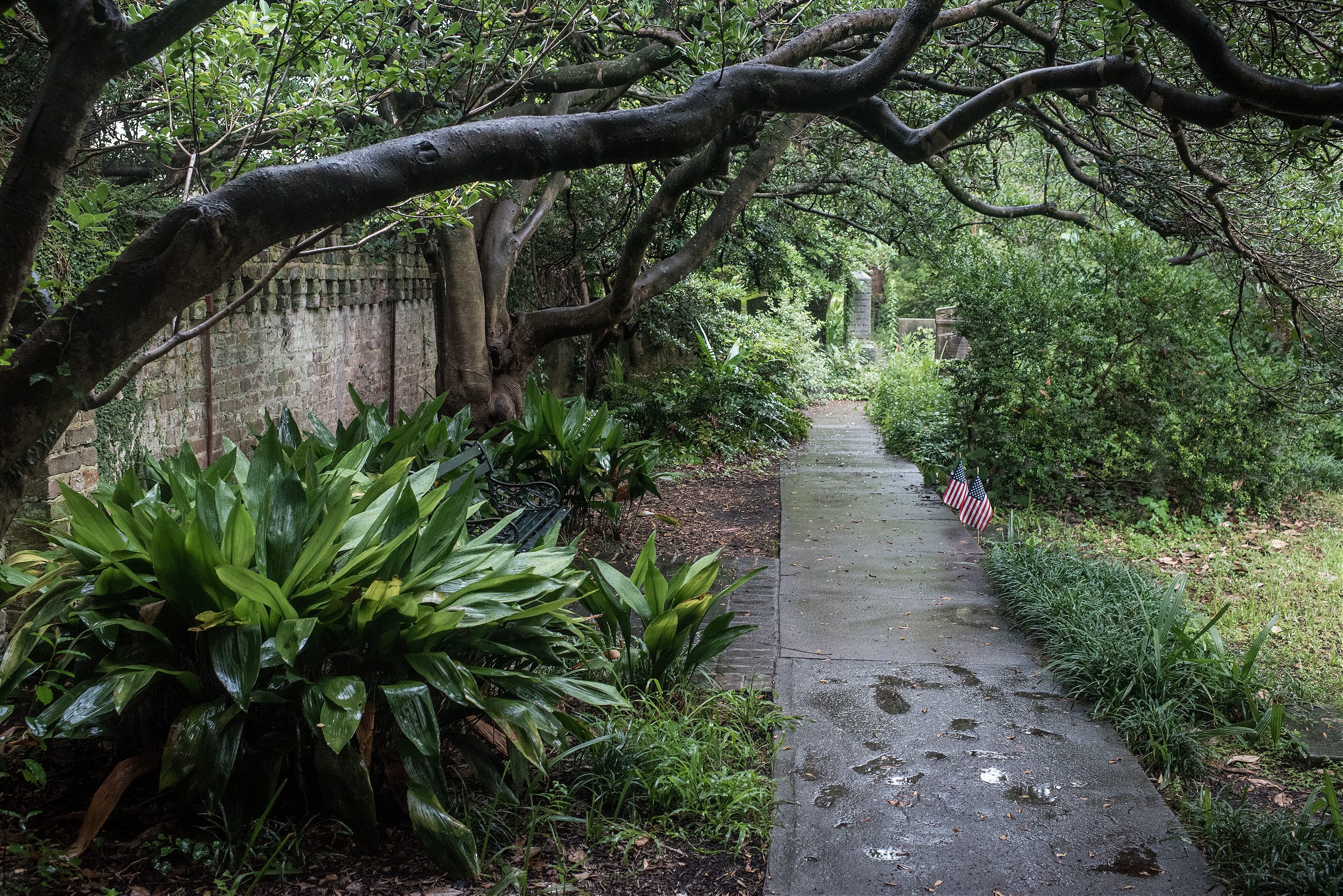 On King, check out the Preservation Society store for an excellently curated lineup of local artisanal products, including small-batch cocktail bitters, coastal salts, scores of Charleston cookbooks, plus free coffee and couches in the back. Then continue north to the steps of the Charleston Library Society, the third-oldest subscription library in the United States, whose main reading room is worth a peek. Directly across the street, you'll see the gates to the Unitarian cemetery. Venture down this narrow shady path, past small tenements, to reach a hauntingly beautiful, lushly planted old cemetery. If the church is open, take a look at its Gothic Revival vaulted ceiling.
Back on King, walk south past intimate wine & cheese hangout Bin 152 (a great rainy day spot), then turn left on Queen Street. You'll pass the lauded southern restaurant Husk. You'll want to return here for dinner (reservations needed) or for a classic lowball bourbon Old Fashioned at Husk's adjacent bar.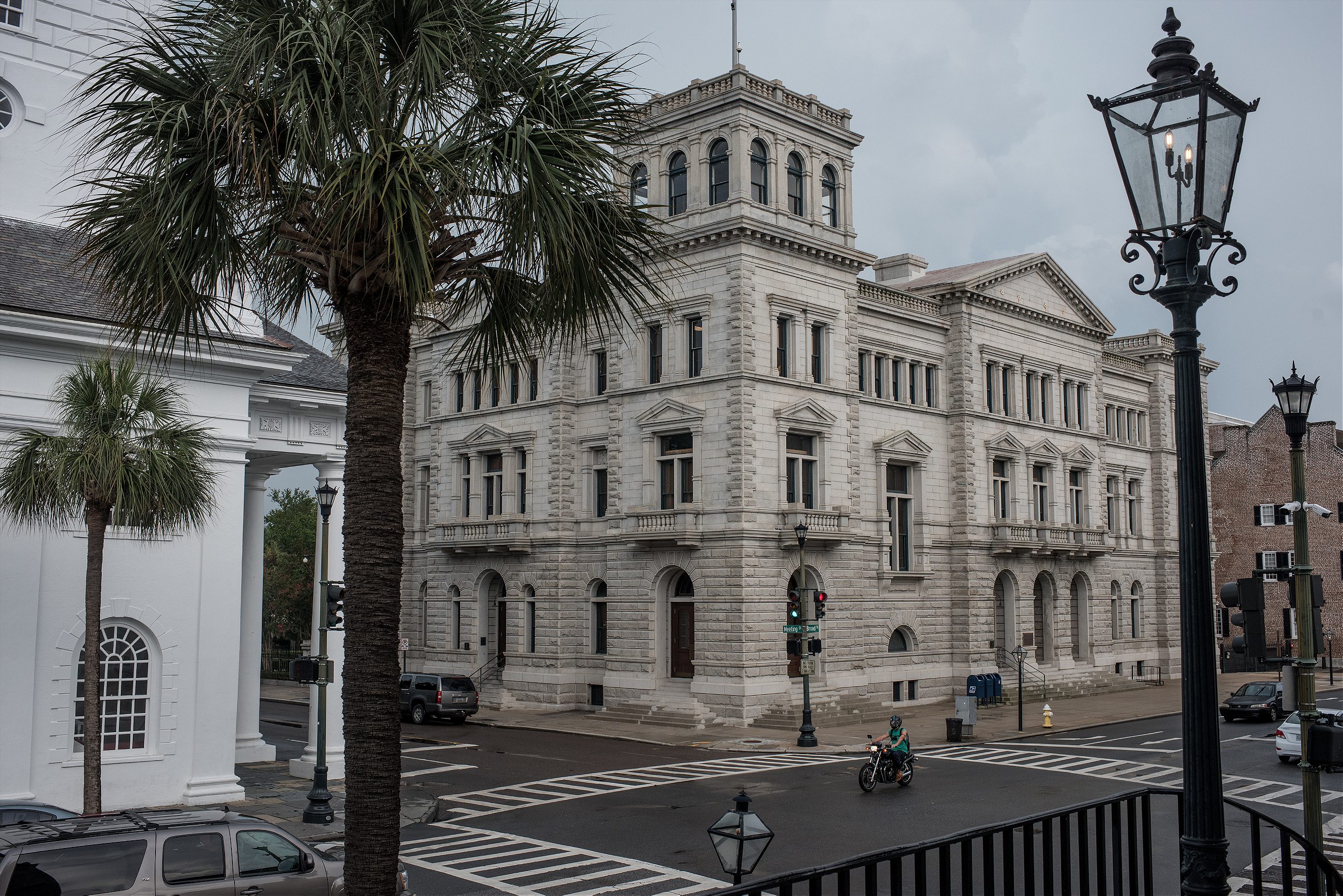 Hook a right onto Meeting Street, proceeding to the intersection of Meeting and Broad we call the "Four Corners of Law" for its collection of city, state, federal, and church buildings.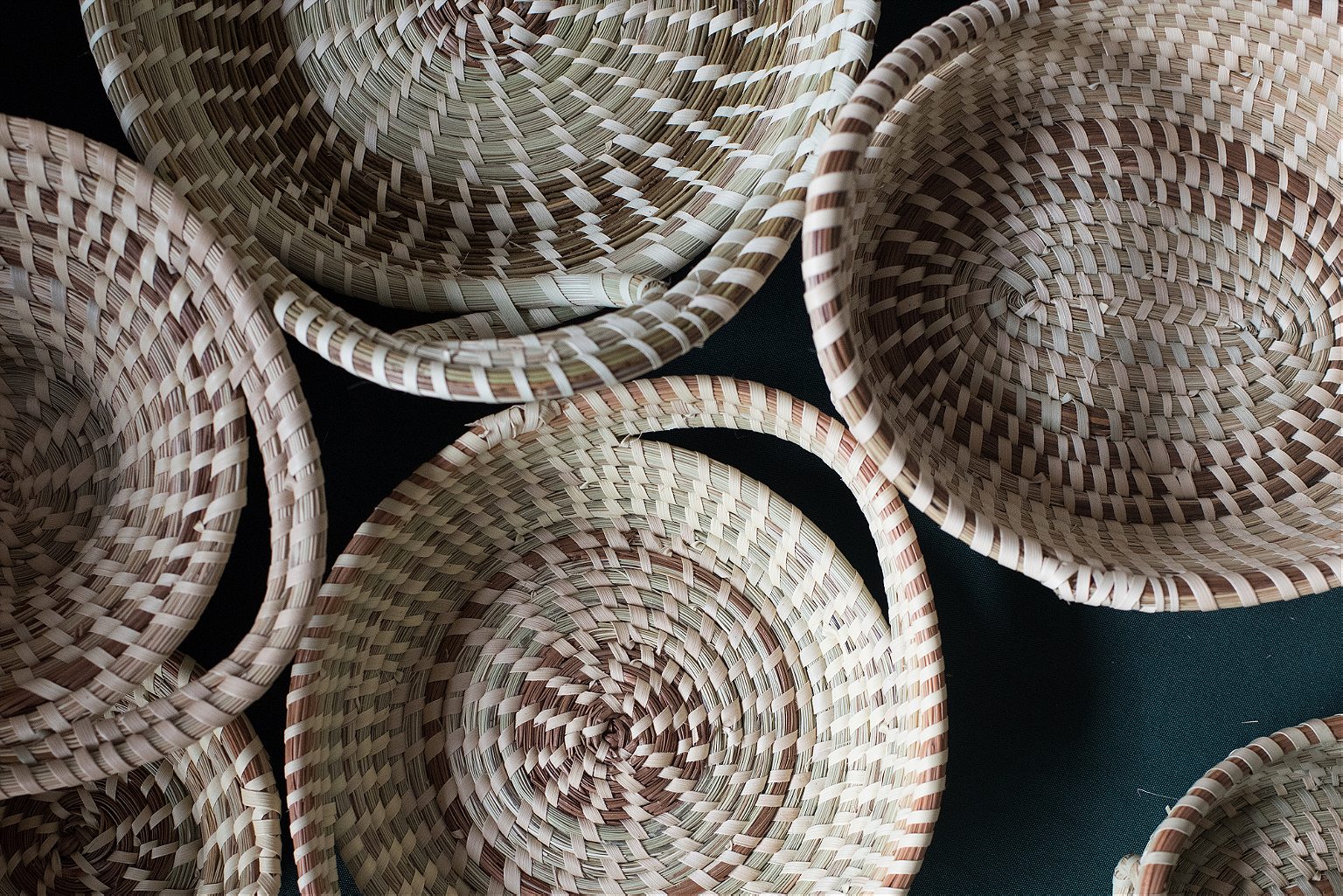 Below the intersection, you'll see Gullah basket-weavers, descendants of enslaved Africans, who maintain an ancient art form passed down through generations. Talk to them. They are happy to tell you about the sewing techniques and variety of natural grasses used to their shape bowls and baskets whose prices correspond to the hours required to weave and "sew" each piece.
Duck into City Hall for ground floor public restrooms (very well maintained) and exhibits, including bones excavated from the 18th-century meat market that stood on this very spot. Take the elevator up to the second floor chamber, hung floor-to-ceiling with a hodgepodge of political portraits, from racist statesmen to Confederate leaders to Civil Rights heroes. A 1791 portrait commemorates George Washington's visit to Charleston, in which Washington's horse appears to be preparing to urinate on our skyline. There is a chatty guide to fill you in.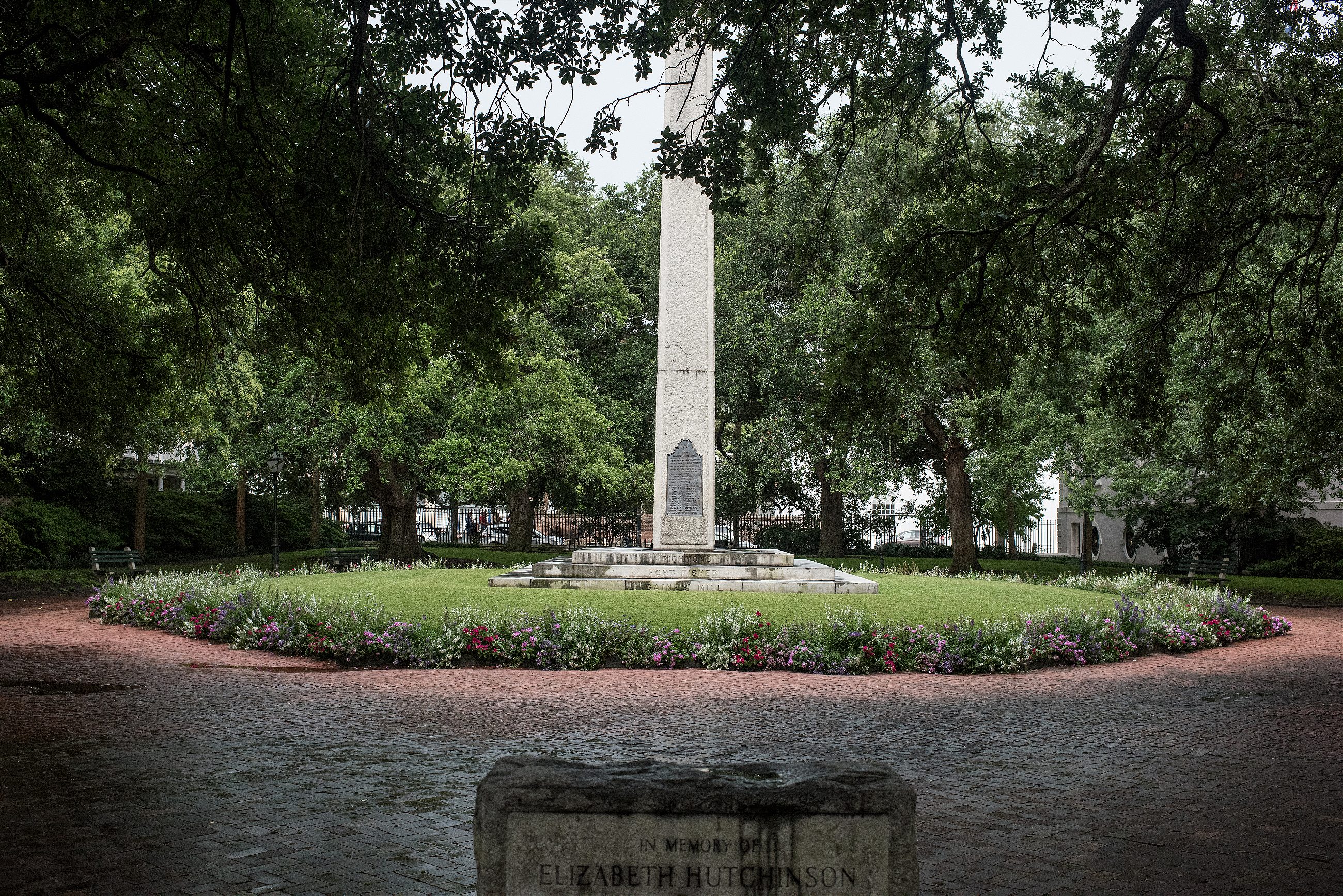 Cut through Washington Square's mature live oaks, then exit north and turn right on Chalmers Street, one of the few remaining cobblestone streets in Charleston, strewn with old ship ballast. Turn left on Church Street to Queen. At right are the dainty pink spires of the French Huguenot Church. At left is the beautifully restored 1835 Dock Street Theatre, free for viewing. Note the Royal Coat of Arms hanging above the stage, a nod to the troupe's Colonial beginnings.
Return to Queen and walk east. You'll pass Philadelphia Alley, dating to 1766, where many a duel went down. Then, duck into Robert Lange Studios, an unpretentious artistic hub of talent in a 340-year-old former grain warehouse. There's a piano "for those who play" and an indoor swing you can sit on while you admire works of contemporary realism. Continue to Waterfront Park's pier, watch cargo ships creep by, and see kids playing in fountains.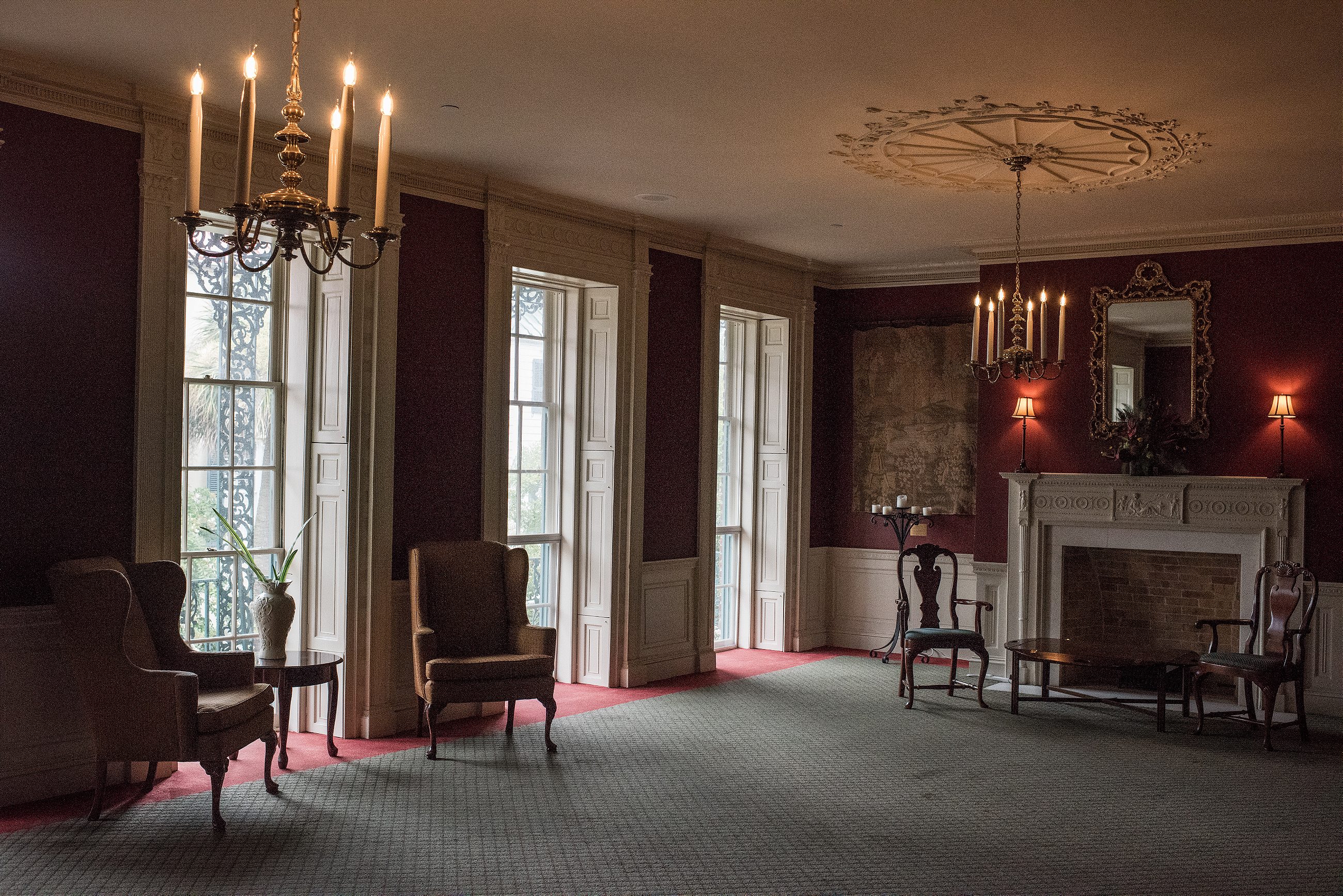 Thirsty? Take the elevator to the Vendue hotel's rooftop bar for deviled crab fritters with whipped benne butter. The views from the upper deck are worth the ascent. Keep the hotel's Revival restaurant on your list for dinner options too, helmed by a talented chef whose passions lie with resurrected grains. Hushpuppies incorporate nearly extinct corns, and shrimp-&-grits use rare "forbidden black rice grits" revived by Anson Mills. There's also subtly spiked velvety she-crab soup true to William Deas' 1909 receipt (not the gloppy versions you'll encounter in some other establishments).
From Vendue Range, turn south onto East Bay which, centuries ago, abutted wharves where tall-masted ships unloaded their goods and their frisky sailors, many of whom walked into a tavern called McCrady's on the Bay. McCrady's was built in 1778 by my fifth-great-grandfather, an Irish immigrant. You'll want to check out its brick arcaded bar for cocktails and "caviar and tater tots." 
Continue through Unity Alley, just as Edward McCrady himself did before he was arrested and imprisoned by the British for hosting revolutionary grumblings in his tavern. Turn left on State Street, then right on Chalmers, where we take a sobering pause. The Old Slave Mart Museum operates within the walls of a former auction house. The 1,900-square-foot space is unflinching in its treatment of this history—no "moonlight and magnolias" glazing here. Forty percent of all enslaved Africans were brought to North America through Charleston's port. 
Diagonally opposite from the museum is one of the oldest houses in Charleston: the "Pink House." which has seen use as a coffee house, tavern, brothel, home, art studio, law firm, and art gallery. Next, take either Church or State Streets one block south to Broad Street. Duck into the Blind Tiger Pub, a low-slung 1803 establishment, whose majority of taps showcase Charleston breweries, from Westbrook's lemon cucumber gose, to Low Tide's peach habanero IPA. Or, grab a coffee across the street at Normandy Farms Bakery.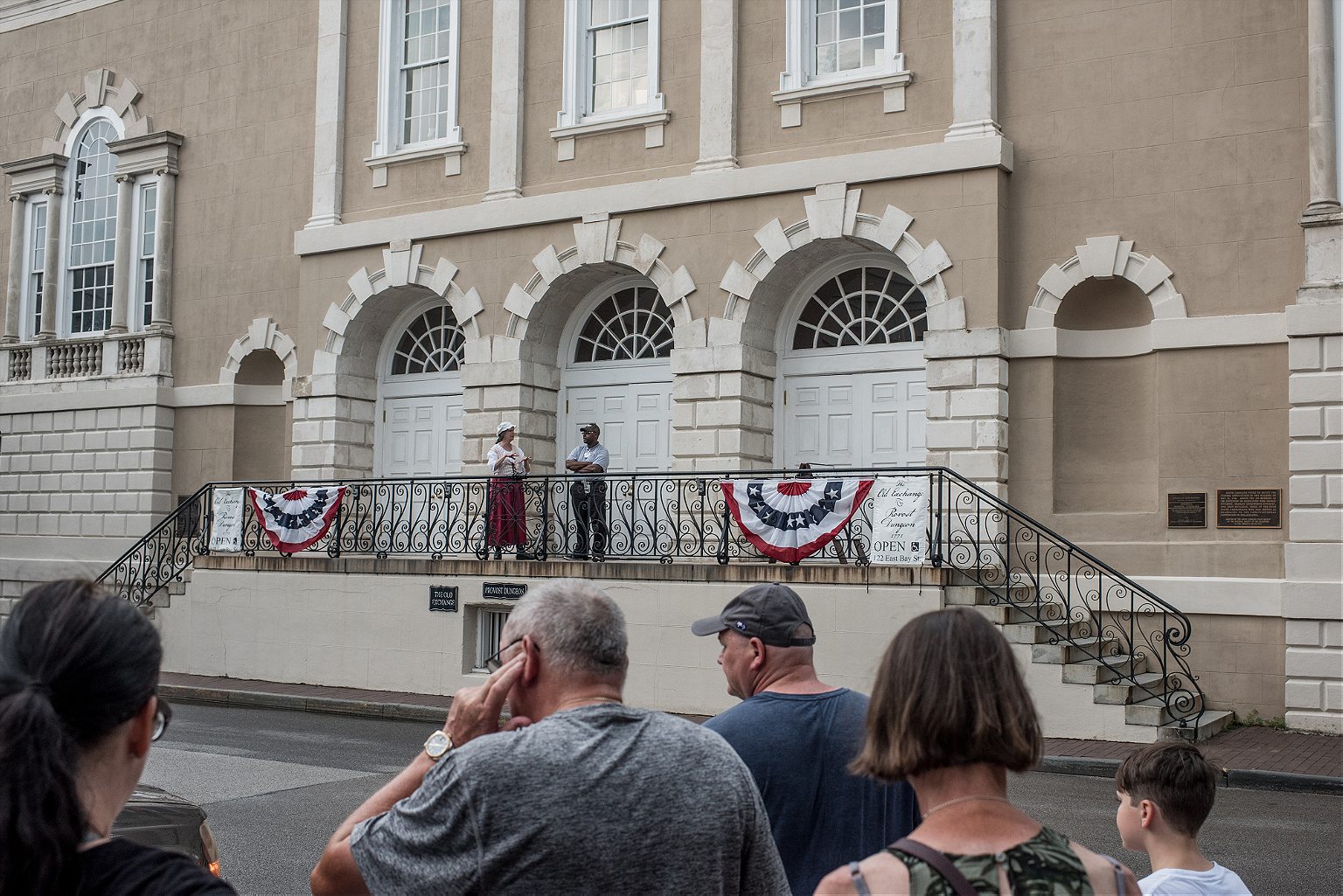 Walk east towards the Old Exchange Building, then turn right onto East Bay until you reach the pastel-hued facades of thirteen Georgian row houses we call "Rainbow Row," a colorful stretch of 18th-century vertical homes sharing common walls, built as storefronts beneath with residences above. Just north of Rainbow Row, head west on Elliott Street, then right on Church Street where you'll find the city's finest retail cheese shop, Goat.Sheep.Cow. Buy some provisions for an end-of-walk picnic, then stroll down sleepy Church Street, past the block nicknamed "Cabbage Row" for the fact that its 1920s inhabitants set cabbages and other vegetables on their window sills for sale, inspiring writer Dubose Heyward's novel Porgy set to music in Gershwin's opera Porgy and Bess. You'll also pass the stately brick home of Thomas Heyward, Jr., a signer of the Declaration of Independence who hosted George Washington in 1791. The house is open for tours, and its kitchen garden out back is exemplary.
Then, 58 Church Street is a 1754 home with a rear garden made famous by Emily "Cheeka" Whaley's 1997 New York Times bestseller "Mrs. Whaley and Her Charleston Garden"—part memoir, part gardening advice. The garden thrives in the hands of Cheeka's daughter Marty, an artist. Marty and her husband Charles are kind enough to leave the garden gate open to visitors, but as the small sign states, please slip some cash through the mail slot to help with upkeep and plantings. As Cheeka would say, relax on a garden bench to "let your soul catch up with itself."