If want to get out of town, enjoy a day at the beach, or are simply tired from traipsing over cobblestones at the end of a evening, here's the info you need.
Most of what visitors see of Charleston is a narrow peninsula that has been inhabited for 400 years—which means that it's compact and made for navigating on foot. However, the city also sprawls out from that peninsula, primarily south and west, and if want to get out of town, enjoy a day at the beach, or are simply tired from traipsing over cobblestones at the end of a evening, here's the info you need.
During peak times such as the Charleston Wine & Food Festival, Spoleto USA, or the Southeastern Wildlife Exposition (SEWE), taxis, Ubers, and Lyfts will be in high demand.
Arriving
Charleston International Airport
The Charleston International Airport just completed a US$200 million terminal overhaul and is adding additional flights on a regular basis, but since it's still a smaller mid-size airport (with only two concourses), it's still a relatively easy airport to fly in and out of. Good coffee and treats from local Caviar & Bananas, a strong selection of beer from Charleston Beer Works, and standout pizza at DeSano's pizza means that good options are available if you decide to eat in the airport—and there's an art atrium if you have to linger for a while—but while both provide comfort if you must, it's still better to eat downtown (and enjoy art at one of the many downtown galleries) since the airport is only about a 20-minute car ride north of the peninsula.
Airport Express, the transit system's direct-to-downtown service, is US$3.50 one-way (compared to a US$35 cab ride) and departs the airport hourly from 8 a.m.-8 p.m. Monday-Saturday and noon-6 p.m. on Sunday. It delivers passengers to the Charleston Visitor Center Bus Shed on John Street, in the heart of the Charleston Historic District and offers return service to the airport from that location as well.
Note that in recent years, traffic to and inside the airport has increased, so plan to arrive at least a solid hour before flight time in order to make it through security—during peak tourist seasons things can really jam up.
Train
There is Amtrak service to Charleston, but technically the terminal is in North Charleston, a separate city, and at least 25 minutes from the Charleston Historic District. The station is has no Wi-Fi and only has vending machines, so it's not really a place to linger.
Getting Around
Walking
The Charleston Historic District is very walkable, but there is often considerable traffic, including horse-drawn carriages giving tours, so city-center streets get congested and it is best to stick to crosswalks when crossing and remember that although an alley might look narrow enough to be a sidewalk, it could be the only access to driveways for a few homes.
Off the peninsula, it's typical US suburbia, albeit with pockets of walkable areas such as Mount Pleasant's Old Village or Park Circle in North Charleston, so if you do want to explore further, especially if you're looking to lay your eyes on a plantation or two, wheels are essential. There are multiple tour companies that offer transportation to them, but since the most frequented are in opposite directions on Highway 61 in West Ashley or East of the Cooper River in Mount Pleasant, better to choose one direction or the other since trying to hit them all in one day will be a lot of commuting time.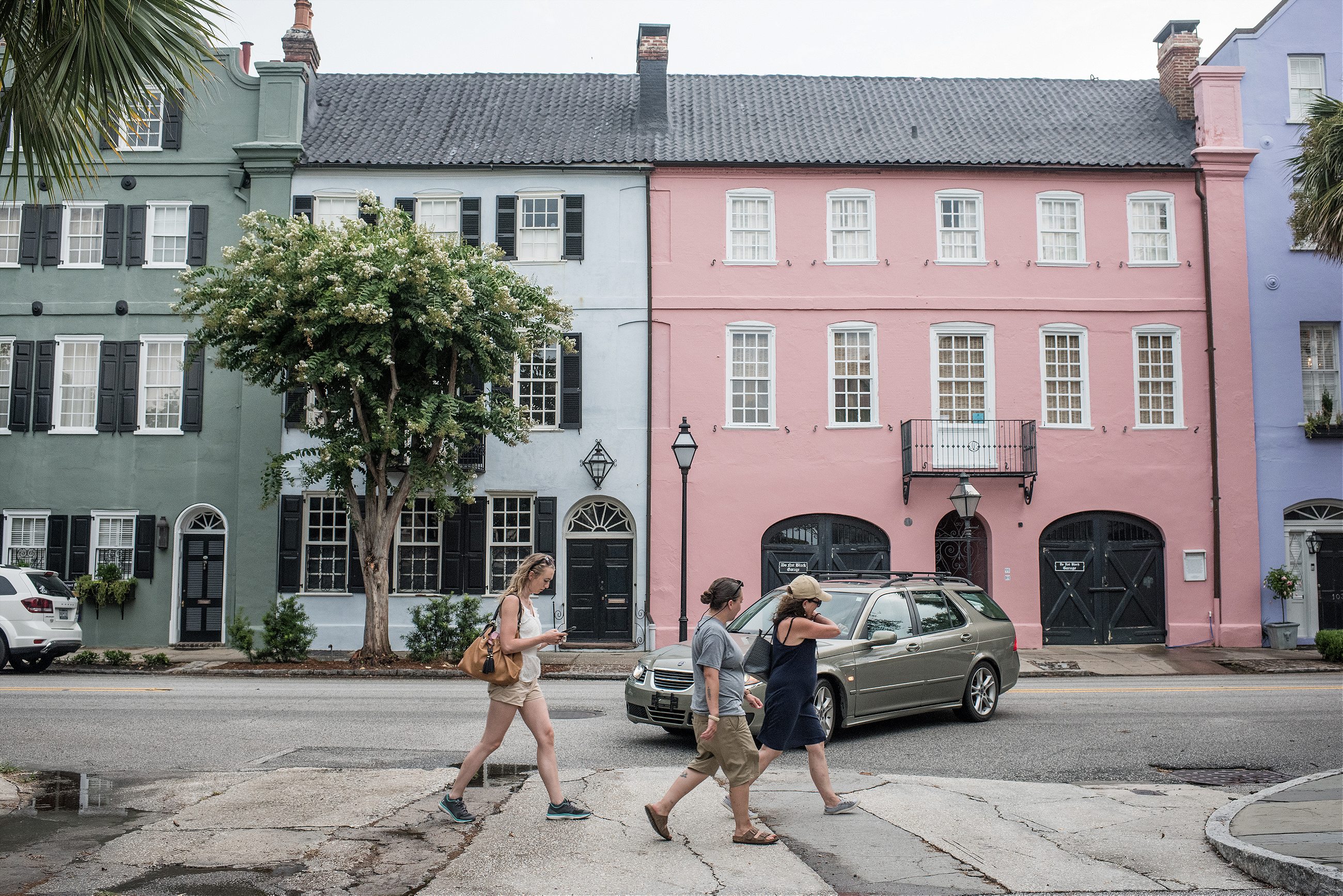 Taxis, Lyft, and Uber
Lyft and Uber are prevalent in the city and in most cases, much more reliable than taxis, because there are no taxi stands and the individual rates vary widely.
Buses
Until recently, the bus system wasn't a good option for visitors, but the city has really worked hard to improve services, and those efforts are beginning to payoff. CARTA is Charleston's bus system, and runs public transportation, including the airport shuttle and the downtown shuttle (mentioned below) though prices vary for those. For general bus routes, passes are accepted on all regular fixed routes and great if you prefer not to carry exact change or are visiting since a one day pass is only uS$7. A fixed route is US$2 with transfers at US$.50, and express rates vary. Bus stops are clearly marked but exact change or a pass is required to board as the drivers do not make change.  General bus routes are an economical option if you're looking for transportation access off the peninsula, but in general, most visitors will find them time consuming when trying to get to a specific location, such as an area beach.
Downtown Shuttle
On the other hand, CARTA's downtown shuttle is a great option for visitors while they're on the peninsula. The Downtown Area Shuttle (DASH)  has improved greatly as of late (no more trolley buses that broke down too much) and features three routes that allow to visitors and residents to get around the Charleston peninsula for free and, depending on the route and day, operate from about 6:30 a.m.to until past 10 p.m.
Each DASH route has between 15 and 24 stops. The buses are easy to spot, you can jump on and off as desired, and routes are available in Transit. That means you can easily move between White Point Gardens at the tip of the battery to the South Carolina Aquarium at the end of Calhoun Street in a matter of minutes, or decide you've had enough of walking on a rainy or too hot day and hop aboard at any stop. All the buses have WiFi and air conditioning.
Bikes
Holy Spokes is Charleston's official bike-share scheme, with close to 25 bike-corrals around the city. Reserve through the app or right on a bike, receive a pin code, and then start riding. Rates start at US$8/hour or US$12 for a day pass, and there are monthly and yearly passes too.
PediCabs
Charleston Pedicabs  and Charleston Rickshaw (rickshaw-like carts pulled by people on bicycles) are a fun way to get around the peninsula, and the men and women "driving" them are some of the hardest workers in town. They operate seven days a week, and you can schedule a pick-up by calling, or simply flag an empty one down. Some of the best time to call a PediCab is after an event or concert, but you probably won't even have to as the drivers know the social calendar of the city and are usually waiting outside for fares. On most days, however, if you're close by, a good bet to find one is at the corner of Market and Pinckney Streets—drivers congregate there when they're not busy. Rates vary from around $10 to $20, depending on distance and peak times, and they operate seven days a week from between 9-10 a.m. until the bars close around 2 a.m. (843) 577-7088 or (843) 723-5685.