When to go, what to eat, short-term stay rules, oysters, and more oysters.
Charleston is one of the oldest Southern cities in the United States. Founded as a proprietary colony in 1670, it became one of the wealthiest cities in the Colonial and Antebellum era. Of course, that wealth was built upon the labor of enslaved persons from West Africa. Charleston's power and its role in the slave trade—and the fact that it was the stage for the opening shot of the American Civil War—gave it a prominent place in early U.S. history. Though many of Charleston's ever-growing amounts of visitors are drawn to the city's historic architecture, they come also for its newer charms: a vibrant, growing scene for progressive artists, hip-hop emcees, actors, authors, and playwrights, not to mention distillers, brewers, and chefs, each tangling with the city's past as it pushes into the future.

Book ahead. Charleston has already been discovered: there really is no off season anymore. The streets are packed, parking is tricky, and hotels are pricey. Plan accordingly, and if you want to come during peak weekends—for the Charleston Wine & Food festival, Southeastern Wildlife Exposition, or Spoleto Festival USA—book your trip at least six months in advance. College of Charleston Associate Professor Wayne Smith studies Charleston tourism, and says that data suggests the quieter seasons are July through August and January through the beginning of February.

Know the rules before opening that Airbnb app. After a year of closely-watched debates between rental hosts and preservationists, short-term rentals are now legal in Charleston, with strict regulations. All hosts must have a short-term rental license from the Department of Planning, Preservation, and Sustainability.  Whole-house rentals are generally banned except for commercially zoned properties in the Short Term Rental Overlay district of Elliotborough—limited mostly to properties on Spring and Cannon Streets. However, homeowners with a primary home in Charleston are allowed to rent out a room in their property, as long as they meet the new requirements and have the license. New requirements include but are not limited to: maximum four people at a time, off-street parking, and a homeowner must be on site during guests' stay.  What does all this mean for you? Just make sure your host is up-to-date with the new regulations before for you check in.

Let the calendar dictate dinner. Eating seasonally is one of the best parts of dining in Charleston, and locals follow farm reports the way some follow college basketball. March Madness is a breathless countdown for soft-shell crabs. The crustaceans, served fried, baked, and sauteed, take over restaurants for a few weeks each spring. Tomatoes typically have two harvests, in the early and late summer, and you'll see heirloom varieties all over menus with locals crowing about the joys of eating a classic 'mater sandwich—tomato, salt and pepper, and mayo (Duke's, naturally)—on white bread at home. Summer also brings the beloved South Carolina peach. Georgia may be known as the peach state, but South Carolina grows more of them, and residents would argue they're tastier too. Finally, keep your eye on the tide, and DHEC reports, about shrimp. One of Charleston's most delicious natural resources is also one of its most threatened. This year a freak January coldsnap caused a 98 percent loss in white shrimp. That said, experts are hoping the brown shrimp harvest in the fall will fare better.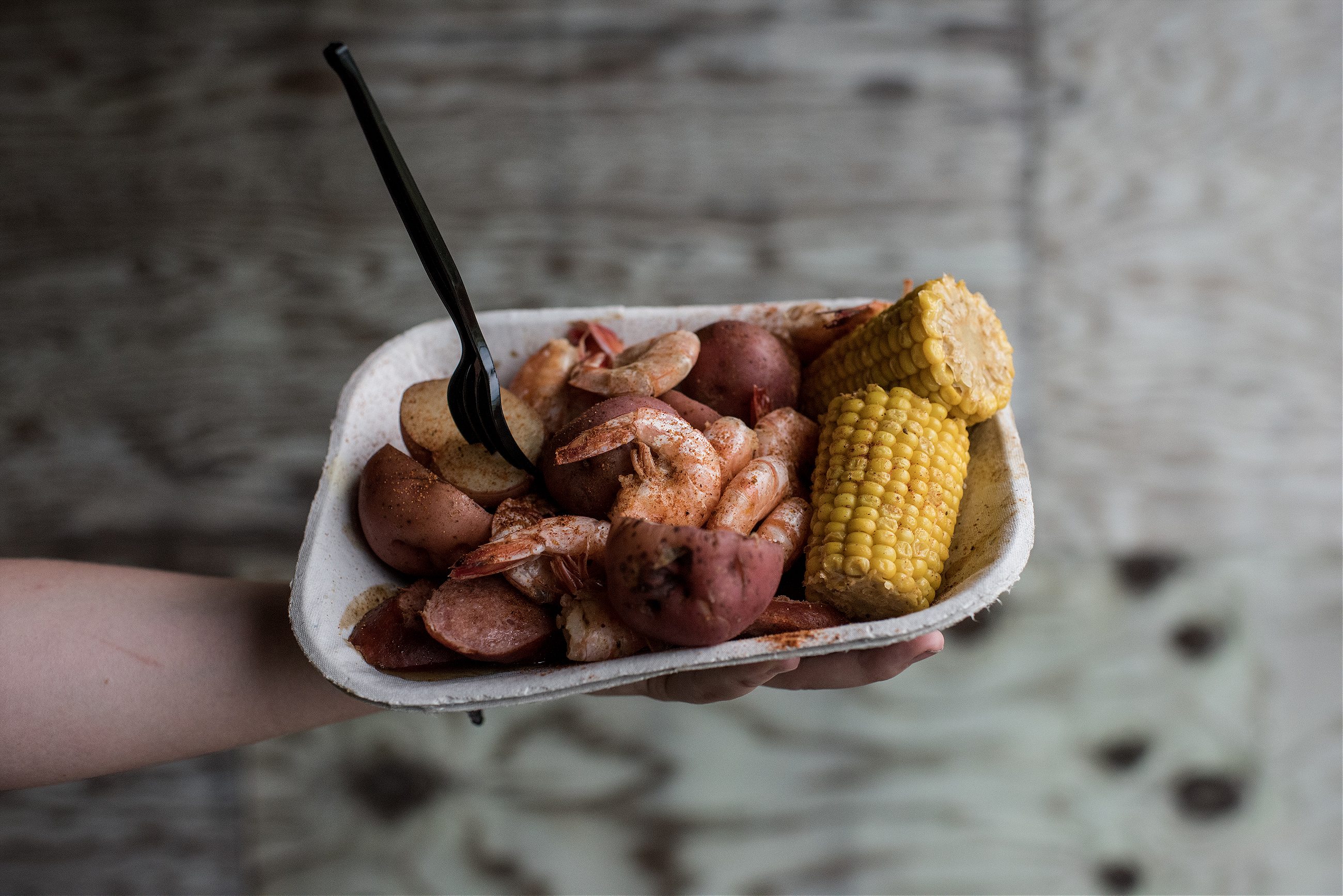 Get a history lesson. So much of Southern past and present is rooted in the American Civil War. To expand your understanding, go where it started—Fort Sumter. This National Park Service site in the middle of the harbor explains what led to the first shots of the Civil War that were fired on the fortification from Fort Johnson on James Island, and how that blast would result in the bloodiest conflict on American soil. Keep in mind that it's not a quick tour: it takes over two hours, with roughly one hour spent on the fort.
For centuries, Charleston owed its wealth and power to the work of enslaved people. To learn more about this history, head to McLeod Plantation on James Island. Built in 1851, today you can see both the home and remaining original slave cabins on this former sea island cotton plantation, as guides share the history of the family, enslaved people, and the free black Massachusetts 55th Volunteer Infantry, who were quartered on the property in 1865.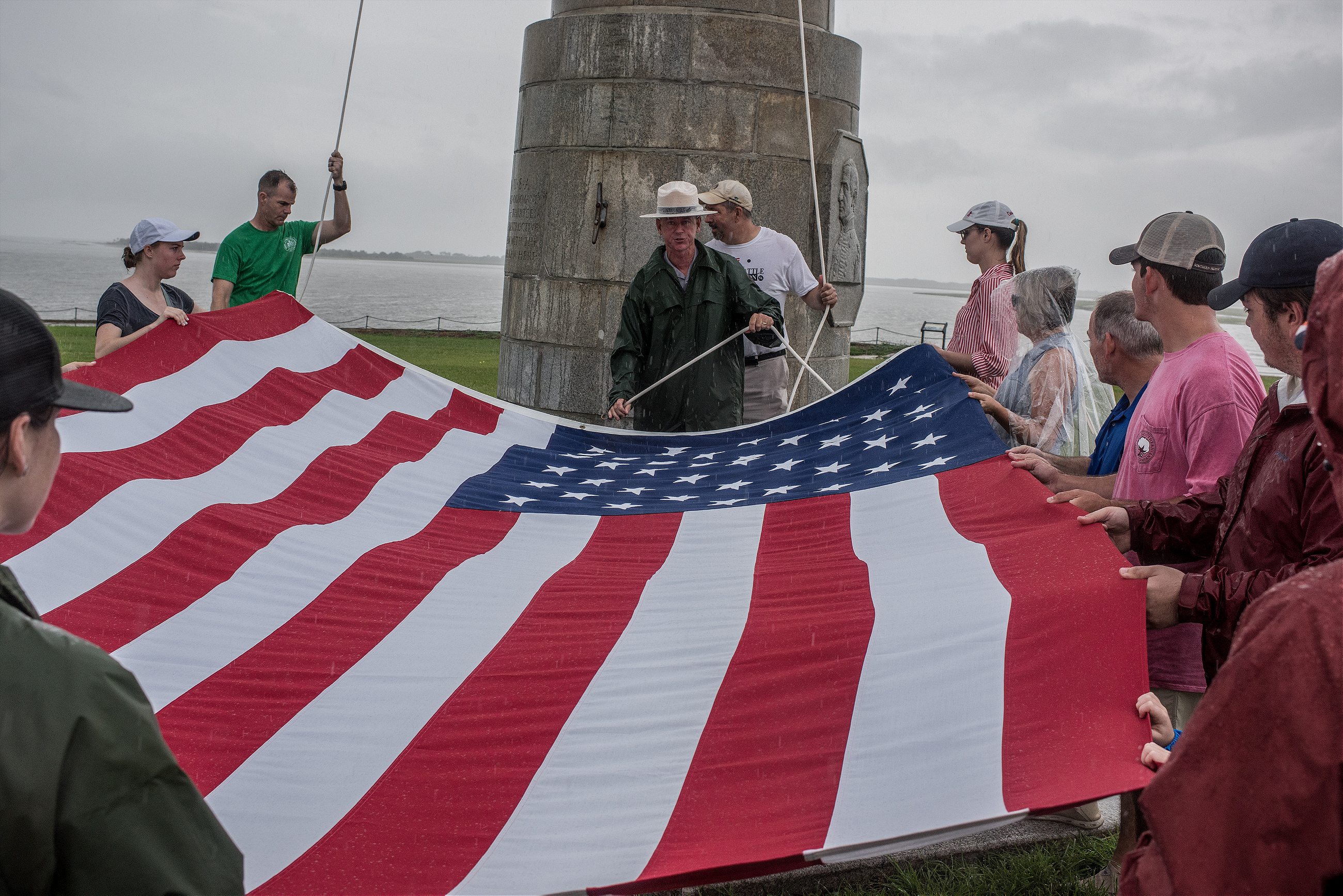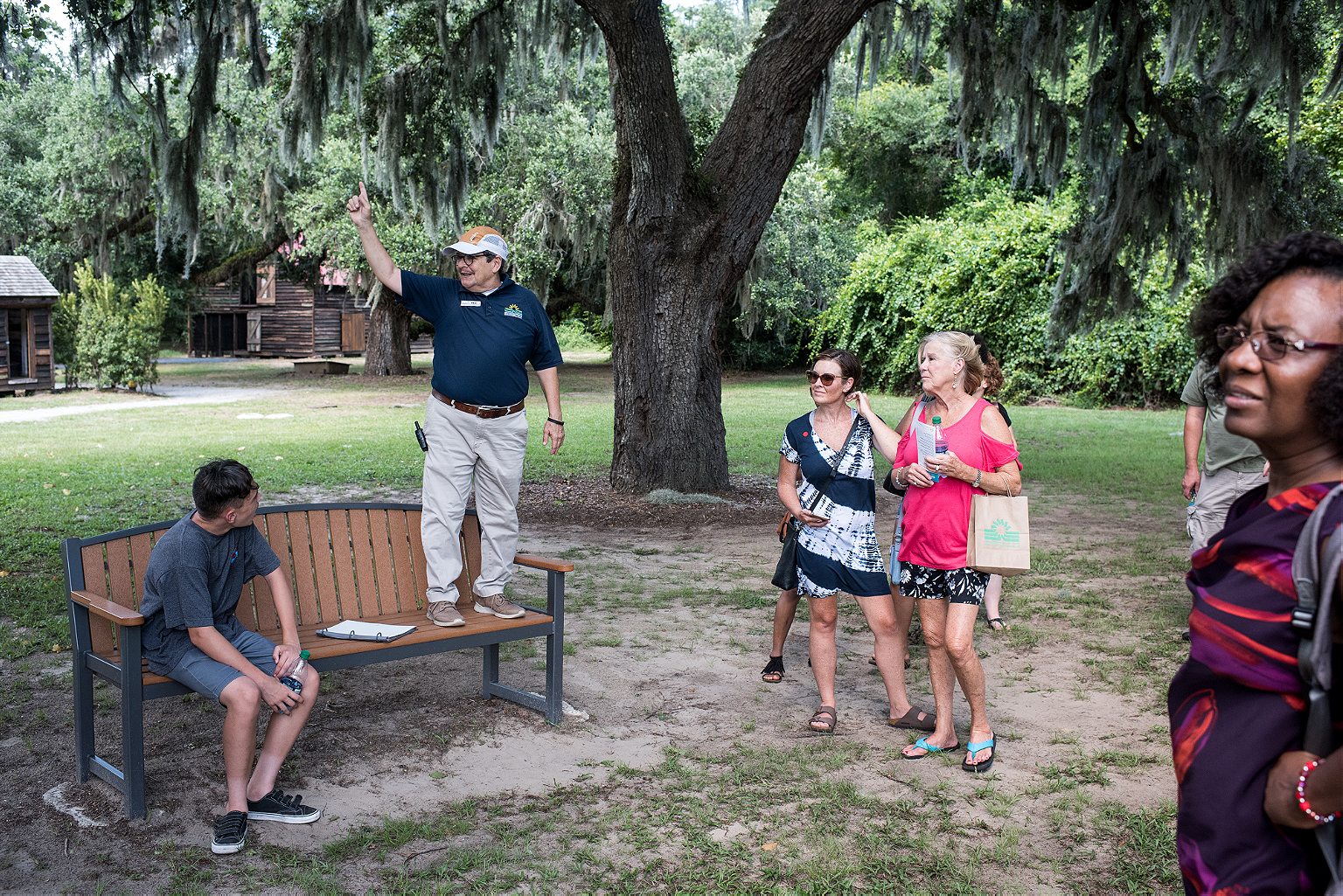 Eat Gullah food. Gullah cuisine is the bedrock of Charleston's foodways. Charleston was the entrepôt for the African slave trade: 40 percent of African-Americans alive today can trace their ancestral roots to West Africa through Charleston. And with this huge African diaspora came their culinary traditions, built on piecing meals together with whatever they could—rice, shrimp, okra, whiting (a small fish), and greens. Try fried chicken at Martha Lou's Kitchen, don't miss the crab rice at Hannibal's Kitchen or the garlic crab at Nana's Seafood & Soul, and don't sleep on the meat-and-three with collards, mac-and-cheese, and barbecue chicken at Bertha's Kitchen.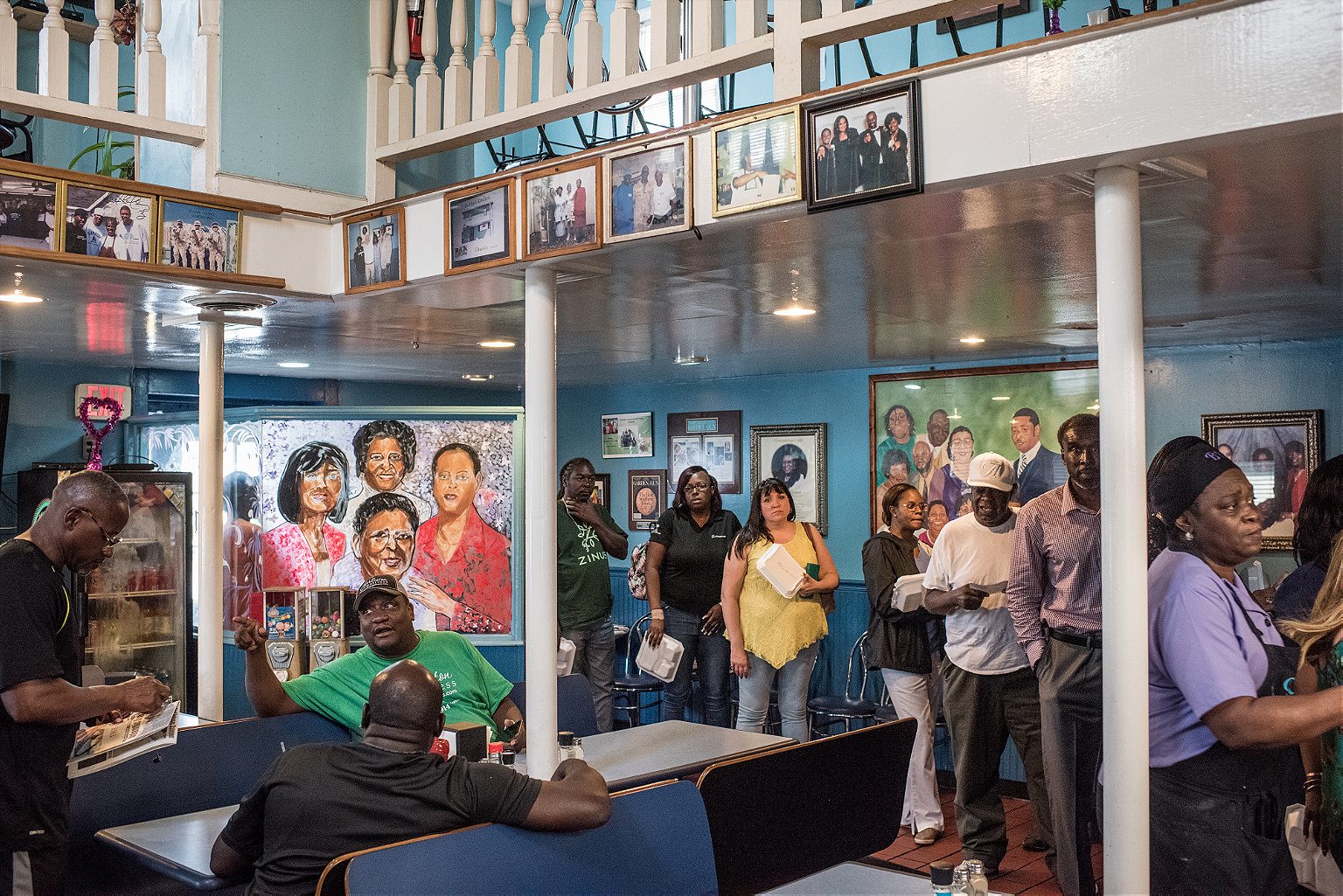 Parking will cost you. Downtown Charleston is on a peninsula covering about four miles, which means means limited parking. Commute traffic is stop-and-go, so plan your beach trips accordingly. Rates on meters have recently been raised and require payment Monday through Saturday, from 9 a.m. to 10 p.m. Sundays and official city holidays are free. The standard fee is 30 minutes per dollar. (Although nearly all of the meters downtown now accept credit cards.) Charleston does have a city bus system, but for visitors the free hop-on, hop-off DASH Trolley is the best option because it travels to the main points of interest, such as the City Market and the South Carolina Aquarium.

Take care on two wheels. You could take a bus tour or hop on a horse-drawn carriage, but Charleston is best seen by bike; the flat peninsula is ideal for two wheels and allows pedestrians the chance to slow down and appreciate some of the Federal, Greek Revival, and Georgian architecture. That said, Charleston isn't exactly a cyclists' paradise: it has limited bike lanes and narrow roads, and busy traffic. Be smart about where you ride. To rent a bike, you can visit one of Holy Spokes' 25 kiosks all over town, the city bike-share scheme, which costs $8 an hour. Download the Social Bicycles ("SoBi") app or register using the solar-powered screen on any bike. (Note: there's a $5 fee for parking it outside of a Holy Spokes hub, ie bike rack, and a $50 fee for leaving it outside the hub system.) Another option is to head to King Street's Affordabike shop, which has everything from beach cruisers ($15 for three hours) to tandem bikes ($50 for 24 hours). All bikes come with locks and helmets.

Embrace the boiled peanut. If you really want to eat like a local, get yourself some goober peas, a.k.a. boiled peanuts. For a long time, the dish was misattributed to famished Civil War soldiers, but in his lengthy historical takedown, food historian Robert Moss dispelled the myth once and for all and gave West African slaves their due for the now regionally beloved snack. Squishy and salty, the peanuts are poured in a big pot, covered with water and salt, and typically boiled for no less than three hours. You can often find them at roadside stands such as Timbo's in West Ashley or downtown at the RiverDogs baseball stadium, where vendors sell them during the games.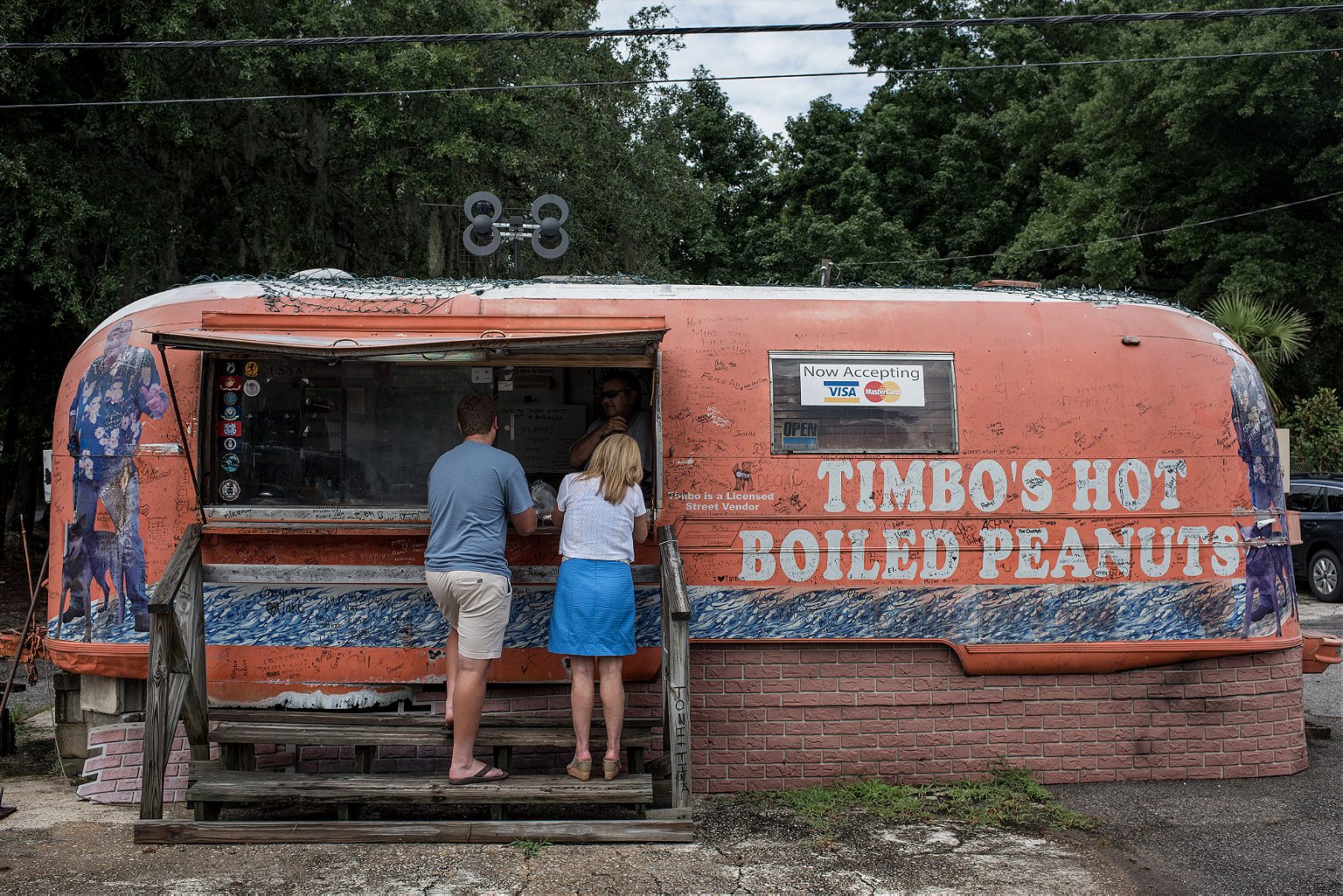 Grab a nightcap and a cab. Look to upper King Street for much of the restaurant and bar scene at night. Bars close at 2 a.m. and, keep in mind that, by city ordinance, Friday through Sunday between the hours of 12:30 a.m. to 3 a.m., Uber drivers are not permitted to pick up or drop off passengers on King Street (between Spring and Calhoun Street) or in the Market Street area. They can pull up in a side street, however.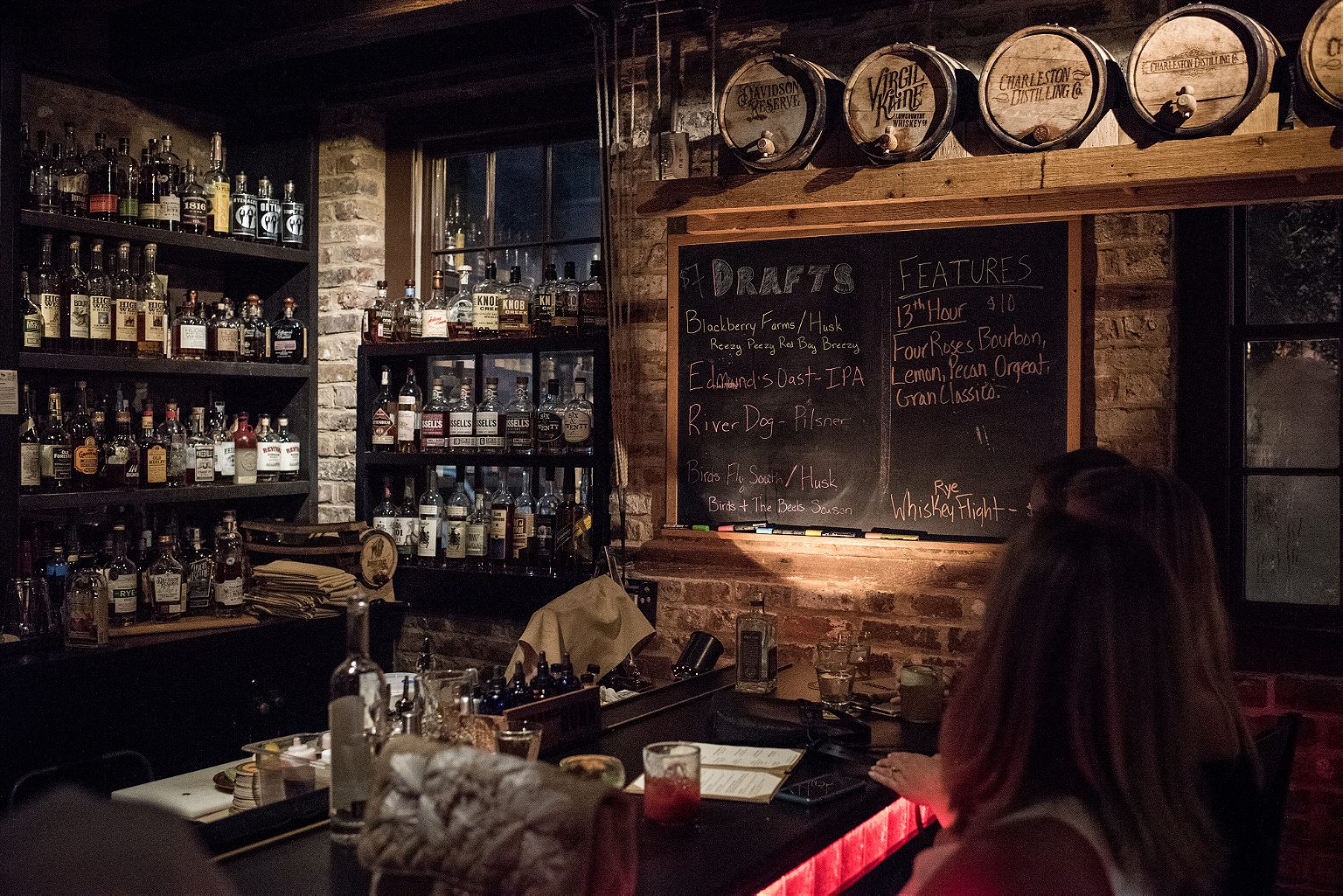 Know the alcohol laws. There are a handful of liquor stores—Burris Liquor, East Bay Wine & Spirits, The Tavern at Rainbow Row, and Pence's Liquor—on the peninsula that stay open until between 6:30 p.m. and 7 p.m., except on Sundays. (No liquor stores can sell on Sundays, but bars do still serve alcohol.) Charleston has a long, weird relationship with booze. Until 1973, only liquor drinks under 2 ounces could be sold. This evolved into the mini-bottle law. From 1973 until January 1, 2006, all drinks in the the state were required to be poured from mini-bottles. The last bar in the area refusing to give up mini-bottles allegedly closed in July, but sources say it's still kicking.

Seek higher ground when it rains. Charleston is notorious for its treacherous floods. Within minutes, certain streets can become impassable, the city market can turn into a creek, and cars can be ruined. Pack an umbrella and be sure to get inside when the deluge hits.

Get on the water. There's a local saying here that the two rivers around Charleston, the Ashley and Cooper, meet to form the Atlantic Ocean. Whether or not you agree with this self-regarding statement, the importance of Charleston's harbor is indisputable, and it's a playground for locals and tourists alike. There are many ways to get on the water, such as the Palmetto Breeze, a catamaran harbor sunset cruise sails out of Shem Creek in Mt. Pleasant most evenings.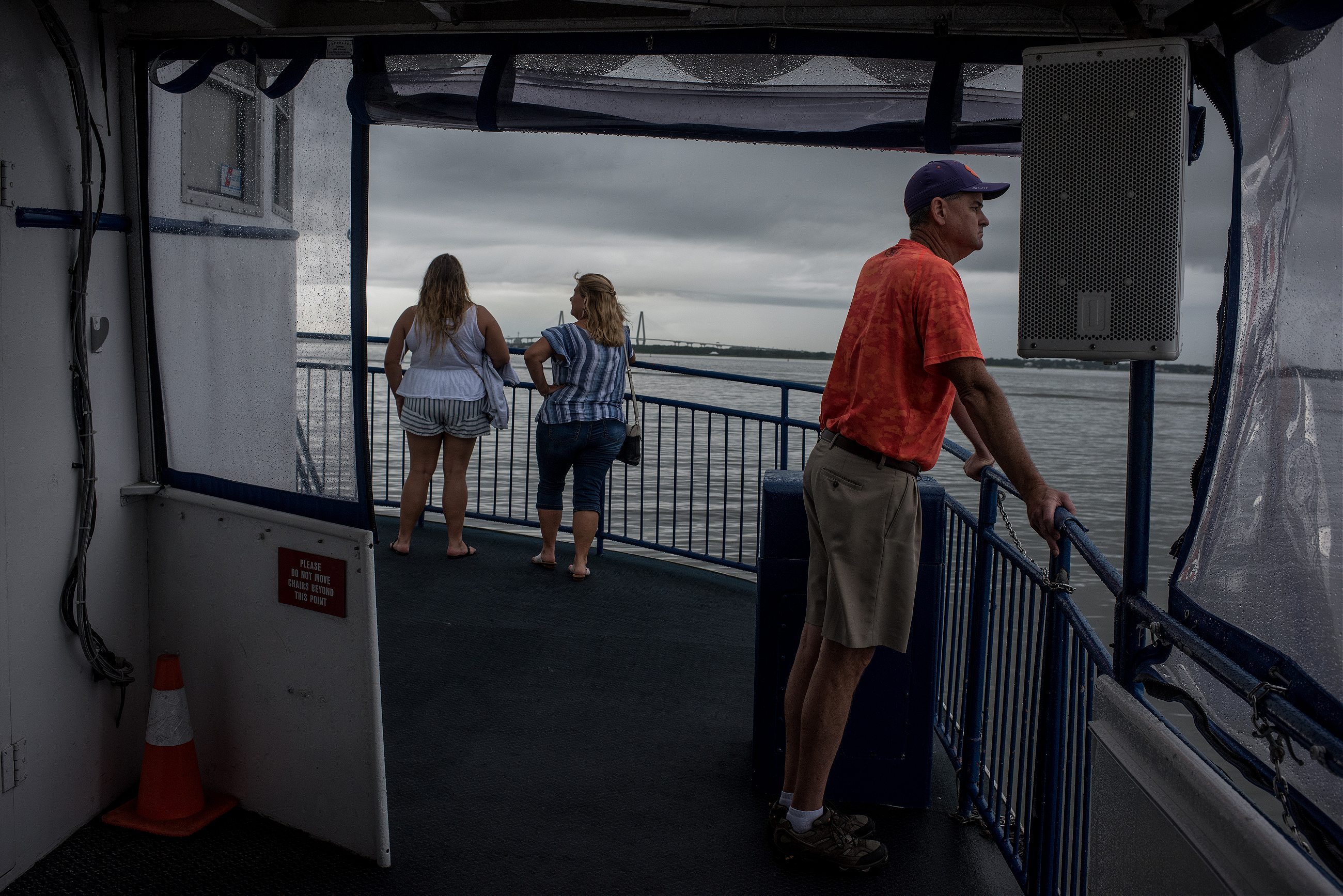 Make reservations. If you want to eat at some of the best fine-dining restaurants in town, like Husk or FIG, you should probably book at least a month out. These tony spots try to keep a few tables available for walk-ins, but to ensure you get a seat, call in advance.

Eat oysters. If you don't eat local oysters, have you even visited Charleston? If you want some great ones with an incredible view and a relaxed vibe, head to Bowens Island Restaurant. About 25 minutes from downtown, this bare-bones yet beloved restaurant sits on a spit of land just a short drive from Folly Beach. October through March you can enjoy local oysters there. Of course, Charleston has plenty of tony oysters bars as well. Check out The Ordinary, The Darling, 167 Raw, and Rappahannock Oyster Bar.

Queue for 'Cue. After years of driving out to country to sate the appetite for good barbecue (for a road trip check out Sweatman's BBQ in Holly Hill), Charleston has become a barbecue haven. The pork trifecta sits in the Meathacking District, a one-square mile region on the upper peninsula that's home to Rodney Scott's BBQ, Home Team BBQ, and Lewis Barbecue. Visit them all.

Do the Brewery District right. You'll find a fair amount of sweet tea in the city, but the drink of choice these days is beer. Thanks to a pro-craft beer push about 10 years ago that changed outdated laws on higher alcohol content, South Carolina has seen a boom in breweries and nowhere is it more clear than in Charleston. At last count, Charleston County is up to 23 breweries, with 13 in the city. The largest concentration of these are now located on the peninsula's neck and called The Brewery District. Each is entirely unique—Munkle focuses on Belgian style beer while LoFi serves a Tripel style beer called Glitter Pony. The best way to tour the district, unfortunately, is by car, due to the dicey traffic around this main artery into the city—it's not cycling- or walking-friendly. Grab an Uber, a designated driver, or check out a Brews Cruise, such as the Day Drinking Bus Tour.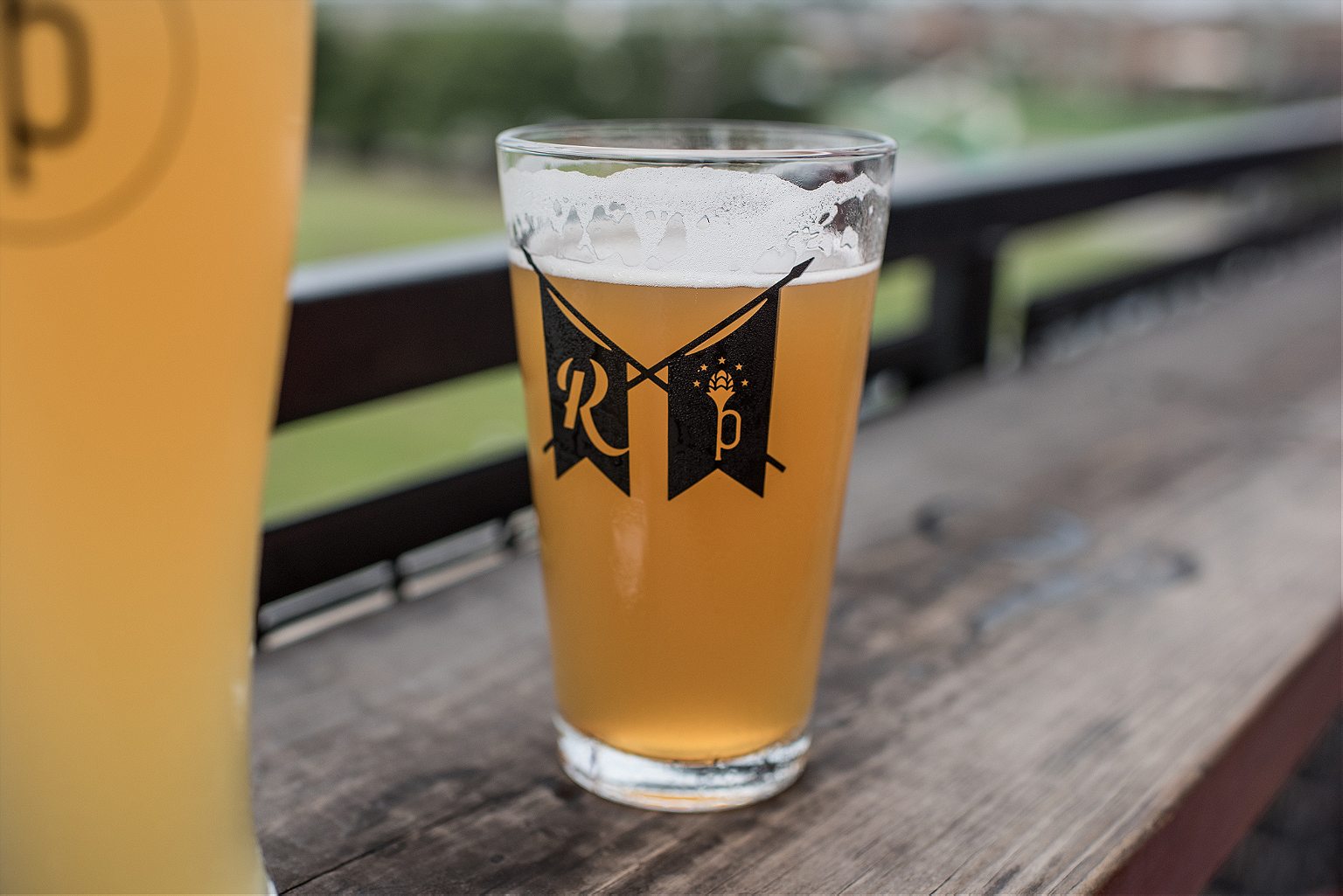 Shop at King...King Street has long been the shopping artery of the city. While the chains are creeping in, there's still quality shopping that will scratch the vacation purchase itch. For more local goods, head to Cannon Street where you'll find stores such as artisanal bag-maker J. Stark, a balloon (yes, balloon) and gift shop called Cannonborough Collective, men's clothing store Indigo and Cotton, and stationery shop Mac & Murphy. And don't forget to hit up Sugar Bakeshop for a cupcake that's as Insta-worthy as it is sweet.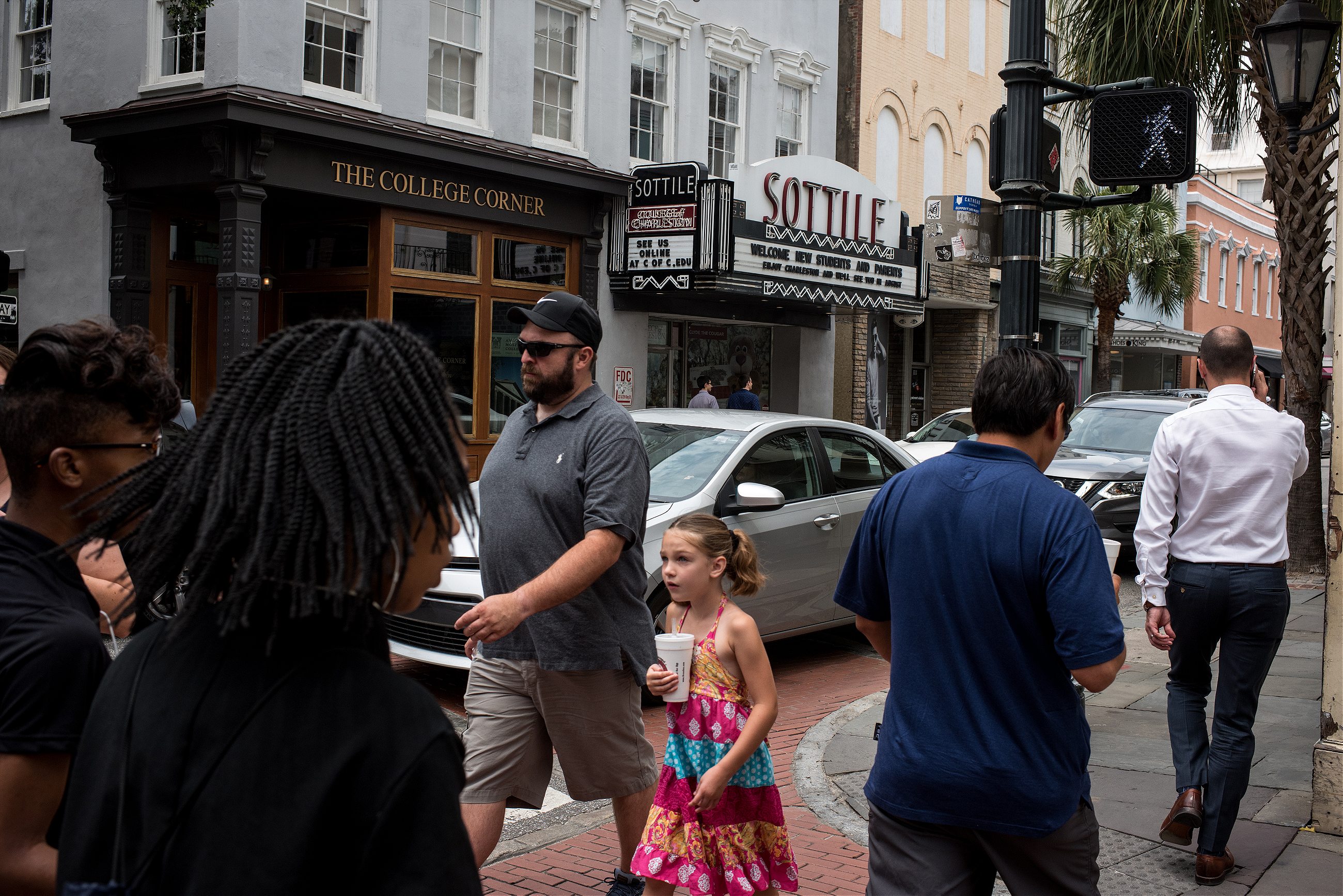 … but also, get out. Get beyond King Street to explore some other cool neighborhoods, such as Avondale, or towns like North Charleston. The latter is home to great breweries such as COAST, Commonhouse Aleworks, and Rusty Bull Brewing Co. Avondale is a neighborhood West of the Ashley River where you'll find a strip of bars, restaurants, and coffee shops, including Voodoo Tiki Lounge, Gala Desserts, and Mellow Mushroom.

Get on island time. Charleston is surrounded by sea islands, and its worth getting off the peninsula to experience some coastal breezes, beaches, and beverages—Sullivan's Island in particular. About a 20-minute drive from downtown (in good traffic), Sullivan's is full of diversions from kite surfing to swimming, Fort Moultrie (another coastal fortification that served from the Revolution to World War II) to a great eats and bar crawl strip.

Buy a sweetgrass basket at the Four Corners of Law. Members of the Mende and Temme tribes of West Africa brought their basket-making when they were forced to move to South Carolina as slaves in the 17th century. Today, the tradition continues, with descendants crafting these works of art. Nearly every day, a handful of sweetgrass basket artists sell their work at the corner of Broad and Meeting streets, also called The Four Corners of Law, because it's home to the courthouse, city hall, the post office, and St. Michael's Church. If you can't find one there, sweetgrass baskets are also sold in the city market and along Hwy. 17 in Mt. Pleasant.