A love letter to Tel Aviv's Sabich Tchernichovsky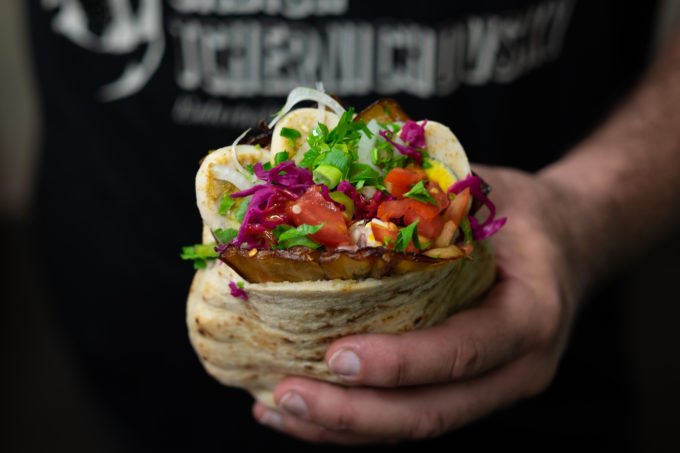 A love letter to Tel Aviv's Sabich Tchernichovsky
Sabich in Tel Aviv
When I first moved to Israel from my native England six years ago, I learned from my new friends that locals like blink-and-you'll-miss-it side-street joints to brag about in jaded tones. Sabich Tchernichovsky is just that.
It is, like many of  Israel's best street-food spots, a glorified shack—cramped and ramshackle, with limited seating and no bathroom. The long lines of customers don't come for the frills—they come for an excellent take on what I feel is perhaps Israel's most under-appreciated dish: sabich.
Sabich is a pita filled with hard-boiled eggs, slices of fried eggplant, chopped salad, tahini, and amba—a tangy mango pickle. Somewhere along the way, thick slabs of boiled potato were added, as were an assortment of sauces and salads you'd expect to find in any decent falafel shop, such as herbaceous Yemenite hot sauce shug, sour pickled cucumbers, and finely chopped cabbage.
Sabich is a quintessential Israeli dish, and a grasp of Hebrew is helpful to pronounce it correctly. I still love feeling the vibration of the 'ch' sound in my throat as I place my order. For me, it is the sound of belonging.
Although sabich was created in Israel, Iraqi Jews have eaten its ingredients each week for generations. Jewish law prohibits lighting a fire on the sabbath, threatening the prospect of a hot meal on Saturday. So, like many other communities, Iraqi Jews found their way around this constraint by assembling meals on Fridays before sundown and cooking their food low and slow overnight. This dish is called tebit or tbeet, and features a whole chicken stuffed with rice, warm spices, and gizzards, surrounded by more rice and topped with eggs—as they are, shells and all. The eggs are not eaten with the rest of the tbeet for lunch, but removed on Saturday morning and consumed for breakfast along with eggplant (fried or baked) and chopped salad, drizzled with tahini and amba.
It is said that amba (Marathi for "mango") was brought from India to Iraq in the mid-19th century by Jewish merchants working the Indian Ocean trade;  it quickly became an Iraqi staple. In 1951, following the Second World War, the majority of Iraqi's Jewish population was airlifted to Israel. They brought their Saturday dish and amba with them.
My friend's grandmother, Hella, was part of that generation, and she continues to prepare Saturday breakfast—bed oo babinjan, or "eggs and eggplant," in Arabic—for the family. Hella's rituals in the kitchen were  so different from my grandmothers' Ashkenazi culinary habits. Eggplant just didn't feature in our Jewish meals; I didn't know that it featured in Jewish food until I began to immerse myself in Israel's patchwork of communities from around the world, quizzing anyone who would humor me–friends, taxi drivers, market vendors–about their traditions.
When, and how, this Iraqi-Jewish Saturday breakfast dish progressed from plate to pita is hotly debated. The most convincing and widely accepted argument comes from the Halabi family, who claim the dish was thought up by their patriarch, the late Sabich Halabi, in the 1950s in the suburb of Ramat Gan, where he ran a small kiosk. The story goes that, catering to blue-collar workers in need of sustenance, Sabich stuffed the remainders of his Saturday breakfast into a pita until, slowly, the dish took on the name of its creator and proceeded to spread throughout Israel.
These days in Tel Aviv you barely need to walk a block to find sabich—but that, of course, doesn't guarantee you'll find a good one. The city splits into two camps on where to get the best version: the Sabich Frishman camp and the Sabich Tchernichovsky camp, both stores named after their streets, a fifteen-minute stroll apart. Both places were founded by the same man, Effi Raz.
Raz opened Sabich Frishman in the late 1990s and left in 2004, opening Tchernichovsky three years later. The two menus are nearly identical; both spots offer the controversial Cheese Sabich with its addition of feta, both refuse to omit the eggplant—the Tchernichovsky branch goes as far as to declare in big, block letters on the chalkboard behind the counter "No Sale Without Eggplant"—and crucially, neither cuts corners by dyeing the eggs with tea to achieve the slow-cooked look like many other stores do.

Raz has since left the sabich business, and sold Tchernichovsky to his partner, Oren, who keeps his legacy alive, managing to turn a hodgepodge of beige ingredients into something beautiful, taking his time artfully arranging each component inside the pita, fanning out slices of eggplant and dotting spoonfuls of purple cabbage for color and crunch. Aesthetics aside, this technique ensures that each bite contains the complete ingredients, right to the very end.
Sabich Tchernichovsky
Tchernichovsky St. 2,
Tel Aviv-Yafo, Israel