A Filipino food scene flourishes in Israel.
Reynita Sidorra rises at 4 a.m. on Saturdays to cook in her south Tel Aviv apartment. By 1 p.m., Sidorra, who is 36 and from the Philippines, has finished making her mother's unwritten recipes.
There are spicy Bopis: minced pork lungs sautéed with tomatoes and onions; Pakbet, a steamed vegetable stew with shrimp paste; and Ampalaya Ginisang, sautéed bitter green melon with a sharp aftertaste. The food keeps coming: a tasty stream of sweet sausage, pork ears, Pansit noodles, mung bean soup, fish balls, and barbeque beef sticks all emit the unique Filipino aroma of Chinese, Spanish, and local flavors.
At around 2 p.m., Sidorra heads to Tel Aviv's decaying Central Bus Station, one of Israel's most peculiar places with its disparate shops and dizzying organization. The station is largely empty because of the Jewish Sabbath, during which much of the country shuts down. Empty, that is, except for the corner of buzzing Filipino supermarkets and pop-up food stands, catering to the 60,000 migrant workers (around half of them from the Philippines) temporarily employed as caregivers.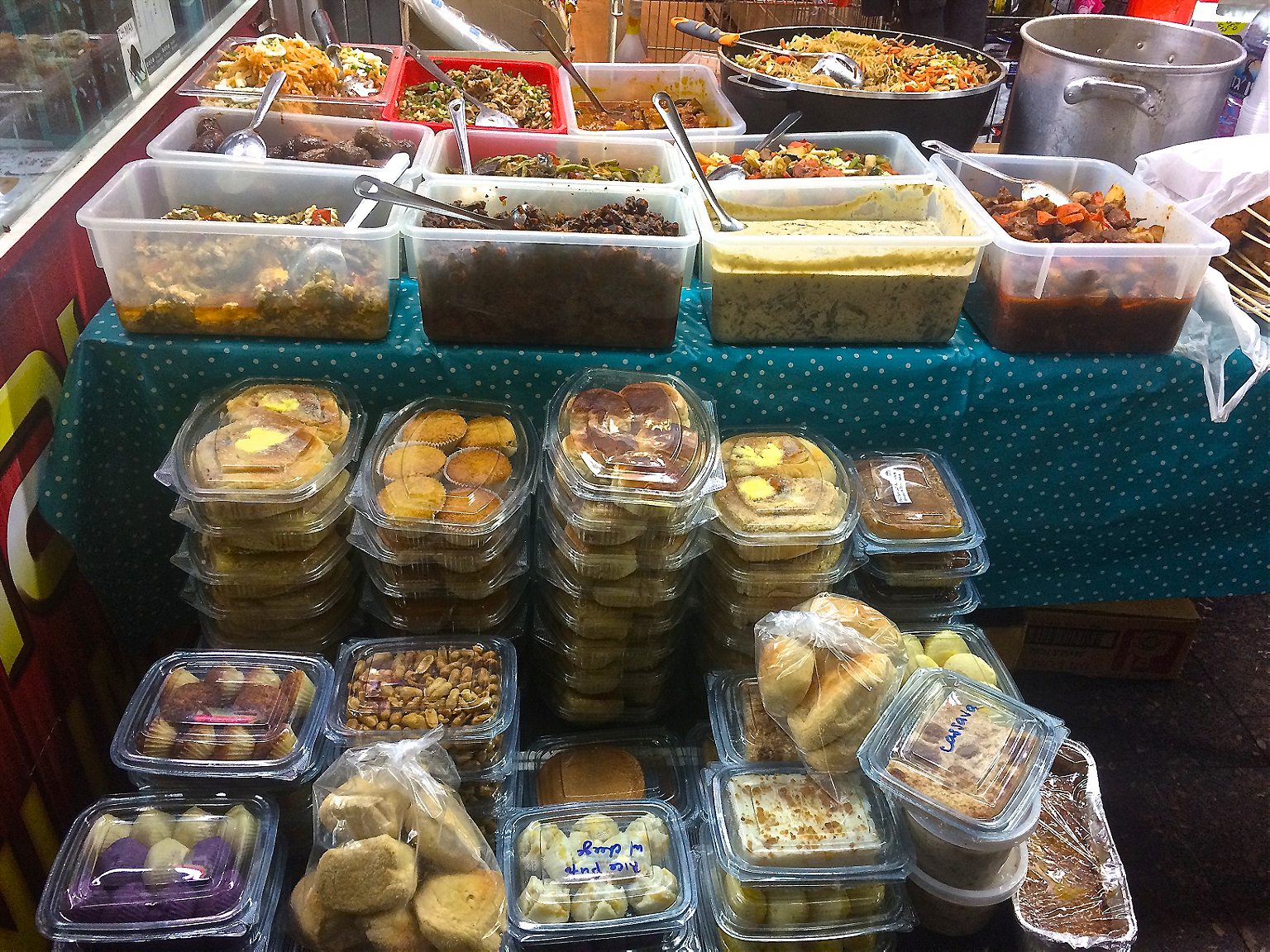 "In the Philippines it's hard to find work," Sidorra explains. She came with her husband as a caregiver for old, infirm, and injured Israelis, as did her mother, sister, and aunt. The work is physically taxing and regulations are laxly enforced. The Israeli rights group Kav Laoved has documented many cases of employers exploiting, overworking, harassing, sexually assaulting and underpaying workers, who often start off in debt after paying for illegal visa brokerage fees.
Sidorra's passion has always been cooking. Over the next few hours, waves of mainly Filipino women crowd this unadvertised corner of the bus station. For around 10 shekels (USD $2.60) they buy Sidorra's dishes. Some then eat with companions on old, metal benches in one of the station's many empty spaces, while others sit alone and talk on their phones.
Occasionally, Israelis also seek out the Friday and Saturday market, and its non-kosher pork and shellfish and prohibitive mixes of dairy and meat, like the man in a tiger-print onesie enthusiastically eating some barbecue skewers one November Saturday. "These are taim," he says, using the Hebrew word for tasty. "I am taim," the Filipino woman selling them responds.
The single-story, rundown buildings around Neve Shaanan and nearby Levinsky Square in south Tel Aviv look nothing like the tourist image of the sun-kissed city. Exit the bus station and take a right onto Neve Shaanan Street and suddenly you're not in the stereotyped land of hummus wars anymore.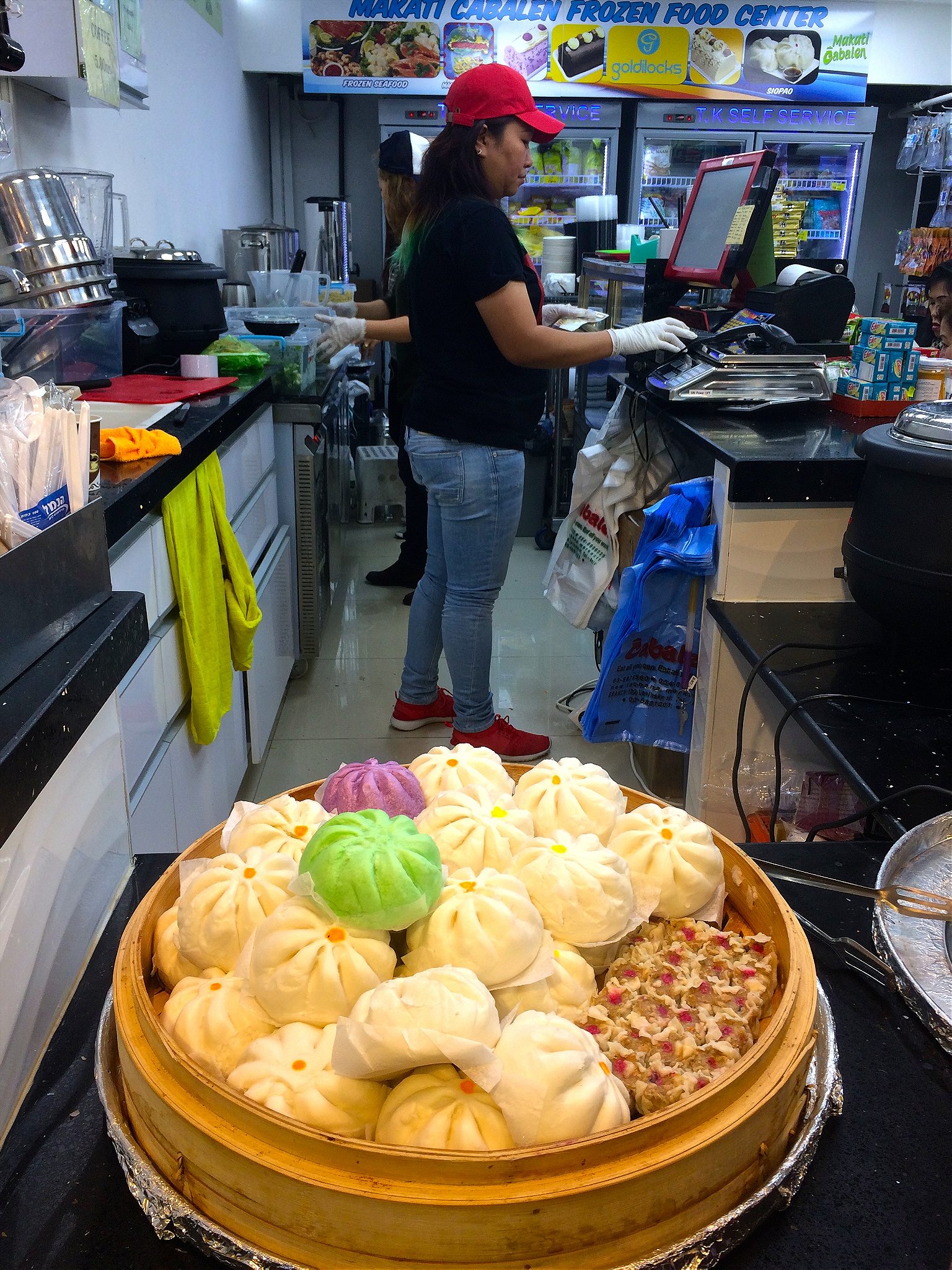 Sudanese and Eritrean shops line the wide and uneven road, a gathering place for the 45,000 African asylum seekers and migrant workers who have made the dangerous journey to Israel. Interspersed are an Indian shop, Chinese and Nepalese restaurants, a Filipino restaurant, and a karaoke bar.
Israel's guest workers are largely unseen. The chances of staying long-term in Israel as a foreigner are slim, and it's difficult to become a citizen unless you're Jewish, or convert. Neve Shaanan's few Asian food shops are products of these politics, from the Indian Jews who own the corner store, to the Azerbaijani Jew who helps run the Nepalese restaurant frequented by Sudanese workers, to a woman who married an Israeli and now manages a popular Filipino restaurant.
Then there are the food entrepreneurs like Reynaldo Uclaray, 50, from Olongapo City in the Philippines. You can find Uclaray Fridays and Saturdays at his informal stall outside the internationally stocked Dragon Market shop, where he hawks Filipino fish, eggs, meats, and pastries galore that three friends spend their days off creating.
Uclaray works from 8 a.m. to 2p.m. for five days a week as a caretaker for an elderly Israeli man, making around 1,200 NIS ($310) a month, he tells me. It's way better than his previous employer, who withheld payment. Full-time caretakers make an average of 5,000 NIS ($1,300), says a Filipino man who works weekends at Dragon Market. Everyone needs extra work, a Filipino woman buying food from Uclaray chimes in. She spends her Sundays working as a cleaner, but declined to give her name as she'd overstayed her work visa. While the usual caretaker visa is just for five years, Uclaray has been here for almost eleven years because he could extend the visa at his long-time employer's request. When his employer dies, he must leave.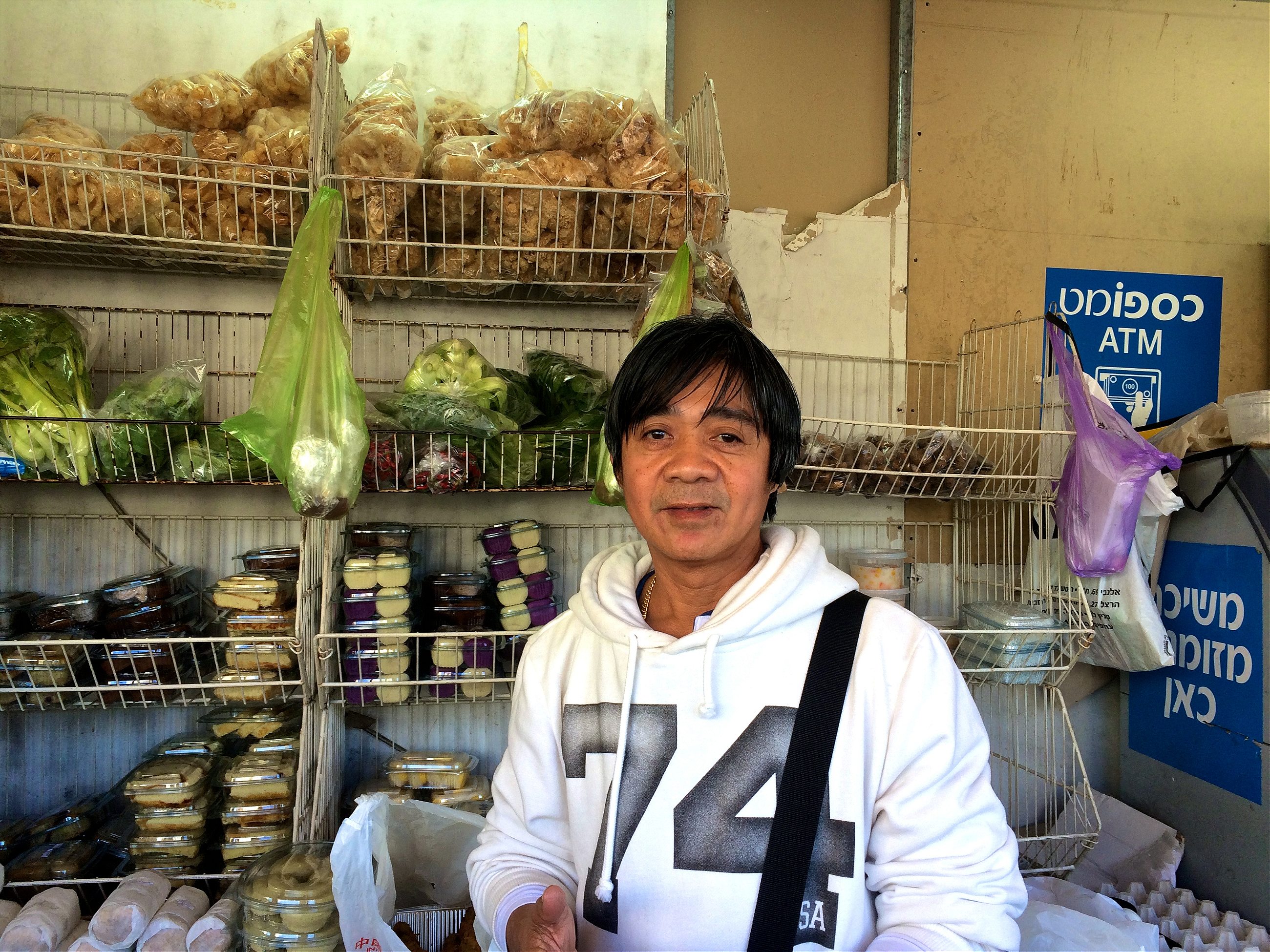 On Fridays and Saturdays, Uclaray's stall, called Rey's, is stocked with all kinds of famed Filipino delicacies and kakanin, different mixes of glutinous rice, sugar, flour, coconut milk, and cassava. From plastic bags and cramped shelves, he pulls out containers of hopia—circular, dense, and flakey pastries filled with grey mung bean, purple ube yams, and baboy (pork). There's also rice puto—dense, moist, and grainy steamed rice cakes that come with cheese or dyed purple with sweet potato. There's the widely known flan and tapioca pudding, and siopao steamed buns with pork, chicken, or special beef asado. Uclaray's has dinuguan, a savory pig blood stew; palabok noodles topped with eggs and shellfish; and lumpiang Shanghai, fried pork and vegetable rolls. Then, of course, there's balut: an egg with a rich-tasting duck embryo inside.
And what's definitely not to be missed (in this eater's humble opinion): buchi, wonderfully glutinous fried sticky rice balls filled with savory-sweet mung beans and coated with chewy sesame seeds, and turon, deep-fried banana lumpia rolls that, with a flirty flair, go from crunchy to gooey in one magical bite.
Tiran Rahum, 49, owns Dragon Market (and rents Uclaray his weekend stall out front) and imports over 600 food items from all over the world. He's watched waves of immigrants and migrants redefine the tastes of Neve Shaanan following shifts in Israeli and regional economics and politics. First, it was the West Africans, then the Chinese, then the Ukrainians, Russians, and Romanians, the Sudanese and Eritreans, and increasingly now the Filipino, Thai (dispersed across Israel in agricultural work), Nepalese, and Indians.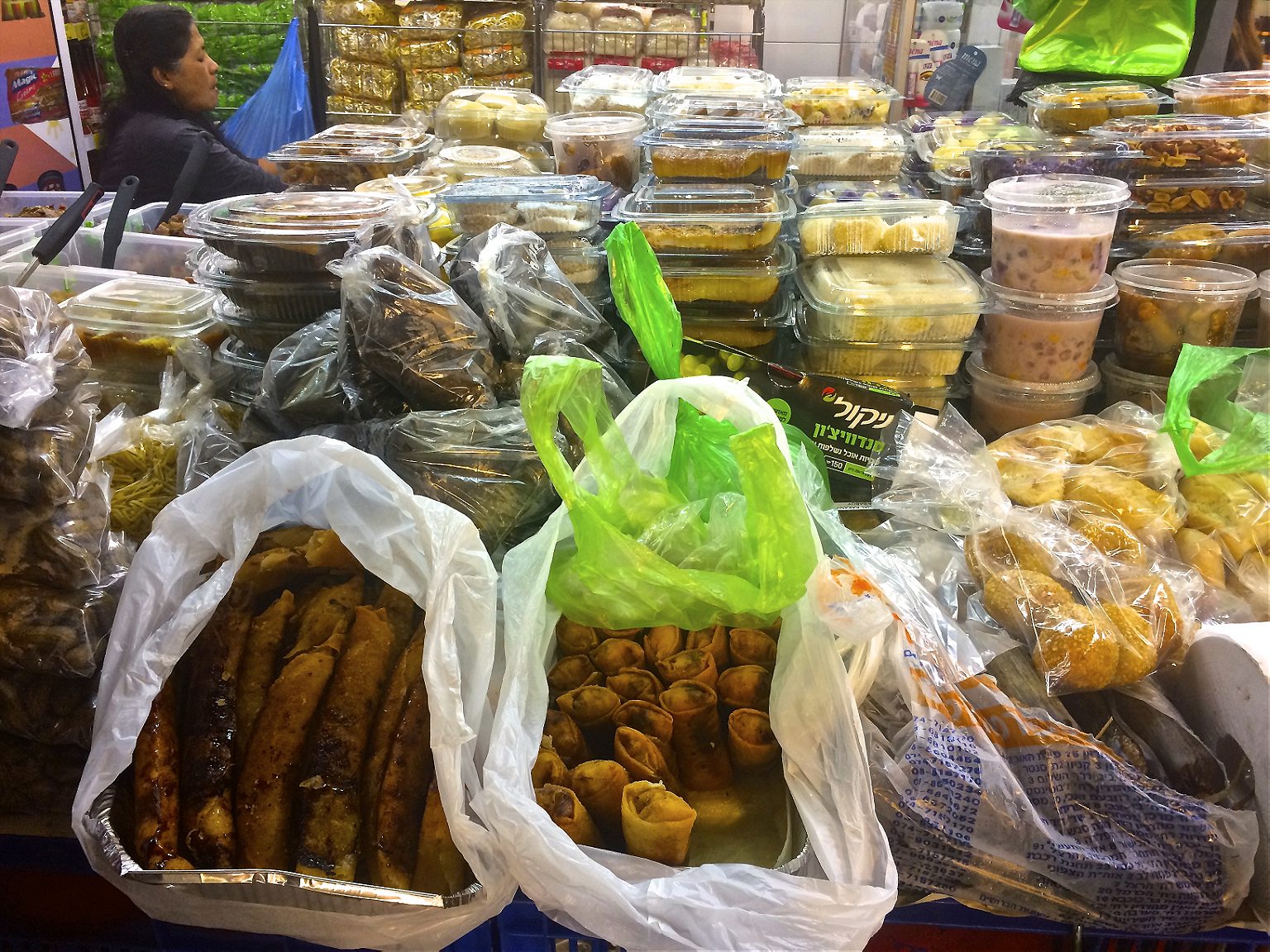 Many young Israelis travel to places like Thailand and India after their army service, which is mandatory for Jewish citizens, and Israel's population pools from all over the world, and brings with it exposure to a diversity of culinary traditions. On Thursdays and Fridays at the city's iconic Dizengoff Center there's a food fair with dozens of vendors serving up flavors from countries around the world, even from places Israelis can't technically travel to. But the cooks of Neve Shaanan can't afford the fee to showcase their food there.
Angie Hsu, a well-known Tel Aviv foodie working with Kav Laoved, thinks that food can be the way to connect more Israelis to the people of Neve Shaanan. That's what happened with Israeli Kandra Magnus, 36, who works nearby and first came for Eritrean food, then Filipino soup at the bus station, and eventually found his way to Rey's.
I ask what he knows about Israel's migrant worker system and he responds, "The only cheap labor we had was our neighbors," referring to Palestinians in the nearby occupied Palestinian Territories. "And once we went into a war with them we lost all our cheap labor. So the demand rose."
Neve Shaanan's reputation for drugs and crime scares off many Israelis, he added. As an outsider, it's not considered the safest to loiter around at night. But that's also when the music at Mommy's Filipino restaurant and karaoke bar is best. Mommy Lucy, 60, from Santiago in the Philippines, is petite and tough in platform shoes and a t-shirt that reads, "Good vibes only." She came to Israel over 12 years ago as a tourist, married an Israeli, divorced him, and opened a small shop and then a restaurant and karaoke bar. Friday and Saturday evenings, soulful, drunk karaoke fills the dark restaurant, followed by a live band that starts around midnight, and dancing until five or six in the morning. "Israelis don't come as much as they are afraid," she says. But she also knows that's not stopping her customers, who keep coming to her, and to Israel.