Tel Aviv Vibes on a Cloudy Brooklyn Day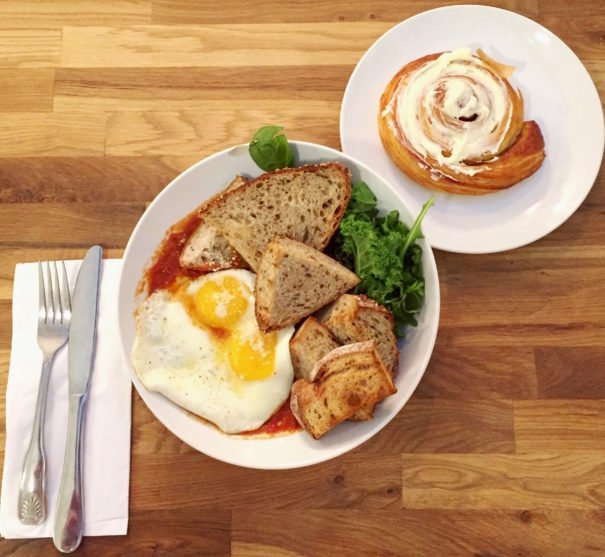 Tel Aviv Vibes on a Cloudy Brooklyn Day
Shakshuka in Crown Heights
Wanderlust cures my seasonal affective disorder.
I'm looking for a way out of town, and know that staying can sometimes be more rewarding than jet-setting. It's early afternoon when I reach the former auto repair shop for lunch (my breakfast), a nondescript dining area marked only by a continuous stream of handmade donuts appearing from a cellar, then disappearing beneath a rollaway garage door.
I've come for the shakshuka, a Middle Eastern dish of Libyan and Egyptian origin, they say. It is comprised of eggs poached in tomatoes and spices. But for a moment I feel that I have come for more: there is little to remind me that I am somewhere in Brooklyn. Inside it feels like Tel Aviv, sans ocean view.
The Brooklyn Artisan Bakehouse, in an unassuming, predominately Hasidic neighborhood, is my stand-in for a place to which my father and sister often invite me, but one I cannot seem to reach: Israel. I want to go, I do, but as a reporter, matters elsewhere in the Middle East seem more pressing. So, for the meanwhile, my desire to visit Neveh Tzedek or a café off Rothschild brings me here.
Everywhere, baby strollers. Sheitels and wigs. All so young, married, chatty. The exuberance of life is especially welcoming on days when the clouds hang low and my spirits are smothered by the atmosphere. Inside, I can settle into the clamor of a family dinner, with place settings for very few.
I invited a friend to breakfast. Last time this friend went to Israel, she took a note to the HaKotel HaMa'aravi (Wailing Wall) for me, as I have never been. I had dedicated the note to my sister, wishing her a fruitful, prosperous year. She was engaged months later.
The shakshuka arrives. We share a pastry. It is, in a word, divine. I can't say this is because I'm gripped by the cuisine, which I am not; it is nothing special. But there is solace that comes with breakfast and friends, no matter the food.
Being life-long New Yorkers, however, this meal was not without critique. We were leaving soon and I asked my friend what she thought about this slice of our holy land.
"It's got that Israeli vibe, for sure," she says. "All that's missing is the arak."