A smart guide to Myanmar's largest city.
Myanmar's largest and most-populated city has changed at breakneck speed since the country started opening up to visitors around 2012. Since the democratic elections in 2015, sanctions have been lifted, shopping malls have been built, and smartphone shops have sprung up all over the city—although Myanmar only got its first internet connections in 2000. For decades closed to outsiders, the former colonial capital has become a jump-off point for traveling to other parts of the country.
Change in Myanmar has remained slow on other fronts. Censorship is strict, colonial and military-era laws still remain on the books and have recently been used to silence journalists and activists. Religious and ethnic persecution, including against the Rohingya, continues across the country.
Travelers should be informed about ongoing conflicts and do some research (we can help!) on where to spend their cash to ensure it goes to local people and businesses, rather than the government or military. Friendly and welcoming locals are always excited to see visitors.

Greet. The standard greeting of "mingalabar" (pronounced min-gah-lah-bah") means "auspiciousness wishes." Saying it to your neighborhood noodle-vendor will usually get you a smile and happy nod in return. Bonus points if say thank you: kye zu tin ba deh, pronounced "cheh-zu-tin-ba-deh").

Check the season. Late October to February is the coolest time of year, while March and April have scorching temperatures. If you plan on coming in during the rainy season (May through early October) be sure to pack an umbrella and some waterproof shoes, because the city's streets often flood. Be careful when walking around town this time of year, as a layer of slime forms, making the sidewalks dangerously slick. Also check if your visit coincides with any major Buddhist holidays throughout the year, as they can impact travel and cause businesses to close for days on end.

Rise early. Yangon starts to come alive around 6:30 a.m. Take a morning stroll to beat the heat and watch the market vendors set up their sidewalk stalls, the religiously devout visit their worshipping place of choice, and the local tea shops in full swing.

Make time for tea. Tea shops are essential social hubs that served as a meeting place for the public even during Myanmar's most repressive eras. Yangon has some of the most famous tea shops ones in the country. Small plates of food will be brought to your table; you can try them, or just set them to the side and order something from the menu. Also be sure to order a laphet yay, or Burmese sweet tea, made with varying combinations of evaporated milk, condensed milk, and black tea. The downtown Lucky Seven Teashop is famous in Yangon and has an English menu. Yatha Teashop is another local favorite, which also serves crispy samosas.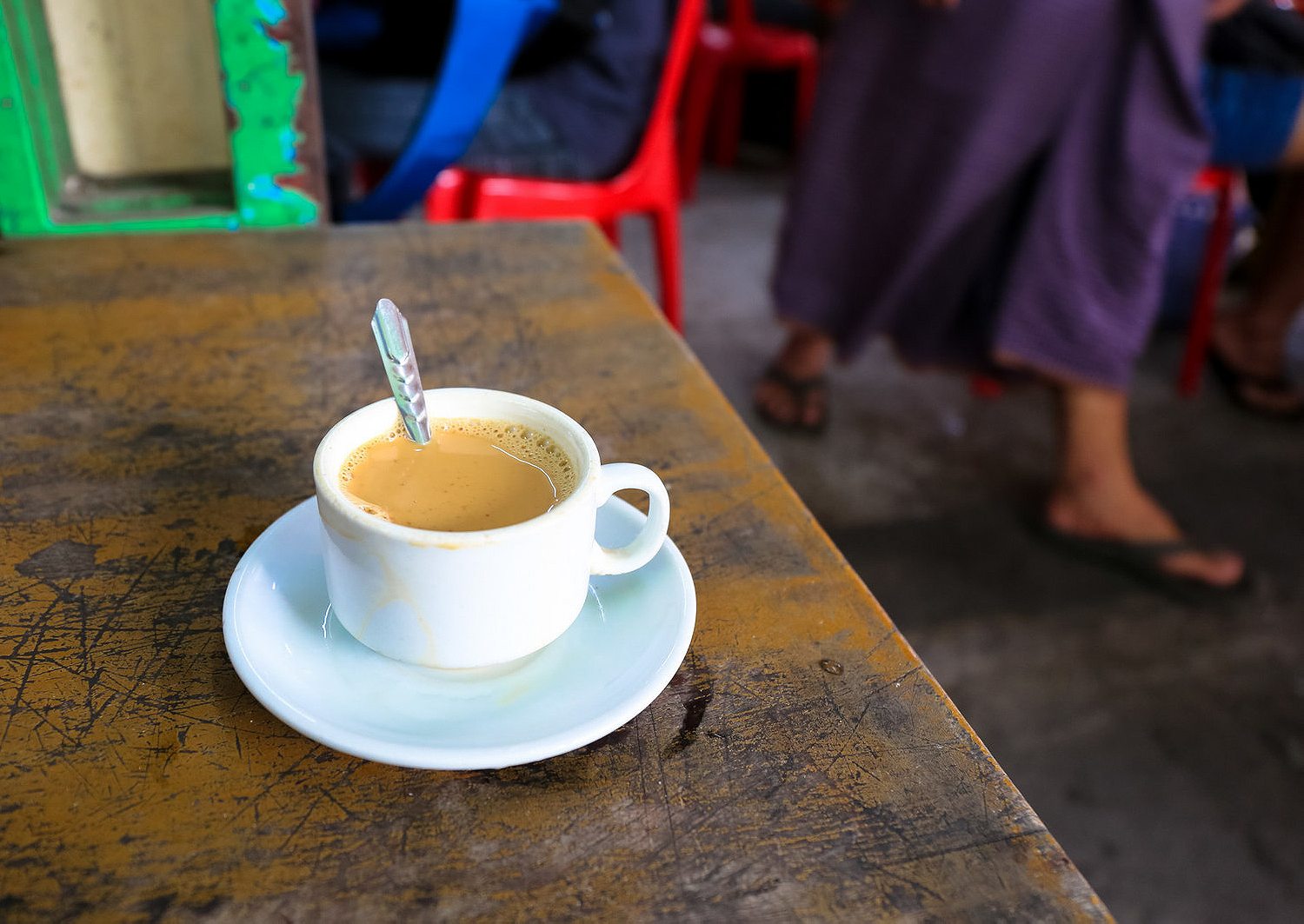 Bring crisp—truly crisp—U.S. dollars. Folds, pen marks, ink stains, wrinkles, any other kind of blemish, or old bills, can devalue or render your cash useless. There's no agreed-upon explanation for this practice, but rest assured that the crumpled, stained Myanmar kyat notes you get in exchange will still hold their full value. Also, be sure to bring either $50 or $100 bills to change, as notes that are any smaller will be exchanged at a lower rate. There are ATMs in major cities and they accept most major international credit cards. Just don't try to withdraw money on a payday (usually the last or first day of the month) as the ATMs will often be empty. Also, make sure to use the last of your bills or exchange in-country, as you can't once you leave Myanmar.

Unlock your phone. Get a local SIM card at the airport for cheap and easy access to the internet. While more and more establishments in Yangon are installing Wi-Fi, it can be hard to find when you need it, and internet packages are cheap and easy to get for your phone (at the time of writing, 1GB of data cost 65 cents). Try to get Ooredoo or Telenor, both of which have user-friendly English-language apps that can walk you through your data usage and topping up phone credit as needed.

Do your homework. With officials from the United Nations declaring that atrocities against the Rohingya Muslim minority "bear the hallmarks of genocide" and ongoing human rights abuses by the military in many parts of the country, there's some debate about the ethics of visiting. From SIM cards to hotels to the beer your drink, doing a little research into who owns the businesses you're patronizing can easily provide info on where your money is going. Myanmar's military has big financial stakes in Myanmar beer, Mytel SIM cards, Red Ruby cigarettes, and nearly all precious gems, so consider alternatives if you don't want your money going into the military's pockets. Several low-impact tourism agencies such as Khiri Travel and Sampan Travel have been working in the country for years and can provide the most up-to-date information regarding ethical and sustainable tourism options.

Take the Circle Line train. Costing only a few dollars and taking about three-and-a-half hours, the Circle Line circumnavigates the city and is a great way to see Yangon. Locals in Yangon often take the train to get around, while local vendors use the train cars to hawk their food and wares. Try to get on one of the old, open-air trains to sit and watch the city go by. Taking the train in the middle of the day is also a great way to take a break from the heat.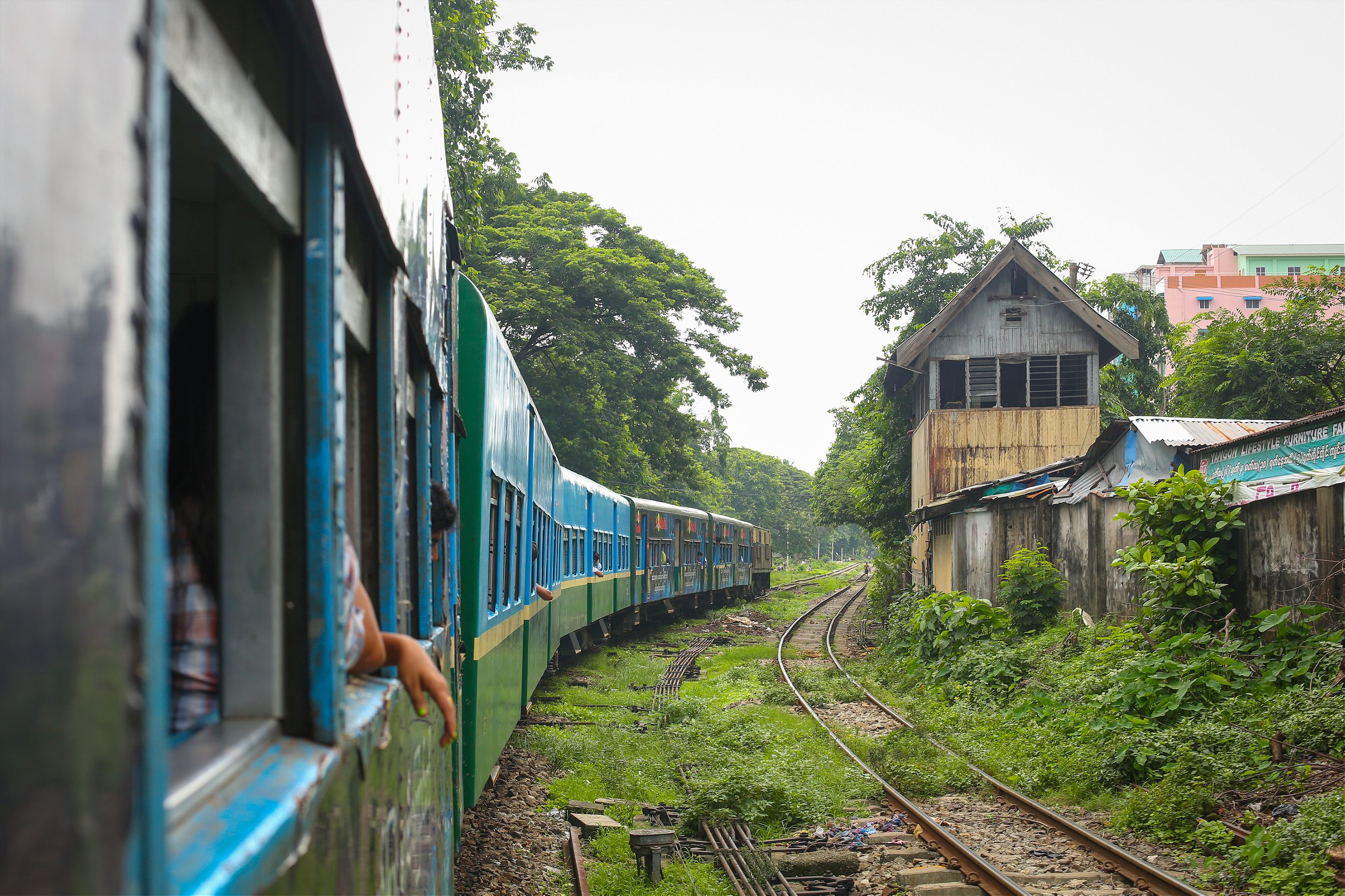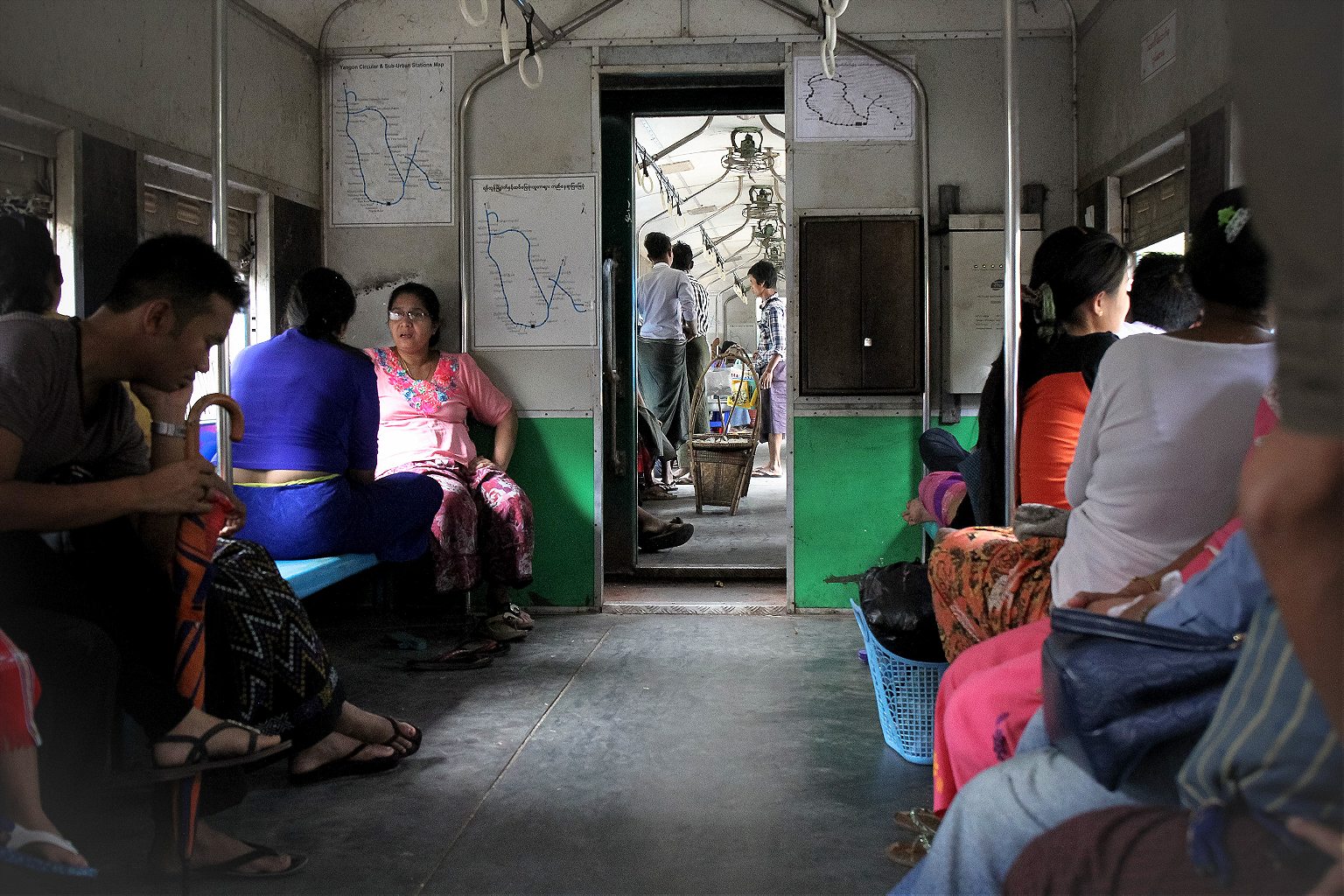 Download a ride-sharing app, or be prepared to haggle. Motorbikes are illegal in Yangon, and parts of the city have also banned bicycles. The good news is that taxis are cheap and plentiful—but if you don't feel like haggling or don't know how to give directions to where you're going, download the Grab app, or the local competitor Oway.  If you're paying with cash, be sure to bring smaller kyat notes, because taxis drivers often have difficulty making change for larger bills.

Respect the faith. Myanmar is a deeply Buddhist country, and because some of the country's holiest Buddhist sites, such as the golden Shwedagon Pagoda and Sule Pagoda (believed to enshrine a strand of hair from the Buddha) are in Yangon, the city follows suit. Nearly all Buddhists in Myanmar practice Theravāda—one of the most ancient branches of Buddhism that draws its scriptural inspiration from the Tipitaka, thought to contain the earliest surviving record of the Buddha's teachings. Monks and nuns will often walk through the city with their alms bowls, seeking donations. If they walk up to you and you don't feel the urge to donate, just put your hands together in prayer and nod in respect. Also dress respectfully when visiting religious sites—wear a skirt or pants that reach your ankles and have your chest and shoulders covered by a modest shirt or scarf.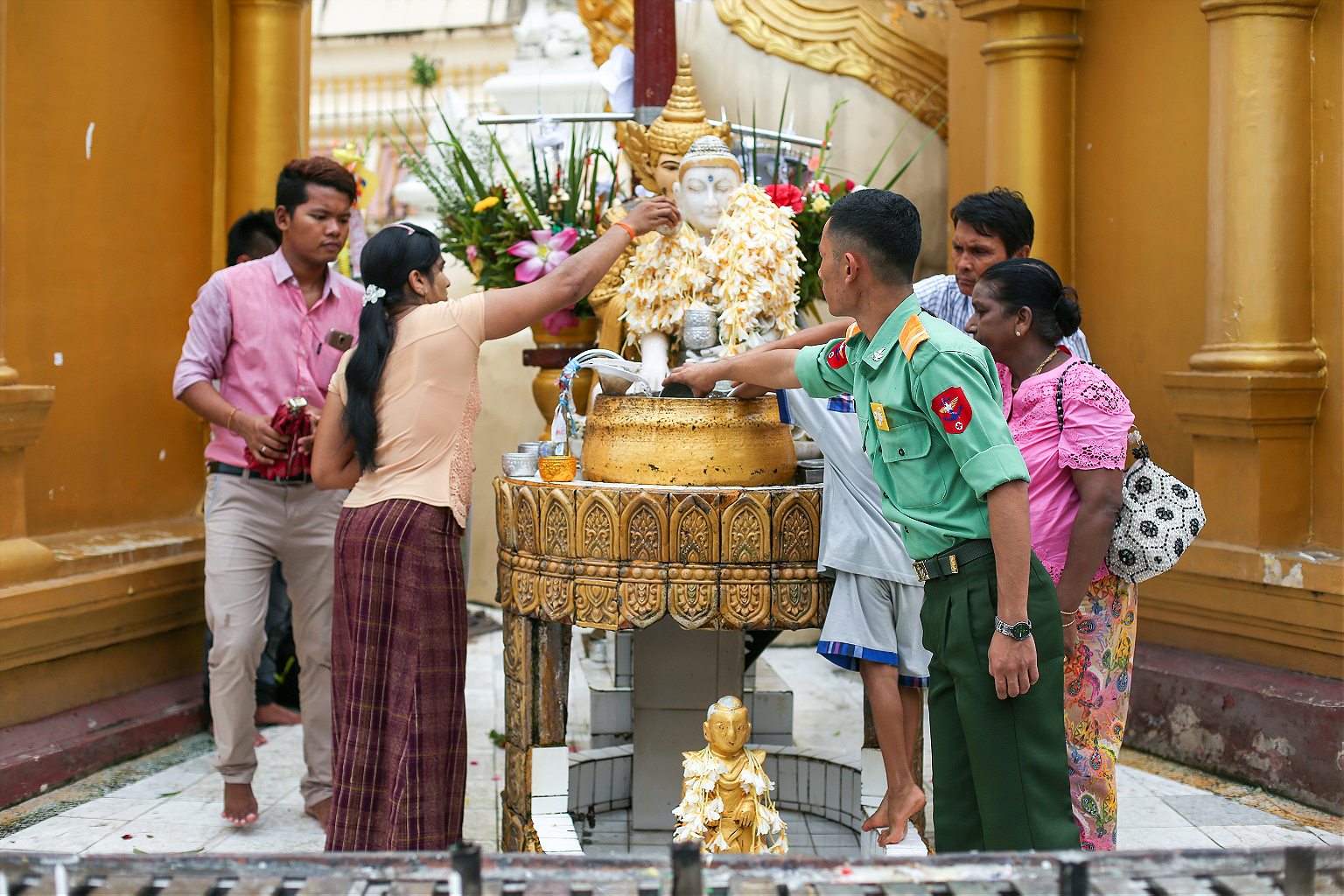 Stay at a guesthouse. Hotels can be expensive, and even with the added cost, the power can (and will) still go out. Instead of spending money on hotels, check out local guest houses such as Bodhi Nava or Wai Wai's Place, both of which are locally owned, have restaurants in-house, and provide centrally-located lodging on a budget. You can also rent homes or rooms on AirBnb, but keep in mind that these rooms are being rented out illegally. Try to stay in the downtown area or anywhere around Shwedagon Pagoda, an easy taxi ride from most attractions in the city.

Visit the pagodas—just not during the day. Even the most seasoned travelers find it hard to resist one of Myanmar's biggest tourist attractions—Shwedagon Pagoda. Plated with over 8,000 sheets of gold and studded with thousands of diamonds, rubies, sapphires, and other precious stones, the over 300-foot stupa dominates the Yangon skyline. Go at sunset, when it's cooler, less crowded, and the evening light provides a beautiful glow. The same goes for the Sule Pagoda, which is now the center of a traffic circle in the congested downtown roads. A sunset view from the neighboring park gives you the chance to take in the sight without having to put on the conservative clothing that can be stifling in the heat.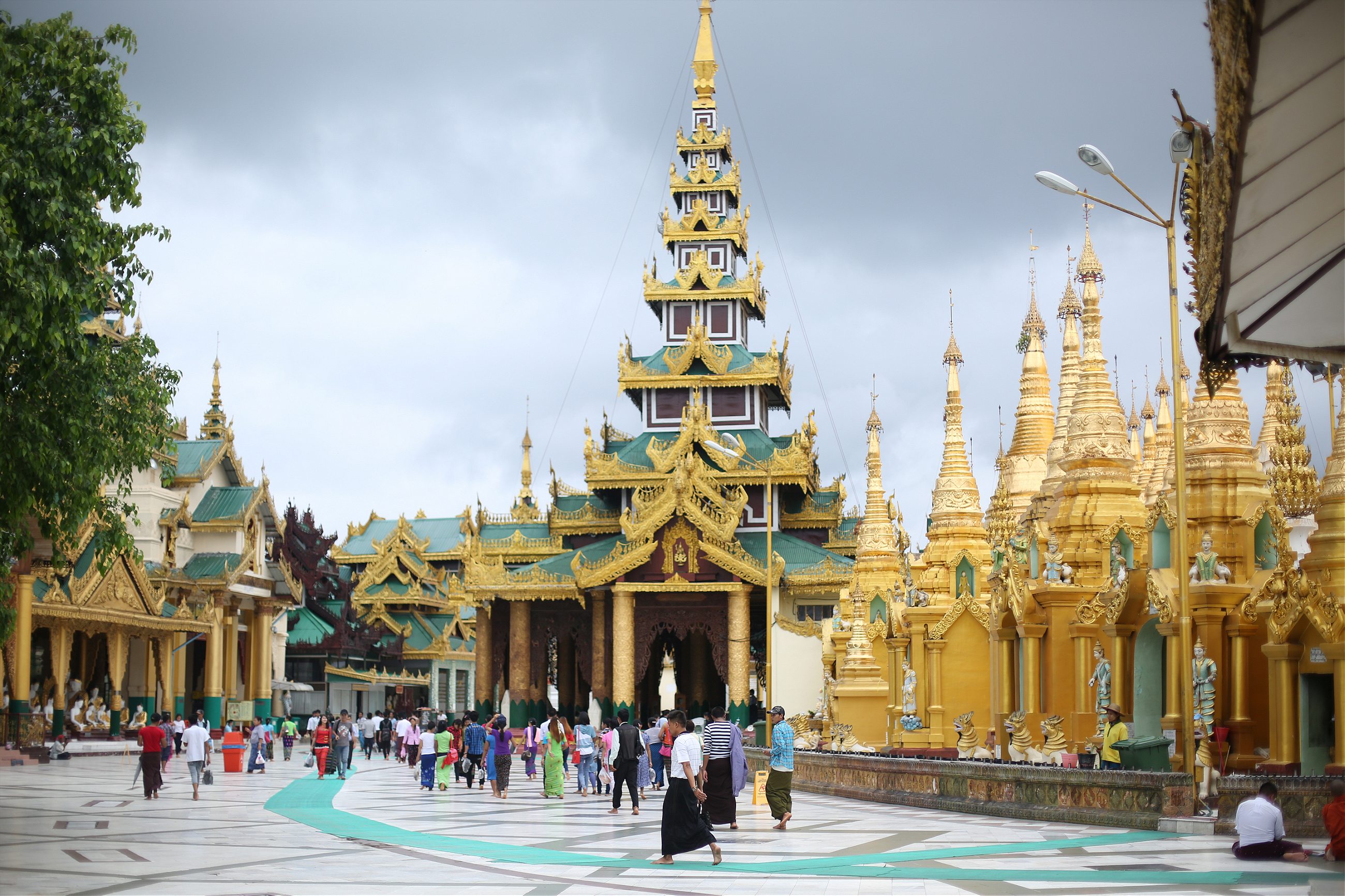 Get yourself some thanaka. One of the things people first notice when walking through Yangon is the whitish yellow paint adorning the faces and limbs of Yangonites. The paint is thanakha—a traditional paste made from water and the thanakha tree, and it's unique to the region. You can get some for yourself, too: slices of the tree pieces and stone pedestal used to grind it on are for sale at all the local markets, and at Bogyoke Market. Ready-made pastes in small plastic containers are available too. Don't be shy about letting a local put some on your face while you're visiting. Many locals view visitors wearing thanaka or traditional clothing like the longyi as a sign of respect.

Stop at a beer station. In the evenings, a common local pastime is to head to a neighborhood sidewalk spot, sit on a low plastic stool, and drink a few cold beers. Some of the more popular beer stations will have a TV, so you can watch the latest soccer or lethwei (Burmese kickboxing) match. Check out 19th Street in Chinatown for a wide selection of beer stations that also serve good barbecue.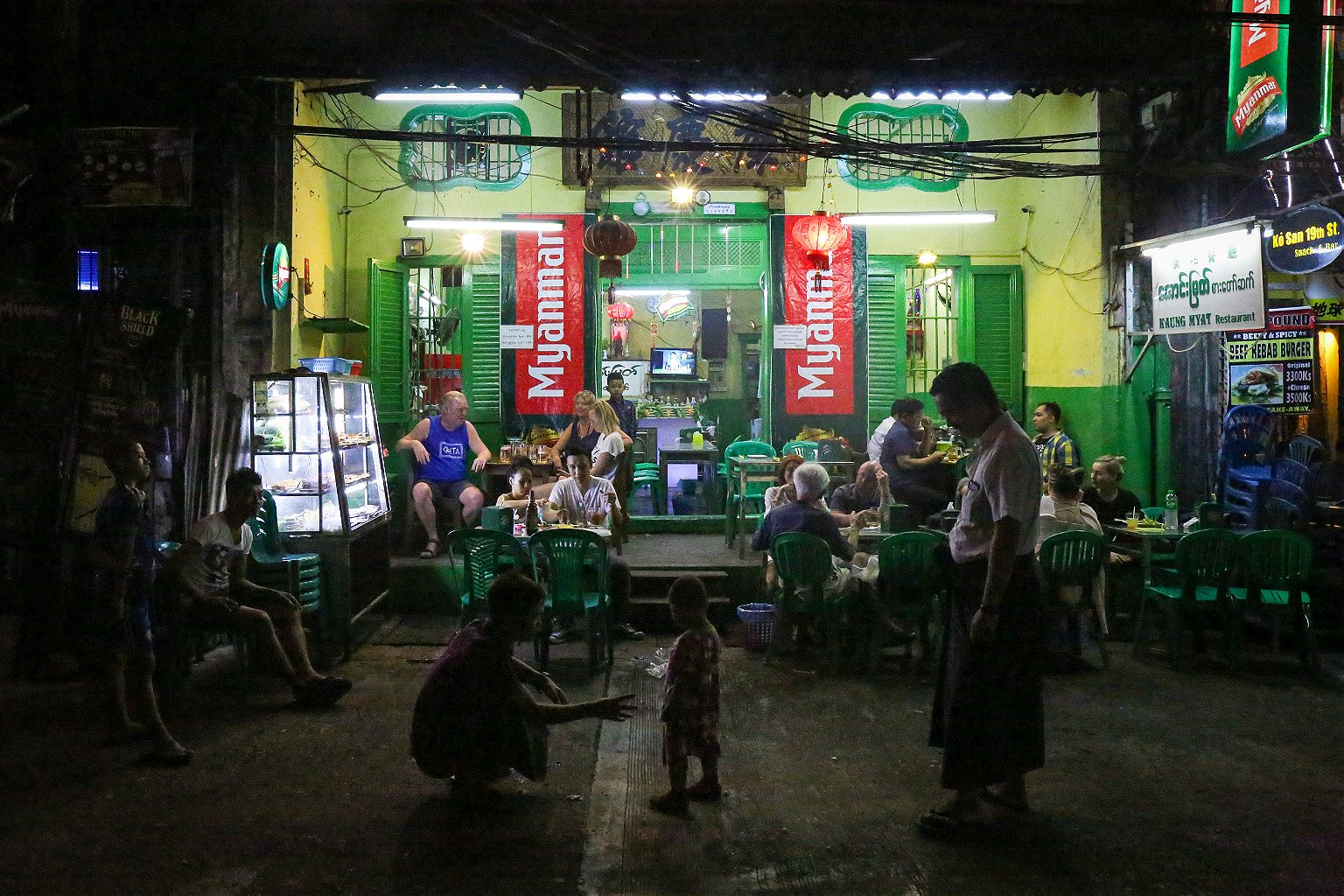 Take a colonial building walking tour. Yangon has one of the highest concentrations of colonial buildings still in use today. Many of the pastel-colored buildings have fascinating histories that provide insight into the country's many political, economic, and social chapters. Free Yangon Walks can take you around town.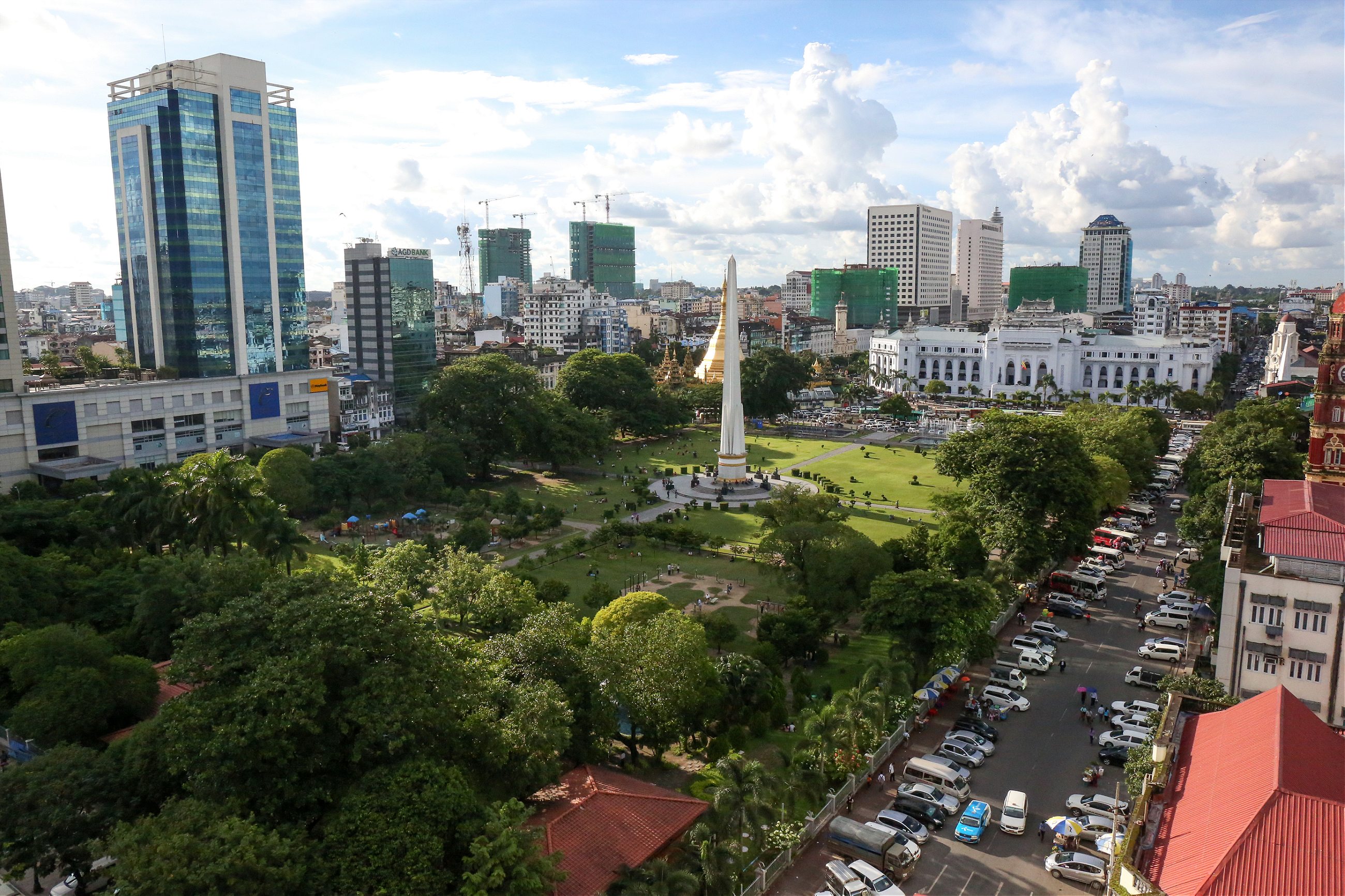 Eat (almost) everything, and bring medicine. Bordering Bangladesh, India, China, Laos, and Thailand, food in Myanmar is diverse. While more Western restaurants are opening, local food and drink is still where it's at. But be warned: even locals get food poisoning, so bring some medicine or stock up in town at one of the many pharmacies. Reduce your chance of getting sick by never drinking the tap water and avoiding food that has been sitting out out on tables or on the side of the street—ask for it freshly made instead.

Eat mohinga and laphet thoke… Mohinga is a rice-noodle fish soup that comes with various accoutrements such as fried chickpeas, egg, crispy gourd, and chilli flake. The dish can be found at stalls, tea shops, and restaurants across town, but to get the best bowls visit Myaungmya Daw Cho in the early morning or Rangoon Tea House any time of day. Lahphet thoke—a pickled or fermented tea leaf salad—is likely to be found at many of the same places. The potent salad comes mixed with tea leaves, garlic, onions, ginger root, nuts, seeds, dried shrimp, and more to form one of Myanmar's most famous dishes.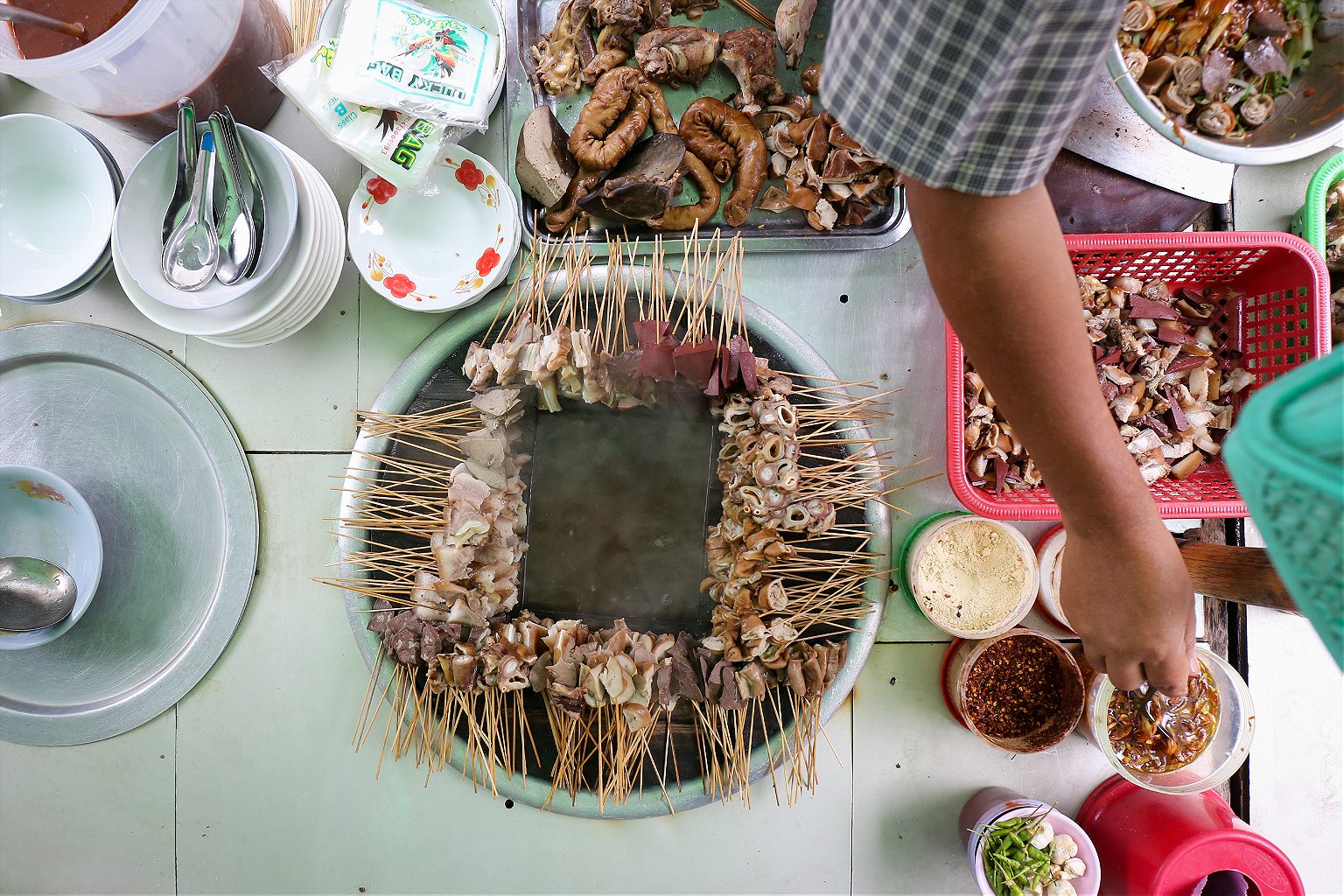 …and dishes from other parts of Myanmar. As Myanmar's cultural center, in Yangon you can find cuisine from all over the country, including places that foreigners are often denied permission to visit. Try Central Shan sticky noodles and fried tofu from Nang Htike, eastern Wa pumpkin moik and grilled pork neck from Root, spicy northern Kachin beef salads from Sha Yi Kachin Food, and pickled banana root southern Mon salads from Jana Mon Ethnic Cuisine.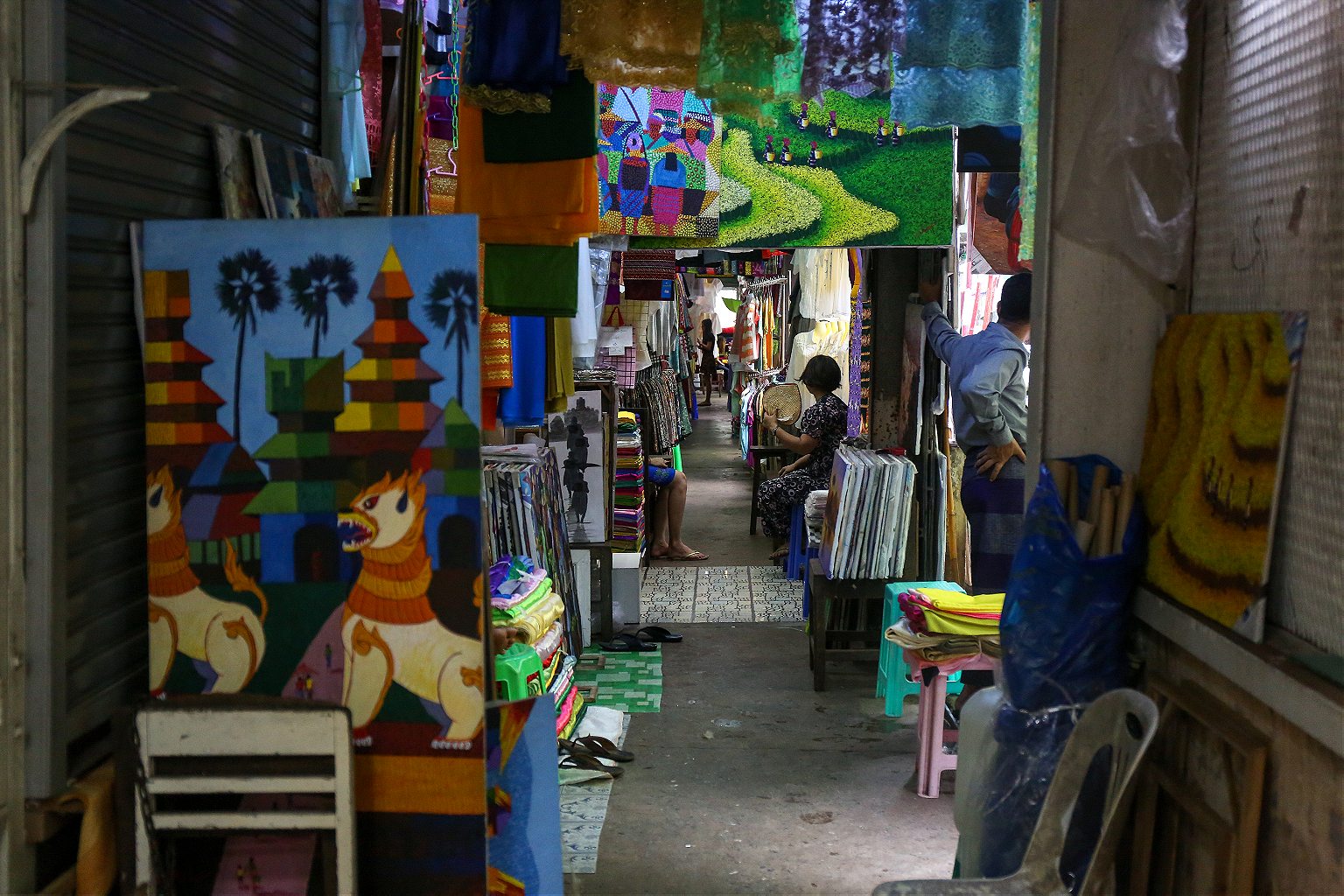 Get something made. Clothing, watches, jewelry, furniture, glasses, custom coffee mugs: Yangon is a paradise for getting things made without breaking the bank. For a cheap pair of prescription glasses, visit Derek at Academy Optical in Bogyoke Market. Want an upscale, custom-fitted dress? Take a trip over to Virya Myanmar, which also sells custom accessories. Tip Top Tailor in downtown Yangon can make you a custom suit in about two weeks. 

Go to a show. Yangon has a growing punk, hip-hop, and alternative music scene. Check the Jam It! page to see if there any shows by punk bands No U Turn and General Tiger Gun, or check out Myanmar's beatboxers and street performers. If you're looking for something a little more quiet but still stimulating, swing by Myanma/rt, a small third-story gallery in downtown Yangon that showcases work by young artists from Myanmar and across Asia. Show openings and other events are often free and open to the public.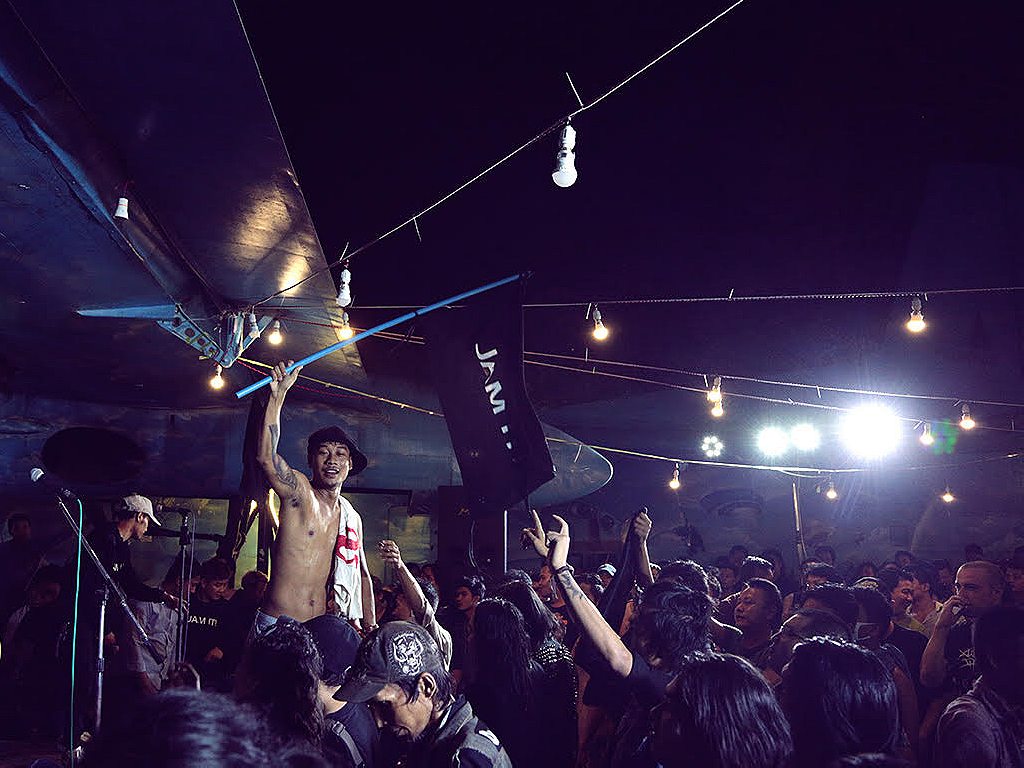 For a quiet(er) escape, take the ferry across the river to Dala and Twante. Once there, you can rent a bicycle for a few dollars or hire a guide to take you on a tour of the towns. Visit local craft store ChuChu, or stop at the Mwe Paya temple, which is filled with lethargic snakes fed by the local nuns. If you go back to the main city during rush hour, take a moment to grab a juice from one of the market stands and enjoy the people-watching. Be sure to cross the river before dark, though—you'll have to pay a bribe to get boats to take you back to Yangon in the evening.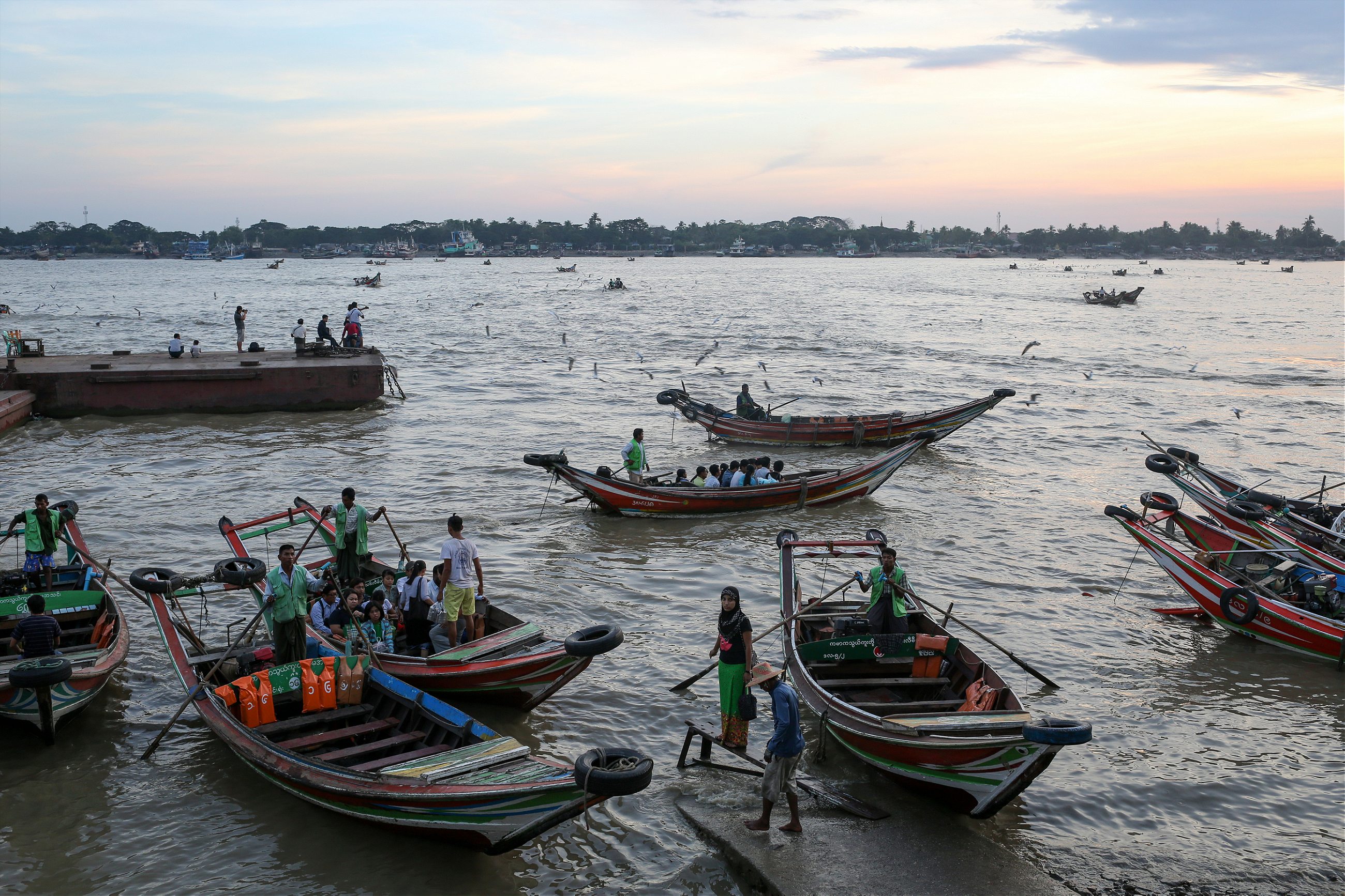 Leave Yangon. Tourism is still a developing industry, so be patient and do a little research ahead of time (and be sure you're not going to restricted areas or areas of civil conflict) if you decide to go travel further. Fly to Myitkyina and then pay for a car to take you on a three hours ride to Indawgyi, one of the largest lakes in Southeast Asia, where you can kayak the lake, bicycle to old villages, or, if it's the right season, indulge in some of Myanmar's best bird-watching. According to local tourism company Face of Indawgyi, there are only around 600 foreign visitors a year, making Indawgyi a serene alternative to the over-visited Inle Lake. For somewhere even more remote, fly to Khamti to access the Myanmar side of the semi-autonomous Nagaland, which only recently opened to foreigners.