Manila is an underrated hub for art and culture, with a unique legacy of Chinese, Spanish, and American influences in architecture, cuisine, and customs.
My hometown has a reputation for chaos. Overpopulation, traffic jams, natural disasters, and plenty of man-made ones. Manila is one of the most densely populated cities in the world, home to almost 13 million people. The streets are busy night and day. One of Manila's marketing nicknames—the Pearl of the Orient—is apt: This sprawling city may not have the most charming exterior, but those who invest the time and effort to pry it open are amply rewarded. Manila is an underrated hub for art and culture, with a unique legacy of Chinese, Spanish, and American influences in architecture, cuisine, and customs. Spend time exploring the galleries, the nightlife (and karaoke!), and sample the rich and diverse food—dished out by some of the world's most welcoming and generous people.

You'll get by with English. Despite being under Spanish rule for over 300 years, Spanish is not widely spoken. English spread when the Philippines was an American colony between 1898-1946, and it's now the second language after Tagalog. Expect to be greeted by mamser, local slang for "ma'am sir," a display of courtesy. It won't hurt to learn a few local words: Salamat (thank you) kamusta? (how are you?) and masarap (tasty).

BYO Wi-Fi. Most hotels, coffee shops, and restaurants have Wi-Fi, but the social media capital of the world (Filipinos spend an average of four hours a day on Facebook) is plagued by slow internet speeds. Opt for cheap, prepaid SIM-cards with internet data plans or pocket Wi-Fi (portable mobile routers) if you're staying for a while.


Plan far ahead when traveling in the city. Manila was once voted the worst place to drive on earth. There are many reasons for this: Metro Manila is made up of 16 smaller cities, and the lack of infrastructure and reliable public transportation to connect them adds to the chaos. Car dealers give out easy loans, so it has become the most-used means of transport, and Filipinos love their cars. Locals have learned to live within their area and only venture out when necessary. Leave a minimum of two to three hours in advance when traveling from north to south or vice versa—there is only one main highway (EDSA) between the two. Download Waze if you're brave enough to drive.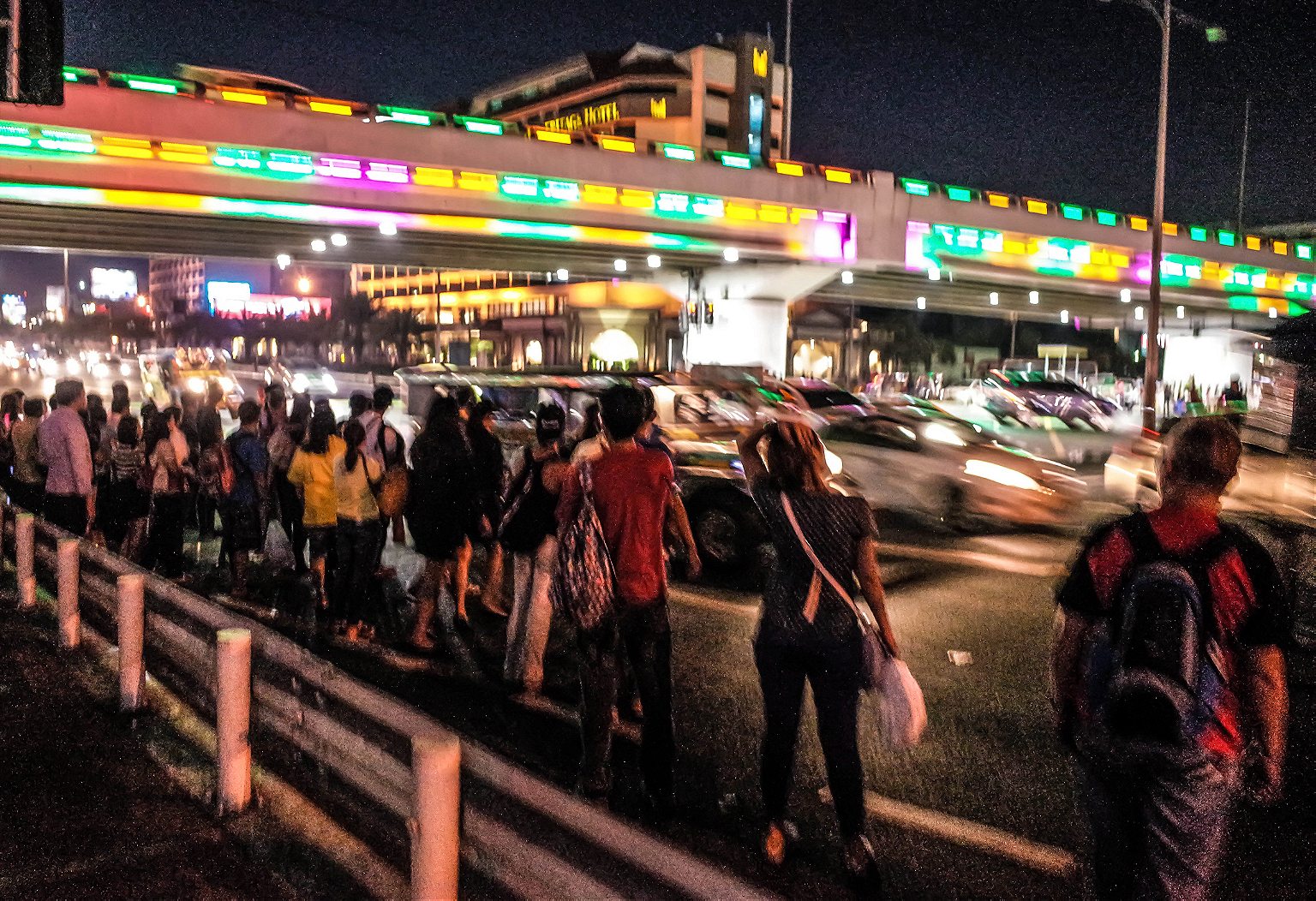 Ride the rails off-peak. The MRT (Metro Rail Transit) is a good way to get around, if and when it works—and it's the only way to beat the epic traffic along EDSA. But the lines are long and the trains are packed. Travel at an ungodly hour—before sunrise—or wait until after the morning rush. Try to use it only between 9:30 a.m to 3:00 p.m, and then after 8:30 p.m. at night.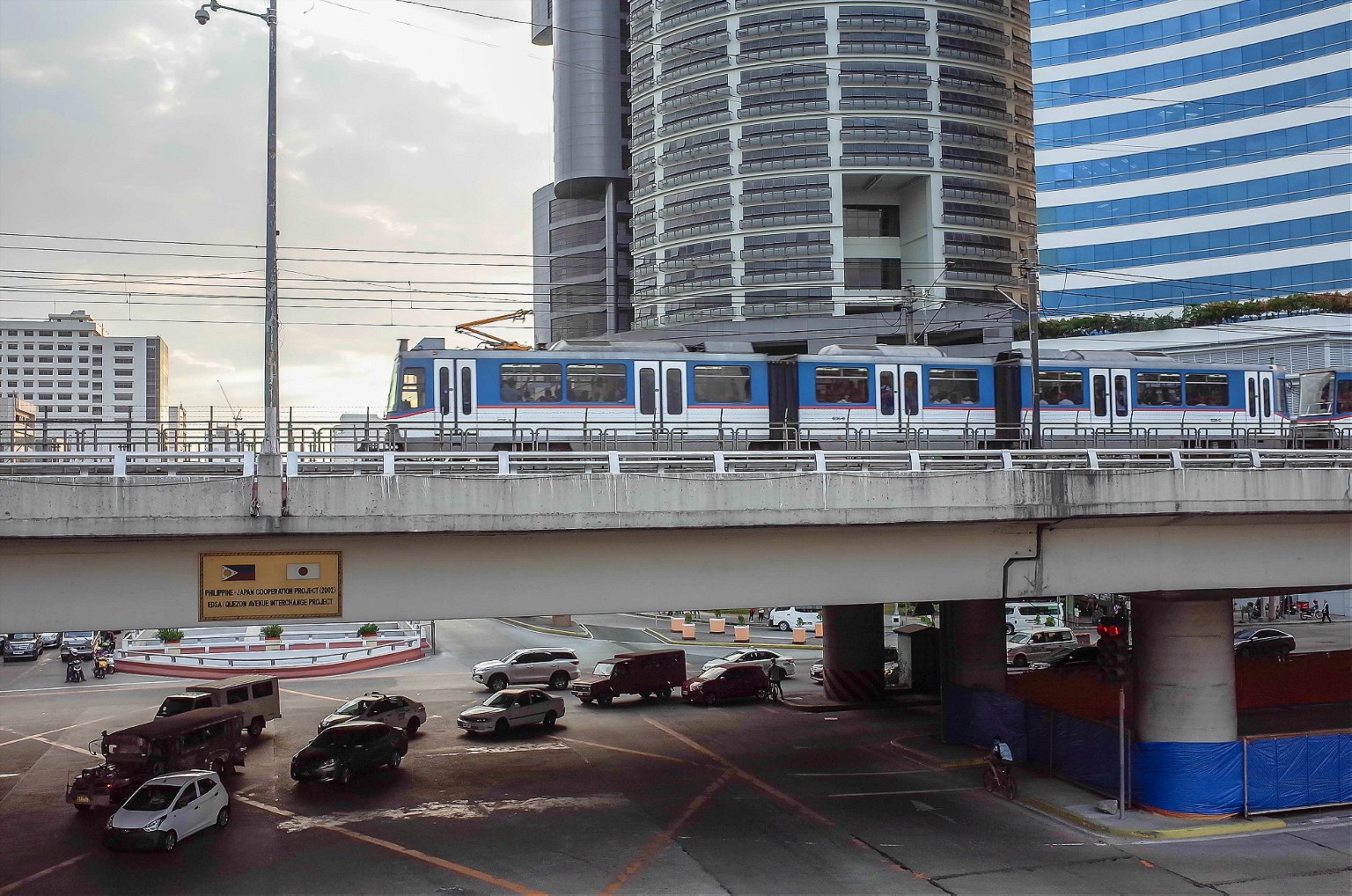 Be strategic about where you stay. Each of Metro Manila's 16 mini-cities has its own personality. If you're heading to the islands after Manila, make sure to stay  in the south where the action is—in Makati, Pasay, and old Manila—but mainly to avoid the traffic and be close to the airport. Makati is the country's central business district, with the best hotels, restaurants, galleries, and nightlife. Pasay has all your shopping and casino needs. Old Manila has sea views and heritage spots. Up north, Quezon City, the most populous area in the country, is known for more affordable living. Named after the second president, the former capital until the 1970s is home to the greenest campus—the University of the Philippines, parks, and is close the North Luzon Expressway. Stay here if you plan on heading to the surfing district of La Union and cooler mountainous regions of Sagada—or to use the new Clark airport in the former U.S Base, in Pampanga.

Skip the hotel. In the past decade, a boom in Manila's real-estate market has brought high-end condominiums to the city's skyline, but thousands of units remain empty. Staying in an apartment is cheaper than a hotel, and they often come with kitchens, free Wi-Fi, a pool, a gym, and are often connected to a big shopping complex. Book through Airbnb, or check out rentpad.ph. If travelling on a budget, Z Hostel in Makati offers cheap bunks with all the basic amenities and a rooftop bar.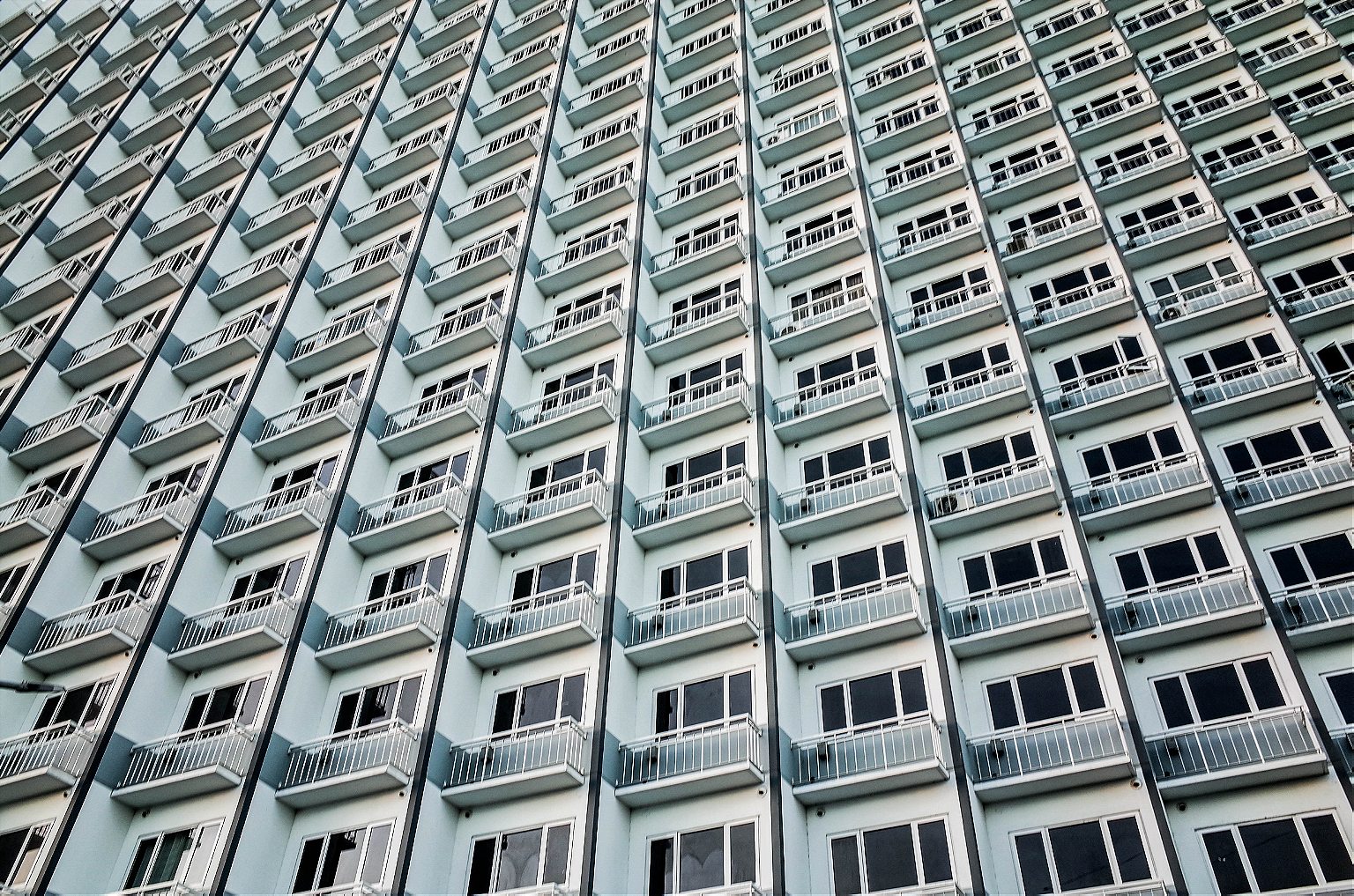 Avoid the monsoon. The ideal time to travel is between November and April. Manila can get flooded in a matter of minutes so avoid the monsoon season, June through October, unless you enjoy wading in murky flood water. (If you are here then, use the amphibious padyak or local rickshaw to reach higher ground.) It will be humid year-round. (Baby powder and airy cotton shirts are your friends.) To stay cool, snack on halo-halo, a dessert made of crushed ice and candied fruit.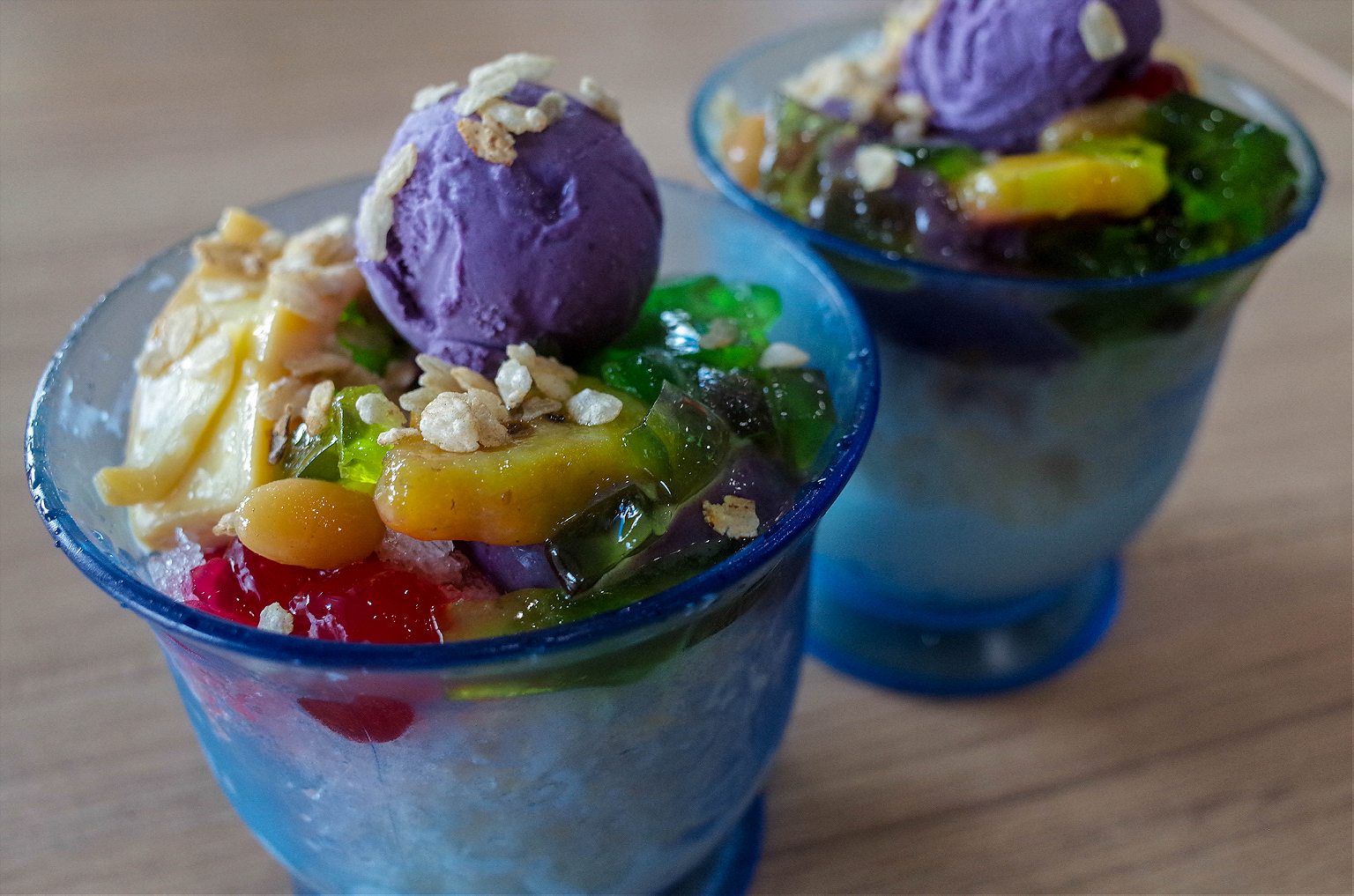 Hunt for merienda. The city has a penchant for serial snacking. "Kain tayo," meaning "Let's eat," is an invitation you'll hear often while travelling around the archipelago. Merienda, like in most Latin cultures, is a morning snack, brunch, or a light meal equivalent to afternoon tea. Filipino food is sometimes overlooked when compared to its other Southeast Asian counterparts, but it makes up it in snack choices, which are the perfect blend of local flavors, infused with Spanish, Chinese, and American influences. Merienda may be savory or sweet, ranging from comforting rice cakes to deep-fried spring rolls, banana fritters, skewered barbecued pork, and the more challenging balut, or duck embryo. The trick is to find any large establishment such as a government building, hospital, or school by 3:00 p.m., and you'll be sure to see street vendors making fresh merienda for break time.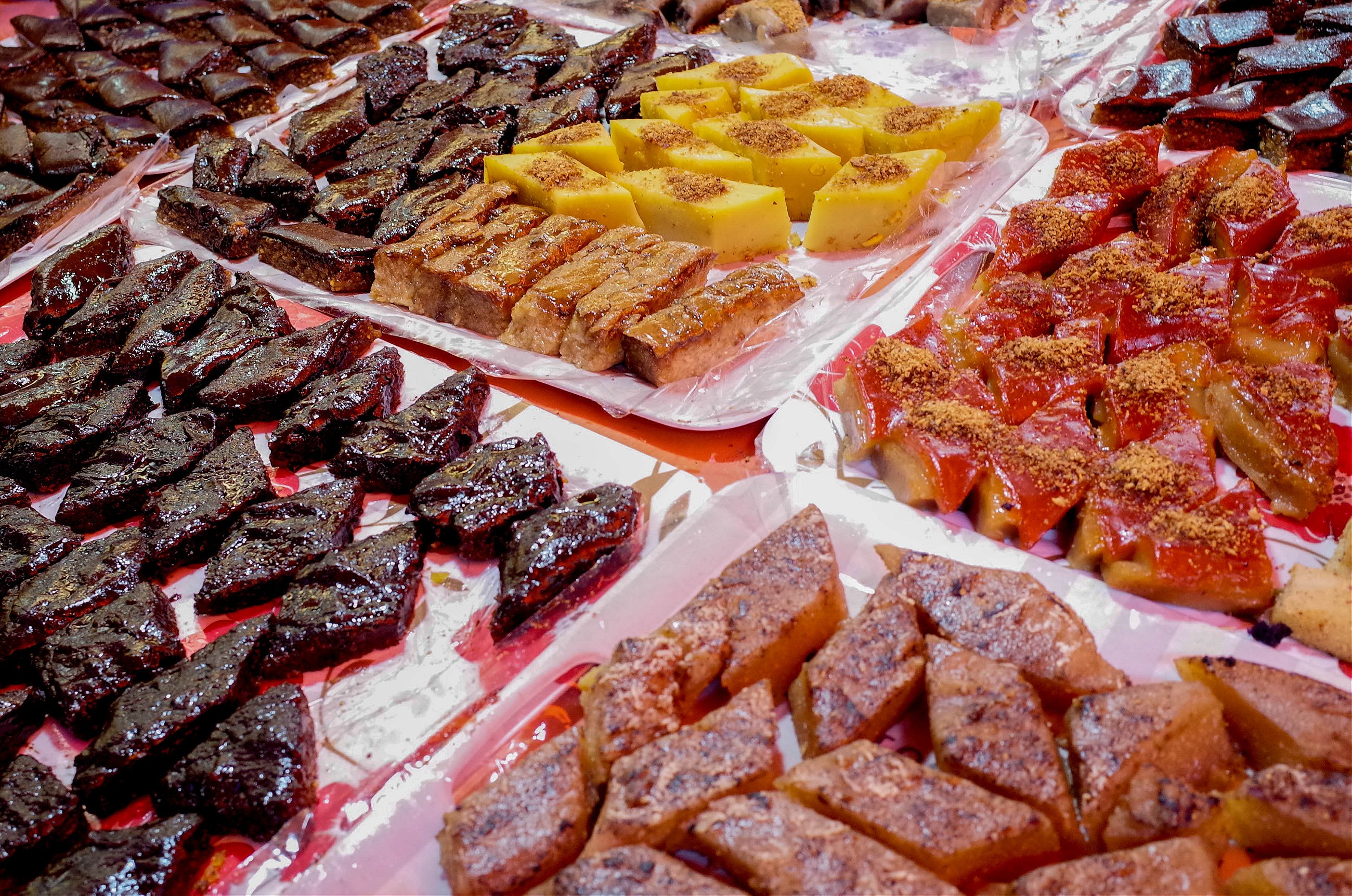 Grab a Jeepney. This colorful, communal form of transport was originally constructed from leftover Willy U.S. military jeeps from World War II. As U.S. troops pulled out from the Philippines, the remaining jeeps were stripped down, altered, and customized with vibrant hues and ornaments. Jeepneys are a good way to travel short distances on a budget, ranging from a minimum fare of 20 U.S cents and up.
How to do it: Bring loose change, say "bayad po" and your destination to pay, then pass your money to the person nearest to the driver. Knock hard on the roof and say "para po" if you want to stop. Like the city buses, nobody uses designated drop off points, so you can hop on and off wherever and whenever you want. The rickety tricycle is also an option, it might not be as comfortable as the average tuk tuk but it will work for tight alleys. Take the local version of Uber, called Grab, for longer distances to sit in comfort in Manila traffic. Skip the regular white taxis. Download Sakay for the best directions for getting around.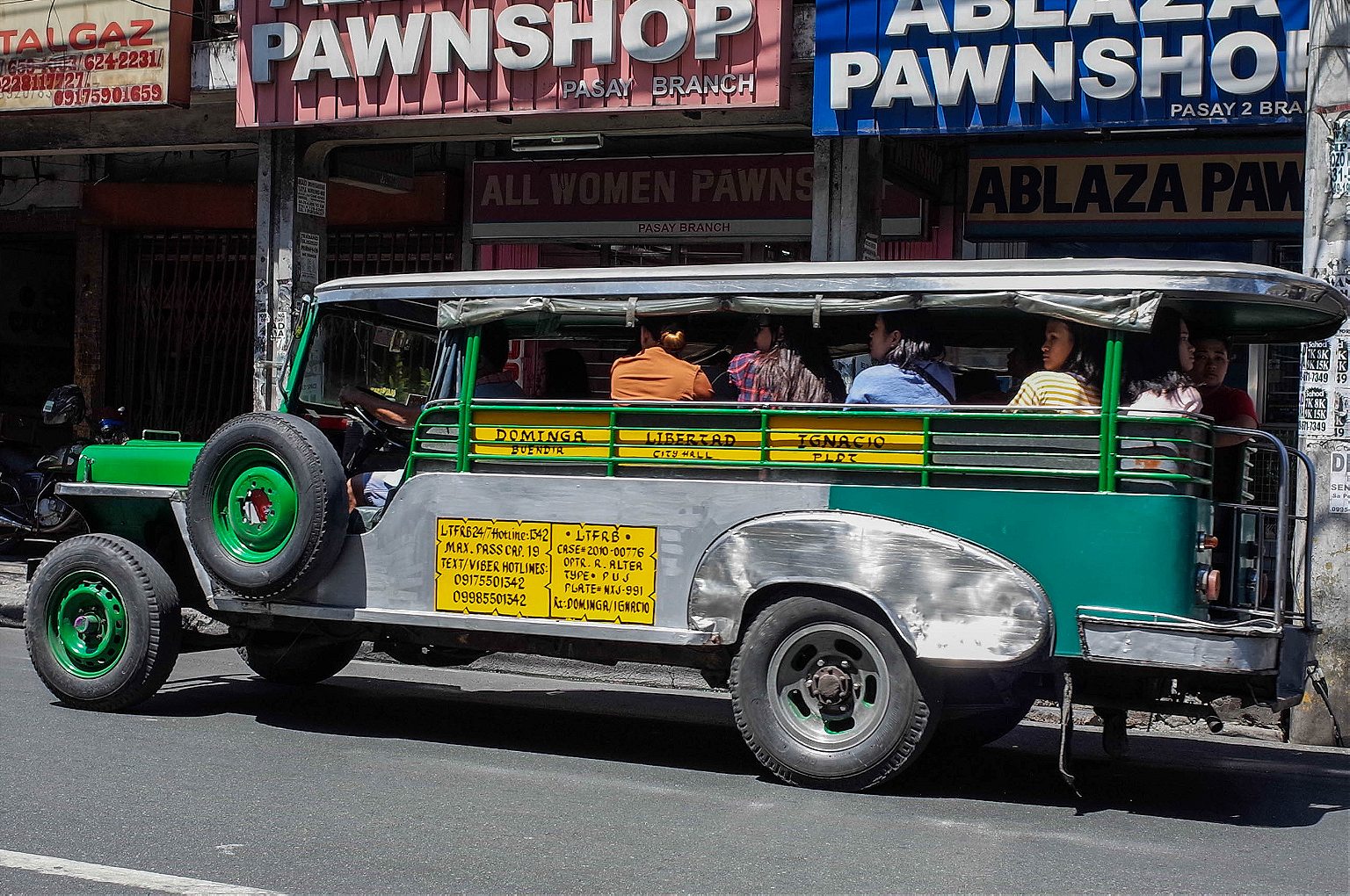 Live at the mall—or not. Manila is big on malls, and has some of the world's largest. Each brave, new, air-conditioned world functions as a mini-city—and an escape from heat and bustle outside. Here, malls aren't just for shopping, but also have restaurants, banks, gyms, movie theaters, medical clinics, grocery stores, and chapels. The SM Mall of Asia in Pasay has 42 hectares of shops, restaurants, and entertainment—including a tram and an ice-skating rink. Relax and enjoy a sunset beer at one of its many seaside restaurants. If you want to shop as the locals do, skip the malls and explore the street stalls in the neighborhood of Quiapo and Divisoria, which have well-known markets.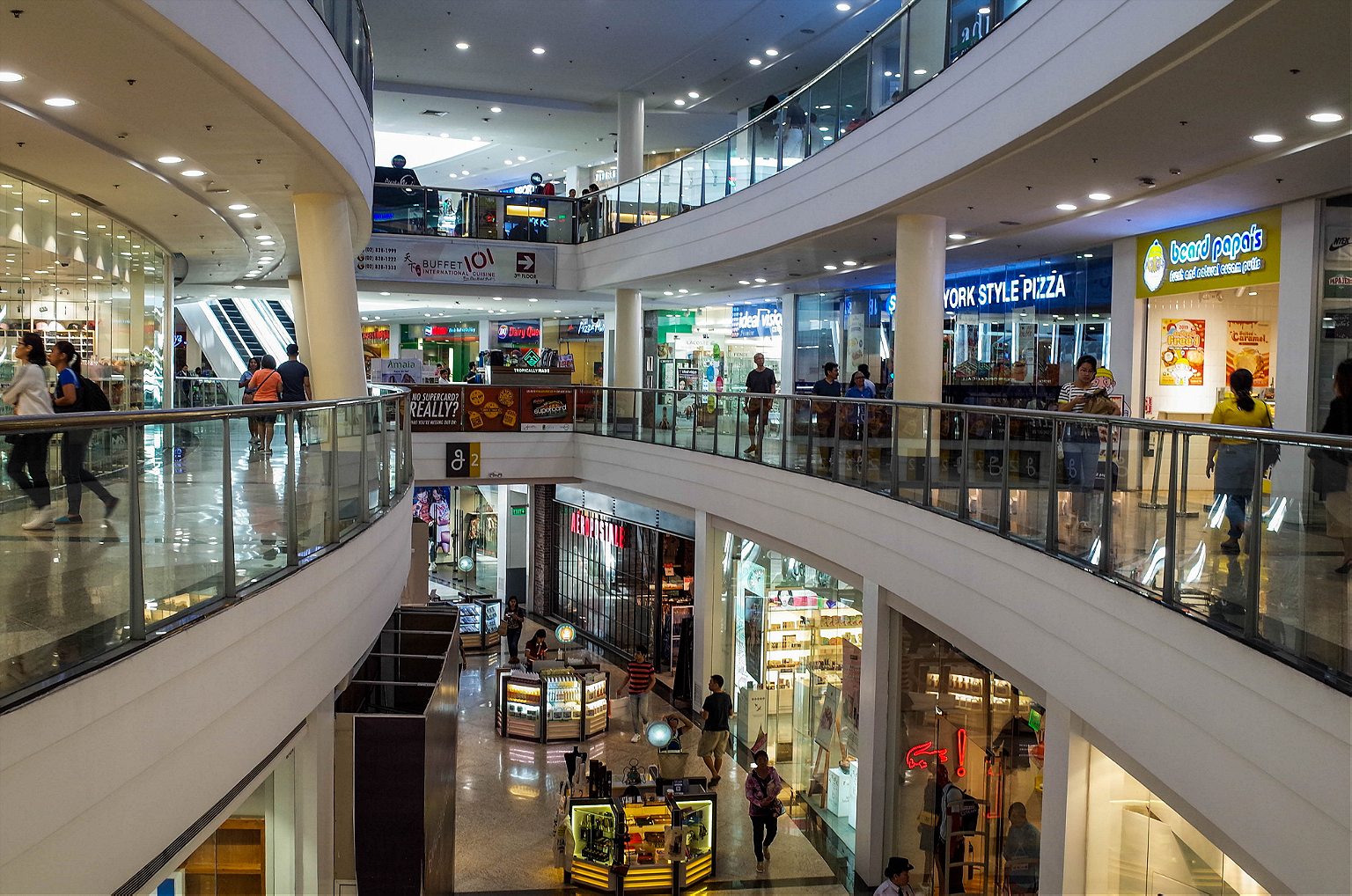 Match beer with serious snacks. In 1890, a company of Spaniards opened the first brewery in Southeast Asia, in Manila. The San Miguel factory has remained the top-selling brewery in the country to this day. And it's cheap: 80 cents buys you a bottle of Pale Pilsen. Beer and spirits have long held a place in local culture and can be purchased at any sari-sari, or corner store. Manila is overflowing with bars and speakeasies, particularly in the fashionable Poblacion area in Makati, or, for a more soulful experience, in the district of Ermita, in old Manila. Friday night is the busiest. Don't forget to order pulutan, meaning to "pick up," which refers to snacks shared while drinking. Sisig, the ideal beer match, features chopped pig's head fried to a crisp, topped with onions, citrusy calamansi, and chilies. You need that lining of oil in your stomach before a full night of partying.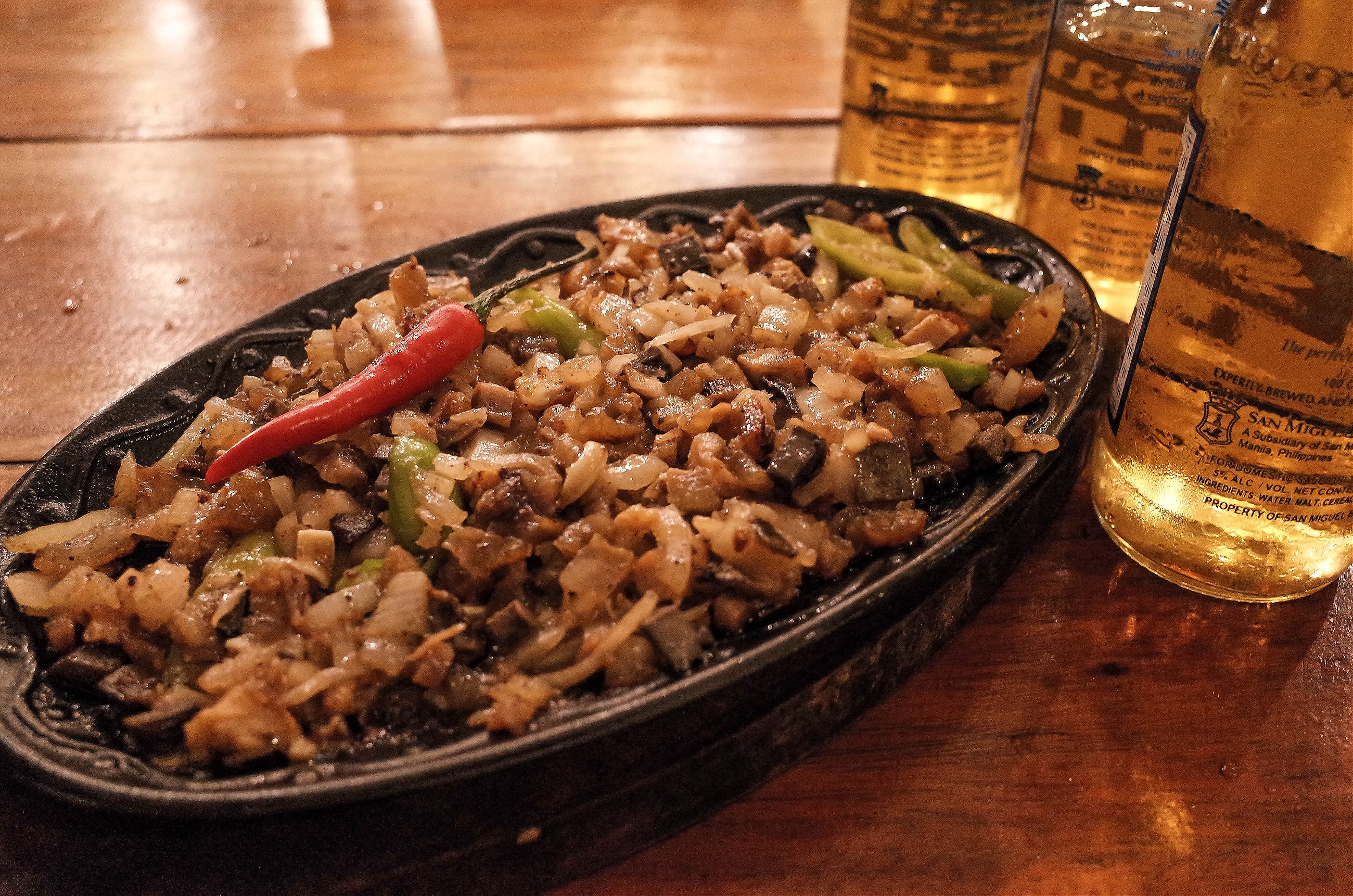 Pick up some rum. The Spanish brought rum to the Philippines in the 19th century; the abundance of sugar cane makes it an ideal place to produce the spirit. The local rum is also reasonably priced, and worth bringing along on your travels—but stay away from the industrial-strength Emperador Brandy. The locals drink rum on ice or mixed with soda. Try Tanduay White, Limtuaco's smooth Very Old Captain, and the higher-end Don Papa Rum. A bottle on hand can serve as a great party starter, flu remedy, and emergency antiseptic.

Eat rice all the time. Rice is served for breakfast, lunch, and dinner in most homes and local restaurants. Stir-fried, boiled, steamed, and for dessert. "Unli-rice," meaning unlimited portions, are also available at certain places. (A serving is a cup, but you're allowed to ask for half.) A personal favorite is the silog, which is a portmanteau of the words sinangag (fried rice) and itlog (egg). The ultimate all-day Pinoy breakfast has three components: garlicky fried rice, a sunny-side up egg and your choice of salty, cured meat. To heal a hangover, the Tapsilog is the classic silog of tapa or cured beef, marinated with salt and spices, best paired with local barako or liberica coffee. Find it at street-food stalls and many local restaurants. Try Locavore's deadly Tapsilog with double fried eggs, or Rodics, Rufos,' and Tapa King for the fast-food version.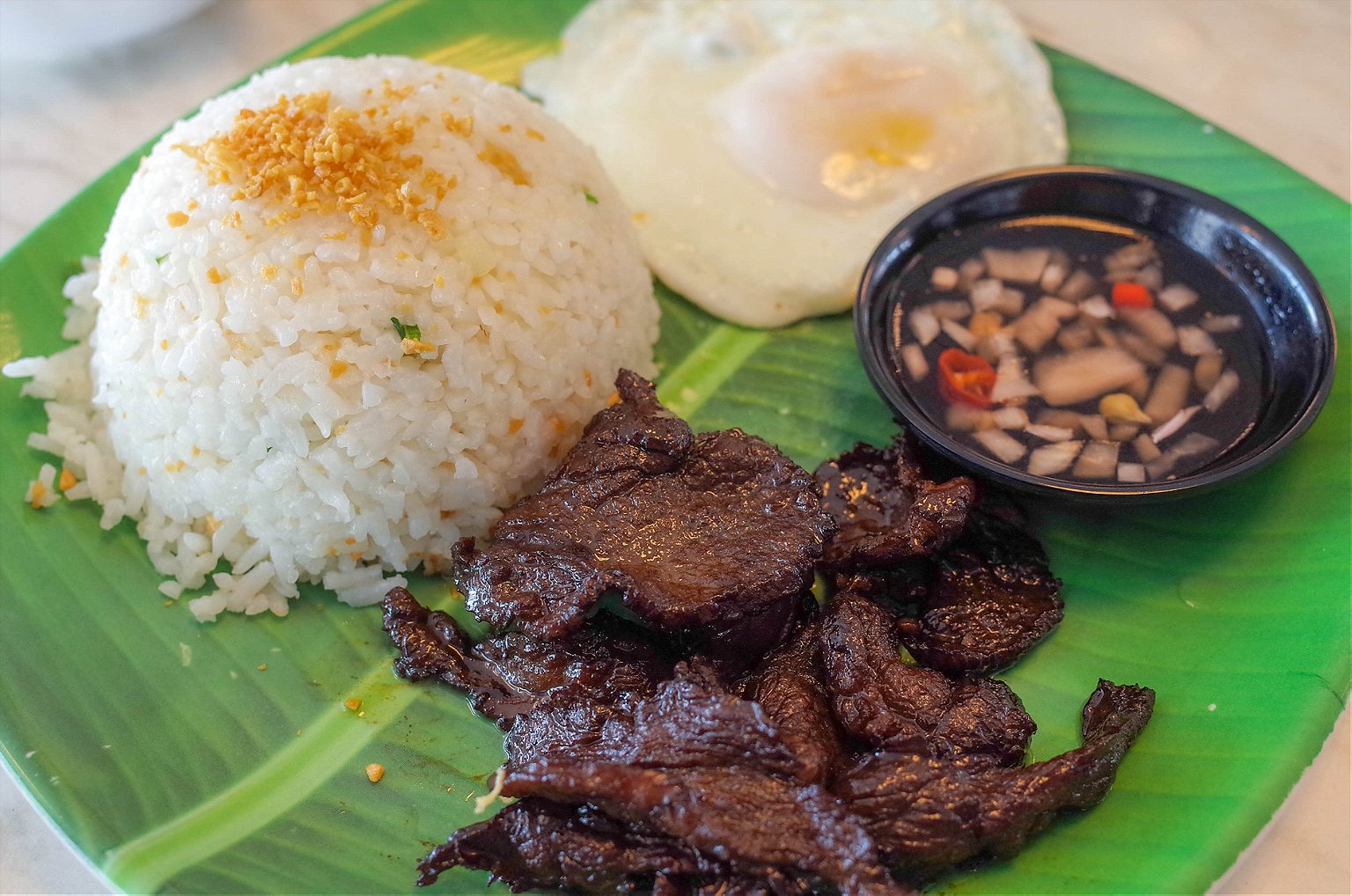 Find music… The Manila music scene is eclectic. From cover bands, rave haunts, DJ-centric nightclubs to indie rock music, there is a place for everyone. Filipino musicians are a well-known export, mimicking the latest tunes at hotels and cruise ships across the world. People start late because of the traffic, so head out after 9 p.m. to enjoy a laid-back night at the 70s Bistro in Quezon City, Tago Jazz in Cubao, SaGuijo in Makati, or the Minokaua in Malate to experience original Pinoy music over cheap drinks.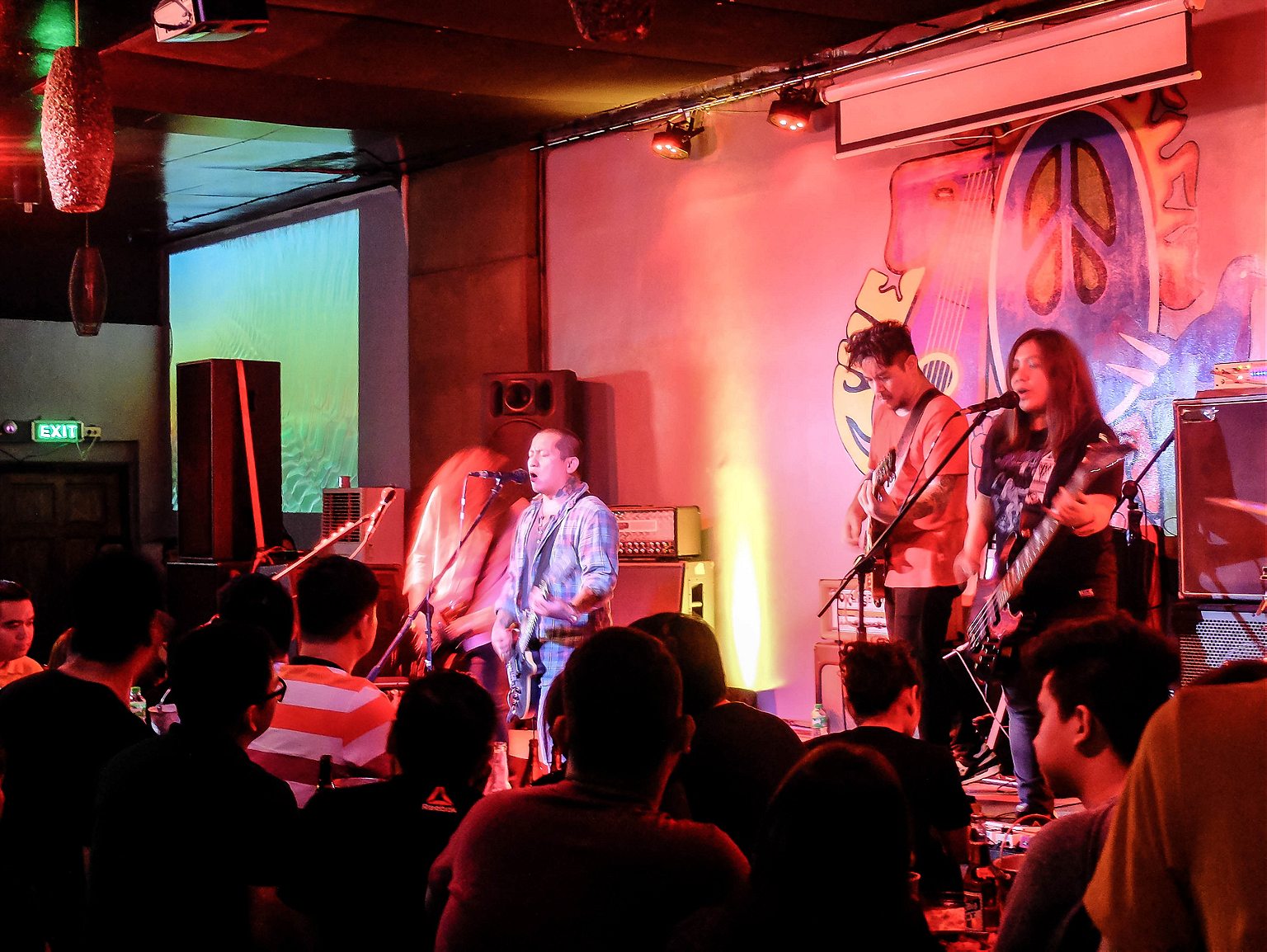 … or make it yourself. The Juke-8 is the world's first karaoke machine, built by the Japanese musician and inventor Daisuke Inoueor in 1971. But the Filipino inventor Roberto del Rosario owns the machine's patent, and he created the Karaoke Sing-Along System in 1975. Singing is an essential part of Manila's nightlife, whether you are on the lower or higher end of the economic spectrum. Most homes have a karaoke system hooked up to their television sets, as do bars and restaurants. In the suburbs, be prepared to be kept up until the wee hours of the morning.  Also, it's impolite to say no when asked to belt out a tune. The locals won't mind your lack of talent, so loosen up and have a good time.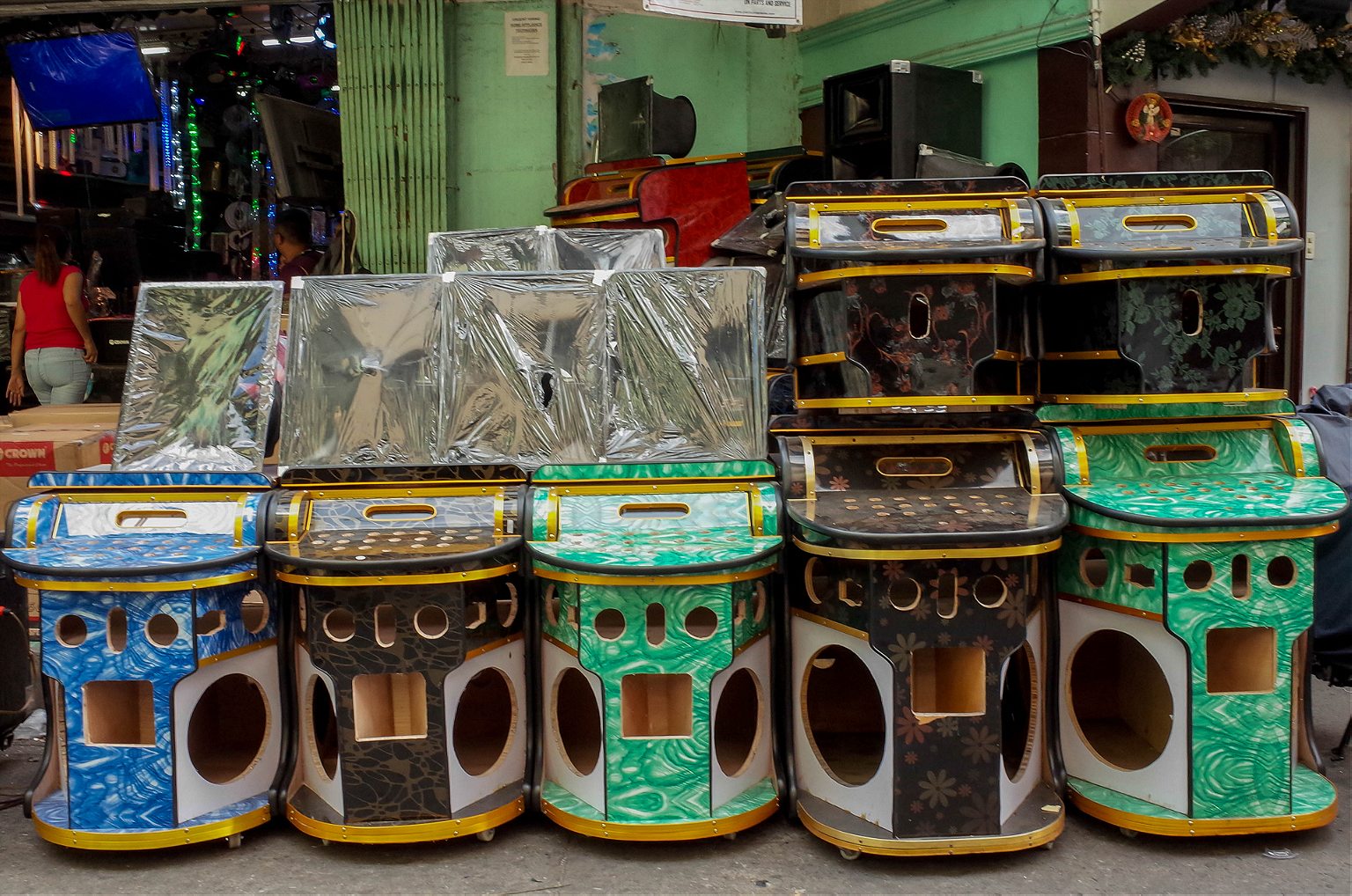 Feast and shop in Chinatown. The Binondo neighborhood was established in 1594 by Spanish colonizers, and is the world's oldest Chinatown. It became the center of commerce, trade, and good food. Bring your own shopping bag, so you can pick up cheap fruit, Chinese herbs, and clothes along the way. Dine at the oldest restaurant in Manila, the New Toho (est. 1888) and order a dry version of the canton noodles, hit New Eastern Garden for fresh spring rolls, try the pork buns at Shanghai Fried Siopao, the spicy beef hand-pulled noodles at Lan Zhou La Mien, the Chinese-style chicken at Sincerity, and an assortment of dumplings at Dong Bei. Download a map, or book a food walking tour in Chinatown so you don't get lost.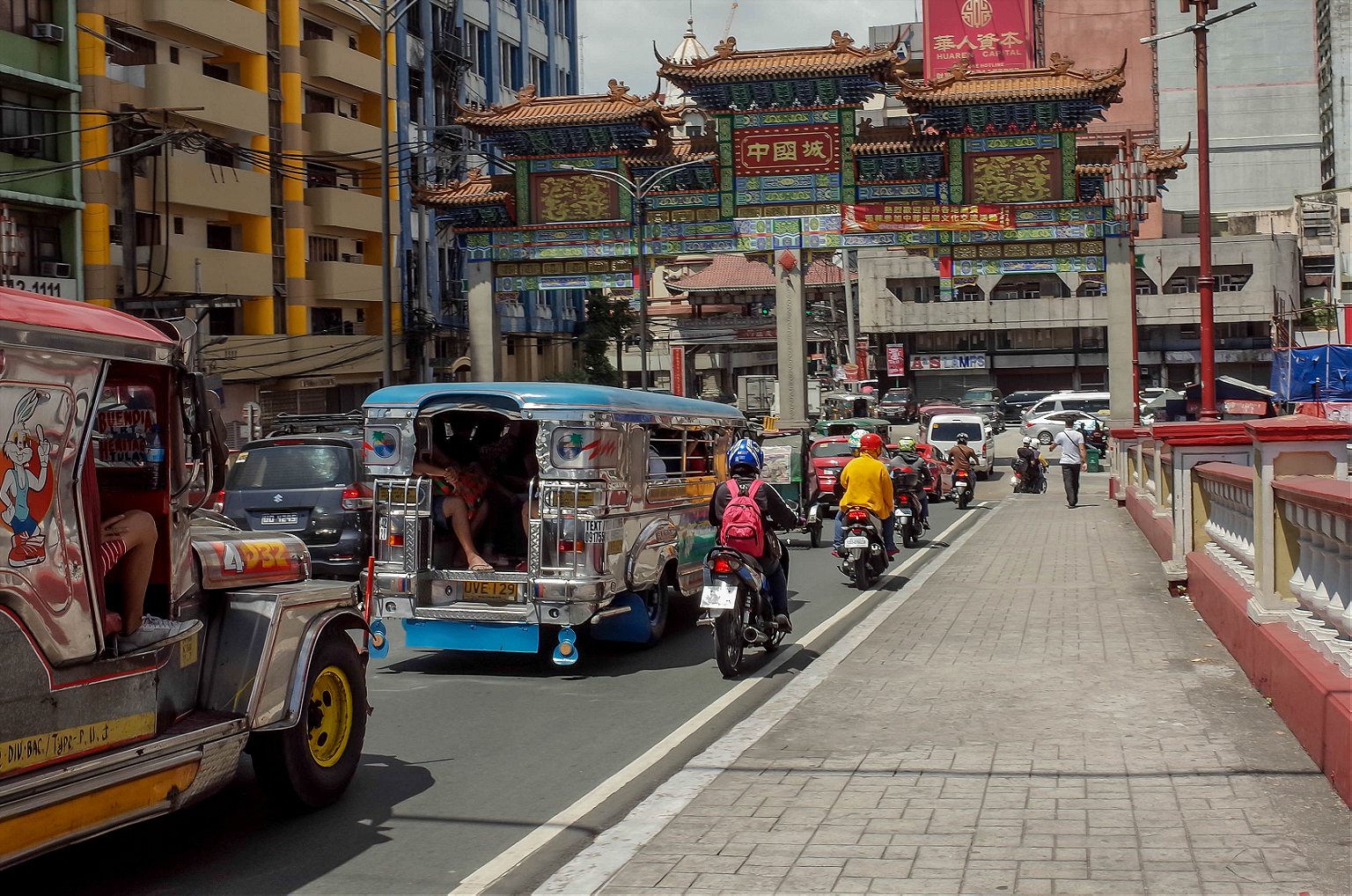 Have adobo many ways. Originally from the Spanish word adobar, meaning to marinade, adobo can involve a protein, seafood, or vegetables. It is rich, savory, sour and aromatic, but the exact combination is hard to come by. It is the most common dish served on street side food stalls or "carinderias" up to higher-end restaurants in the city. The marinade uses chopped garlic, peppercorns, bay leaf, vinegar, and soy sauce. The meat is then browned to a crisp in oil, then stewed or braised in its own marinade. Soy sauce was introduced by Chinese traders and became an alternative to salt and fish sauce. There is no universal recipe, so it will always be a source of comfort or a point of contention. Lola Ising's pork adobo in Café Adriatico, (a recipe from the late  journalist and owner Larry Cruz's grandmother), the Aristocrat's chicken and pork adobo (a take from the owner Lola Asiang's home-style cooking from the 1920s), or Crisostomo's Adobo Damaso will do the trick.

Walk, eat, and drink in Manila's oldest district. Intramuros, or the Walled City, was the Spanish seat of power from 1521 to 1898. It was devastated during World War II's Battle of Manila—except for the San Agustin Church, which still stands. (Close to 90 percent of the Philippines' population are Roman Catholics). Anda Street is a good place to start. The often overlooked Destileria Limtuaco museum highlights the history of the oldest distillery in the Philippines, and still produces rum, whiskey, gin and brandy. Owned by Chinese immigrants and fashioned out of an old Spanish stone house, it holds a century's worth of heirlooms, distilling machinery—and cheeky vintage ads of local bikini-clad celebrities on white horses. (Upgrade your museum ticket for six free shots of liquor.) Choose the rums! Continue drinking at the Bayleaf hotel and order a woodfired Napoletana pizza from Raffaele's in the Bayleaf Hotel. Head to the roof deck before sunset to catch a phenomenal view of the sea and old Manila, which can't be found anywhere else.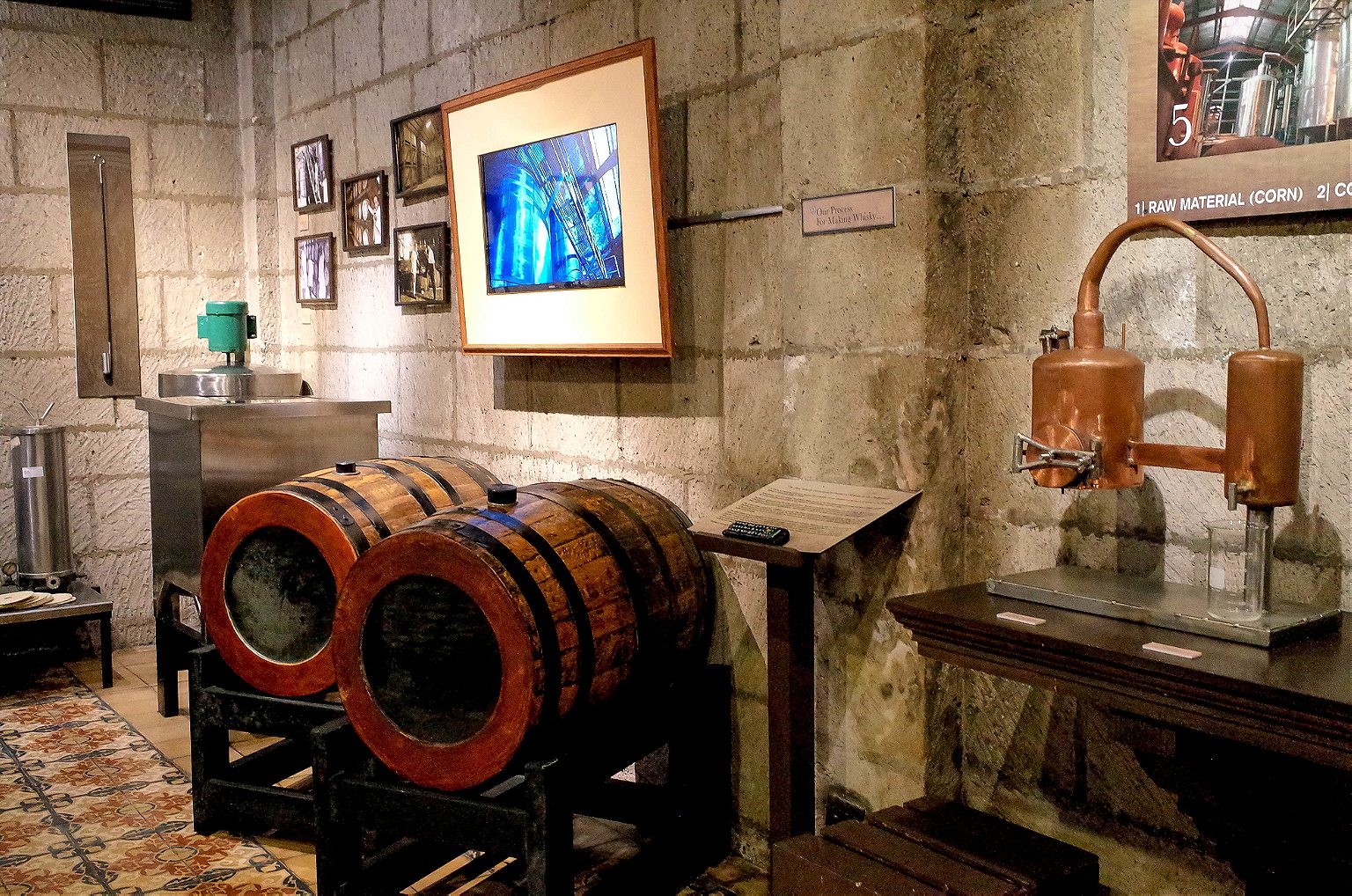 Get some architectural history. European and American-educated Filipino architects modernized the city in the 1920s and 1930s. For the tropical weather, windows were enlarged for ventilation, and details of indigenous fauna and folk art patterns were incorporated into otherwise imported Art Deco styles, creating a distinctly Filipino version. During American rule (1898-1946), the Philippines had a golden age of art and culture, only to be cut short by World War II. Only a handful of the city's Art Deco structures remain. Notable buildings are the First United in Escolta, Manila, and the breathtaking Black Bird restaurant in Makati, inside the Nielson Tower of the old Manila International Airport. The Nielson Tower was built in 1937 by New Zealand-born British businessman and aviation enthusiast Laurie Reuben Nielson. Check out walking tours conducted by Ivan Dy.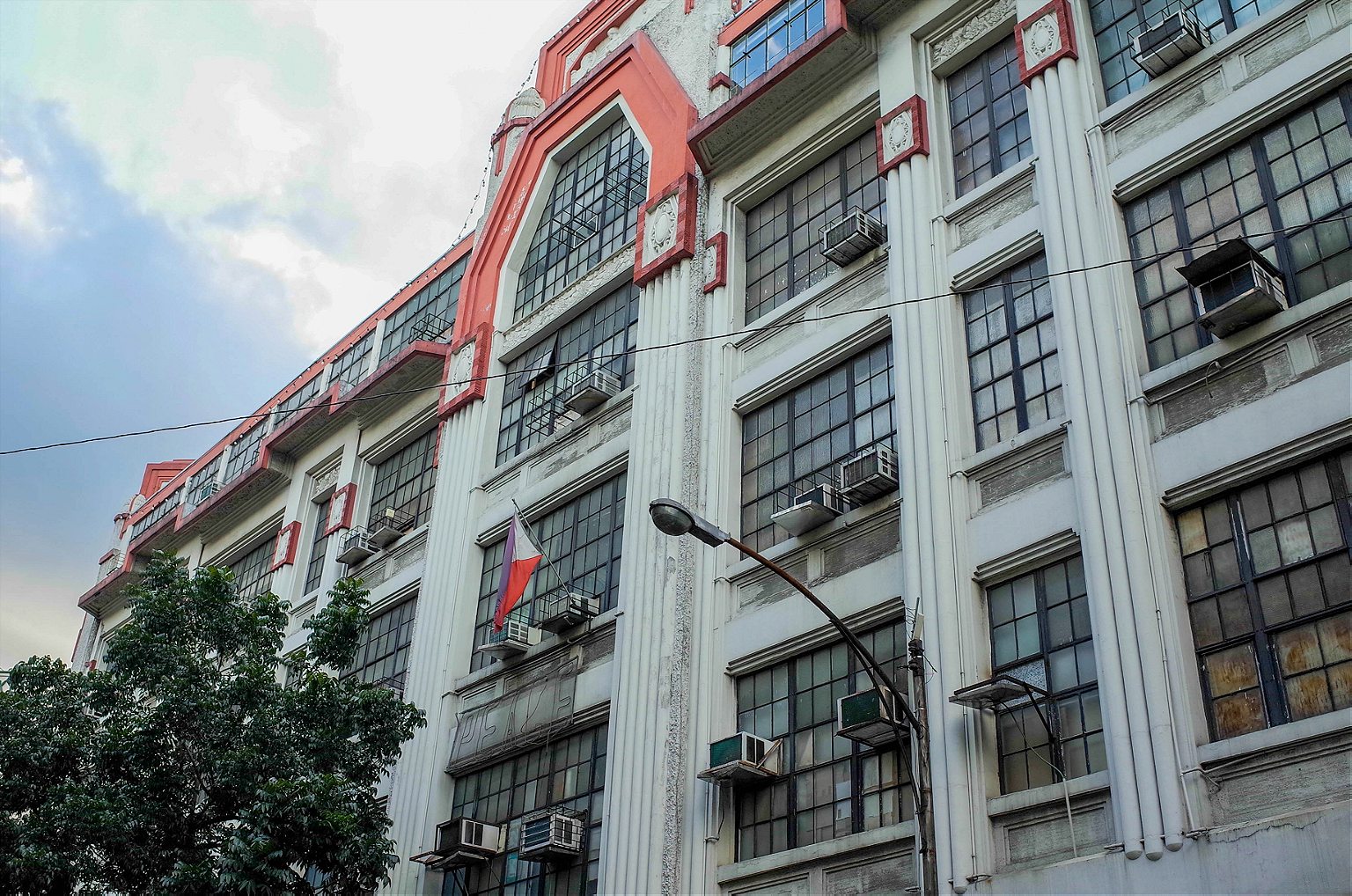 Embrace Jollibee. Jollibee, the local take on fast- food burgers, has over 900 branches across the Philippines' 7,000-plus islands. When in Manila after an all-night drinking session, try the sweet banana ketchup-style spaghetti with chopped up red hot dogs, the Aloha Burger with pineapple and bacon, and the crispy deep-fried Chicken Joy. The chain has become one of the world's largest fast food franchises, expanding to 4,000 branches across 23 countries—providing comfort to thousands of homesick overseas Filipino workers and fans.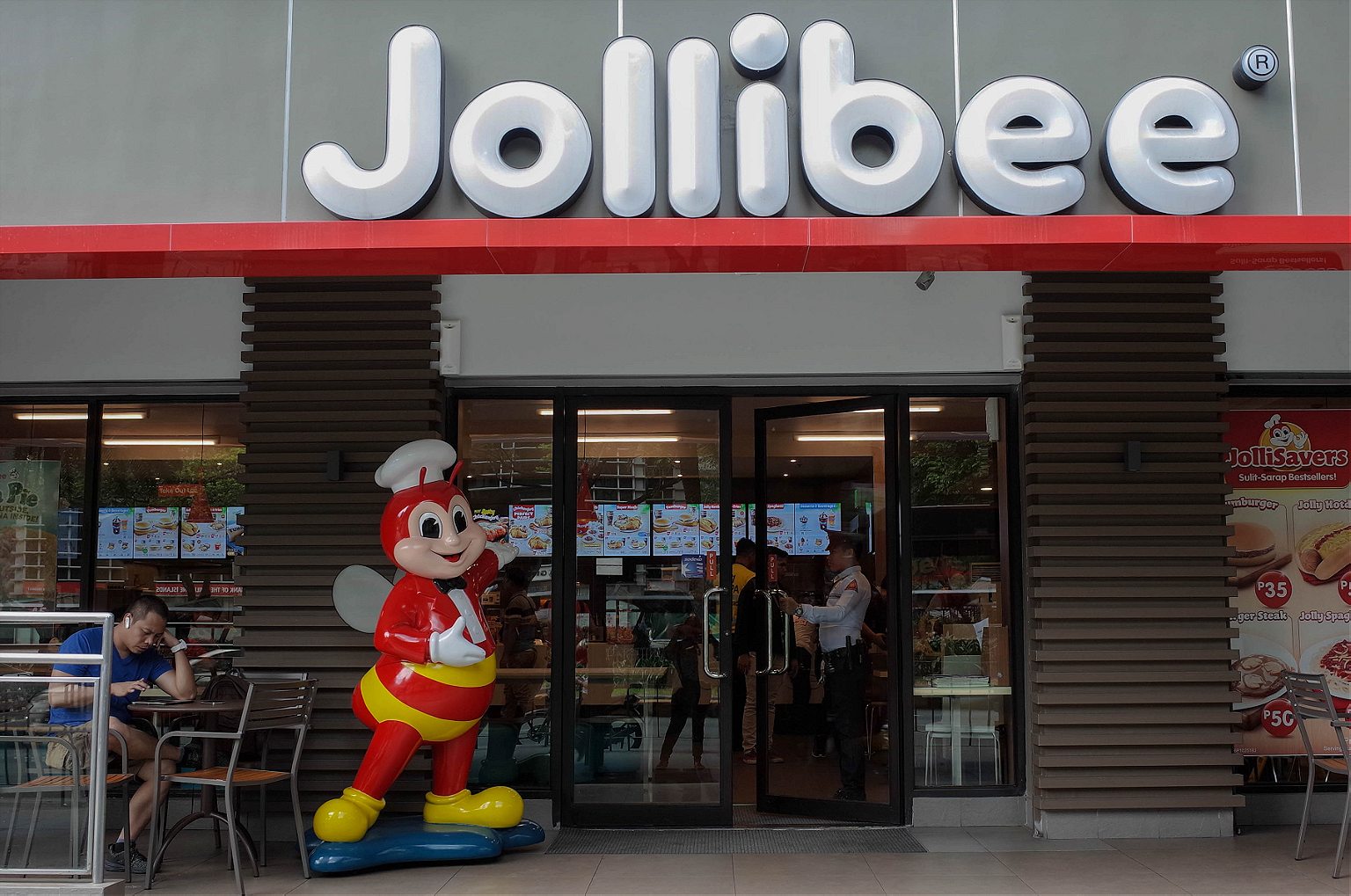 Go on a market run. Filipino food is meat-centric—but there are other options. Visit the Farmer's Market in Cubao, busy with people day or night. There are fresh vegetables that are sourced from the north, and fresh seafood from the south of the Philippines. The Dampa is a section inside the market that allows freshly bought seafood to be cooked on the spot, the way you want it—a rarity in the city. (Filipino street food is mostly pre-cooked and not offered straight from the wok.) Complete your list of  ingredients before handing over a kilogram of black tiger prawns, which they can stir fry with obscene amounts of garlic, lemongrass, and fresh chilies.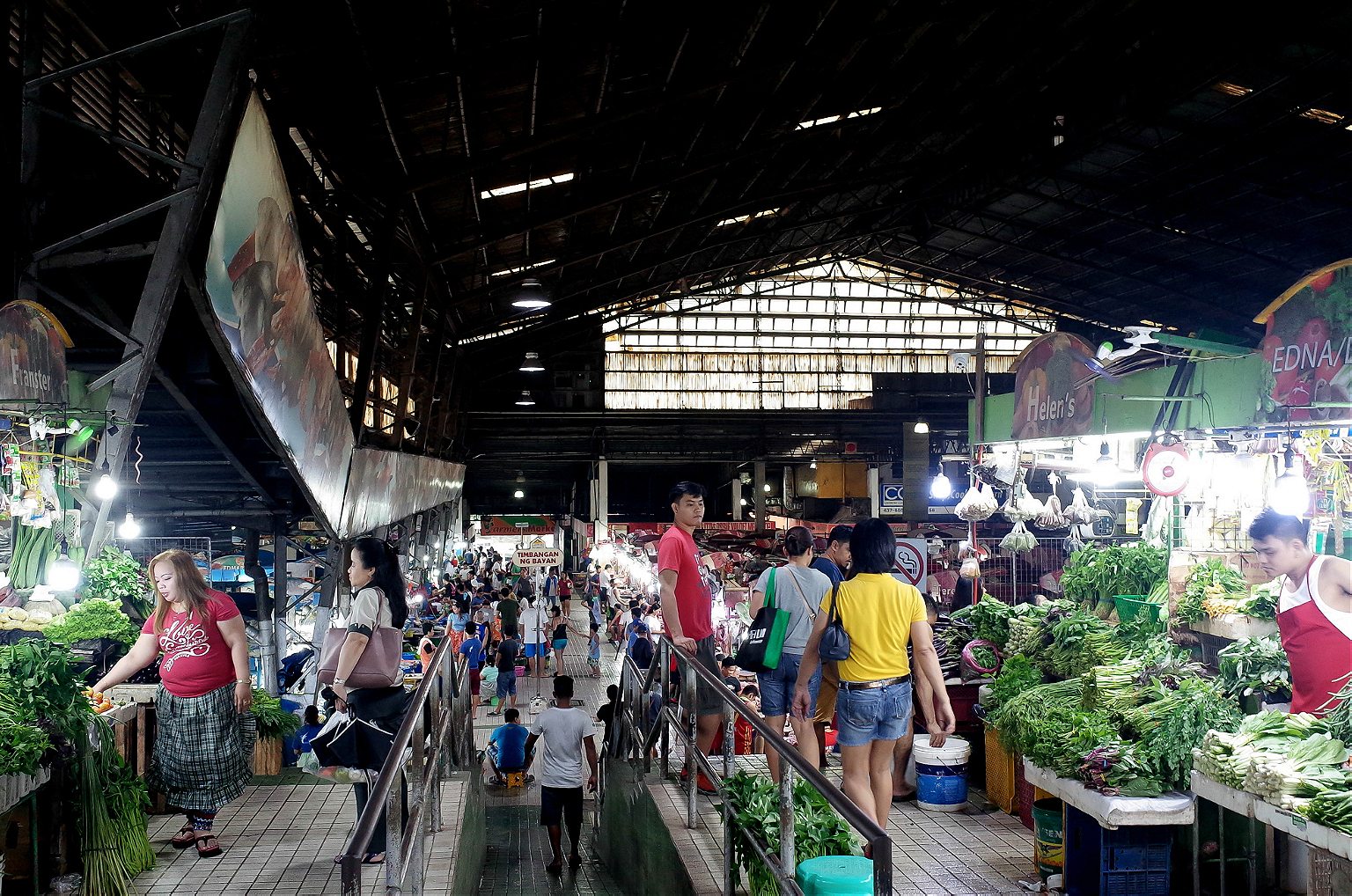 Catch an exhibition. Visit an exhibition inside the Karrivin Plaza along Chino Roces in Makati, which holds Manila's top contemporary galleries—The Drawing Room, Art Informal, Art Cube and 1335 Mabini. Chino Roces Avenue, where Karrivin Plaza is located, is also home to other notable galleries such as Finale, Silverlens and Vinyl on Vinyl.(Check their Facebook or website pages for scheduled shows.) It's not just for the elite, but open to all. Expect to mingle with Manila's musicians, movie stars, visual artists, writers, and photographers. Wander from one gallery to another viewing paintings and installations, glass in hand, with free-flowing wine and pica-pica (finger foods).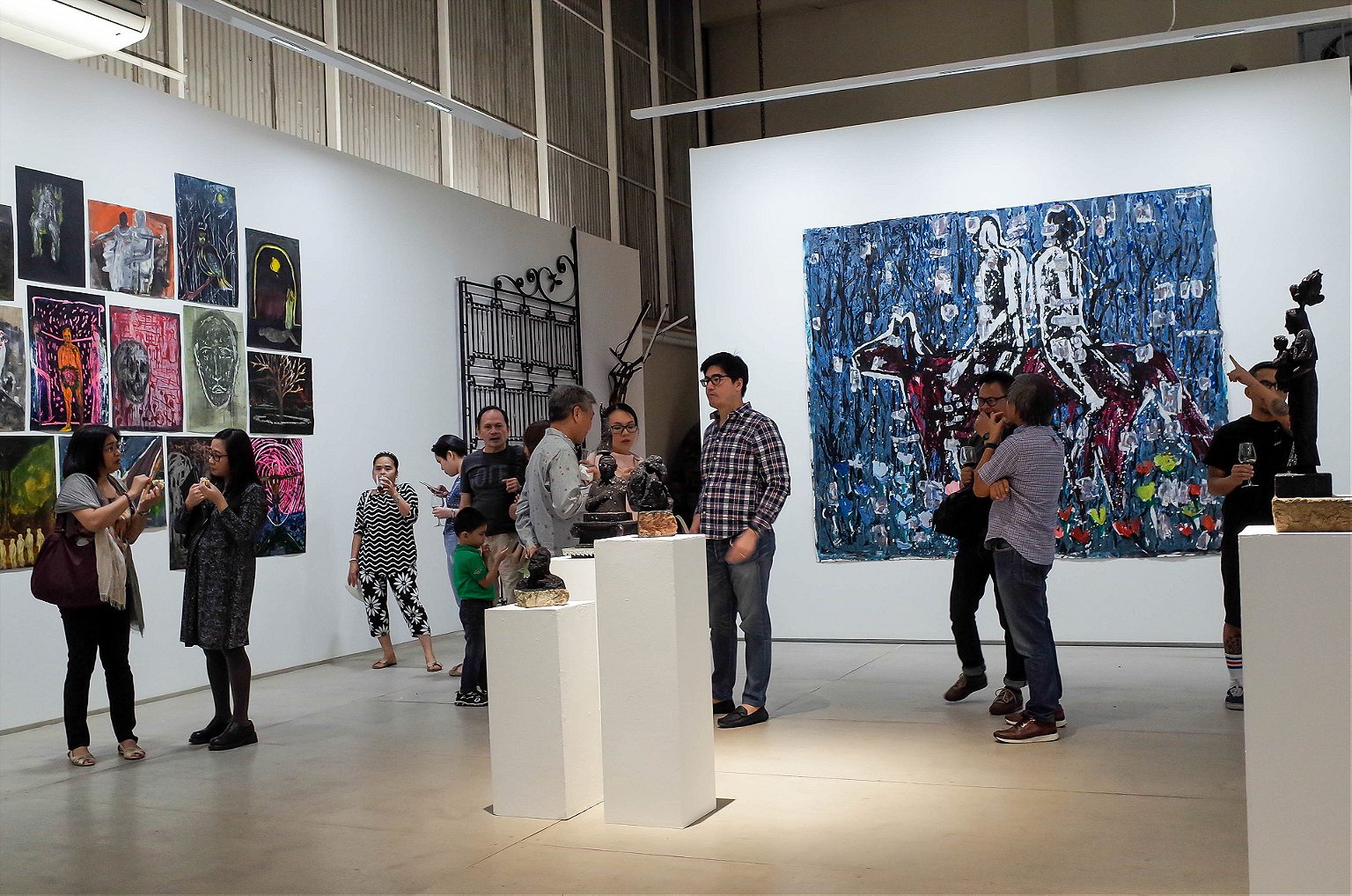 Watch the legendary sunset. For the recent Manila bay clean-up, private individuals and the local government set up weekend drives to help clear the garbage washed up on the shores of the bay. Nearby establishments guilty of water pollution have been shut down. (But the water is still not fit for swimming.) The natural harbor serves as the port of Manila, and a boat ride away to the historic island of Corregidor. It is one of the last sections of land that remains free of buildings—until the next phase of building projects. Walk along Roxas Boulevard and experience one of the best sunsets in the world while you still can.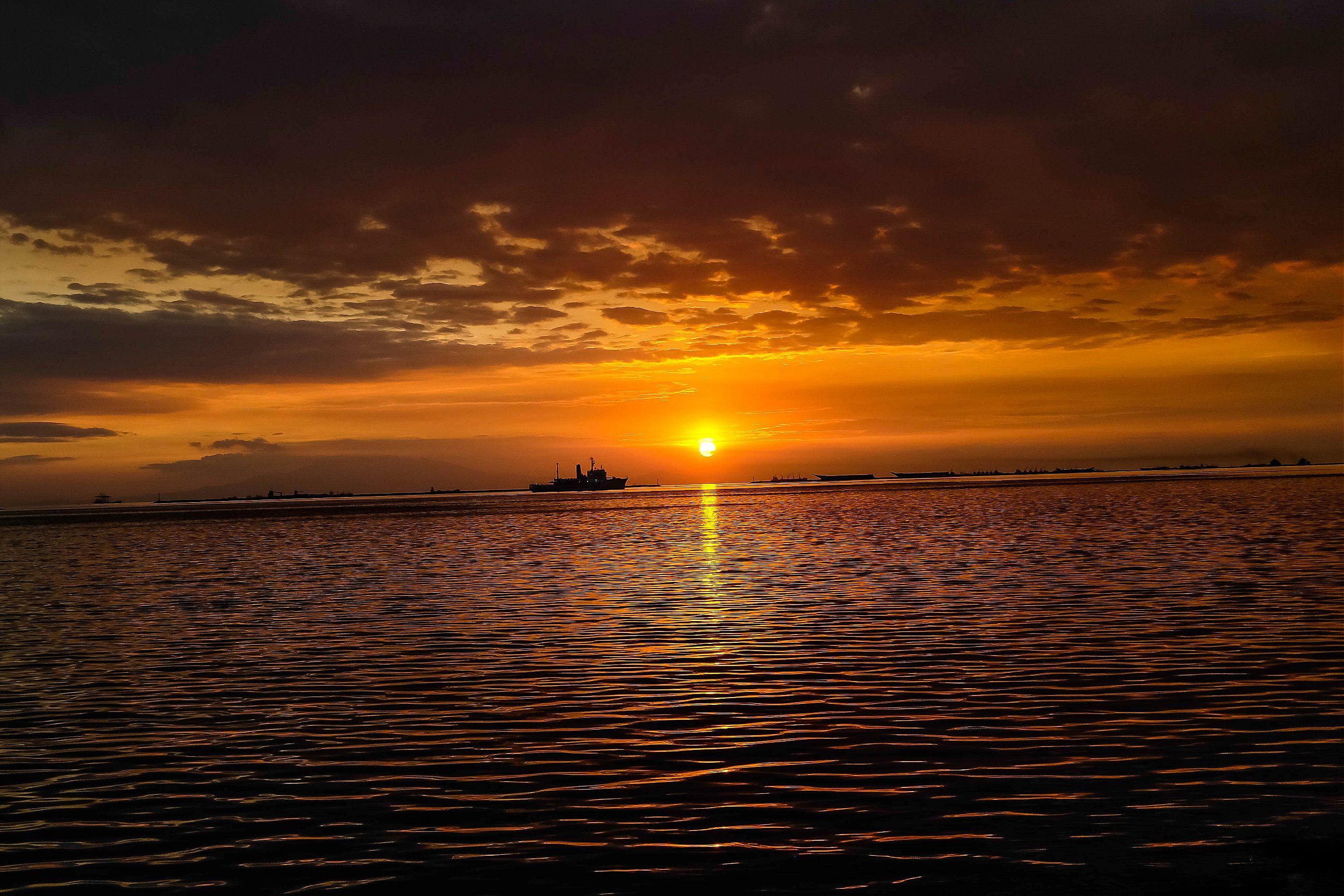 Avoid drugs and politics. Since President Duterte took office in 2016, his anti-drug campaign has caused over 5,000 deaths, recorded by the Philippine Drug Enforcement (July 2016-November 2018), mainly perpetrated at night by police officers and vigilantes. The figures for extra-judicial killings are higher. The country is divided on the issue. Be polite. Don't crack jokes or talk politics, especially over drinks. And just say NO if anyone offers you anything illicit.