After escaping slaughter in Myanmar, Rohingya refugees in Bangladesh have no source of fuel but the wood they can collect from a rapidly disappearing forest.
Barefoot and bowed by the bundles of firewood weighing on their shoulders, the Rohingya refugees trudging through the forest around their new homes in Bangladesh share one thought: they're tired.
For more than a year, refugees who crossed the border to escape military violence in Myanmar have trekked daily out of the refugee camp to collect firewood, their only source of fuel and a key resource missing from aid packages.
Children haul stacks of wood the size of their own bodies. The elderly follow, walking up to eight hours each way, stopping for hours at a time to hack down trees. When they get thirsty, they drink from muddy puddles left by the rain. At their most taxing, these journeys into the forest can take a full day and full night.
"We are going to die here, doing this, collecting firewood," says Shah Alam, a 17-year-old designated by his family to forage for wood. Like others his age, his shoulders are scarred and his feet cut and blistered. "In the past year, I have aged ten [years]."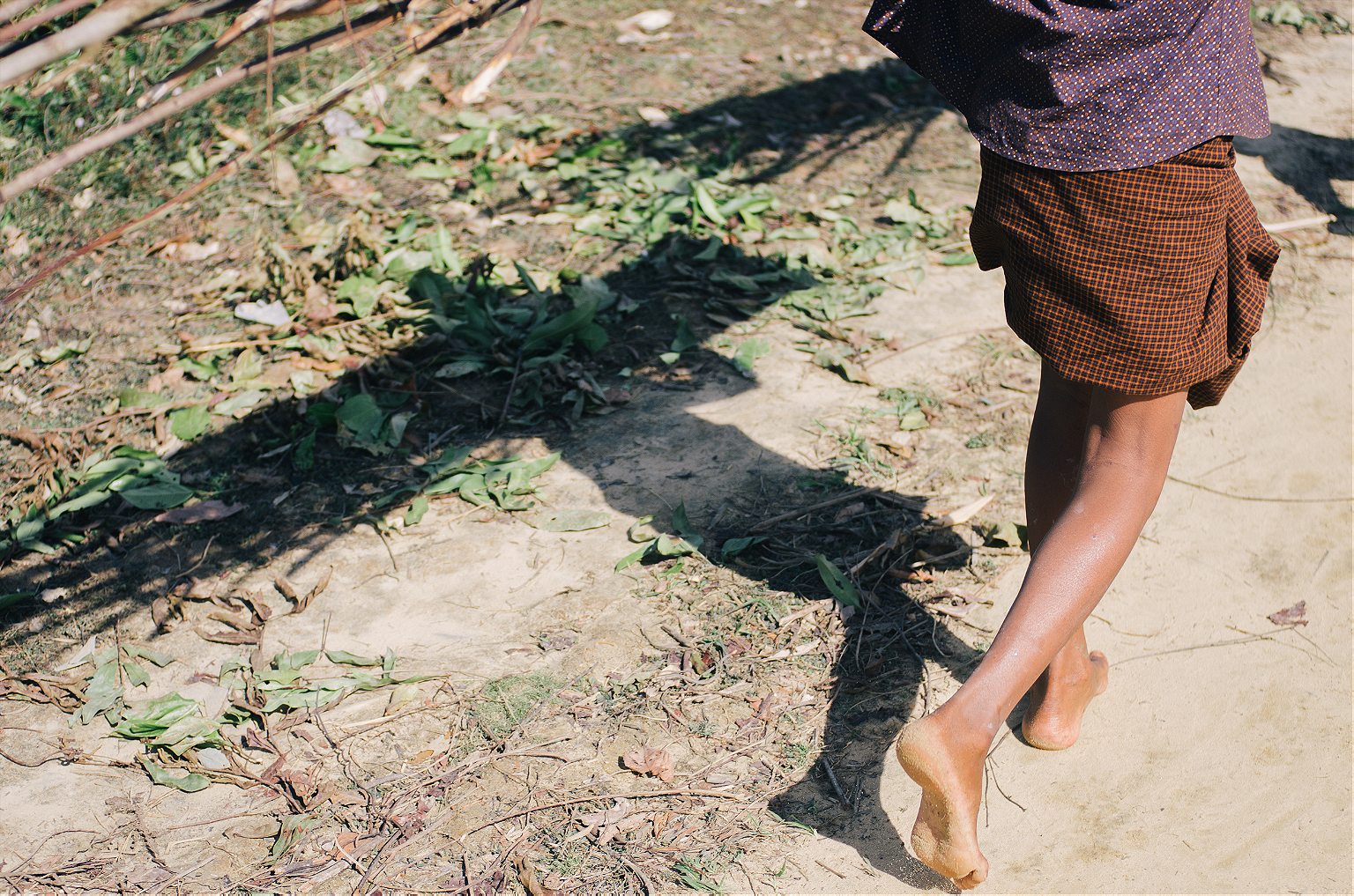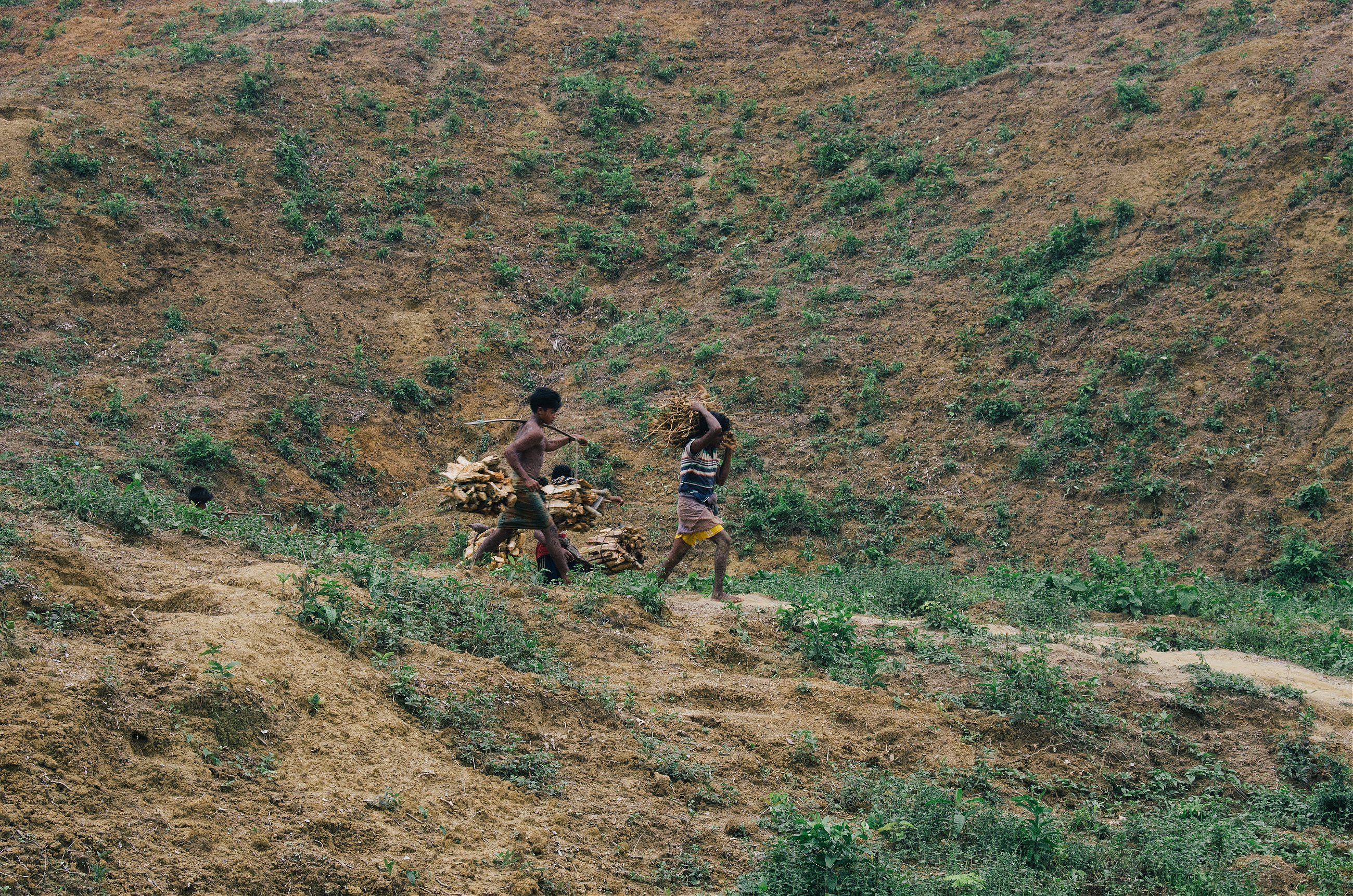 Shah Alam ended up in Bangladesh's Kutupalong camp a year ago. Around that time, Kutupalong became the world's largest refugee camp, as 700,000 people flooded the area to escape a military operation by Myanmar's armed forces that began on August 25, 2017, and lasted more than a month, leaving at least 6,700 dead.
Many of the people who make the trek for firewood, shuffling to or from the camps or resting by the side of the trail, are young men like Alam. But in other families, the more vulnerable elderly, children, and mothers widowed by the violence have no choice but to take on the task.
At the end of their long, unshaded walk they face elephants confused by the new human population that has suddenly appeared in their habitat, or locals who demand fees for cutting trees. In some cases, local communities have confiscated the refugees' tools.
Those unable to walk such distances often choose to sell their aid supplies to other refugees or to local Bangladeshis at the camp markets, where everything from food to soap sells below market value. In town, prices have risen drastically as demand outpaces supply and local providers sell their good to aid agencies at inflated rates rather than to the local population. In the camp markets, a small bag of rice can go for around 100 taka (US$1.20), the same amount as a small bundle of firewood, which can fuel a kitchen fire for three days.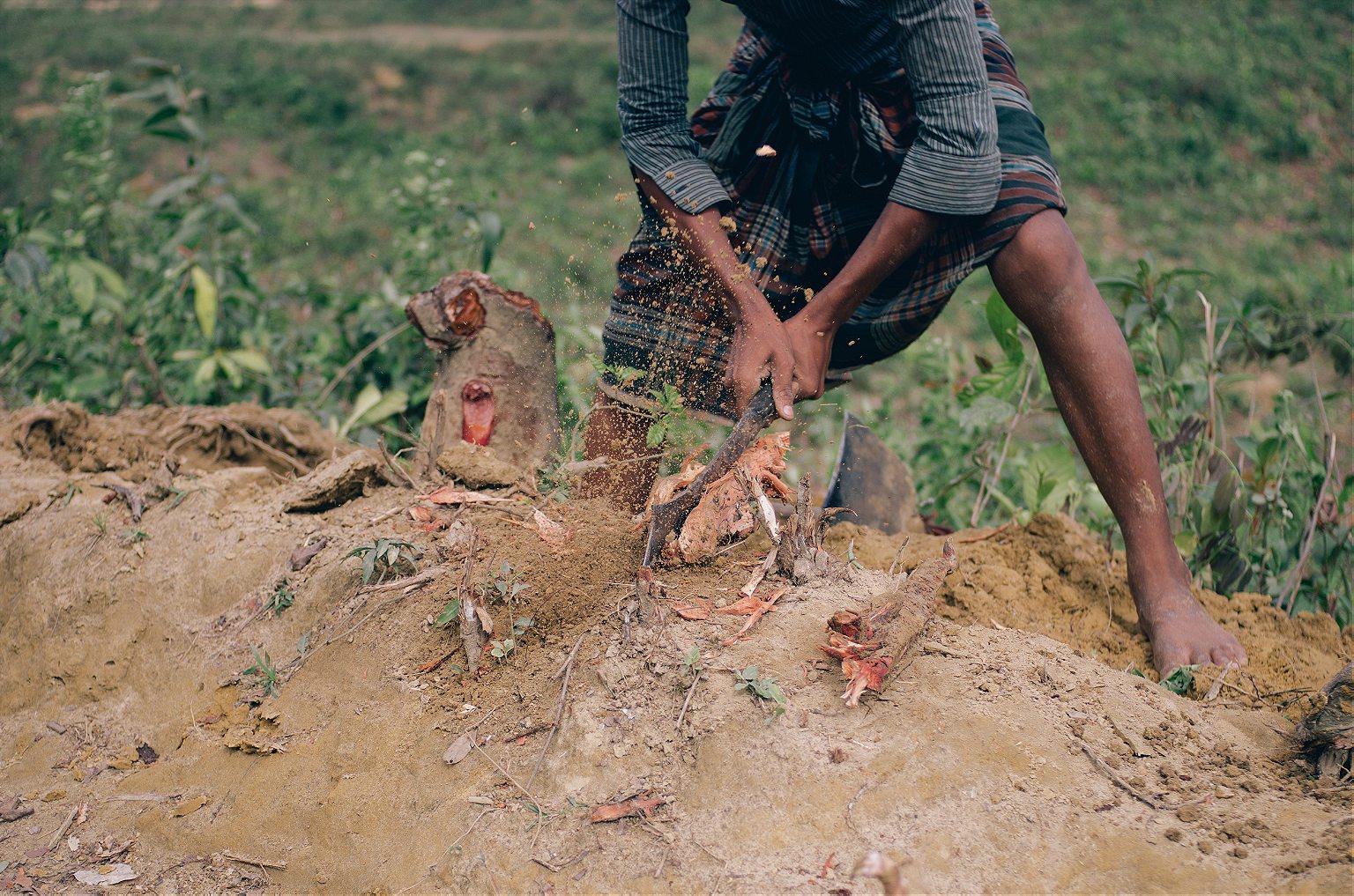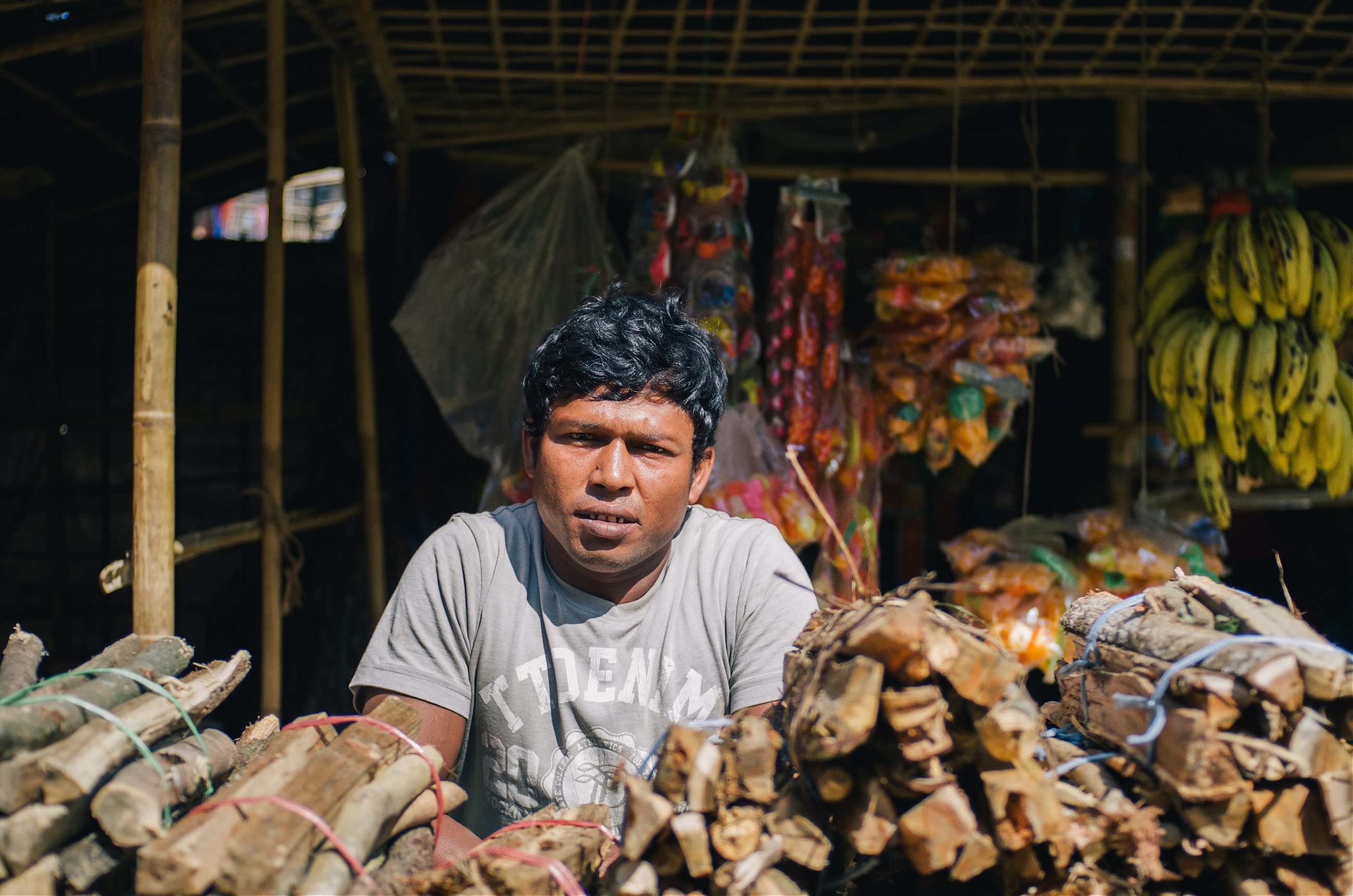 Kicking at the dust and stubs of the greenery stripped from the land, 65-year-old Saiful Alam cannot contain his frustration.
"There's nothing here, only dust. There are no trees left," he says. As trees grow scarce, refugees have begun pulling the roots from the ground to avoid the long walk. According to the UN's Food And Agriculture Organization, four football fields of forest–about 700 metric tons–are cleared every day, leading the UN to predict the surrounding environment could be completely destroyed by the end of 2019.
"Whenever I try to go to the forest, I struggle to walk back and need to be carried," Saiful Alam says. "I end up needing to go to the doctor. I go three or four times a month but end up struggling with my asthma when I return."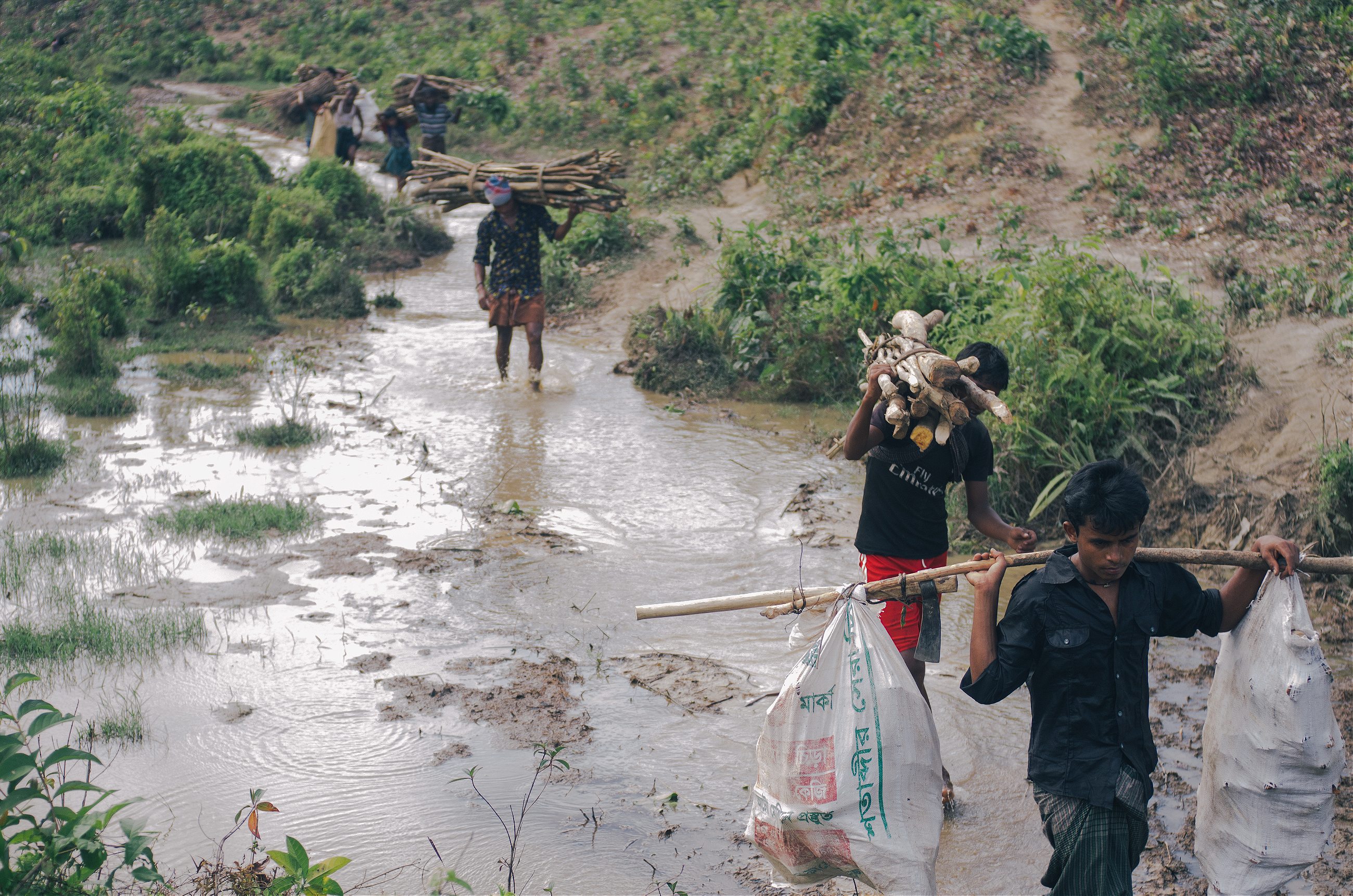 This past monsoon season pushed many Rohingya to their breaking point. Rains inundated the trails to what little forest remains and soaked the scarce firewood. Now if the firewood lights at all, it sends of clouds of smoke that fill their cramped shelters of bamboo and tarpaulin. Many families encourage the flame with plastic or kerosene.
"It just smokes without giving us fire. Some of us end up hungry. Some of us make do with half-cooked meals," says Saiful Alam, gesturing at the stacks of wood the young Rohingya have laid down while they rest near his home.
"At home in Myanmar, we had everything. Near our homes, we had forests to collect wood. Here we have nothing," he said. "How can we survive without firewood?