The finest little Japanese bakery in Phnom Penh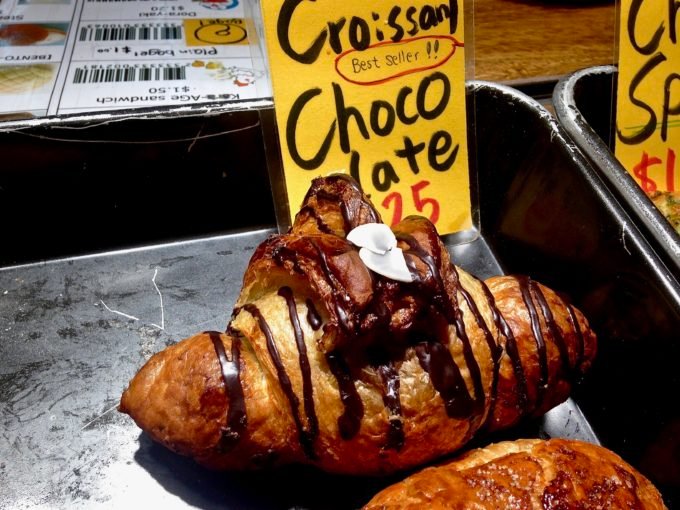 The finest little Japanese bakery in Phnom Penh
Chocolate Croissants in Phnom Penh
The mention of pain au chocolat causes most people to recall a trip to Paris. For me, talk of exemplary chocolate croissants brings to mind a bakery in Phnom Penh.
Life in Cambodia's capital has made kuyteav (thin rice noodles in pork broth) and num ansorm jeh ang (Khmer banana wrapped in grilled sticky rice) beloved morning staples, but I still have a craving for croissants filled with decadent chocolate for breakfast.
Despite the culinary legacy of French colonialism and Cambodia's sizeable bread culture, there is often an artificial quality to the local chocolate croissants. From Bayon to BreadTalk, I was met with the disappointing staleness of lackluster attempts. Even what was offered at the lauded Eric Kayser felt manufactured. Sancha was an exception.
Resting among a swath of other Japanese bakery staples, a Sancha chocolate croissant's golden-brown exterior glistens with drizzled zigzags of chocolate. A tiara of almond slivers delicately perches on top. The initial bite is flaky, but gives way to an airy sponginess that releases a sweet, warm waft of butter. The chocolate is prominent, evenly melted and distributed babka-style through the pastry layers.
Founded by Japanese expat Mariko Okuda in 2015, Sancha's Boeung Keng Kang Moi storefront shows an array of classic Japanese baked goods such as melon-pan, katsu sando, an-pan, and dorayaki. There is also European fare, made in the lighter Japanese variation: palm-size bostock, shoku-pan styled pain de mie, bacon pain d'epi, and an assortment of bagels.
Popular demand by Cambodians and expats led Okuda to open a second branch in the city earlier this year. The expanding Japanese expat community in Phnom Penh may have contributed to Sancha's success. Throughout the city, Japanese businesses, NGOs, malls, and restaurants abound. Okuda also notes how the Japanese community seems to be growing. The stores themselves are constantly buzzing, predominantly with Japanese expats picking up freshly baked memories of home.
Okuda's mission is simple: to make delicious bread for people. After traveling to thirty-three countries and sampling bread along the way, she believes that the bread of her native Japan has the best quality and variety, and she launched Sancha in Phnom Penh to prove it. Okuda also employs and trains young Khmer locals.
When asked why chocolate croissants are part of her repertoire, Okuda said, "Because I love chocolate! And, I love my croissants."
A visit to this Japanese bakery in Phnom Penh always satisfies my chocolate pastry cravings.
BAGEL & BAKERY Sancha
No. 26, St. 294, Sangkat Tonle Basak,
Khan Chamkar Morn
Phnom Penh, Cambodia