Cambodians brought to the U.S. as children face a jarring new life when they are deported back to a homeland they've never known.


PHNOM PENH, Cambodia—
It's early Friday evening in Phnom Penh, and the heavy rain pounds the pavement. Motorbikes whizz through the narrow streets near the city's Russian Market, a trendy bazaar that earned its name when it was the go-to destination of Soviet expats during the 1980s. Aside from the commuters in cheap plastic ponchos trying to shield themselves from the onslaught of tropical rain, the small, residential side streets are quiet.
But even in this serene environment, as the work week winds down and the night revelers prepare for their frolics, the sound of hip-hop pours out of the open doors of Cool Lounge while patrons sit nursing their pints. Equipped with a sound system, a recording studio, and walls covered in graffiti and an airbrushed mural, the bar provides a welcoming slice of America for people who are no longer welcome in America itself.
Cool Lounge was opened by one of the almost 600 Cambodian refugees who have been deported from the United States since the country signed a memorandum of understanding with Cambodia in 2002, with an average of 35 people deported each year. From then until October 2016, when the Cambodian government informed the U.S. embassy in Phnom Penh that it would not accept more deportees until it had a chance to review the issue, the treaty allowed Washington to repatriate Cambodians who had committed a crime and had not already applied for U.S. citizenship. People could be forcibly repatriated, even for misdemeanors and even if they were married to a U.S. citizen. After deportation, they were forbidden from ever returning to the United States.
But most deportees had never seen Cambodia before their arrival. Most were born in refugee camps in Thailand after their parents escaped the genocidal Khmer Rouge regime and the wars of the 1970s. After moving to the United States as young children, they were deported decades later. Having grown up in the United States, they are fully ensconced in American culture. Upon arrival in Cambodia, they were given "naturalization certificates," which grant them Cambodian citizenship. But the U.S. is the only home they've ever known, and many didn't speak the local Khmer language before arrival. Thrust into a new country without friends, family, or resources, some deportees chose to band together in search of community and support.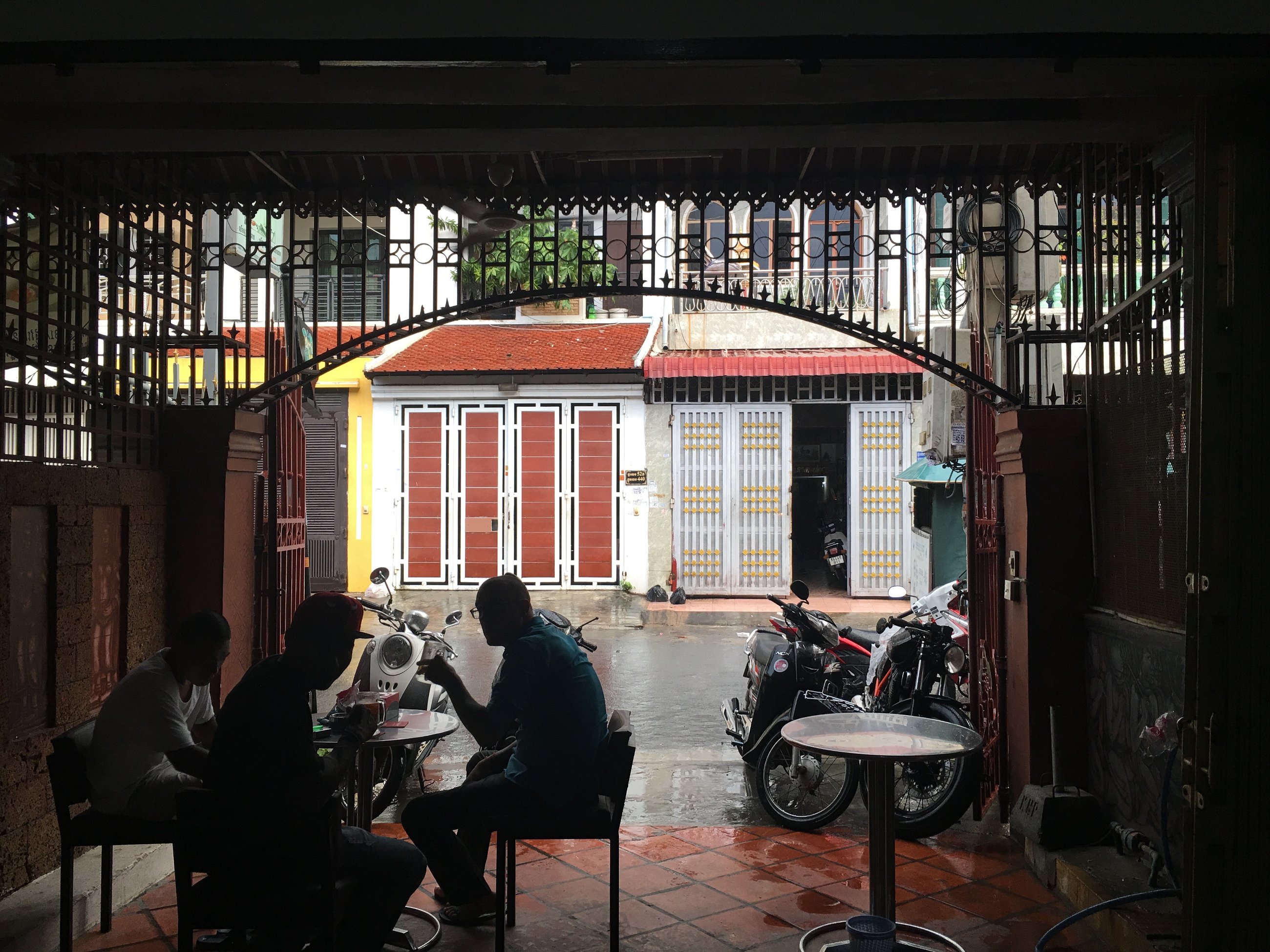 Eventually, Cool Lounge emerged as a spot for them to congregate, a place where they can meet to listen to music, relax in an atmosphere that feels familiar, and talk about the politics and policies that play with their fates.
"A lot of people don't like it here, a lot of people want to go back. It's hard when you don't have your family, which is why we try to have each other's backs and give each other hope," explains Sophea Phea, a deportee who arrived in Cambodia from California in 2011. "When you hang out you build trust."
Phea is an active member of One Love Cambodia, the local branch of a Philadelphia-based movement that lobbies to stop the deportations and allow deportees to return to the United States to visit their families. So far, it's had some success. The group met with members of Cambodia's government and explained their situation. Shortly thereafter, the government issued a letter to the U.S. embassy halting deportations until further review. Twenty-eight deportees, whose travel documents were issued before the change, were deported from the U.S. to Cambodia in 2017, but for now, no one else will be deported.
The government set up an interministerial task force to review the repatriation agreement, but it's unclear when a revised treaty will be proposed. Meanwhile, obtaining the right to return will depend on convincing the U.S. government, a trickier feat with President Donald Trump in office, given his views on immigration.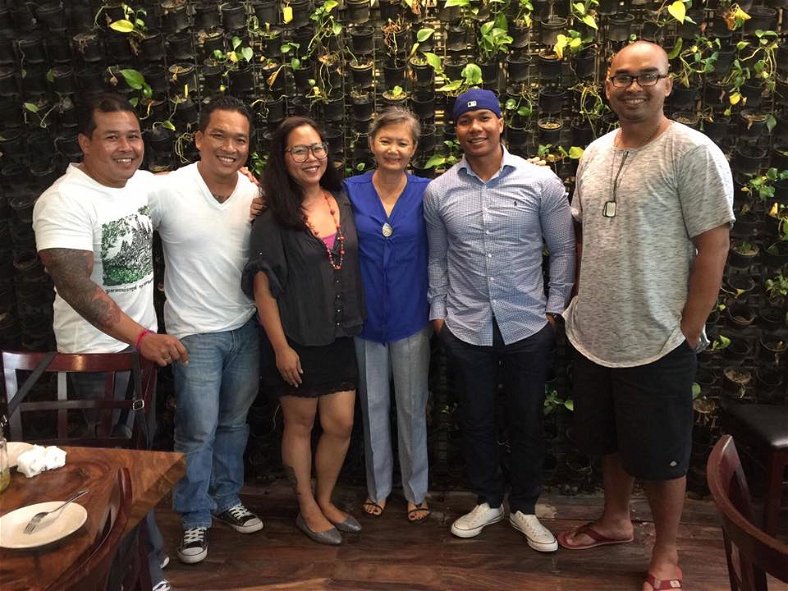 Still, One Love Cambodia is determined to continue lobbying. The group held a demonstration in front of the U.S. embassy to mark this Fourth of July. In an effort to support a deportee-run business, One Love Cambodia started hosting its meetings at Cool Lounge.
The bar opened in the Russian Market neighborhood around a year ago but didn't host its grand opening until April this year. Russian Market is an up-and-coming part of Cambodia's capital that foreign expats jokingly nicknamed "the Brooklyn of Phnom Penh" because of its hipster vibe. Except for the busy market, where shoppers can buy everything from Cambodian silk to discounted designer clothes, the neighborhood was mostly residential until recently. But the last year has seen an influx of new business, with trendy bars and new restaurants opening almost every week. The neighborhood even boasts a CrossFit studio with a coffee shop attached and a new vegan health-food restaurant. Amid the bustle of shoppers and café-goers, Cool Lounge is nestled into a quiet side street lined with motorbikes. It almost looks like any other small, unassuming bar, with turquoise walls, black leather barstools, and low wooden tables where patrons can sit in pairs. But the music and murals give away its cultural origins.
"We have community meetings here. We support Cool Lounge, and they support us by giving us the space. It is a safe place," Phea tells me as we watch the heavy June rainfall from inside the warm safety of the bar. "I go to Cool Lounge even if I'm not having drinks, I just go hang out. I chill, joke around, talk about whatever."
Born in a refugee camp in Thailand in 1982, Phea moved to the United States just one year later. Her family settled in a predominantly Khmer community in Long Beach, California. Today, her voice has a soft California lilt.
Phea was a permanent resident of the United States before her deportation but never saw the need to apply for citizenship.
"I was raised there, I learned how to speak there," she says. "My culture is American, of course I'm American, just without the paper. I work, I pay taxes, what do I need U.S. citizenship for? I didn't think it was important."
Can I at least call my mom and stepdad and tell them that I'm going to Cambodia?
But when Phea was 22 she was sentenced to two years in prison for $3,000 worth of credit card fraud. She remembers it as a confusing time. She was young, had just given birth to her son, and she was struggling. But after completing her sentence she was determined to turn her life around.
"I got out of prison thinking that I was going to leave all of that behind and do good, be with my family," she says.
She enrolled in college, got a job, and helped take care of her ailing mother. She also worked to build a relationship with her young son. Before she knew it, four years had gone by. But then one morning Immigration and Customs Enforcement came knocking on the door. She was detained and brought straight to the airport.
"I was like, 'Can I at least call my mom and stepdad and tell them that I'm going to Cambodia?' " she remembers. "All I had was a sweater and the clothes on my back."
Phea's mother didn't have any family in Cambodia, but her stepfather did. She got in touch with his distant relatives and went to stay with them in their village. She had to learn how to wash her clothes by hand, use a squat toilet, and cook with firewood.
"I still did my taxes while I was here," she admits, laughing.
Having grown up listening to her mother tell horror stories about the wars in Cambodia, she didn't know what to expect. She was scared and alone, separated from her mother and her son.
"The first few years were a struggle. The feeling of being separated from your family is still fresh, so there was depression and I was angry," she says. "I had to get rid of that loneliness."
Eventually she got in touch with other deportees in Phnom Penh. Today, Phea works as a schoolteacher in the capital and is determined to help support the community of deportees in any way possible, especially through lobbying for their right to return home.
"We're separated from families; this is against human rights. We went to the [U.S.] as little toddlers, we'd never been to Cambodia, we don't belong here in a way," Phea explains. "We are replicating what our parents felt when they were separated from their families by the Khmer Rouge. And we don't know how our kids are going to turn out because this trauma is repeating itself."
Kosal Khiev, a poet who discovered a talent for writing and words while serving a 14-year jail sentence in California, says he likes Cambodia but agrees that the right to return and visit family is important.
Born in a refugee camp in Thailand in 1980, Khiev is the youngest of seven children. When he was a year old, a woman in North Carolina sponsored his family's move to the United States. The family made the long trip from Thailand through the Philippines and eventually settled in Santa Ana, California.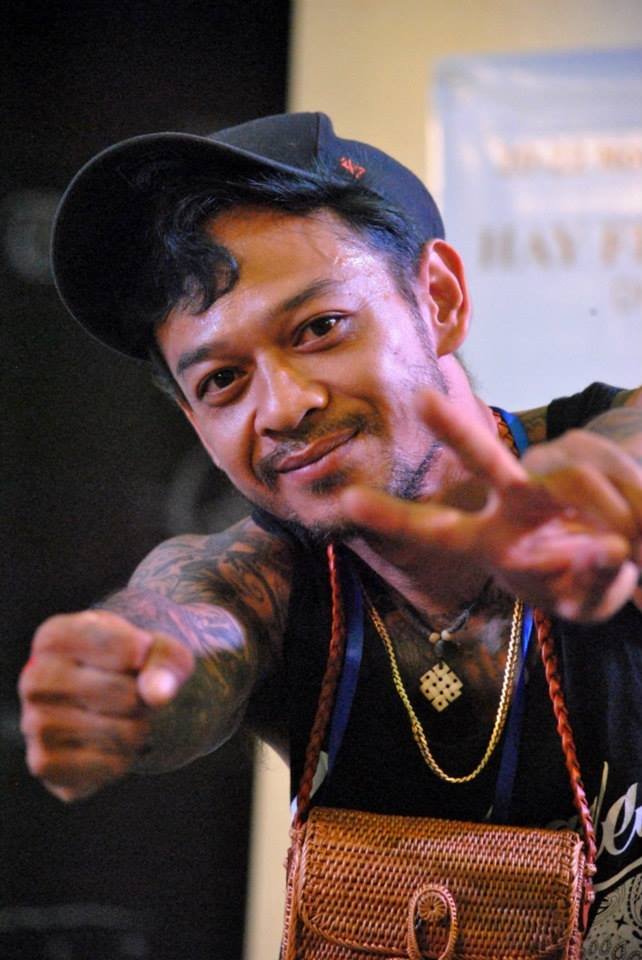 "It was the projects," Khiev says. "There were mostly Cambodian refugees and Hispanics [living there]."
Refugee children often grow up in impoverished neighborhoods in America's inner cities. Looking for a sense of belonging, some, like Khiev, get involved in gangs.
Growing up in California, Khiev had to fend for himself as his older siblings and parents worked to put food on the table and build a life in the United States. Searching for community, he joined the Tiny Rascal Gang, a predominantly Cambodian American street gang that formed in California in the 1980s.
"I remember wanting to be a part of something," Khiev says. "There was this bond, this camaraderie. Knowing that someone has your back to the fullest, there is something powerful about that, you feel like you're no longer alone, there is purpose."
It wasn't until five years into his jail sentence that he realized he wasn't a U.S. citizen
But this feeling of belonging came with a price. At the age of 16, Khiev was involved in a shootout with rival gang members and, after being tried as an adult, went to prison for attempted murder.
It wasn't until five years into his jail sentence that he realized he wasn't a U.S. citizen. Many of the Cambodian refugee children never realized that they weren't legally American.
"I was reading a magazine article about some guys who got deported after their term and I started thinking, Am I a freaking citizen? I don't think I am," he remembers.
The fact that he wasn't a U.S. citizen became painfully clear when his jail sentence ended. As soon as Khiev signed his parole papers, ICE took him into custody. He was held by immigration for a year before he was deported to Cambodia in 2011. Nearly six years later, his relationship with the country is still complicated.
"Sometimes I feel like it's home, and sometimes I feel like I'm not a part of this place at all," he explains. "I miss a lot of things that are American."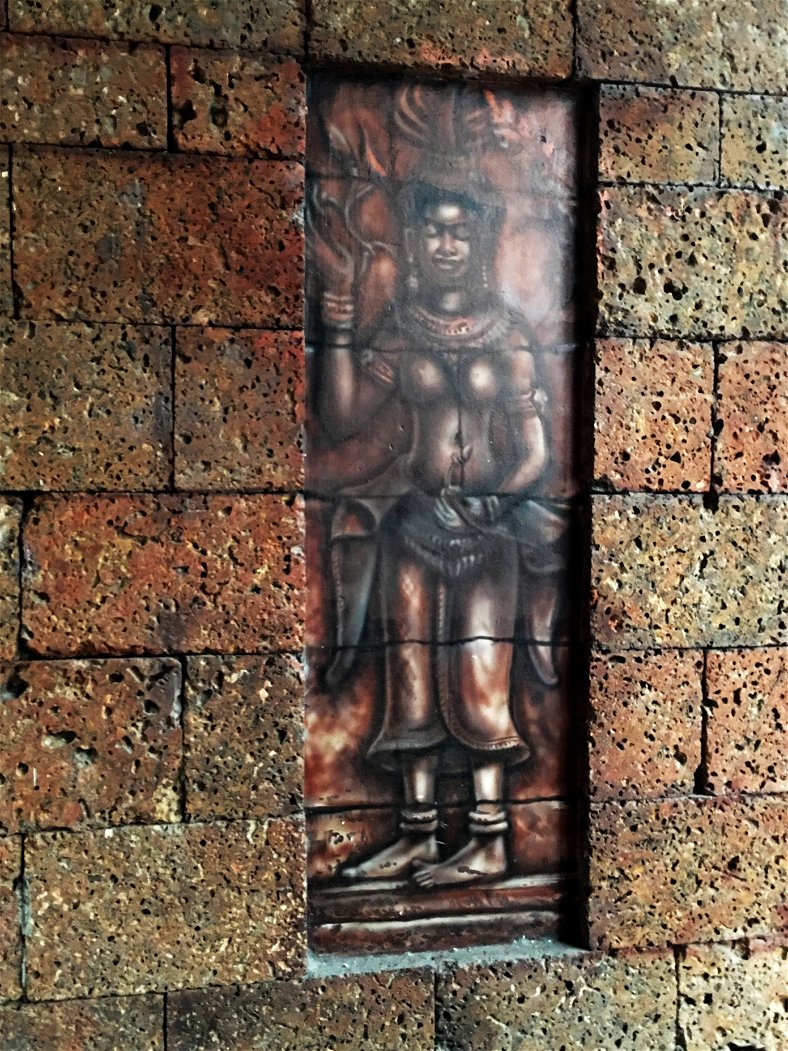 Khiev left three brothers, three sisters, 10 nephews, and six nieces in the United States. Occasionally members of his family will visit him in Cambodia, but he still worries that he is missing important years with his family. Two of his siblings are suffering from cancer.
"I feel helpless," he says. "The only thing I can do is be good out here and not be a burden, not add any more worry or stress."
Despite the hardship of being separated from his family, Khiev managed to turn his life around. In 2012, he represented Cambodia as a spoken-word poet during a performance at the London Olympic Games. He is now working on a screenplay and has aspirations of becoming a film director.
Some of this success he attributes to the bonds he built with the local community and other deportees. People leave the divide-and-conquer mentality of gang life back in the United States, he says. The Cool Lounge bar has become a useful resource for the deportees as they build community and work to feel at home in a strange land.
"Cool Lounge is a place where people can go and get information about the One Love Movement," he says. "They've done a tremendous job of organizing the community and just being there for guys."
Wicced, another member of One Love Cambodia, is one of the guys building the community support network in Cool Lounge. Like both Khiev and Phea, he was born in a refugee camp in Thailand in the early 1980s. His family moved to the United States when he was 4 years old and settled in San Diego. It was there, at the age of 12, that he got involved in a gang called the Oriental Boys.
Most of the members were from Southeast Asian countries like Cambodia, Laos, and Vietnam. For Wicced, joining a gang allowed him to feel connected to his roots.
"I felt like I wanted to be with my people," Wicced, who asked that his surname not be used, explains. "We were just hanging out, doing what kids do, cruising to the beaches, gang fights, and things like that … but we went fishing and camping. That's what a gang was, it was a group of friends."
Eventually, I.C.E. came for him
But there were also obvious risks. When he was 18, he got into a fight with a rival gang member for visiting a McDonald's in the "wrong neighborhood." Someone discharged a firearm, and he was blamed for it. He says he never fired the gun but that his public defender pressured him to sign a plea bargain and he went to jail.
Growing up, Wicced's parents spoke little English and spent most of their time with other immigrants. He discovered that they hadn't obtained citizenship for themselves or their children when the judge read his sentence.
"They said this sentence could lead to deportation," he recalls. "And I was like, what? What are you talking about?"
After leaving prison, Wicced was able to lead a normal life in California for a little over a year. He enrolled in community college and worked at a resort. He spent time with his family and friends. But eventually, ICE came for him, too. He arrived in Cambodia in 2004.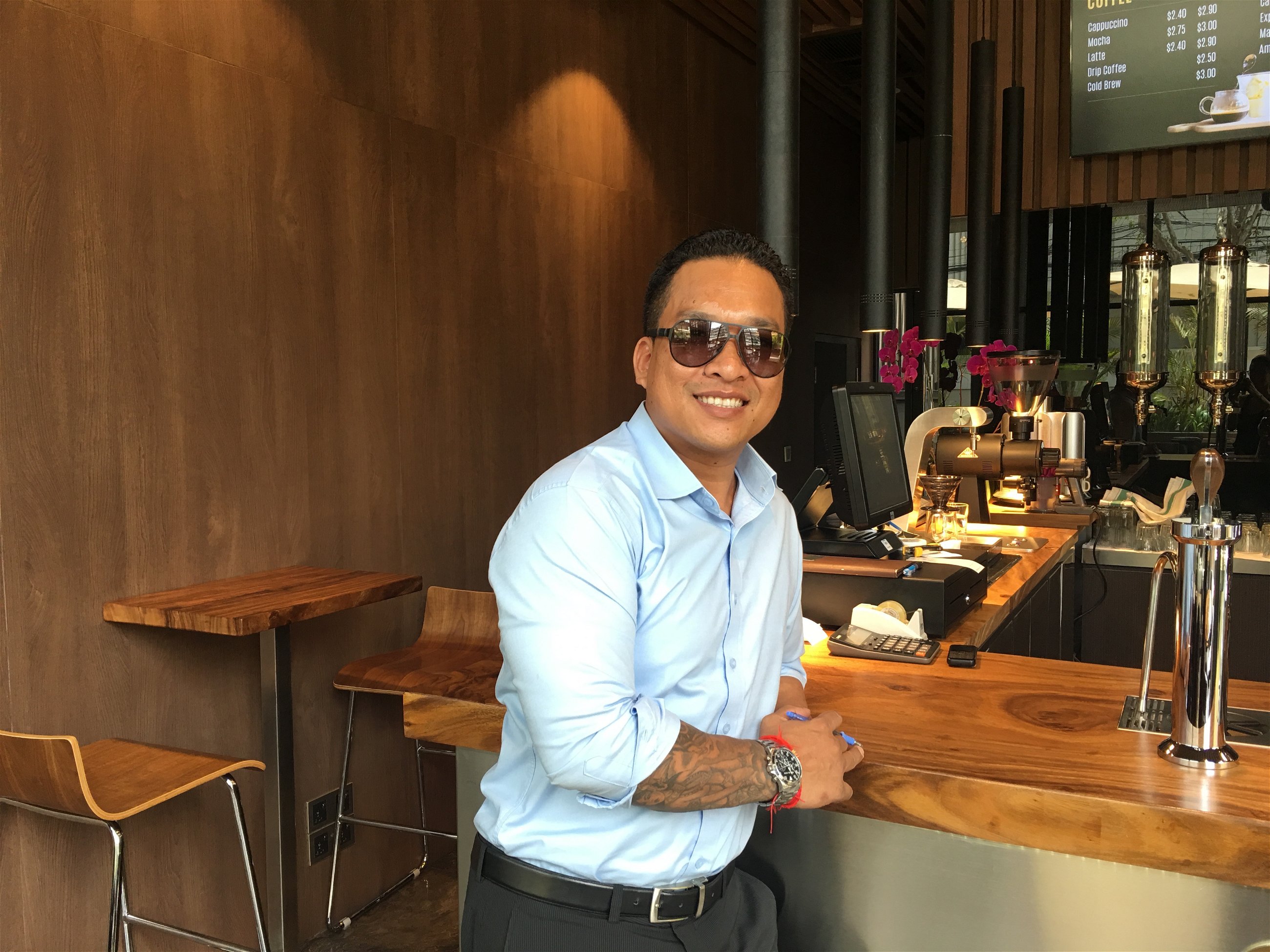 "When I landed over here I was in shock," he remembers. "I was like, what am I going to do? This place is hot, it's so dusty, where do I get a Snickers bar around here?"
Traumatized and looking for support, he immediately reached out to other deportees.
He now works in marketing and hospitality and uses the Cool Lounge as a meeting spot to discuss the issues affecting his community.
Many of the patrons at Cool Lounge, deportees from Kentucky, Minnesota, and a handful of other U.S. states, greet each other like old friends. Everyone is a regular. As they sip the weak $1 beer ubiquitous in Cambodia, their American English mixes with the occasional word or phrase in Khmer. The rap music pours out of a nearby computer.
"We want to change the policy," Wicced says. "The fact that you're not allowed to be somewhere to see your family is unreal. What kind of a rule is that? Kids are losing their fathers and mothers. This is tearing families apart."