Beethoven Could Do Worse Than Shilling for Bread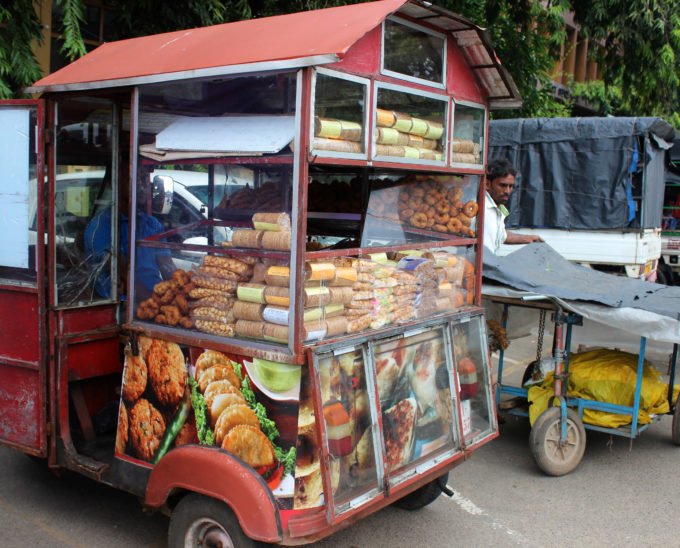 Beethoven Could Do Worse Than Shilling for Bread
Bread in Sri Lanka
In Colombo, at my otherwise peaceful homestay, I was woken up one morning by a tinny rendition of Beethoven's "Für Elise." I thought it was just an annoying sound effect from a passing car, so I tried blocking it out to get back to sleep.
A few hours later while I was out walking, I heard the music again, and realized it was coming from a tuk-tuk: one of Sri Lanka's three-wheelers, or auto rickshaws. It was like the regular tuk-tuk that I had been taking for my commute, but this one had something extra: the back of the vehicle had been converted into a glass showcase displaying an impressive variety of breads and pastries.
My first encounter with Sri Lankan paan (bread) was in Galle, the fort city on Sri Lanka's southwest coast. At a small bakery I picked up a malu paan, a triangular bread stuffed with fish. The soft, egg-washed crust of the sweetish bread with the spicy filling got me hooked.
Naturally, I was intrigued by the bakery tuk-tuk. I bought an egg bun: basically, a hot-dog bun with boiled egg and onion filling. As I ate my snack, I got talking to the owner, who told me that he and his wife made all the bread and pastries. He had roast paan a (rustic white loaf, used to mop up curry); breads filled with spicy sambol and dry fish curry; egg roti; chicken buns stuffed with chicken sausage; and even sweet buns with a cream filling. He leaves his house early each morning and does rounds in different parts of the city until he sells out.
These choon paan ("tune bread" vendors) are a common sight all over Sri Lanka, particularly in the smaller towns and villages. The vendors get on the road as early as 5.30 a.m., and can be spotted on the streets throughout the day, often announcing their presence with an electronic version of Beethoven's 1810 masterpiece. Sometimes they also use "Jingle Bells" or "It's A Small World (After All)" but "Für Elise" seems to be the classic option.
The next time I woke up to Beethoven playing on a loop, I knew it was time to leap out of the bed and rush out for some stuffed bread.