This stretch of pristine sand beach in Sri Lanka is a tourist's dream. But as Marco Ferrarese discovers, it also has a dark side.
It's an open-air massacre. Heaps of shiny, mutilated carcasses extend from me to the pier. The stench is unbelievable, as if two rubber-gloved fingers smeared with rotten fish paste were digging up my nostrils. But it's not just the smell that turns my stomach. It's the knives. Manoeuvred by expert hands, they slash off the fins, the most valuable part, leaving stark, bloodless holes in the dead creature's lucid skin.
Standing here with rivulets of water and blood running between my legs makes me almost forget that just down the coast is an idyllic stretch of ochre sand called Bentota Beach. Forty miles south of Colombo, Sri Lanka's capital, and a stop on the way to the charming walled heritage town of Galle, Bentota is one of the country's most famous beach resorts. A string of five star hotels presides over the dark waves of the restless Indian Ocean, and what remains of the once-dense palm tree forest separates the swimming pools and al fresco patios from the bare sand.
But there's a dark secret hidden beyond the sun bathing lounge chairs and tan lotion—something lurking in the shadows of the local markets that bestow fresh fish to the buffets served daily at the swanky resorts. This dark side is something the Russian and other international tourists resting their reddening bodies on lounge chairs while their offspring run around the beach will never see.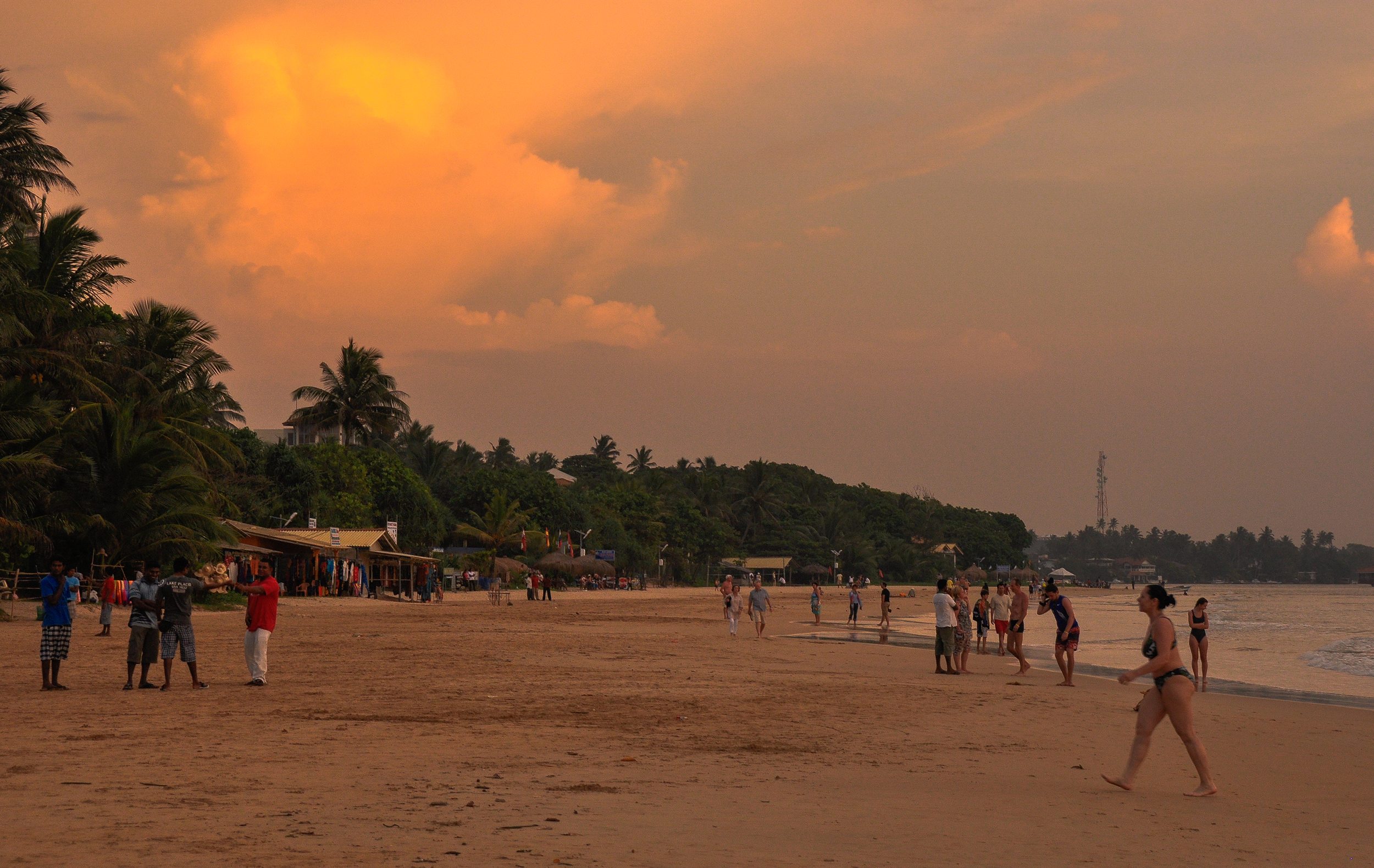 In fact, this part of Sri Lanka has always been a safe haven, even during the civil war in the northern part of the country between 1983 and 2009. Fuelled by tourism, Bentota prospered along with the southern coast, providing jobs to many needy locals.
Saman, a father of two in his early thirties, is one of them. He works behind one of the resorts' bars, dressed in a tidy red velvet vest and a long sleeved white shirt.
"Welcome to Sri Lanka," he says with a broad smile. Saman lives in Aluthgama, a few miles north along the Bentota coast. He works at the resort to support his wife and two children, but his heart is elsewhere. In fact, during low season he manages the local activities of the Swiss-Italian NGO Helianto by aiding the development of his district's primary schools. He also drives the NGO's auto rickshaw, shuttling locals between Aluthgama and Bentota in his spare time.
As I am visiting on behalf of Helianto and staying at Saman's house. One morning he proposes we visit the market and buy fresh fish for lunch. "My wife will cook for you," he says."As curious as you are, you'll be happy to visit our market. It's not easy to access on your own."
We pile into his small auto-rickshaw and drive the short distance to the market. Saman is right: The market's entrance is fenced off. He approaches a grumpy old man sitting behind a glass window. Around us, the twirling staccato of Sinhala, the national language, stops each time Saman turns to point at me and my Malaysian fiancée, the odd couple at the market. Soon enough the grumpy guardian strolls into the sweltering mid-morning sun. He reaches for a pole and pulls a chain, giving us access to the compound.
Standing barefoot in a thick layer of sea slime, blood, and entrails
Across from the entrance, a line of wooden stalls buzzes with hands exchanging rupees for paper packets filled with fish of all shapes and sizes.
"Come, let's choose our lunch," Saman says, guiding us through the crowd and picking through the dead fish on display.
Something catches my eye over in the market's corner. There, the market's concrete expanse juts into a not-so-visible dead-end street running between a row of storage rooms and the sea.
"What is that place, Saman?" I ask.
"The docks," he says, his voice sounding a bit anxious. "It's better if we go now, my wife is waiting for us to start cooking."
But I'm drawn to the line of moored, beaten-up bumboats and the people shuttling tanks from their decks into waiting trucks. They move around a group of oblong, dark objects I can't discern as workers wash the floor around them with rubber hoses. They look like soft and useless missiles.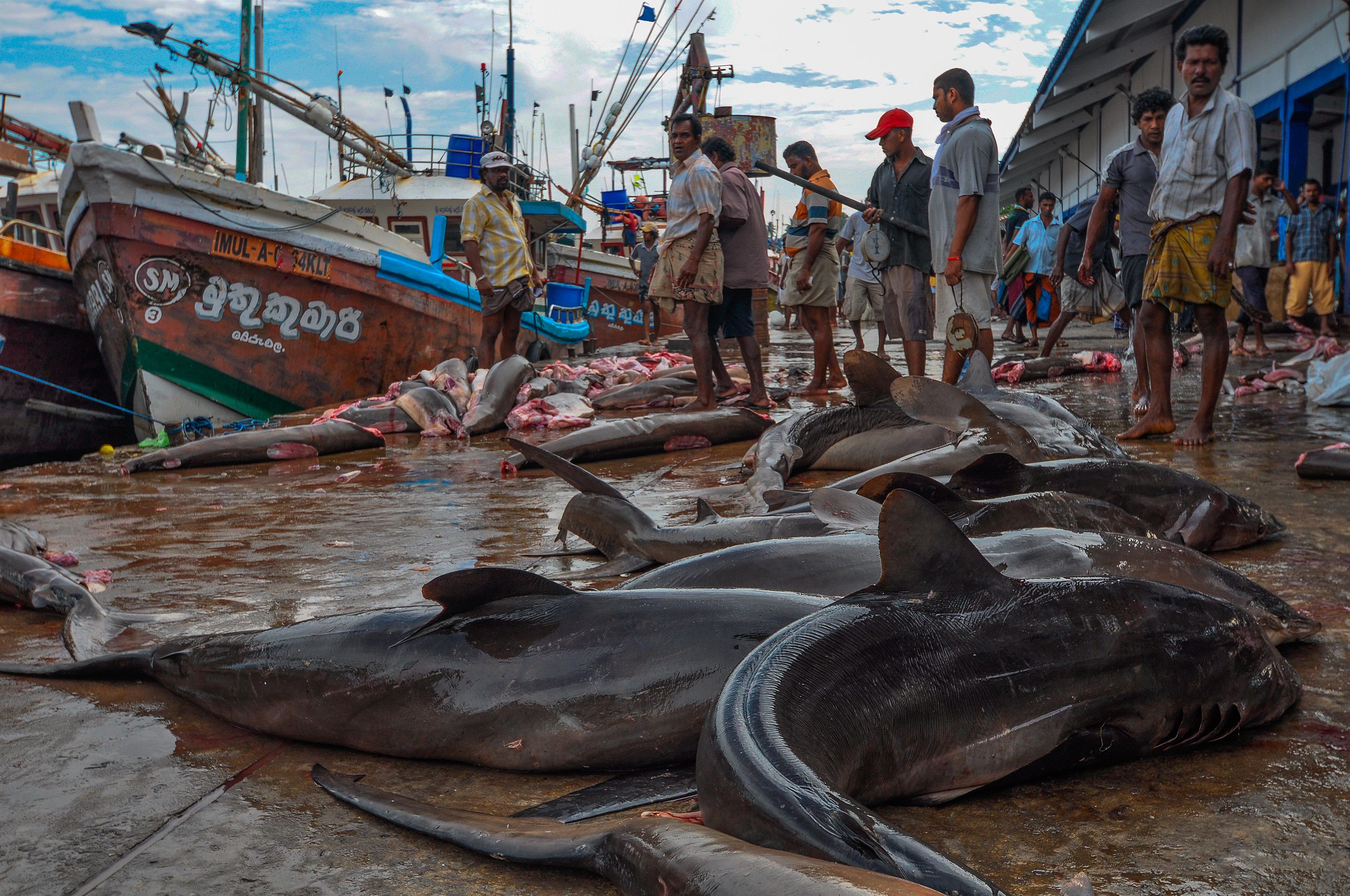 As I get closer, the smell becomes almost unbearable. When I reach the first bumboat, the pavement is a slippery mess. A barefoot man is hosing it down, sloshing away red swaths of blood. I finally understand that the floor is littered with dead sharks. They are moored to the pavement like shiny black toy boats without batteries, their heads dried and shrunken. I understand why. Grains of white salt flicker off their skin as a group of workers pulls the carcasses out of a hole in a bumboat's deck. The sharks have been preserved in salt inside of the boat.
Slung on the concrete dock, they await more post-mortem torture. Standing barefoot in a thick layer of sea slime, blood, and entrails, a man holds a machete in his right hand as he grabs the front knot of his sarong with his left. He approaches the mounting row of sharks, bends down naturally, and slices the fins off with quick thrusts of his blade. The severed appendices are thrown mechanically into a pile.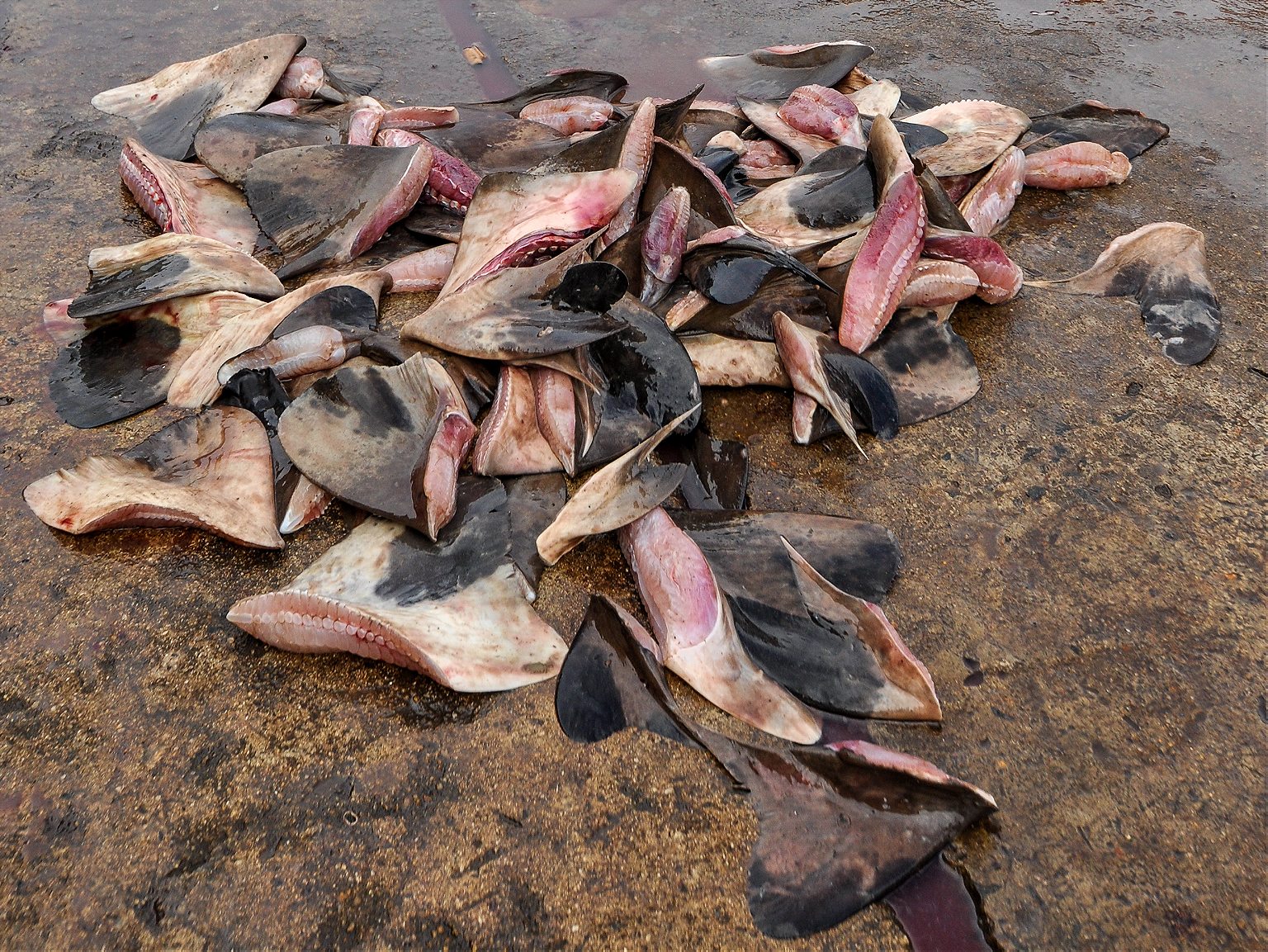 Saman grabs my right elbow as I look on in horror.
"You shouldn't be here… I promised to the guardian."
"What is this?" I ask.
Saman explains that the bumboats ply the Indian Ocean as far as the Bay of Bengal and Andaman Sea. These men leave their families to live at sea for months, hunting for sharks and other exotic, expensive fish. Not far from where I'm standing, two giant manta rays lay slaughtered on their backs, leaving their rib cages exposed.
"Shark fins are of course the most valuable," Saman says. "They are sold to China, Taiwan, Korea, Japan… The Chinese especially love it. It's very good business for Sri Lankan people."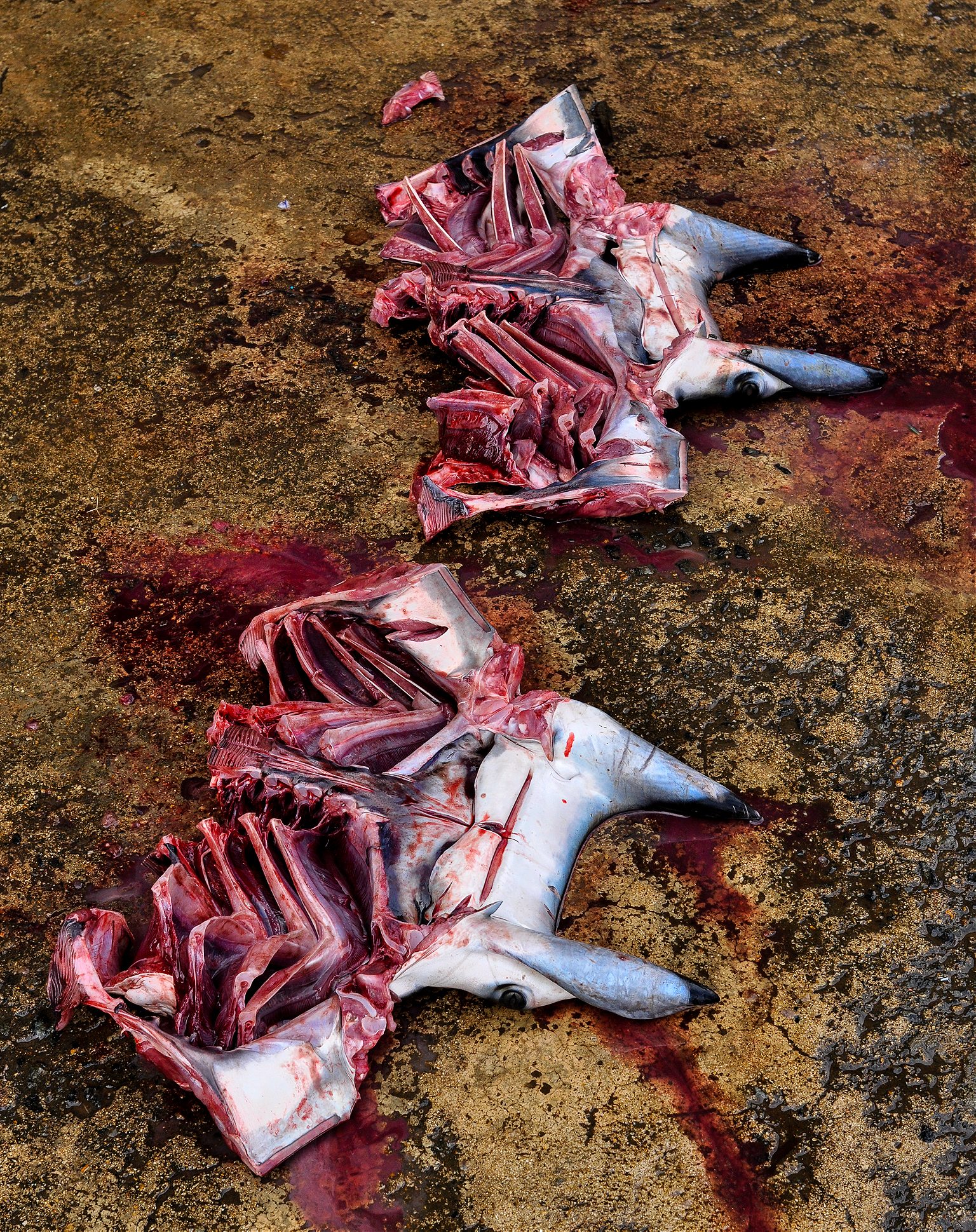 Sri Lanka ranks 14th out the 20 countries that account for 80 percent of the global shark slaughter. Nations like Indonesia, Spain, India, and Taiwan make up about 35 percent, while Sri Lanka's individual contribution is only about 2.4 percent. But considering the island nation's small size of and tiny fishing fleet, it's still a very significant number. On top of that, besides the more common silky sharks, Sri Lankan fishermen regularly catch the endangered thresher shark, despite a governmental ban.
The problem, Saman explains, is that there is very little use for the rest of the shark's body. Most carcasses are thrown to the dogs or hauled back on the bumboats and tossed back into the sea.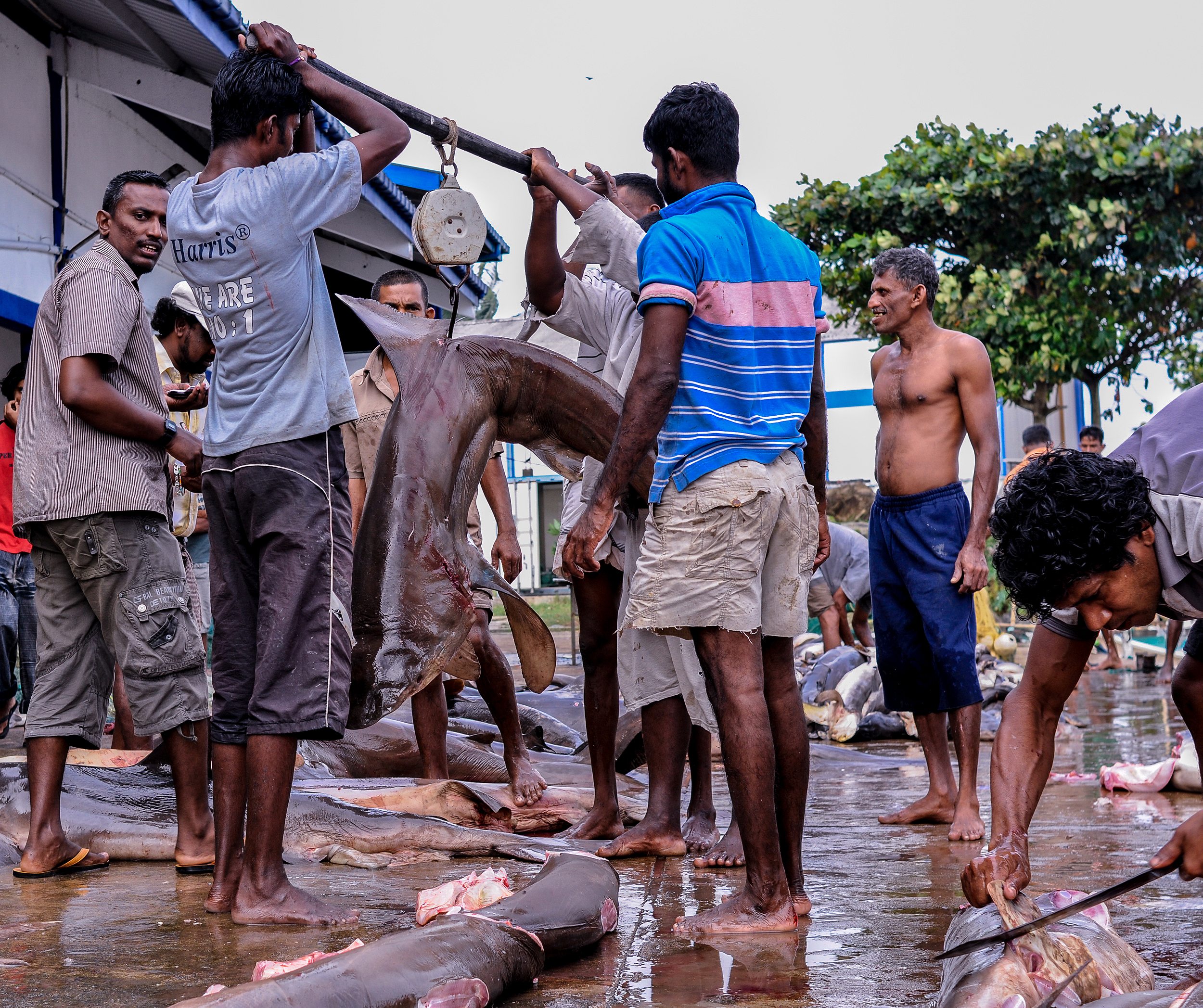 A young man in a Rastafarian hat and short dreadlocks notices us and points in our direction. All eyes are immediately upon us. I stagger back, preparing to run, but then the workers smile. They start posing for pictures as they lift up and tie the dead sharks to a weighing machine to impress us intruders. These men provide the vital marrow to the backbone of the international shark fin trade. It's just one of the necessary things that less fortunate Sri Lankan men must do to support their families.
"My wife is waiting," Saman says, tugging at my arm. I can see that he's uncomfortable. "Let's go now please."
I follow Saman past the pile of severed shark fins back to the market and it's less exotic selection of fish. As I climb back into the trishaw, I think that shark fin aficionados should come here themselves before slurping a bowl of their guilty pleasure, to see for themselves the source of the slaughter.