Sri Lanka's latest crop of fine-dining restaurants cater to an exploding Chinese influence, but it's not all about beaches and bao.
The pidan was the first surprise in an evening full of culinary revelations. Trying preserved eggs had never featured high on my bucket list, so I approached the dish with trepidation. Small wedges of transformed duck eggs soon appeared at our table. Months of curing had turned the whites a gelatinous, translucent brown, while the yolks had acquired a (not terribly appetizing) gray hue. I braced myself for the punch of ammonia mentioned in every description of pidan I had ever read. But it never came. Instead, paired with a feisty accompaniment of sweet pickled ginger, the pidan acquired a deliciously complex flavor.
As the evening wore on, the hits kept coming. There was moist, marinated duck served with a garlic and vinegar laden sauce, reduced until it was punchy and full of flavor; char siu bao, or fluffy, steamed pork buns filled with sweet barbecued meat; and an unexpectedly decadent dessert of mantou, or steamed bread dipped in condensed milk. A refined Chinese meal of this caliber might not be unusual in Hong Kong or Beijing or New York. But we were dining in a part of Asia better known for its beaches than its bao: Sri Lanka. The capital city, Colombo, is full of endearing quirks, but I had never imagined it would be here that I would experience a lesson in the sophisticated flavors of authentic Chinese cuisine.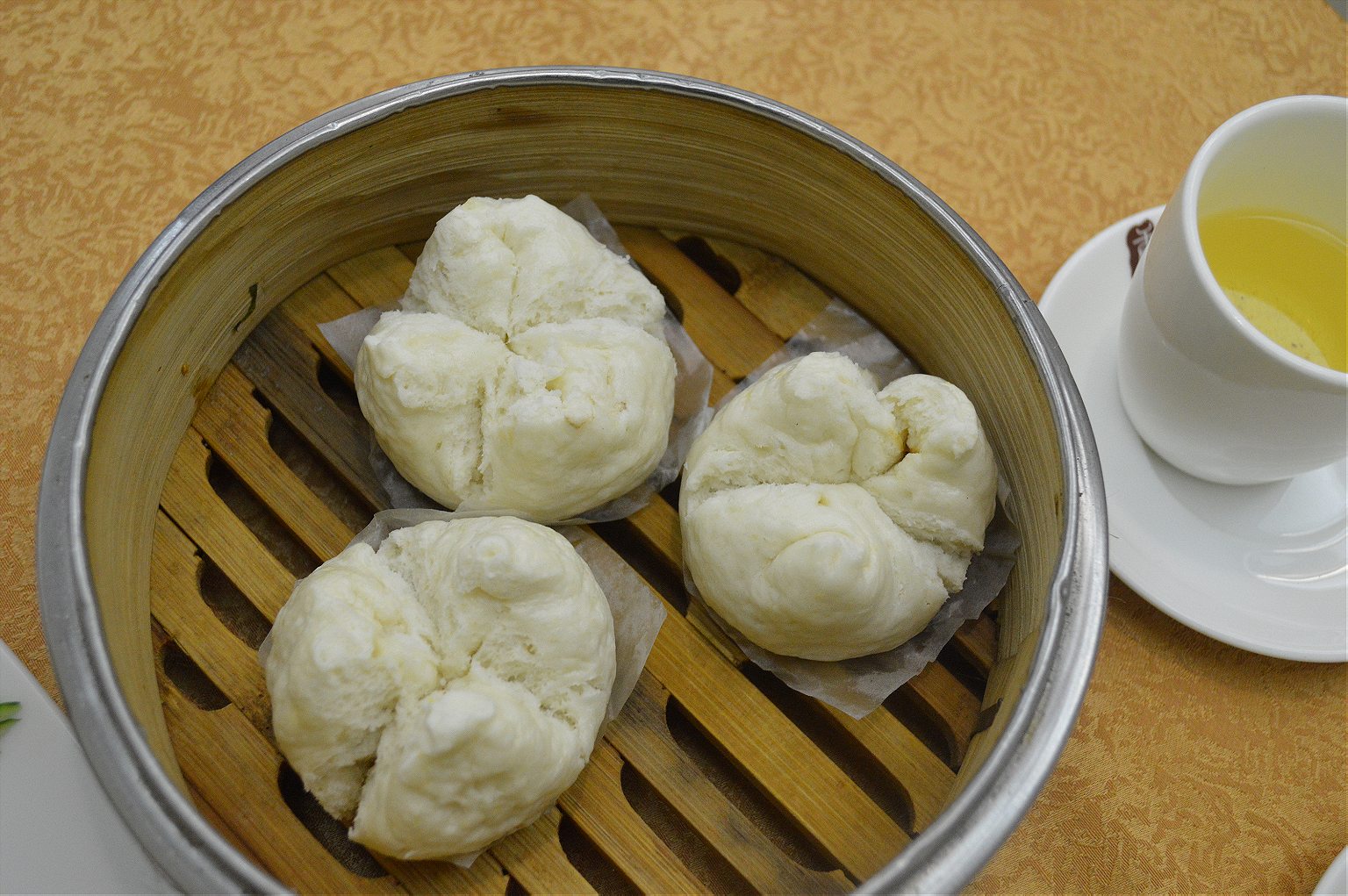 That meal—at Tang Dynasty, an upscale restaurant that opened in 2014—opened my eyes to a new aspect of this rapidly evolving city. Quietly, over the past several months, a crop of Chinese restaurants has taken root in Colombo, offering a markedly distinct take on a cuisine that has always enjoyed runaway popularity in the country. This new wave of restaurants is not exclusively preoccupied with serving Chinese food as appropriated, modified—and loved—by Sri Lankans. Instead, the focus is on an audience that is intimately familiar with the complex, nuanced, and sometimes misunderstood flavors found throughout China. It is Chinese cooking calibrated to appeal to the rapidly booming Chinese community in the capital, consisting of expatriates and tourists in equal measure.
To underscore just what differentiates Tang Dynasty and its ilk from the rest, it's important to understand the place that Chinese food has traditionally enjoyed in Sri Lankan culture. Chinese has always been the go-to for Sri Lankans looking to dine out. In the 1940s, around the time Sri Lanka gained independence from the British (and the outbreak of the second Sino-Japanese War), Chinese immigrants from the Shandong province in east China are believed to have set up the first Chinese restaurants in Colombo. Originally itinerant silk merchants who used the maritime route to travel between India, Sri Lanka, and China, some of these traders chose to put down roots in Indian cities such as Bombay and Calcutta, while a few drifted southwards to Sri Lanka. Although the number of these original settlers has dwindled to a couple hundred, they stoked a lingering local fascination with Chinese cuisine.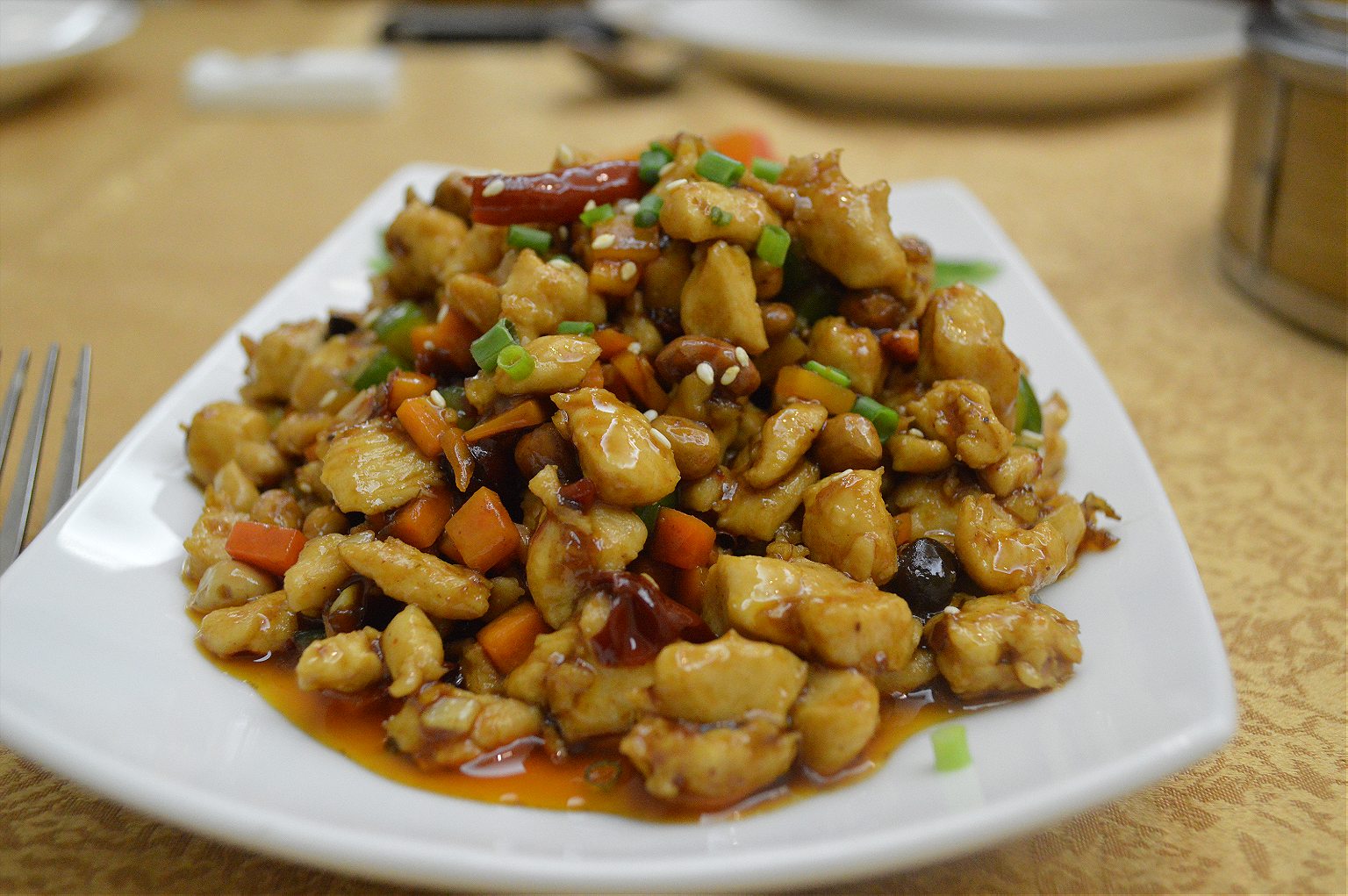 "Back in the 1970s, when we had very few choices in terms of restaurants, Chinese was the most widely available option," says sociologist Dinusha Wickremesekera, explaining the loyalty that most Sri Lankans feel towards the cuisine. Over time, this fondness has transformed Chinese food from an occasional treat to a commonplace part of everyday life.
Even the pokiest kade, or food stall, in Colombo is likely to have its own spin on fried rice, and the "lunch packets" popular among office-goers are just as likely to feature fried rice and chicken flavored with soy sauce and chili as the Sri Lankan staple of rice and curry.
Sri Lanka has fine-tuned its own version of Chinese food. Like American-Chinese or Indian-Chinese food ("Chindian," as it is popularly known), Sri Lankanized Chinese food is a genre-bending hybrid, offering an imaginative interpretation of Chinese cuisine. Take hot butter cuttlefish, the (delicious) poster child of Sri Lankan Chinese food. The dish features deep-fried, golden-brown rings of battered cuttlefish or calamari tossed in a sauce made of butter, garlic, and chili paste, and crowned with spring onions, fried cashew nuts, and even curry leaves on occasion.
"A Chinese chef would never recommend that you deep-fry anything, especially seafood," says Eddie Yuen, a Hong Kong-based expat currently living in Colombo, shaking his head in disapproval at the thought. Indeed, most Chinese chefs would balk at the trifecta of ingredients that are integral to Sri Lankanized Chinese food: oil, usually to deep fry; chili flakes or paste to dial up the heat, and sugar, to satisfy the national penchant for a little sweetness to go with spice. Even the local iteration of Chinese chili paste comes with a generous heap of sugar.
WANG DID NOT COME TO COLOMBO TO START A RESTAURANT
Yet, despite its shaky hold on authenticity, Sri Lankan Chinese food has endeared itself so deeply to local palates that most Chinese restaurants in Colombo make sure that they include more than a few favorites on their menus. It makes sound business sense. In this sea of sameness, the new arrivals clearly stand out.
Like many others, Derrick Wang did not come to Colombo to start a restaurant. The 30-year-old Beijing native, a telecom engineer by training, first visited Sri Lanka three years ago as part of the Chinese firm Huawei Telecom. After spending time here looking for restaurants that served the kind of food with which he was familiar back home, Wang realized that there was a demand waiting to be met. "I saw that Sri Lanka has a very big market for Chinese food," he says. "Sri Lankans love Chinese food, plus more and more Chinese people are living here and visiting as tourists." Deciding to wager on his hunch, he resigned from his position at Huawei and sunk his teeth into the restaurant trade, despite having no prior experience. In August 2014, he joined hands with a team of Chinese chefs who had spent many years working in Sri Lanka. By December last year, his restaurant, Grand Beijing, had opened in a renovated two-story bungalow in the very heart of Colombo.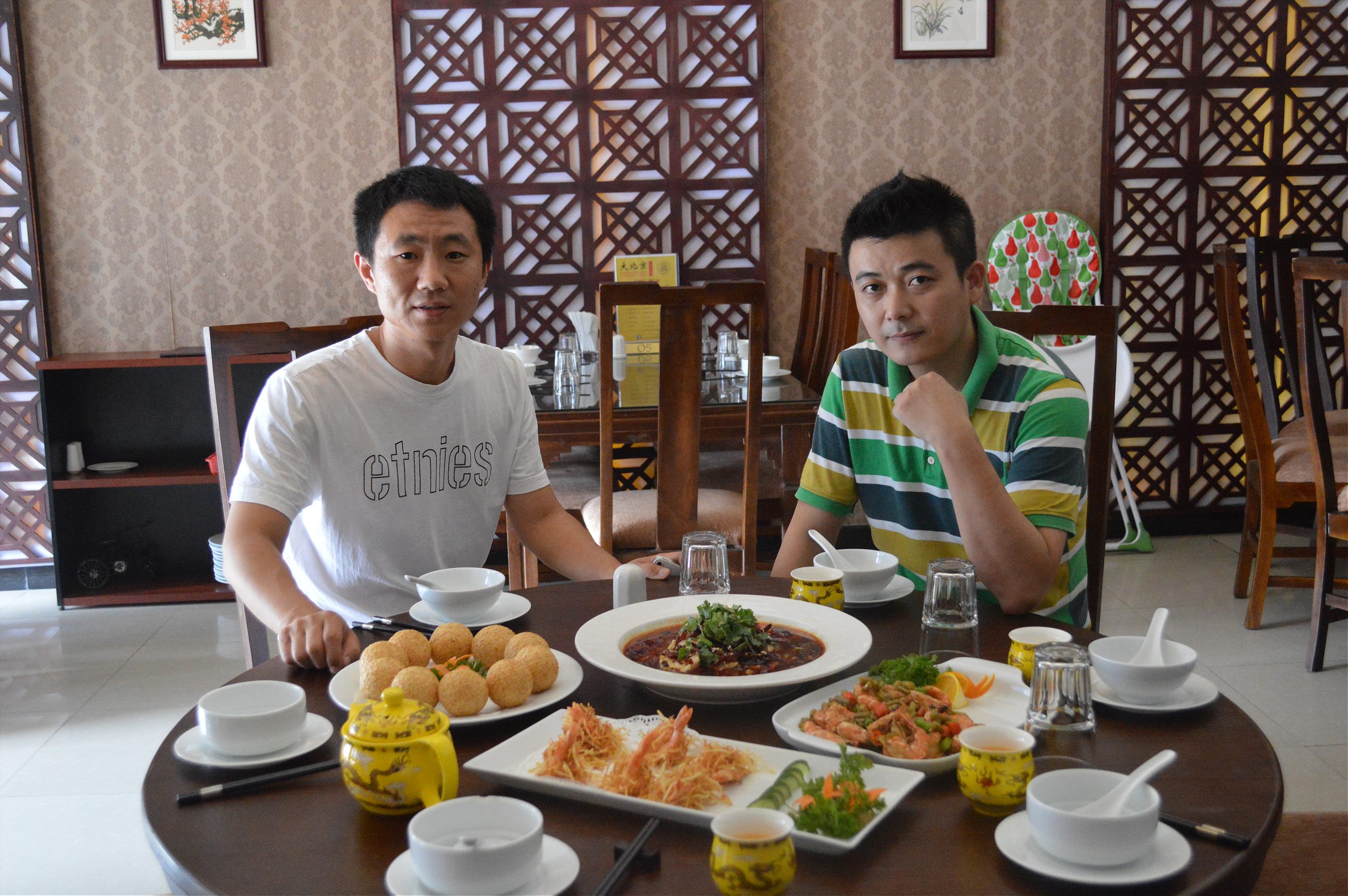 Spacious and brightly lit, Grand Beijing has bucked the trend of excessively ornate décor that unites most old-school Chinese restaurants in the city. Recognizably Oriental yet fittingly modern, the 200-seat restaurant is almost always full, especially in the evenings, with Chinese tour groups trooping in for dinner by 6 pm. Like other Chinese restaurants here, Grand Beijing's menu is hefty; large pictures accompany the descriptions of the dishes, written both in English and Chinese. There is much on the menu that would be unfamiliar—even daunting—to local palates. From marinated ox tongue and spicy pork ear to pickled chicken feet and braised sea cucumber, it pays homage to both exotic ingredients and entrails. Although local hits such as fried rice, sizzling bean curd, and kang kung (water spinach) with garlic are also well represented, it's clear that Wang and his team of chefs have made an effort to satisfy their Chinese clientele.
Just when and why did Chinese customers become so important to Sri Lankan restaurateurs? The answer lies in the years that followed the end of Sri Lanka's 30-year-long civil war in 2009, when the country's former President Mahinda Rajapaksa began to forge an economic and political alliance with China. A number of Chinese public and private sector companies and financial institutions became heavily involved in key infrastructure projects in Sri Lanka, including a new airport and commercial port in the southern city of Hambantota; the Southern Expressway, linking the capital with the coastal cities of Galle and Matara; and the Colombo Port City, an ambitious, ongoing project to build a planned offshore city on reclaimed land. A large Chinese workforce arrived in the country to supervise and work on these long-term projects and stayed.
In addition, more Chinese tourists are visiting the country now than ever before. According to statistics provided by the Sri Lanka Tourism Development Authority, Chinese tourist arrivals grew by a whopping 136 per cent in 2014 as compared to the previous year. Some experts predict that Chinese tourists may well outnumber Indian and British visitors to bag the top spot this year. "We have partnered with tour agents, who bring groups of tourists to the restaurant," says Wang of Grand Beijing. "We receive nearly 1,000-2,000 tourists every month." Clearly, this is an audience that restaurateurs cannot afford to ignore.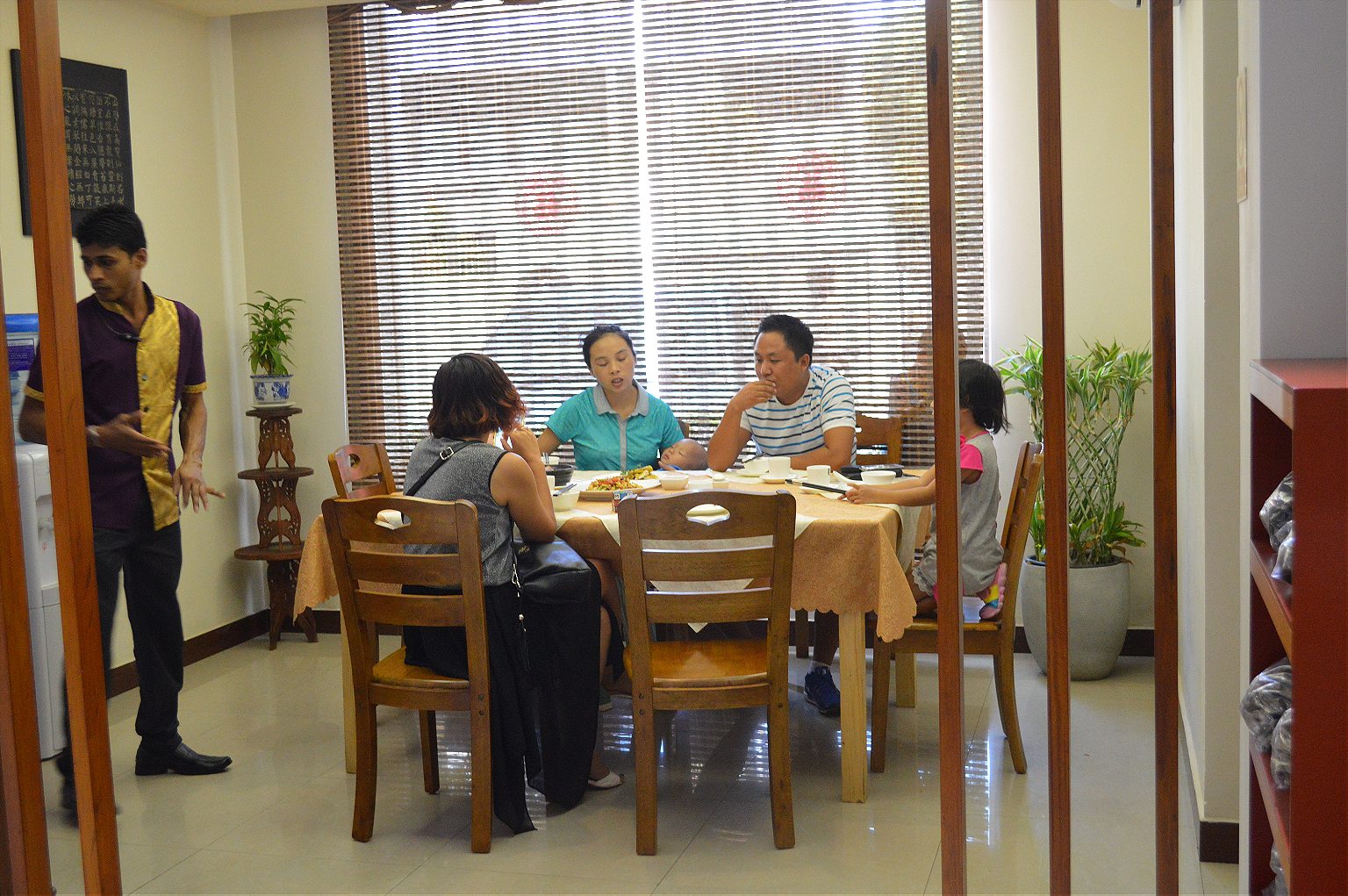 Eager to reach out to Chinese customers while also staying true to Sri Lankan preferences, some restaurants have found a middle path: offering two separate menus. At Yue Chuan, the Chinese restaurant at the five-star Kingsbury Hotel, for instance, diners can choose between a Sichuan/Cantonese menu and a "fusion" one. Even though the restaurant is nearly two years old, the twin-menu concept was only introduced in March this year. "Earlier, we had only one menu, which had a representation of authentic Cantonese and Sichuan dishes," says Dinithi Somaratne, the hotel's public relations manager. "But then we found that people were spicing it up and ruining the dish in the process. So we decided to leave the authentic dishes alone and give [diners] a spiced-up version."
The fusion menu features dishes such as deep-fried prawn balls with sesame, deep-fried hot butter cuttlefish with chili, sweet-and-sour fish with pineapple and ma po tofu, while the Sichuan/Cantonese menu includes salted chicken, black fungus salad, steamed prawns with garlic, boiled fish in hot chili oil and century duck eggs in ginger sauce. Somaratne believes the strategy of crafting different menus has worked in the restaurant's favor. "Both the menus are equally popular. Besides, we are witnessing a crossing over [of taste preferences]. Chinese diners are keen to try the spicy version, while Sri Lankans are beginning to try the authentic stuff."
While the emergence of a Chinese culinary subculture is great news for Colombo for the most part, the eagerness to pander to foreign tastes also poses some troubling ethical questions. In addition to the exotic seafood such as sea cucumber and abalone that is widely available throughout the city, nearly every restaurant I visited also offered shark fin soup on the menu (with a few exceptions, including Yue Chuan). Traditionally perceived as a status symbol and served as a show of wealth at Chinese weddings and banquets, shark fin soup witnessed an upsurge in popularity in the early noughts. But in recent years, an austerity drive by the Chinese government and awareness campaigns by conservationists have led to a significant drop in shark fin sales in mainland China. However, restaurants in Colombo continue to serve the dish, and few people seem comfortable discussing the subject.
"Very few Chinese tourists order shark fin soup," says Wang. Yet it continues to remain on menus, with a large portion going for anywhere between 1500-3000 LKR (about $11-$22)—expensive by local standards, but a bargain considering that a bowlful can cost up to $100 in China.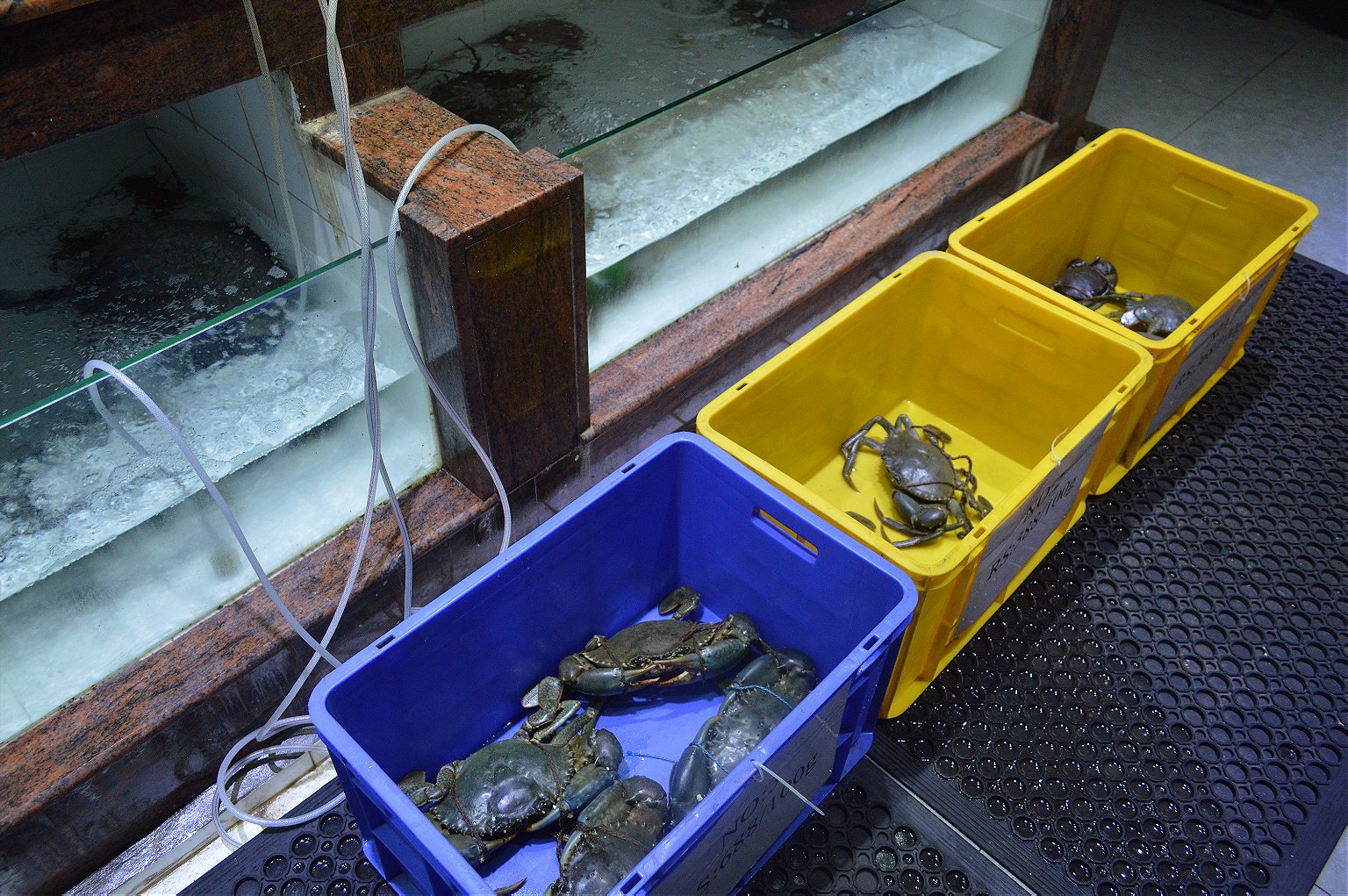 Other questions have also cropped up, which may impact the future of Colombo's new Chinese restaurants. In March this year, the newly elected government (which was voted into power the previous month), temporarily put the brakes on the $1.4 billion Colombo Port City project to investigate allegations of corruption and inadequate environmental clearances. Some analysts read the suspension of the project—the most expensive one to be funded by the Chinese—as a sign of changing ties between the allies. While it's unlikely that these developments will have any immediate impact on the new Chinese restaurants in Colombo, the future is less certain.
For now, at least, it's business as usual. At Tang Dynasty, there is a steady stream of diners occupying the tables on the ground floor. Waiters wearing discreet headsets mill around the tastefully decorated room, taking orders and offering suggestions. While keeping an eye on the 12 closed-circuit cameras in his office and issuing instructions to his staff using his walkie-talkie, Liu Hao, the general manager of the restaurant, takes me on a tour.
The top two floors of the three-level space are dedicated to private dining rooms— a common feature among several Chinese restaurants in Colombo—and VIP rooms for those willing and able to splurge. The private dining rooms cost 20,000 LKR ($150) to rent for groups of 6 to12 people, with a limited selection of food, while the VIP rooms, which can accommodate 15 people, cost 50,000 LKR (about $370). When I visit on a weekday evening, most of these rooms are occupied by 6 pm.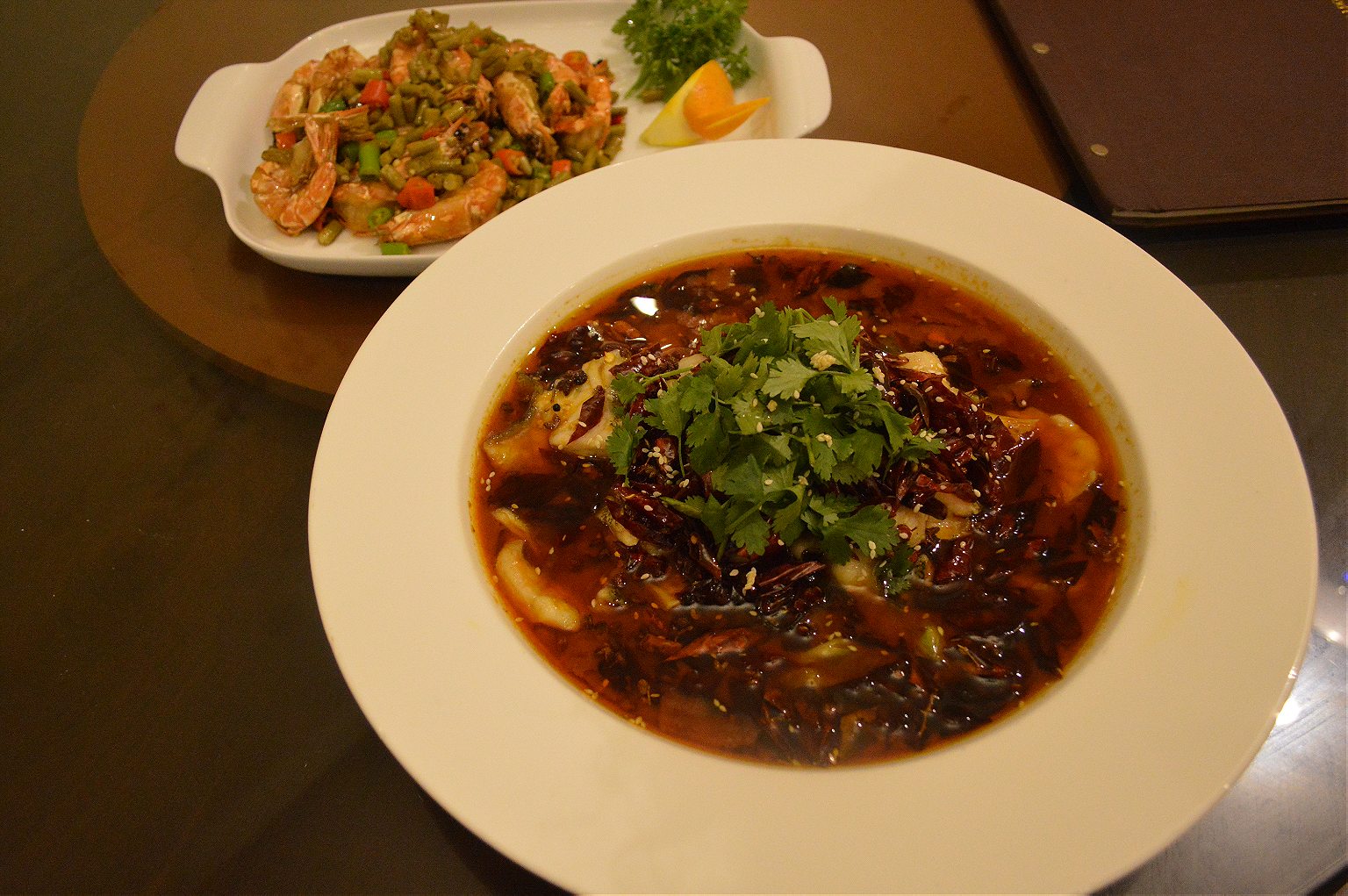 It's clear that this is a sleek operation. But I'm here for the food, so I order a few dishes, including shui zhu yu, the Sichuan specialty of fish fillets in hot chili oil. Small pieces of boiled fish come submerged in a large pool of bright red oil generously speckled with dried red chilies and Sichuan peppers. Despite its fiery appearance, the fish is surprisingly subtle—that is, until the slow burn of the Sichuan peppers set in.
As beads of sweat form on my forehead, I reach for the mantou, the deep-fried version of which I am trying this time around. I tear a piece of the crisp, golden-brown bread that has arrived fresh off the fryer, dip it into the bowl of condensed milk and take a bite. As the perfect combination of carbs, sugar, and fat casts its spell, I feel immensely grateful that I don't need to hop on a plane for my next fix. It's just around the corner from home.