It Tastes Like Shit, But This Is What We Drink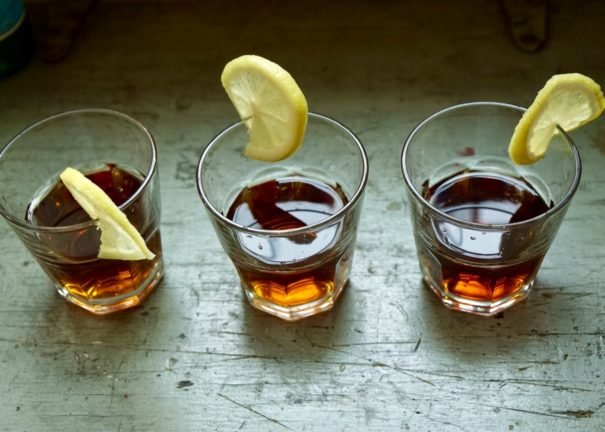 It Tastes Like Shit, But This Is What We Drink
Pelinkovac on the Dalmatian Islands
By the fifth day of clear skies, calm waters, electric-blue swimming holes, and fiery sunsets over the Adriatic, I questioned whether I chose the appropriate vacation. Initially, a week on a boat sailing the Croatian coast sounded perfect. The ideal way to soothe post-breakup blues, I thought. And it was perfect. The best week-long stretch of unblemished weather our captain had seen in years. That's not what I needed. I longed for simply a wrinkle, the slightest tear, in the flawless façade to prove that the universe wasn't mocking my misery.
Then on a small terrace bar on the Island of Vis, the most remote of all the Dalmatian islands, our captain Toni summoned the owner. The older gentleman who spoke no English returned minutes later with a tray of small glasses filled halfway with amber-hued liquor and garnished with lemon.
"It's Pelinkovac. The most famous drink in Croatia," Toni boasted.
The six of us, strangers just days ago, now cozy companions after living together on a small sailboat, raised our glasses for a toast. "živjeli."
The youngest of the group slammed his glass down after the first sip. "This is the worst thing I've ever tasted," he quipped while his face twisted as if in pain. At 22, I imagine there is much worse still ahead for him to taste.
I continued drinking. The astringent, herbaceous first notes gave way to hints of citrus and even a slight sweetness. It was strong, but not caustic. When I finished my glass, I threw back the remainder of my travel pal's unfinished shot.
Pelinkovac dates back centuries. A concoction of wormwood and herbs from the Velebit mountains, its use was originally medicinal—a panacea predating prescriptions. Now it's the drink of choice for the region.
Around us, locals of all stripes, from salty fisherman to Croatian women in impossibly high heels headed to the club, all put away an early-evening glass of the bitter liqueur.
D, the high-intensity guide who led us through the abandoned remains of the island earlier in the day sat down and took the last glass. In three or four gulps, it was gone. Curious about Pelinkovac's appeal, I asked him why he drank it. He spoke as quickly as he drank. Born and raised on the island, which was closed to outsiders (foreign and domestic) until 1990, he didn't mince words.
"Before dinner, after dinner, before going out, washed down with beer. You drink it always. It tastes like shit but this is what we drink."
The rest of the group moved on to the crisp, Croatian white wine we had been sipping all week. It was smooth with a nose reminiscent of the nearby Adriatic. It went down easy.
I opted for one more glass of Pelinkovac. It was the bitter medicine I needed to balance out a week in paradise.