In Bosnia-Herzegovina, football won't easily mend the chasms created by mortars and massacres.

There is a natural desire, on the part of everyone from pundits to fans to football bureaucrats, to exult in the power of the World Cup to unify.
This is especially true in Bosnia-Herzegovina, which is making its World Cup debut next month. Writing for Sports Illustrated, Jonathan Wilson noted that "tens of thousands of fans of all ethnicities took to the streets of Sarajevo to celebrate Bosnia's qualification for World Cup 2014 […] There, general delight suggested that something unexpected and beautiful had occurred, and it hinted at a possible future unity." Inevitably, the focus of much of the attention will be on how this divided country's qualification for a World Cup has united the entire nation after nearly twenty years of post-civil war rehabilitation. "A few years ago you could not imagine Bosnians, Serbs and Croats supporting the team, but that could change now," Bosnia-Herzegovina coach Safet Sušić was recently quoted as saying in an article pointedly titled "Bosnia goes from the battlefield to the World Cup."
But on the ground in Bosnia-Herzogovina, it looks for all the world like Sušić is wrong. Within the country, one can hardly fail to notice the evidence of disunity. It's not just that reminders of civil conflict are unhappily commonplace – the pockmarked buildings, the improvised graveyards that were once public parks or, in summer, the unnervingly routine glimpses of scars on uncovered legs or arms. Even if one wished to forget, scrawled slogans and subtle plaques alike make forgetting impossible. But it's also that the contemporary segregration is so strong, and—unfortunately for Sušić and other cheerleaders of comity—so deeply enmeshed in football culture here.
***
Identity remains hugely significant in Bosnia-Herzegovina. The country is an uneasy federation of nations that came into existence as a result of the breakup of a similarly uneasy federation: Yugoslavia. Though many in Bosnia-Herzegovina never wanted Yugoslavia to collapse, plenty of others did, convinced that they would be better served by being part of an entirely different country, namely either Croatia or Serbia. Some Bosnian Serbs and Bosnian Croats resent the fact they are forced to be citizens of a country with which they do not identify.
Moreover, to many nationalists throughout the country, internal divisions are not just "ethnic", but also religious; Serbs are Orthodox, Croats are Catholic and Bosniaks are Muslim, and elements within each group would have it that ne'er the three shall meet. From the embers of a war where religion denoted nationality as much as anything else, Bosnia-Herzegovina emerged in the eyes of some as an "Islamic" state distinguished from "Catholic" Croatia and "Orthodox" Serbia. To those who would oppose it, therefore, the football team of Bosnia-Herzegovina is essentially a manifestation of an Islamic identity they do not share.
"The snow fell in November 1995," wrote Bosnian journalist Saša Ibrulj in 2013, "as Bosnia-Herzegovina prepared to play their first ever official international match on the last day of the month, nine days after the Dayton agreement. The country was still divided, and so was the football. The Football Association formed the league, but it was not able to include clubs from parts of the country where the majority were Bosnian Serbs or Croats."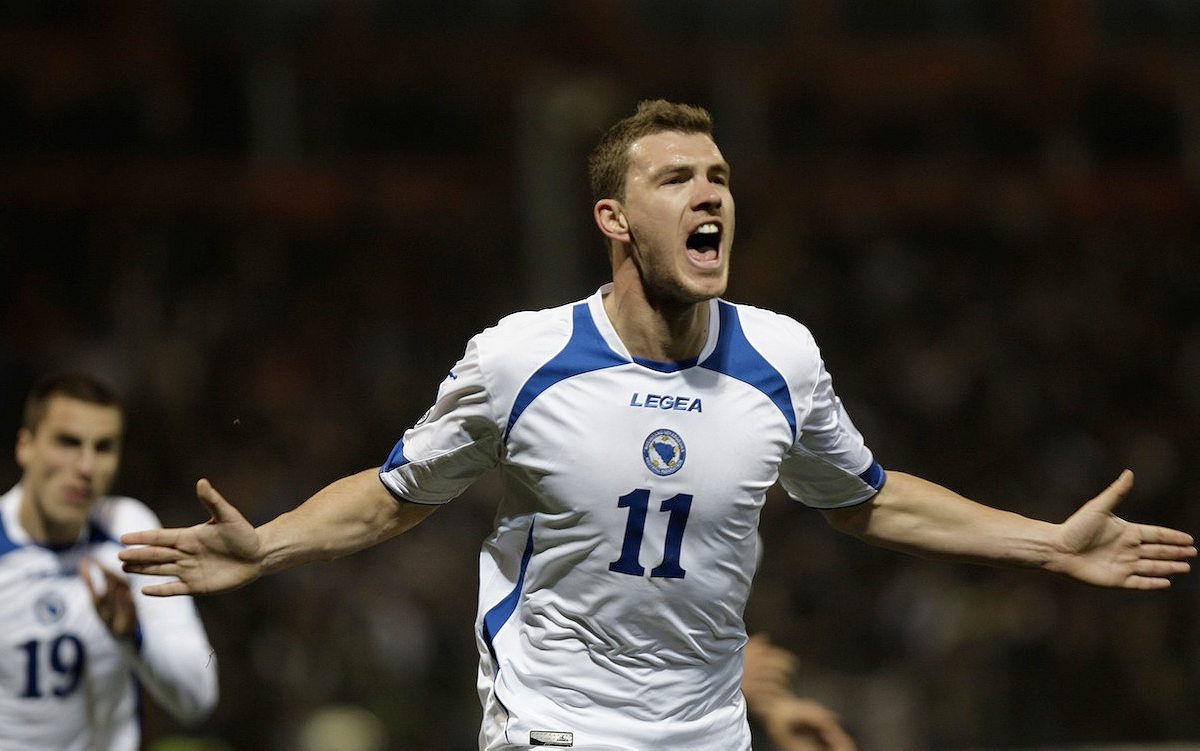 Since its inception, the national team has struggled to shake off the tag of being the team of the Bosnian Muslims, at least among those unwilling to separate football support from self-identification. It's hard to imagine all the various "ethnicities", religions and creeds metaphorically joining hands and getting behind Bosnia-Herzegovina in Brazil; a large number of people simply feel the team does not represent them or their community.
In the market stalls of the tightly-packed streets of Baščaršija, Sarajevo's central bazaar, you'll see any number of Bosnia jerseys on sale, but in the shops of Banja Luka, the capital of the Serbian-majority Republika Srpska, you'd be hard pressed to find a single one. The Bosnia squad's "makeup" largely exaggerates the demographics of the nation itself. Around one in two of the country's population are Muslim, one in three Serb, and one in six Croat, yet the football team is almost entirely made up of Muslims; notably, this applies to the most gifted players and the ones most likely to personify the team – Edin Džeko, Miralem Pjanić, Emir Spahić. As a result, the more fervently nationalist Croat and Serb football fans find it hard to associate themselves with such a team, and turn their attentions elsewhere.
"I think a large majority of Croats in Bosnia-Herzegovina will support Croatia first," says Aleksandar Holiga, a Zagreb-based football journalist. "Though most of them will probably also want Bosnia to do well. If footballers from their community are themselves more inclined to choose playing for Croatia, then that's not so hard to understand. Also, the [Bosnia-Herzegovina] team at the World Cup will have only one or two Croats, and those are fringe players [e.g. Toni Šunjić, who plays his club football in Ukraine]. The Croats of Bosnia-Herzegovina don't have someone prominent from their own community in the national team who they can identify with.
"I don't think there was ever an athlete in any team sport who chose to represent Bosnia-Herzegovina if he or she also had a chance at representing Croatia. A lot of footballers who have played for Croatia have also been eligible for Bosnia and this distinction is even more evident when it comes to foreign-born or diaspora players [such as Mateo Kovačić, Ivan Rakitić and Nikica Jelavić in the current squad]."
The same applies to the country's Serb population. Many of that community's best footballing prospects tend to end up playing for Serbia. If the future equivalents of Savo Milošević, Milan Krstajić or the Borussia Dortmund centre-back Neven Subotić begin turning out for Bosnia rather than Serbia, things may change. But, as Subotić himself once remarked in relation to his declaration for the Beli orlovi: "In the end what really decided it was that my parents are Serbian and all my family – my cousins, my uncle, my aunt, my grandma – are all Serbs. They live in Bosnia but they cheer for Serbia and now they cheer for me when I play. It was a step back to my roots. It was the only real option."
***
Describing the euphoria in the aftermath of Bosnia-Herzegovina's qualification for Brazil in
the Guardian
, Denis Džidić and Ian Traynor observed that despite the streets being "thronged with tens of thousands of partying Bosnians" in primarily Muslim Sarajevo, "the cheering was distinctly quieter in Bosnian Serb areas". This is possibly because in the Serb-dominated canton of Republika Srpska, the
de facto
national team is Serbia, a side that enjoys widespread support within this entity.
Even after Serbian victories in relatively minor sports like handball, city streets in the canton are frequently "thronged" with revellers, and large groups of fans often make their way by bus, train or automobile from Republika Srpska to Belgrade for international games, enduring the long trip in order to show their support for a team they consider their own. For example, during September's Serbia vs Croatia game in Belgrade, among the many colourful banners that dotted the north stand of the "Marakana" stadium were a number of large Serbian flags emblazoned simply and proudly with the names of towns in Bosnia-Herzegovina.
One such banner represented Trebinje, a picturesque city that sits amid monolithic, scrubby hills, presided over by the lumpy Leotar mountain. From the centre of Trebinje, it is less than an hour's descent through strikingly steep scenery to the Dalmatian city of Dubrovnik, the pearl of Croatia's tourist industry. Yet Trebinje is very much a Serb enclave, the town's architectural centrepieces being the Serbian Orthodox Saborna Crkva and Gračanica monastery, two ornate and lovingly maintained structures. Close to the city centre, the Catholic Church of Saint Mary remains resolutely behind lock and key even during the day-time.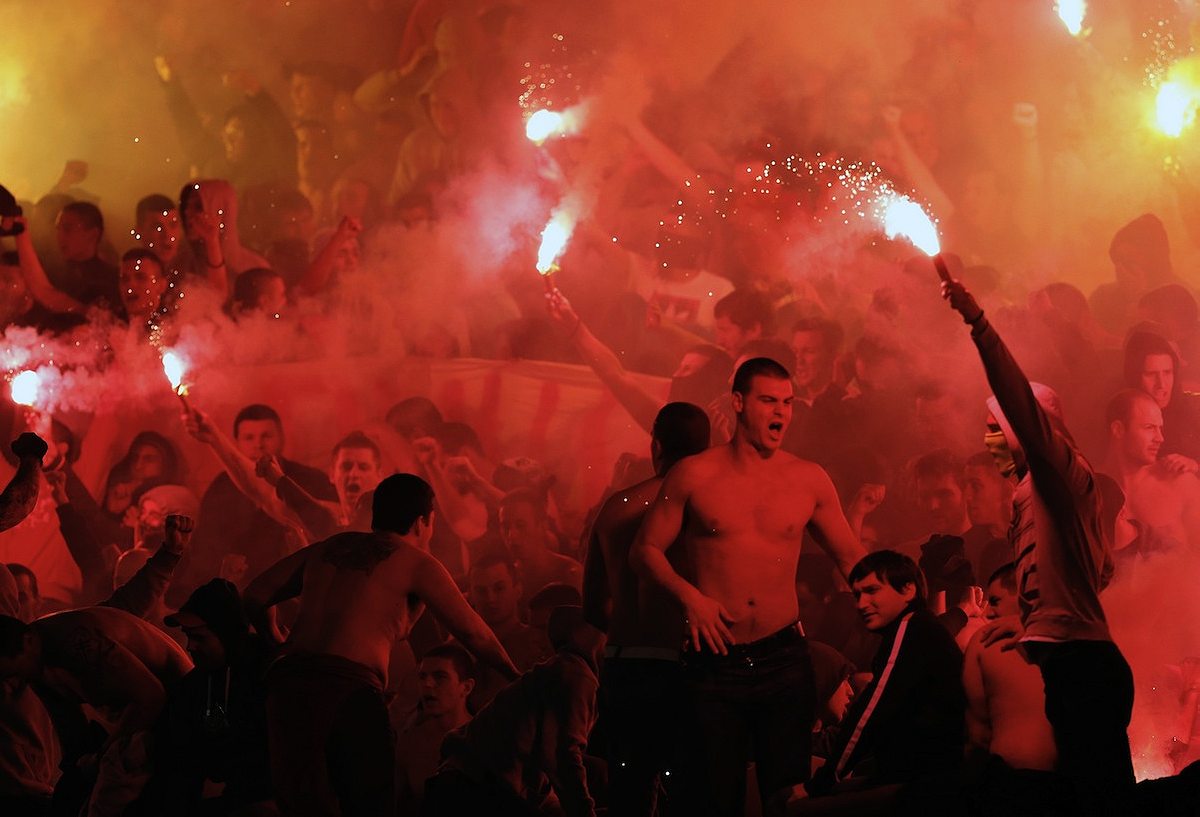 FK Leotar, Trebinje's representatives in the Bosnian-Herzegovinian Premijer Liga, have their name inscribed in Cyrillic on their crest and boast a squad almost entirely drawn from the local Serb population. But Leotar are not, in fact, the most popular club in Trebinje. That honour goes to Crvena Zvezda, also known as Red Star Belgrade, a legendary team that plays in the Serbian league. Throughout Trebinje and nearby towns like Gacko and Bileća, the majority of the graffiti – omnipresent in Bosnia-Herzegovina – glorifies the Delije, Zvezda's band of supporters. In scenes reminiscent of places like Belfast or Derry in Northern Ireland, murals depicting balaclava-clad figures or prominent nationalists are to be found stencilled on bus shelters or the sides of apartment blocks. These frescoes are normally the work of local ultrà, who link their club loyalties to political causes. "As in all ex-communist states," says Vladimir Ninković, a security consultant and Zvezda fan, "football fans – or at least organised 'ultras' or 'firms' – are mostly oriented towards the right; they glorify the tradition, church and history of the state or ethnicity they belong to. In the former Yugoslavia, all organised groups are focused on these issues, whether it be Zvezda or anyone else." It's not an overstatement to write that in Trebinje and its surrounds, the Delije are synonymous with the cause of Serb nationalism. So close to the Croatian frontier, this expression of identity matters.
Zvezda maintain a huge fan-base drawn from far beyond the borders of Serbia. As with the Serbian national team, Zvezda games attract huge numbers from Bosnia-Herzegovina – Kopre Nedri (a corruption of the phrase Preko Drine – "Across the Drina"), Republika Srpska's biggest Zvezda-supporting fan-group, often enjoy pride of place on the terraces of the Marakana. Zvezda's local rival, Partizan Belgrade, also boast significant support among Bosnian Serbs. "Being a product of the Yugoslav state," says Ninković, "Zvezda and Partizan [Belgrade] were [favoured] by all structures within the football association, creating an atmosphere whereby, among Serbs, it was only the existence of these two clubs that mattered. Even Serb fans of smaller clubs usually only support local teams as a 'second club', the first one being Red Star or Partizan." Despite now being technically a "foreign" team, Zvezda and their city-rivals Partizan are comfortably the most popular clubs in Republika Srpska. Perhaps this is illustrated most dramatically in Nevesinje, a few hours' drive north-east of Trebinje, where dozens of fans took it upon themselves to reimagine the surrounding geography. In a resounding statement of sporting affiliation, a sixty-metre-wide Zvezda crest now overlooks the red roofs of the town nestled in the valley below.
But, further back on the road that snakes out of Trebinje towards Mostar via the western plateau of Herzegovina, the wayside graffiti changes along with the surrounding scenery. Rocky, daunting peaks give way to cultivated valleys and pastureland and the spray-painted displays of affiliation on the roadside bends shift gradually from Cyrillic into Latin script. With the change of geography comes a change in allegiance, and pro-Delije tags become scarce.
Instead, the sheer, serpentine curves of the roads and the once-plain town walls of western Herzegovina are painted white, red and blue in loud tribute to Hajduk Split, the iconic Croatian club and powerhouse of the Croatia's league. The colours contrast vividly with the deep greens and muted browns of the backdrop, boldly declaring the allegiance of villages and towns such as Čapljina and Međugorje to the Torcida, Hajduk's vibrant fan-base. The influence of the Torcida spreads deep into Bosnia-Herzegovina's Croat community, but is particularly prominent around the border regions, where the šahovnica, the famous Croatian checkerboard pattern, is ubiquitous as part of the Hajduk crest. Za Hrvatsku i za Hajduk bila vojska tu je, proclaims a graffito in Čapljina – "For Croatia and for Hajduk, the white army is there." The striker Nikica Jelavić, born in the Bosnian-Croat town, earned his spurs at Hajduk and is part of the Croatian squad for the World Cup.
"Of course being Croatian is an important part of Hajduk's identity," says Holiga, a fan of Hajduk. "But I'm positive that for an enormous majority of its fans it is love for Hajduk itself that comes first, and then everything else—and that's particularly true outside Split and Dalmatia, where there are no local-patriotic reasons to support it. Outside their local area, Hajduk are perhaps something of a 'cult' club: due to their incredible past and many legends, due to their daring and often unlucky adventures in Europe, due to the atmosphere at their stadium and loyalty of their support."
In comparison to Crvena Zvezda or Zrinjski of Mostar—the latter a club that openly exist as the standard-bearer for Croat nationalism in Bosnia-Herzegovina—Hajduk do not stand explicitly or deliberately as a symbol of ethnic demarcation within Bosnia-Herzegovina. However, just as Zvezda's large numbers of fans in Republika Srpska show the national orientation of Bosnian Serbs, so does the popularity of Hajduk within the country illustrate that the primary loyalties of many Bosnian Croats lie outside Bosnia-Herzegovina.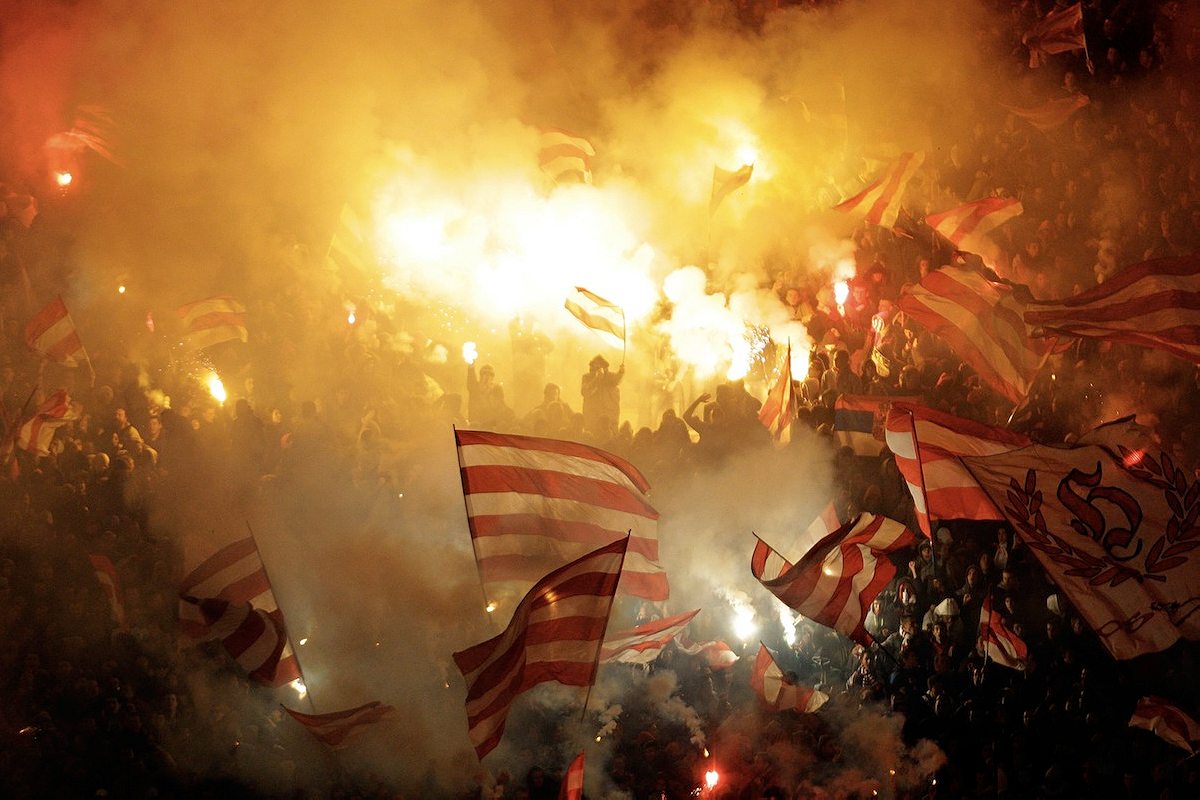 For those wishing to propagate the notion of the World Cup as a uniting force in Bosnia-Herzegovina, the presence of Croatia in Group A of the draw has thrown a large spanner in the works. Had Croatia not qualified for Brazil, Bosnia-Herzegovina would likely have enjoyed far more support from the Bosnian Croat community, but as it is, many Bosnian Croats will be more inclined to the vatreni than the zmajevi this summer.
***
The desire is still strong to claim that Bosnia-Herzegovina is inching towards a future of greater reconciliation between its divided peoples. Many hoped that the fraternity shown during the anti-government protests of
spring 2014
would prove a catalyst for genuine unity in the country. "In one of the photos from the protests," noted Slovenian philosopher Slavoj Žižek in February, "we see the demonstrators waving three flags side by side: Bosnian, Serb, Croat, expressing the will to ignore ethnic differences. In short, we are dealing with a rebellion against nationalist elites: the people of Bosnia have finally understood who their true enemy is: not other ethnic groups, but their own leaders who pretend to protect them from others. It is as if the old and much-abused Titoist motto of the 'brotherhood and unity' of Yugoslav nations acquired new actuality."
The World Cup affords another opportunity to pursue the temporary illusion of unity, and for all us football fans to reassure ourselves that a sport in which we invest so much has a higher meaning.
But Bosnia-Herzegovina's fractious football affinities show how the slow process of national reconciliation does not so swiftly produce national solidarity. It's unlikely that the men and women of Trebinje, Čapljina or Međugorje who wear the stripes of Zvezda or the šahovnica will be persuaded to cheer the white of Bosnia-Herzegovina during this World Cup. Bosnia-Herzegovina qualifying for Brazil will not unite the state's opposing factions. Enjoy the tournament, enjoy the passion for the teams, but don't believe just yet that the chasms created by mortars and massacres have been mended by football.
[Header image by: AP Photo/Mindaugas Kulbis]